These paleo chocolate donuts are fluffy and moist with a nice crumb texture. They are made with cassava flour and sunflower seed butter for a delicious, secretly healthy paleo donut recipe. They're a great breakfast option for those with common allergies, as these donuts are are egg free, nut free, dairy free and gluten free!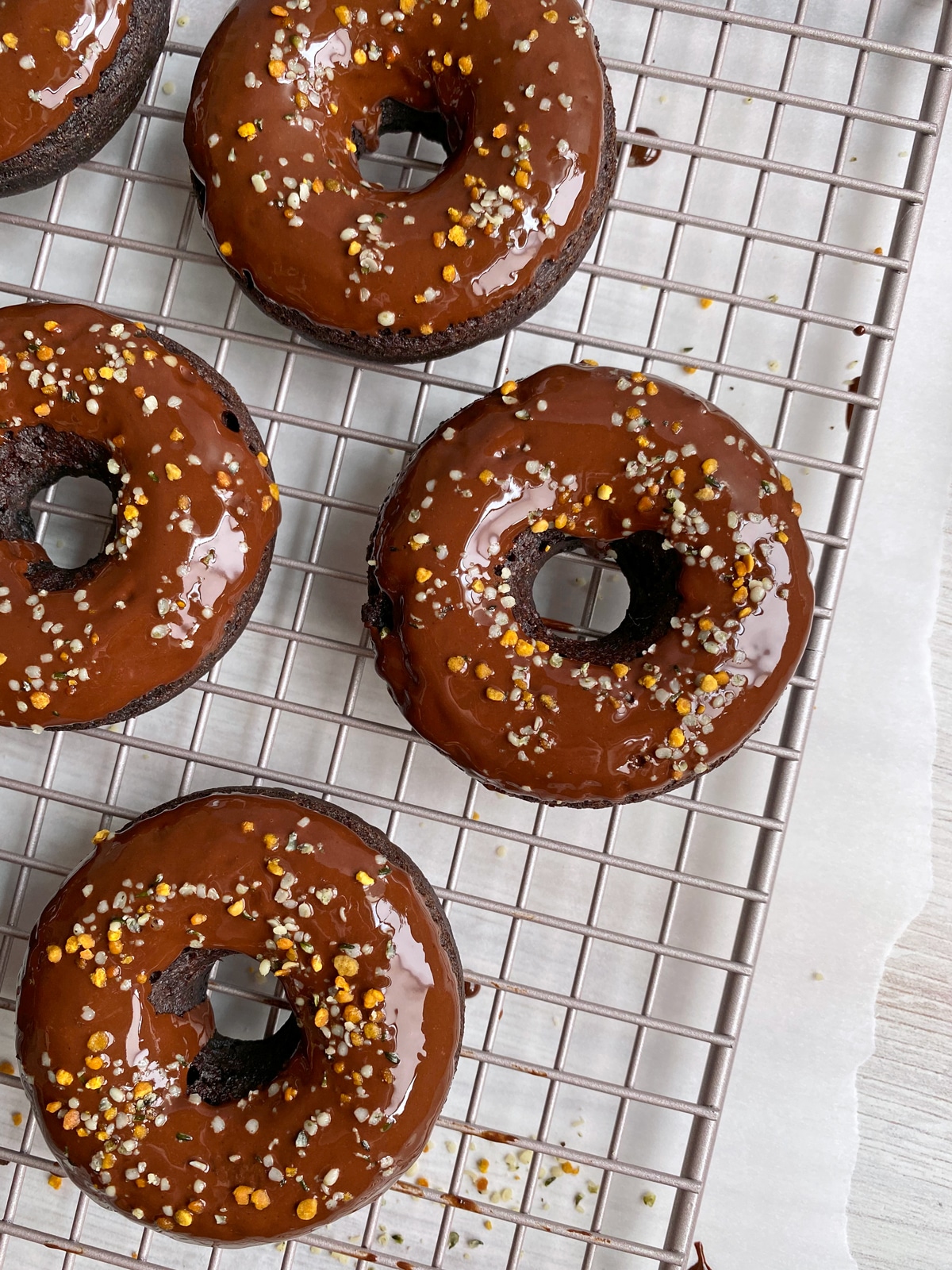 My first donut recipe is here! In fact, this recipe marks the first time I've ever made donuts (but certainly not the last).
I got some silicone donut molds for Christmas with the intention of bringing a few paleo donut recipes to the blog. And I'm kicking it off with these amazing baked chocolate donuts!
I haven't had a "real" donut in forever. And, come to think of it, I don't think my two younger children have ever had a donut in their life, prior to this recipe of course. These cassava flour donuts are the perfect paleo and vegan alternative to conventional ones.
Why You'll Love these Paleo Chocolate Donuts
grain free & gluten free - made with cassava flour
dairy free - no milk, butter or cream
egg free - this is an eggless chocolate donut recipe
nut free - great for anyone with nut allergies
refined sugar free - sweetened with maple syrup
baked - not fried
Yes, these easy paleo chocolate donuts are void of a lot of things...but I promise, they still taste great. Perhaps not as sweet as your typical donut (I like to keep my recipes lower in sugar), but still a fun treat that will satisfy all your baked donut cravings.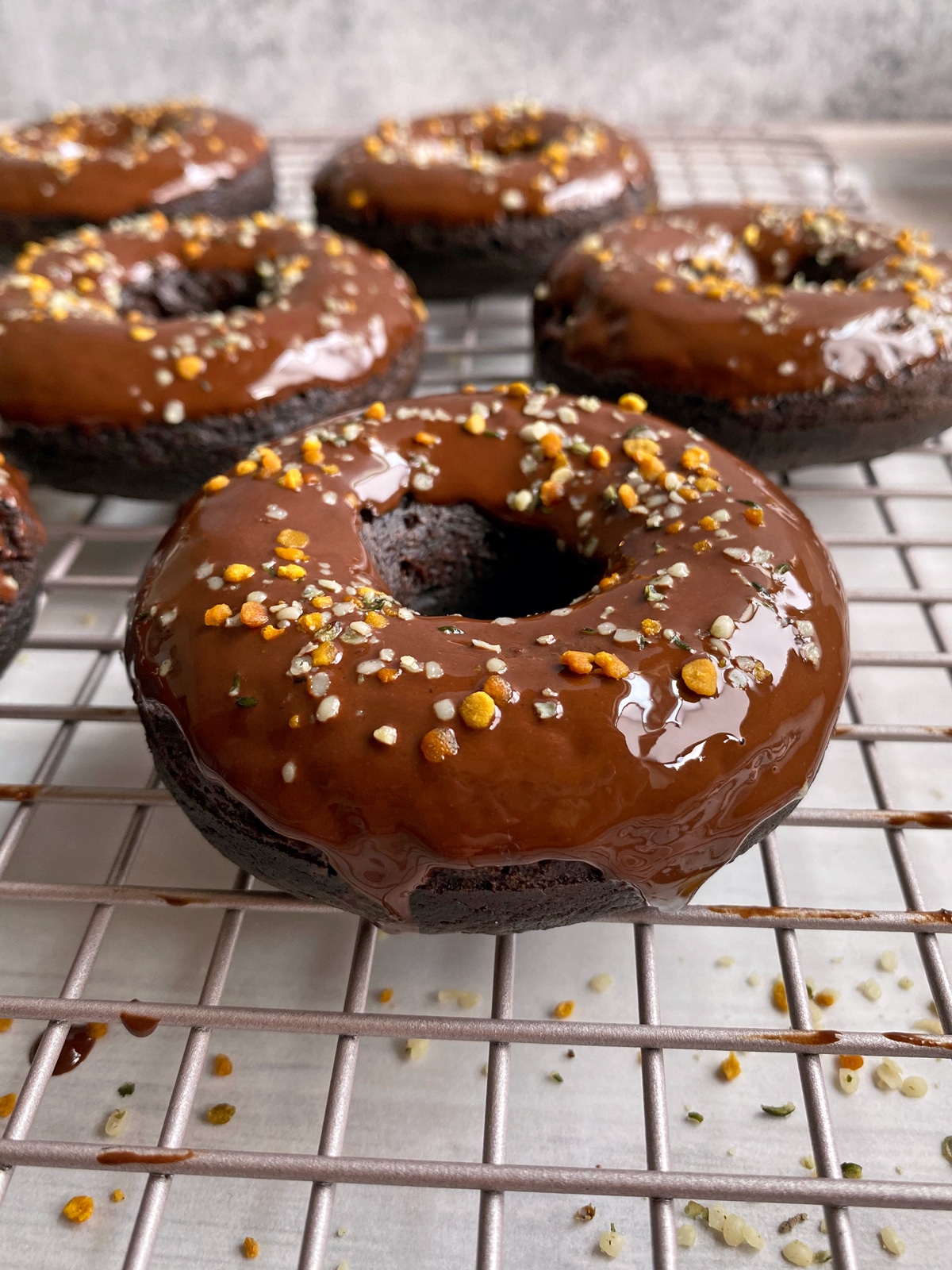 Ingredients
These chocolate cassava flour donuts are made with a combination of grain free flours, sunflower seed butter and lightly sweetened with maple syrup. They are topped with a simple chocolate glaze that really brings them to the next level!
Here's a list of what you need (full recipe in the recipe card below):
Chocolate Donuts
baking soda
salt
water
maple syrup
apple cider vinegar
vanilla extract
Chocolate Glaze
dark chocolate chips
sunflower seed butter
coconut oil
I have not tested any other flours in this grain free chocolate donut recipe; meaning I cannot recommend any substitutions for the cassava flour. Cocoa powder should work in place of the cacao powder, but I frequently use THIS brand of cacao powder in my recipes and love it. It can be found on amazon and at some Costco's.
Sunflower seed butter was my top choice for this recipe because it is nut free, paleo and vegan friendly. That being said, any creamy nut butter should work in its place.
Maple syrup may be swapped for any liquid sweetener.
The apple cider vinegar helps the batter rise, making these donuts light and fluffy. I do not recommend skipping this ingredient.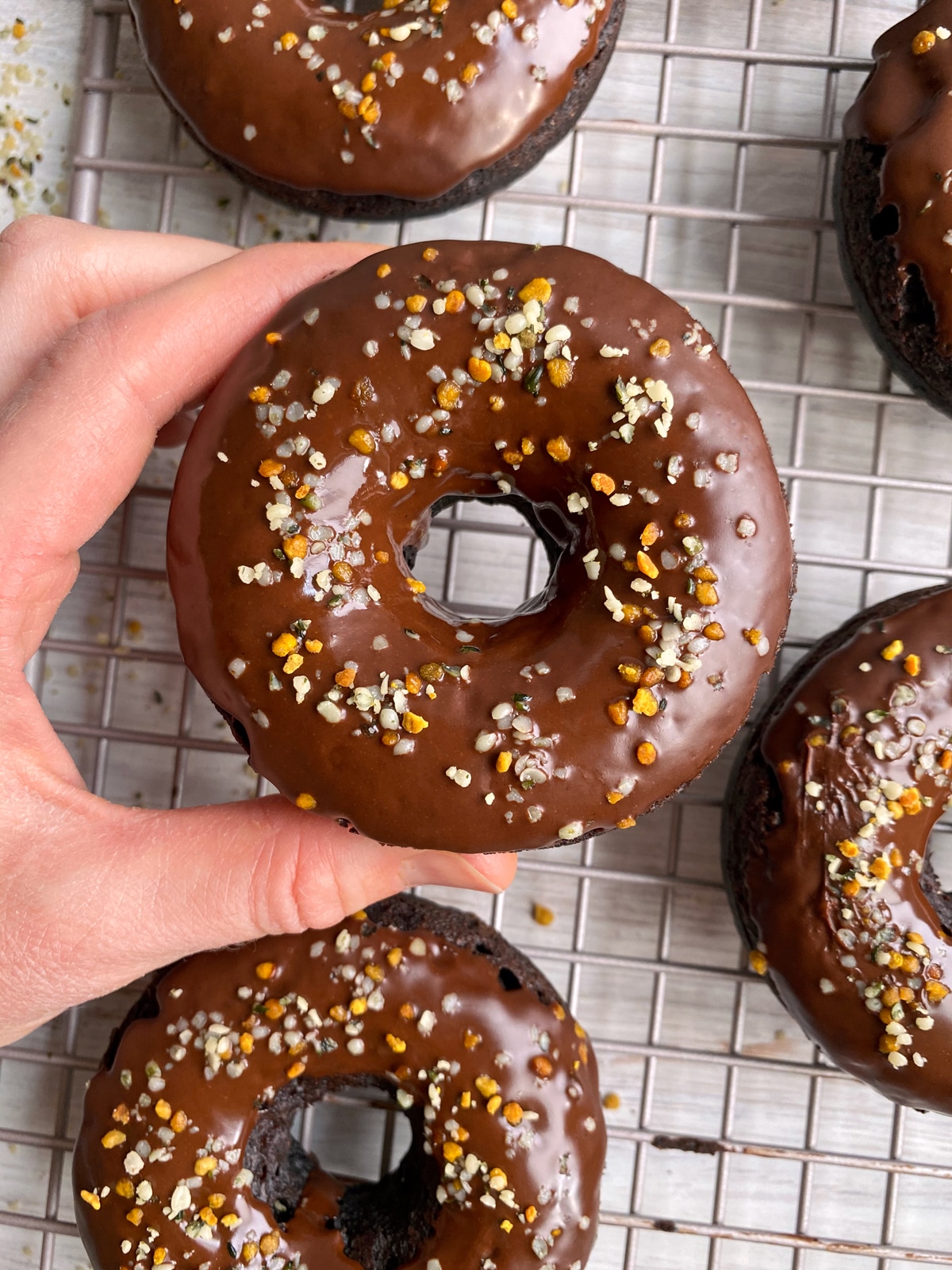 How to Make Baked Paleo Chocolate Donuts
These nut free paleo donuts are easy to make and quick to bake. You will need a donut mold (I used a silicone donut mold), baking sheet, mixing bowl, whisk, spatula and required ingredients.
Make the Chocolate Donuts
Before you begin, preheat your oven to 350 degrees F.
Then, in a medium-sized mixing bowl, whisk together the dry ingredients. This includes the cassava flour, cacao powder, baking soda and salt.
Add the wet ingredients (water, sunbutter, maple syrup, vanilla, and ACV) to the batter and mix with a spatula until well combined.
Place the donut mold on a baking sheet, then scoop the batter into the mold. The batter should fill the mold almost to the top, making 6 donuts.
Place the donuts in the oven and bake at 350 degrees for 20-25 minutes.
After baking, remove the donuts from the oven and cool on the pan for 5 minutes. Then, remove them from their silicone mold and place them on a wire cooling rack.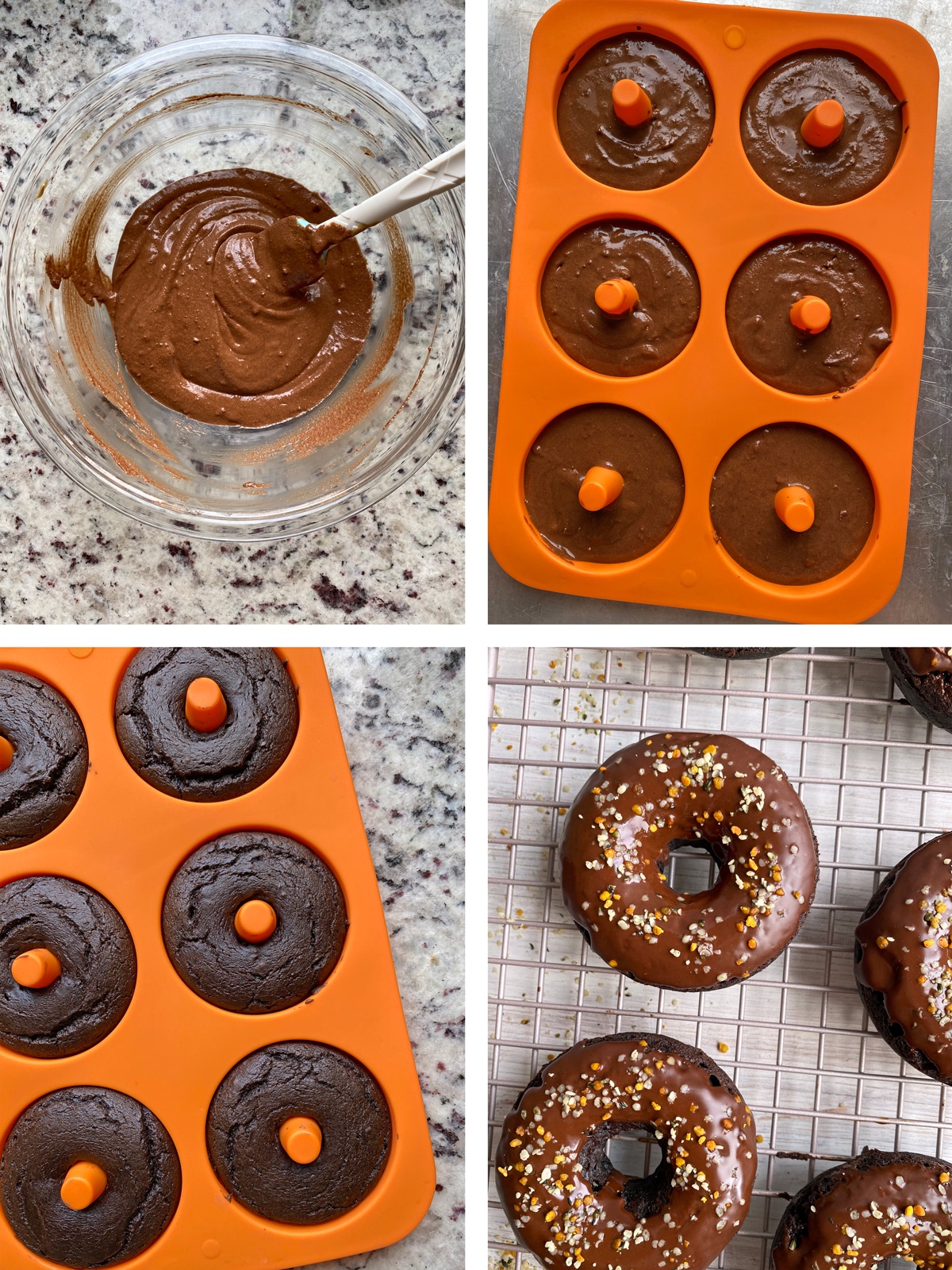 Glaze the Donuts
Once the donuts have cooled to room temperature you can make the glaze. (Note: feel free to pop them in the fridge or freezer to cool faster.)
Place the chocolate chips and coconut oil in a small saucepan, over the stove top. Melt the chocolate chips over low heat, stirring frequently.
Once melted, turn off the heat and mix in the sunflower seed butter. Pour the chocolate glaze into a bowl that's just a little larger than the size of the donuts. If you don't have a properly sized bowl, then you can spoon the glaze onto the donuts.
One at a time, grab the donuts and dip them into the glaze. Add your favorite toppings (I sprinkled on some hemp seeds and bee pollen) and eat!
If you want the chocolate to set prior to eating the donuts, then place them in the fridge or freezer for a few minutes. The chocolate glaze will solidify.
Storage
These donuts are best stored in a sealed, air-tight container in the fridge up to one week.
More Paleo Donut Recipes
Print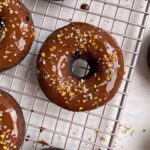 Paleo Chocolate Donuts (with Cassava Flour)
Author:

Katie

Prep Time:

20 minutes

Cook Time:

20 minutes

Total Time:

40 minutes

Yield:

6

donuts

1

x
---
Description
These paleo chocolate donuts are made with cassava flour and baked in the oven. This healthy donut recipe is paleo, vegan, gluten free and nut free!
---
Chocolate Donuts
Chocolate Glaze
---
Instructions
Chocolate Donuts
Preheat oven to 350 degrees F.
In a medium-sized mixing bowl, whisk together the cassava flour, cacao powder, baking soda and salt.
Add in the water, sunflower seed butter, maple syrup, apple cider vinegar and vanilla.  Mix with a spatula until well combined.
Place the silicone donut pan on a baking sheet and scoop the donut batter into the donut pan.  Fill each slot almost level with the top, making 6 donuts.
Put the donuts in the middle rack of your oven and bake at 350 degrees F for 20-25 minutes.
Remove donuts from oven, cool 5 minutes in the pan, then transfer them to a wire cooling rack.
Chocolate Glaze
Place the chocolate chips and coconut oil in a small sauce pan.  Melt on the stove top, over low heat.
Once melted, turn off the heat and add in the sunflower seed butter.  Mix until smooth.
Pour the glaze into a small bowl, slightly bigger than the donuts.  Dip the cooled donuts into the glaze and top with favorite toppings (sprinkles, chopped nuts, seeds, bee pollen...)**
---
Notes
*For best results, measure ingredients by weight
**You can also drizzle the glaze over the donuts
Keywords: vegan chocolate donuts, nut free paleo donut recipe, grain free donuts, sunflower seed butter, sunbutter donuts, cassava flour recipes, cassava donuts, egg free desserts, breakfast, nut free paleo, paleo chocolate donuts, egg free donuts, paleo baked chocolate donuts, paleo donut recipe