These chocolate protein muffins are soft, fluffy and moist - almost like eating chocolate cake.  They're made with almond flour, chocolate pea protein and pumpkin puree.  In addition, these low sugar protein muffins are paleo friendly, flourless and dairy free.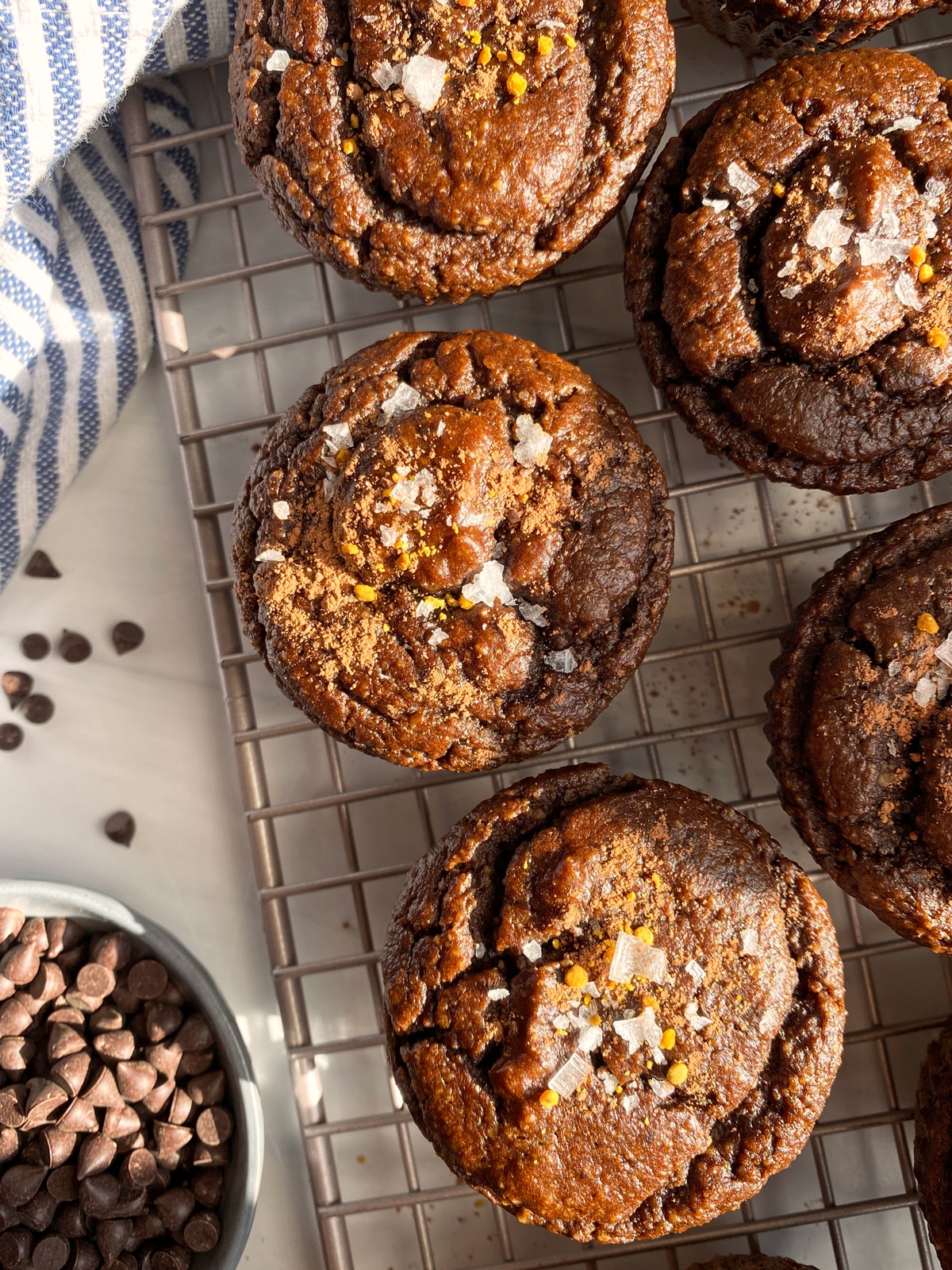 Truthfully, protein muffins are my favorite type of muffin.  But, believe it or not, this is the first chocolate protein muffin recipe I've put up on my site!
Now, I love anything chocolate. And I love muffins. So it's about time I sat down and created a chocolate protein powder muffin recipe. The results? Amazing!
These flourless protein muffins remind me of a moist cupcake.  However, they're actually healthy, low in sugar and high in protein.  You won't be disappointed!  Unless, perhaps chocolate or muffins aren't your thing 😉
Chocolate Protein Muffins
Here 's what you need to know about these low carb chocolate protein muffins:
grain free and gluten free - these muffins are made without all-purpose flour, and instead use a combination of almond flour, pea protein, tapioca flour and cacao powder
paleo friendly
dairy free - made without whey protein and without milk
sweetened with maple syrup - no banana
super moist - the addition of pumpkin puree makes these muffins super moist
low carb
healthy but delicious - a must!
These easy muffins can be made from start to finish in less than 40 minutes. They are satisfying, yet healthy and can be enjoyed any time of day.
Eat them on your way out the door for breakfast, pop them in school lunches or dress them up with some coconut whipped cream for dessert. No matter how you choose to eat them, they're sure to be enjoyed!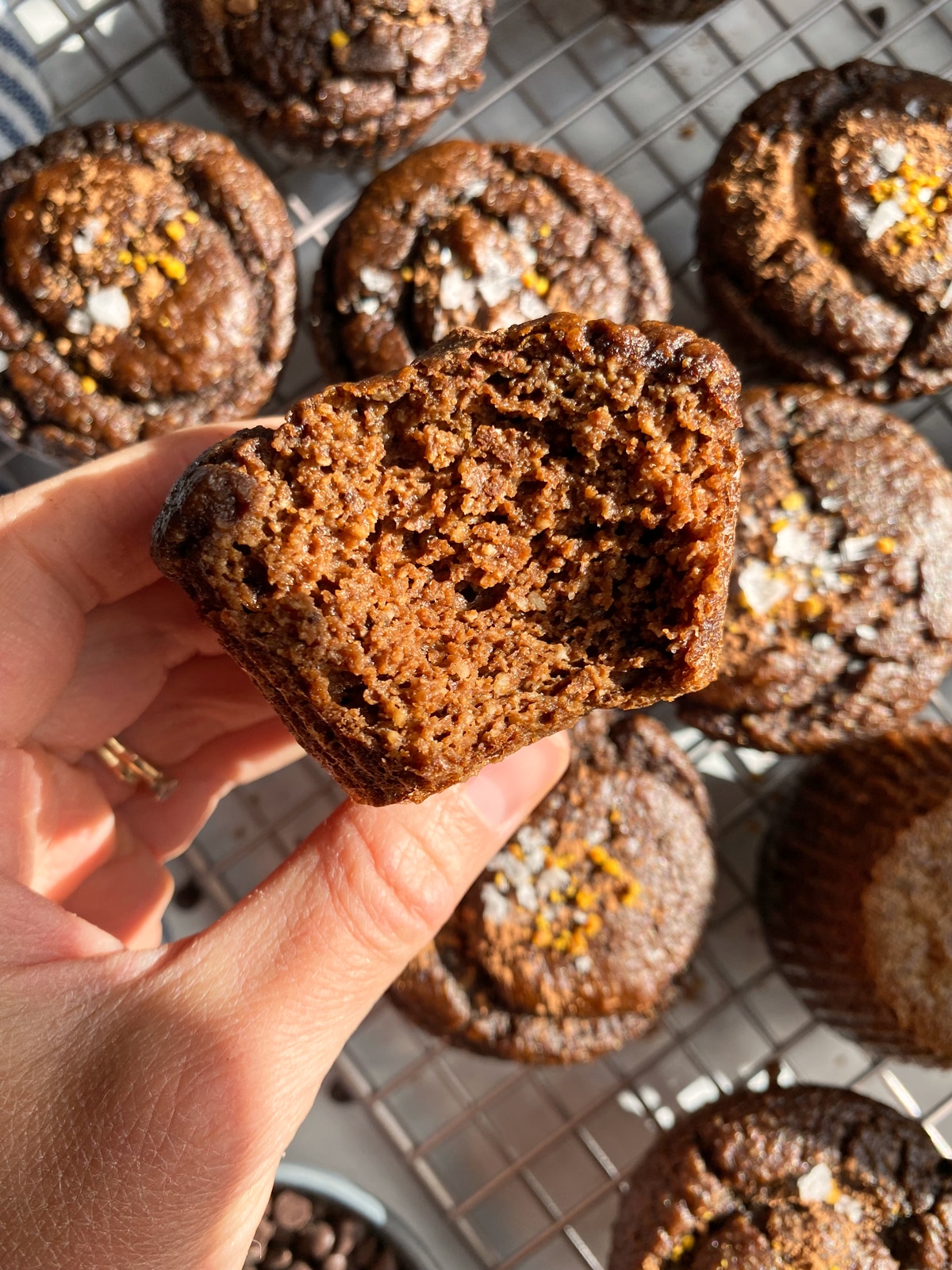 Ingredients
These almond flour protein muffins are made with a combination of grain free flours, protein powder, eggs and a few other simple baking ingredients. Here's what you need for the recipe:
Grain Free Flours
The three necessary flours for this recipe include: almond flour, tapioca flour/starch and cacao powder (or cocoa powder).  Together, these three ingredients create a fluffy, moist and airy muffin.
The only substitutions would be to replace the tapioca flour with arrowroot starch and the cacao powder with cocoa powder. Either (or both) of these substitutions shouldn't have much affect on the overall taste or texture of the muffins. Just be sure to measure by weight!
Protein Powder
My number one choice for protein powder is Nuzest.  Their protein powder is:
made from premium European Golden Peas
contains 20 grams of protein per serving
is low in fat, carbs and sugar
vegan and plant based
free of all common allergens
easy to digest
I see this protein as the perfect paleo protein powder because it is grain free, low in sugar and doesn't contain any fillers. Plus, it's easy to digest, works well for baking and I love the flavor.
For this recipe, I used the Nuzest Rich Chocolate. However, any Nuzest flavor will work. (My favorite flavor is the Smooth Vanilla.)
Eggs
Eggs are necessary!  I love creating vegan recipes, but egg substitutes will not work well for these protein muffins.
Sweetener
Although sweetener isn't required, I suggest adding a little bit to give these muffins more flavor.  I used maple syrup - a great paleo friendly option.
If you want a lower-carb option, then swap the maple syrup for any sugar-free liquid sweetener.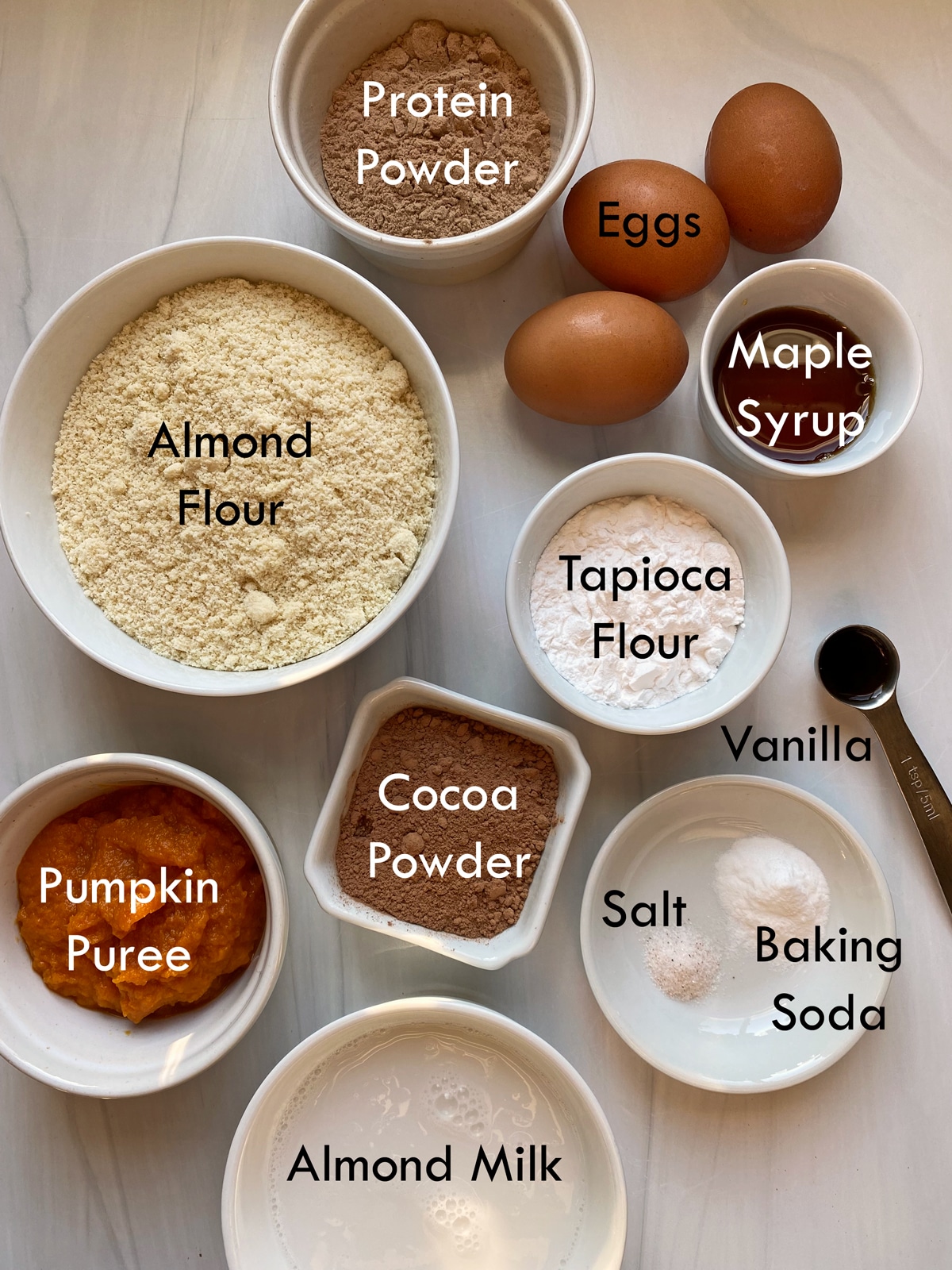 How to Make Chocolate Protein Muffins
These muffins are easy to make - here's how to do it:
First, add all dry ingredients to a large mixing bowl. I recommend measuring the ingredients by weight (especially the almond flour and protein powder). I use a small food scale - it works extremely well and they are inexpensive.
In a separate bowl, whisk together the wet ingredients.
Pour the wet mixture into the dry mixture. Whisk the batter until it has a thick, even texture.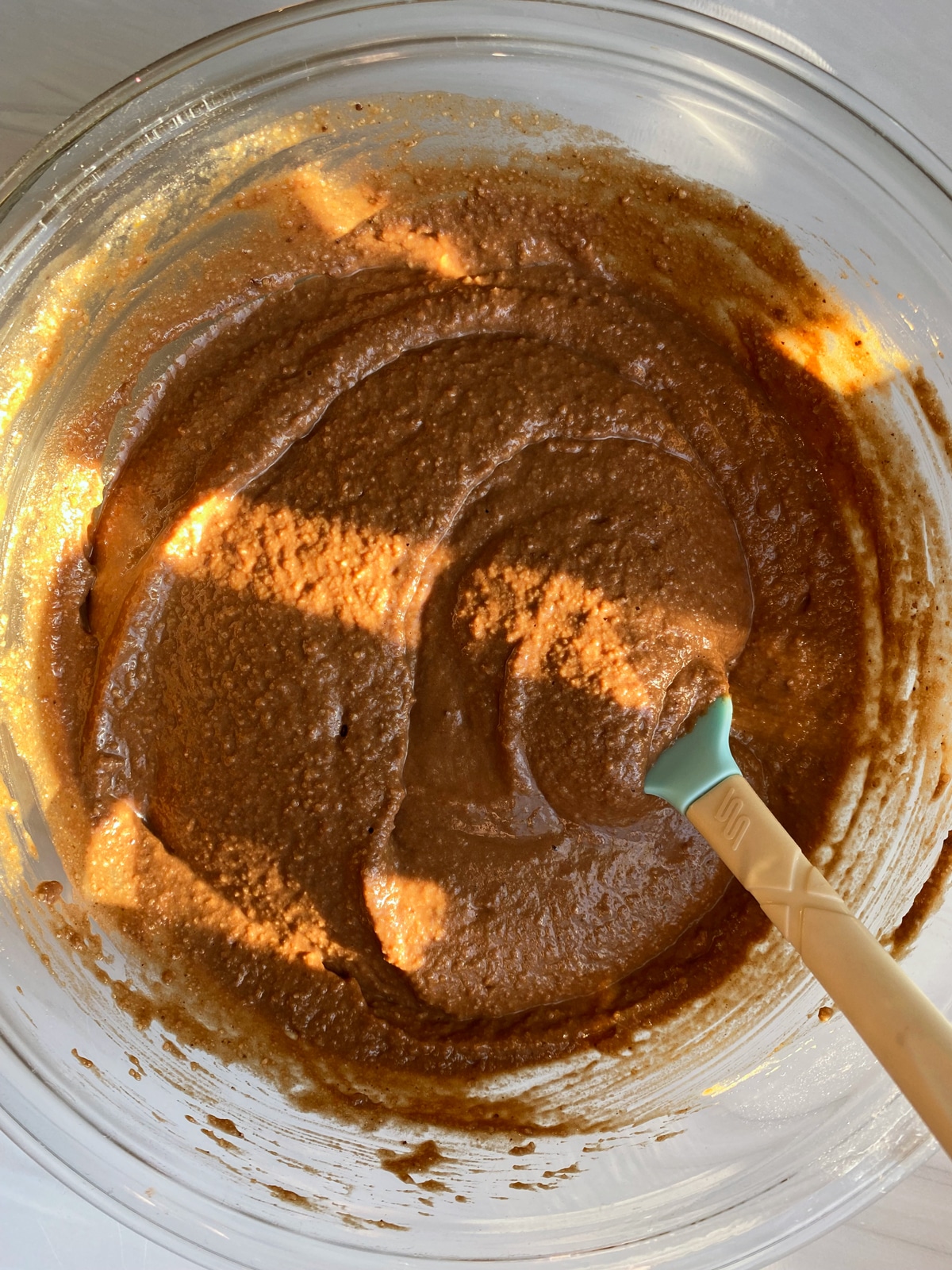 Pour the batter into a lined muffin pan, filling each cup nearly to the top. Silicone muffin molds are amazing! Because they are re-usable, they reduce waste and save you money. Plus, I rarely have an issue with baked goods sticking to them.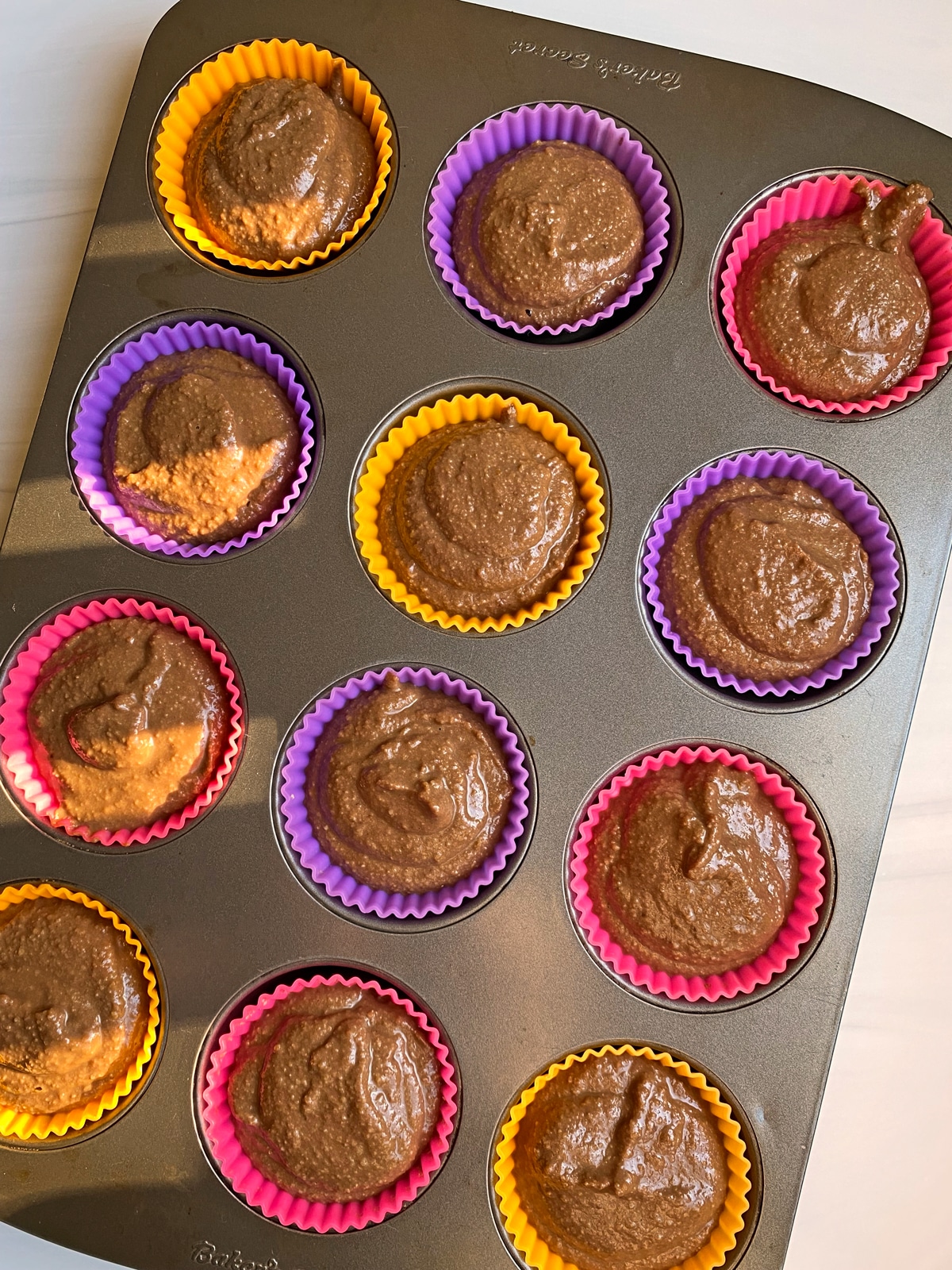 Next, place the muffins in the oven and bake at 350 degrees F for 25 minutes.  They come out fluffy, well risen and smell amazing!
Lastly, remove the muffins from the oven, cool in the pan for 5 minutes, then transfer them to a wire cooling rack. When cooling them on the rack, I recommend removing them from the silicone muffin liners.
How To Store Chocolate Protein Muffins
These muffins are best stored in the fridge in a sealed, air-tight container and eaten within one week.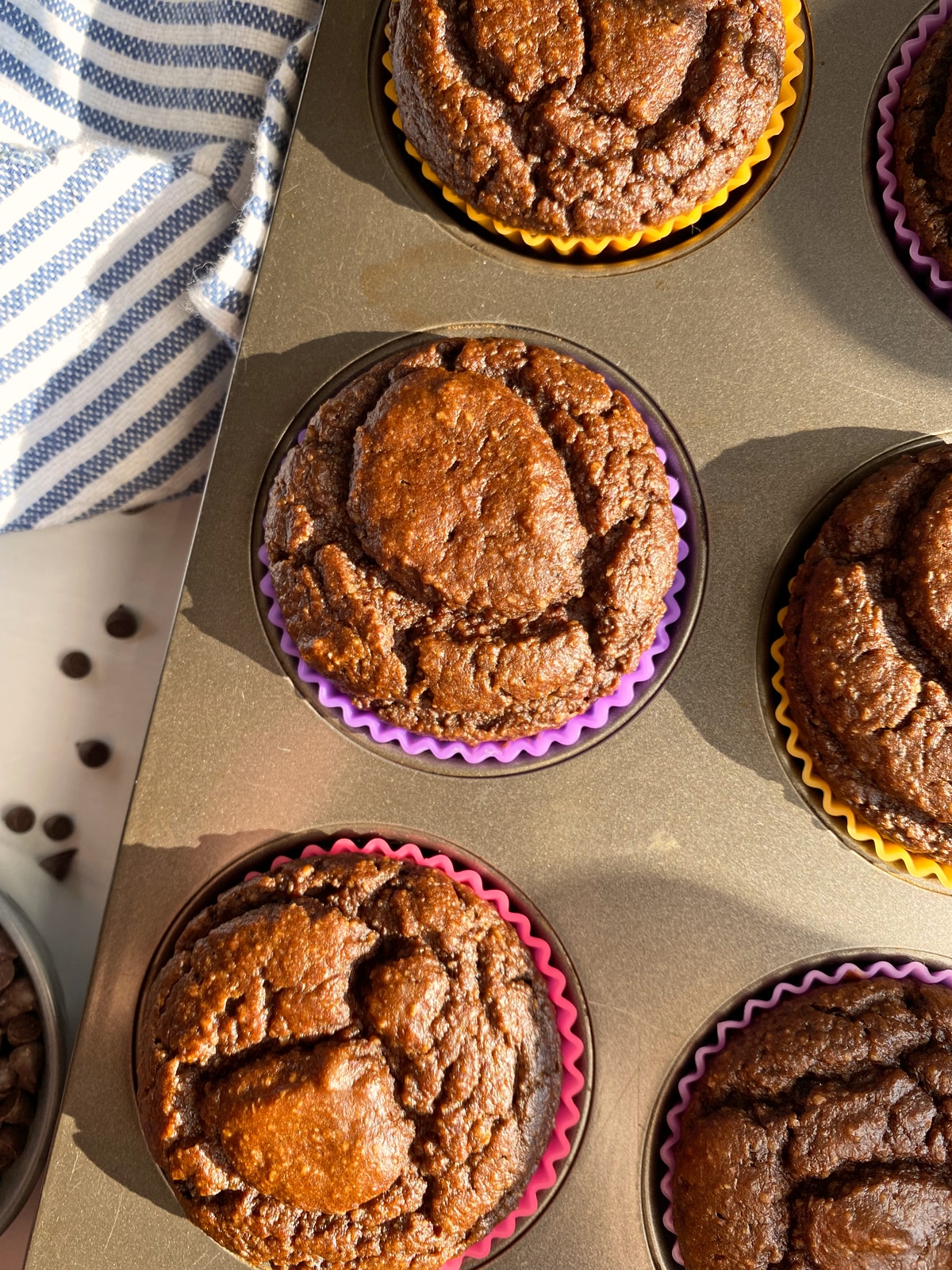 More Paleo Protein Muffin Recipes
Like I mentioned earlier, protein muffins are my favorite! And, I have a whole bunch of various low carb Paleo muffin recipes on my site. Here are some favorites:
Print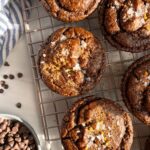 Chocolate Protein Muffins (Low Carb, Paleo)
Author:

Katie

Prep Time:

10 minutes

Cook Time:

25 minutes

Total Time:

35 minutes

Yield:

1

dozen muffins

1

x
---
Description
Low carb, chocolate protein muffins - a great Paleo snack or grab-n-go breakfast.  Kid friendly, low in sugar, moist and fluffy!
---
---
Instructions
Preheat oven to 350 degrees F.
In a large mixing bowl, whisk together dry ingredients.  This includes the almond flour, protein powder, tapioca flour, cacao powder, baking soda and salt.
In a separate mixing bowl, whisk together wet ingredients.  This includes the eggs, pumpkin puree, almond milk, maple syrup and vanilla.
Pour the wet mixture into the dry mixture and whisk until well combined.
Pour batter into a lined muffin pan.  Fill each slot nearly to the top, making 12 muffins.
Place the pan in the oven and bake at 350 degrees for 25 minutes.
Cool 5 minutes in the pan, then transfer the muffins to a wire cooling rack.
Best stored in fridge up to one week.
---
Notes
For best results, I recommend measuring ingredients by weight when given.
These muffins are not super sweet.  If you want them to be sweeter, I recommend adding in a couple tablespoons of granulated sugar (like coconut sugar or maple sugar).
*This recipe has only been tested using Nuzest pea protein powder, which is extremely absorbent.  If you use another type/brand of protein powder you will likely need less almond milk.  That being said, I cannot guarantee results if using a different protein.  
Keywords: muffins, high protein, Paleo, chocolate, low sugar, snack, chocolate protein powder muffins, nuzest protein, pea protein muffins, low carb snack recipes, paleo muffins