These paleo caramels with turmeric & cinnamon are the perfect little bites of bliss to satisfy any sweet craving. This is a paleo caramel recipe that's made with dates, flavored with turmeric, cinnamon and vanilla and coated in dark chocolate. In addition, these chocolate date caramels are vegan, nut free and allergy friendly.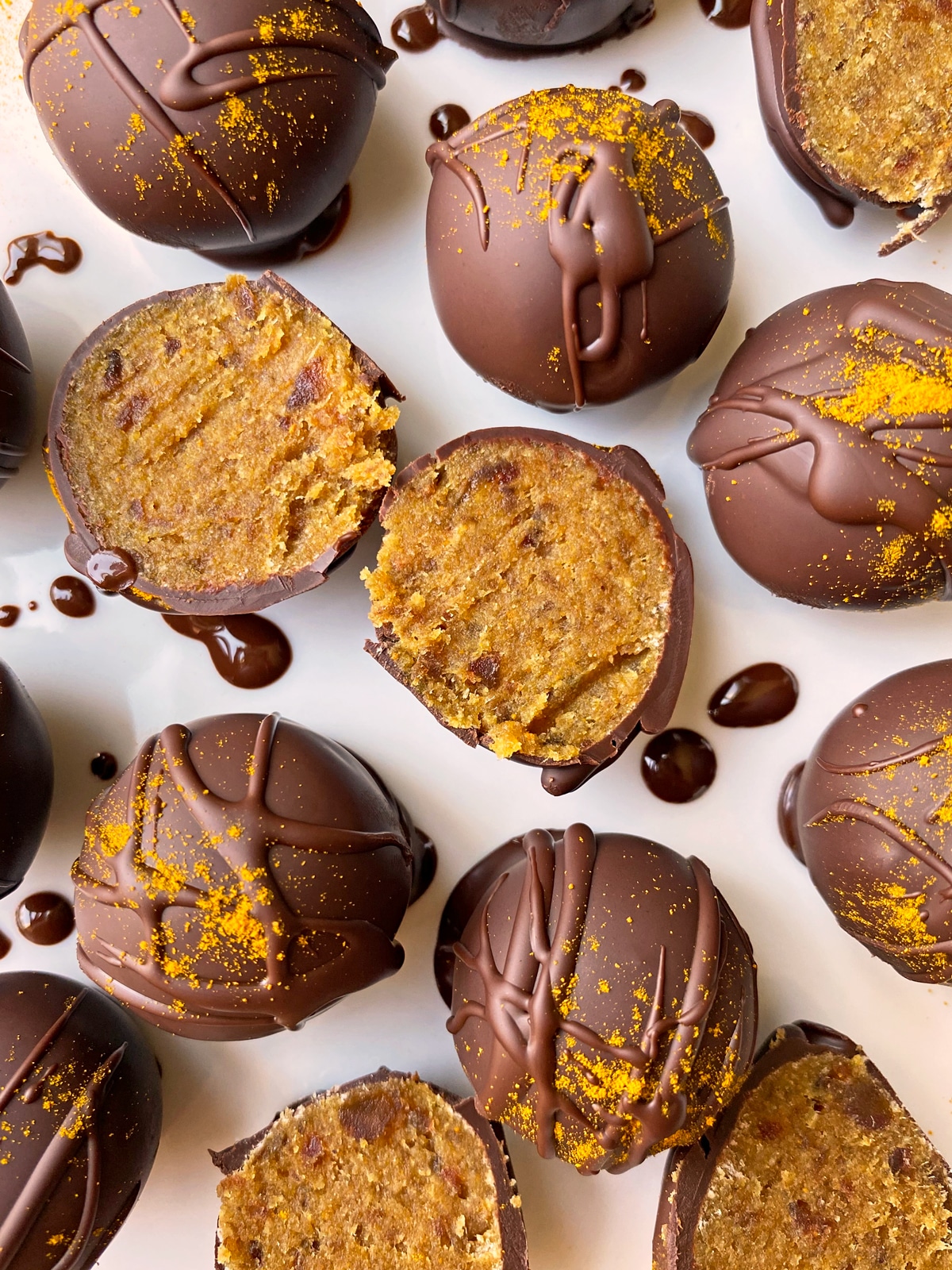 Oh how I love caramels! As long as I can remember, they've always been my favorite in a box of chocolates.
So, making my own Paleo version was a no-brainer.
Unless you're new around here, you know I have high standards when it comes to food, especially desserts.
Most conventional caramels are made with corn syrup, refined sugar and conventionally raised dairy...but not these! My paleo caramel candy recipe is actually healthy and even includes superfoods like turmeric and cinnamon.
Healthy Homemade Caramels
What makes these chewy caramels healthy?
paleo and vegan friendly
grain free & gluten free: no wheat
refined sugar free: caramel is made with dates instead of corn syrup
dairy free: no conventional dairy products
contains superfoods: turmeric & cinnamon which are shown to fight inflammation
These amazing chocolate covered caramels have a date caramel filling that's flavored with turmeric, cinnamon and vanilla. They are dipped in dark chocolate and topped with a little extra turmeric. All healthy, real food ingredients that are minimally processed and preservative free.
This vegan caramel recipe has a chewy center that's incredibly easy to make and a crisp chocolate shell. These no-bake caramels don't require a candy thermometer, just a food processor for making the caramel. I promise, this no fail paleo caramel will knock your socks off! You won't be disappointed!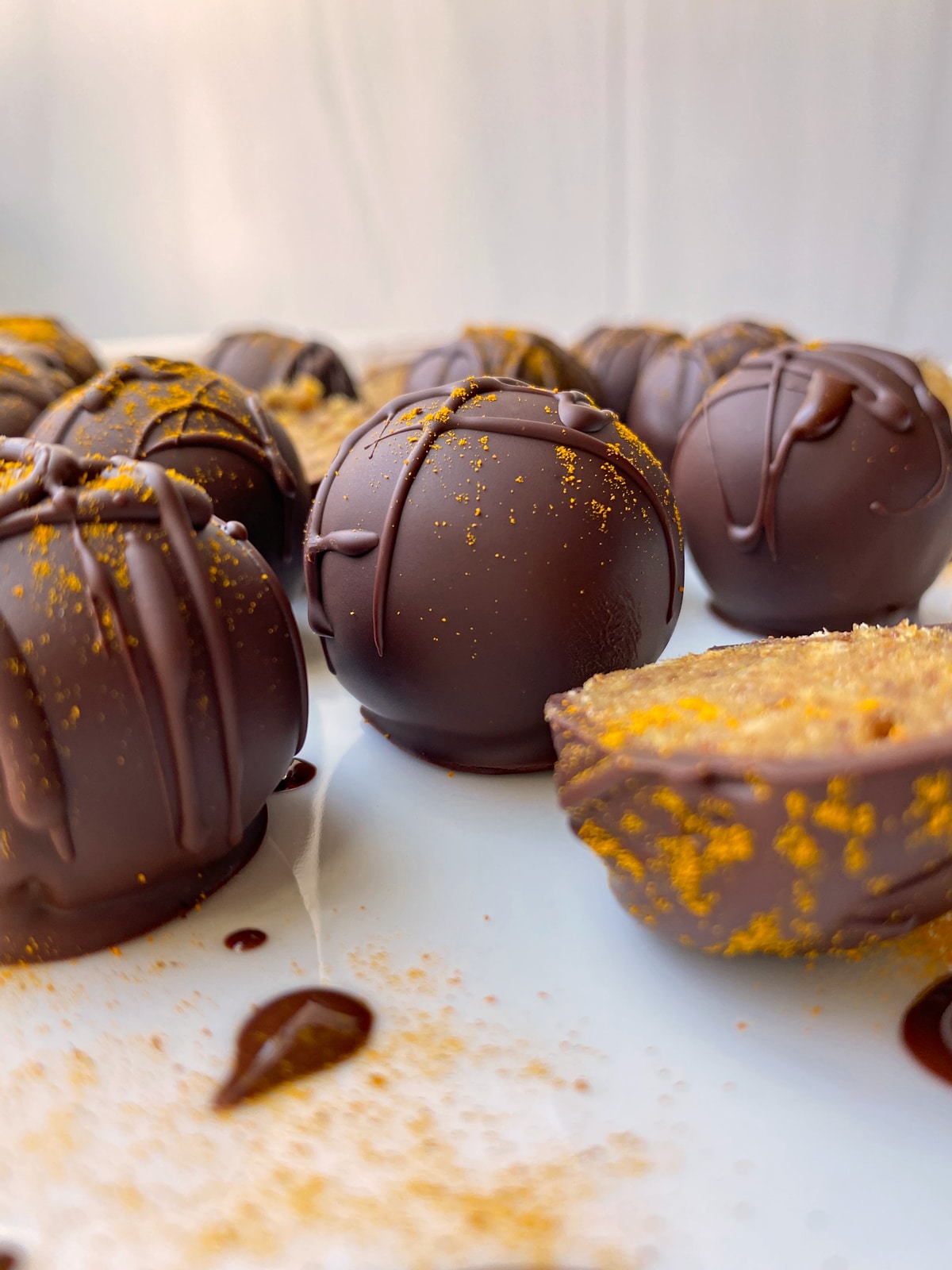 Ingredients in Paleo Chocolate Caramels
These caramels contain just 8 simple ingredients. They are Paleo, Vegan and free of the top eight allergens. These caramels have a soft, chewy filling and a crisp dark chocolate coating. here's what you need to make them:
Caramel Filling
dates: I used medjool dates but any variety will work
coconut oil: for the caramel texture
vanilla extract: for flavor
coconut flour: to thicken the caramel filling
turmeric: optional, but adds a little extra flavor and nutritional boost
cinnamon: optional
salt: to bring out the flavors
Chocolate Coating
dark chocolate: I recommend between 70-90% dark chocolate
coconut oil: optional, thins the chocolate and makes dipping the filling easier
There are no ingredient substitutions for this recipe. However, the flavorings are optional. So, you may omit the vanilla, turmeric, cinnamon and salt if you wish. Buuuut, I strongly recommend keeping all ingredients for optimal flavor.
Do I Have to Use Turmeric?
Turmeric is not required for this recipe. Neither is the cinnamon. However, the turmeric flavor is very subtle and boosts the nutritional value of the caramels.
Turmeric contains compounds with medicinal properties called curcuminoids. Curcumin, the principal curcuminoid of turmeric, is responsible for most of the benefits of this powerful herb. In many cultures, turmeric is used for health and vitality. Additionally, turmeric root contains minerals such as iron, protein, calcium, magnesium and manganese.
Why not make paleo caramels with a little extra nutritional boost?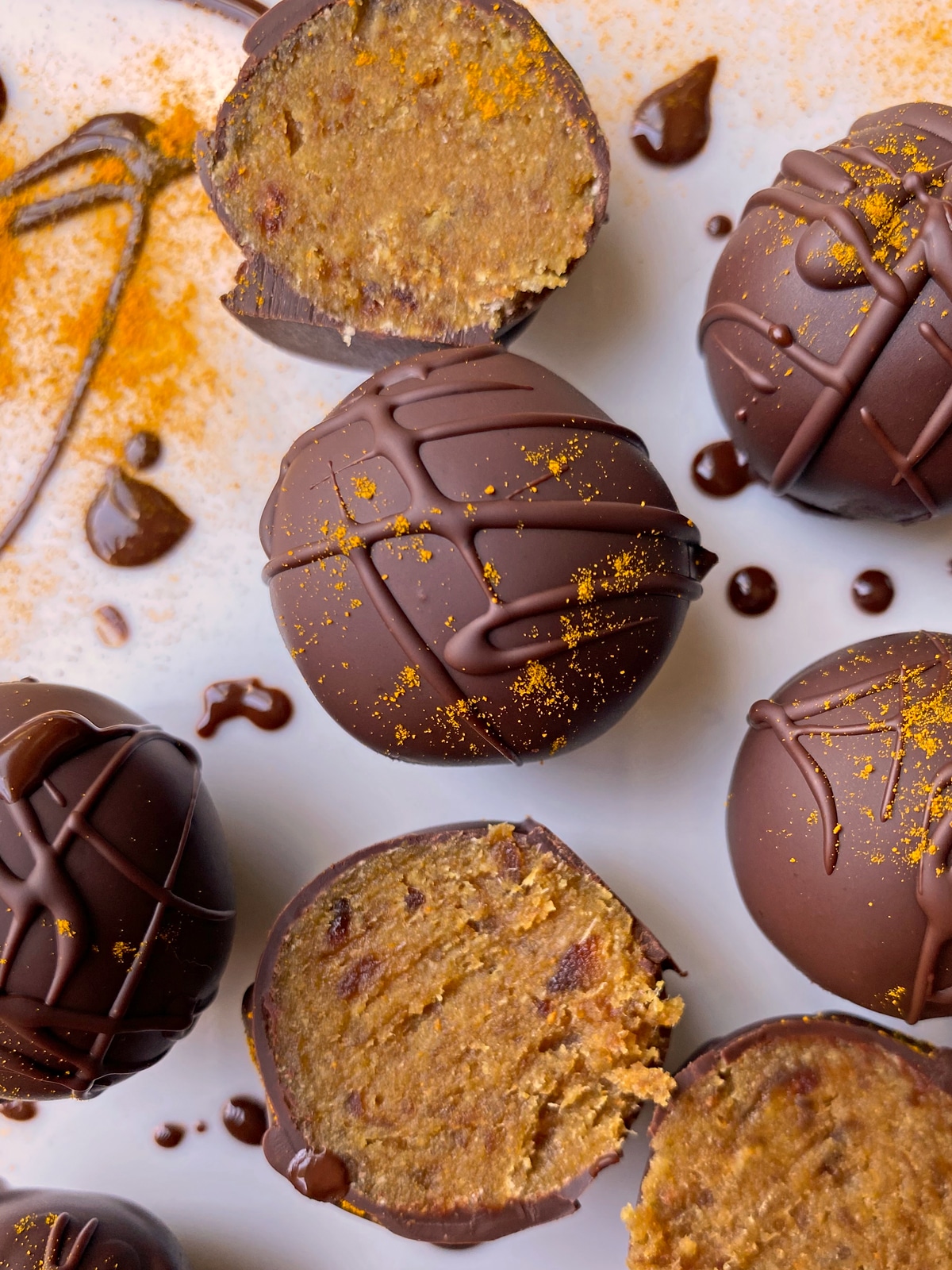 How to Make Turmeric & Cinnamon Caramels
These caramels are so easy to make! Unlike conventional caramels, there's no need for a candy thermometer or boiling the ingredients to just the right temperature. These caramels are made with dates, in a food processor and rolled by hand.
Make the Date Caramel Filling
First, place pitted dates in a small microwaveable bowl. Pour lukewarm water into the bowl so that the dates are fully submerged. Then, microwave the dates (on high) for 1 minutes and 30 seconds.
Drain the water from the dates and place them in a food processor, along with the coconut oil and vanilla. Blend.
Next, add the remaining ingredients to the food processor and blend. Stop when the mixture is a thick, sticky and smooth substance.
Then, place about 2 Tablespoons of coconut flour in a small dish. You'll need this extra coconut flour for rolling the filling into balls. Scoop out about one tablespoon of the filling, drop it into the coconut flour and then roll it into a ball. Place the balls on a firm, flat surface such as a large plate or small baking sheet.
Next, freeze the caramel balls for at least 2 hours. This makes dipping them into the chocolate a whole lot easier - trust me!
Dip in Dark Chocolate
After freezing, melt the chocolate and coconut oil (for the coating) in a small saucepan over low heat. Once fully melted, remove chocolate from the heat. Retrieve the caramel balls from the freezer and dip (one at a time) into the melted chocolate. Place them on a parchment-lined pan or baking sheet.
Lastly, use any leftover chocolate to drizzle on top of the dipped balls. Sprinkle a bit of turmeric over the top for extra decoration.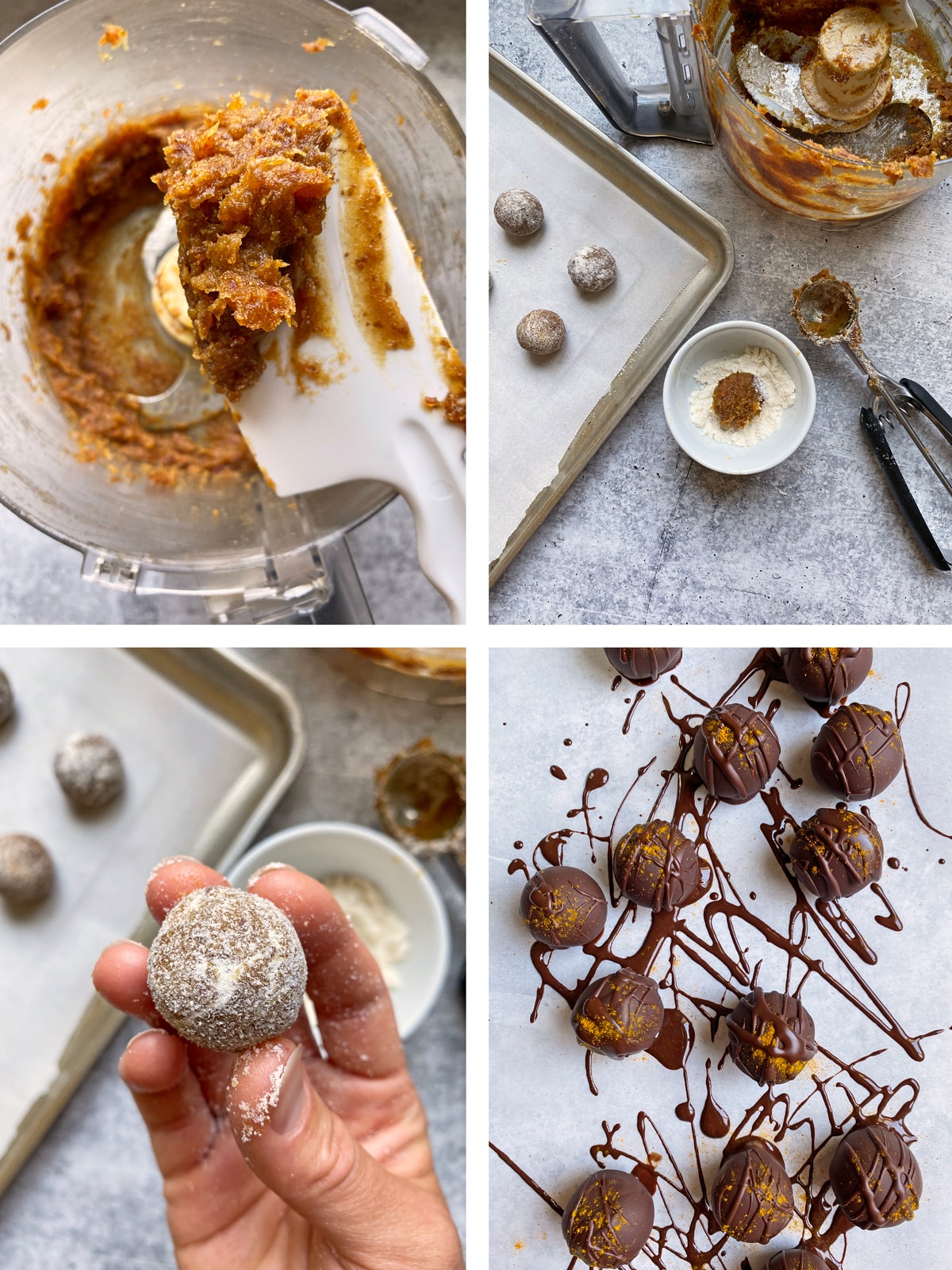 How to Store Paleo Caramels
The caramel softens at room temperature, making them chewy and delicious. Since they are preservative free, they won't last well at room temperature. Store the caramels in an air-tight container in the fridge or freezer.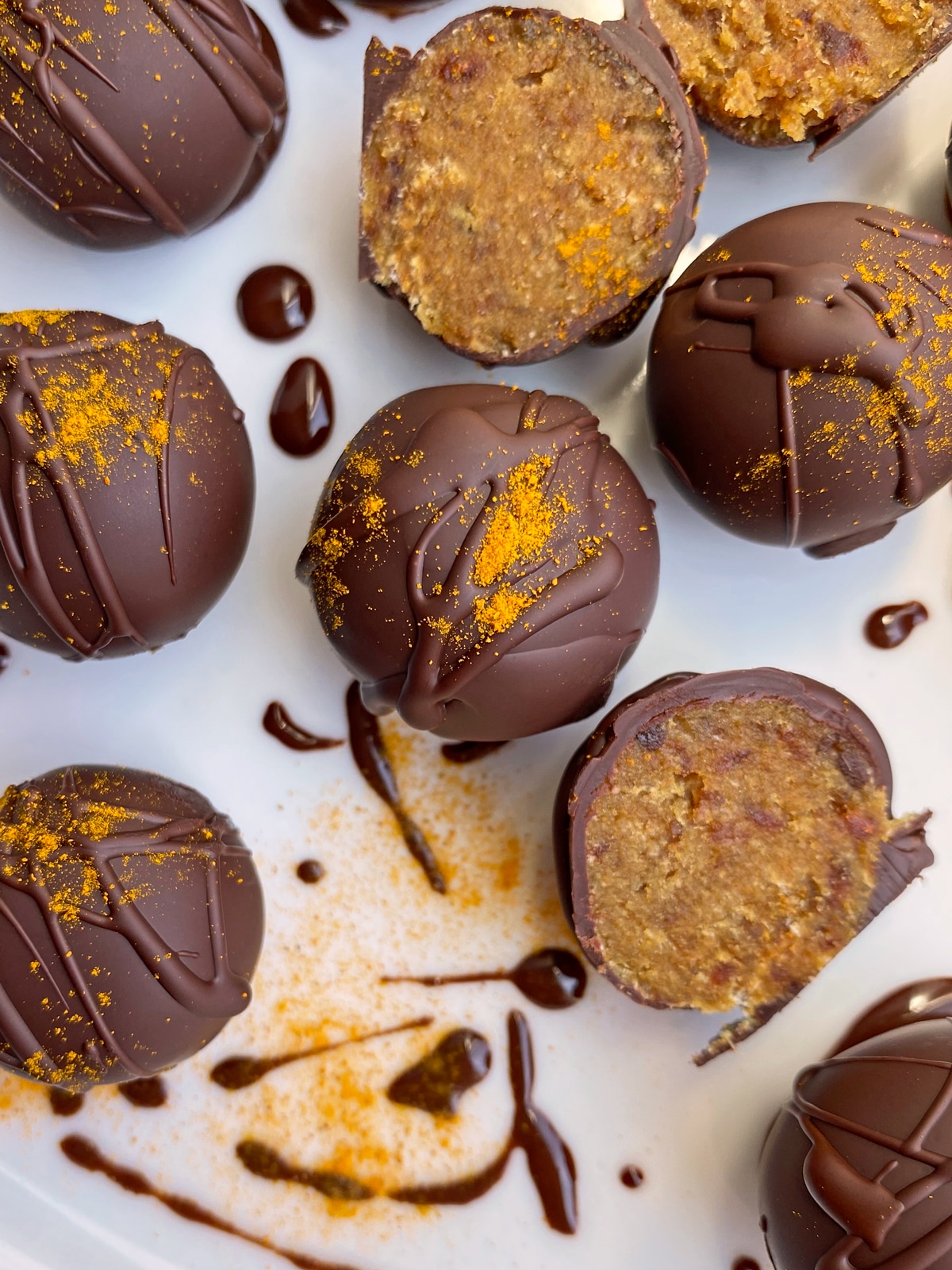 More Easy Chocolate Recipes
I love making my own chocolates and truffles! They're cheaper than store bought ones, typically have healthier ingredients and there are so many possible flavor combinations. Here are some others on my site:
Enjoy!
Print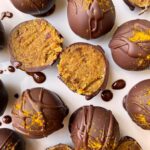 Paleo Caramels with Turmeric & Cinnamon
Author:

Katie

Prep Time:

30 minutes

Chill Time:

2 hours

Cook Time:

0 minutes

Total Time:

2 hours 30 minutes

Yield:

14

-

15

caramels

1

x
---
Description
Healthy, naturally sweetened caramels infused with turmeric and cinnamon.
---
Caramel Filling
Chocolate Coating
3 oz

dark chocolate

1 Tbsp

coconut oil (optional)*
---
Instructions
Place dates in a small microwavable bowl.  Cover with water and microwave on high for 1 minute 30 seconds**
Drain water from dates.  Add to food processor with coconut oil and vanilla.  Blend.
Add remaining ingredients to food processor.  Blend until mixture is a smooth, thick and creamy texture.
Place a couple tablespoons of coconut flour in a small dish.  Scoop out about 1 tablespoon of the caramel filling and drop it into the coconut flour.  Pick up the filling and roll it into a ball.
Place the fillings on a small baking sheet or plate.  Freeze for at least 2 hours to firm.
Melt chocolate and coconut oil in small saucepan over low heat.
Once fully melted, remove caramel balls from freezer and dip (one at a time) into chocolate.  Place on a parchment-lined baking sheet to set.
Optional: after coating all caramels in chocolate, drizzle remaining chocolate on caramels and add a pinch of turmeric.
Store in fridge or freezer.
---
Notes
*Coconut oil makes chocolate runnier and easier to work with.  However, this ingredient may be omitted.
**If you don't have a microwave or don't want to microwave the dates, then place them in a bowl and boil a pot of water.  Pour the boiling water over the dates, covering them completely, and let them sit for 5 minutes to soften.  Drain the water and use.
Keywords: turmeric desserts, turmeric & cinnamon, cinnamon caramels, paleo caramels, paleo caramel recipe, vegan date caramels, chocolate covered caramel, turmeric candy, chewy caramel recipe, paleo dessert, no bake vegan dessert, allergy friendly, nut free dessert