These Homemade Andes Mint Chocolates are my spin on the original Andes Mint Candies. These chocolates are made with a few simple, healthy ingredients, naturally colored and low in sugar. Plus, this mint chocolate recipe is Paleo, Keto and Vegan friendly!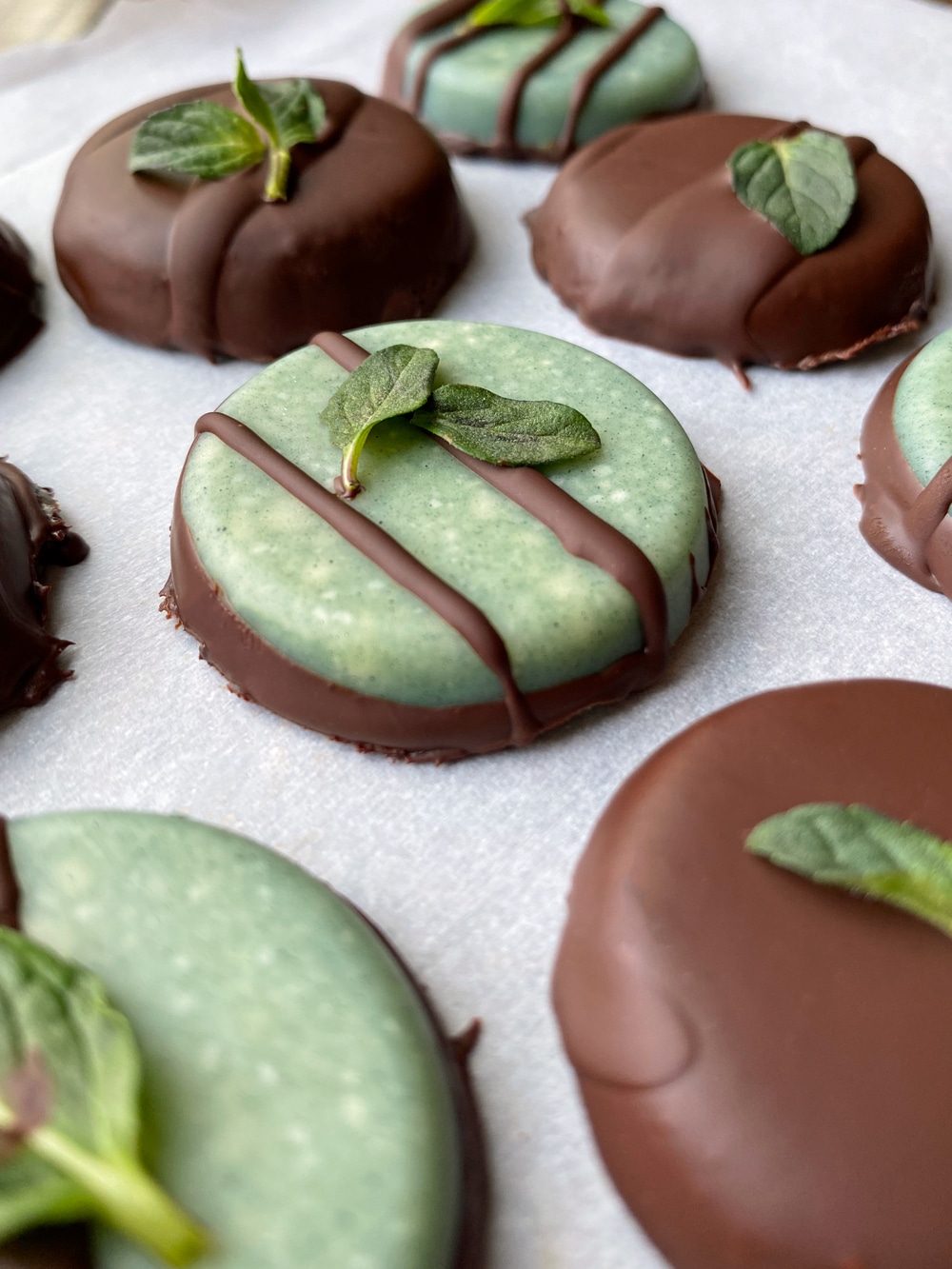 I made this recipe on a whim.  I was wanting something minty and green to share for St. Patrick's Day and peppermint patties were the first thing that came to mind.  But, these aren't quite peppermint patties.
Unlike a peppermint patty, these chocolates don't have a creamy, soft center. This is because the filling uses cacao butter. Many Paleo peppermint patty recipes call for a mixture of coconut cream and coconut oil. So, wanting to be more original, I took a different route!
And the results were amazing!  Which is why I'm introducing you to these low carb Andes Mint Chocolates. 
Recipe Highlights
This easy mint chocolate recipe is:
Paleo
Keto
Vegan
free of the top 8 allergens
low in sugar
nut free
dairy free
coconut free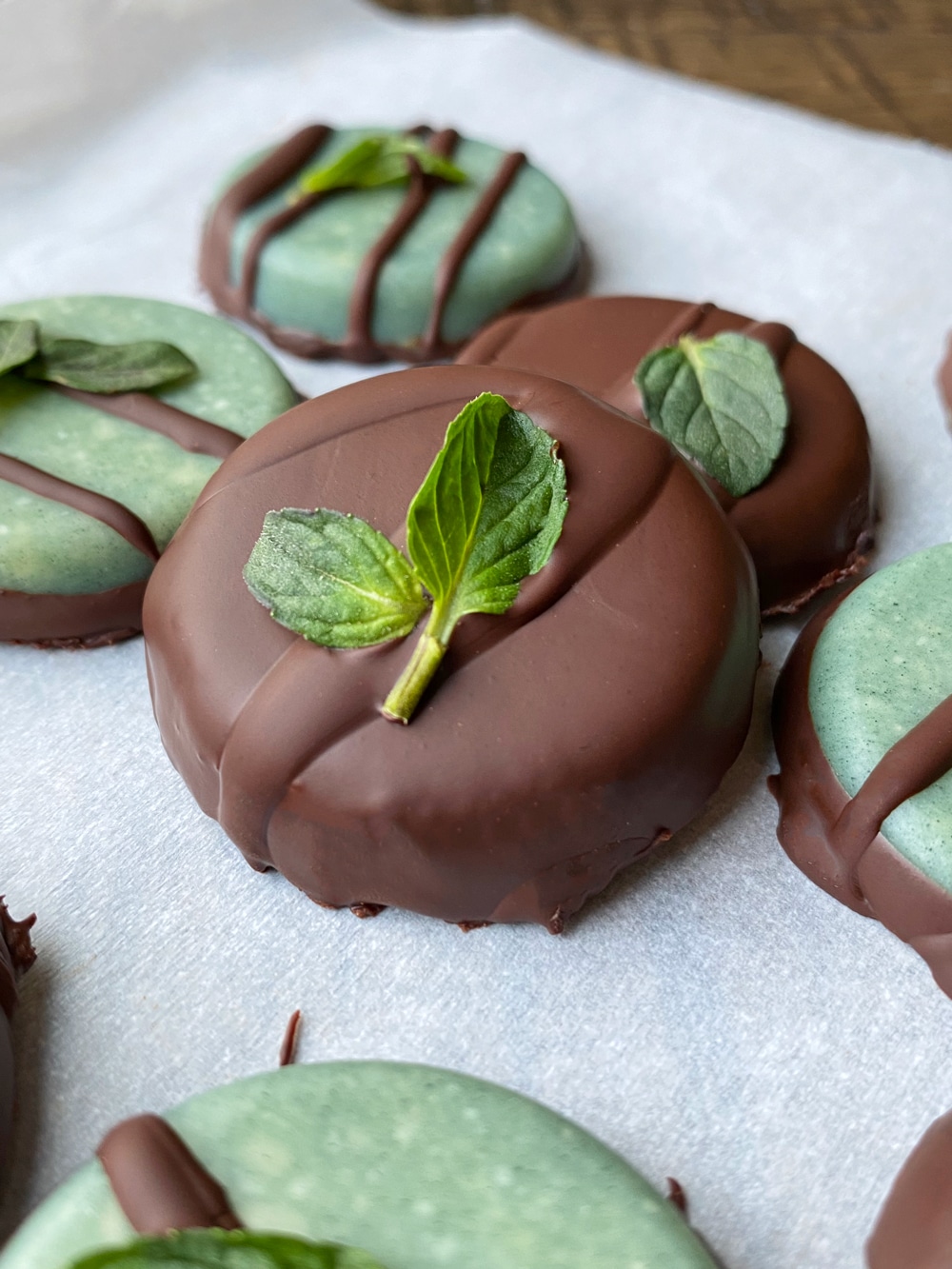 Ingredients in Homemade Andes Mint Chocolates
Like I said, this recipe contains Paleo, Keto and Vegan ingredients. It is low in sugar, easy to make and the perfect way to celebrate St. Patrick's Day! These chocolate would even make a festive Christmas treat.
The ingredients include:
fresh mint leaves (optional)
Cacao Butter
I used cacao butter to make these mints coconut free. An alternative would be to use coconut butter. The results will be similar, but the filling will have a slightly different texture.
Powdered Monk Fruit
Instead of powdered sugar, I used powdered monk fruit. This is a zero calorie sweetener and the only zero calorie sweetener that I like (taste-wise). Unlike a lot of sweeteners, monk fruit doesn't have an after-taste. If you don't want to use monk fruit, any powdered sugar will work. THIS blog post is a great resource for making your own Paleo powdered sugar.
Peppermint Flavoring
Peppermint flavoring or peppermint extract will work in this recipe. Just note that peppermint extract is far stronger than peppermint flavoring. Use just a few drops at a time and taste test it to your liking.
Spirulina
These mint patties are colored with spirulina. Other great, healthy coloring options include: matcha, chlorella powder, wheat grass powder, spinach powder or kale powder. You may also omit the coloring completely.
Extra Dark Chocolate
Since the filling is quite sweet, I used 100% dark chocolate for the outer coating. This chocolate is naturally Paleo, Keto and Vegan; also a great sugar free chocolate option!
Unlike a traditional Andes Mints, these are round and coated in dark chocolate. Or, just partially dipped and then drizzled with dark chocolate.
I made these keto friendly mints in a miniature muffin mold.  First making the fillings, then coating them dark chocolate.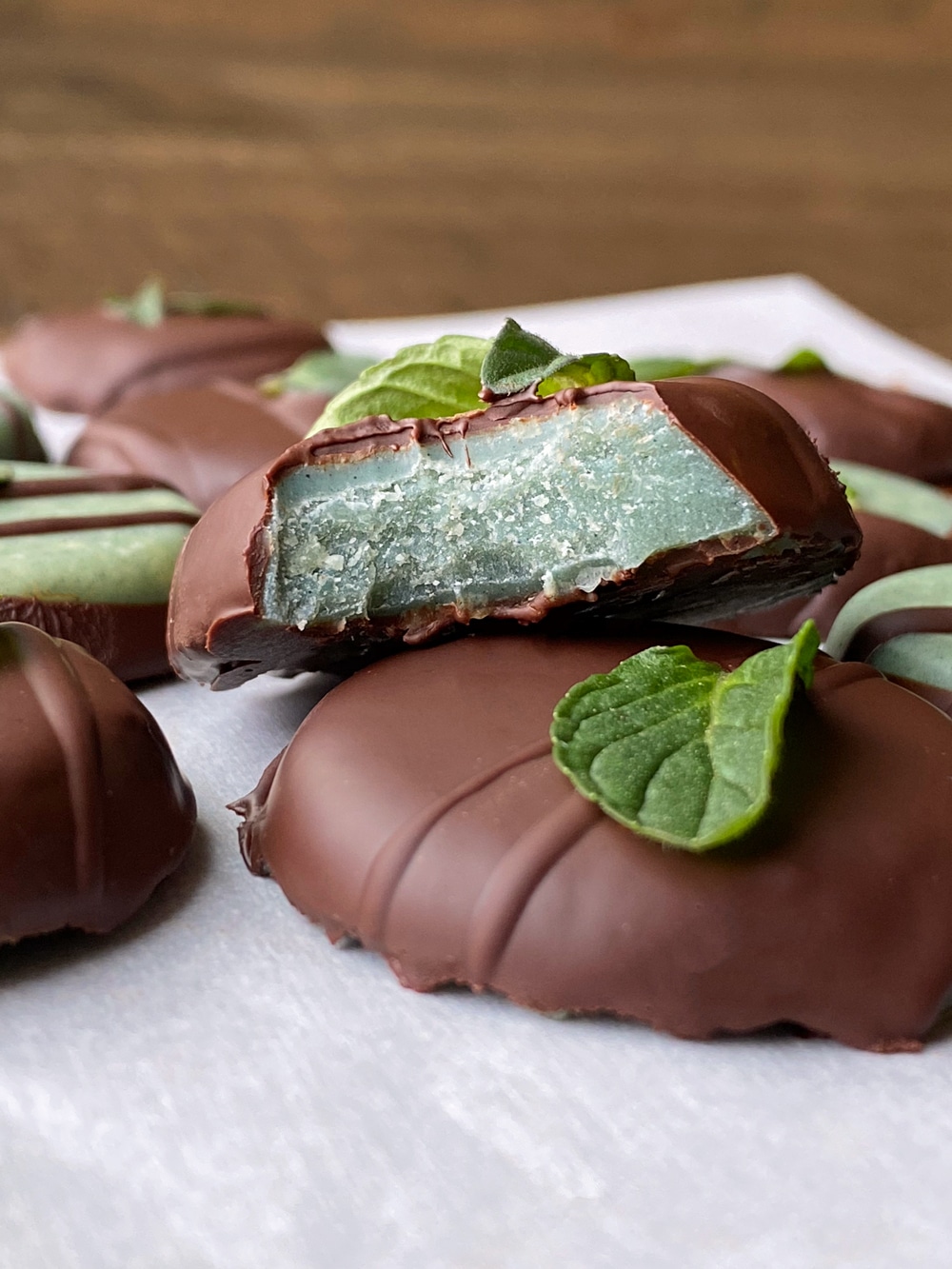 How To Make Chocolate Mints in Molds
Here is the step-by-step process of how to make these Homemade Andes Mints using a silicone mini muffin mold.
First, gather the necessary ingredients. You will also need a small sauce pan for melting the cacao butter, a whisk, spatula and a mini silicone muffin pan.
Make the Filling
Place the cacao butter in a small sauce pan and melt on the stove top, over low heat. Stir frequently, until the mixture is fully melted. Then, turn off the heat and whisk in the monk fruit, peppermint flavoring and spirulina.
Note: you may add as little or as much monk fruit sweetener, peppermint and spirulina as you desire. Simply taste the mixture and add to your liking.
Pour ½-1 tablespoon of the filling into the mini muffin slots. I made 12 mints, but you can make more or less depending on how thick you want the filling to be.
Place the filling in the freezer for 10-20 minutes, or until set. (Timing will depend on how thick you made the filling.)
Make the Dark Chocolate Coating
Clean the sauce pan you used to melt the cacao butter. Then, place the chocolate in the sauce pan and melt it on the stove top, over low heat.
Once melted, remove the chocolate from the heat. Grab the set fillings and individually dip them into the dark chocolate. The best way to do this is to drop a filling into the chocolate, then scoop it out using a fork. Be sure to let excess chocolate drip off of the filling, then set the mint on a parchment lined baking sheet or large plate.
After all of the fillings have been dipped in chocolate, drizzle any extra over the top.  Add a small leaf of fresh mint, then place in the freezer to set.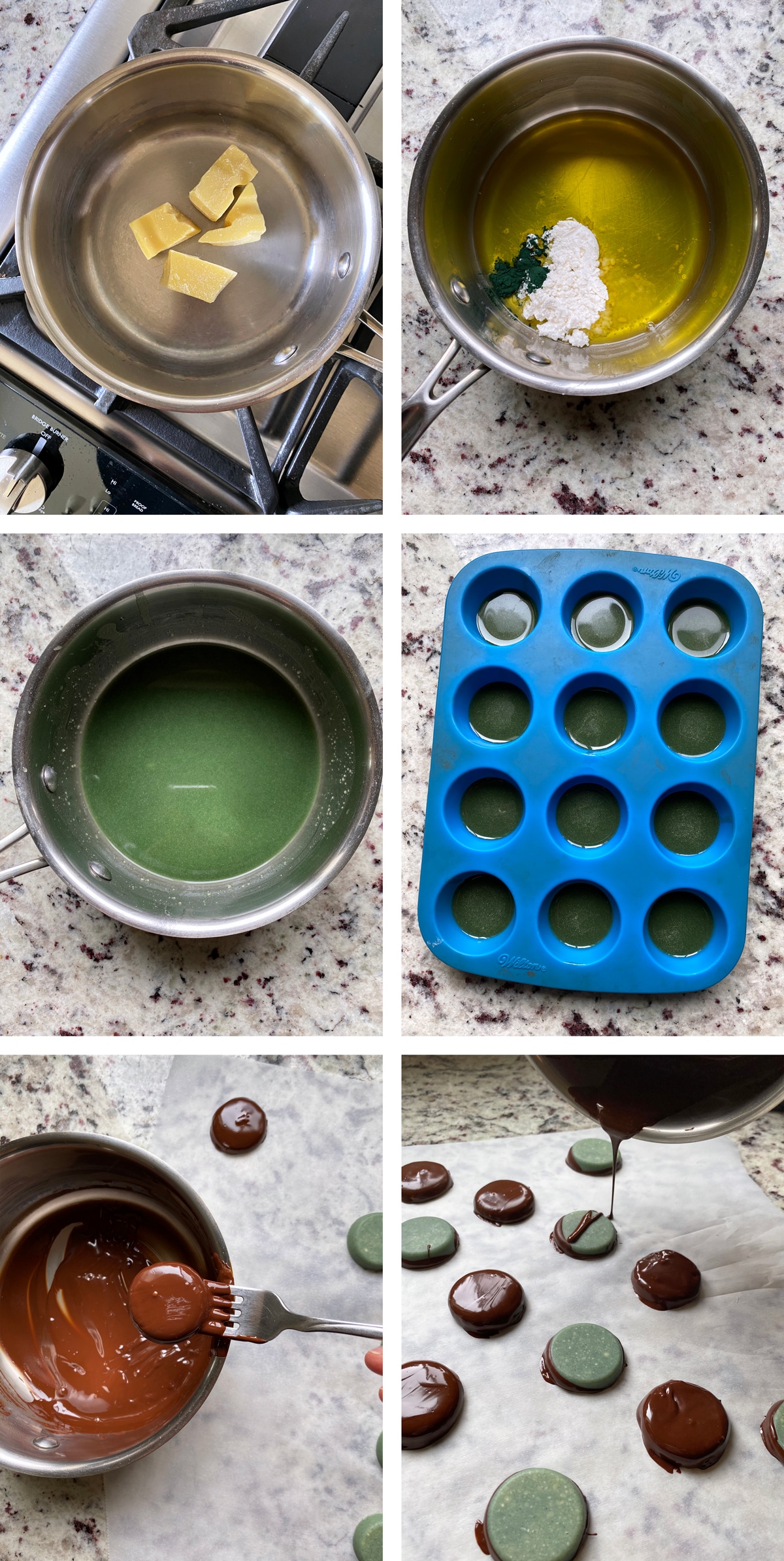 Best Way to Store Homemade Andes Mint Chocolates
These are best stored in the fridge. Especially if you decorate them with fresh mint. The fresh mint should stay good up to one week in a sealed, air-tight container.
These can also be kept in the freezer for longer storage.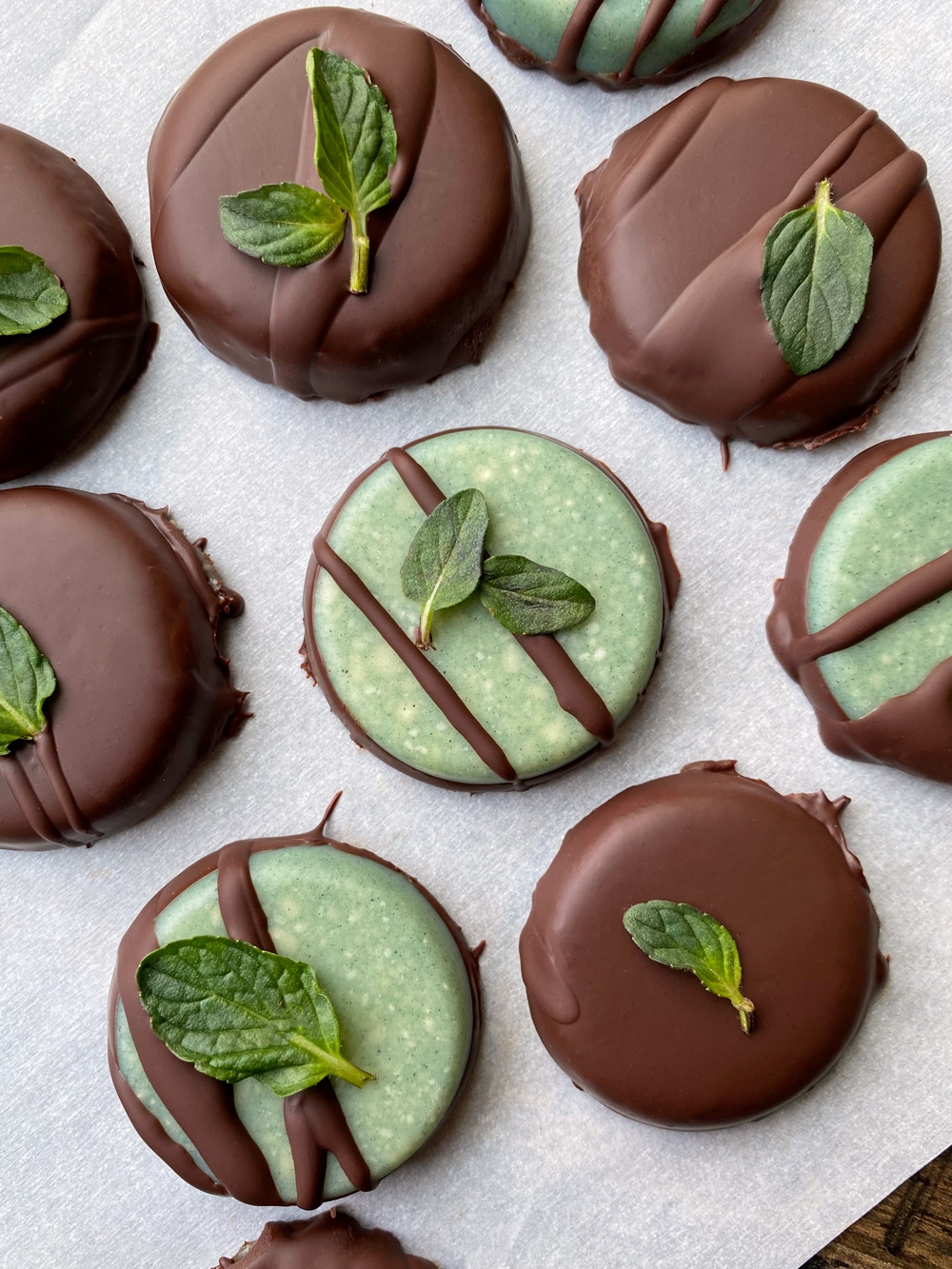 More Paleo Mint Chocolate Recipes
For more Paleo friendly recipes containing mint and chocolate, check these out:
Enjoy!
Print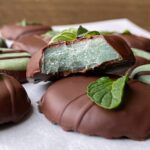 Homemade Andes Mint Chocolates (Paleo, Keto, Vegan)
Author:

Katie

Prep Time:

40 minutes

Cook Time:

0 minutes

Total Time:

40 minutes

Yield:

12

mints

1

x
---
Description
This recipe is a spin off of the traditional Andes Mints chocolate candy.  These mint chocolates have a naturally colored, smooth cacao butter filling and are dipped in dark chocolate.  This recipe is Paleo, Keto and Vegan friendly.
---
---
Instructions
For the Filling: Place cacao butter in a small saucepan and melt on the stove top, over low heat.
Once cacao butter is fully melted, turn off heat and whisk in powdered monk fruit, peppermint flavor and spirulina.
Pour filling into a miniature silicone muffin pan (making 12 mints) and freeze for 10-20 minutes, or until set.
For the Chocolate Coating: Place dark chocolate in a small saucepan and melt on the stove top, over low heat.
Once the chocolate is fully melted, retrieve the hardened fillings from the freezer.  Individually dip each filling into the melted dark chocolate and set on a sheet of parchment paper.
Optional: drizzle any remaining chocolate over the mints and add a leaf (or two) of fresh mint.
Place in the fridge or freezer to set.
Store in fridge or freezer.
---
Notes
Cacao Butter: coconut butter may be used in place of cacao butter, but the texture will be slightly different.
Powdered Monk Fruit: use anywhere from 2 Tbsp - ¼ cup monk fruit, depending on your taste preference.  Also, feel free to sub any powdered sugar for the monk fruit sweetener.
Peppermint Flavor: peppermint oil may be used instead, however it is much more potent than peppermint flavoring.  Adjust to taste if you are using peppermint oil/extract.
Spirulina: the more spirulina you use, the darker the mints will be.  Use as much or as little as you want.  Just note, the color is darker in liquid form...when the cacao butter solidifies it lightens up.
Dark Chocolate Chips: I recommend using extra dark chocolate (85-100% cacao) if you make the filling sweet.
Keywords: peppermint, chocolates, Paleo, Keto, Vegan, nut free, coconut free, dairy free, egg free, dessert, St. Patrick's Day, Christmas