These Mint Chocolate Chip Tigernut Flour Muffins are not only Paleo but nut free as well.  They are sweetened with a hint of maple syrup and mini chocolate chips.  In addition, they have a refreshing minty flavor, perfect for the upcoming holiday season.  They're a delicious, moist and healthy muffin - just the thing for when you're craving a chocolate treat.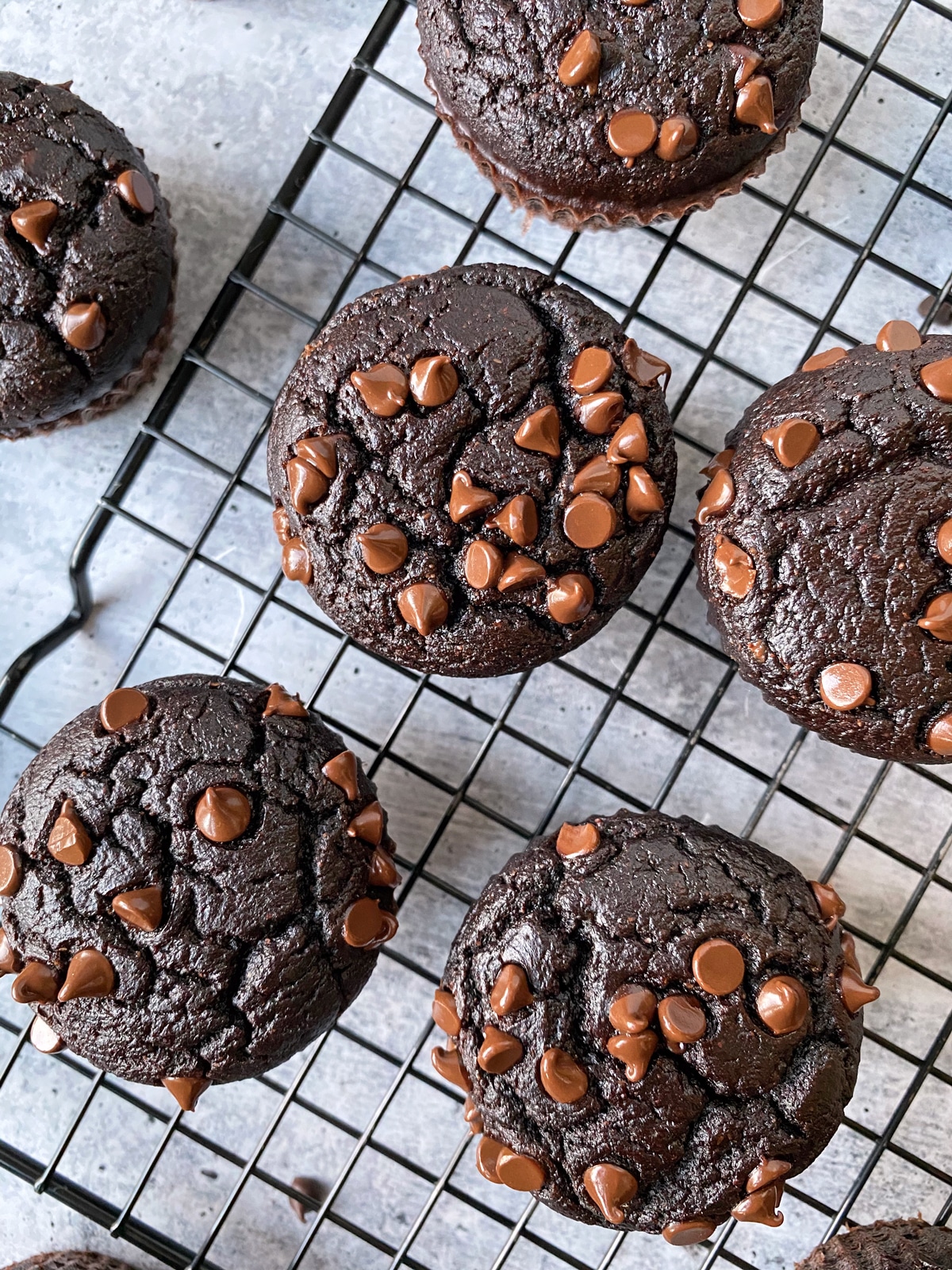 I know it's only November, but have you started listening to Christmas music yet? 
Normally, I start bringing out the Christmas tunes during October (I know, I know), but this year the time got away from me.  It wasn't until just after Halloween that I started rocking out to Jingle Bells and scanning Netflix for new holiday movies. 
But, on the food side of things, my mind has been in over-drive and my taste buds have been ahead of the typical seasonal flavors.  I've been all about peppermint-flavored treats like these Mint Chocolate Chip Tigernut Flour Muffins and my Peppermint Protein Bars.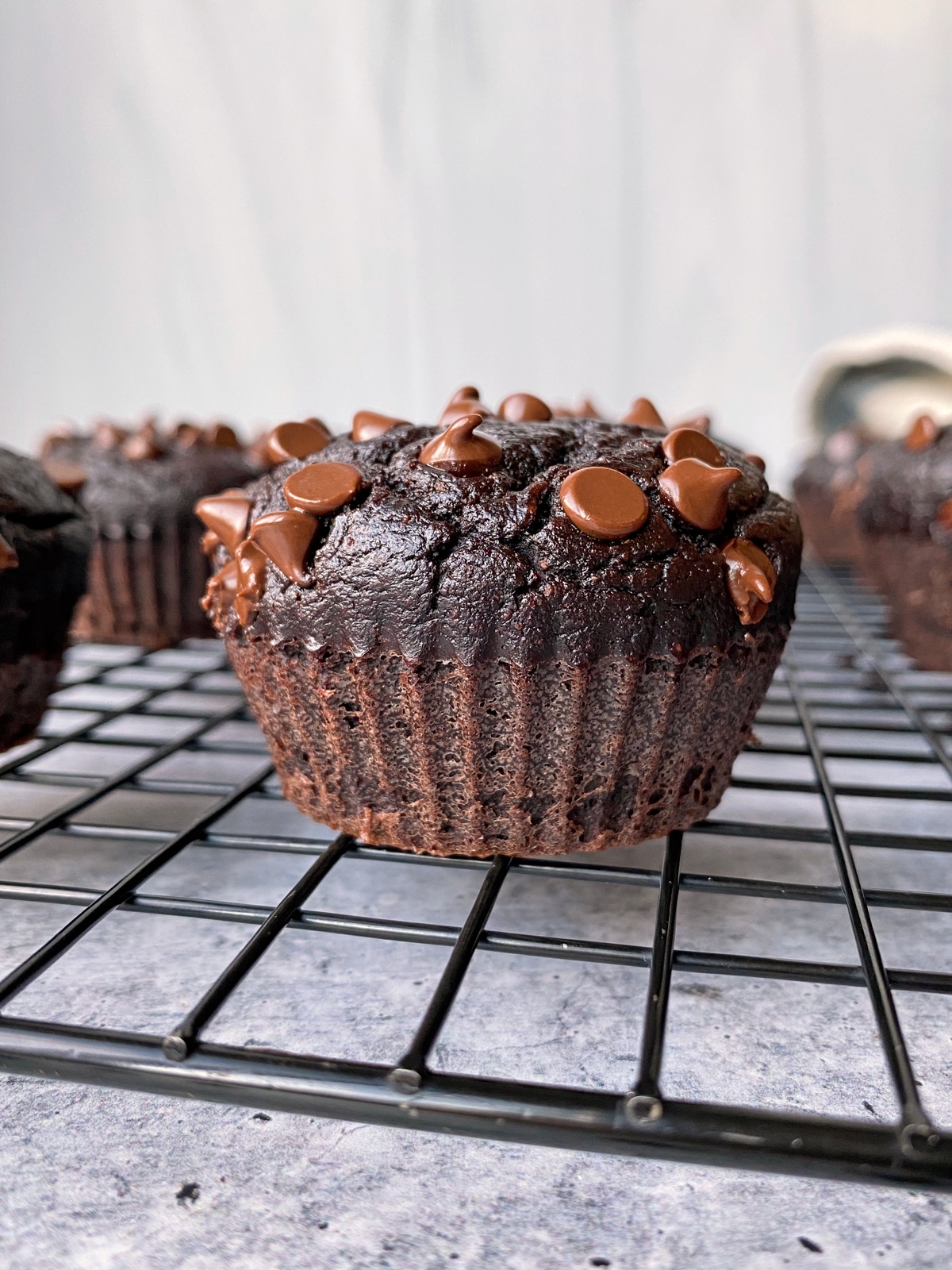 These Paleo friendly, Mint Chocolate Chip Tigernut Flour Muffins are just the thing to get you in the holiday spirit if you aren't already.  Also, they're simply a great excuse to eat chocolate 😉
These tigernut muffins are:
Paleo
gluten free
grain free
nut free
dairy free
moist and fluffy
lightly sweetened
They are a healthy chocolate muffin, great for breakfast or dessert.  Plus, the whole family is sure to love them.  My kids devoured the batch.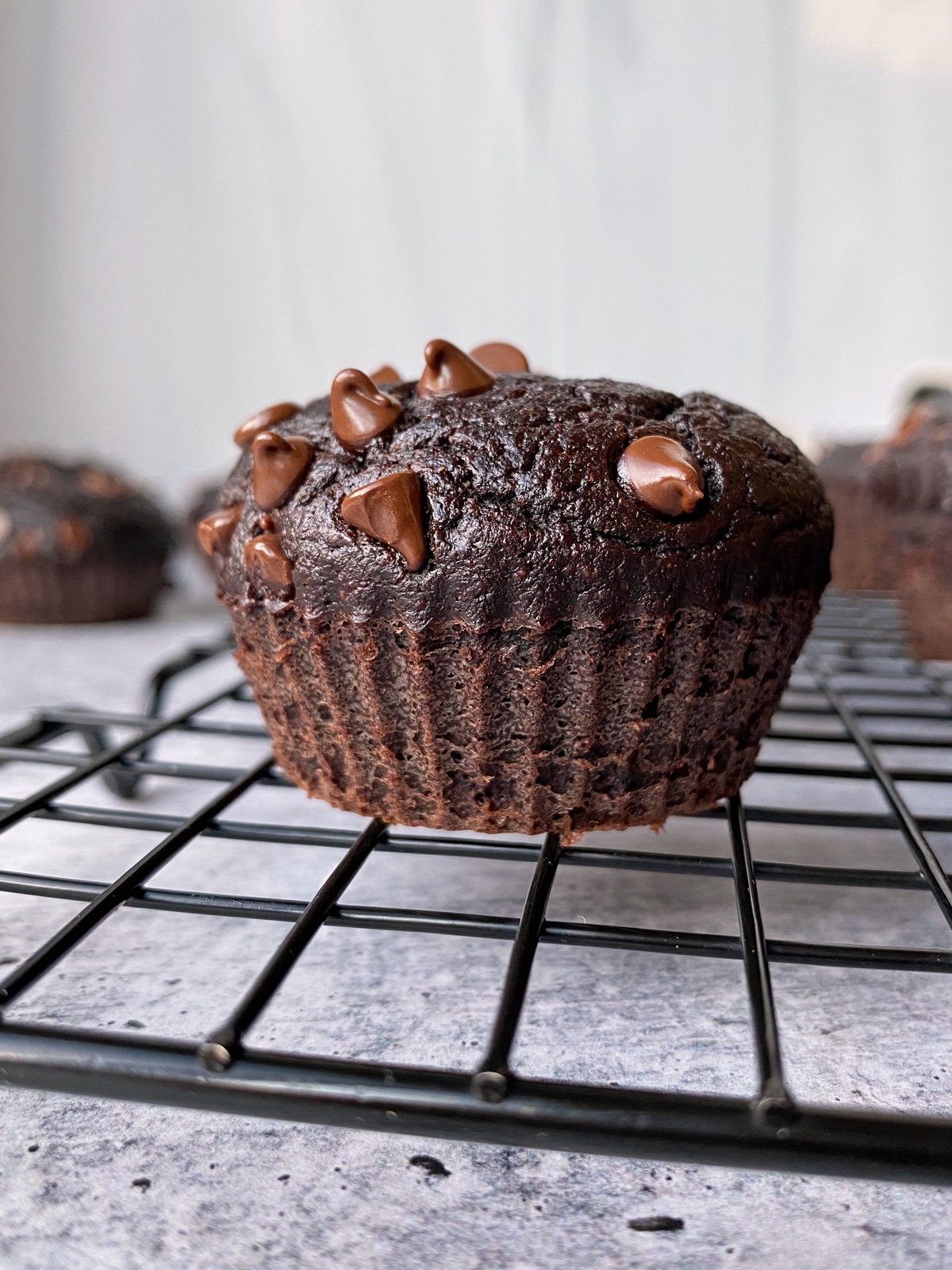 Ingredients in Tigernut Flour Muffins
These grain free mint chip muffins contain a list of dairy free, Paleo ingredients.  The main ingredients in these tigernut muffins include: tigernut flour (obviously), cocoa powder, tapioca flour, eggs, dairy free yogurt and maple syrup.  The chocolate chips are option, but highly recommended!
Tigernut Flour
Have you tried tigernut flour yet?  It's one of my favorite grain free, Paleo baking flours.  Tigernut flour is made from finely ground and peeled tigernuts.  Although the name can be misleading, tigernuts are not nuts but small root vegetables.  They are naturally sweet and nutty in flavor - perfect for Paleo baking!
In addition, tigernuts contain a lot of fiber, a decent amount of potassium, Vitamin E and iron, as well as resistant starch.  This resistant starch has prebiotic properties that helps promotes the growth of beneficial bacteria in the gut.
Cocoa Powder
Since these are chocolate, chocolate chip muffins cocoa powder is a must!  Or, at least some sort of chocolatey flour.  Cacao powder would work as well.  However, cacao powder has a tendency to make baked goods slightly drier that if you were to use cocoa powder.
Tapioca Flour
This recipe uses tapioca flour, but arrowroot would work in its place.  Tapioca flour is needed for texture.
Eggs
This recipe has only been tested using eggs.  So, I cannot guarantee any results if using an egg replacement.
Dairy Free Yogurt
Yogurt is necessary for making a moist muffin.  I used Kite Hill's plain almond milk yogurt (obviously not nut free).  But, for a nut free version you may use coconut yogurt.  If you tolerate dairy, a grass fed cow's milk yogurt will work as well.
Maple Syrup
Just a touch of maple syrup is used in this recipe.  Any liquid sweetener will work as a replacement.  But, real maple syrup makes these muffins absolutely delicious.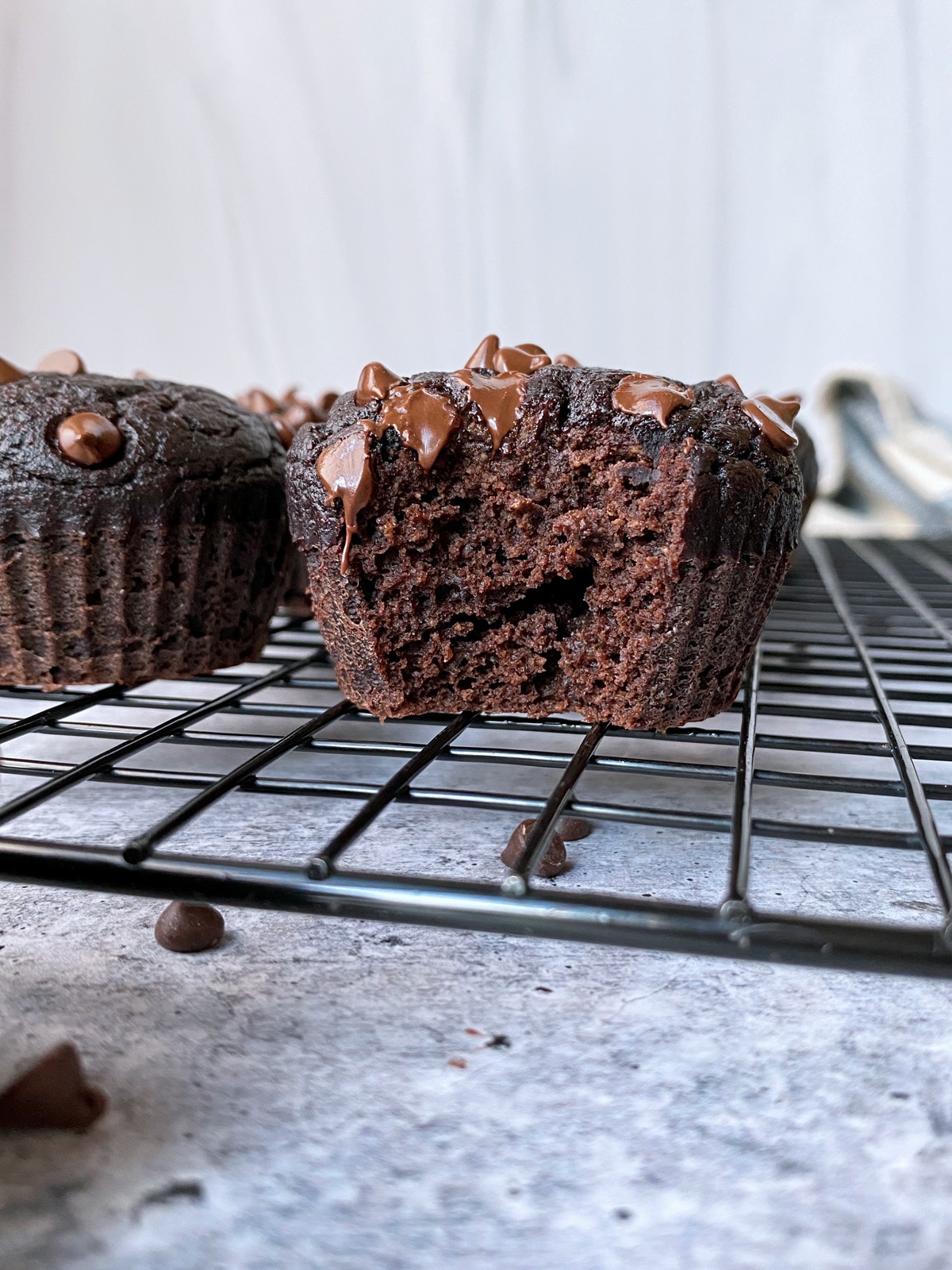 How to Make Tigernut Flour Muffins
This tigernut flour muffin recipe is super easy to throw together.  To make the batter, all that's needed is one bowl, a mixing utensil and the proper ingredients.
First, preheat your oven to 350 degrees F.  Then, in a medium-sized mixing bowl, combine all dry ingredient (except chocolate chips).  Add wet ingredients and whisk until smooth.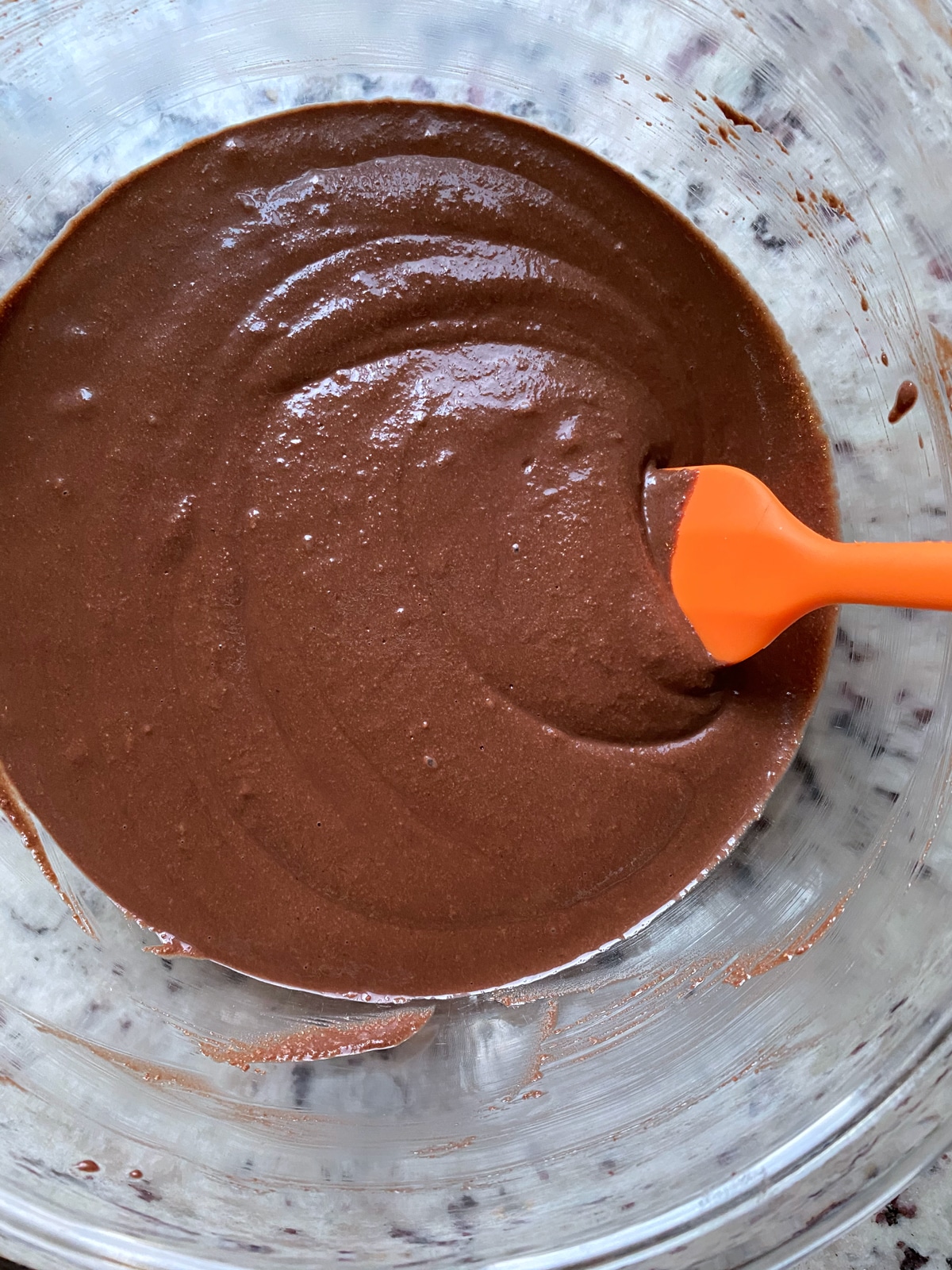 Next, pour the batter into a lined muffin pan.  (I use silicone muffin liners.)  Each muffin cup should be filled about half way full, making 12 muffins.  Then, top with chocolate chips. 
Place the muffins in the oven and bake at 350 degrees for 18 minutes.  They should be slightly under-baked in the middle when they come out.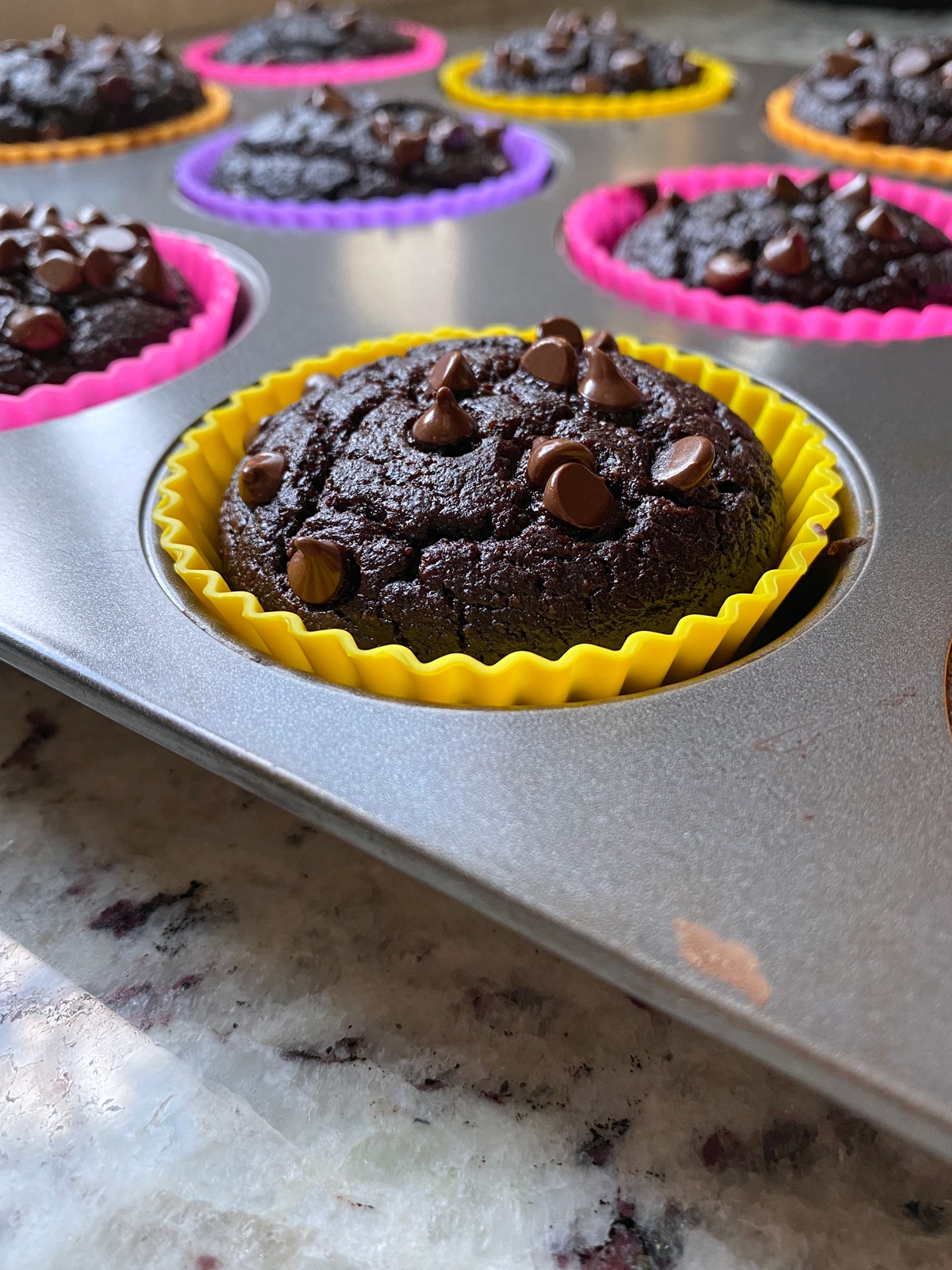 Lastly, cool the muffins in the pan for 5 minutes, then transfer to a wire cooling rack and cool to room temperature. 
Store these mint chocolate muffin in the fridge for up to one week.
More Nut Free Paleo Muffin Recipes
For more easy, nut free Paleo muffin recipes, check these out:
Enjoy!
Print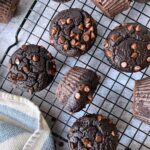 Mint Chocolate Chip Tigernut Flour Muffins
Author:

Katie

Prep Time:

5 minutes

Cook Time:

18 minutes

Total Time:

23 minutes

Yield:

one

dozen muffins

1

x
---
Description
Nut free, mint flavored Paleo muffins made with tigernut flour.  Perfect alongside breakfast, lunch or eaten for dessert.
---
---
Instructions
Preheat oven to 350 degrees F.
In a medium-sized mixing bowl, combine all dry ingredients except chocolate chips.  Mix well.
Add in all wet ingredients, whisk until smooth.
Pour batter into a lined muffin pan, filling each cup about halfway full. (Making 12 muffins).
Place desired amount of chocolate chips on top of each muffin**
Put muffins in the oven and bake at 350 degrees for 18 minutes.  Muffins should be slightly under-baked once done.
Remove from oven and cool for 5 minutes in pan, then transfer muffins to cooling rack.
Store in fridge up to one week.
---
Notes
*I used Kite Hill unsweetened almond milk yogurt.  For nut free, use a coconut-based yogurt.
**Another option is to add the chocolate chips to the batter so that they are dispersed throughout the muffins.
Keywords: tigernut flour, muffins, breakfast, dessert, snack, nut free, mint, chocolate