These Tigernut Flour Chocolate Chip Cookies are Paleo, Vegan and free of the top 8 allergens. This healthy cookie recipe is made with tigernut flour, sweetened with maple syrup and filled with dark chocolate. These cookies are crispy on the outside and have a gooey inner texture - the perfect chocolate chip cookie!

The most popular Paleo cookies always seem to be made with almond flour.
But, I like to be different. I don't want all my recipes to contain nuts and I really like tigernut flour (it has a nutty, naturally sweet flavor and is allergy friendly).
I also wanted to take this recipe a step further and create a Paleo cookie that was not only nut free but also egg free. Thus, these Paleo, Vegan AND allergy free Tigernut Flour Chocolate Chip Cookies were born!
So, what exactly is tigernut flour?
As you should have guessed, it's nut free, Paleo approved and Vegan friendly. But, WHAT is a tigernut and how is it made into flour?
What is Tigernut Flour?
Tigernut flour comes from finely ground, peeled tigernuts. Now, tigernuts are not actually nuts, but small root vegetables. They are naturally sweet and nutty in flavor, - perfect for baking!
Additionally, tigernuts contain a lot of fiber, a decent amount of potassium, Vitamin E and iron, as well as resistant starch. This resistant starch has prebiotic properties that helps promotes the growth of beneficial bacteria in the gut. So, eating tigernut cookies is good for the gut! 😉
Tigernut Flour Nutritional Facts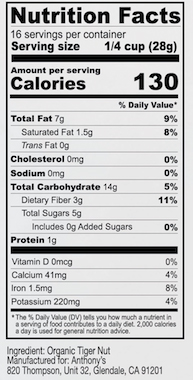 Tigernut flour is mainly carbohydrate, with a decent portion of fat and minimal protein.
Is tigernut flour keto? Well, that will depend on one's carb tolerance. Tigernut flour can be a part of a ketogenic diet. And these healthy tigernut cookies can be made more keto friendly by substituting the maple syrup for a liquid sugar free sweetener.
¼ cup of tigernut flour contains 5 grams of sugar, meaning it is naturally sweet. This is great for baking because you don't need to add as much sugar to sweeten desserts made with tigernut flour.
Where To Buy Tigernut Flour
I have two brands of tigernut flour that I love and use regularly:
The best place to buy tigernut flour is online. You can either purchase it from Amazon, or on the company website.
You can also find tigernut flour at various health food stores; but I've found that buying online is often cheaper.
Ingredients in Tigernut Chocolate Chip Cookies
These Vegan tigernut cookies contain 10 simple ingredients and are extremely easy to make. Here's what you need:
All of these ingredients are
Paleo friendly, Vegan and free of the top 8 allergens.
Ingredient Substitutions
Since everyone ALWAYS wants substitutions, I want to say that my first recommendation is to not make any subs. If you don't mind a slight change in taste or texture, then by all means go ahead. But, if you want the exact cookie I made, then use the ingredients I list in this recipe 😉
Flax Egg
I chose to use a flax egg in this recipe to make it egg free. Plus, flax is pretty easily accessible and inexpensive. To make a flax egg, simply use a coffee grinder to grind whole flax seed. Then, measure 1 Tbsp ground flax + 3 Tbsp water . Mix and let the solution sit for 5 minutes to thicken.
If you don't want to use flax, a "real" egg, chia egg or gelatin egg should work. However, I have not tried these substitutions.
Arrowroot Flour
In most recipes, arrowroot flour can be substituted for tapioca starch or potato starch. So, either of these ingredients would work in place of the arrowroot. I don't recommend leaving this ingredient out, as it impacts the consistency of the batter and final texture of the cookie.
Shortening
I chose to use non-hydrogenated shortening (a mixture of palm oil and coconut oil) because it is the closest Paleo and Vegan alternative to butter. It produces dairy free tigernut cookies with a similar taste and texture as a cookie made with butter.
In fact, if you are going to substitute the shortening, my first recommendation would be grass fed butter. After that, room temperature coconut oil. But, the thing I've found with coconut oil is that it doesn't bind as well. So the cookies will be more likely to crumble and fall apart.
Cream of Tartar + Baking Soda
Since most baking powders are not Paleo friendly, I used cream of tartar
and baking soda. Cream of tartar is important for producing a cookie that is crisp on the outside and moist on the inside.
The amount used in this recipe (1 tsp cream of tartar + ½ tsp baking soda) is equivalent to about 2 tsp baking powder. So, substituting 2 tsp baking powder for the cream of tartar and baking soda will produce similar results.
For a great Paleo baking powder recipe, see THIS post.
If you make any substitutions, I'd love to know your outcome.
If I had all the time, money and ingredients in the world, I would create recipes using as many substitutions as I could think of...but I don't! I try my best to perfect the recipes as I have created them and that already takes multiple rounds of baking.
However, I am confident that these nut free, Paleo tigernut flour cookies will bake well and result in a delicious, crowd pleasing cookie! I've made them countless times at my house and everyone loves them.
How to Make Tigernut Flour Chocolate Chip Cookies
These Vegan tigernut cookies are so easy to make. Here are the step by step instructions:
First, preheat your oven to 350 degrees F.
Next, make the flax egg. To do this, combine 1 tablespoon of ground flax with 3 tablespoons of water. Stir, then let the mixture sit for 5 minutes to thicken.
In a medium-sized mixing bowl, combine all ingredients (except chocolate chips). Once well mixed, fold the chocolate chips into the batter.
Next, use a small cookie scoop to scoop the dough onto a baking sheet. Each cookie is about 1 rounded tablespoon in size, making 16 cookies.
Bake the cookies at 350 degrees for 14 minutes. After baking, cool for 3-5 minutes on the baking sheet, then transfer to a wire cooling rack.
The cookies fall apart easily until they have fully cooled. So, be sure to let them cool to room temperature on a wire cooling rack before eating.
How to Store Tigernut Flour Cookies
These healthy tigernut cookies can be stored in an air tight container at room temperature for a few days, in the fridge for up to one week or in the freezer for long term storage. I actually love them best from the freezer!
More Tigernut Flour Recipes
If you're looking for more recipes using tigernut flour, here are some popular ones from my site:
Enjoy!
Print
Tigernut Flour Chocolate Chip Cookies
Author:

Katie

Prep Time:

10 min

Cook Time:

14 min

Total Time:

19 minutes

Yield:

16

cookies

1

x
---
Description
These egg free, nut free and dairy free cookies are made with tigernut flour.  They're crisp on the outside with a soft, gooey center and simply irresistible!
---
---
Instructions
Preheat oven to 350 degrees F.
Make flax egg by combining 1 Tbsp ground flax + 3 Tbsp water in a medium sized mixing bowl.  Let sit for 5 minutes to thicken.
Add remaining ingredients, except chocolate chips, and mix well.
Fold chocolate chips into batter.
Scoop one rounded Tbsp of batter per cookie onto baking sheet. 
Place cookies in oven and bake at 350 degrees for 14 minutes.
Cool slightly on pan, then transfer to wire cooling rack and cool to room temperature.
---
Notes
*You may substitute the cream of tartar and baking soda for 2 tsp baking powder.
Keywords: cookies, tigernut flour, nut free, chocolate chip, dessert, allergy free, vegan, egg free