I've tried countless skin care products and it's taken years to find my favorite brands - brands that I trust, that contain skin nourishing and well sourced ingredients and that work for my skin. Be Well Company makes the cut as one of my favorite skin care brands. This post shares all the reasons why I love them!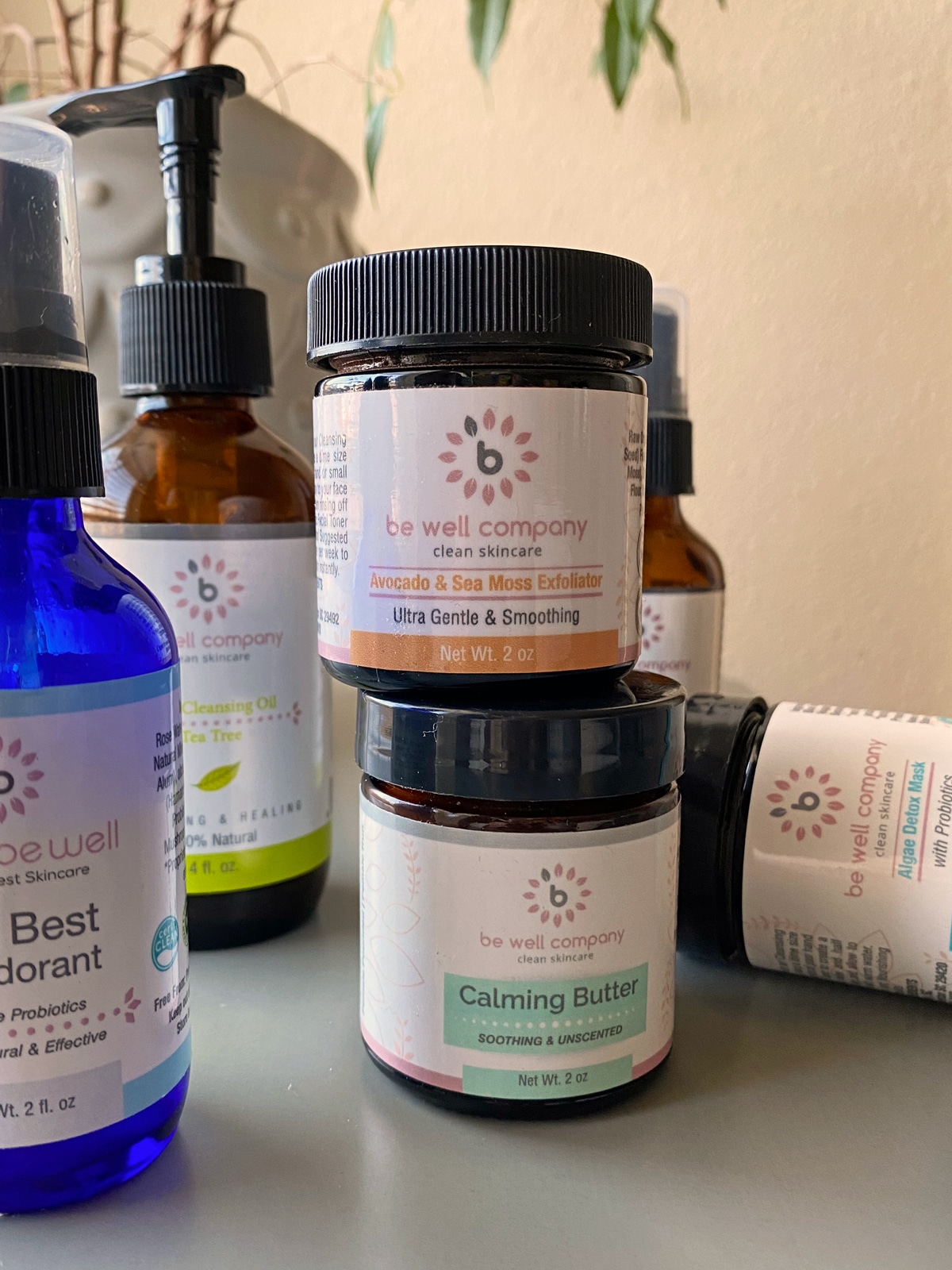 I am an affiliate of Be Well Company, but all thoughts and opinions are my own. It is a company I truly love and use in my daily life! By clicking on links and making a purchase, I make a small commission at no additional cost to you!
Finding the right skin care products is HARD!
Especially when switching from conventional, not-so-good for you products to more natural, organic ones. Many companies make claims that their products work and nourish the skin, but fail to actually provide results. Not Be Well Company!
I've been a long time fan of Be Well Company Skin Care. They are a small, woman-owned company that make their products with well sourced, organic ingredients. Ingredients that are nourishing for your skin and actually healthy for your body.
Be Well Company Skin Care Highlights
100% organic ingredients
cruelty free
non-toxic and nourishing
vegan + paleo friendly
gluten free
fragrance free
alcohol free
preservative free
packaged in amber glass
made in the USA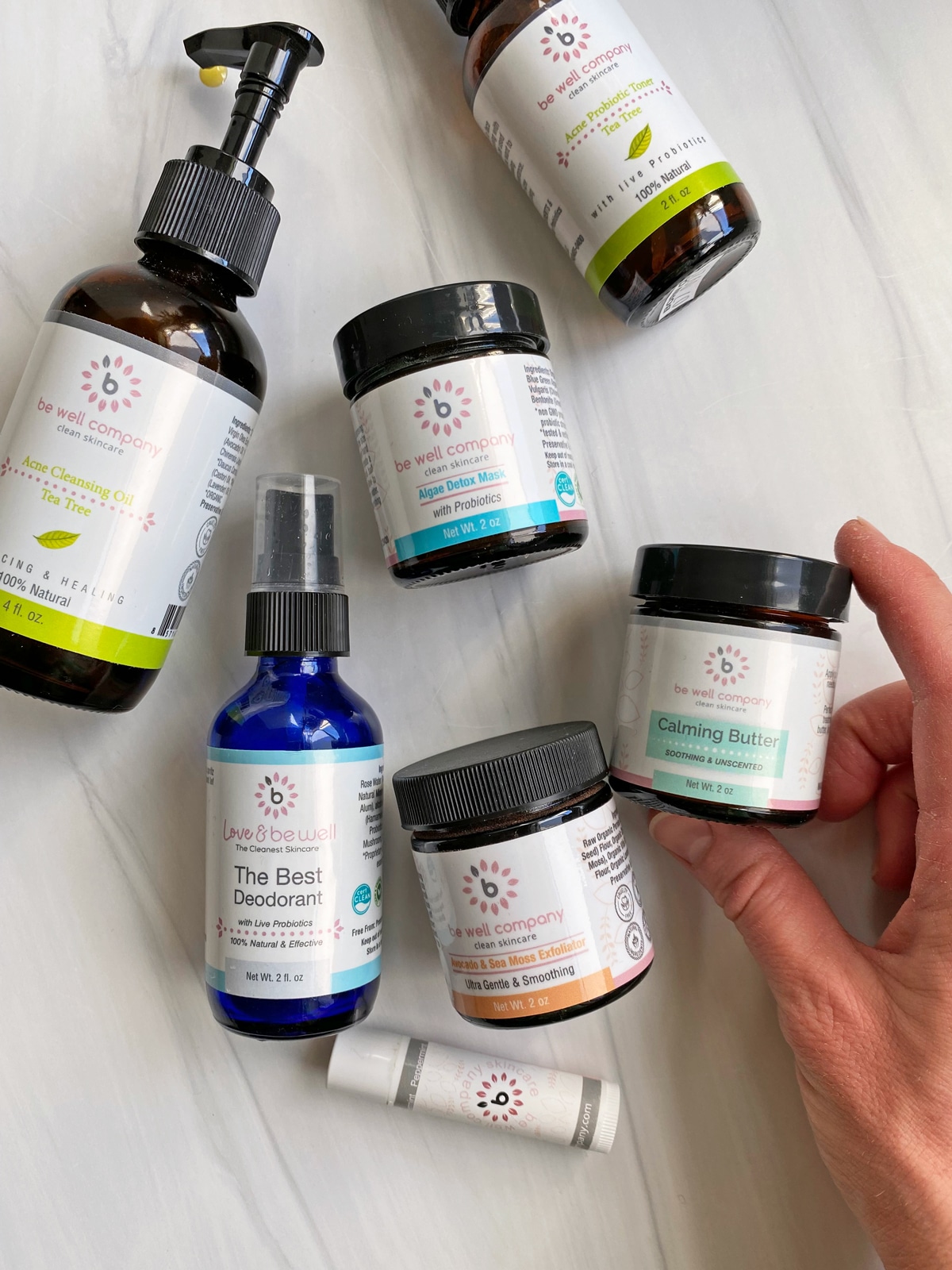 If you follow my blog, you know that I care deeply about the foods I eat. In addition to that, I care about the products I use on my skin and in my house.
Health isn't just about diet and the foods you consume. Lifestyle choices and the products you use on your skin and around your home have a huge impact too.
Using non-toxic, organic skincare products is one way to lower your toxic load, while improving your skin's appearance and youth.
Be Well is what I use to do just that! So, let's dig into some of my favorite products from Be Well Company.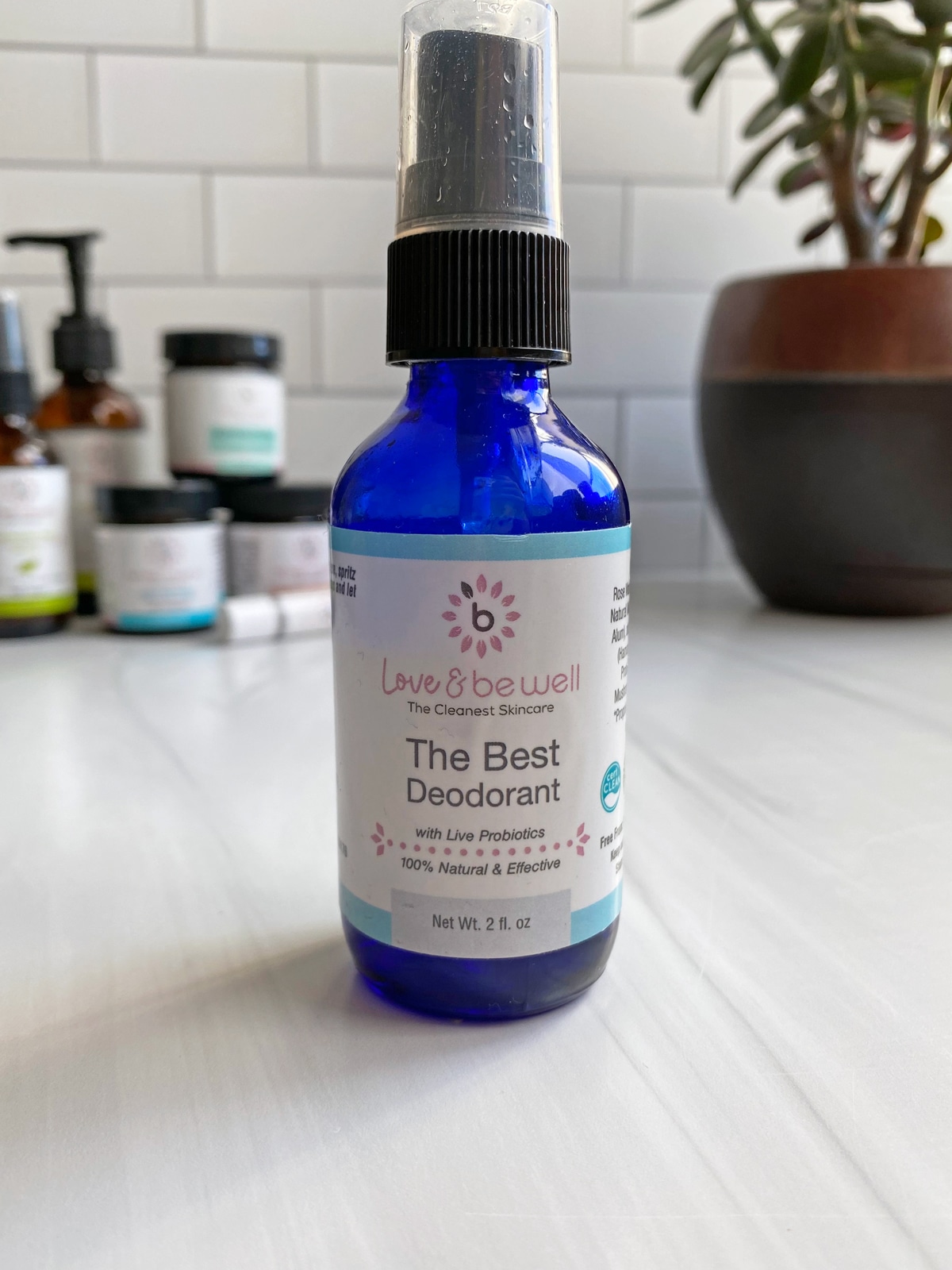 Be Well Company The Best Deodorant
Not going to lie, finding a non-toxic deodorant that works was a huge struggle for me...until I found Be Well Company's The Best Deodorant. Yes, that's the name of their deodorant and it's accurately named too!
This deodorant comes in a glass spray bottle and is made with top notch ingredients.
Ingredients:
Rose Water (Rosa Damascena), Natural Mineral Salts (Potassium Alum), alcohol-free Witch Hazel (Hamamelis), Cold Pressed Probiotics (Manchurian Mushroom), Aloe (Aloe Vera), *Proprietary blend of organic essential oils.
NO CHEMICALS OR RESIDUE
NO BAKING SODA OR ALCOHOL
DOES NOT STAIN CLOTHING
NO IRRITATION
WORKS - NO STINK
NO ALUMINUM CHLOROHYDRATE
Each 2 oz bottle contains approx 420 sprays and will last about 3.5 months (that's about 35 cents per day). And honestly, it lasts me a lot longer - usually 5 months as I only use a couple sprays a day.
This is hands down my favorite deodorant and one I feel 100% safe spraying on my skin every day. It doesn't irritate my skin and keeps the stink away.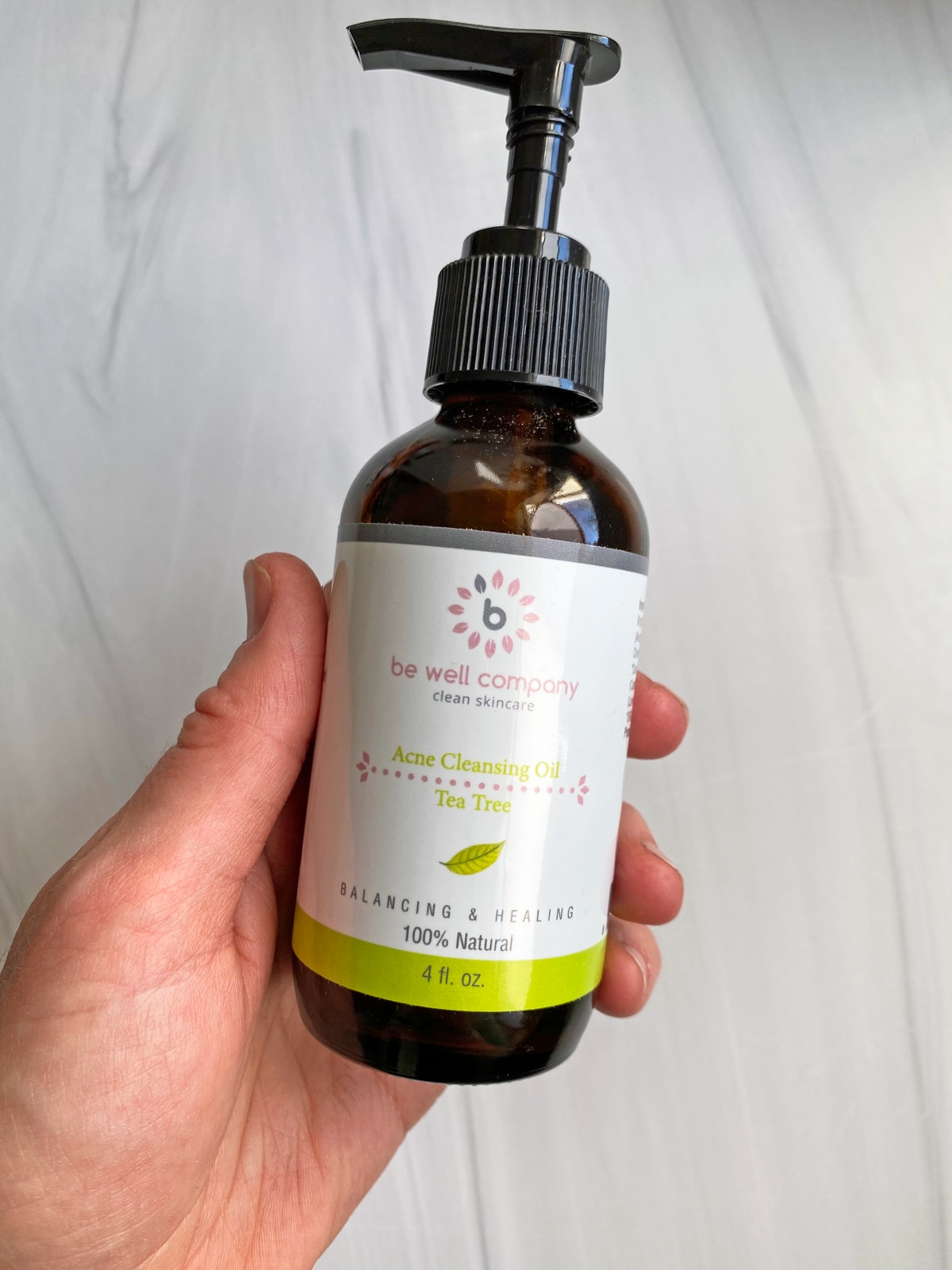 Cleansing Oils
Did you know that it's actually good to clean your skin with oil?!
Many brands are loaded with chemicals that strip away your skin's natural oils, thus interrupting your natural pH balance. Oil cleansing balances your skin naturally and leaves it clean, soft and smooth.
Be Well's tea tree cleansing oil is my favorite - I love the smell and it works well with my skin. Tea tree oil is beneficial because it is antiseptic, anti-inflammatory, and antimicrobial which supports healing, calms redness, reduces swelling, and decreases inflammation in acne and irritated skin.
A 2 oz. bottle should last approximately 6-8 weeks if you use it every day. I use the tea tree cleansing oil every night to wash my face and remove makeup.
I find that using Be Well Company's tea tree cleansing oil not only keeps blemishes away, but it also hydrates my skin and keeps it feeling soft and smooth.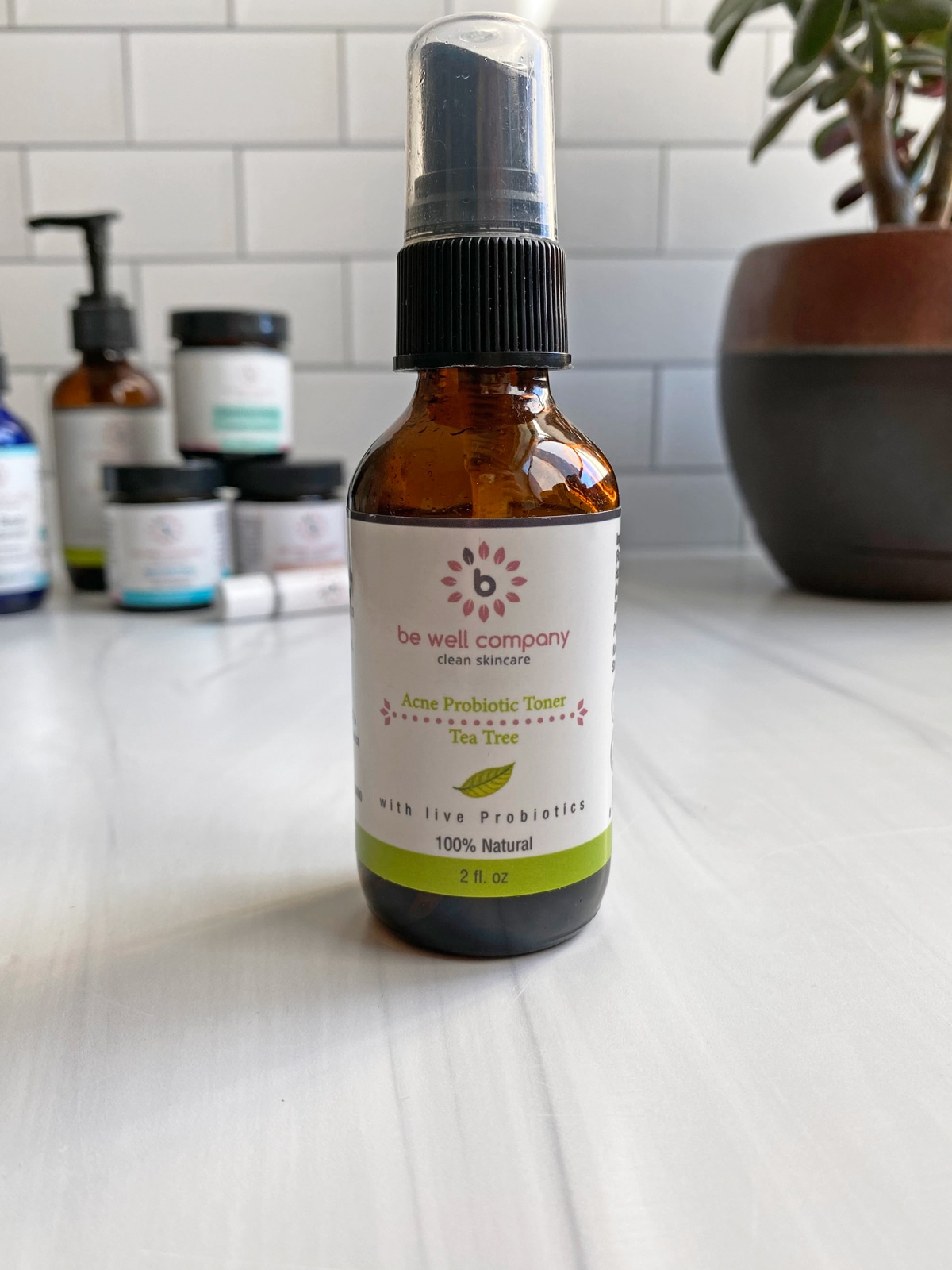 Probiotic Toners
After washing my face with the cleansing oil, I like to apply Be Well's probiotic toner. The Tea Tree and the Juicy Fruit are my two favorites (although I haven't tried every scent).
Be Well's probiotic toners balance, refresh and hydrate the skin, while feeding the natural microbiome with probiotics. They're also great for balancing the skin's pH, minimizing pores, fading dark spots and calming inflammation.
Algae Detox Mask
Be Well Company's Algae Detox Mask is one of my favorite organic facial products. I find it SO nourishing for my skin, which feels smooth and fresh afterwards.
The detox masks are packaged in powdered form. Just mix them with a bit of water to make a paste and apply the paste to your face.
These masks work by pulling impurities, dirt and grime from your pores, which results in smaller pores and softer skin.
The Detox Mask with Algae and Probiotics is packed with chlorophyll + antioxidants that help prevent premature aging.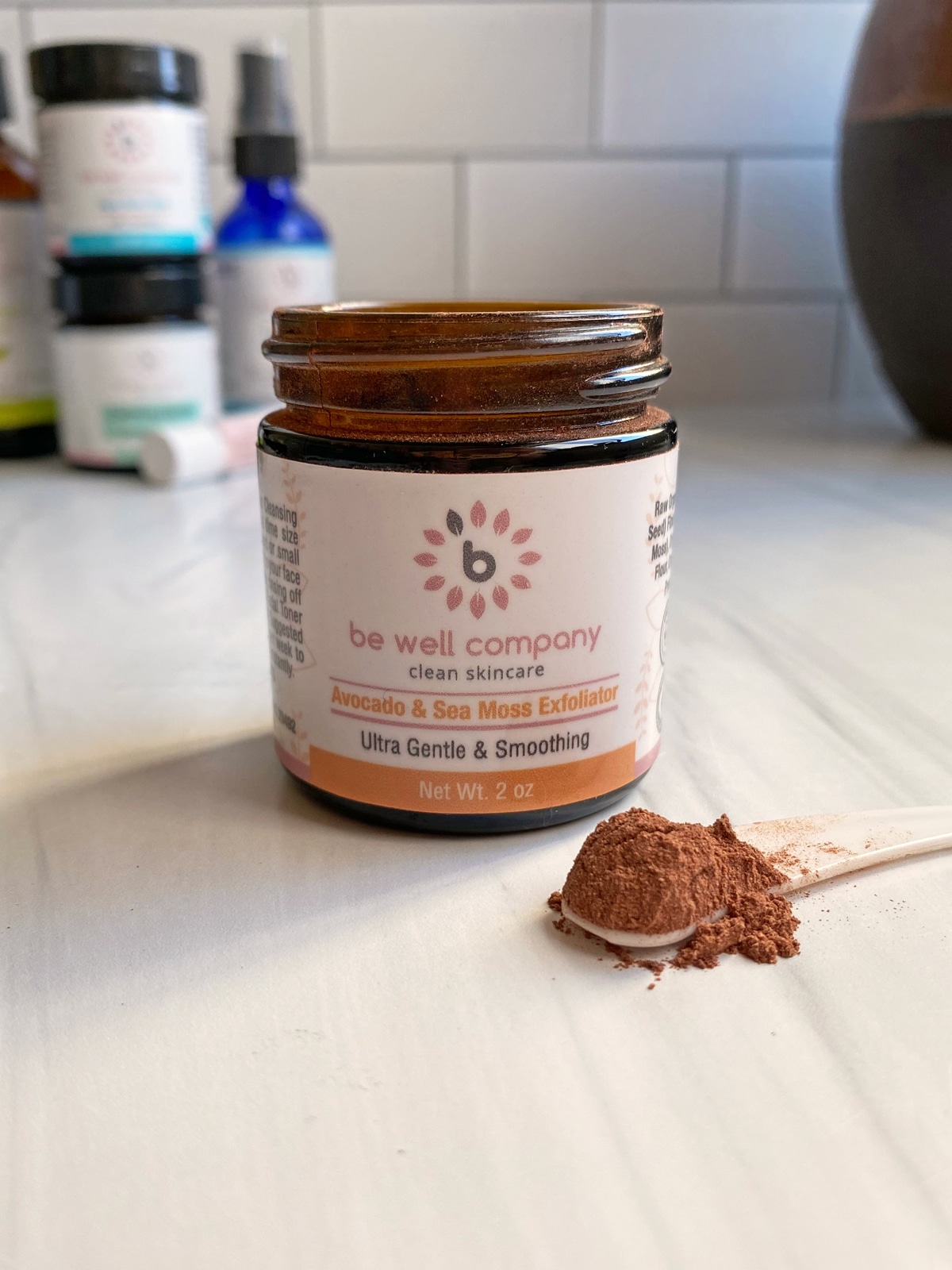 Avocado Sea Moss Exfoliator
I use Be Well Company's Avocado Sea Moss Exfoliator 1-2 times a week to give my skin a deep clean. This exfoliator helps clean off dead skin cells, while balancing your skin's natural microbiome.
It is a bit drying, so I like using it and then cleaning my skin with the tea tree cleansing oil. However, I find that my face feels very clean and smooth after using this exfoliator.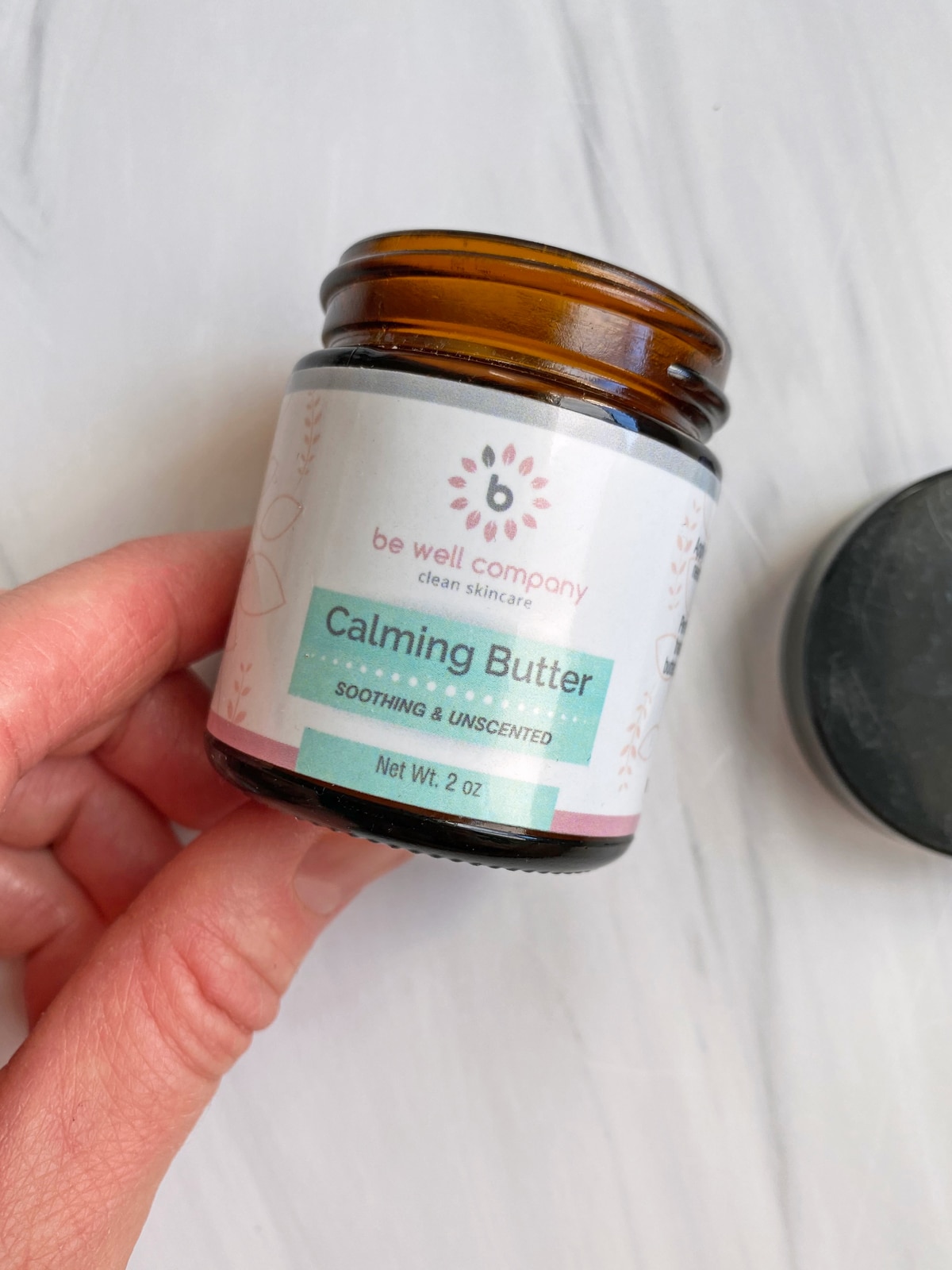 Be Well Company Calming Butter
I first started using Be Well's Calming Butter when my daughter had severe eczema as a baby. This was one of the only skin care products that didn't irritate her skin. No, it didn't have any effect on her eczema (no skin products did as her issue was internal), but it did help soften and hydrate her scaly skin.
I now regularly use the calming butter on my dry hands (which suffer during the winter months). I also use it as a makeup remover to get rid of the little bit of makeup under my eyes. With safe ingredients, I feel safe applying this product on my face and near my eyes.
Calming Butter Ingredients: Organic Extra Virgin Olive Oil, Organic Coconut Oil, Organic Beeswax, Organic Shea Butter, Organic Mango Butter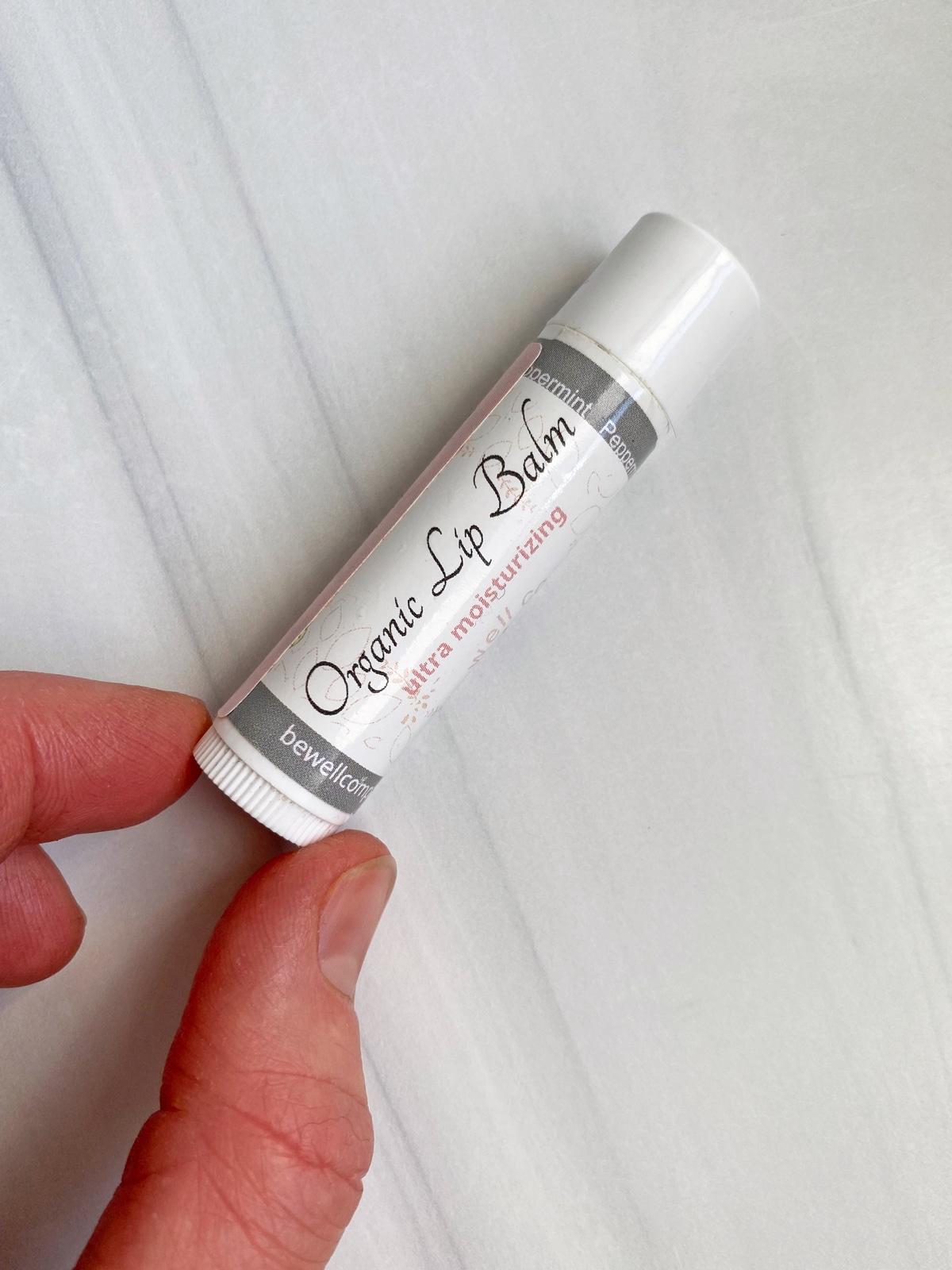 Organic Lip Balm
Not only do my dry hands suffer during the cold winter months, but my lips do too!
Be Well's organic lip balm has been a life saver. It's nourishing and non-toxic, rich in vitamins and fatty acids and actually hydrates my lips.
Ingredients: Organic Mango Butter, Organic Beeswax, Organic Hemp Oil, Organic Pomegranate Oil, Organic Castor Oil, Organic Vitamin E, Organic Rose Petal Powder, Organic Peppermint Oil
Organic Skin Care that Works
As I've said, Be Well Company skin care products actually work and are nourishing for your skin. Along with diet, using these products can help you maintain youthful, radiant skin and minimize blemishes and wrinkles.
I've used their skincare products for years and will continue to use them far into the future!
Be Well Company Coupon Code
If you're looking for a Be Well Company coupon code you're in luck! Use the discount code "RABBIT" to get 10% off your purchase of any Be Well products.
And if you're unsure about making a purchase, Be Well also offers samples at a great cost. This way you can try a product without committing to a full bottle.