I've never been a huge pasta person. Even as a kid, noodles were never up there on my requested food list. But, about four years ago, I discovered zoodles (zucchini noodles) and now have a whole new love for "pasta". One of my favorite dishes is this super simple, slightly spicy Cajun Zoodles recipe.
These zucchini noodles are seasoned with Cajun seasoning, fresh ginger and salt. In addition, they are paired with fresh red cabbage, bell pepper and carrot. This is the perfect low carb, Paleo and Whole 30 dish to be paired with a hearty source of protein.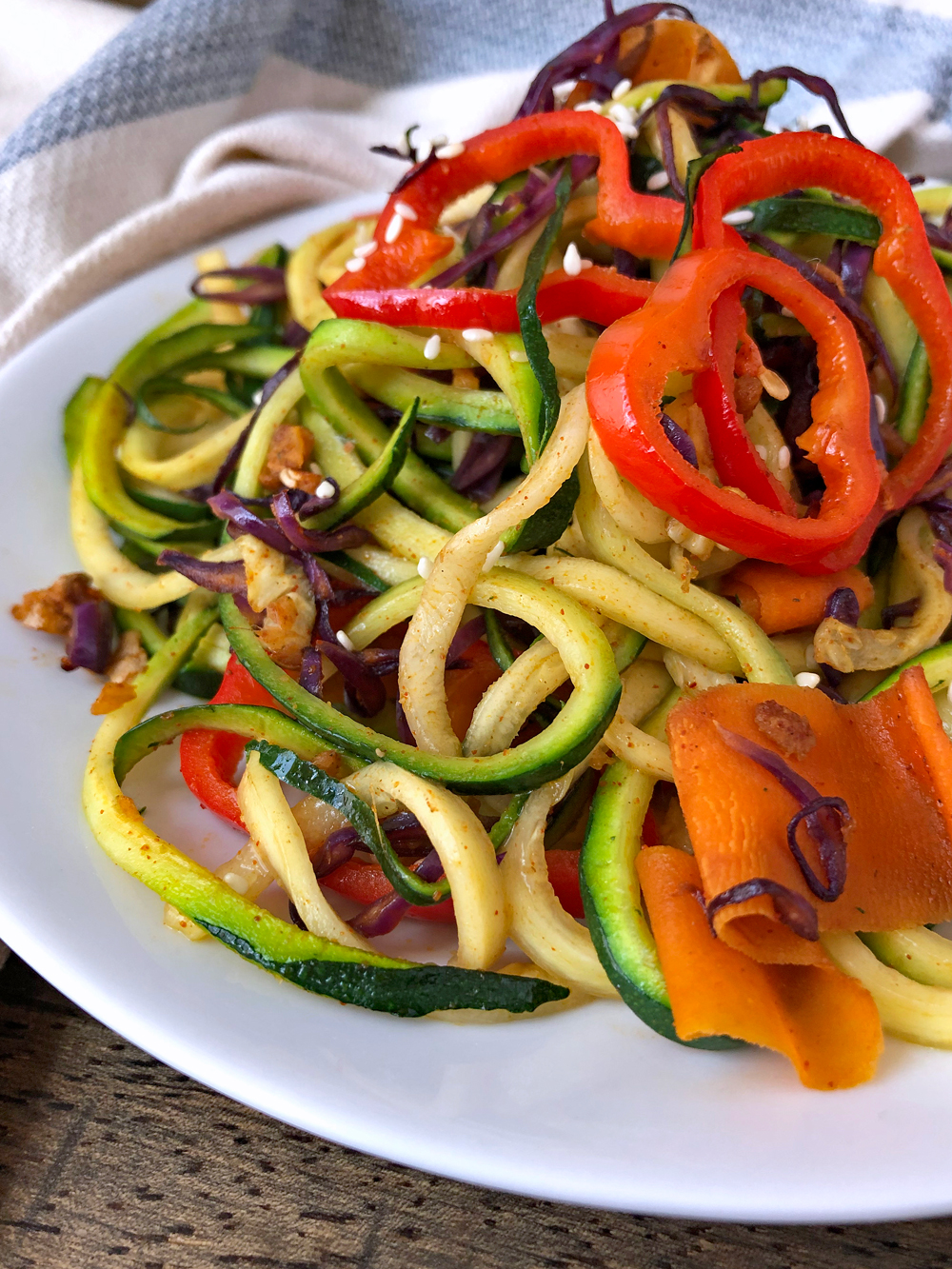 For any die-hard pasta lover, I know zoodles could never replace the "real" thing. But, if you're looking for a healthy, naturally gluten free and low carb option, then zoodles are the perfect solution.
Now, the biggest complaint I always hear about zucchini noodles is that they are too soggy. A little secret: it's all about how you prepare and cook them!
How to Avoid Soggy Zoodles
There are a couple tricks to avoiding soggy zucchini noodles.
First, after spirilizing your zucchini, pat the noodles dry with a paper towel or napkin. This will remove some of the moisture.
Second, don't over-cook the zucchini noodles. They should be cooked on medium-high heat (with oil) for just a couple minutes and without a lid.
And that's it! Just those couple tips will produce delicious, non-soggy zoodles.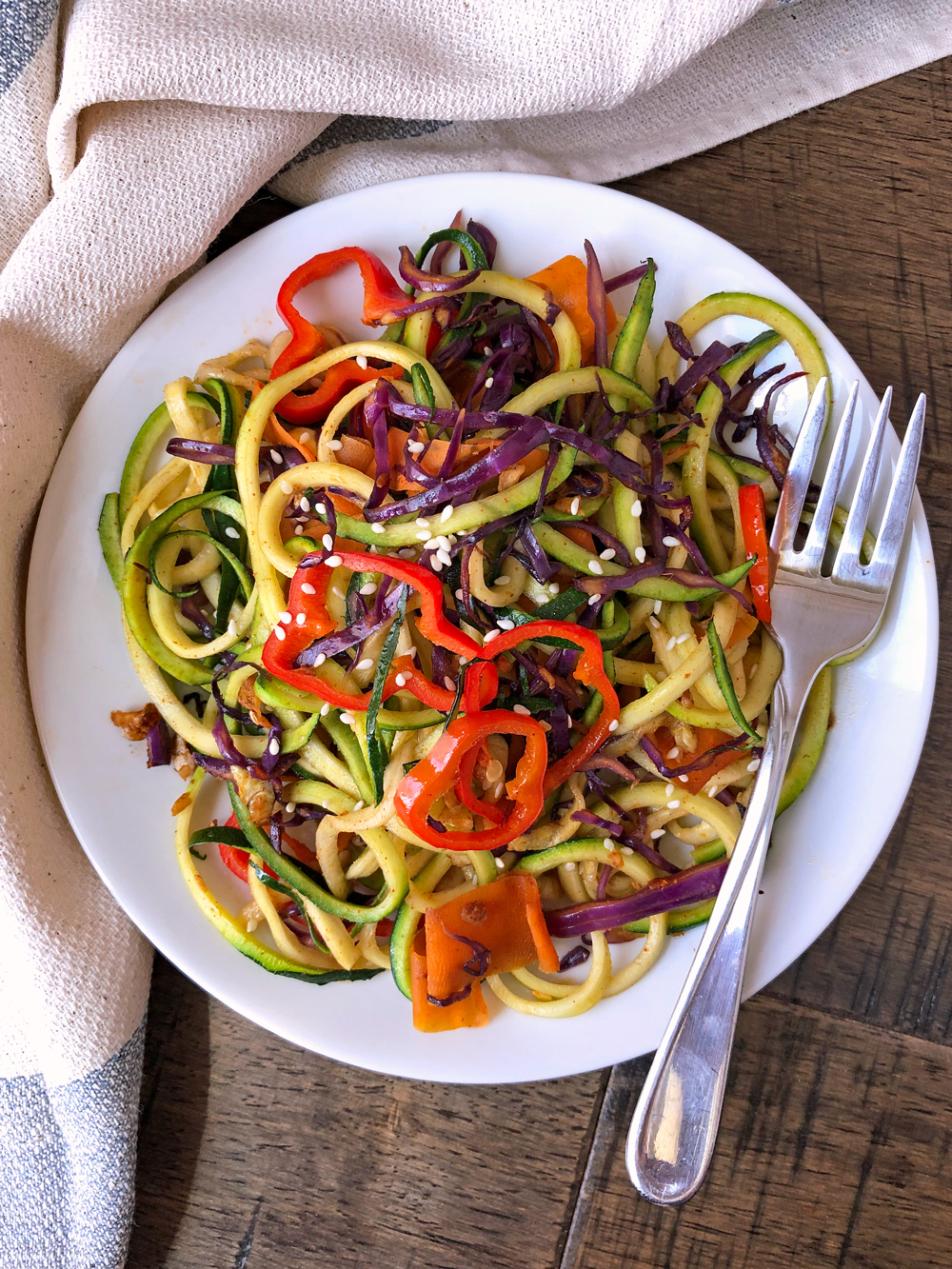 What is the Best Spirilizer for Making Zucchini Noodles?
Because of the popularity of spirilizing, there are many great spirilizers to choose from. You can get ones that are hand held and great for spirilizing simple, smaller vegetables. Or, you can purchase ones that are counter-mounted and spirilize any and every vegetable you can get your hands on. What it comes down to, is the type of produce you're looking to spirilize and how much you want to spend.
These are my top four picks:
Original Zoodle Slicer
The Original Zoodle Slicer a simple, hand held spirilizer. I actually own this one and used it to make this recipe. It's great for quickly spirilizing zucchini, the cleanup is minimal and this device is inexpensive. If you're just looking to spirilize zucchini, I would go with a hand held spirilizer like this one. If you want to get more creative and spirilize produce like carrots or sweet potato, I would invest in a counter-top spirilizer.
Original SpiraLife Spiralizer Vegetable Slicer
The SpiraLife spirilizer and the Original Zoodle Slicer are nearly identical. They do the same thing, work in the same manner and cost about the same. Again, another great option if you are interested in quickly making zucchini noodles.
Paderno World Cuisine 4-Blade Folding Vegetable Slicer
The Paderno vegetable slicer has 4 blades for making different cuts, mounts on the counter-top and the blades are dishwasher safe. I own this one as well and love it! On the downside, cleanup and washing isn't as easy. But, whenever I spirilize vegetables such as carrots or beets, this is my go-to device.
Spiralizer 5-Blade Vegetable Slicer
If I were to purchase a new vegetable slicer, this Spirilizer 5 Blade Vegetable Slicer would be it! It's a great price and has 5 different blades. It's very similar to the Paderno one, but has an extra blade.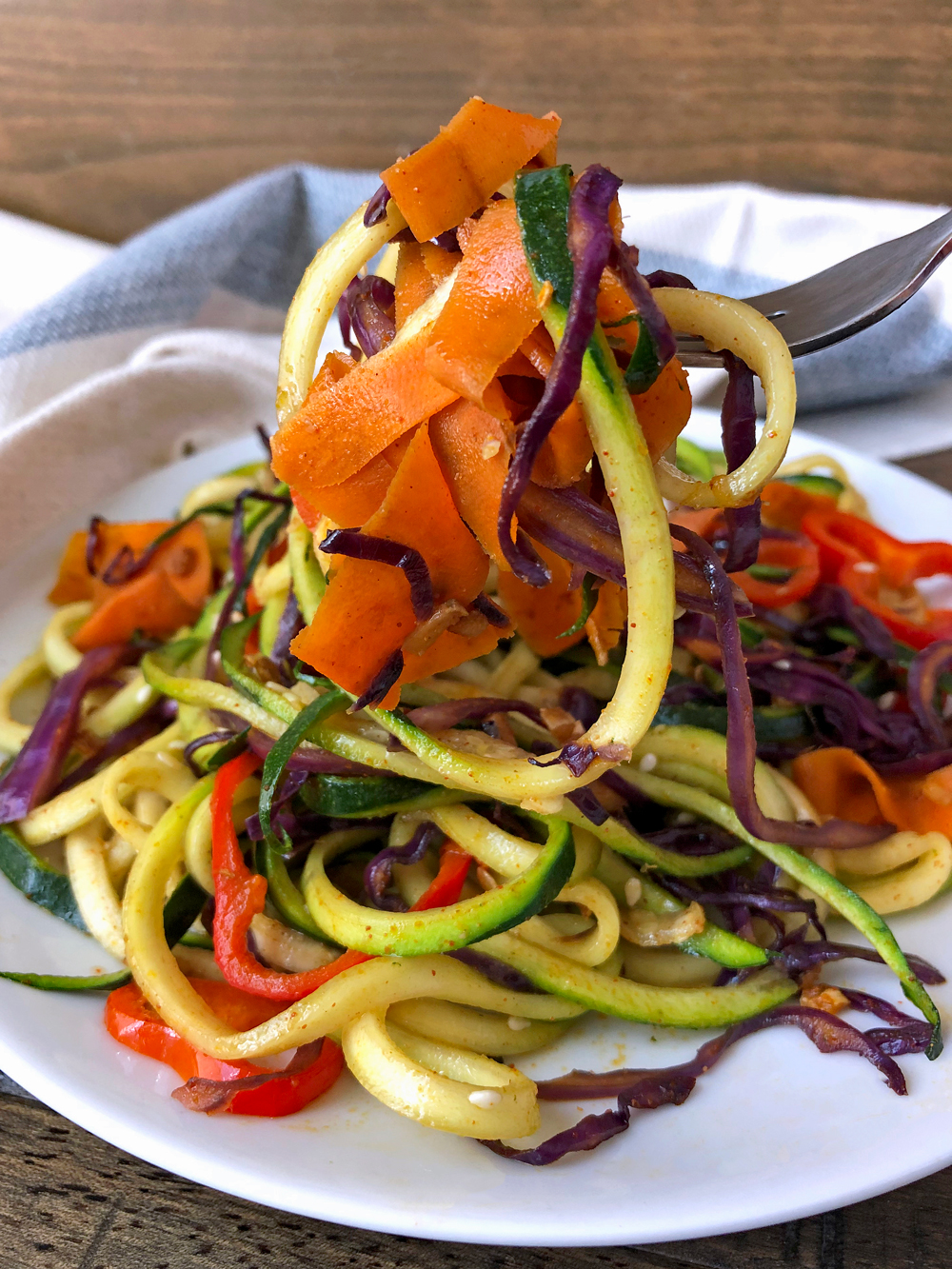 Ingredients in Cajun Zoodles
This recipe requires just 8 ingredients:
zucchini
peeled carrot
purple cabbage
red bell peppers
raw ginger
olive oil
Cajun seasoning
salt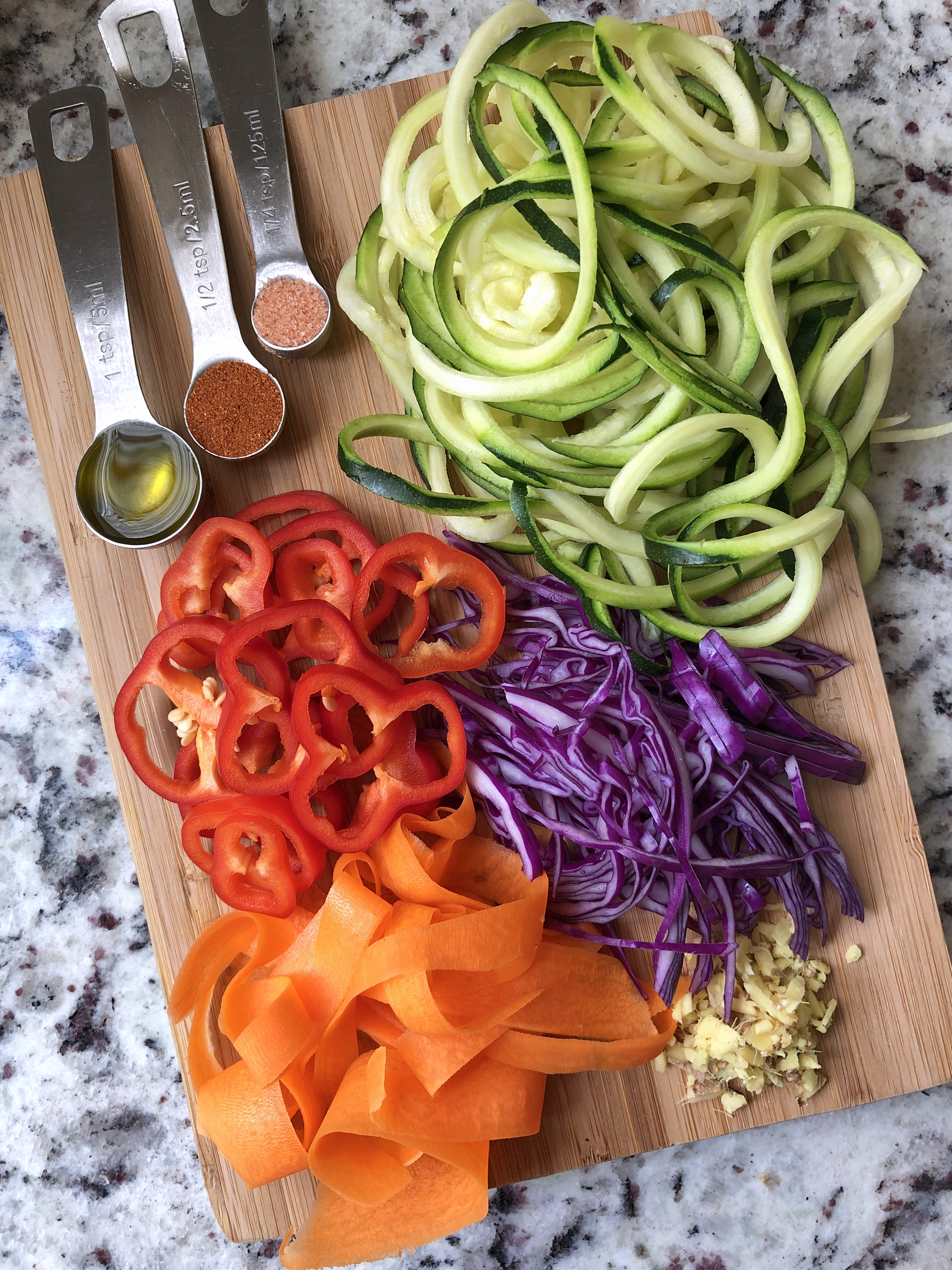 How to Make Cajun Zoodles
To make zucchini noodles, first prepare the necessary ingredients. This means: peel the carrot, slice the cabbage and pepper, finely chop the ginger and spirilize the zucchini.
Next, pat the zucchini dry with a napkin or paper towel to remove some of the moisture.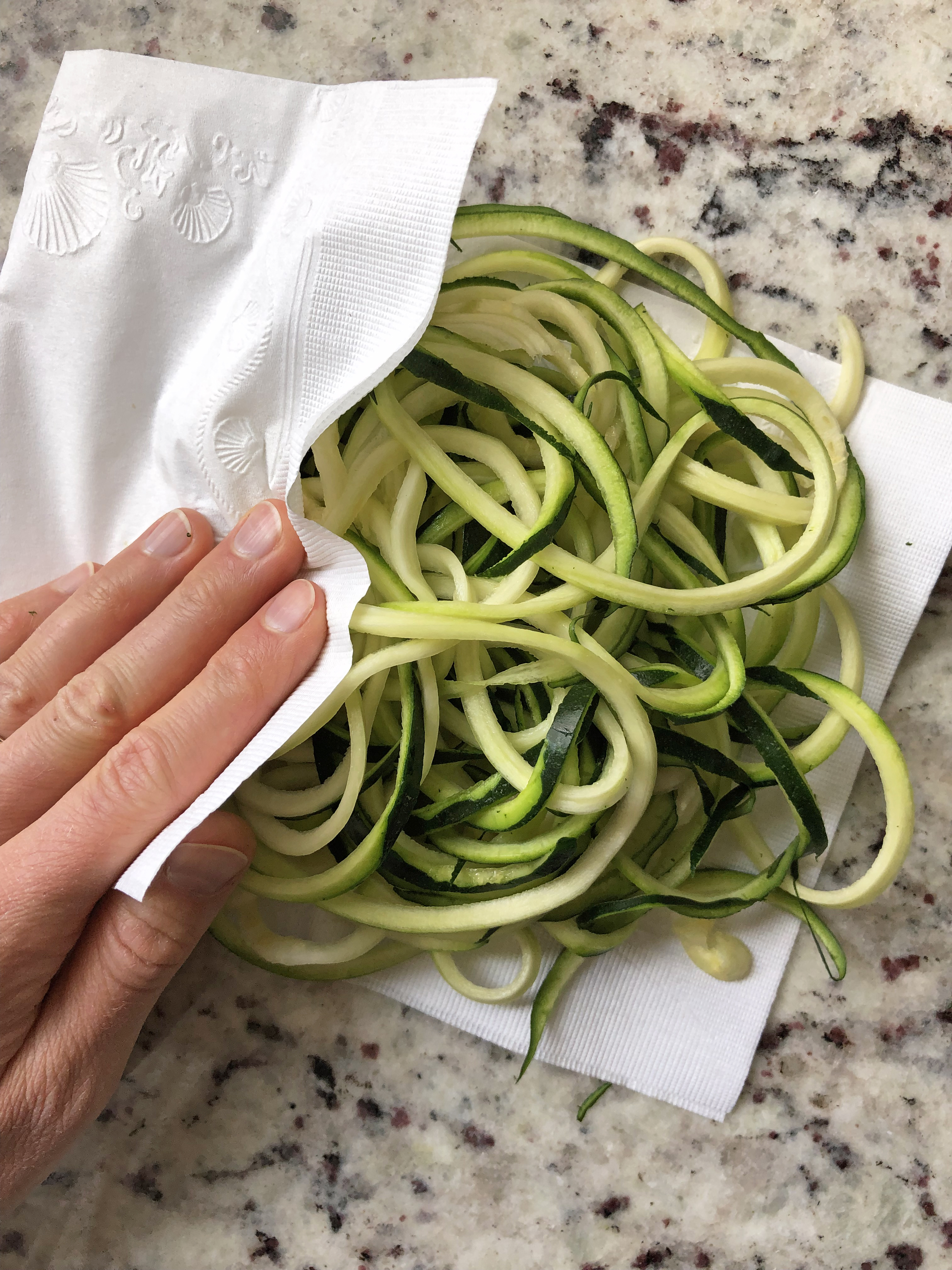 Then, add olive oil to a skillet and heat the skillet to medium heat on your stove-top. Add all ingredients, except the zucchini, to the pan and sautee for 2-3 minutes.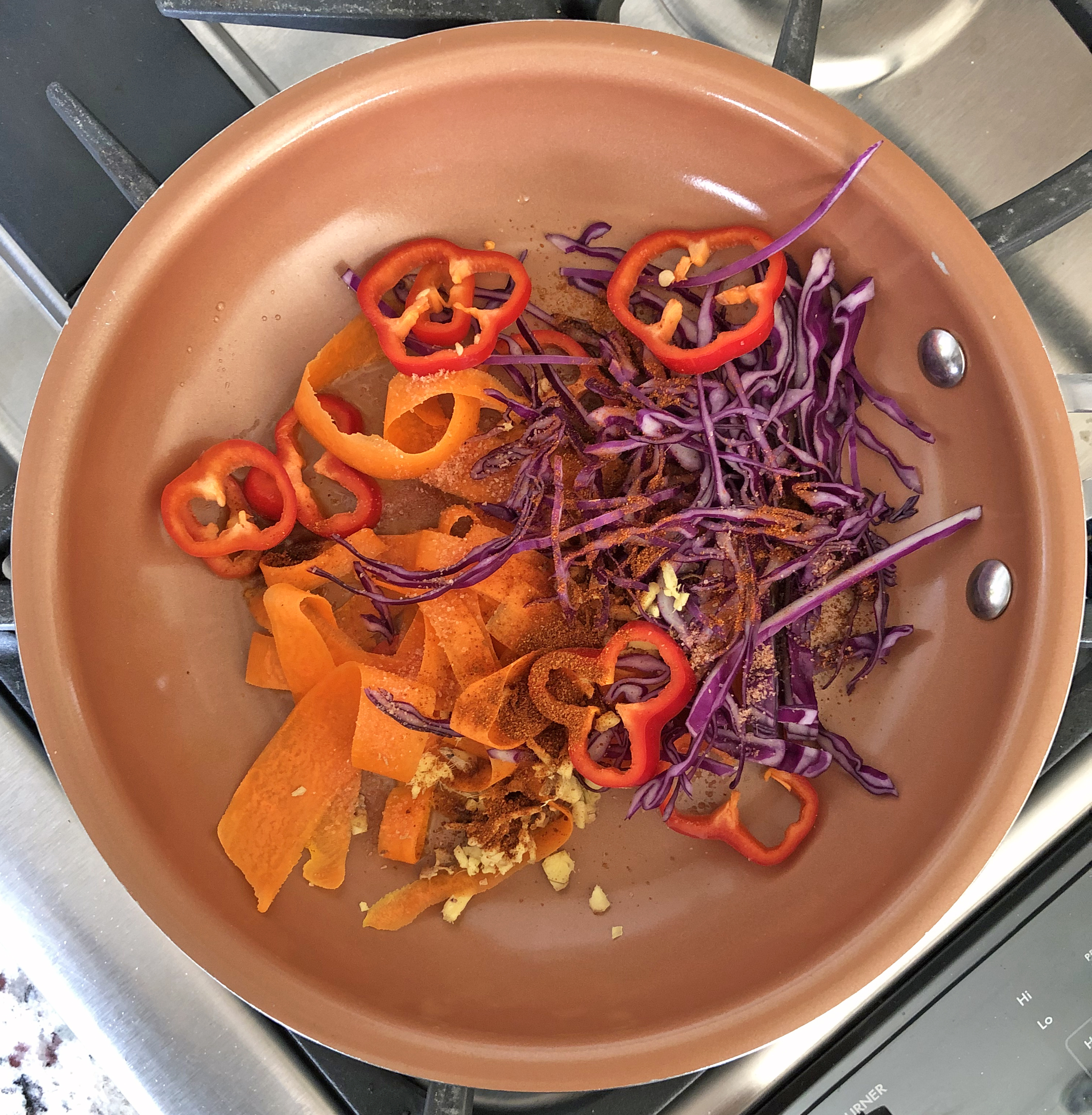 Next, add the zucchini noodles. Turn the heat up a notch to medium-high. Sautee the vegetables for about 2 minutes, stirring frequently.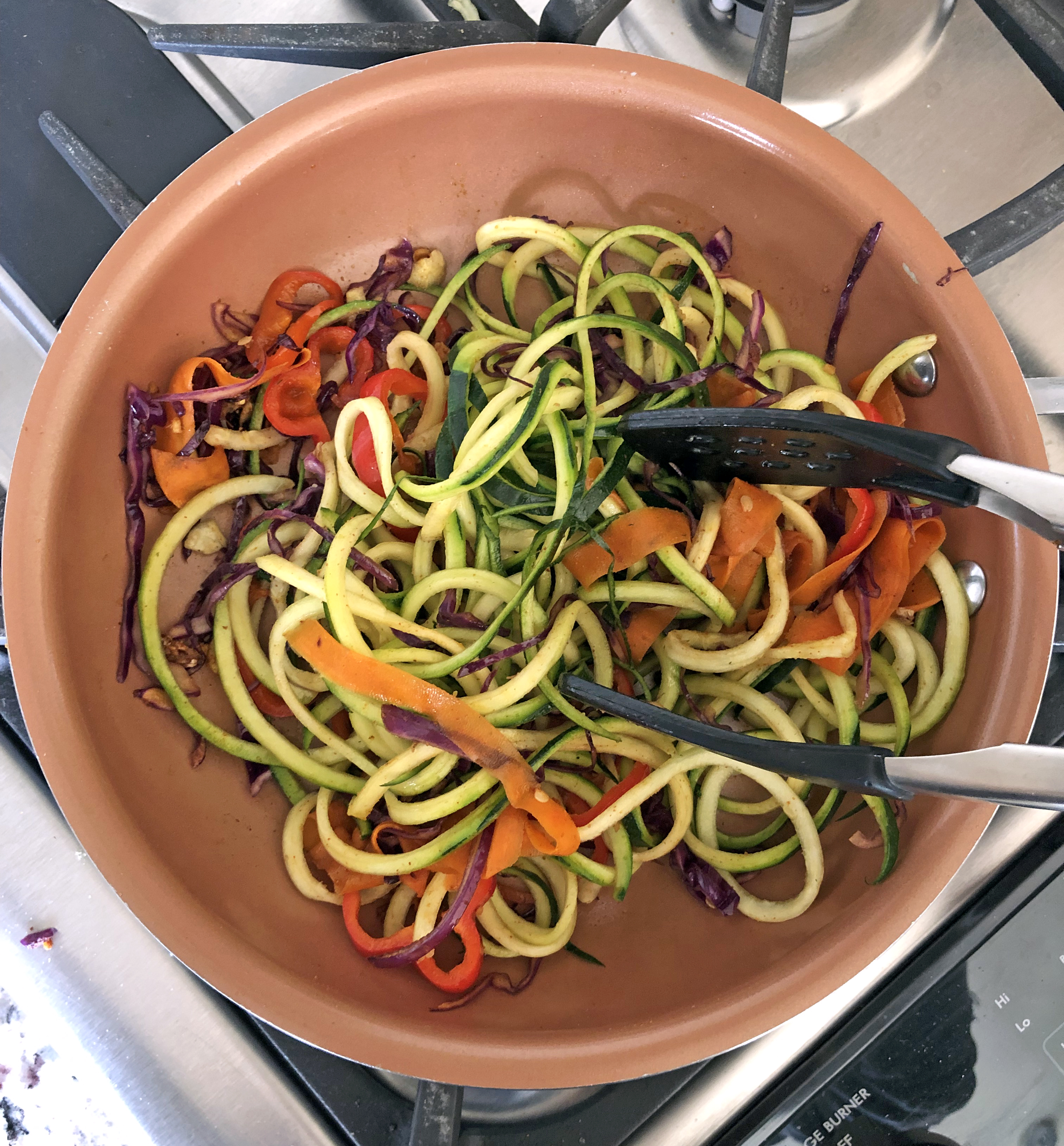 Lastly, plate the vegetables, garnish with sesame seeds and eat! Zoodles are best served immediately.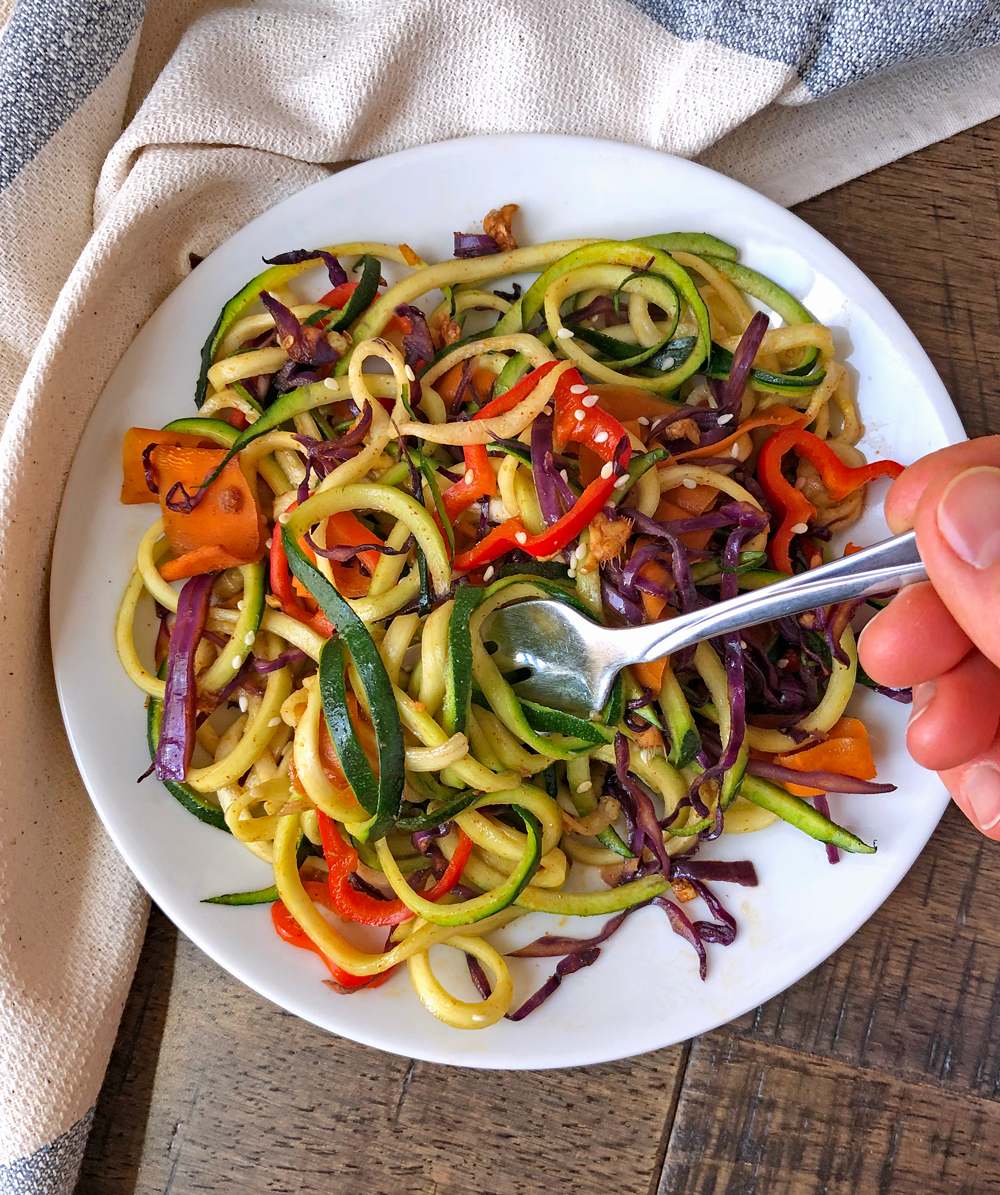 Alone, zoodles aren't a very filling dish. This particular recipe would go well with any source of protein. For example, grilled chicken, steak, salmon or soft boiled eggs.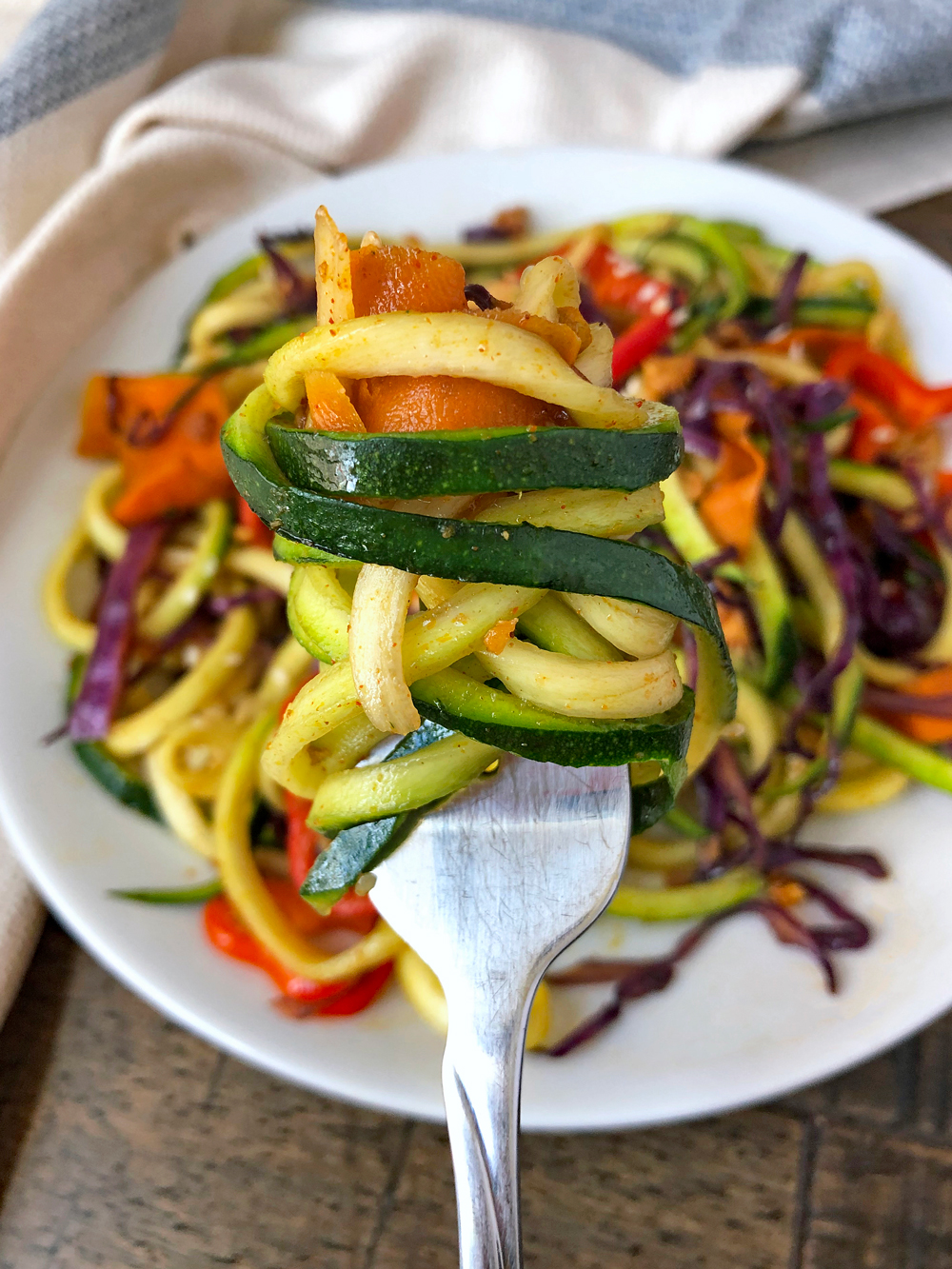 Print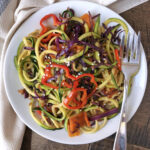 Cajun Zoodles
Author:

Katie

Prep Time:

10 min

Cook Time:

5 min

Total Time:

15 minutes

Yield:

serves 1
---
Description
Super simple, slightly spicy zucchini noodles.  Perfect paired with some protein for a light lunch or dinner.
---
1

large zucchini

¼ cup

packed peeled carrot

⅓ cup

thinly sliced purple cabbage

1

-

2

small red bell peppers

1 tsp

finely chopped raw ginger

1 tsp

olive oil

½ tsp

Cajun seasoning

¼ tsp

pink salt
Sesame seeds for garnish (optional)
---
Instructions
Wash zucchini and cut off end without the stem.  Use a spirilizer to make the zucchini into noodles.
Pat the zucchini dry with a paper towel or napkin to remove some of the moisture.
In a large frying pan, add olive oil.  Place frying pan on stove-top and heat to medium temperature.
Once pan is hot, add carrot, cabbage, bell pepper and ginger.  Sprinkle Cajun seasoning and salt on top and stir a few times.  Cook on medium heat, stirring frequently, for 2-3 minutes.
Increase stove top temperature to medium-high heat and add zoodles to frying pan.  Cook for 2 minutes, stirring constantly.
Remove from pan, garnish with sesame seeds (optional) and serve immediately.
---
Keywords: zoodles, main dish, Paleo, Vegan, allergy free, whole 30, nut free, egg free, no added sugar