This homemade sunflower seed butter is just two ingredients and is incredibly easy to make. All you have to do is roast raw sunflower seeds, then blend them in a food processor with a bit of salt. This recipe for sunflower seed butter is paleo, vegan and allergy friendly (nut free).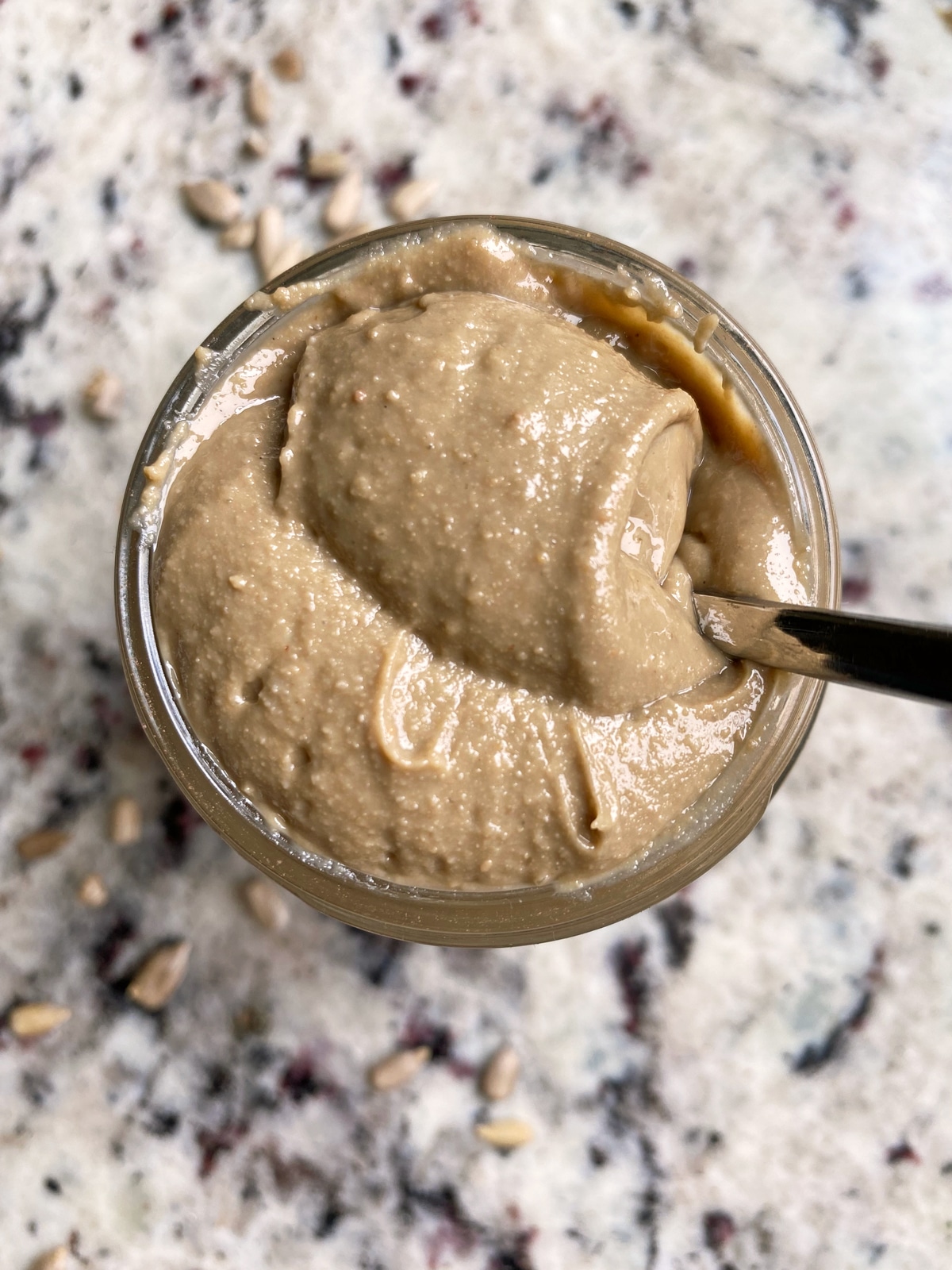 One thing that I cannot get enough of lately: sunflower seed butter. 
I often buy Sunbutter, but have also started making my own. As, it's less expensive and easy to do!
I enjoy it by the spoonful, but also love slathering homemade sunflower seed butter on a piece of dark chocolate or adding a dollop to smoothies.
Sunflower seed butter is a great nut butter alternative. It can be used in place of nut butter and/or peanut butter in many recipes. Better yet, it's less expensive!
Benefits of Making Your Own Seed Butter
Making your own seed, nut, coconut or peanut butter is extremely easy. So, I urge you to try it yourself if you haven't. Literally, all you need is a good quality food processor (THIS
is what I have), some nuts, seeds, dried coconut or peanuts and a little patience.
Some benefits to making butters at home vs. buying them in store include:
Homemade is often cheaper
It's fresh
Top quality ingredients - you have control over what you put in it
You can experiment with different flavor combinations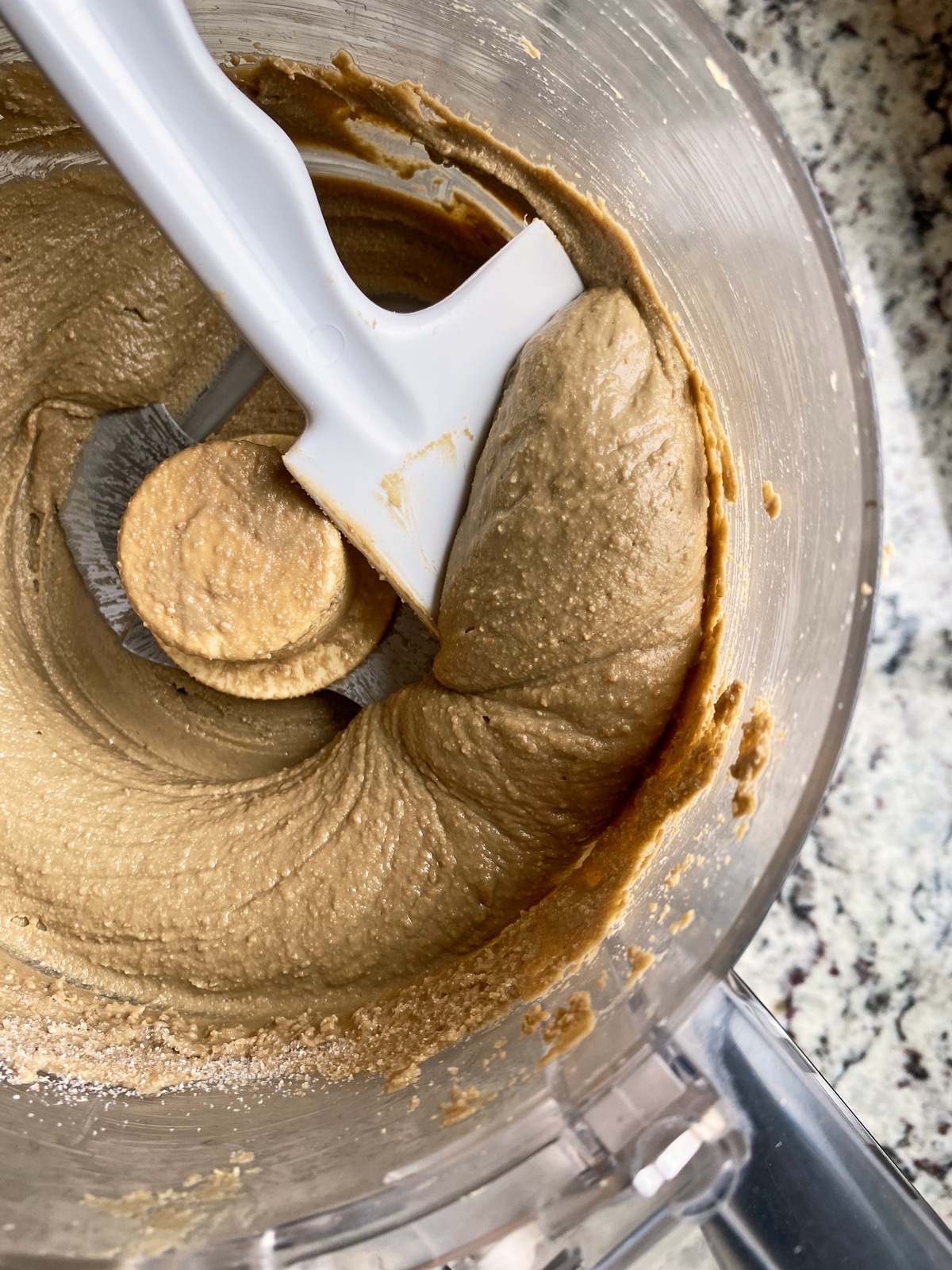 Ingredients
My recipe for homemade sunflower seed butter is only 2 ingredients and doesn't contain any added sugar or sweeteners.  It is paleo, vegan and allergy friendly. 
The only two ingredients:
Now, the salt is optional, but highly recommended.  Salt really brings out the flavor in this seed butter.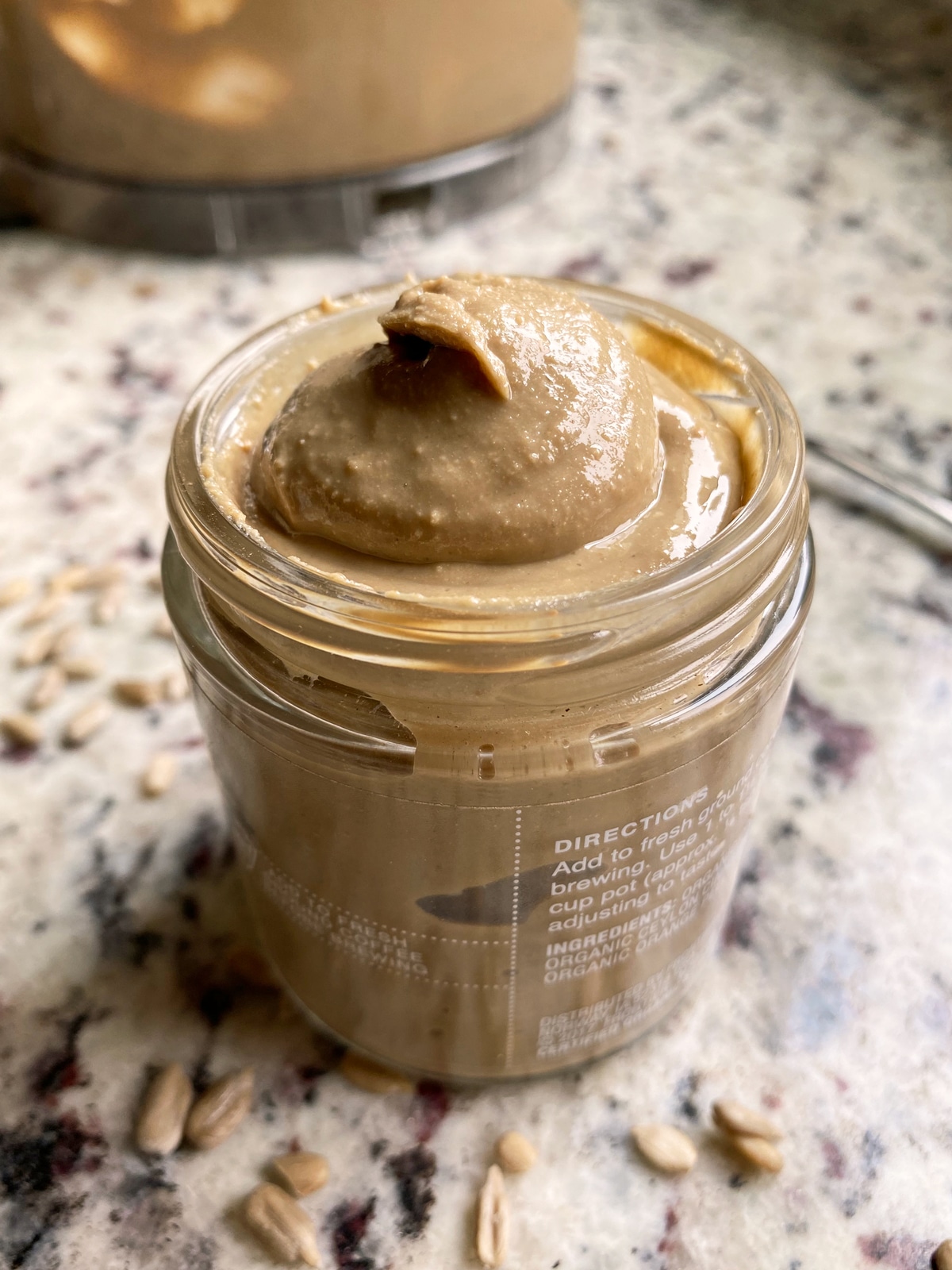 How to Make Homemade Sunflower Seed Butter
Making your own sunflower seed butter is super easy!
Here's what you need to do:
To make sunflower seed butter, first preheat your oven to 350 degrees F.
Next, spread the raw sunflower seeds on a baking sheet.  Bake them in the oven for 10 minutes.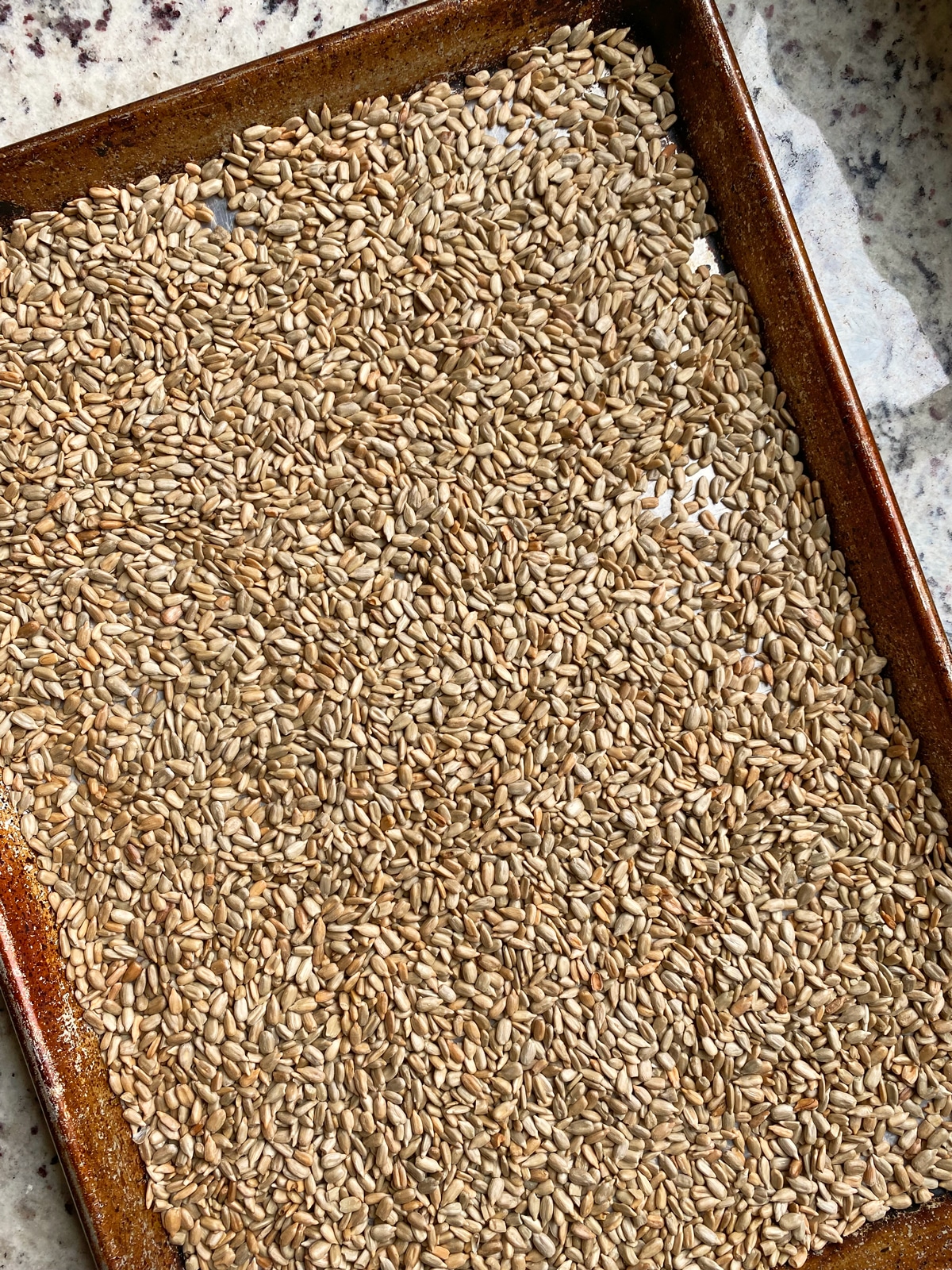 Then, remove the roasted sunflower seeds and let them cool to room temperature.
After cooling, add them to your food processor, along with the salt, and blend until smooth.  You'll need to stop to scrape the sides every so often and then continue blending. This process takes about 10-15 minutes.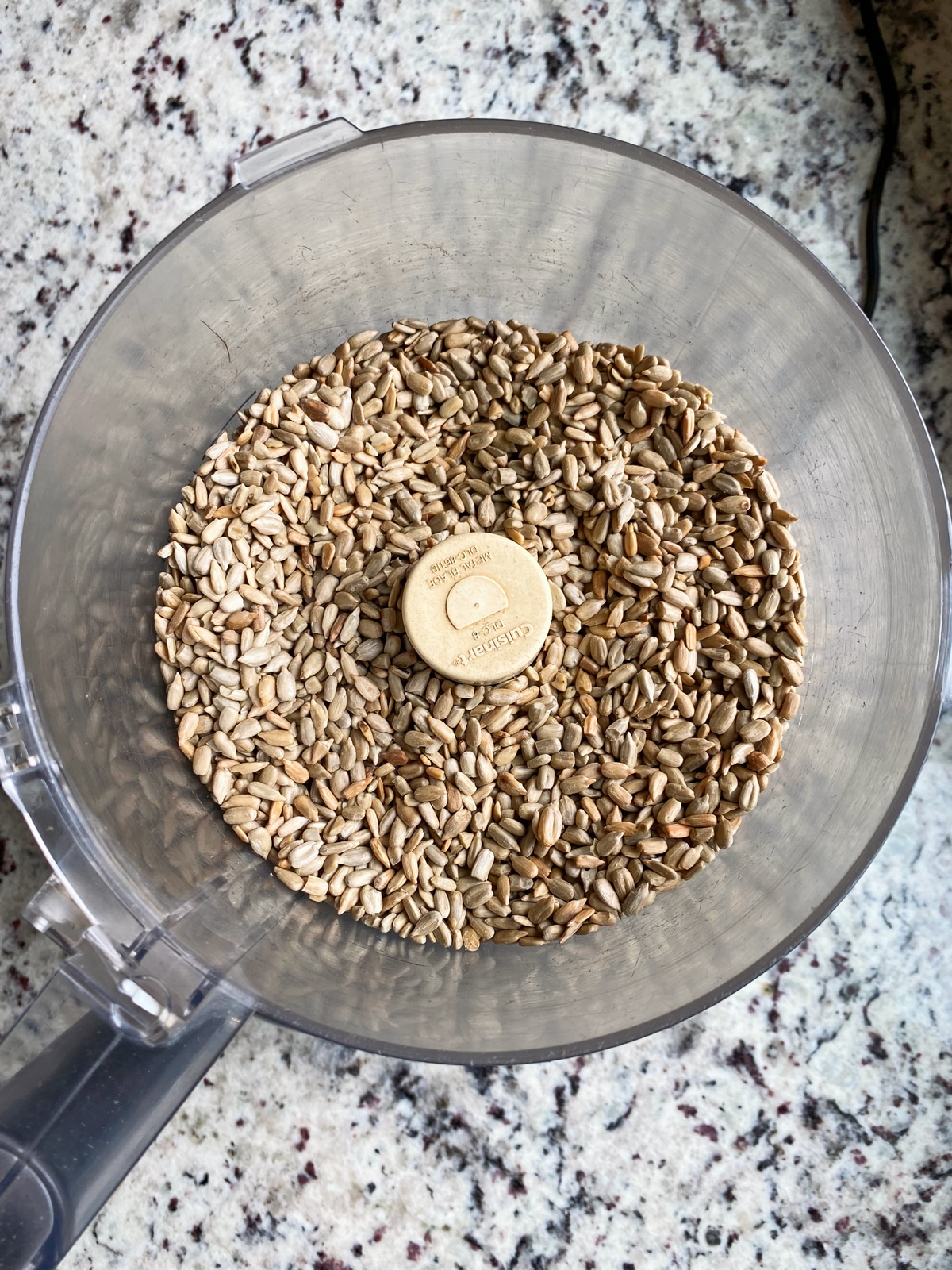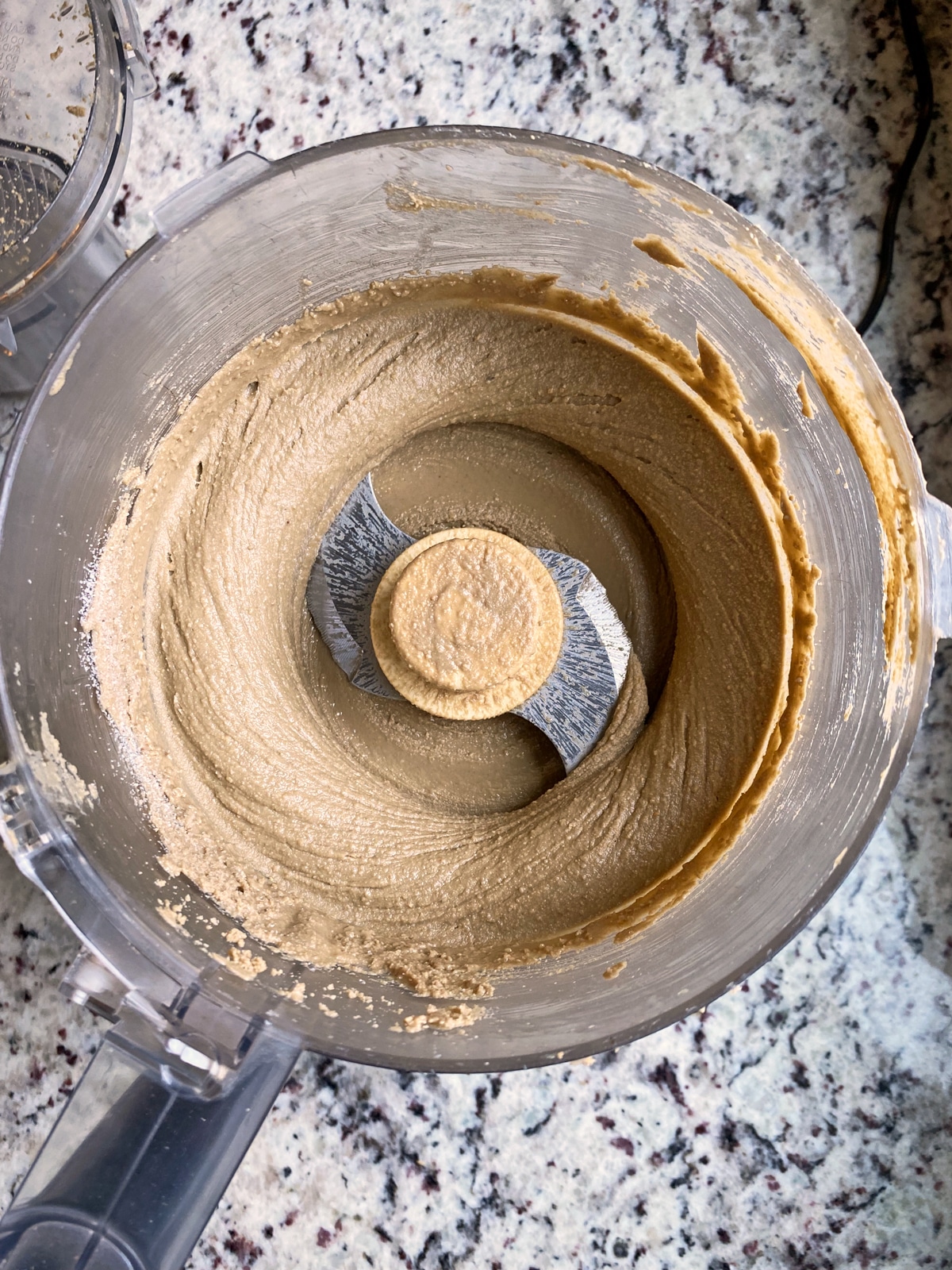 Storage
Store homemade sunbutter in a glass mason jar, or any jar with a lid. (I like to use leftover almond butter or honey jars.) The sunflower seed butter will last well at room temperature for about a month or in the fridge for up to three months.
Frequently Asked Questions
Do I have to roast the sunflower seeds?
You can make sunflower seed butter without roasting the sunflower seeds. However, baking them brings out a sweeter, buttery flavor.
Also, I recommend baking them yourself instead of buying roasted sunflower seeds because:
raw is cheaper
roasted sunflower seeds are often salted and baked in unhealthy oil (vegetable oils)
What can you do with sunflower seed butter?
There are so many ways to enjoy sunflower seed butter. Pretty much any way you can eat almond or peanut butter you can eat this salty seed butter.
I love using it to bake vegan muffins and donuts, making sunflower seed butter cups, using it in homemade cereal bars, spreading it on apples and rice cakes, adding it to smoothies or simply grabbing a spoonful straight from the jar.
Is sunflower seed butter paleo?
Yes! Sunflower seed butter is paleo friendly. If you are buying sunbutter in-store, rather than making your own, then be sure to check the ingredient list. Sunflower seed butter with added sugars and oil is typically not paleo.
Recipes Using Sunflower Seed Butter
Print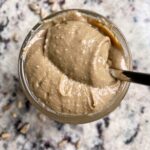 Homemade Sunflower Seed Butter
Author:

Katie

Prep Time:

25 min

Cook Time:

0 min

Total Time:

25 minutes

Yield:

about

14 oz

1

x
---
Description
This healthy homemade sunflower seed butter is easy to make and less expensive than store bought.  It's nut free, paleo, vegan and allergy friendly.
---
3 cups

raw sunflower seeds

½ tsp

- 1 tsp pink Himalayan salt*
---
Instructions
Preheat oven to 350 degrees F.
Spread sunflower seeds on baking sheet and bake at 350 degrees for 10 minutes.
Remove from oven and let cool to room temperature.
Put roasted sunflower seeds and salt in food processor and blend until smooth and creamy. **
Store in glass jar in the pantry or fridge.
---
Notes
*I recommend starting with ½ tsp salt and then adding more to taste.  Personally, I like using 1 tsp salt for this recipe.
**When processing seed butter stop frequently to scrape the sides.  It takes time to get the sunflower seeds to turn to a smooth, silky butter so patience is key.
Keywords: seed butter, Paleo, Vegan, Nut Free, Egg Free, Whole 30