Pizza seems to be an American favorite. Yeah? I remember naming pizza as my "favorite food" multiple times in grade school. Pretty sure that's what every other kid did as well! But, while conventional pizza may be a favorite, it also tends to be one of the unhealthiest food options. That is, unless you make your own. Making your own pizza with recipes like this Cassava Flour Pizza Crust and adding quality ingredients on top can bring this normally unhealthy food to extremely nutritious.
My recipe for grain free pizza crust is not only Paleo, but Vegan and allergy free as well. It's seasoned with Italian seasoning, garlic powder and onion powder. Furthermore, this Paleo pizza crust is thin and crispy, but holds together well. Which is an important characteristic because no one wants a pizza crust that falls apart when a lot of toppings are involved.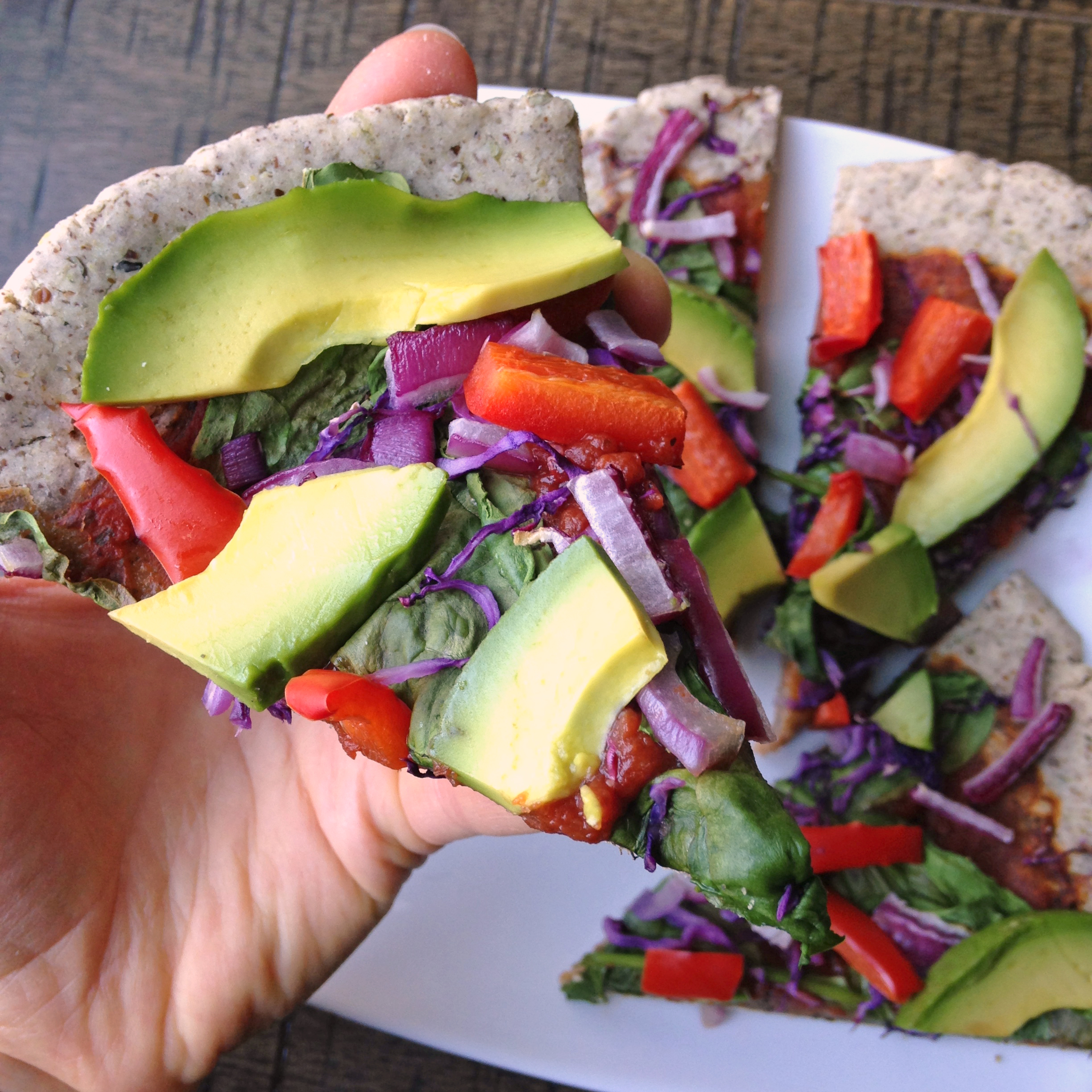 For years, I went without pizza because all I knew was that greasy, processed, gluten-containing pizza you order out or take home and bake. Yes, perhaps delicious, but after changing my diet over the years this was something I had no interest in eating.
Homemade pizza, however, is a completely different story. It can be incredibly nutritious. In addition, there are so many toppings to choose from that you could make it every day of the week and feel like you're eating a different meal. Seriously, you can top a pizza with anything! It can be sweet, savory, vegan, meaty, full of vegetables or just plain cheese.
In my opinion, the hardest part about making the pizza healthy is getting the crust just right. I have experimented with a variety of crusts and some turn out better than others. But this cassava pizza crust...it's a good one!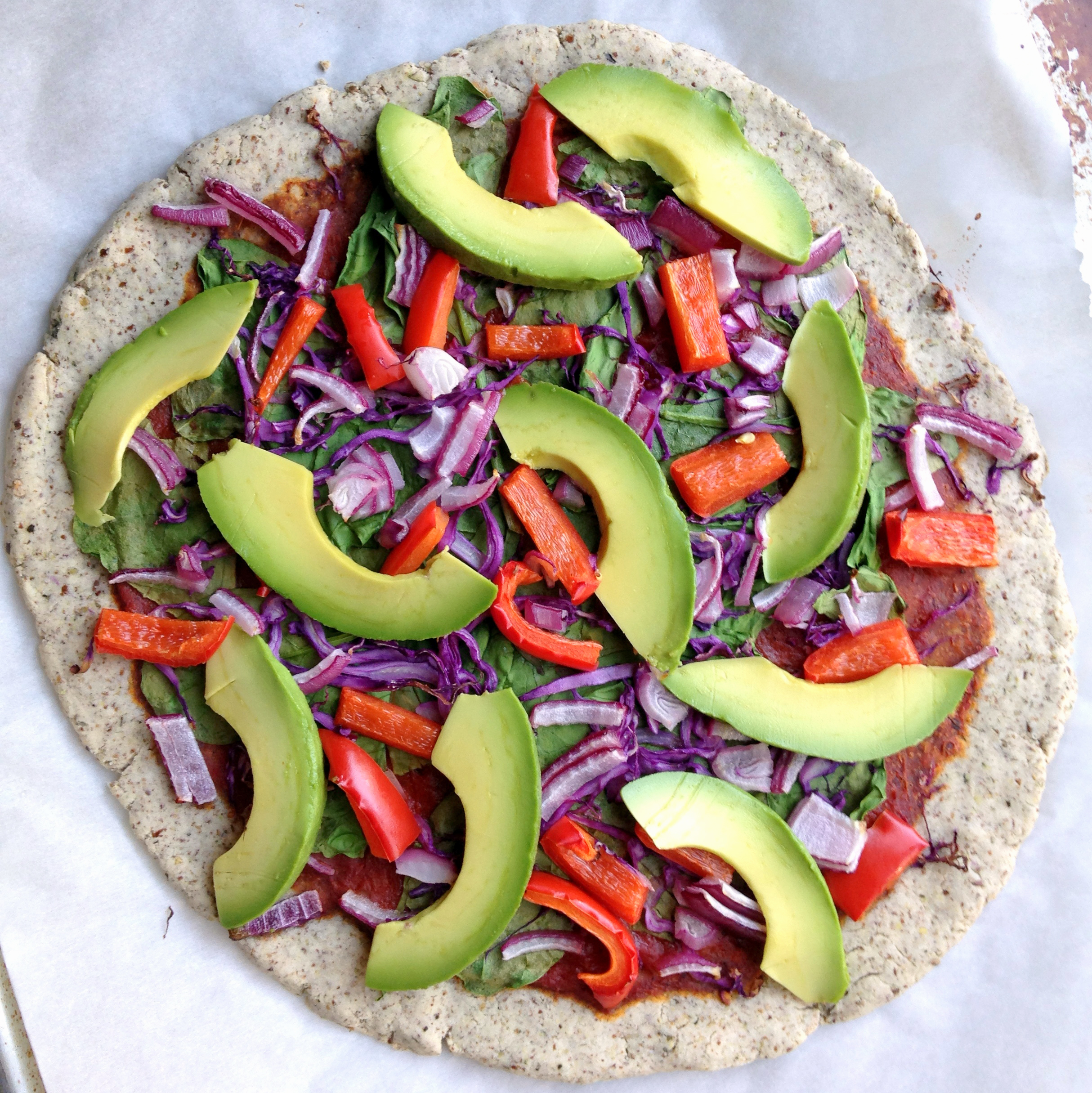 Ingredients in Vegan Cassava Flour Pizza Crust
There are so many different ingredients to use in pizza crust, but my recipe uses mainly cassava flour. Cassava flour gives me the ability to make a Paleo, Vegan and allergy free crust. Plus, it has a neutral flavor and enough elasticity to make a dough that's easy to work with. (Check out THIS post to learn more about cassava flour.)
The ingredients in this Paleo pizza crust include:
If you don't want to use cassava flour, you can sub any gluten free flour blend and have similar results. Also, the seasonings are optional and can be altered to your liking.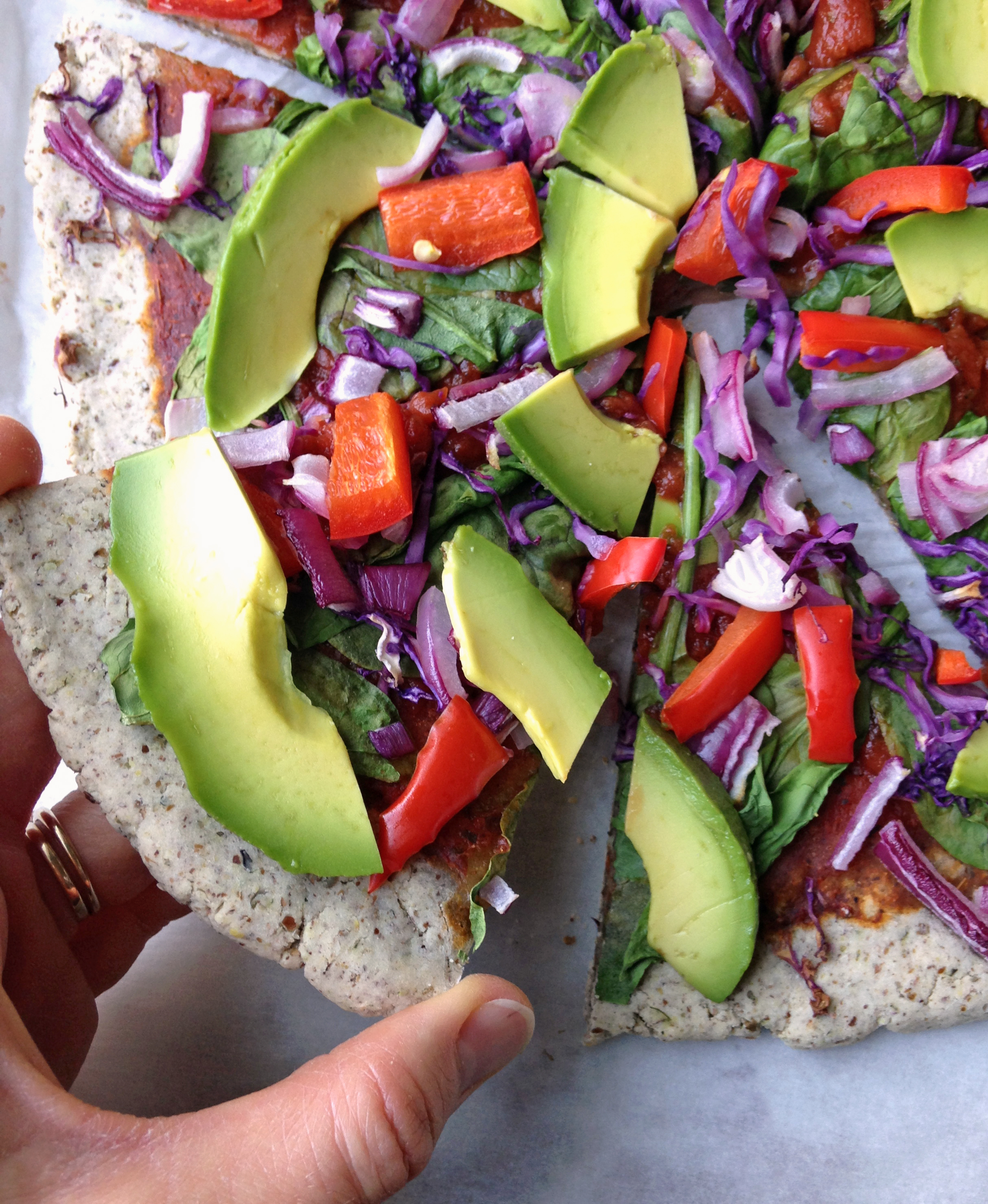 How to Make Healthy Pizza Crust
When making your own pizza crust, first you need to preheat your oven to 375 degrees.
Next, combine all dry ingredients in a medium sized mixing bowl. Mix, then add wet ingredients. When I mix in the wet ingredients, I like to start with a spatula, then use my hands to knead the dough. If necessary, add a little additional flour so the dough isn't too sticky.
After mixing the dough, roll it into a ball then flatten on a large sheet of parchment paper. Use a rolling pin to roll the dough into about a 10" circle. Again, add more flour when necessary to keep the dough from sticking. Another option is to roll the dough between two sheets of parchment.
Place the pizza crust on a lined baking sheet. Lastly, add the desired toppings and bake at 375 degrees for 20-25 minutes.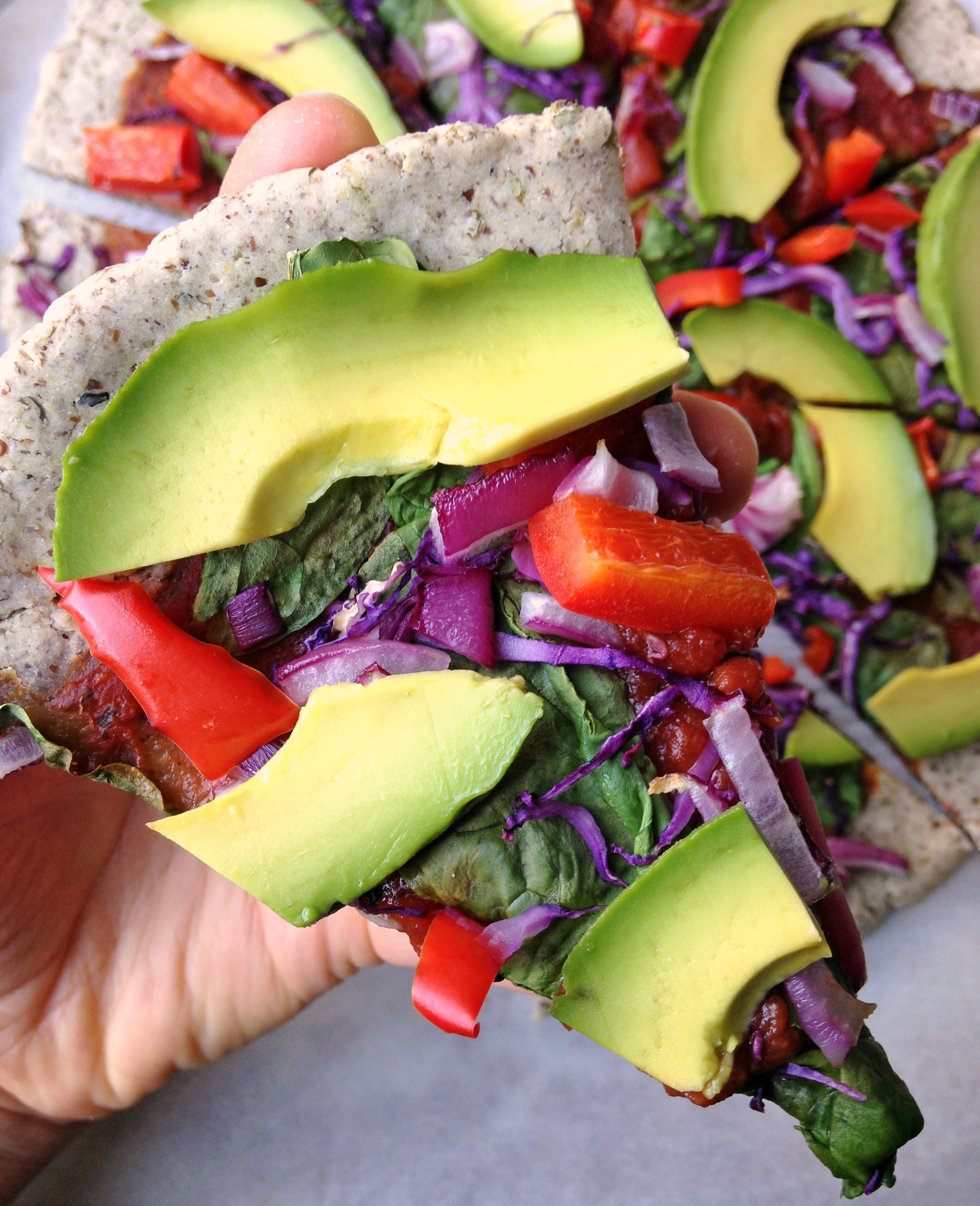 What are Some Healthy Pizza Toppings?
When people think of healthy pizza toppings, they often think of vegetables. However, there are many other healthy ingredients besides that. In my opinion, it all comes down to the quality of the ingredients you are using.
For instance, you want to put pizza sauce on your pizza. Most people think pizza sauce is pizza sauce...but there can be a huge difference in the ingredients from one brand to another. I suggest selecting a sauce that uses organic ingredients, doesn't contain any added sugar and contains healthy oils like olive oil.
Meats like sausage and salami are excellent pizza additions. They add a good amount of protein and fat, making pizza more satiating. Choose quality meats that are organic, minimally processed and come from pastured animals.
Cheese, so long as you tolerate it, is another perfectly healthy pizza topping. I always look for cheese from grass fed cows. Another option is selecting cheese made from sheep's or goat's milk, as they are typically better sourced and easier to digest.
And of course, vegetables. Vegetables (even some fruits) are wonderful on top of pizza. Some of my favorites are: onion, red pepper, sliced cabbage and spinach.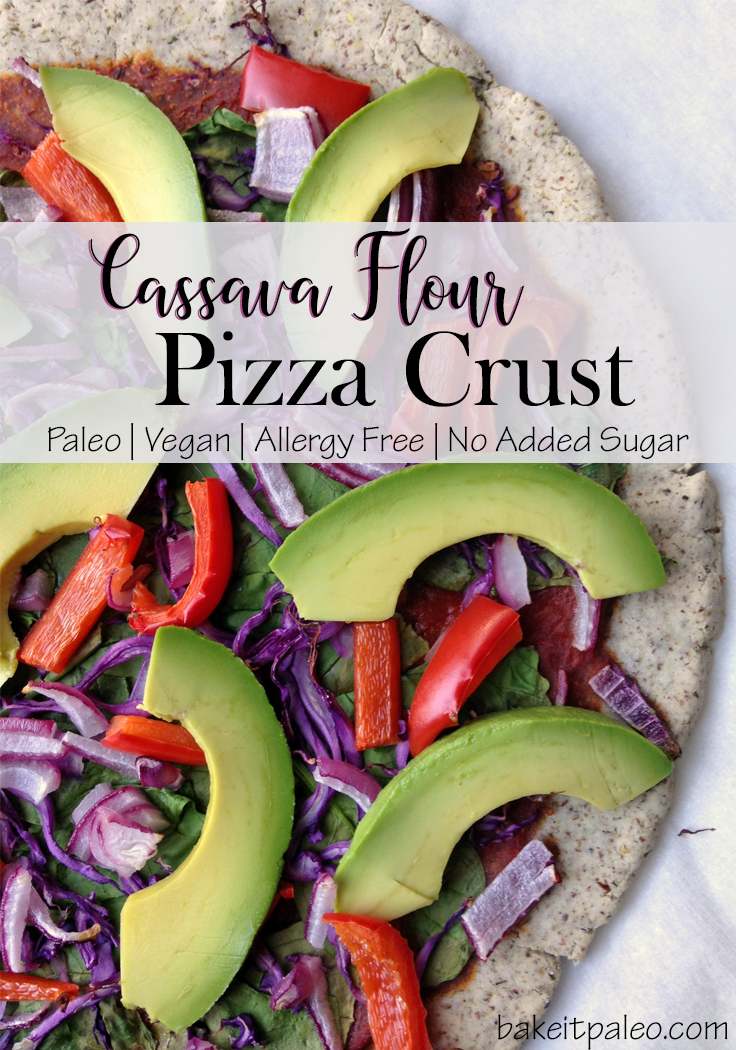 Print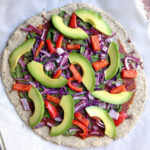 Cassava Flour Pizza Crust
Author:

Katie

Yield:

one

10

" round pizza

1

x
---
Description
Thin crust cassava flour pizza made with Paleo, vegan and allergy free ingredients.  A great dinner dish for the family.
---
1 Cup

cassava flour

¼ Cup

ground flax seed

½ tsp

baking powder

2 tsp

Italian seasoning

½ tsp

salt

¼ tsp

garlic powder

¼ tsp

onion powder

3 Tbsp

avocado oil

½ Cup

+

1 Tbsp

warm water
---
Instructions
Preheat oven to 375 degrees F.
In a medium sized mixing bowl, combine all dry ingredients.  Mix well.
Add in wet ingredients.  Mix well.  (Don't be afraid to use your hands.)
Form dough into a ball and then, using a rolling pin, roll dough into a large, flat circle.  (I suggest rolling dough on a piece of parchment paper so that it doesn't stick to any surface.)
Place dough on lined baking sheet and add desired toppings.
Place pizza in the oven (middle rack) and bake at 375 degrees for 20-25 minutes or until done.
Remove from oven, cool and serve.
---
Keywords: pizza crust, cassava flour, grain free pizza, vegan, egg free, allergy free, nut free