Make way for these delicious, low carb cookie dough protein balls! They're paleo friendly, vegan, nut free and great for curbing that sweet tooth. These healthy cookie dough balls are made with sunflower seed butter, pea protein and coated in dark chocolate (optional but recommended).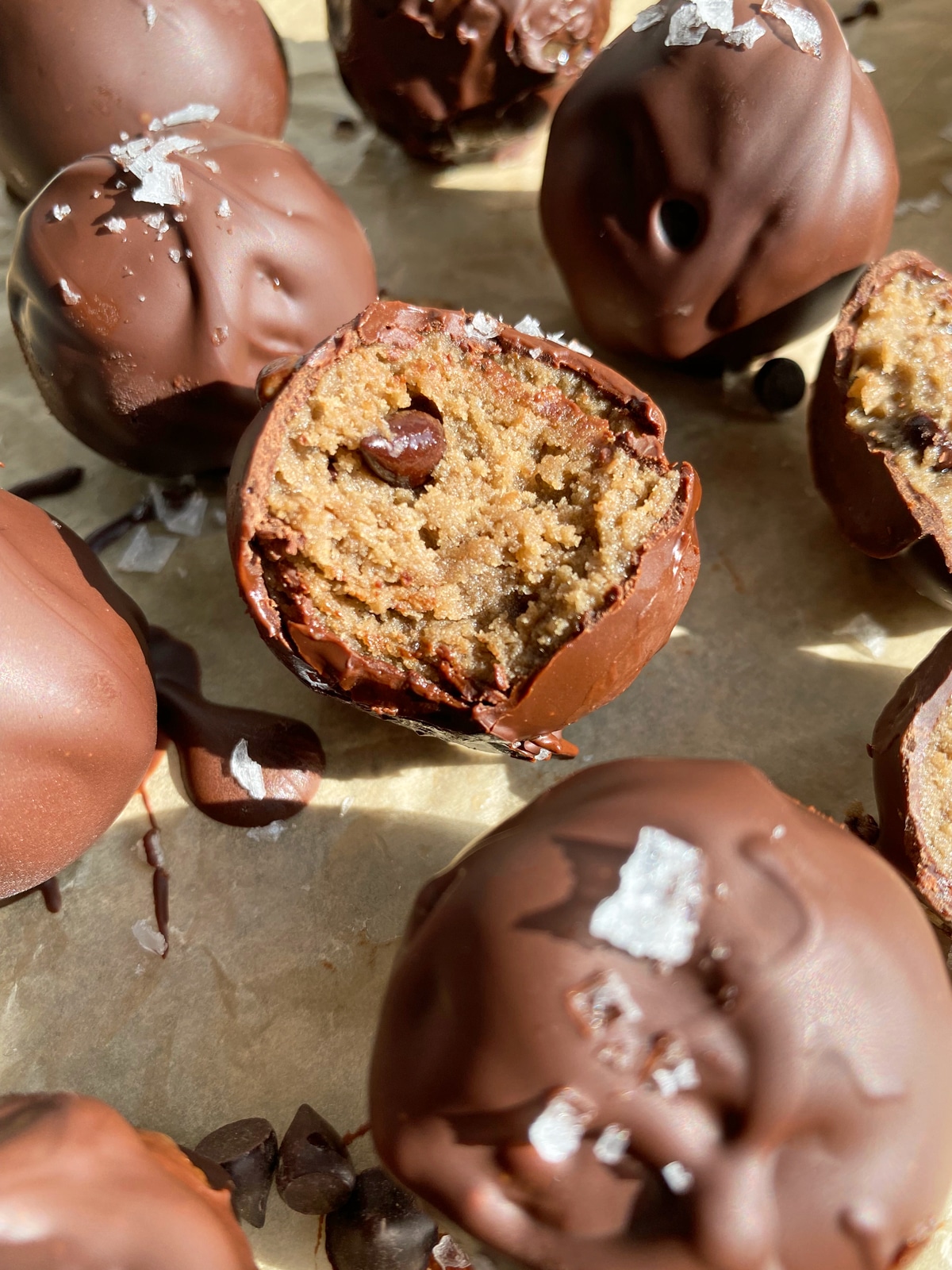 Pretty sure you all know my love for truffles and paleo energy balls runs high!
And this recipe combines the two. As in, these cookie dough protein balls taste like a dessert (hello cookie dough filling), but are low in sugar and high in protein and healthy fats.
I had a hard time eating just one...or two! So I'm warning you now, these nut free cookie dough energy bites are addicting. How could they not be?!
They have a delicious, soft cookie dough filling that's coated in dark chocolate and topped with a pinch of sea salt.
The chocolate coating and sea salt are optional, but highly recommended. Plus, it makes these vegan cookie dough protein balls look like store-bought truffles. Fancy without much effort!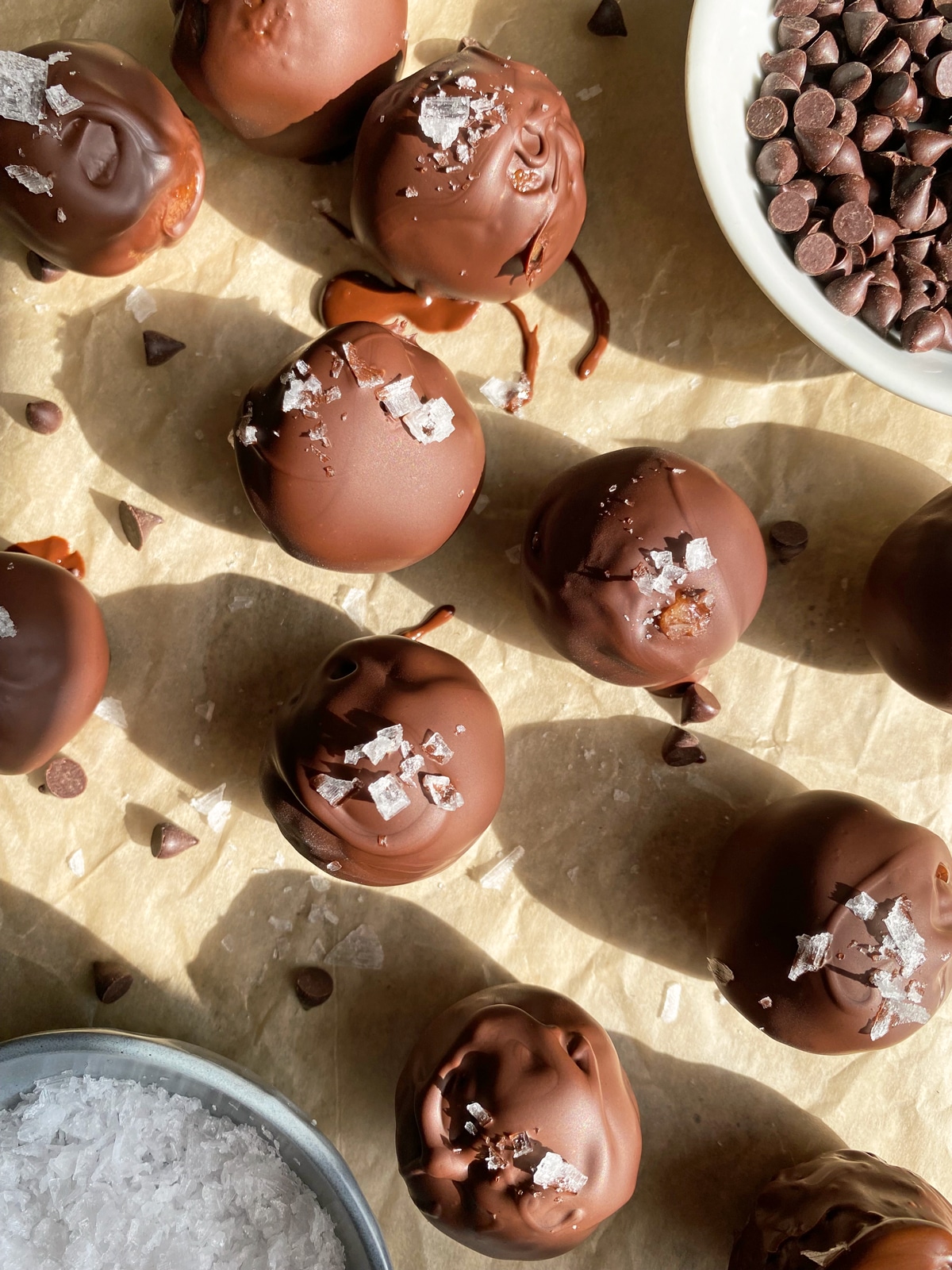 Recipe Highlights
Here's what you need to know about these paleo protein powder balls:
gluten free & grain free - these protein balls are made without oats
nut free - made without peanut butter
dairy free - made with pea protein (no whey protein)
paleo & vegan friendly
low in sugar and carbs - made without dates
high in protein
no bake
perfect for snacking or dessert
only a handful of ingredients
Seriously, with a list like this, what's not to love?!
This recipe is healthy enough to eat as a grab'n go breakfast or snack, but satisfying enough as a dessert. And you can easily control the sugar content with the type of chocolate you use.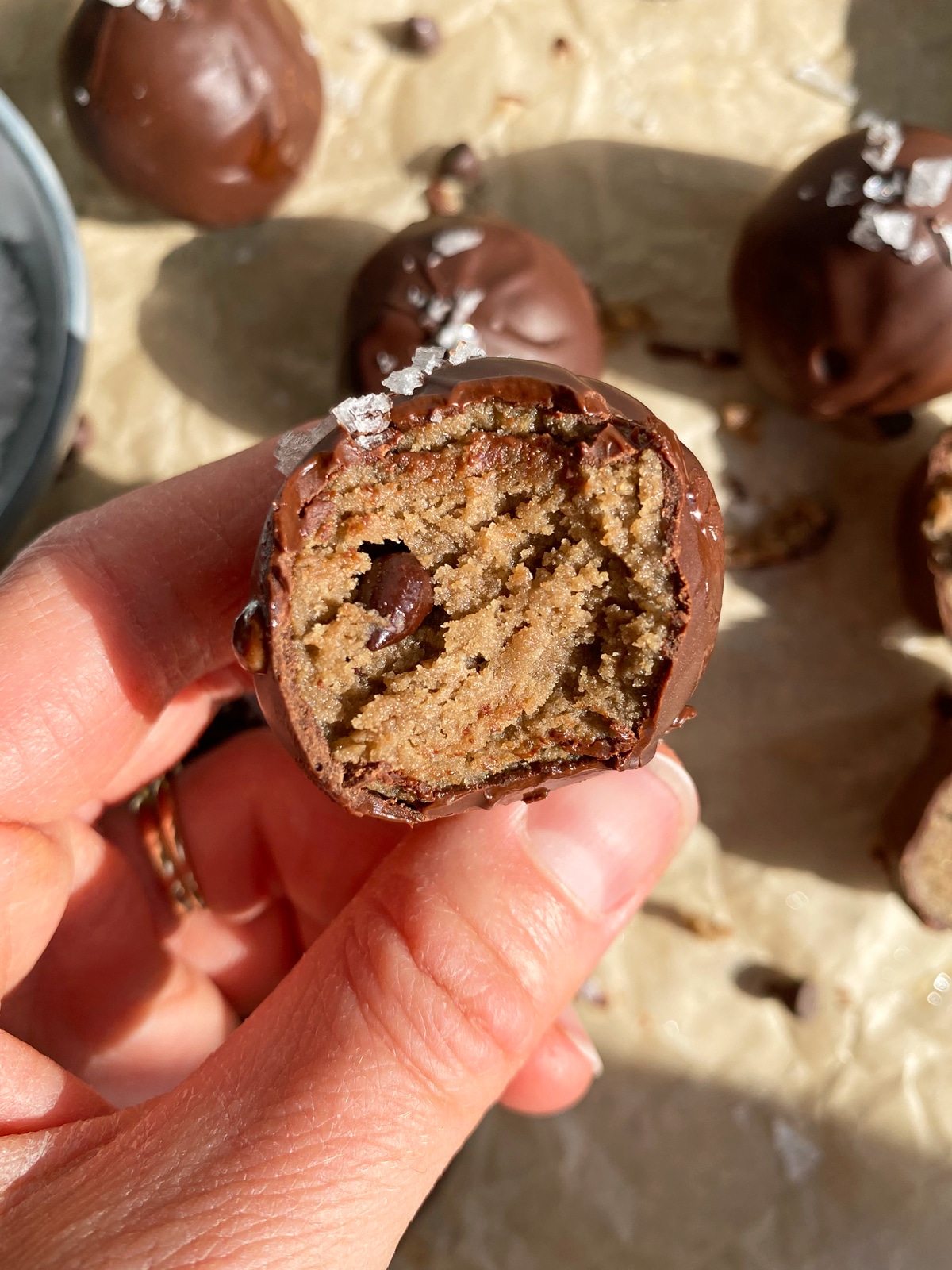 Ingredients in Cookie Dough Protein Balls
These no bake cookie dough balls require just a few simple, every-day ingredients. Here's what you need
Sunbutter: unsweetened sunflower seed butter (or any creamy nut butter like almond butter or cashew butter)
Pea Protein: I recommend Nuzest vanilla protein powder. Pea protein is very absorbent, so substituting with other protein powders may not work. I love the vanilla for this recipe, however feel free to substitute with any protein flavor.
Liquid Sweetener: I used maple syrup, but any liquid sweetener will work. Raw honey is another great paleo sweetener.
Dark Chocolate: for the cookie dough filling and chocolate coating. I used mini chocolate chips for the filling and regular sized ones for the coating. However, any type of chocolate/chocolate chips will work. You can always chop up large chips or chocolate bars to make smaller pieces for the filling.
Vanilla Extract: optional, but recommended for flavor
Water: to thin the batter
Flaked Sea Salt: optional topping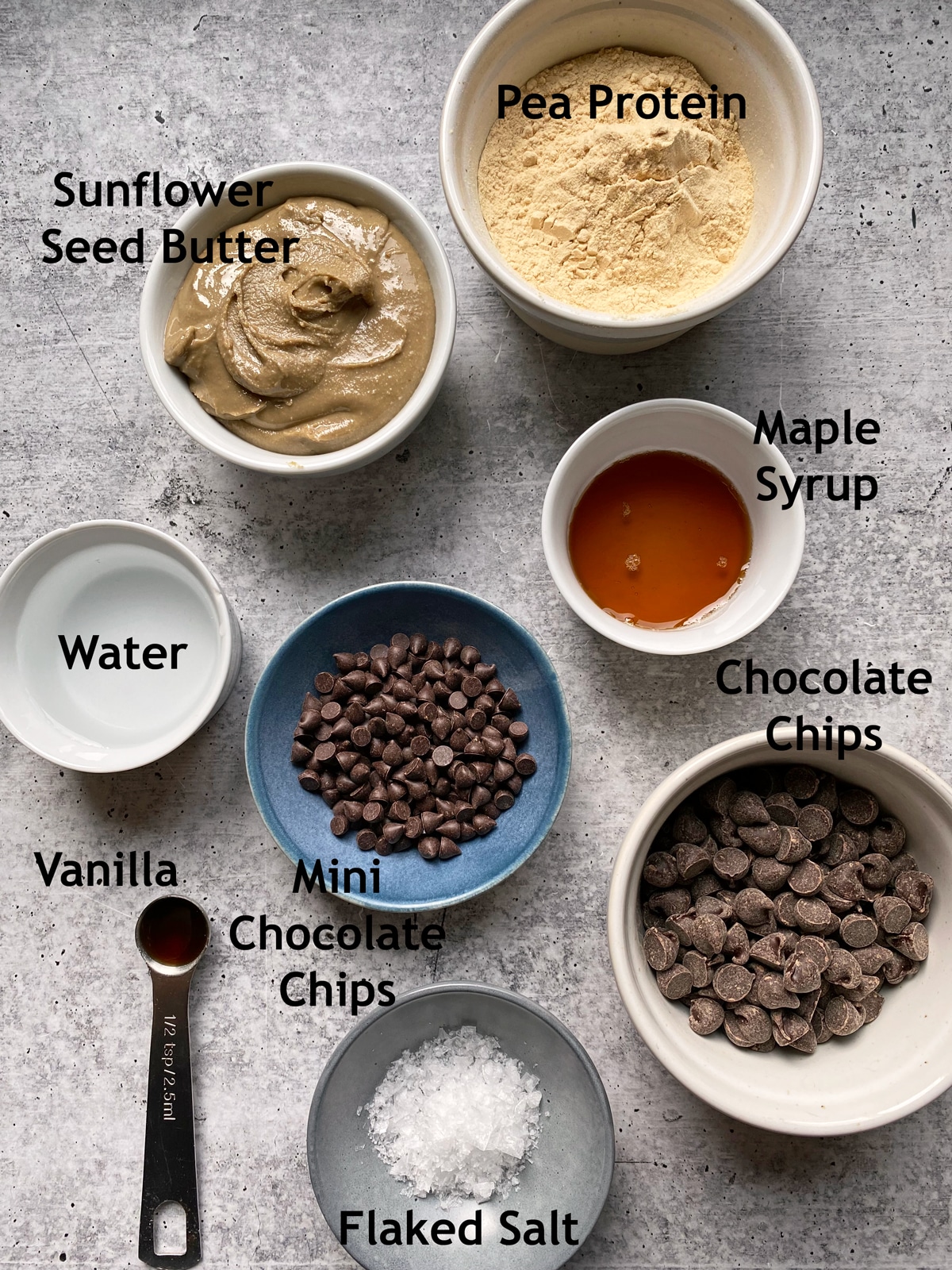 How to Make Vegan Cookie Dough Protein Balls
One of the things I love about protein balls and energy bites: they are super easy to make. These quick snacks can be part of your weekly meal prep or simply thrown together while you're cooking dinner. Here's what you need to do:
Make the Filling
First, make the filling. In a medium-sized mixing bowl, combine all the filling ingredients. This includes the sunflower seed butter, vanilla protein, maple syrup, mini chocolate chips, vanilla and water.
Depending on the type and brand of protein powder you use, you may need more or less water. So, add one tablespoon at a time until you reach a consistency that allows you to roll the dough into balls.
Roll the dough into balls approximately one tablespoon in size (making 12-14 balls). Place the balls on a large plate or small baking sheet.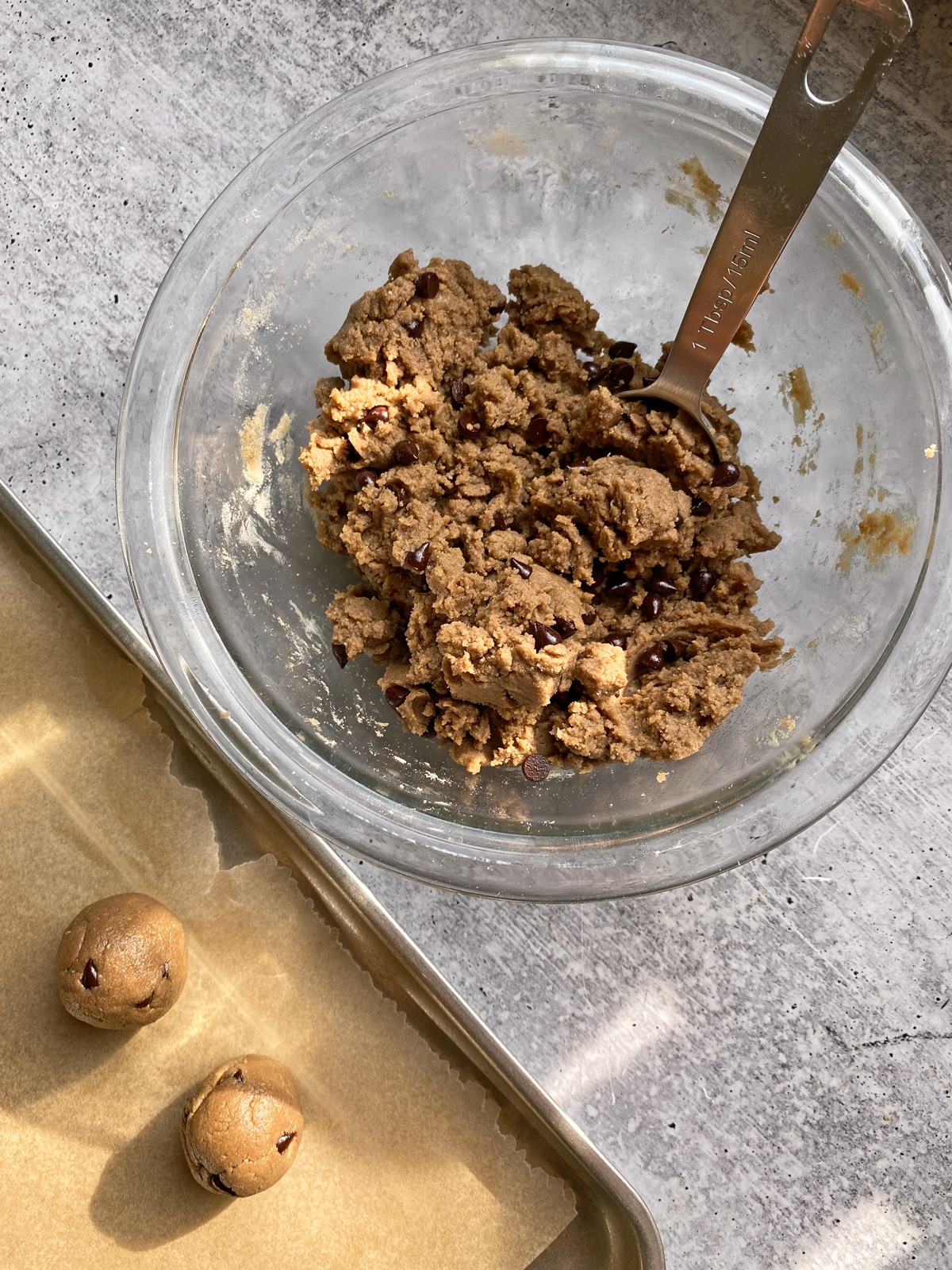 Freeze Filling
Transfer the balls to the freezer for 20 minutes to firm up.
Coat in Dark Chocolate
Next, prep the dark chocolate coating. To do this, place the chocolate in a small sauce pan. Set the sauce pan on the stove top and melt the chocolate over low heat, stirring frequently.
Once the chocolate is melted, grab the balls from the freezer and dip them (one at a time) into the chocolate. Place the balls on a sheet of parchment paper.
Lastly, sprinkle the bites with flaked sea salt. Of course, this step is optional, but recommended 😉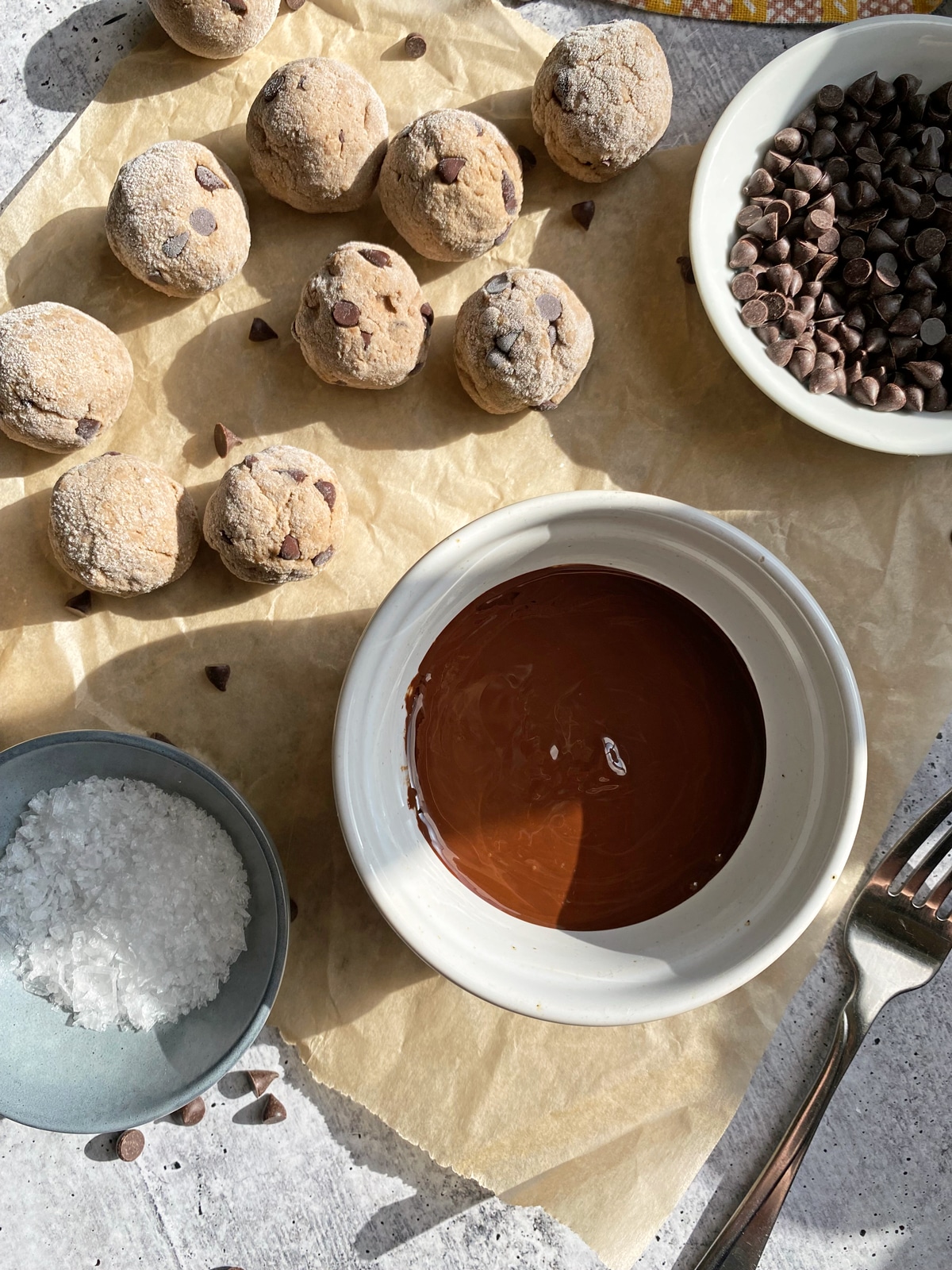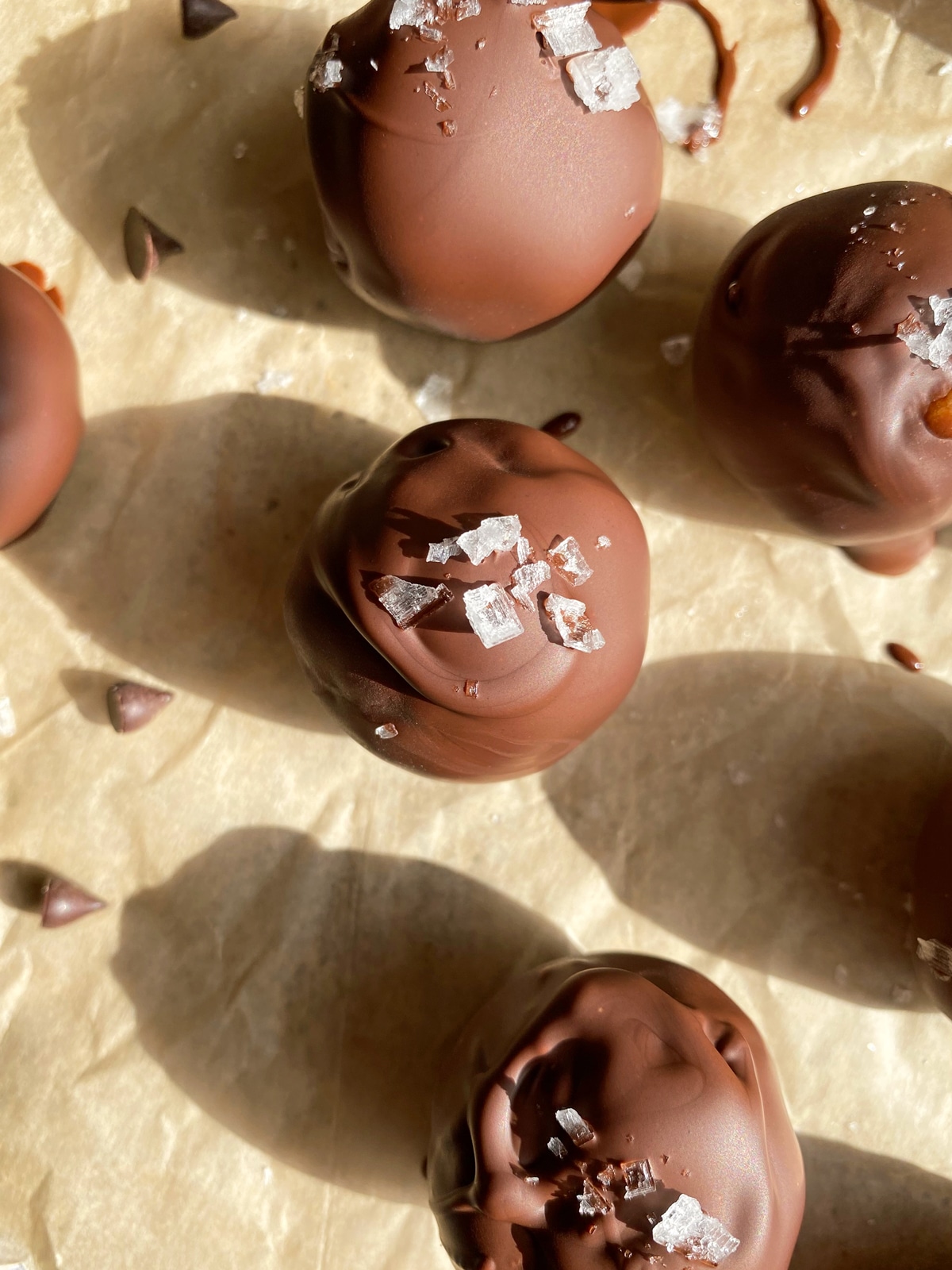 Storing Cookie Dough Protein Balls
These healthy vegan cookie dough balls need to be stored in the fridge or freezer. They are great for a quick snack, breakfast, dessert or packed in a lunch.
I love popping a few in packed lunches or just grabbing one in-between meals or post workout.
Frequently Asked Questions
Are Protein Balls Healthy?
Protein balls can be part of a healthy diet, what matters are the ingredients used to make the protein balls.
My recipe is healthy because it contains real food ingredients that are minimally processed and additive free. It's also important to look at the sugar content. Protein balls loaded with sugar are more of a dessert, whereas ones that use just a small amount of unrefined sugar (like this recipe) are great for snacks or an addition to breakfast.
Do protein balls need to be refrigerated?
Most protein balls are best kept in the fridge because they last longer that way (typically 2-3 weeks in the fridge). Some also need refrigeration to hold their shape, as they become soft at room temperature.
This cookie dough protein ball recipe requires refrigeration, however you can leave them out at room temperature for a few hours if you're packing them in a lunch or as an on-the-go snack.
More No Bake Protein Ball Recipes
Enjoy!
Print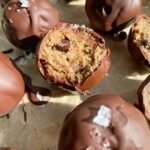 Cookie Dough Protein Balls (Paleo, Vegan, Nut Free)
Author:

Katie

Prep Time:

30 minutes

Cook Time:

0 minutes

Total Time:

30 minutes

Yield:

12

-

14

balls

1

x
---
Description
Healthy, low carb cookie dough protein balls that are paleo, vegan, nut free and easy to make.
---
---
Instructions
For the Filling: Place all ingredients, except chocolate chips, in a medium-sized mixing bowl.  Mix first with a spatula, then use your hands to knead the dough.
Fold the chocolate chips into the dough.
Roll the dough into balls approximately 1 tablespoon in size.  Set on a small baking sheet or large plate.
Freeze the filling for 20 minutes to firm**
For the coating: Place the chocolate in a small sauce pan.  Melt on the stove top over low heat, stirring frequently.
Remove balls from the freezer and dip, one at a time, into the melted chocolate.
Place the dipped balls on a sheet of parchment paper and add a pinch of flaked sea salt.
Store in fridge or freezer.
---
Notes
*This recipe has only been tested using pea protein.  If using another protein powder, I recommend measuring by weight for best results.  Use my affiliate discount code "bakeitpaleo" for 15% off any Nuzest purchase.
**You don't have to freeze the filling, it just makes dipping the balls in chocolate a lot easier.  So, it's recommended. 
To make this recipe Keto, use a sugar-free liquid sweetener for the maple syrup and keto friendly chocolate for the coating.
Keywords: protein ball, cookie dough, Paleo, Vegan, no bake, nut free, snack, dessert, high protein