Long before I started blogging I just had an Instagram account.  Funny enough, when I first started my account, I had zero desire to share pictures of food or any sort of personal information.  I only wanted to follow others, mostly fitness accounts, as a way to inspire myself to lift weights.  At the time, I saw a few food accounts and couldn't understand why anyone would want to follow an account solely based on food.  And now here I am, creating recipes like these Delicata Squash Pancakes and sharing them with the world.  Oh, how times have changed!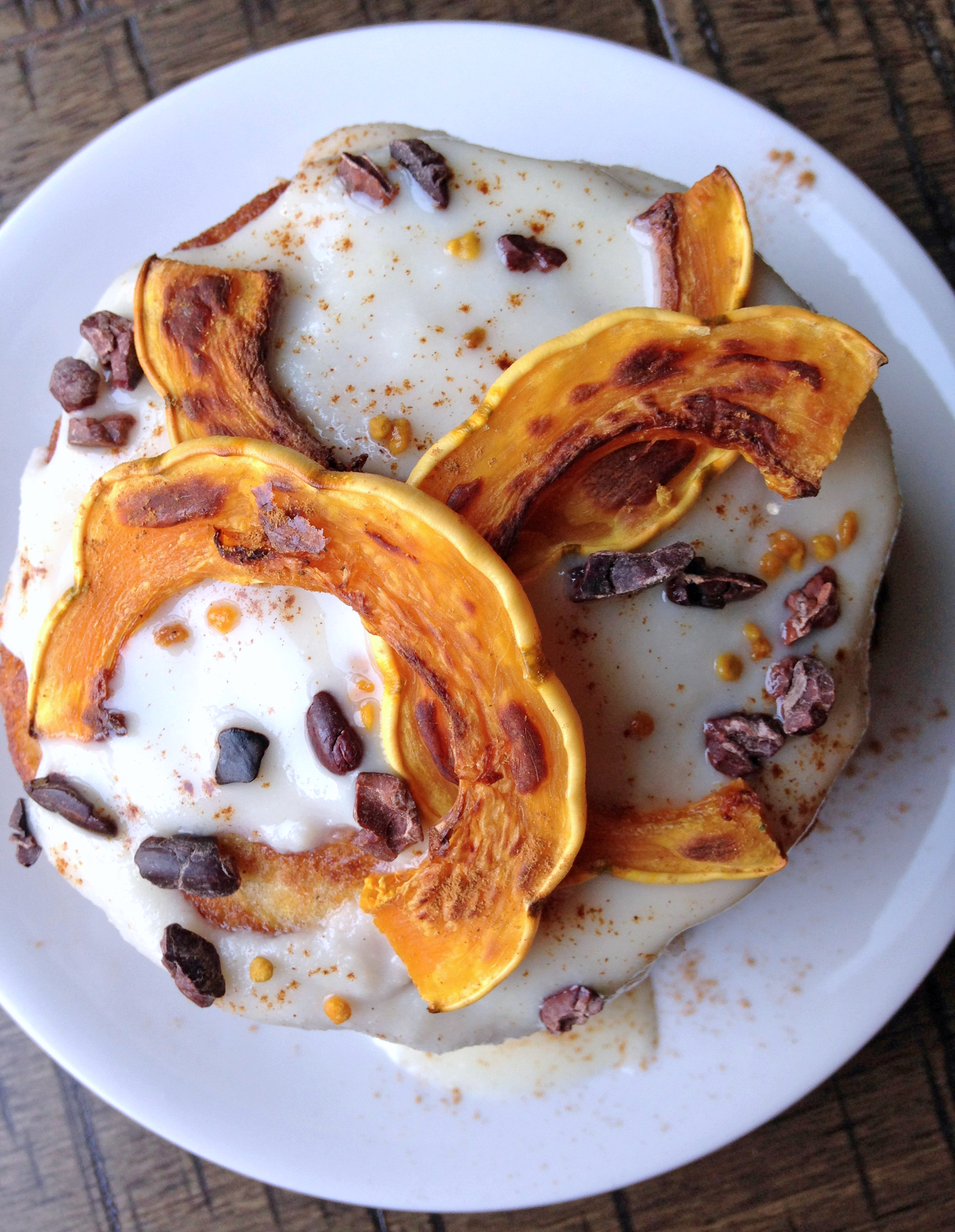 MealShare App for Food Logging
Instagram is great for sharing recipes, meal ideas and creating community.  And thankfully, many other apps are coming out with similar qualities.  For instance, a relatively new app called MealShare has recently caught my attention.
MealShare is designed to connect people who are trying to build a healthier relationship with food and to make food logging simple.  
I created a profile by selecting my food preferences and giving a few stats about myself.  Next, I started recording my meals by simply taking a photo of what I was eating.  I like this concept of food logging because it is a lot less tedious than tracking every calorie or macro.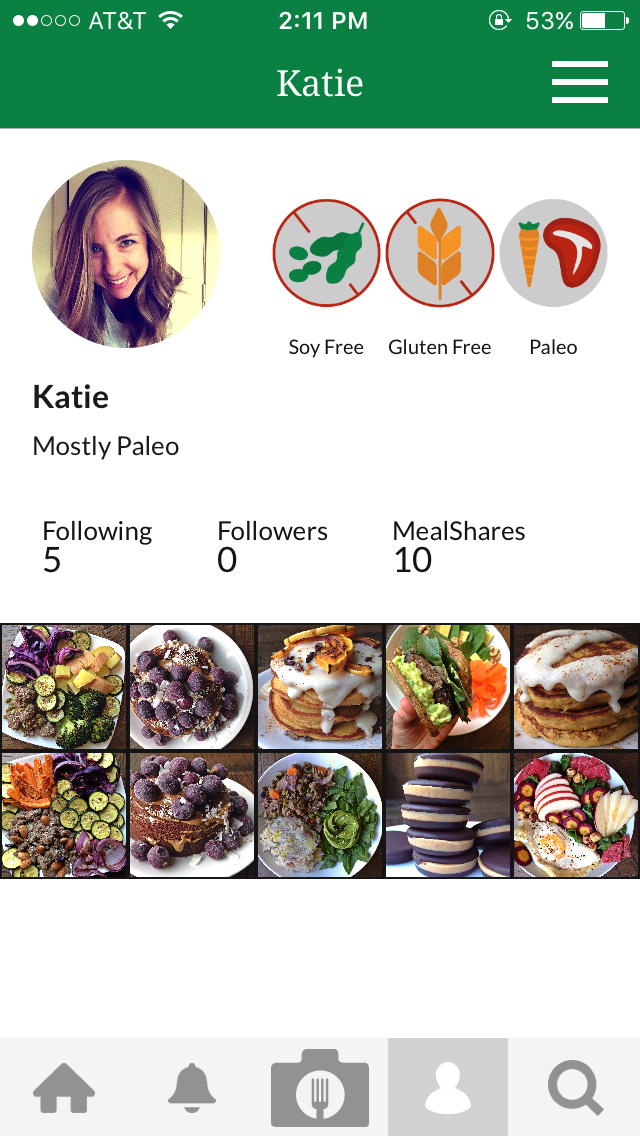 How the App Works
You, your friends and a private practice dietitian can rate your meals on a scale of 1-10 (1 being extremely unhealthy and 10 being extremely healthy).  In my opinion, these Delicata Squash Pancakes should have a health rating of 8.  As, I don't think they should be eaten every day but are a perfectly healthy treat.

What I Like About the App
I like that the MealShare app promotes intuitive eating and food freedom, rather than numbers and strict guidelines.  Personally, I feel this is a more sustainable approach to eating healthy.
In addition, I like that you can get a friend or an expert's opinion.  It's helpful to have someone else rate your meal.   But, if you want to remain anonymous, that's possible too!
I look forward to connecting with more people on the app that are trying to better their health and improve their diet.  Just as I have connected with many people on my Instagram.
MealShare is still in Beta, but is quite user-friendly.  I highly recommend it to anyone trying to eat healthier, lose weight or improve areas of their health like sleep or brain function.  This app is available for anyone with an i-phone and if you want to try it out, use the code "MealShareRabbit" to get a free 15 minute consult and 5 free meal reviews from a dietitian.  You can also follow them along on Instagram 🙂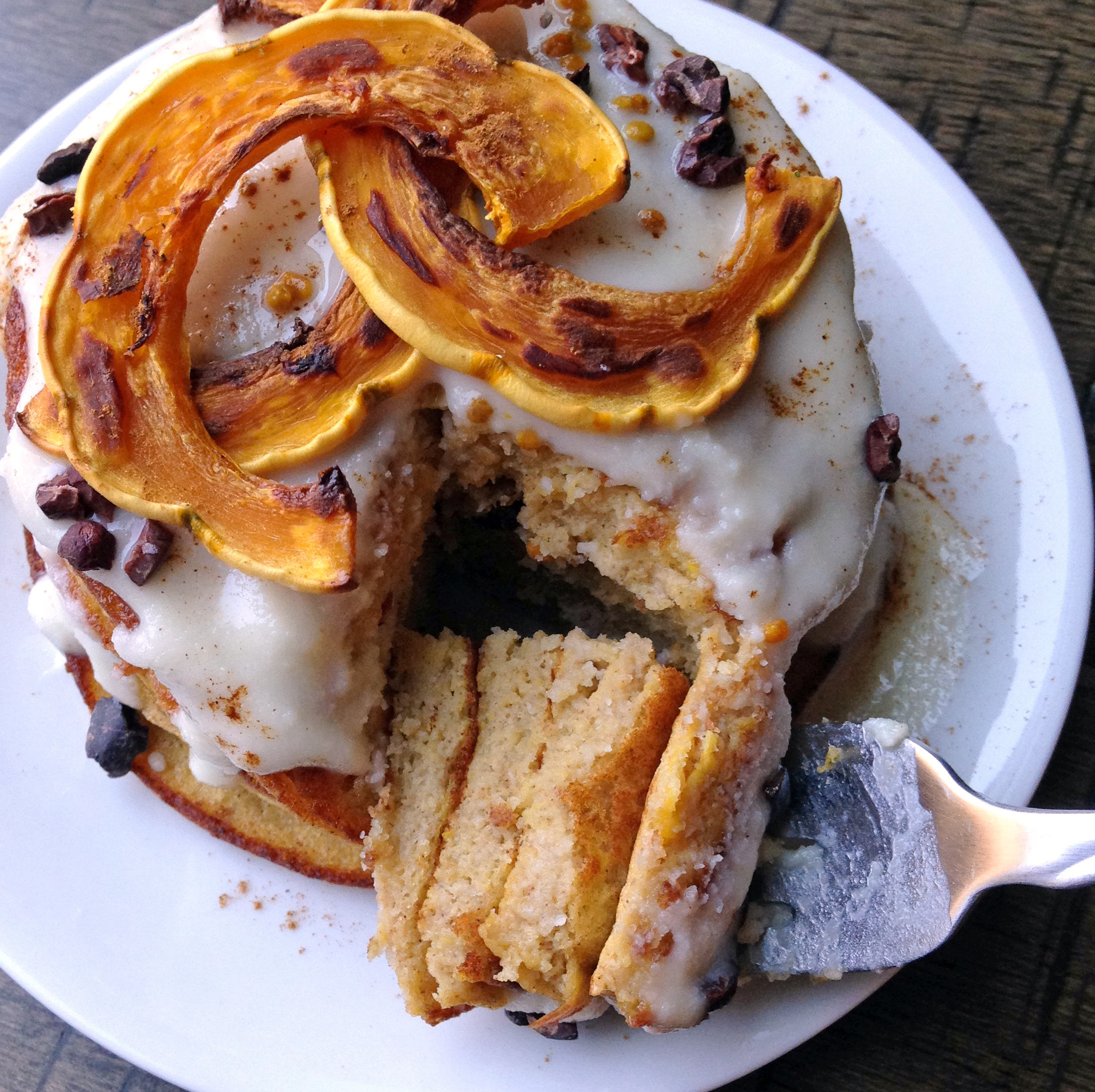 Healthy Delicata Squash Pancakes
These Paleo squash pancakes are fluffy and moist.  In addition, they smell absolutely wonderful!  It was hard not to steal a bite before taking photos!  They are healthy because of the addition of squash, which adds beneficial nutrients.  Also, these squash pancakes do not contain much added sugar.  In fact, the maple syrup is optional.
Not only is this delicata squash pancake recipe great because of its simple, wholesome ingredients, but I love that it can all be made in one bowl.  If you prefer, you may use a food processor or blender to make this recipe.  But, the squash is soft enough to mash with a fork and using a bowl makes cleanup easier!

Squash Pancake Toppings
I topped these pancakes with homemade coconut butter, cacao nibs, bee pollen and a bit of baked Delicata squash.  But truly, any sweet or savory addition will work.
Other great toppings include: maple syrup, nut butter, seed butter, yogurt and berries.
Or, if you're looking for a more savory squash pancake, eliminate the maple syrup from the recipe and top the pancakes with avocado.  A runny egg and a side of bacon would also be great savory additions.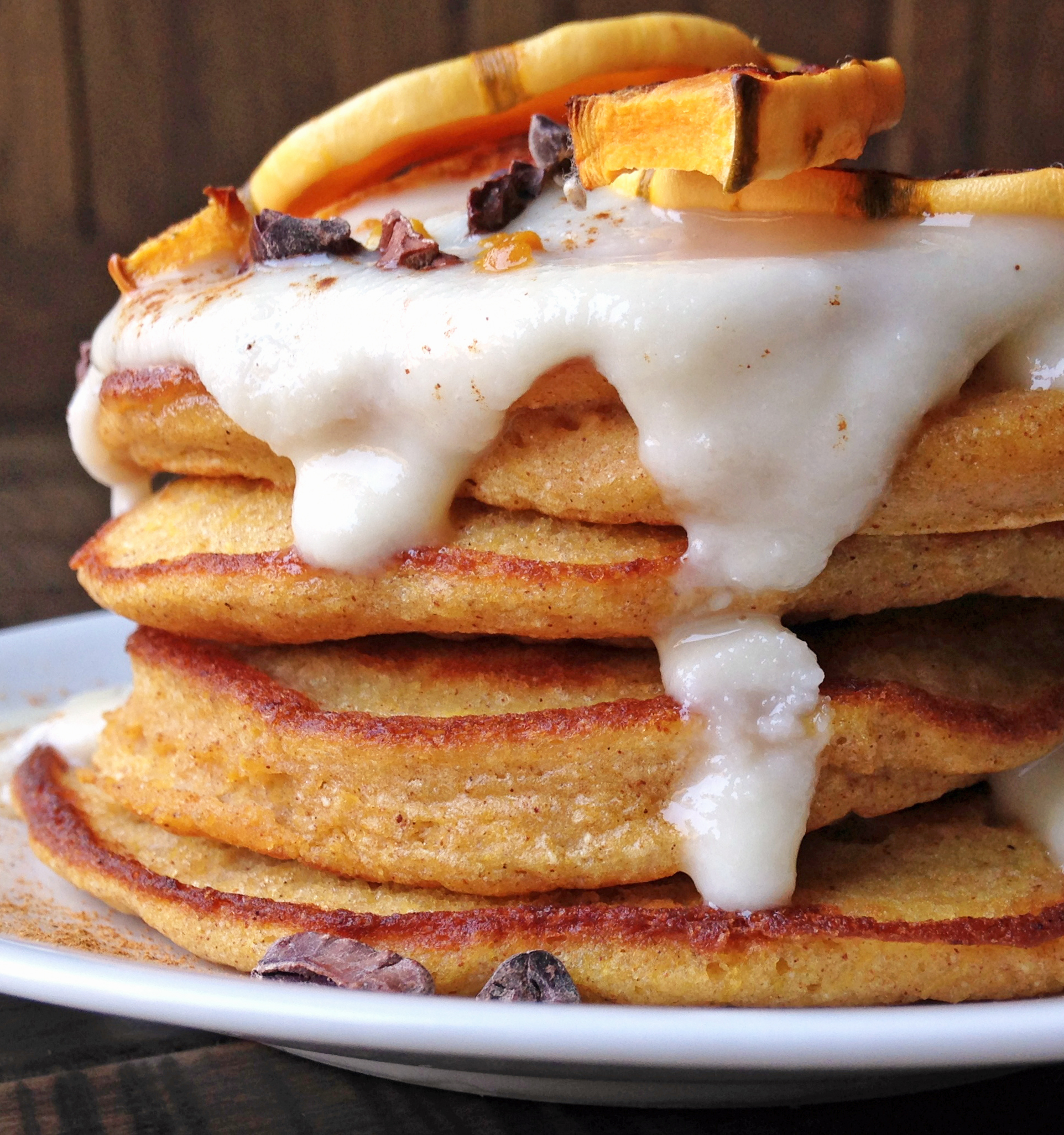 And now, the recipe for these Delicata Squash Pancakes 🙂

Enjoy!
Disclaimer: This post was sponsored by Pathways to Nutrition, Inc. but all thoughts and opinions are my own.
Print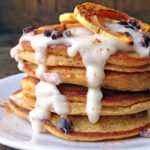 Delicata Squash Pancakes
Author:

Katie

Prep Time:

30 min

Cook Time:

15 min

Total Time:

45 minutes

Yield:

5

pancakes

1

x
---
Description
Lightly sweetened Delicata Squash Pancakes.  Perfect for a nut-free, satisfying Paleo breakfast.
---
½ cup

steamed then cooled Delicata squash (

100g

)

2

large eggs

1 tsp

maple syrup

2 Tbsp

arrowroot flour

1 Tbsp

coconut flour

½ tsp

baking powder

½ tsp

cinnamon
pinch of salt
coconut oil for frying
---
Instructions
Cut Delicata squash in half.  Remove seeds/innards and cut into cubes.  
Using a steamer pot, steam squash until tender.  Then cool to room temperature.
Place squash in a medium sized mixing bowl and mash with a fork*  
Add in egg and maple syrup, stir.
Add in remaining ingredients (except coconut oil).  Mix well.
Place a little coconut oil on a frying pan and heat to medium-low.  Pour approximately 2 Tbsp of batter onto oiled frying pan.
Cover pan and let pancake cook until it's golden brown on the bottom.  Flip and continue cooking.
Remove pancake from pan and serve.  Repeat process until batter is gone.
---
Notes
*You may remove the skin from the squash, but it's soft enough to eat (I kept the skin on)
Keywords: pancakes, breakfast, delicata squash, nut free