This Paleo red cabbage salad is made with fresh vegetables and flavored with coconut aminos and ginger. It's an easy cabbage salad recipe - perfect as a weekly meal prep option or summer barbeque side dish.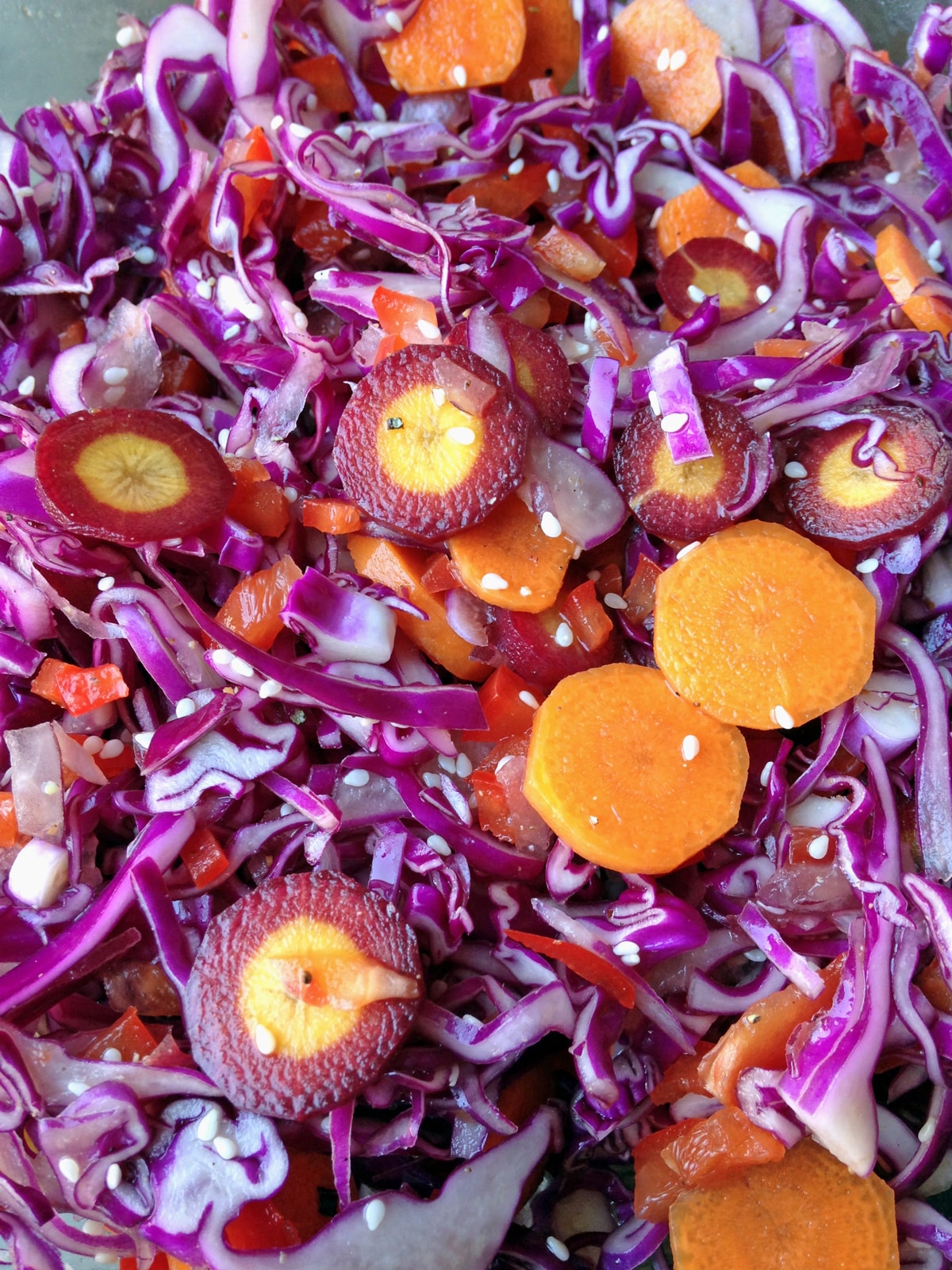 Lately, my 3 year old son has been asking for an egg and "salad" for breakfast. And by salad he means sauerkraut. (Hey, sauerkraut is not an easy word to pronounce, haha!) Because he doesn't tolerate eggs well, this request is a special treat rather than a daily occurrence. But as far as sauerkraut goes, I'll let him eat up to his heart's content.
Personally, I'm not a fan of sauerkraut. I just cannot get over the awful smell. BUT, I do love cabbage. (In case anyone isn't aware, sauerkraut is fermented cabbage.) This Cabbage Salad recipe was mainly one for me, but I had a small inkling my son would be drawn to it as well. And sure enough, he loves it!
So for any of you other cabbage lovers out there, this recipe is one for you. This Red Cabbage Salad is an easy, colorful side dish that packs quite a bit of nutrition and the ingredients are simple and fresh: purple and orange carrots, purple cabbage, red pepper, onion and a handful of spices.
Something I never understood is why purple colored cabbage is called red cabbage? In fact, I used to always call it purple cabbage until a few years ago when I actually looked at the grocery store label.
I did a little digging. As, knowing why and how red cabbage got it's name seems like a highly important piece of knowledge.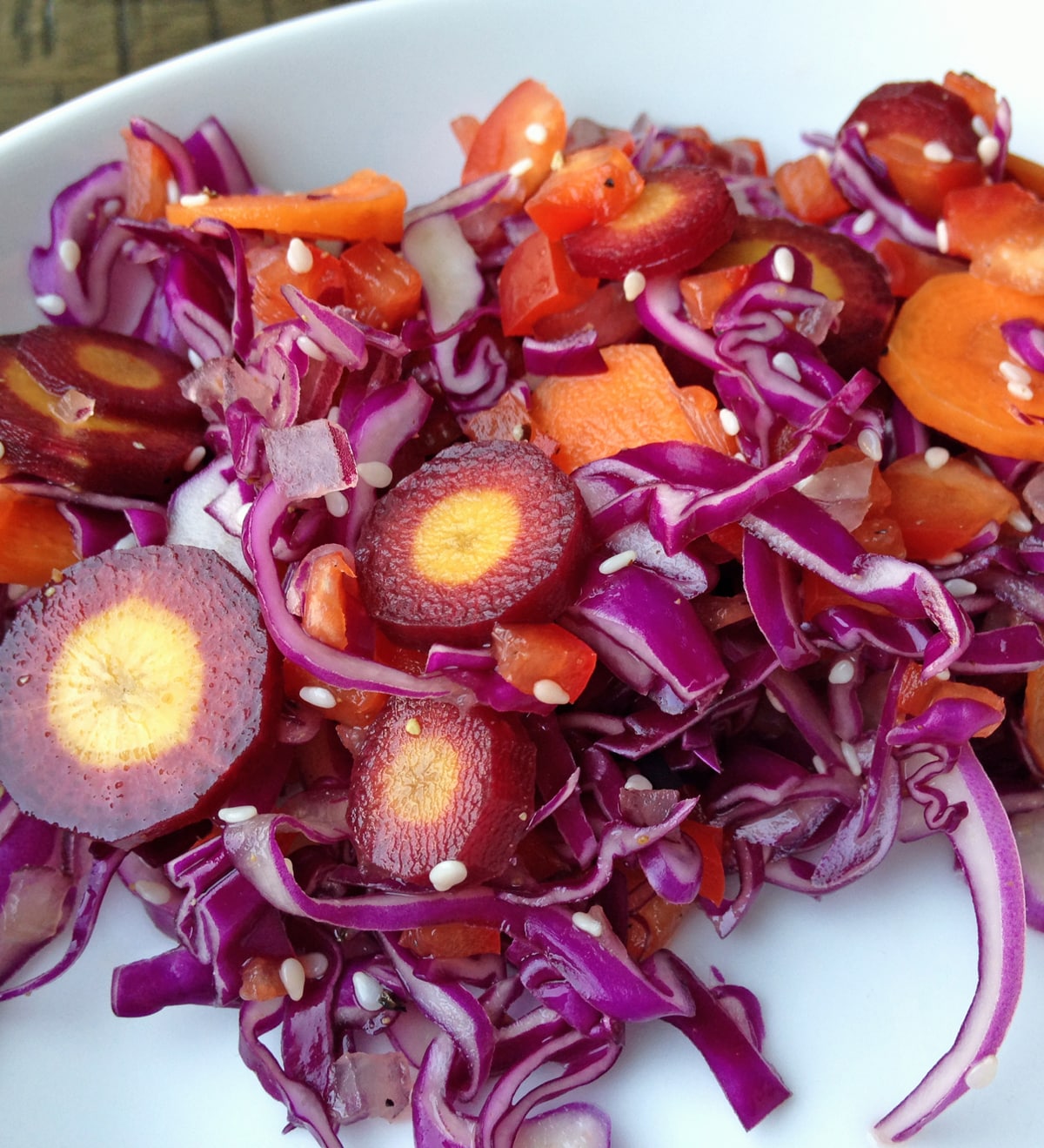 Why is Red Cabbage Often Purple?
Apparently, red cabbage can vary in color depending on the acidity of the soil it's grown in. In acidic soils, red cabbage is more red. If the soil is neutral, the cabbage is more purple. And lastly, an alkaline soil will yield cabbage that is yellowish-green.
Red cabbage originated in western parts of Europe, where the soil tends to be acidic/neutral. This explains the name!
Another question I always ask myself is whether red or green cabbage is healthier. Personally, I like to mix things up and I go through phases of eating both. But still, knowing which provides more nutrients is important.
Is Red Cabbage Healthier than Green Cabbage?
After a little digging, I found that red cabbage does appear to provide a few more nutrients than green cabbage. But, nutritionally speaking, they really aren't all that different.
Red cabbage stores longer than green cabbage, which can be useful when you only consume small amounts at a time. Also, this cruciferous vegetable takes longer to mature than the green variety, therefore isn't as tender.
I find red cabbage to be a bit earthier in taste (if that makes sense). I actually prefer the texture of green over red, but enjoy eating both.
HERE are a few more well explained benefits of red cabbage.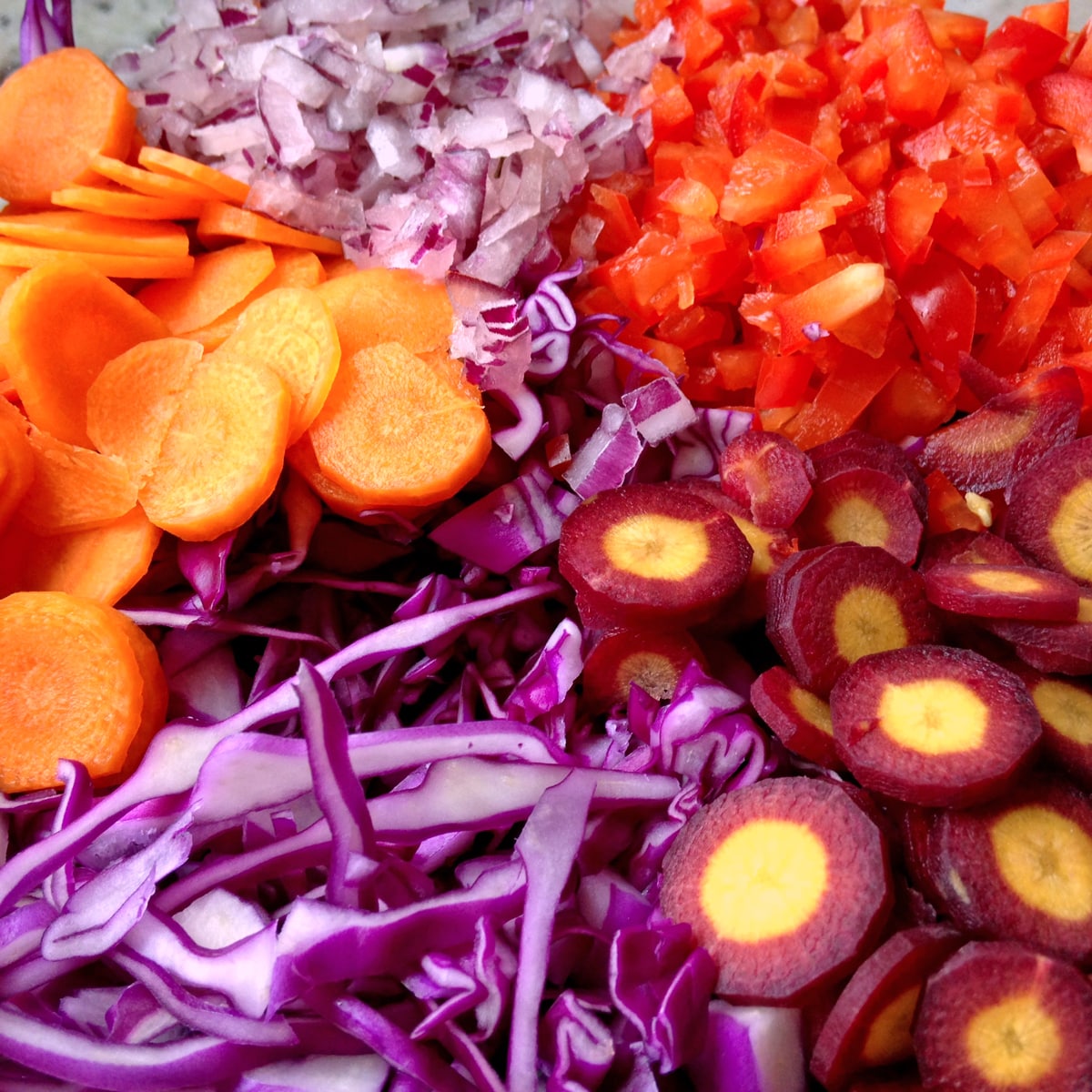 How do You Make Cabbage Salad?
So, back to this healthy Red Cabbage Salad recipe... Like pretty much any salad, cabbage salad is easy to make. However, unlike most salads, cabbage salad lasts a lot longer. I've found that this salad actually tastes better the second or third day after it's made. The cabbage becomes more tender and the flavor enhanced.
To make this Paleo Red Cabbage Salad, all you have to do is prepare the vegetables, then mix them together in a large bowl. Next, add in a few spices and seasonings. Let the cabbage salad sit in your fridge for an hour or more and then eat!
My favorite way to eat this Red Cabbage Salad is with salmon and rice (yah, yah, rice isn't strict Paleo but I tolerate it well), but I think it pairs well with any protein and starchy carbohydrate.
Enjoy!
Print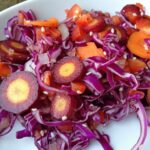 Cabbage Salad
Author:

Katie

Yield:

serves 4
---
Description
This healthy Cabbage Salad is easy to make and a colorful Paleo side dish for lunch or dinner.
---
½

head small purple cabbage (

200

-

250

g)

1

medium purple carrot (

50 g

)

1

medium orange carrot (

50 g

)

½

large red pepper (

100 g

)

¼

medium onion (

35 g

)

2 tsp

sesame seeds

¼ tsp

ground ginger

¼ tsp

salt
pepper to taste

2 tsp

coconut aminos 
---
Instructions
Thinly slice purple cabbage, add to large mixing bowl.
Cut & peel carrots then slice into thin "coins".  Add to bowl.
Remove stem and seeds from red pepper.  Finely chop and add to bowl.
Remove skin from onion, finely chop and add to bowl.
Add spices and coconut aminos to veggies and mix well.
Let sit at least an hour in the fridge before serving (this enhances the flavor and slightly softens the cabbage).
Store in fridge.
---
Keywords: cabbage, salad, side dish, vegan, nut free, egg free, whole 30