These Grain Free Seed Bagels are Paleo, Vegan and free of top allergens. They are made with a combination of grain free flours and seeds and baked in the oven. This easy bagel recipe is unsweetened (no added sugar) and yeast free.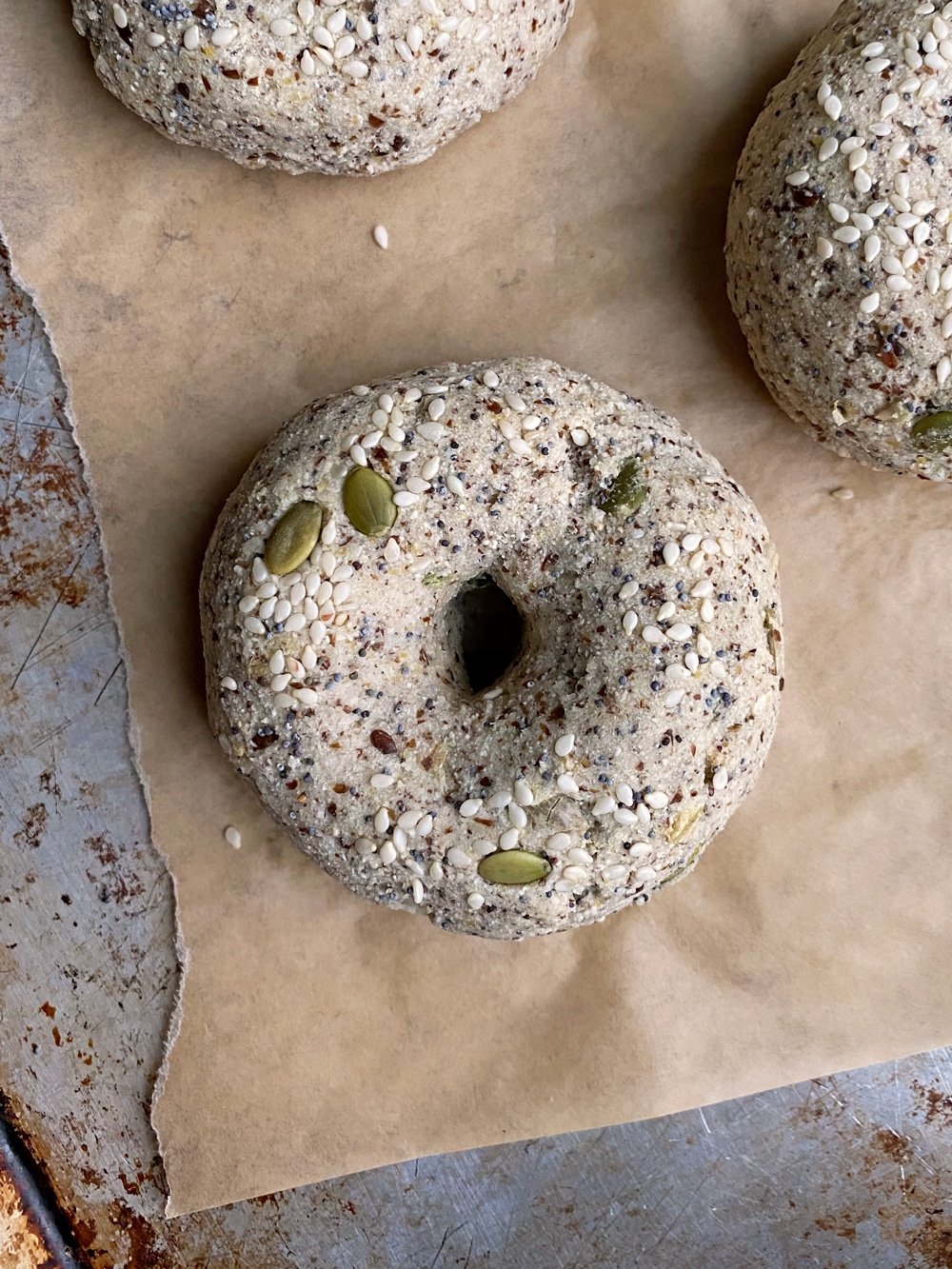 One of my favorite smells is fresh baked bread.  Now, I don't eat a lot of bread, especially any containing gluten and/or wheat, but that doesn't mean the smell isn't mouth-watering.  Last week, I decided to try my hand at baking grain free and allergy friendly bagels for a healthy option that both my son and I can enjoy. (He is currently intolerant to eggs, dairy and some nuts and so we're avoiding those foods for the time being.)  These delicious Grain Free Seed Bagels were the result!
I'm definitely no bagel expert, but I have been doing a lot of allergy friendly baking in the form of muffins, cookies and (more recently) bread.  And I dare say, these are the BEST bagels I have ever had.  My recipe for these Paleo friendly, Grain Free Seed Bagels serves four.  My healthy bagel recipe is completely void of added sugar, grains, gluten, dairy, eggs and nuts.  Oh, and they taste amazing 😉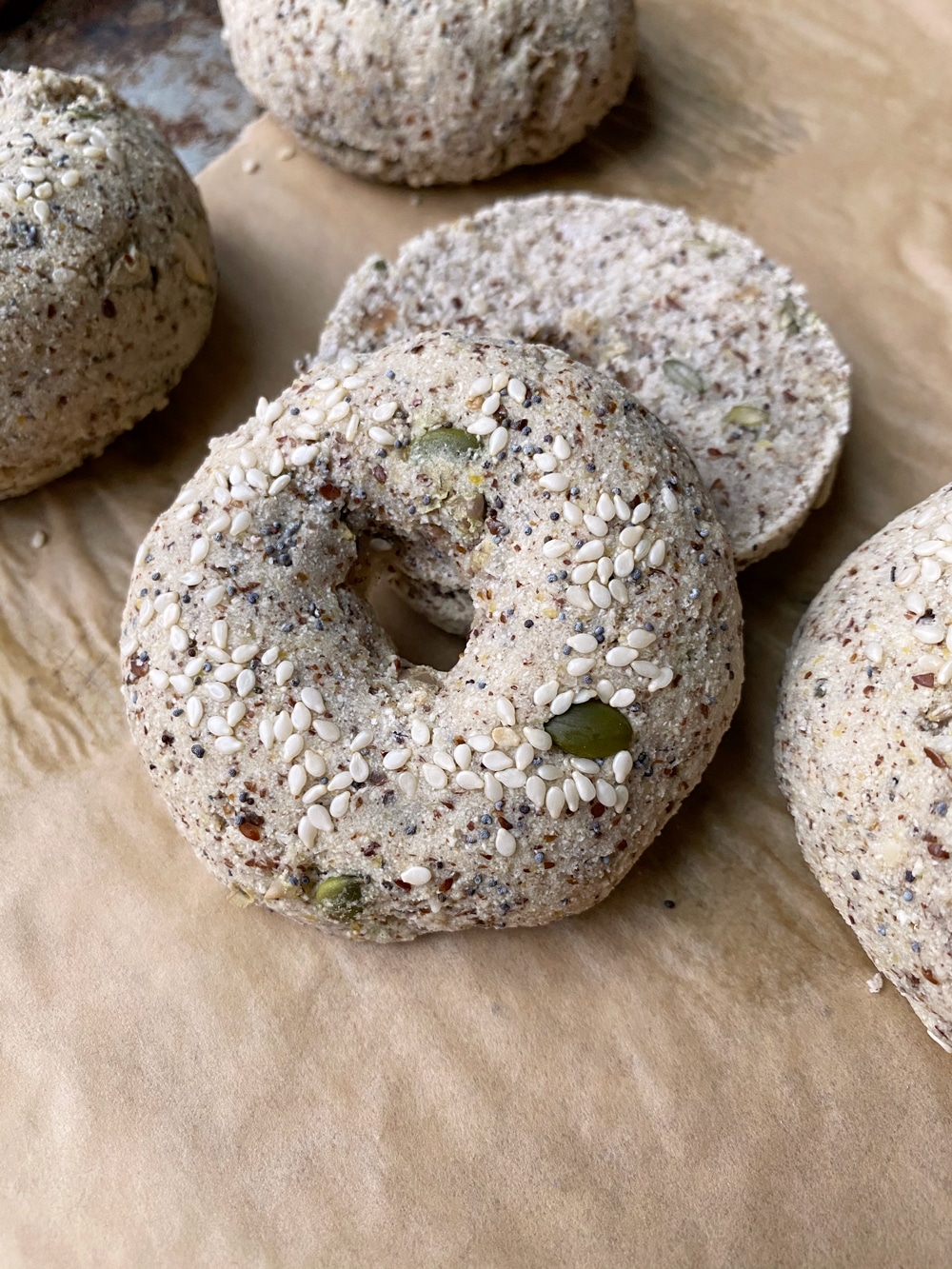 Making Your Own Grain Free Bagels From Scratch
The best thing about making your own bagels? You can tweak the flavors to your liking! These allergy friendly bagels are highly customize-able. For instance, you can eliminate the seeds for a softer, smoother texture. You can also swap the seeds for mix-ins like chopped nuts or opt for a sweet bagel by adding raisins, cinnamon and a teaspoon of honey to the batter. The choice is yours and the options are endless!
Something to note, if you decide to add sunflower seeds then be aware they may turn green. Yes, green! Sunflower seeds react with baking soda and turn green in color. This isn't mold and there's nothing unhealthy about it, it just is. If you look closely at some of these photos where the bagels are cut in half, you can see the greenish color surrounding the sunflower seeds.
Paleo Bagel Toppings
When I think of bagel toppings, cream cheese is the first thing that comes to mind. If you tolerate dairy, cream cheese from grass fed cows is still a perfectly Paleo option (in my opinion). There are also almond milk based cream cheeses that you can find in store. Other popular Paleo bagel toppings include: nut butter, seed butter, coconut butter, avocado, runny egg, mashed berries and smoked salmon.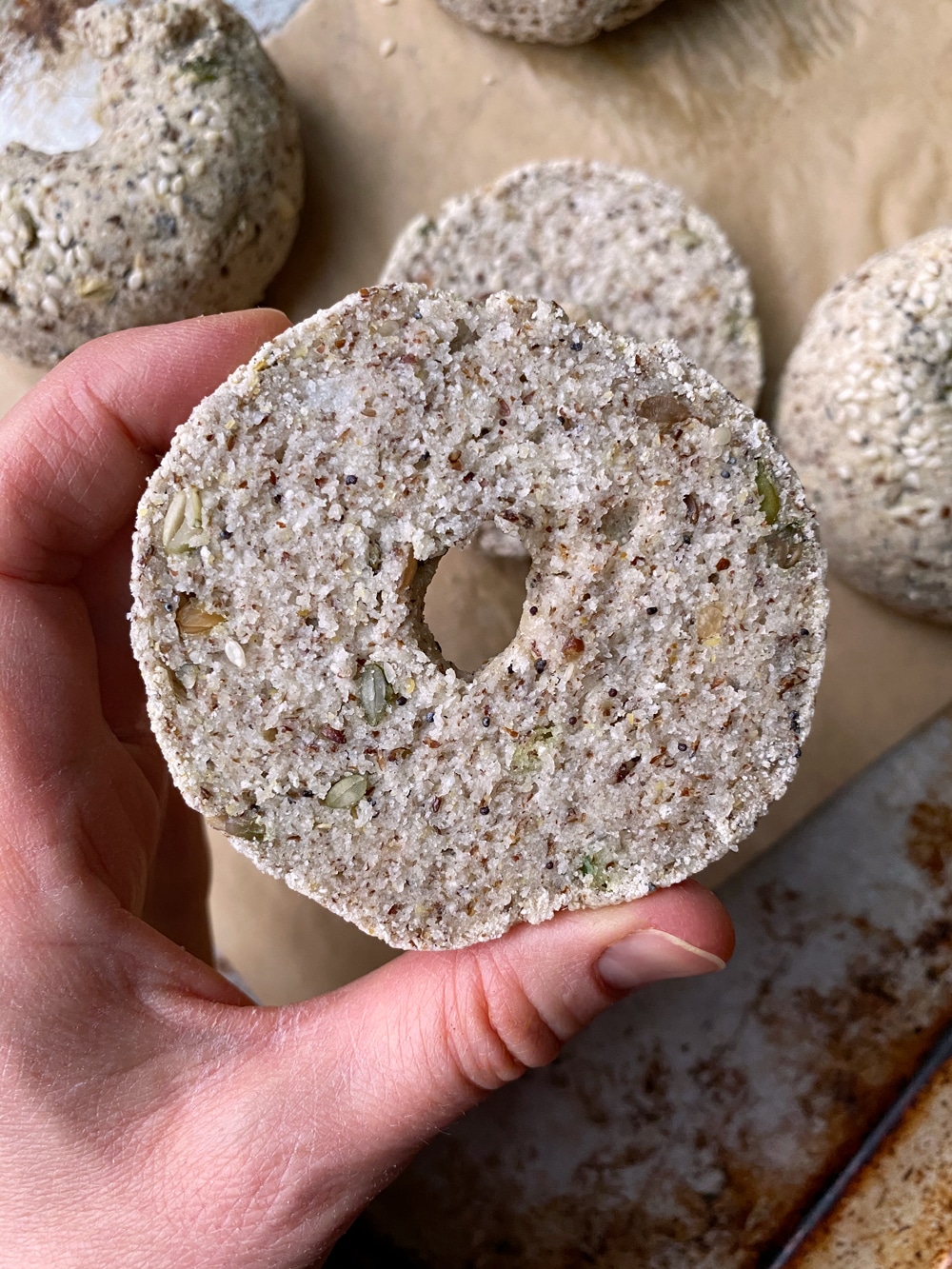 Texture of Homemade, Gluten Free, Vegan Bagels
These homemade Vegan bagels are dense, chewy and moist. They are a little crisp on the outside but soft on the inside - just the way a great bagel should be! Xanthan gum is one of the ingredients that helps give these bagels their bread-like texture. Without gluten, it's hard to achieve elasticity in dough, but xanthan gum does a good job. This ingredient may be omitted, but will slightly change the bagel texture.
Enjoy!
Print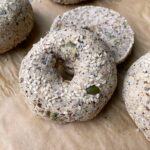 Grain Free Seed Bagels
Author:

Katie

Prep Time:

10 min

Cook Time:

20 min

Total Time:

30 min

Yield:

4

bagels

1

x
---
Description
These Grain Free Bagels are Paleo, Vegan and allergy free.  They are soft and dense with a real bagel-like texture.
---
4 Tbsp

ground flax (

28g

) + ½ cup hot water*

4 Tbsp

coconut oil (room temp)

1 cup

 arrowroot flour (

130g

)

½ cup

coconut flour (

60g

)

¾ tsp

baking soda

½ tsp

salt

½ tsp

xanthan gum

¼ cup

warm water

2 Tbsp

raw pumpkin seeds (optional)

2 Tbsp

raw sunflower seeds (optional)

1 tsp

poppy seeds (optional)

1 tsp

sesame seeds (optional)
---
Instructions
Preheat oven to 350 degrees F.
Combine ground flax and ½ cup water in a large mixing bow.  Stir, then let sit for about 5 minutes so that mixture gels.
Add coconut oil to flax mixture and stir with a fork until oil is nearly liquid (no big chunks remain).
In a separate mixing bowl combine coconut flour, arrowroot flour, baking soda, salt and xanthum gum.  Mix well.
Add flour mixture and ¼ cup warm water to the flax + coconut oil mixture.  Mix with fork, then knead dough with hands.  (Dough should be slightly sticky, but able to roll into a ball.)
Knead in pumpkin seeds, sunflower seeds, poppy seeds and sesame seeds. (Note: any of these seeds can be left out or replaced if desired.)
Separate dough into 4 pieces and roll into balls.  With your finger, make a hole in the center of the ball.  Form a bagel shape.
Place bagels on lined baking sheet and bake at 350 degrees for 20-22 minutes.
Remove from oven and cool to room temperature.
---
Notes
*I used a coffee grinder
 to grind whole flax seed, rather than buying pre-ground flax.  Also, be sure to use hot (not boiling) water so that the coconut oil will melt into the batter.
Keywords: bagel, breakfast, nut free, egg free, vegan, allergy friendly