This Grain Free Paleo Oatmeal is a great egg free Paleo breakfast option. Perfect for when you're in the mood for something simple, warm and comforting. This low carb oatmeal recipe is made with ground nuts, seeds, dates and flavored with a hint of cinnamon.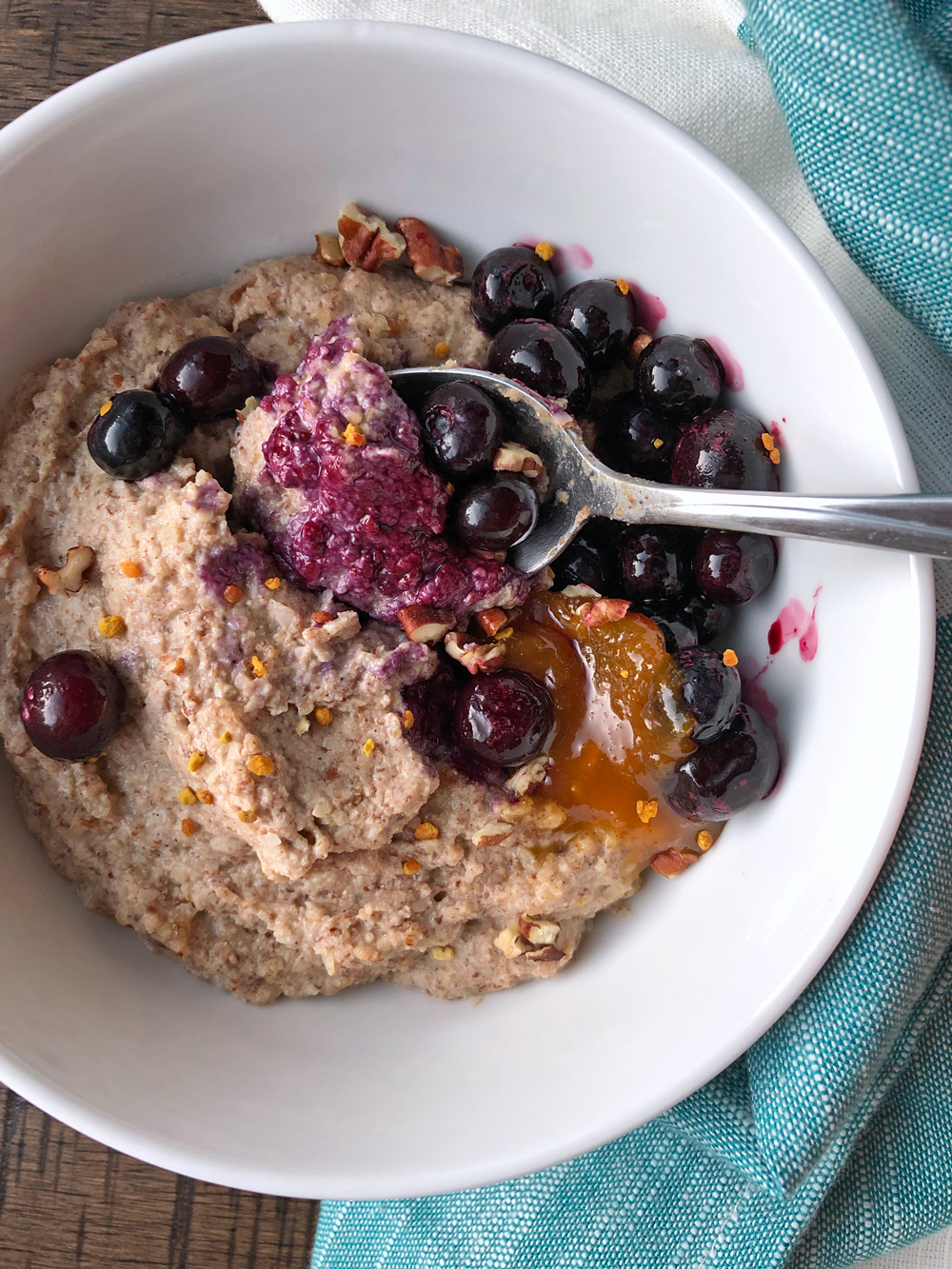 For me, oatmeal brings back memories of college; as I went through a "oatmeal for breakfast every morning" phase. I used to eat my oats very plainly. I would add rolled oats and flax seed to my coffee grinder
, grind them up, pour them into a dish with water and then microwave. And, if I was lucky enough to have cinnamon on hand, then I would add some of that too.
I'm not saying how I ate them back then was "wrong". In fact, I think I did pretty well for a college student living in a sorority with access to only a microwave for cooking!
These days, although I do still rely on my microwave, I like to think I've stepped things up a notch. Rather than "regular" rolled oats, my go-to is grain free oatmeal. And my topping game has come far - much more than a simple sprinkle of cinnamon.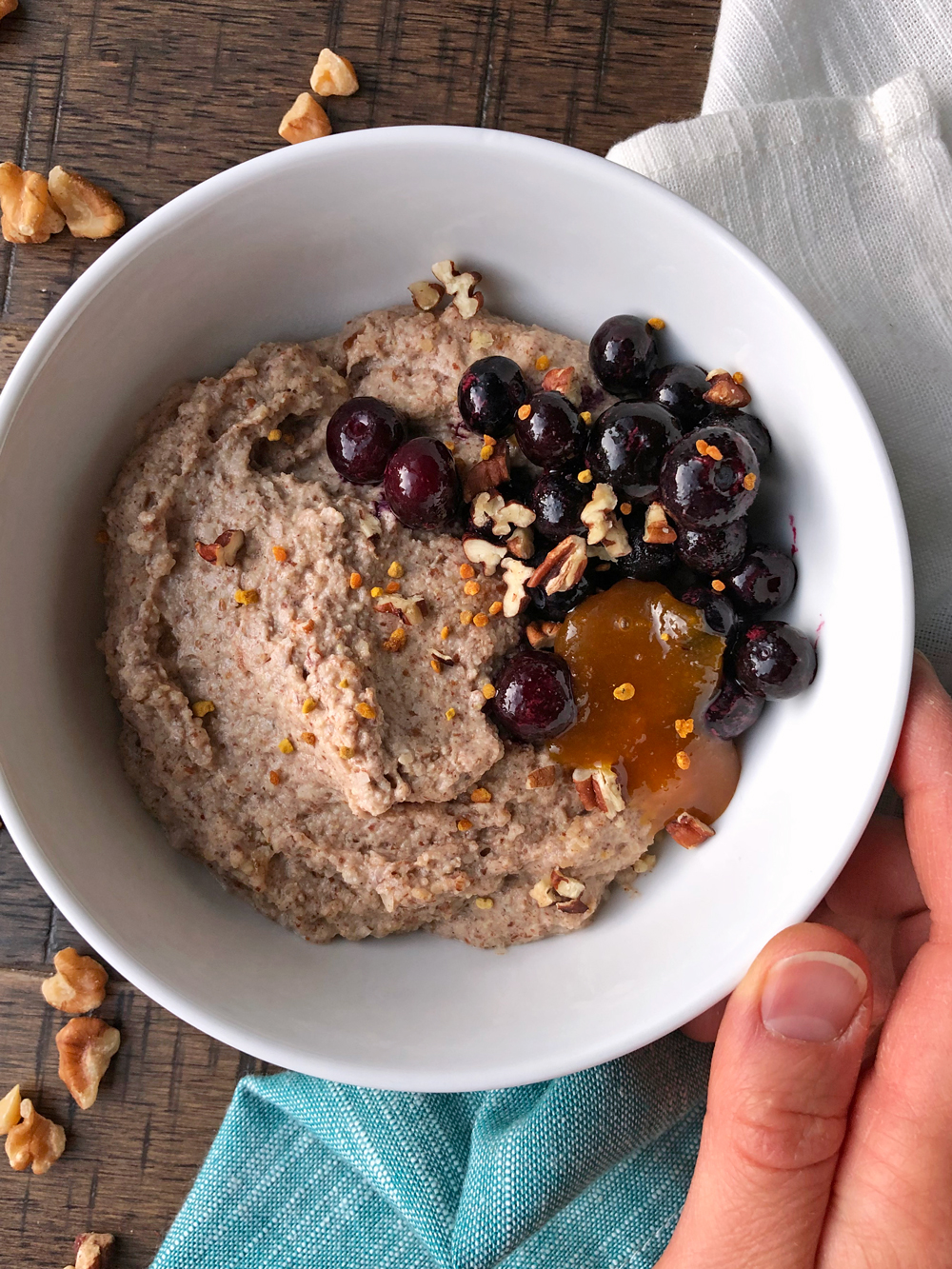 Best Paleo Oatmeal Toppings
Toppings and mix-ins bring oatmeal from bland to flavorful. Plus, it makes them heartier, more filling and more nutritious. Some of my favorite grain free oatmeal toppings and mix-ins include:
nuts and seeds
flaked coconut
coconut butter, nut butter, seed butter
cacao nibs
dairy free chocolate chips
bee pollen
fruit - fresh, frozen or dried
superfoods (beet powder, cacao, mushroom powders)
protein powder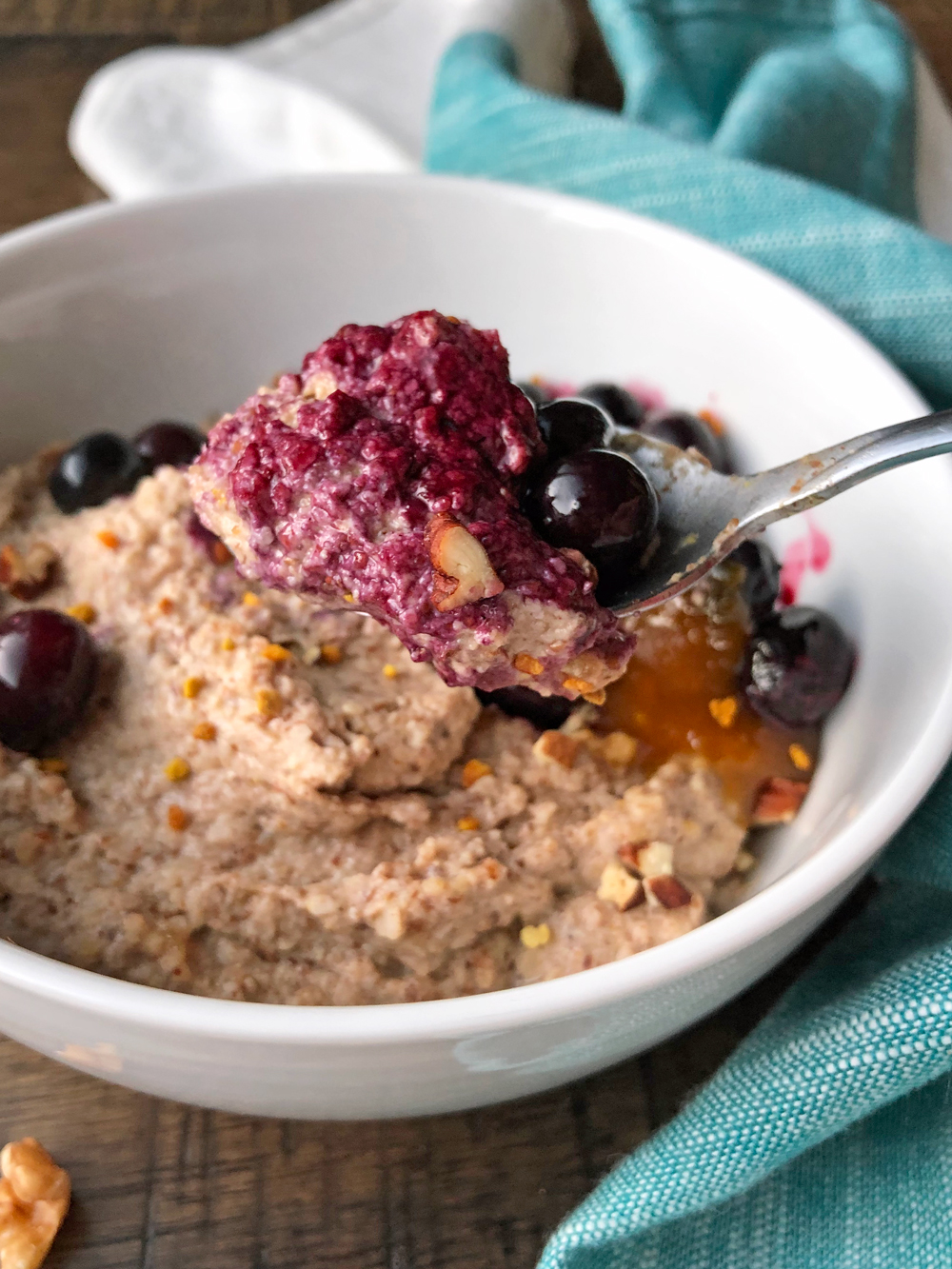 This Grain Free Paleo Oatmeal is made using nuts, seeds and coconut and is sweetened with dates. It is a healthy oatmeal option and great if you are trying to lower your grain intake or have an oat allergy/intolerance. This recipe makes 5 servings and is super easy to throw together. Perfect for meal prep, feeding hungry children in the morning or a quick grab and go breakfast.
Ingredients in Grain Free Oatmeal
How to Make Paleo Oatmeal
This grain free oatmeal is made within a matter of minutes. Plus, cooking time is super quick!
First, combine all ingredients in a food processor
or high powered blender. Blend until mixture forms a coarse, even flour.
And, that's basically it! The oatmeal is done and ready to either eat or store for later use. Store the oatmeal in an air-tight container in your pantry or fridge. (I recommend keeping it in your fridge, unless you plan to eat it within a couple days.)
When ready to eat, scoop out about ½ cup oatmeal into a ceramic bowl. Add ⅓ cup almond milk (or any liquid of your choosing), stir and microwave for 30-50 seconds. Or, boil some water and pour about ⅓ cup into the oatmeal.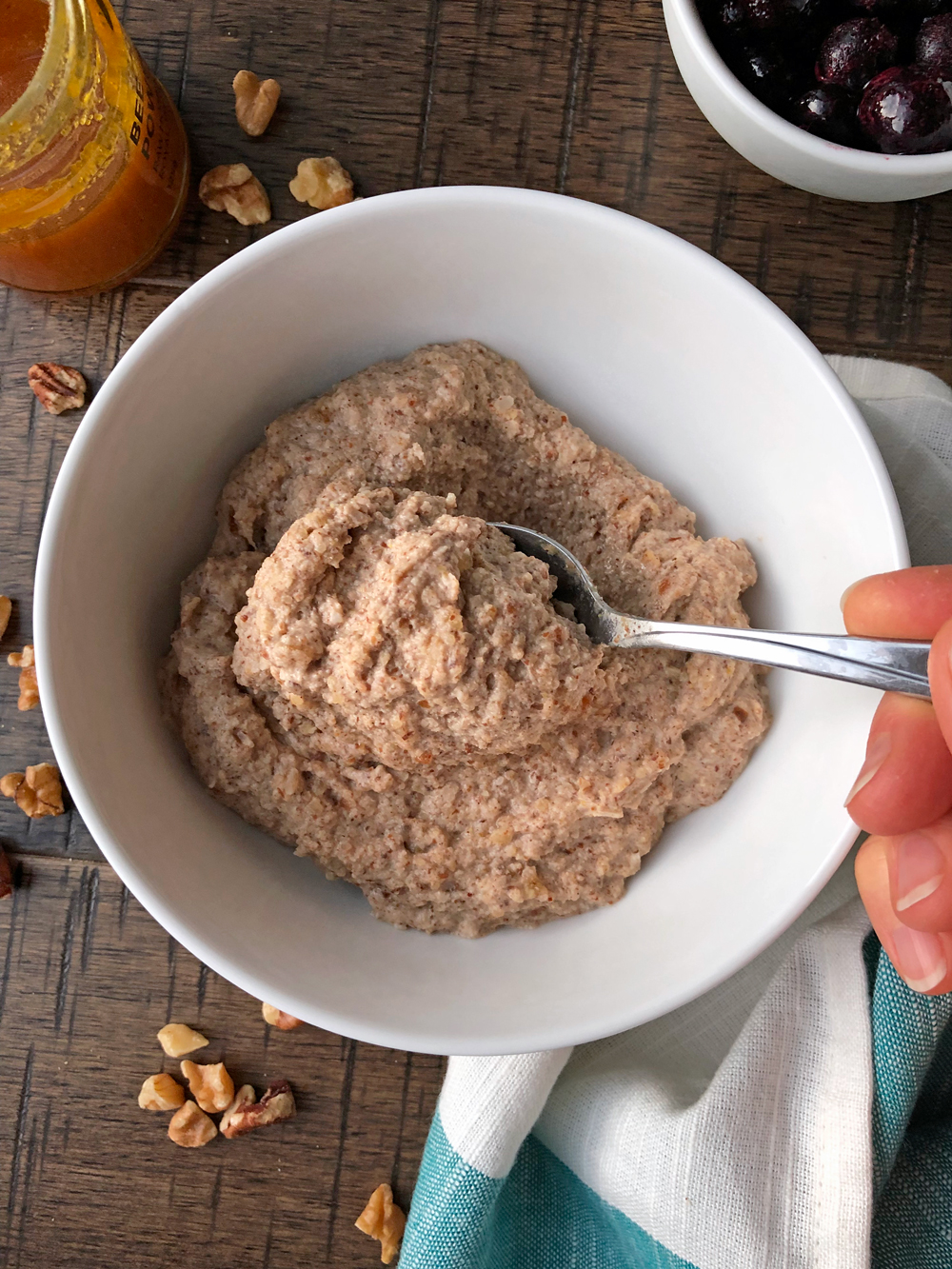 Stir again, add favorite toppings and then eat!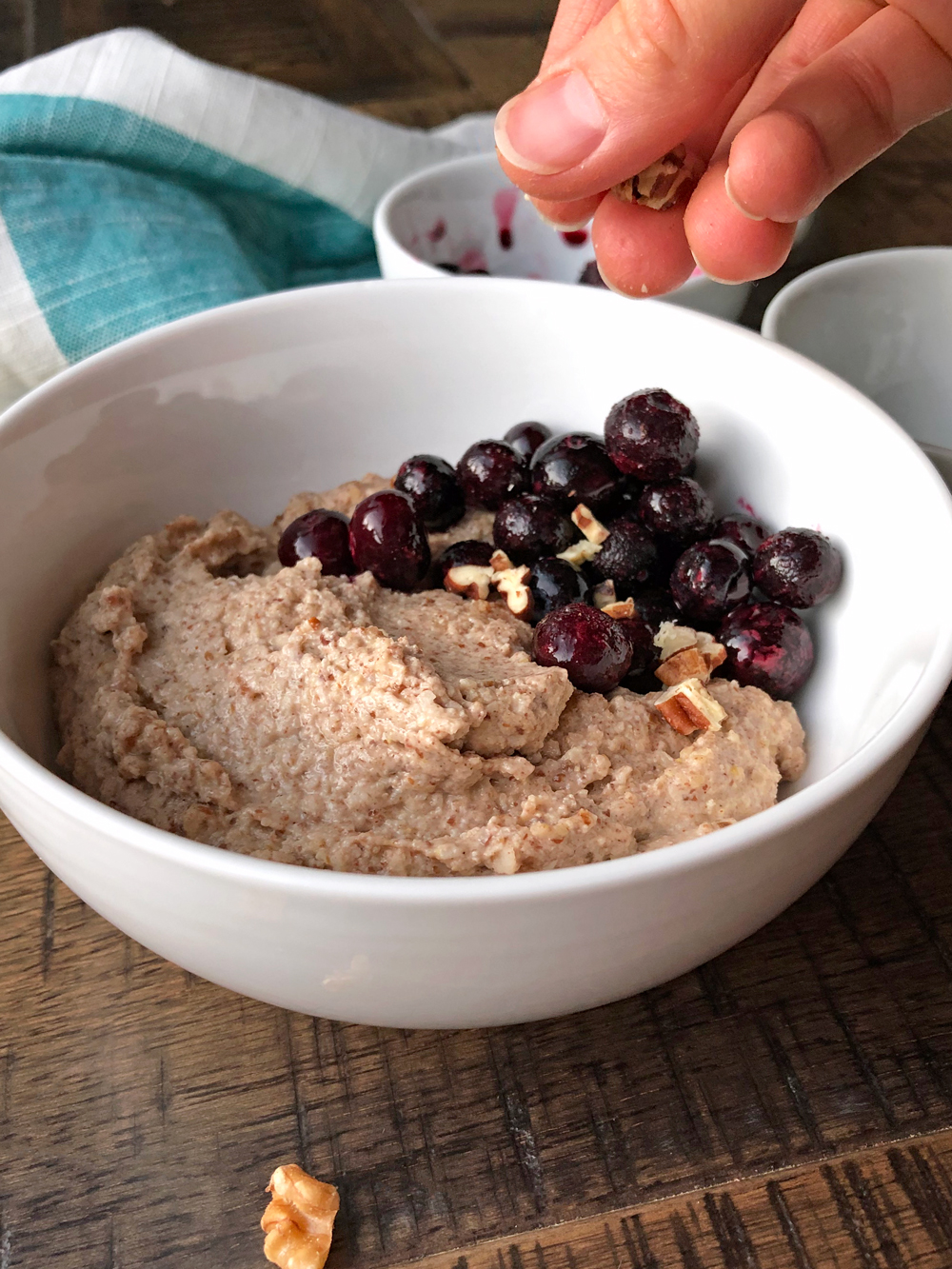 You can vary the level of sweetness by adding or subtracting the number of dates from this recipe. Other options for sweetening this recipe include adding a granular sweetener or sugar such as coconut sugar.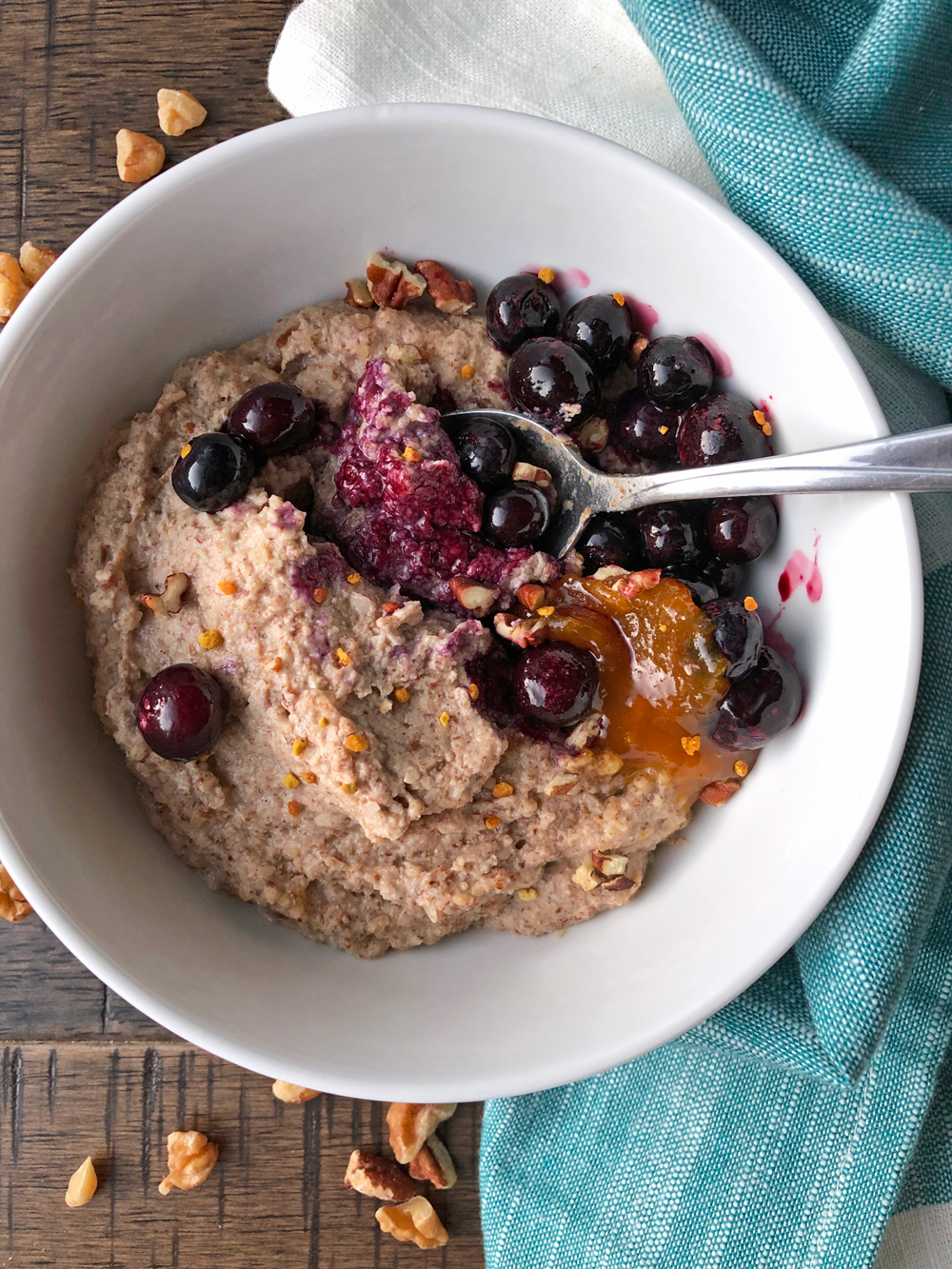 These grain free "oats" have the perfect creamy texture that I like in a bowl oatmeal. My husband even preferred these over your regular, run of the mill oatmeal.
Enjoy!
Print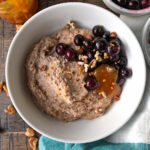 Grain Free Paleo Oatmeal
Author:

Katie

Prep Time:

5 minutes

Cook Time:

30 seconds

Total Time:

5 minutes

Yield:

5

servings

1

x
---
Description
Simple, low carb Paleo oatmeal.  Free of grains and perfect for a quick, healthy breakfast.
---
1 cup

walnut halves

½ cup

pecan halves

½ cup

flaked coconut

⅓ cup

ground flax

3 Tbsp

coconut flour

1 tsp

cinnamon

⅛ tsp

pink salt

3

Medjool dates, pitted
---
Instructions
Combine all ingredients in food processor.
Blend until mixture forms a coarse, even flour.
Remove oatmeal from food processor and store in air-tight container in fridge.
When ready to eat, scoop out about ½ cup oatmeal into ceramic bowl.  Add ⅓ cup almond milk and heat in microwave for 30-50 seconds*
Stir, add favorite toppings and then eat!
---
Notes
Recipe makes 5 servings using ½ cup oatmeal per serving.
*You may substitute the almond milk with water.  Also, if you prefer not to microwave your oats you may boil water and add it to the grain-free oatmeal.
Keywords: oatmeal, grain free, Paleo, Vegan, Breakfast, egg free