This butternut squash bread recipe is made with pureed butternut squash and has a moist, soft texture. It is paleo friendly, gluten free, dairy free and completely unsweetened.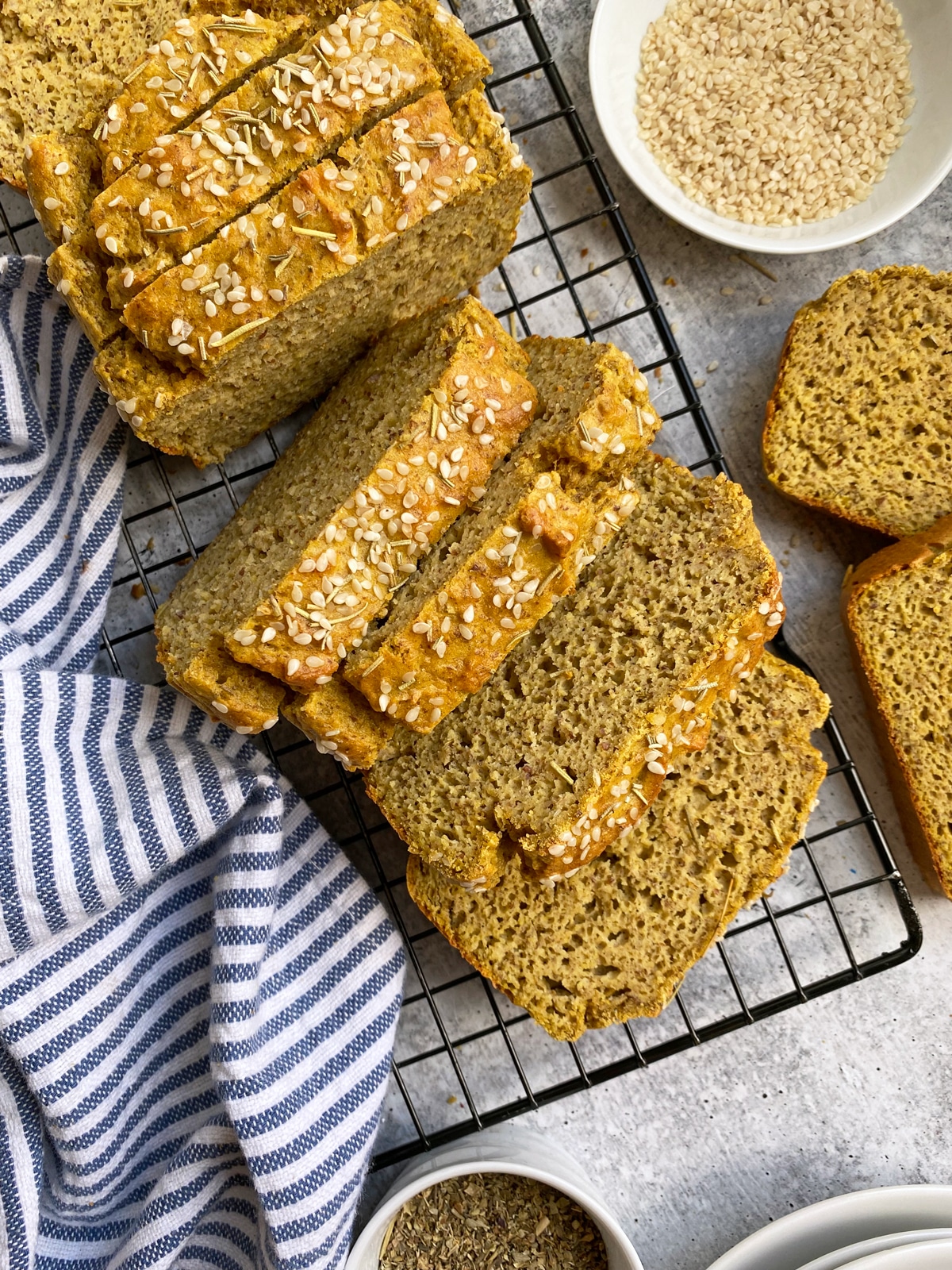 I DO love pumpkin, but I also love other fall foods (hello winter squash).
Rather than let pumpkin steal the spotlight, I'm moving forward with a few squash inspired fall recipes. First up, this savory butternut squash bread.
This paleo squash bread is not only grain free and dairy free, but also unsweetened and doesn't contain any nuts. It is soft, just like a great slice of sandwich bread, flavorful and even enjoyed by people that don't like squash!
Here's what you need to know:
Recipe Highlights
paleo friendly: this easy squash bread is grain free, gluten free, dairy free, free of vegetable oils and is made without added sugar
nut free: made with cassava flour and ground flax
nutrient dense: contains pureed squash, eggs, tahini, cassava flour and flax for a simple, nutrient rich bread
no sugar - and unsweetened squash bread
hidden veggies: this savory squash bread is perfect for those that don't like squash because you get all the benefits without the flavor.
easy to make: this quick bread is made without yeast, making it easy to prepare
This healthy squash bread is a great way to sneak in veggies that my family wouldn't otherwise be eating. Lightly toast a slice and smother it in grass fed butter - you won't be disappointed!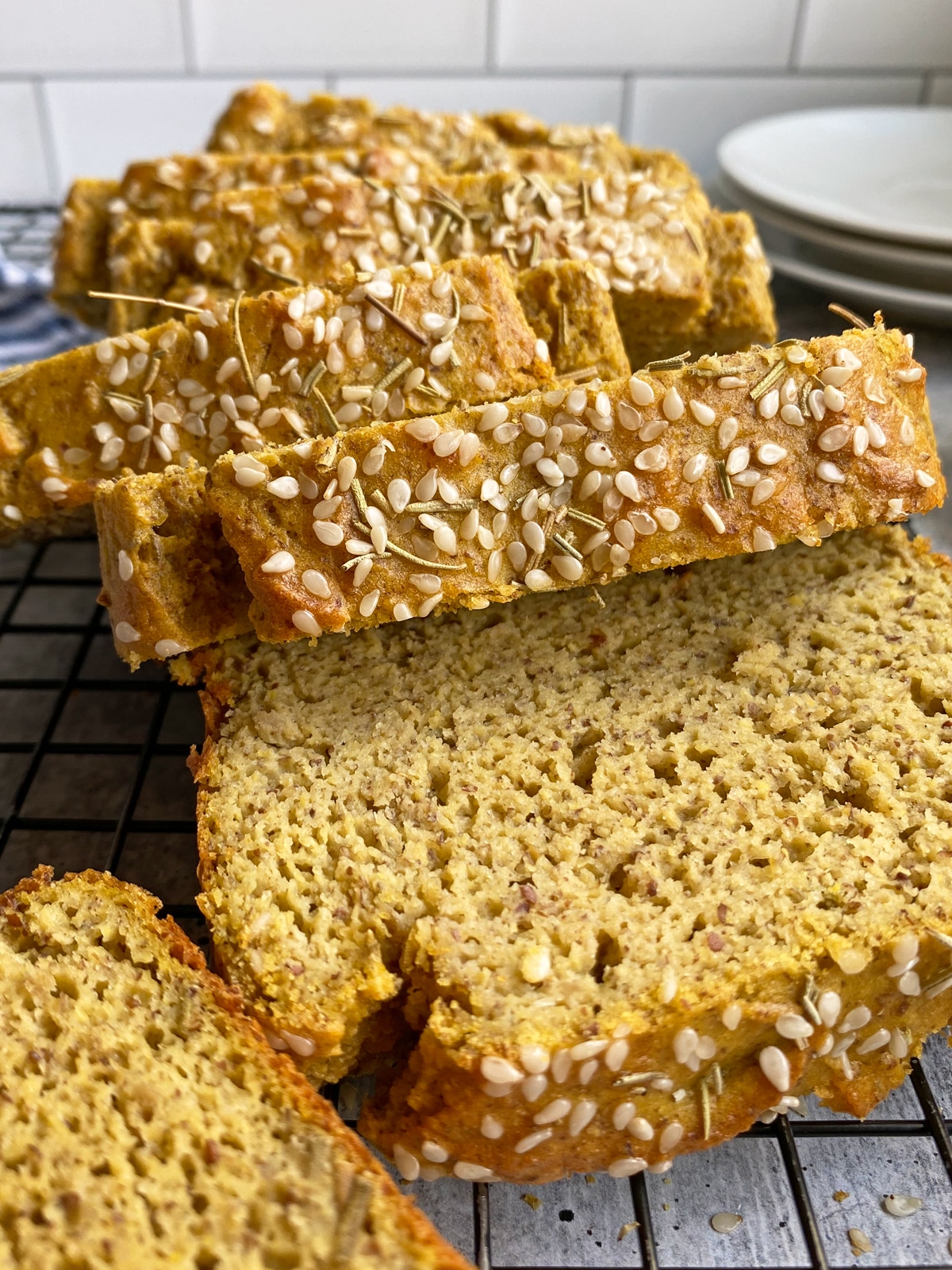 Ingredients
My recipe for butternut squash bread uses 10 simple ingredients and is nut free, dairy free and unsweetened.
Butternut Squash
Obviously, butternut squash is the main ingredient in butternut squash bread! The squash needs to be steamed, cooled and pureed prior to mixing it with other ingredients. Removing the skin is not necessary, as the skin becomes soft and tender after steaming.
In addition, I highly recommend measuring this ingredient by weight to achieve the right batter consistency. When weighing recipe ingredients, I use a simple food scale like THIS one.
I have not tried substituting with a different squash variety. However, so long as you measure the squash by weight, any type of squash should work as a replacement.
Eggs
Eggs are necessary for this bread. I do not recommend using any egg substitutes.
Tahini
Tahini is one of my current favorite condiments out of any nut or seed butter. It has a delicious, nutty taste and works wonderfully in combination with the butternut squash. However, any drippy nut or seed butter should work in it's place.
Cassava Flour
In most recipes, cassava flour can be substituted 1:1 (by weight) for any gluten free flour blend (or all purpose flour). I don't recommend changing this ingredient.
Ground Flax
The ground flax not only adds to the texture, but also the taste of this squash bread. I don't recommend substituting for any other ingredient. But, if you cannot consume flax then using an additional ¼ cup cassava flour may work in it's place.
Spices
Rosemary, garlic powder and onion powder work well in combination with the other flavors of this bread. That being said, any of these spices may be omitted or substituted.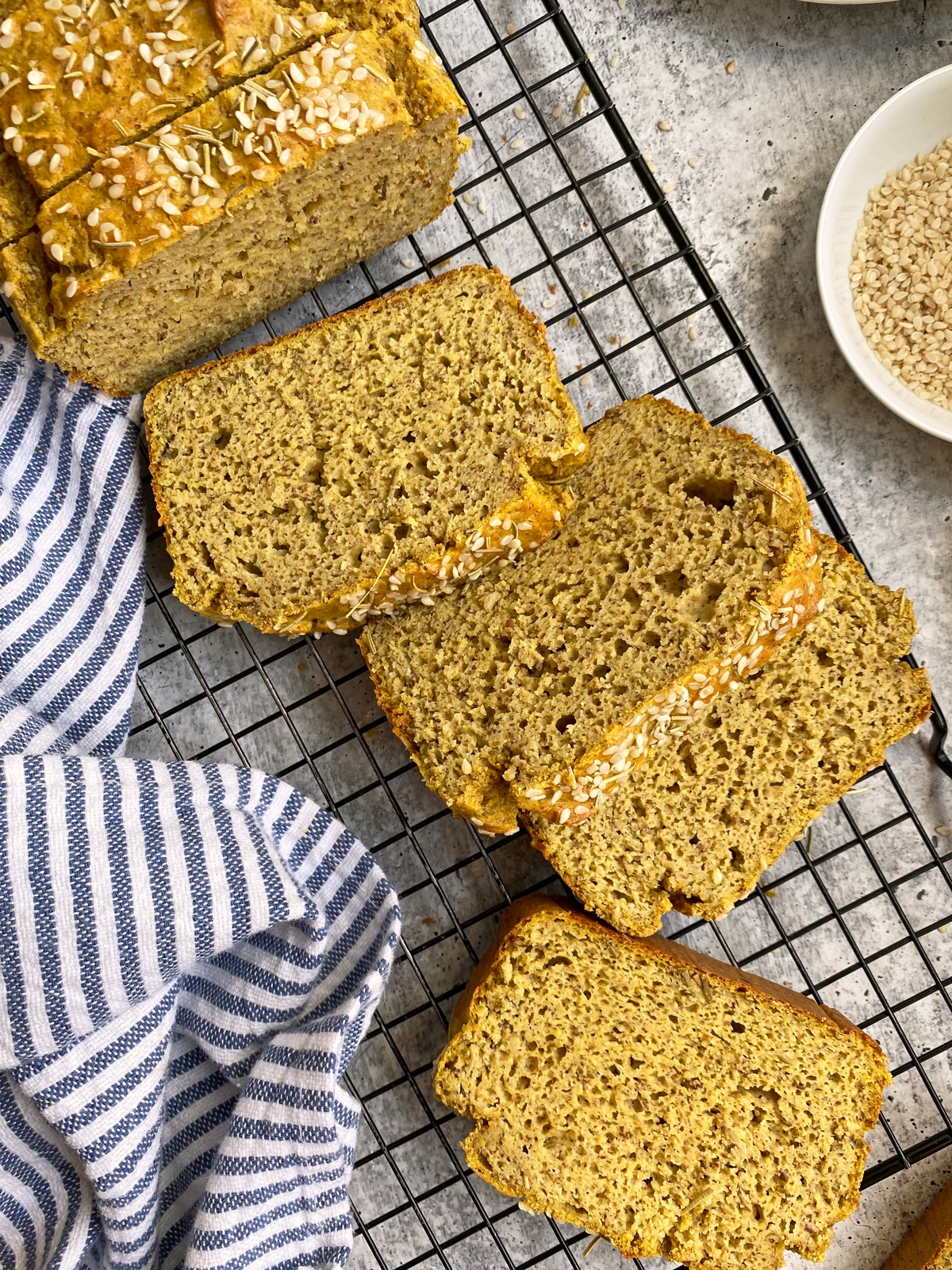 How to Make Butternut Squash Bread
Rosemary squash bread is easy to make and doesn't even require a food processor or blender.
First, preheat your oven to 350 degrees F.
Next, prepare the squash. Simply, wash the skin, cut the squash into cubes and then steam until tender.
After steaming, let the squash cool to room temperature. Either set it out on the counter, or speed up the process by placing the squash in your fridge.
Once the squash is cool, puree the squash in a food processor or high powered blender. If you don't have a food processor or blender, then mash the squash with a fork. (This will slightly change the texture but will still work.)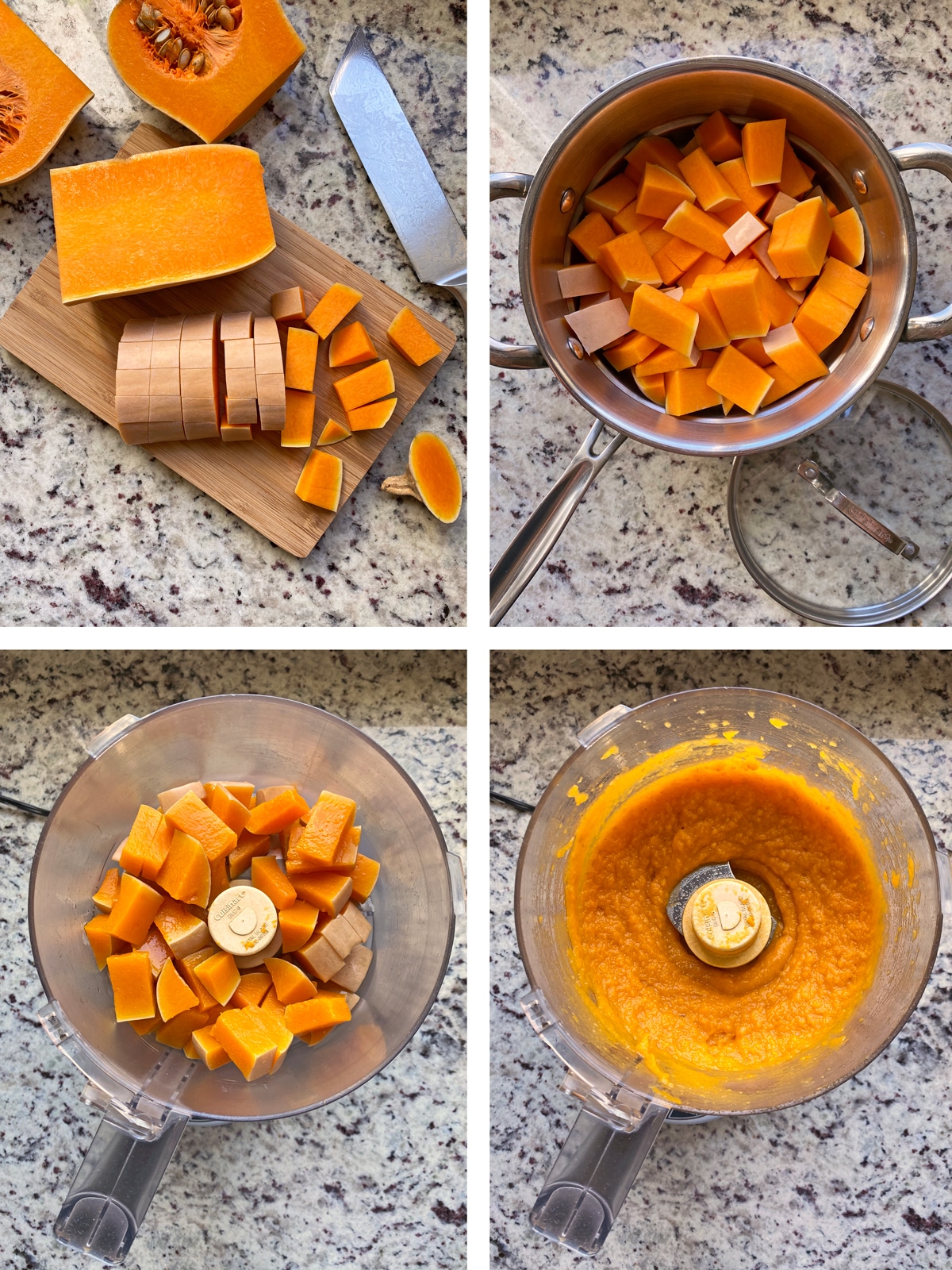 In a large mixing bowl, combine pureed squash, eggs and tahini. Whisk until smooth.
Then, mix in remaining ingredients.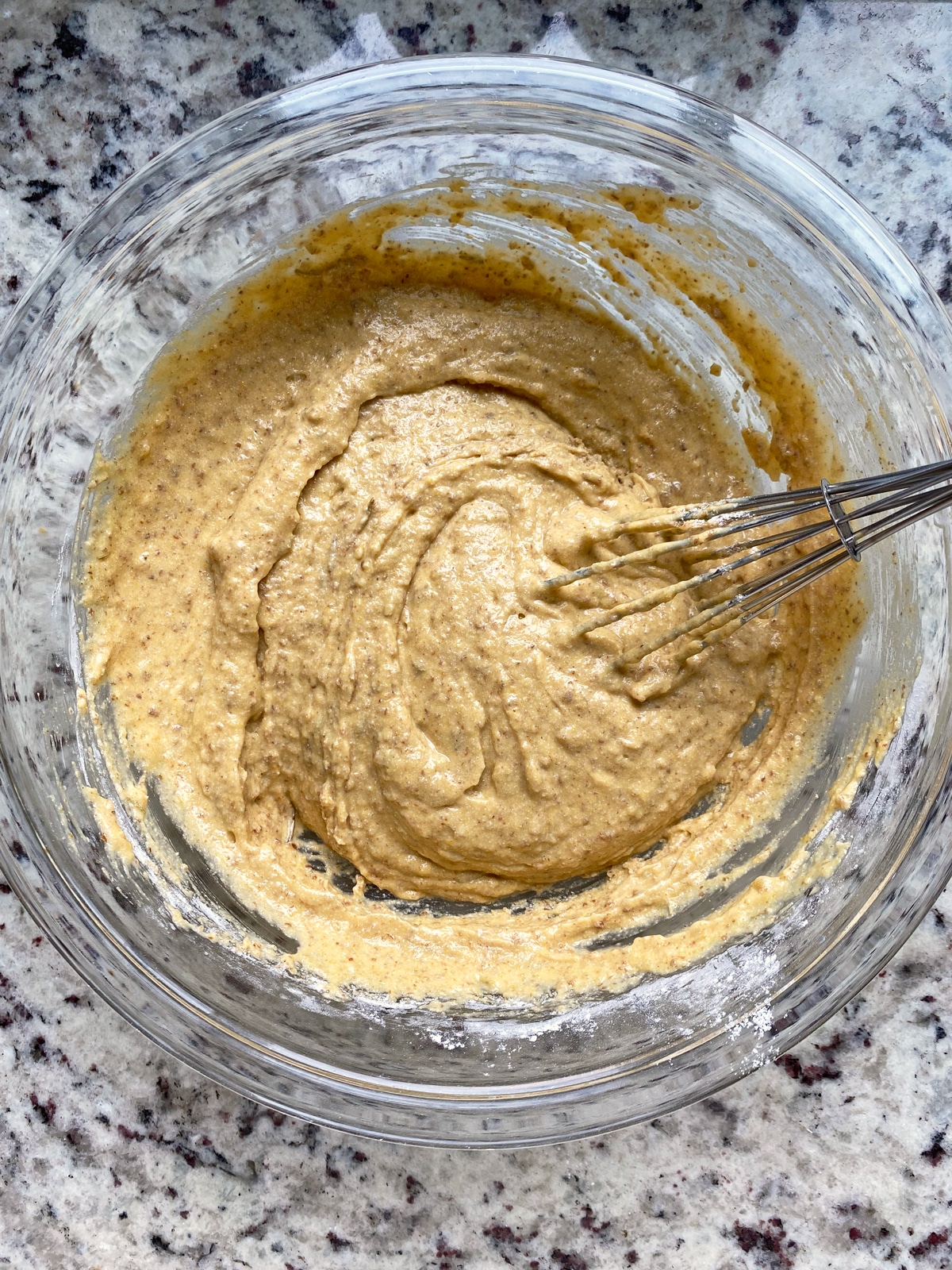 Pour the batter into a lined 8" x 4" bread loaf pan
and place it in oven. Bake at 350 degrees for 45 to 50 minutes.
After baking, cool this paleo squash bread in the pan for 10 minutes, then transfer it to a wire cooing rack.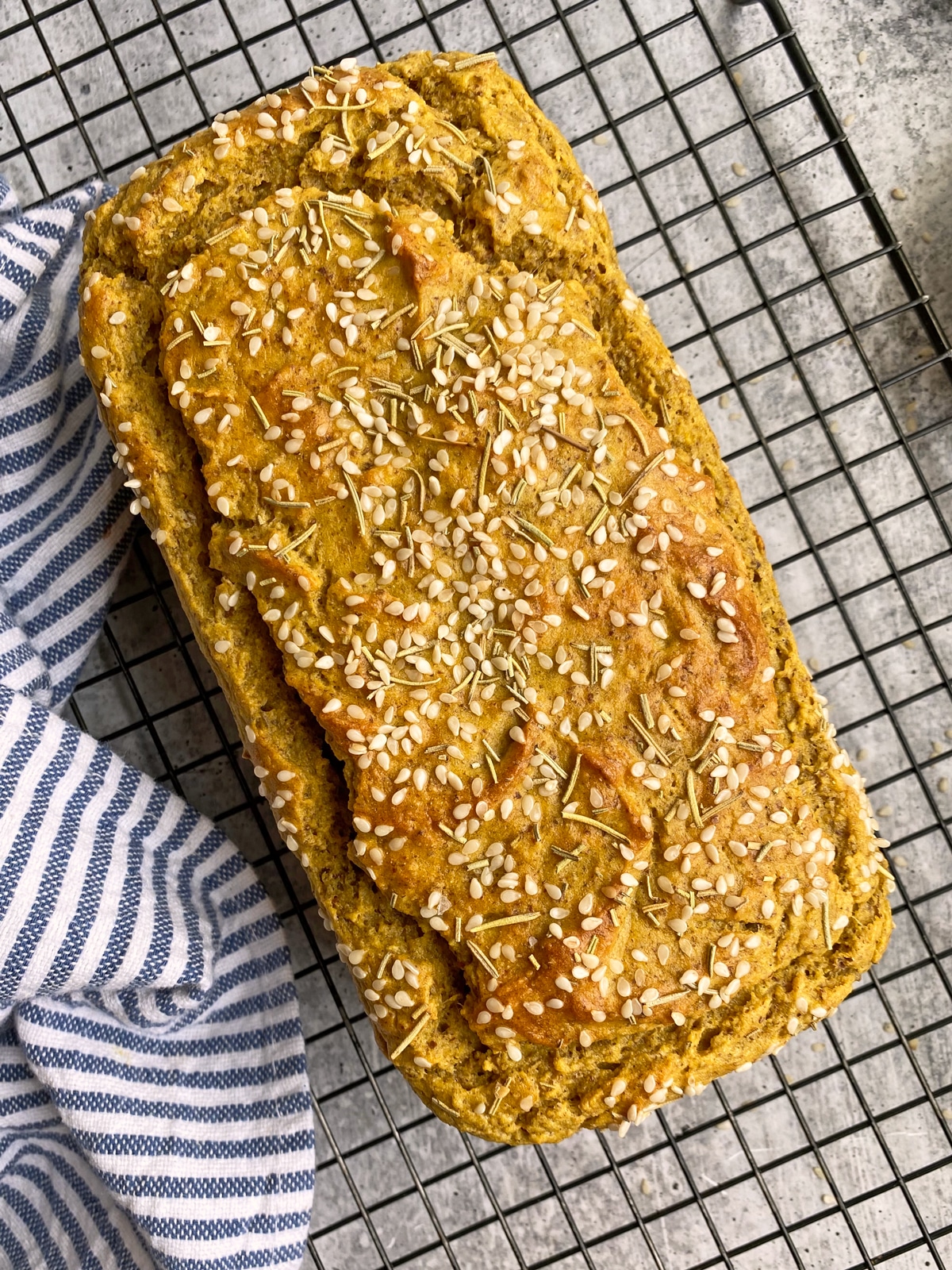 Storage
This loaf of bread is best stored in the fridge. You may keep it in the freezer if necessary, but it loses some of it's texture.
Place the loaf in a sealed container or baggie for up to one week in the fridge, one month in the freezer.
How to Eat Squash Bread
This savory squash bread recipe tastes excellent toasted with a little grass fed butter spread across the top or any nut butter or cream cheese. It is also great for making sandwiches.
There isn't a distinctive squash taste, so whether or not you like squash, this bread can be enjoyed.
The loaf can be cut into thick or thin slices, depending on your preference.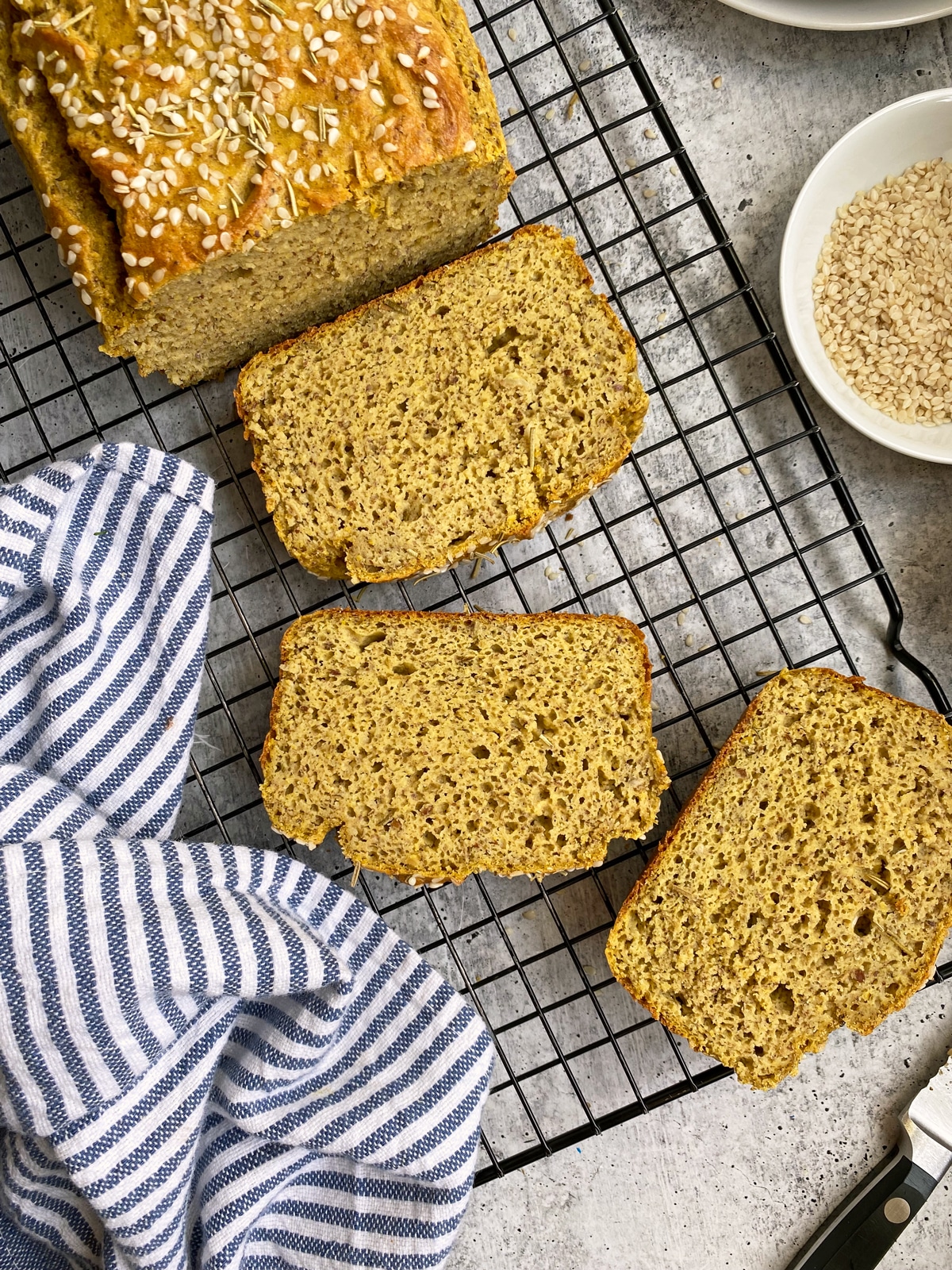 Frequently Asked Questions
How do you select a good butternut squash?
Butternut squash is best (here in the US) in the months of September and October, when it's in season. However, you can find imported butternut squash year round.
Look for a squash that has an even beige color, without any marks or bruises. Additionally, the rind should be firm and the squash should appear heavy for its size.
Squash can be stored at room temperature or in the fridge. It is best kept out of direct sunlight, as that speeds up the aging process.
Can any squash be used in this recipe?
Any squash variety will work for this squash bread recipe. You can even used canned squash instead of pureeing your own.
Do I have to use cassava flour?
This recipe has only been tested with cassava flour, but a gluten free blend or all purpose flour should work as a replacement. Just be sure to measure by weight if you make the swap.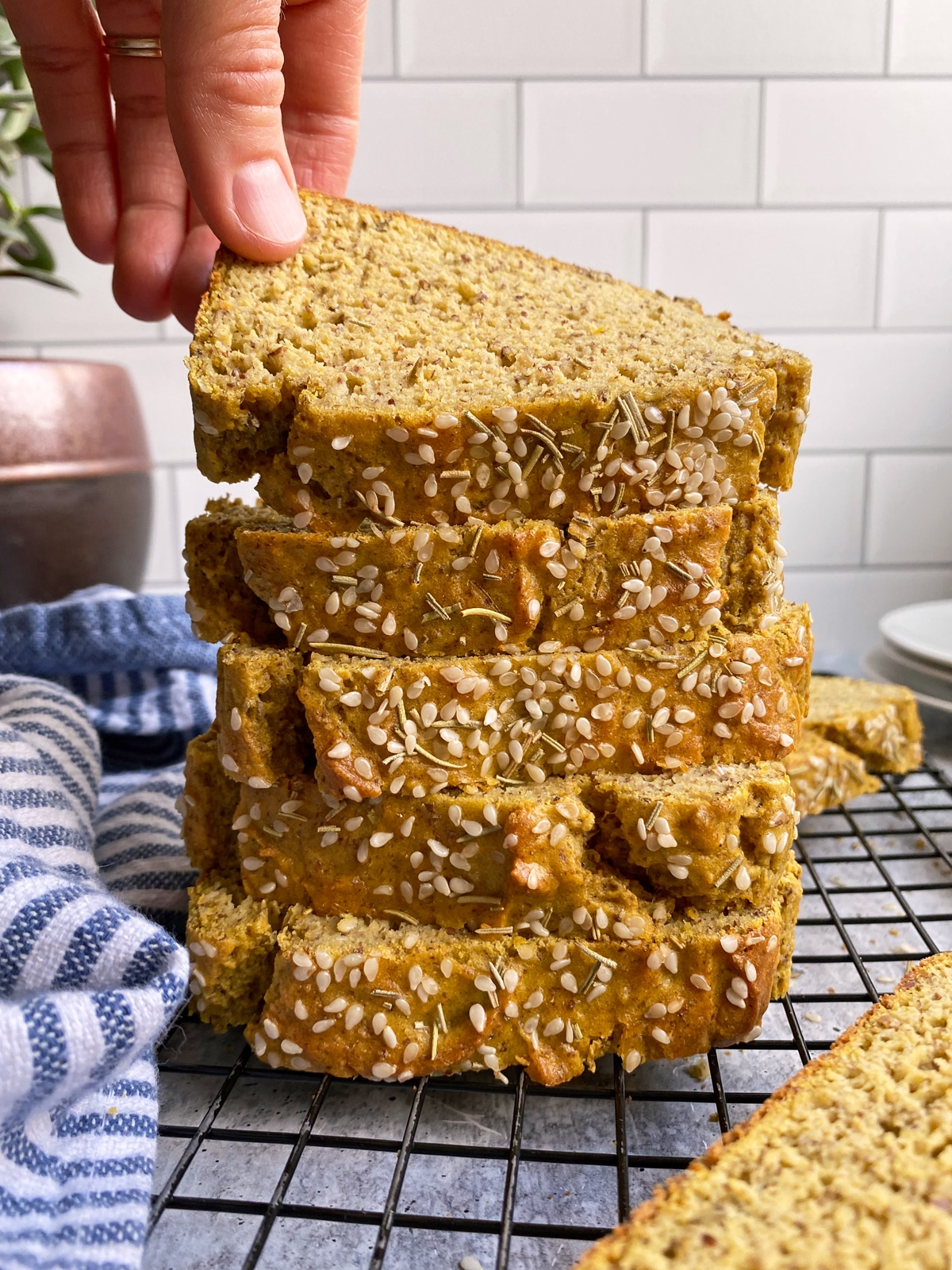 More Savory Paleo Bread Recipes
Print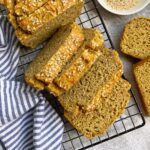 Butternut Squash Bread Recipe (No Sugar, Paleo)
Author:

Katie

Prep Time:

5 min

Cook Time:

45 min

Total Time:

50 minutes

Yield:

one

8

" x 4" loaf

1

x
---
Description
These easy squash bread recipe is paleo, gluten free and nut free.  Enjoy toasted or use to make sandwiches.
---
---
Instructions
Preheat oven to 350 degrees F.  Line an 8" x 4" pan with parchment paper.
In a large mixing bowl, combine pureed squash, eggs and tahini.  Whisk until smooth.
Stir in remaining ingredients.
Pour batter into the lined pan and place the loaf in the oven (middle rack).  Bake at 350 degrees for 45-50 minutes.
After baking, cool 10 minutes in the pan, then transfer to a wire cooling rack.
Best stored in fridge.
---
Notes
*To puree squash, first wash the squash and cut it into cubes (no need to remove skin).  Place the squash in a steamer pot and steam until the skin is tender.  Cool the squash, then add it to a food processor or high powered blender and blend until smooth.
Keywords: bread, breakfast, lunch, dinner, butternut squash, nut free