No one in my family is a big fan of spicy food. In other words, every time I make a batch of these homemade Spicy Coconut Butter Cups I get to eat them all on my own. And I'm absolutely not complaining! I'm more than happy not to share chocolate 😉
These Spicy Coconut Butter Cups are made using 5 ingredients. But truly, you only need two ingredients to make coconut butter cups. The chocolate is infused with cayenne pepper, but it can be omitted if you prefer. These chocolates are Paleo, Vegan, allergy friendly and don't use any added sugar. I used my Roasted Coconut Butter for this recipe, but any store bought version will work.

Why Make Homemade Paleo Chocolate?
I honestly prefer making my own fancy chocolates instead of buying them. Mostly, because buying them in-store and online can be quite expensive.
In addition, when you make your own chocolate you can use any and all flavor combinations. The sky's the limit!
I prefer chocolates, well all desserts, that are lower in sugar. Making my own treats gives me the freedom to create low sugar or completely unsweetened desserts, similar to these Paleo coconut butter cups.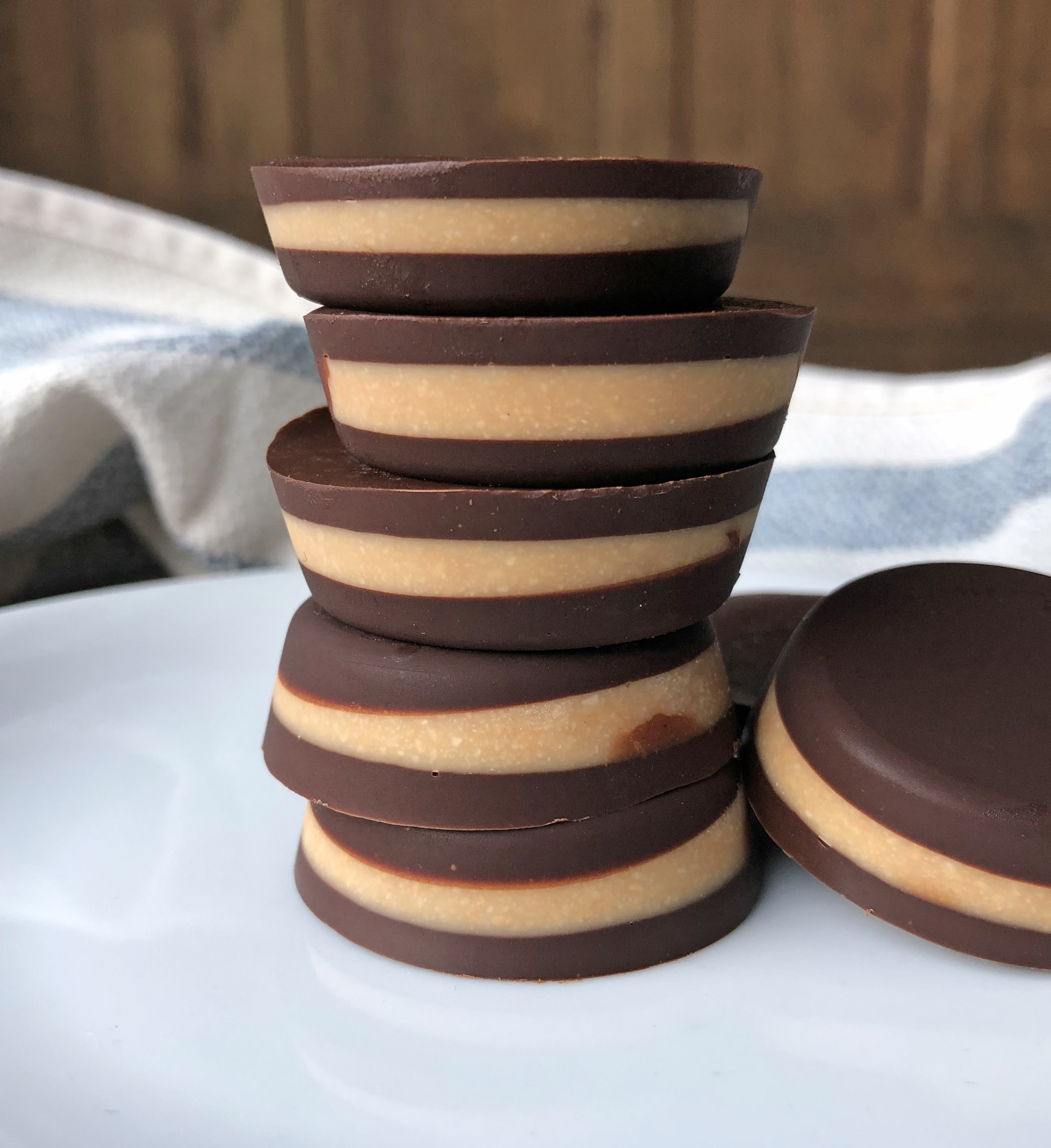 What Ingredients do You Need in Homemade Coconut Butter Cups?
First, you need to choose a high quality chocolate. Now, high quality doesn't have to mean expensive. What I mean by this is: choose a dark chocolate with simple ingredients. Look for one without milk, emulsifiers, and artificial flavorings.
And, a moment of honesty, I don't always choose chocolate that is soy free. A LOT of chocolate bars, even ones with great ingredients, contain soy. So, if you don't have an issue with soy, then don't feel bad about consuming a little soy lecithin in your chocolate 😉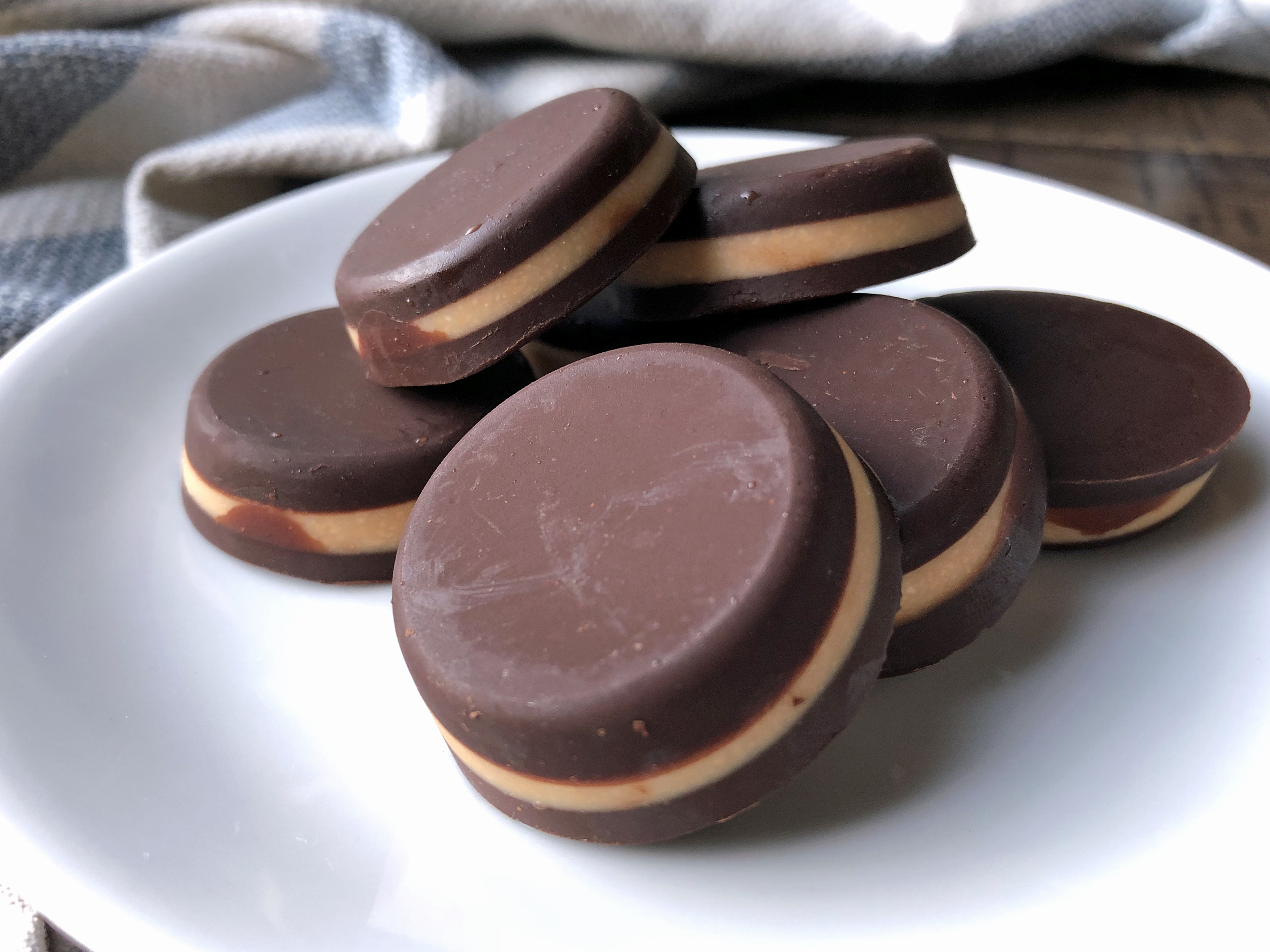 Some of my FAVORITE dark chocolate bars include:
Next, select a coconut butter. Either make your own, or purchase a brand that uses organic coconut.
And that's it! Truly, only two simple ingredients are required to make coconut butter cups.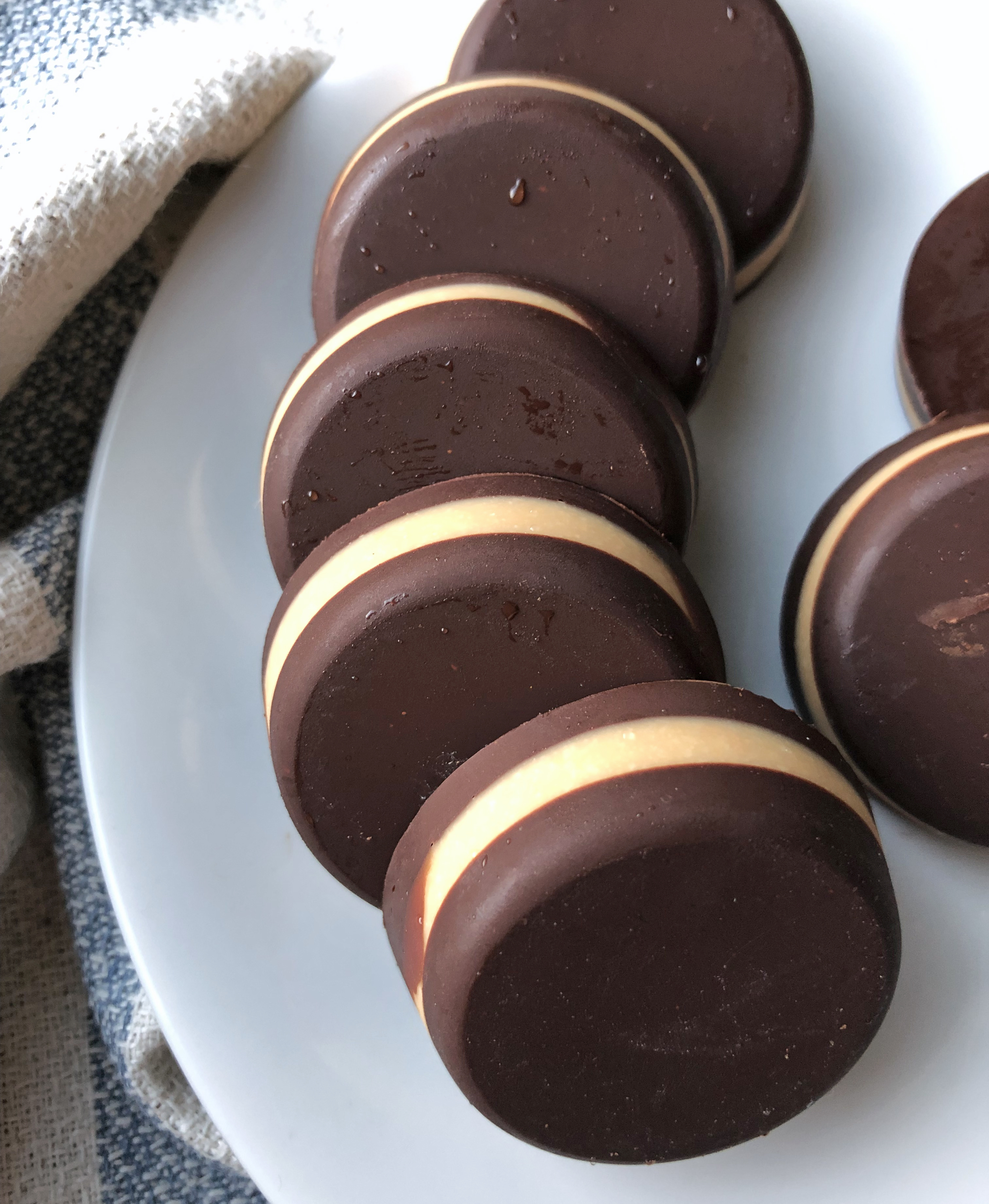 How to Make Your Own Coconut Butter Cups
Coconut butter cups are ridiculously easy to make. (Have you noticed this "easy" trend in a lot of my recipes??) Not only that, buy you'll save yourself lots of dollars by making them in your own home.
So, once you have selected the chocolate and coconut butter you wish to use, all you need to do is put the two together.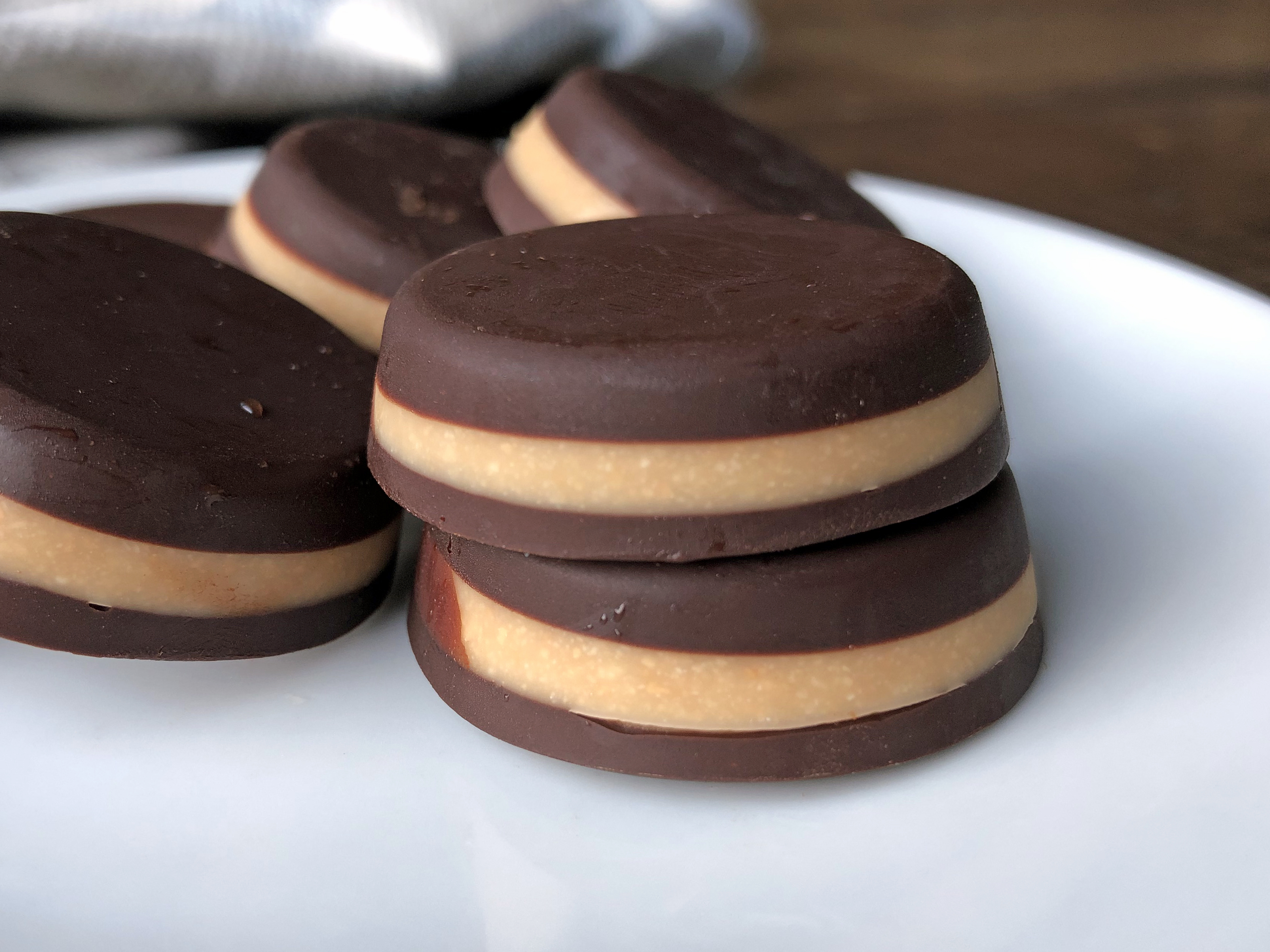 First step, melt the chocolate. I prefer melting chocolate on low heat, over the stove top. But, the microwave would also work.
Next, melt the coconut butter. If your coconut butter is in a glass jar, then melt it in the microwave in 10 second increments. It's important to watch the coconut butter so that it won't burn. Another option is to melt the coconut butter in hot water. Do this by sticking the jar of coconut butter in a pot of hot water.
Grab a mini silicone muffin pan and pour about 1 teaspoon of melted chocolate in 12 of the muffin slots. Place the chocolate in the freezer for a few minutes to set.
Next, scoop a spoonful of melted coconut butter onto the hardened chocolate. Place in freezer to set.
Lastly, add an additional teaspoon of melted chocolate onto the hardened coconut butter. Freeze to set.
It's that simple! I recommend storing homemade coconut butter cups in the fridge.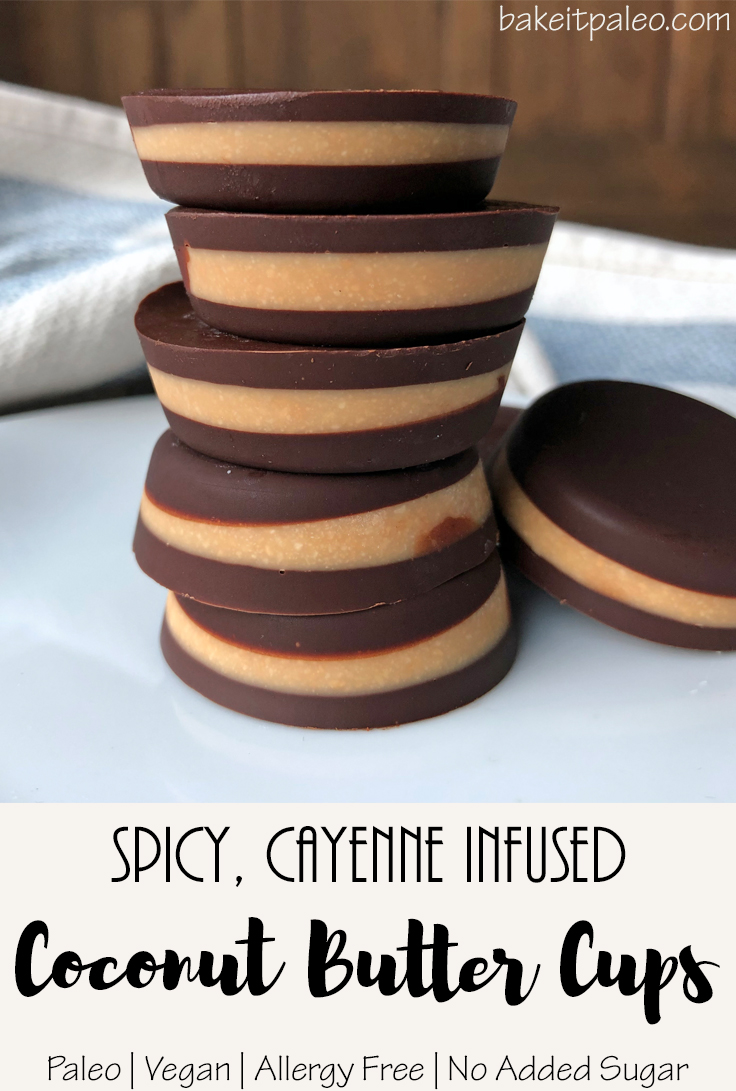 Print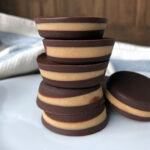 Spicy Coconut Butter Cups
Author:

Katie

Prep Time:

30 min

Cook Time:

0 min

Total Time:

30 minutes

Yield:

1

dozen cups

1

x
---
Description
Low sugar coconut butter cups that are Paleo, Vegan and can be made allergy free.
---
---
Instructions
In a small sauce pan, melt chocolate and coconut oil on low heat.  Stir frequently.
Once fully melted, turn off heat and mix in cayenne and salt.
Pour about 1 teaspoon of chocolate into 12 of the mini cupcake mold slots.  Place in freezer and freeze until set. (Only takes a couple minutes.)
Remove from freezer and add a teaspoon of melted coconut butter on chocolate, freeze.
Remove from freezer and add another teaspoon of chocolate on top of coconut butter, freeze.
Store in fridge or freezer.
---
Notes
*Adding the coconut oil is optional, but I find that it helps with the consistency of the chocolate - making it easier to work with.
**Using ¼ tsp cayenne pepper with 4 oz dark chocolate produces a mildly spicy coconut butter cup.  Feel free to add more or less cayenne, according to taste preference.
Note: If you want to make bigger, thicker coconut butter cups then feel free to use larger quantities of chocolate and coconut butter for each layer.  Measurements do not need to be exact, but if you use the measurements given they will make exactly 12 mini coconut butter cups.
Keywords: coconut butter, chocolate, dessert, low sugar, no added sugar, egg free, nut free, vegan, allergy free