I was walking into the gym with my kids the other day when the lady at the front desk asked what my son was eating.  He was snacking on one of Paleovalley's grass fed beef sticks and I told her such.  She went on to say something along the lines of: "Ah, okay.  I thought it looked like a Slim Jim, but I figured you guys ate healthier than that!"  I laughed at the comment, not because it was false but because it is completely true - my family doesn't eat highly processed snacks, especially when it comes to animal products.  I was also surprised that she guessed as much, but I suppose when you show up to the gym nearly every weekday morning people assume you're healthy 😉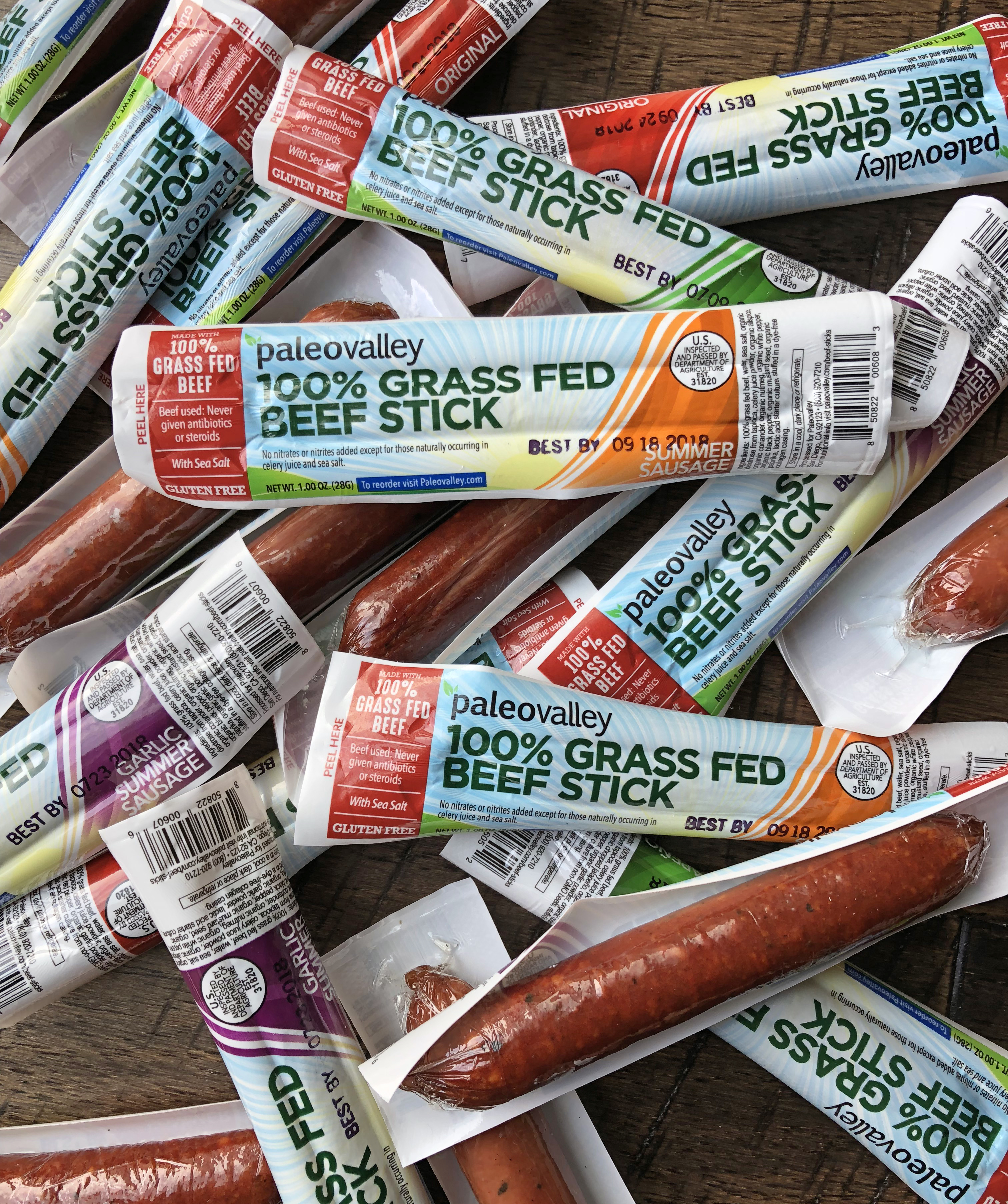 Have you ever looked at the ingredients in conventional meat sticks or jerky?  They are often filled with soy, corn syrup, caramel color, "natural flavors", sugar, wheat flour and preservatives; not to mention the meat comes from conventionally raised cows.  When it comes to feeding myself and my family, I just cannot buy products like that.  But I recently discovered Paleovalley's grass fed beef sticks and was amazed by their quality, taste and texture.  I was expecting a hard, jerky-like texture, but these beef sticks are tender like sausage and easy to eat.  I love having them around as a convenient snack or quick lunch addition for both myself and my family, but I also couldn't wait to get in the kitchen and find a way to creatively incorporate Paleovalley's beef sticks into a recipe, like these Summer Sausage Breakfast Rolls.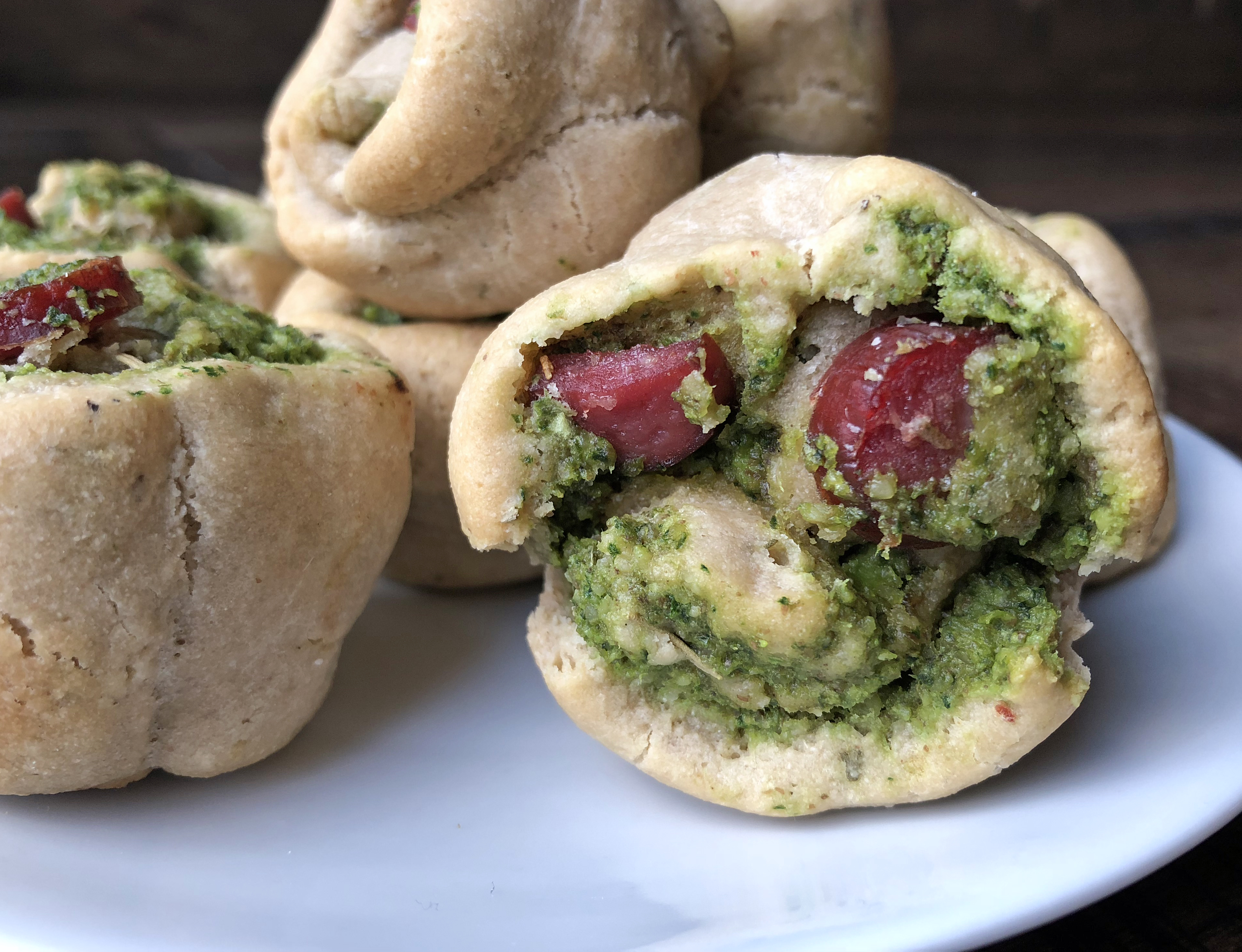 I like that Paleovalley cares for it's animals, allowing their cows to graze on pastures free of herbicides and pesticides and they are never given grain, antibiotics or hormones.  Their beef sticks are also free of gluten, soy, and sugar, are non-GMO and are flavored with organic spices.  Paleovalley goes a step further and uses natural fermentation to preserve their beef, resulting in 1 billion CFUs of naturally occurring, gut-friendly probiotics.  These high quality beef sticks come in four different flavors: Original, Jalapeno, Summer Sausage (my personal favorite) and Garlic Summer Sausage.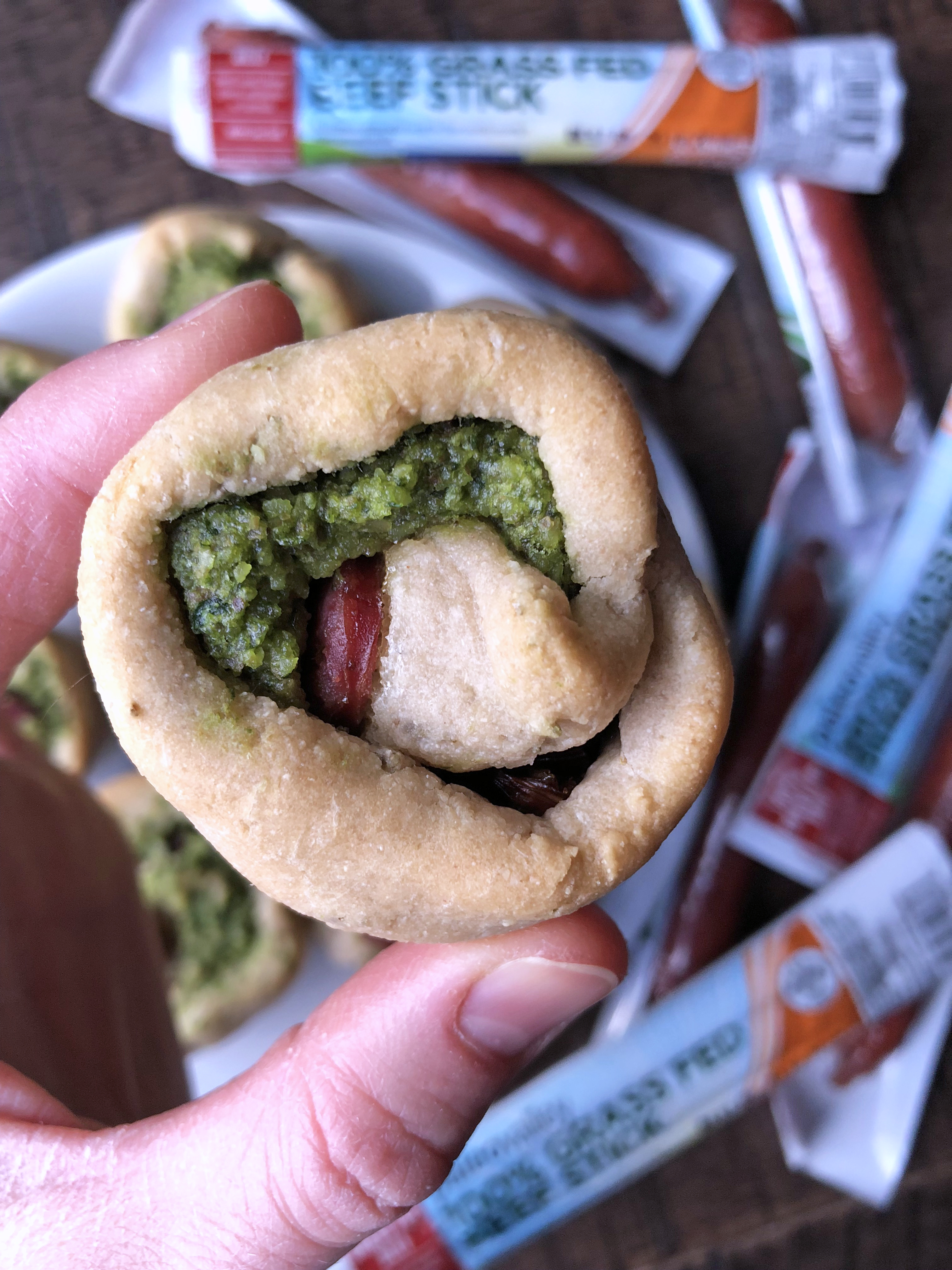 Paleovalley's beef sticks aren't just good for snacking but also great incorporated into many meals.  I've been eating them on my salads as an extra dose of protein that doesn't require any cooking (#momwin) and adding them to my husband's scrambled eggs in the morning.  And my recipe for these Summer Sausage Breakfast Rolls uses Paleovalley's Summer Sausage Beef Sticks as well!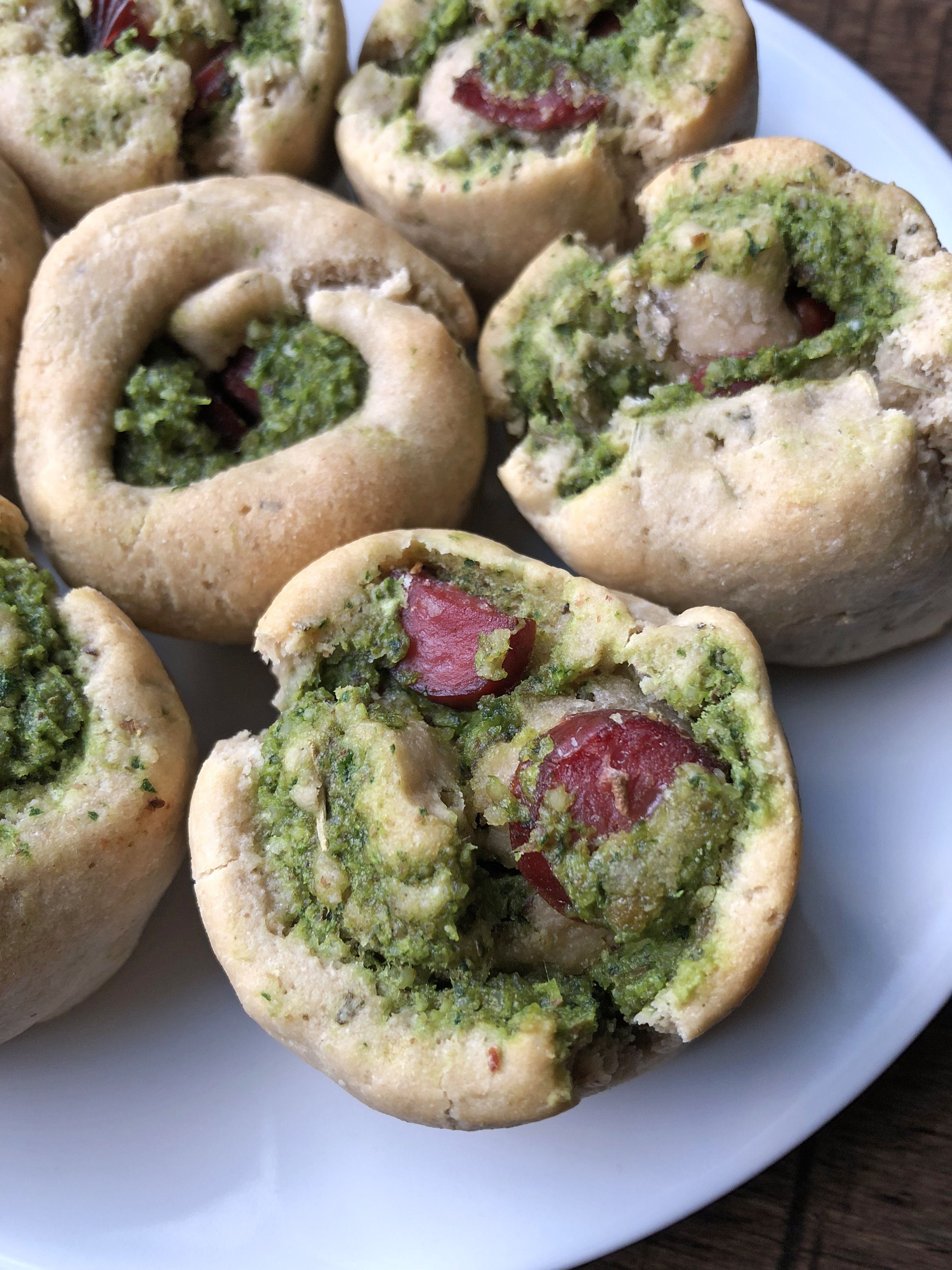 These rolls are Paleo friendly, gluten free and perfect for a weekend brunch or to prep and keep in your fridge as a breakfast option for the week.
Summer Sausage Breakfast Rolls
Ingredients
Dough
½ Cup tapioca flour
⅓ Cup cassava flour
¼ Cup blanched almond flour
1 tsp baking powder
½ tsp baking soda
1 tsp dried rosemary (optional)
½ tsp dried thyme (optional)
¼ tsp salt
2 large eggs
2 Tbsp olive oil
2 tsp apple cider vinegar
Filling
½ Cup walnut pieces
¼ Cup chopped green onion
1-2 cloves garlic
Handful spinach
1 tsp olive oil
½ tsp dried thyme
¼ tsp salt
Instructions
Preheat oven to 350 degrees F.
For the dough: combine all dry ingredients in a medium-sized mixing bowl.
In a separate bowl, combine all wet dough ingredients and whisk.
Stir wet dough ingredients into dry.  Set aside.
For the filling: add all ingredients except sausage to food processor.  Blend until uniform paste forms.
Dust hands with cassava flour and roll dough into a ball then flatten.  Place dough between two sheets of parchment paper and roll into a thin, rectangular sheet using a rolling pin.
Remove top layer of parchment paper and spread filling over dough.
Chop sausage into thin circles and place on filling.
Roll sheet of dough into a log then cut into 8-9 evenly sized rolls.
Place rolls on baking sheet (I used a muffin pan).
Bake in middle rack of oven at 350 degrees for 12-15 minutes.
Remove from oven, cool slightly and serve.
Store in fridge.
Recipe Makes 8-9 rolls
These grain-free savory breakfast rolls are crisp on the outside, making them hold together well, but soft and moist on the inside.  The filling is similar to a dairy-free pesto, with a strong garlic flavor and vibrant green color (thanks to the spinach).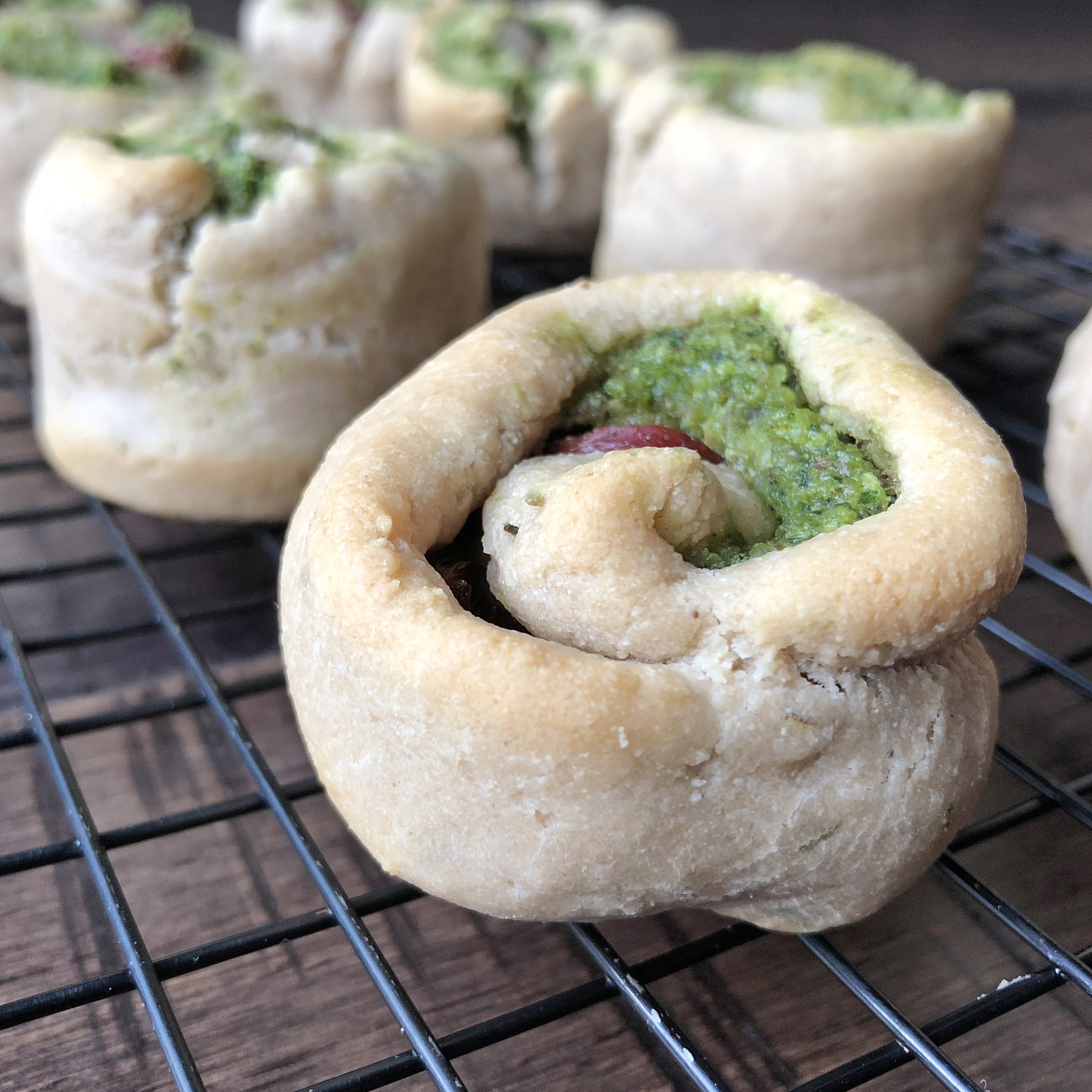 Thank you Paleovalley for sponsoring this post. It means so much to me to work with brands that I love and who support Bake it Paleo.