This Veggie & Beef Soup has a robust flavor with fresh herbs, vegetables and grass fed beef for some protein, giving it a wonderful taste and aroma. Meals like this are perfect during the winter months. When it's cold out, there's nothing quite as comforting as a warm bowl of soup (or stew). And, meals that require little effort are always a plus as well. After all, all you need to do is prep a bunch of veggies, cook a bit of meat and then throw them in a giant pot of water with spices to cook.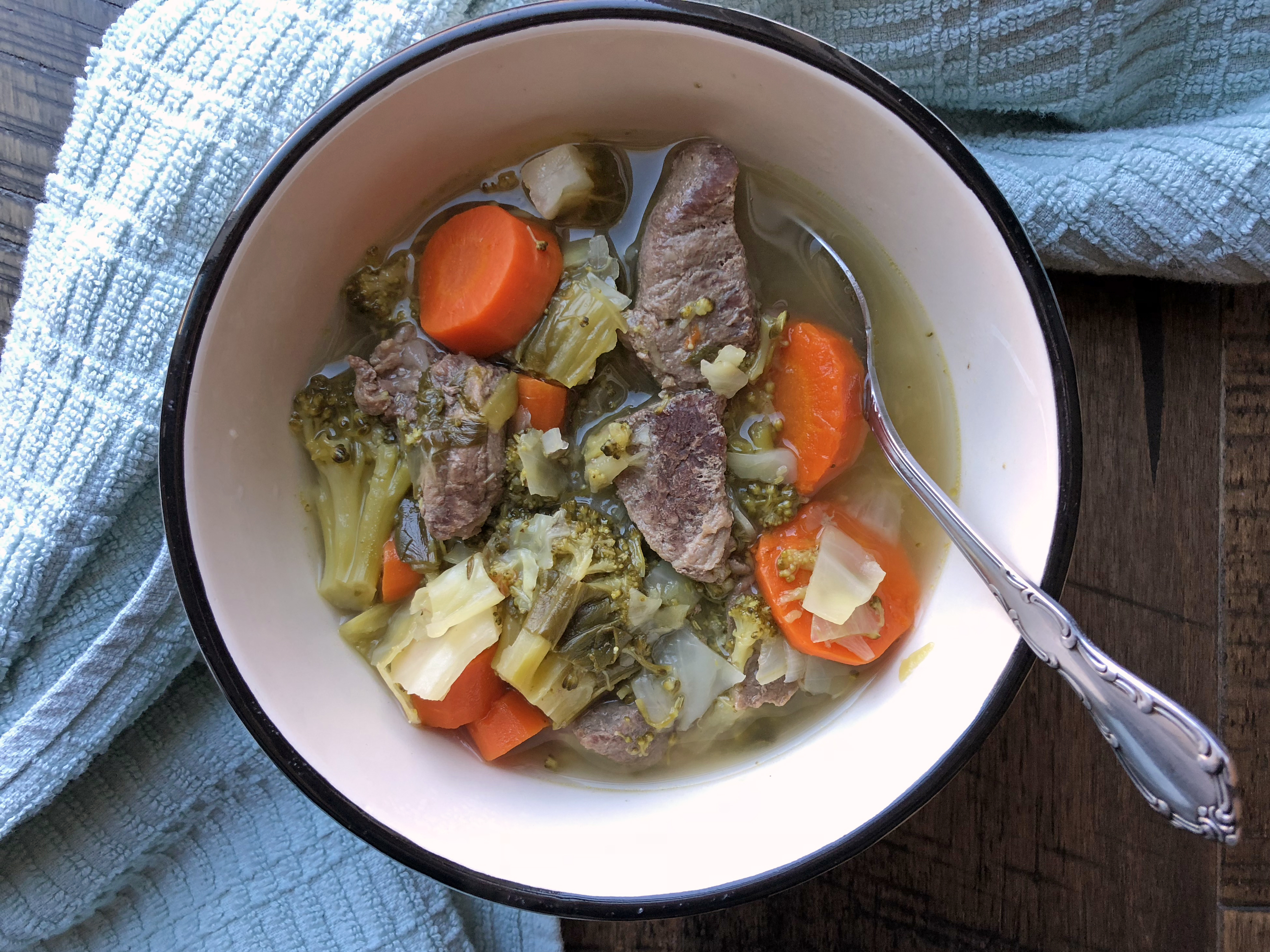 The Difference Between Soup and Stew
Do you know the difference between a soup and a stew? I never thought much about what sets them apart until creating this recipe. I figured the only difference was the amount of water and cooking time. But, I really wasn't sure. After a quick google search my guess was confirmed by Wikipedia. "Generally, stews have less liquid than soups, are much thicker and require longer cooking over low heat."
I've decided to call this recipe a soup, although the cooking time perhaps resembles that of a stew and it's made with stew meat. BUT, there is quite a bit of liquid and the cooking time can be cut short. (Maybe I should just name this a stoup? Haha!) I usually prefer stews over soups because I like less liquid. Typically, I'll soak up the broth in soups by adding rice, quinoa or lentils but since this is a Whole 30 approved recipe, all those options were out.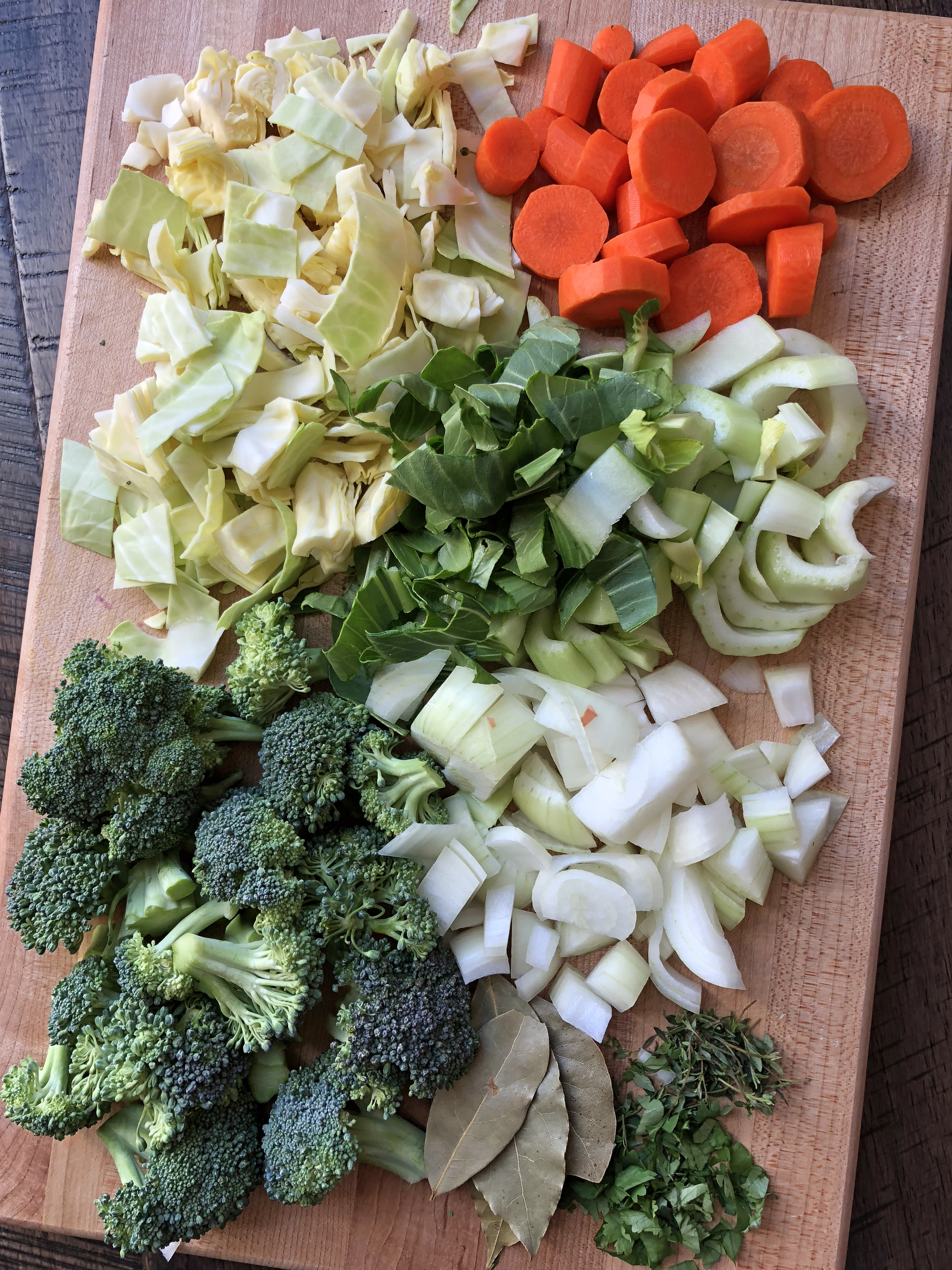 Ingredients in Veggie & Beef Soup
This soup consists of grass fed meat and a variety of fresh vegetables. Plus, some herbs, salt and pepper for added flavor.
As always, feel free to mix up the type of vegetables you use. I rarely eat bok choy, simply because I don't care for it's flavor very much, but adding it to a soup like this masks it's flavor and appearance. You may also substitute the fresh herbs with dried herbs, but the taste won't be quite as robust.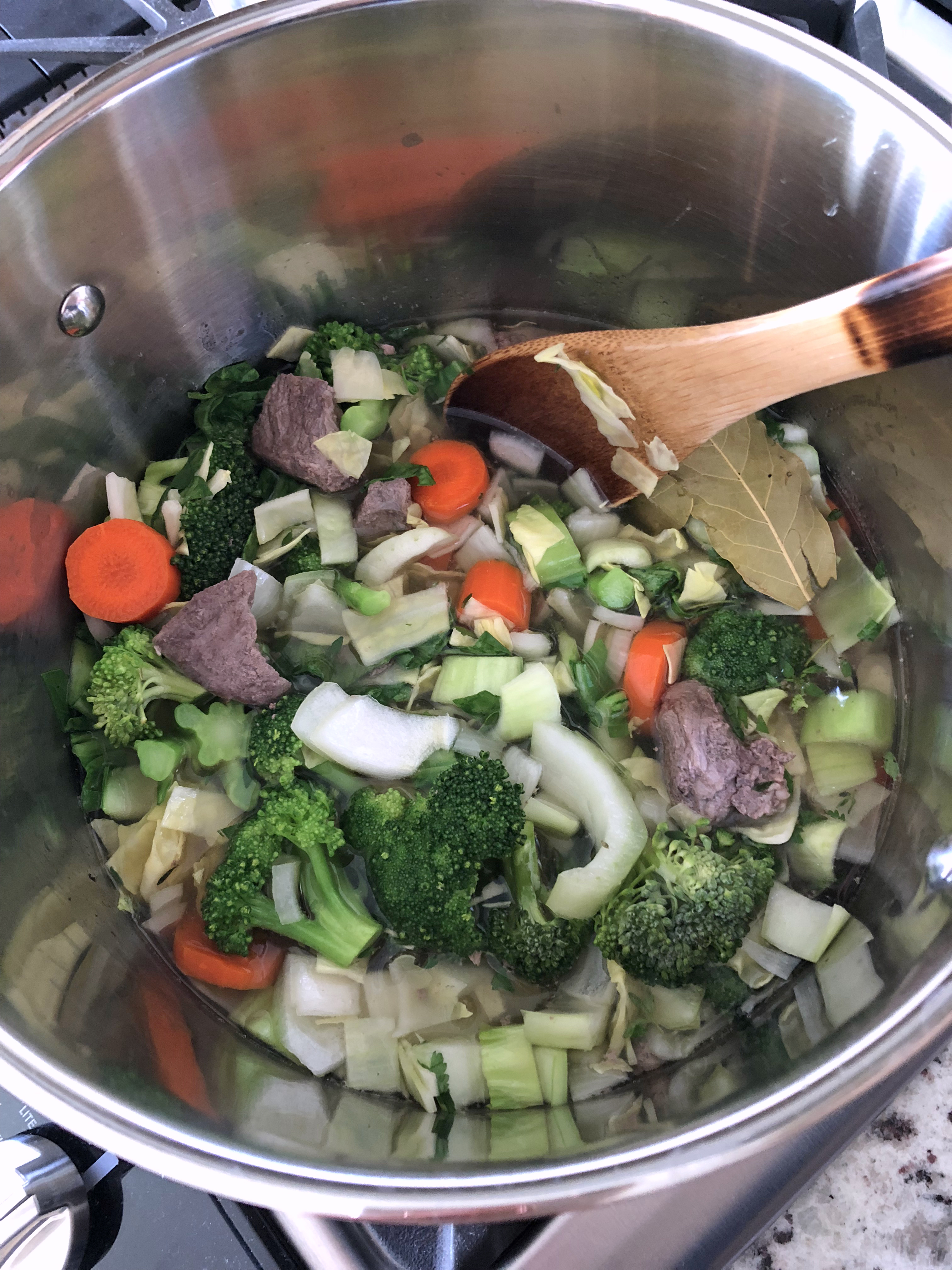 Recipes like this are perfect when you want something to eat that doesn't require much effort. The meat can be cooked before hand, you can swap beef for another type of meat, or you can omit it completely. Soups are also a great way to use up vegetables in your fridge if they're about to go bad.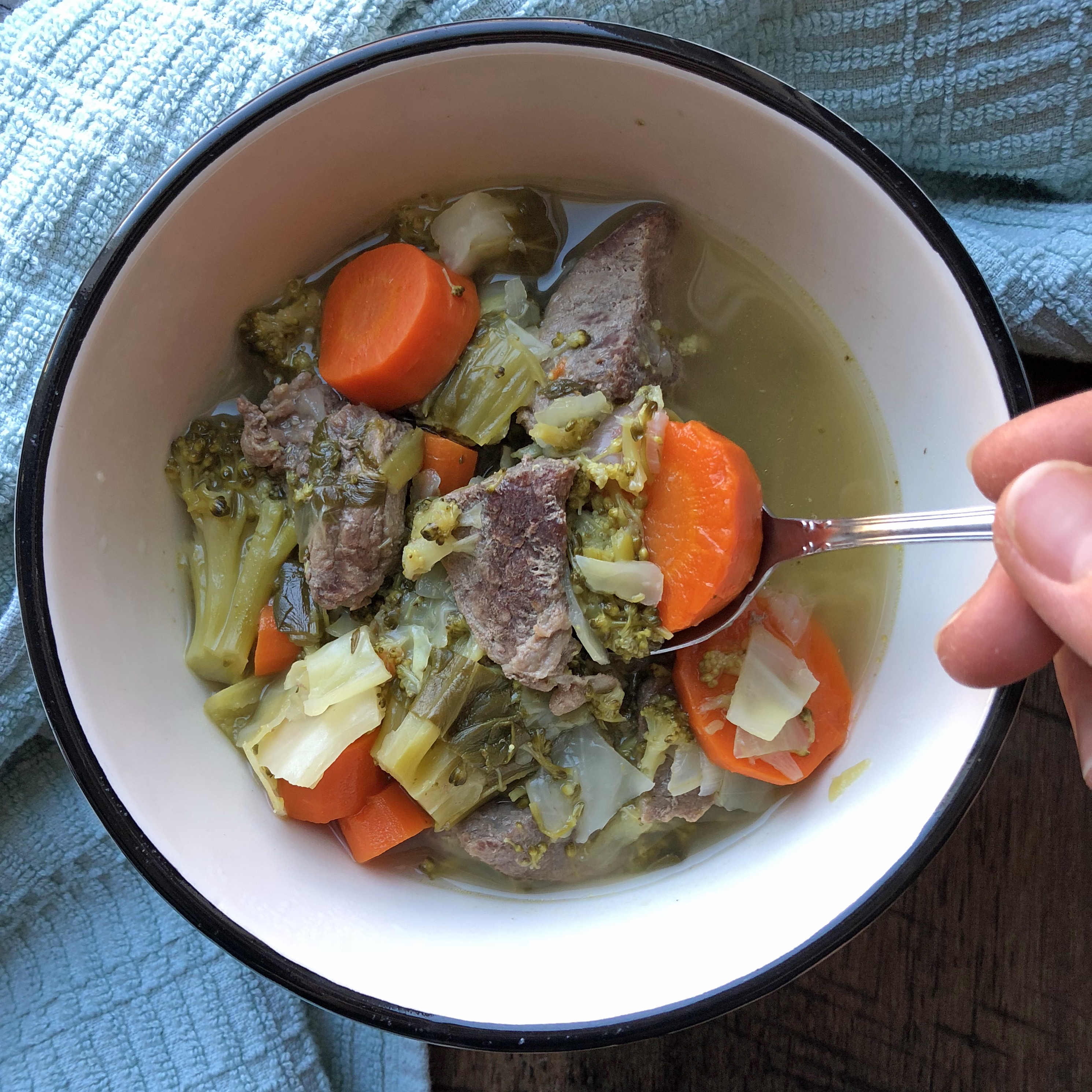 Since the cooking time was an hour, the meat turned out extremely tender - exactly what I like in a soup. If you do not want the vegetables to be quite so soft you can reduce the cooking time but this will slightly affect the texture of the meat. I served this soup plain and paired it with a baked sweet potato.
Do you prefer soup or stew? What are some of your favorite soup recipes?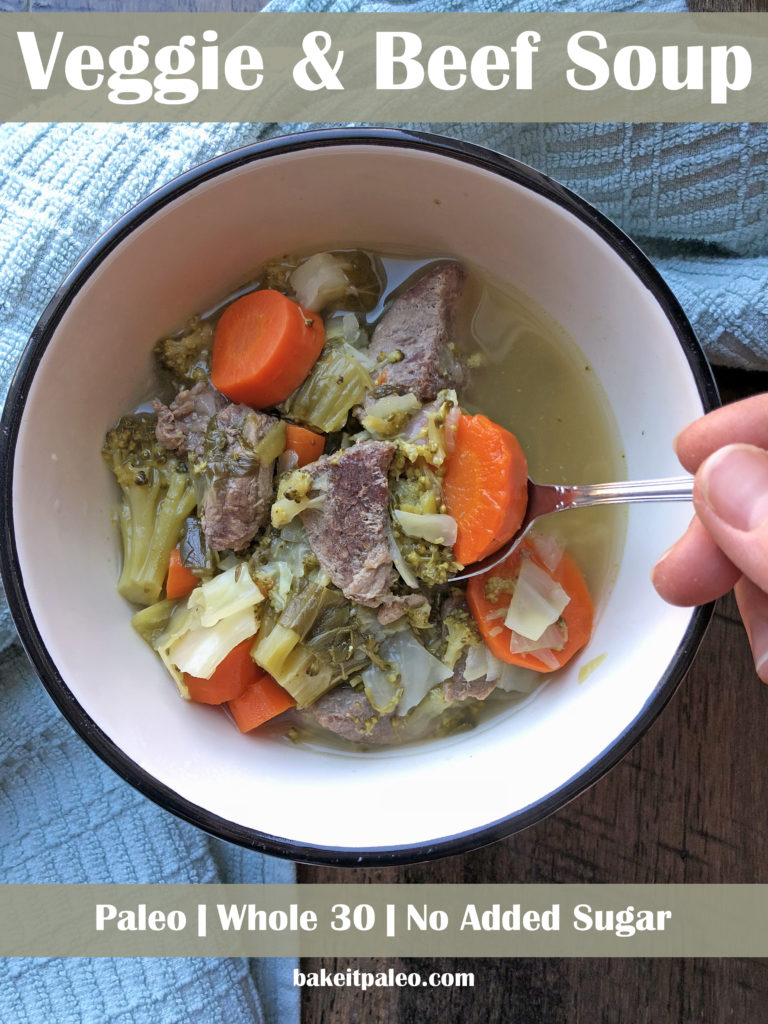 Print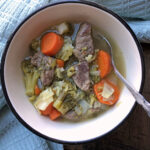 Veggie & Beef Soup
Author:

Katie

Prep Time:

10 min

Cook Time:

60 min

Total Time:

1 hour 10 minutes
---
Description
An easy, Paleo soup recipe with fresh veggies and grass fed beef.
---
1

lb Grass-fed stew meat

1 tsp

avocado oil

1

head bok choy

1

small onion

1

head broccoli

¼

head green cabbage

1

large carrot

4

dried bay leaves

1

-

2

tsp fresh thyme

1 Tbsp

fresh cilantro, chopped
salt & pepper to taste

10 cups

water
---
Instructions
Prepare vegetables*
Pour water into extra large pot and bring to a boil.
Meanwhile, place beef and avocado oil on a medium-sized frying pan and cook on medium heat until done (no more pink showing).
Once veggies are prepped, meat is cooked and water is boiling, place all ingredients in pot (be careful not to splash hot water on yourself).  Cover pot with lid and reduce heat to a simmer.
Cook for 60 minutes or until veggies and meat are tender.**
Cool slightly and serve.
Store in air-tight container in fridge or freezer.
---
Notes
*Rinse veggies: bok choy, broccoli, carrot.  Cut off base of bok choy and chop.  Remove broccoli base and chop.  Chop green cabbage.  Peel carrot and chop.
**You may reduce the cooking time if you prefer firmer vegetables.
Keywords: soup, stew, whole 30, no added sugar, nut free, egg free, Paleo