Are you ready to make the switch to healthy personal care products that not only work, but are actually nourishing for your body? Read my review of Wellnesse to discover why I love and trust this personal care brand.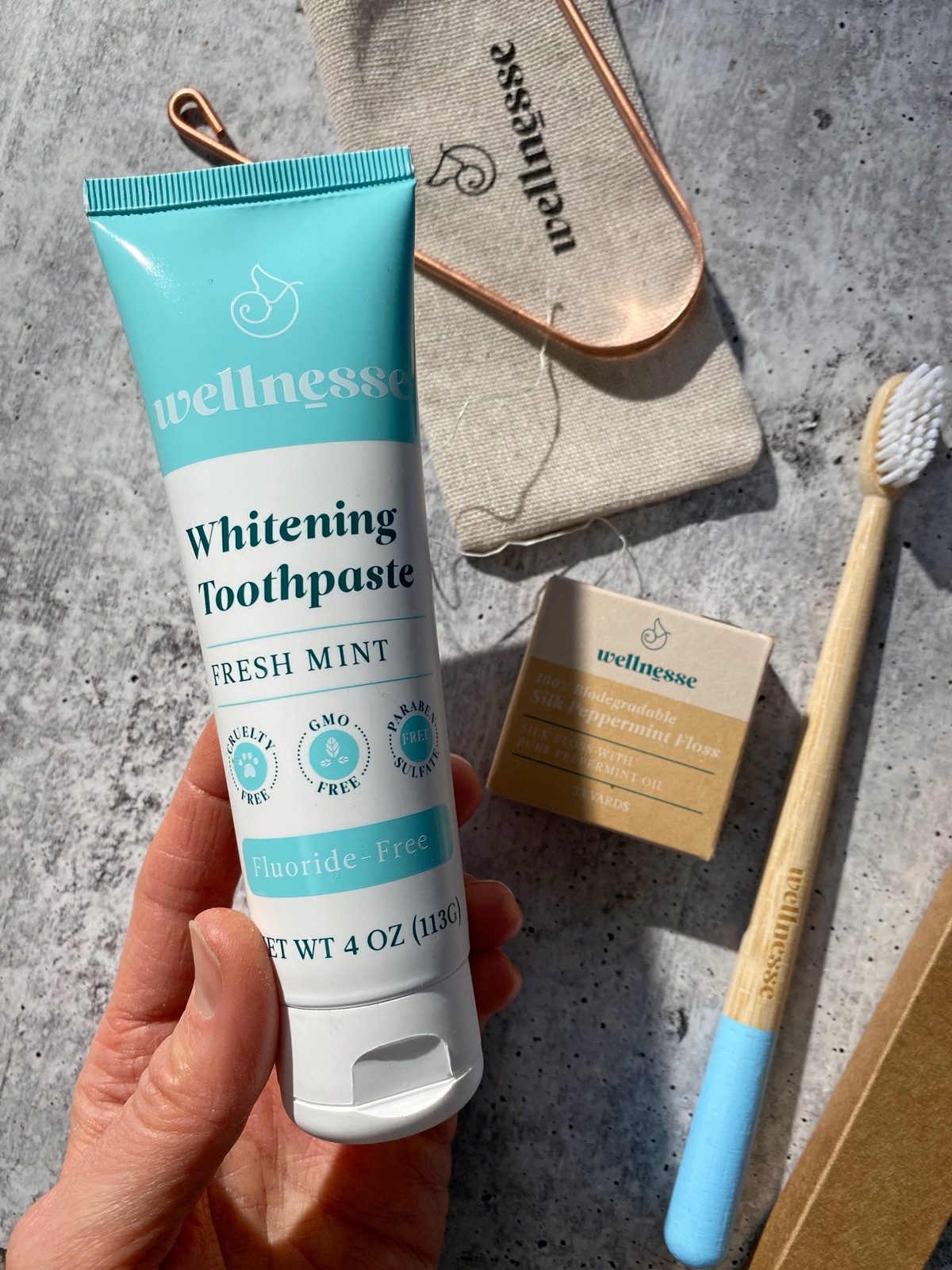 I have been a LONG time listener to the Wellness Mama podcast and an avid reader of the Wellness Mama blog. So, when I found out that Katie created her own line of personal care products (like toothpaste, shampoo, etc) I jumped at the chance to try them.
Wellnesse has a mission to create all-natural, nourishing products that are made with quality ingredients, free of harsh chemicals and ethically sourced ingredients and packaging.
The Importance of Safe, Natural Personal Care Products
What we put on our skin gets absorbed into our body. Meaning, if you're washing your hair or brushing your teeth with chemical ingredients, they aren't just being washed off, but actually making their way into your body.
To reduce your overall toxic load, using healthy products on your skin and in your house are important.
Wellnesse personal care products are made with non-toxic ingredients, are paraben free, sulfate free and all non-GMO. They are B Corp certified and have the highest EWG ratings possible. In other words, Wellnesse cares about the ingredients and sourcing of their products and packing. They want what's best for you and the environment.
I've tried nearly all of the Wellnesse personal care products and today I'm going to share my favorites with you! So let's dive in...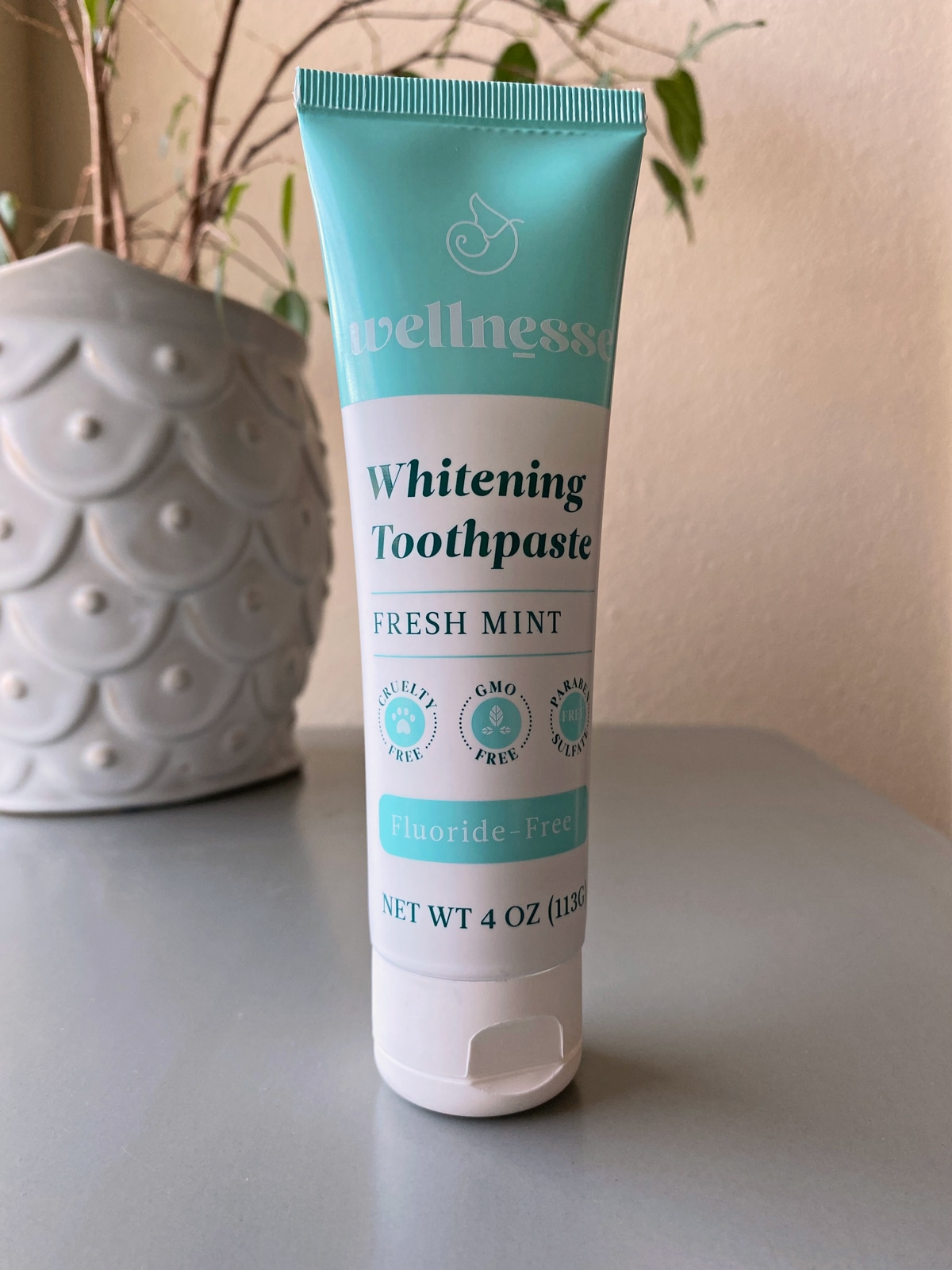 Wellnesse Whitening Toothpaste
Wellnesse Toothpaste uses non-toxic ingredients that are good for your teeth and oral microbiome. I've been using their whitening toothpaste for months and love the flavor and texture. It is not gritty like some natural toothpastes I have tried. I also feel that it actually cleans my teeth, which is not always the case with healthier toothpaste options.
Wellnesse toothpaste is fluoride free and instead uses hydroxyapatite, a naturally occurring mineral that remineralizes tooth enamel to strengthen it. This is a well researched, naturally occurring mineral that is much safer than fluoride and does a better job of supporting tooth health.
The toothpaste is also infused with neem oil, which fights bacteria, green tea, which fights bad breath, and aloe vera, which soothes your gums.
Lastly, Wellnesse toothpaste is glycerin free! Glycerin is a sweet, colorless liquid and some research says it can coat teeth and prevent them from benefitting from the minerals in saliva.
Toothpaste Ingredients: Calcium Carbonate, Sorbitol, Water, Sodium Bicarbonate, Xylitol, Silica, Hydroxyapatite, Sodium Cocoyl Glutamate, Mentha Piperita (Peppermint) Flavor, Xanthan Gum, Stevia Rebaudiana Leaf Extract, Aloe Barbadensis Leaf Extract, Melia Azadirachta (Neem) Seed Oil, Camellia Sinensis (Green Tea) Leaf Extract
Want to learn more about each ingredients? You can search the Wellnesse website to read about each ingredient listed in their products.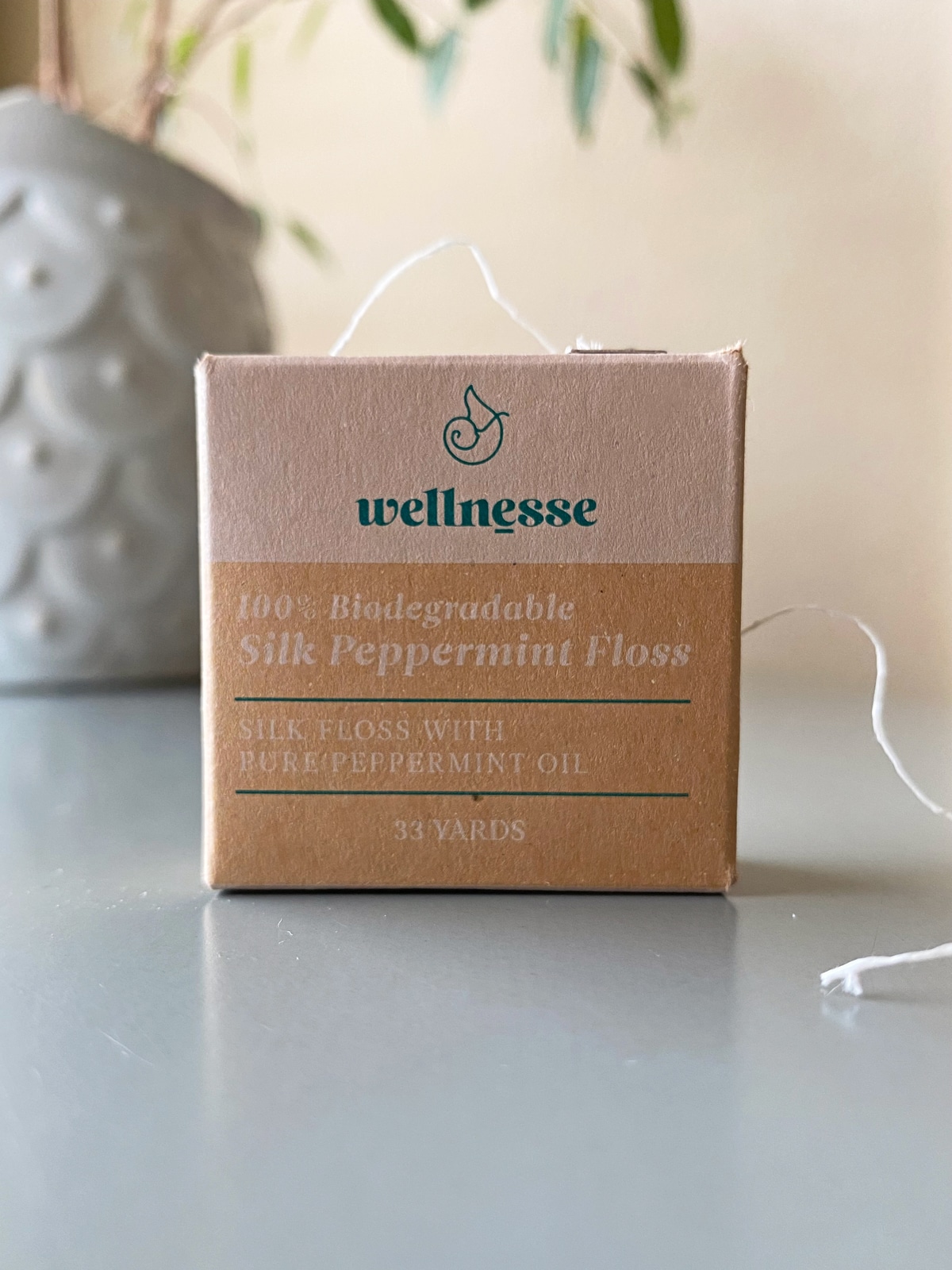 Silk Floss
Who would have thought that conventional floss can be bad for our health?! Yes, conventional floss often contains Teflon, nylon, petroleum, polyester and/or synthetic fragrance. These are all things you don't want to be cleaning your teeth with!
Wellnesse floss is made with pure silk, candelilla wax and pure peppermint oil. Simple, effective AND non-toxic! Plus, they use sustainable packaging made from carboard that is 100% biodegradable and recyclable.
Ingredients: Silk, Peppermint Oil, Candelilla Wax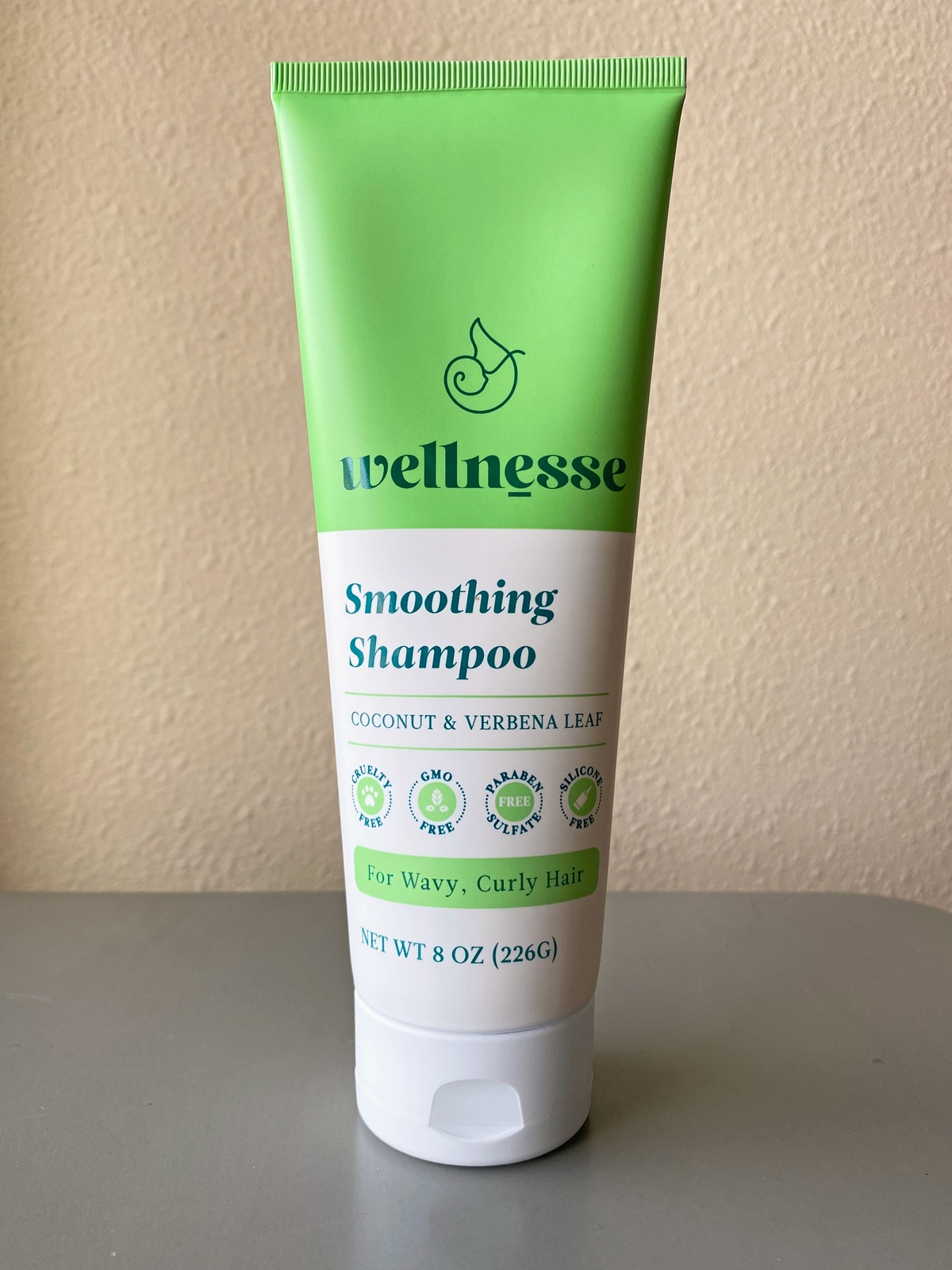 Wellnesse Smoothing Shampoo
I was skeptical before trying the Wellnesse smoothing shampoo, as I have had a hard time finding healthier shampoo options that work with my hair. My hair is pretty wavy (almost curly in the back) and I have a fairly oily scalp. It's a struggle to go more than a day without washing my hair because it gets so greasy.
But this Wellnesse shampoo works wonders! Not only does it seem to actually clean my hair and remove the excess oils, but it keeps my hair silky and smooth. Plus, it smells good!
I haven't noticed any buildup near my scalp from using the shampoo. And I'm able to go a couple days in between hair washing. Overall, I am greatly pleased with the Wellnesse shampoo and plan on rotating it with some other natural ones I like.
Just like all of the Wellnesse products, the shampoo is non-toxic and made without harsh chemicals. It uses shea butter and coconut oil to nourish the scalp, reduce oil build up and breakage, and to shield hair from heat damage.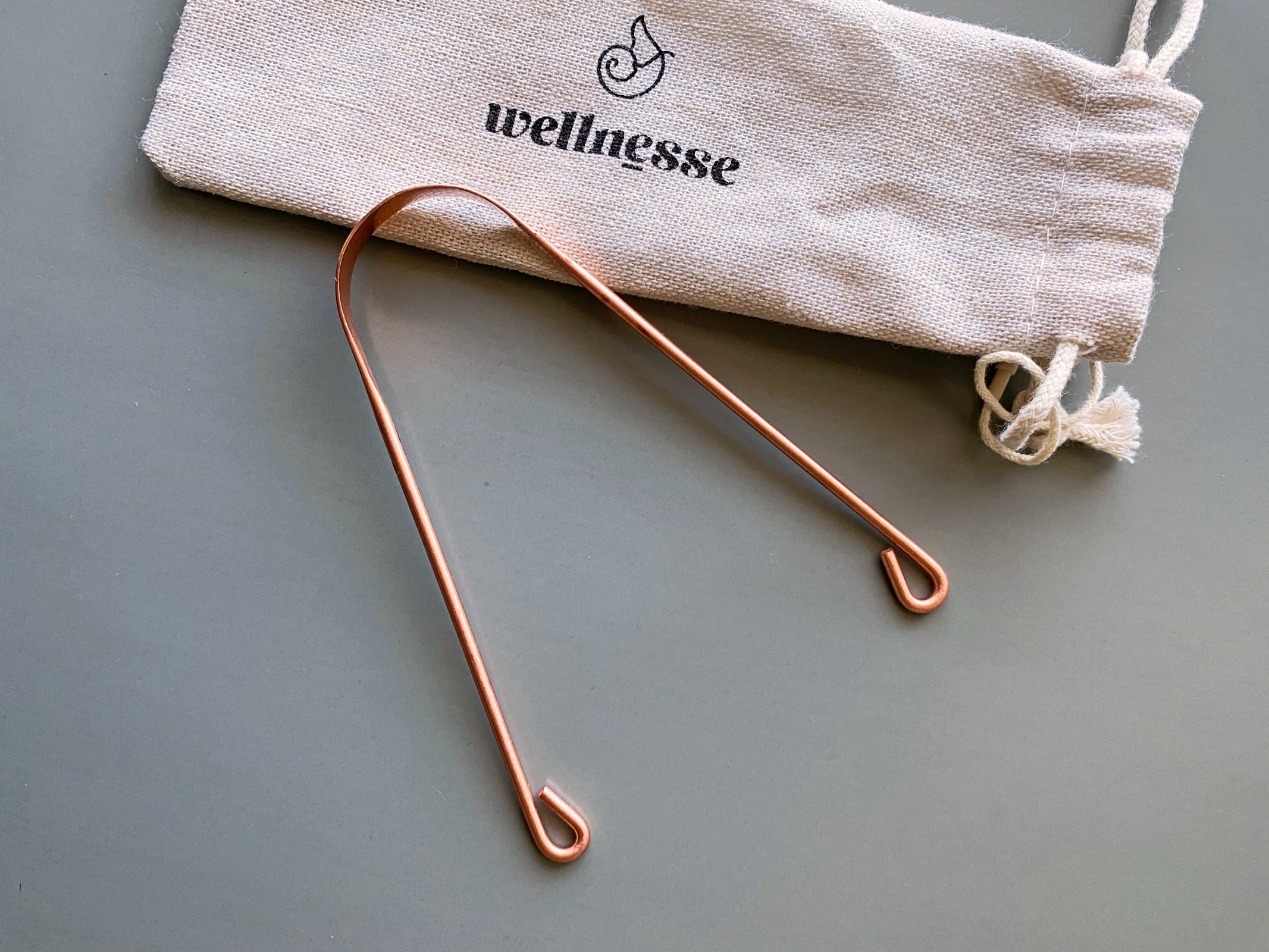 Copper Tongue Scraper
I've just started to get into tongue scraping. Yes, I've known about the benefits for a while now, but I finally convinced myself to try it out. My thoughts? I love it!
Wellnesse's tongue scraper is made of 100% copper. Copper is antimicrobial, so great for tongue scraping.
Why do tongue scraping? This simple wellness tool helps get rid of bacteria in the mouth that causes cavities, gum irritation and bad breath. Apparently, it can also improve your sense of taste. (I have yet to notice this, but it's pretty cool if it works.)
Tongue scraping is an easy element to implement into your daily oral care routine. Plus, it's inexpensive and there's no harm - only possible health benefits.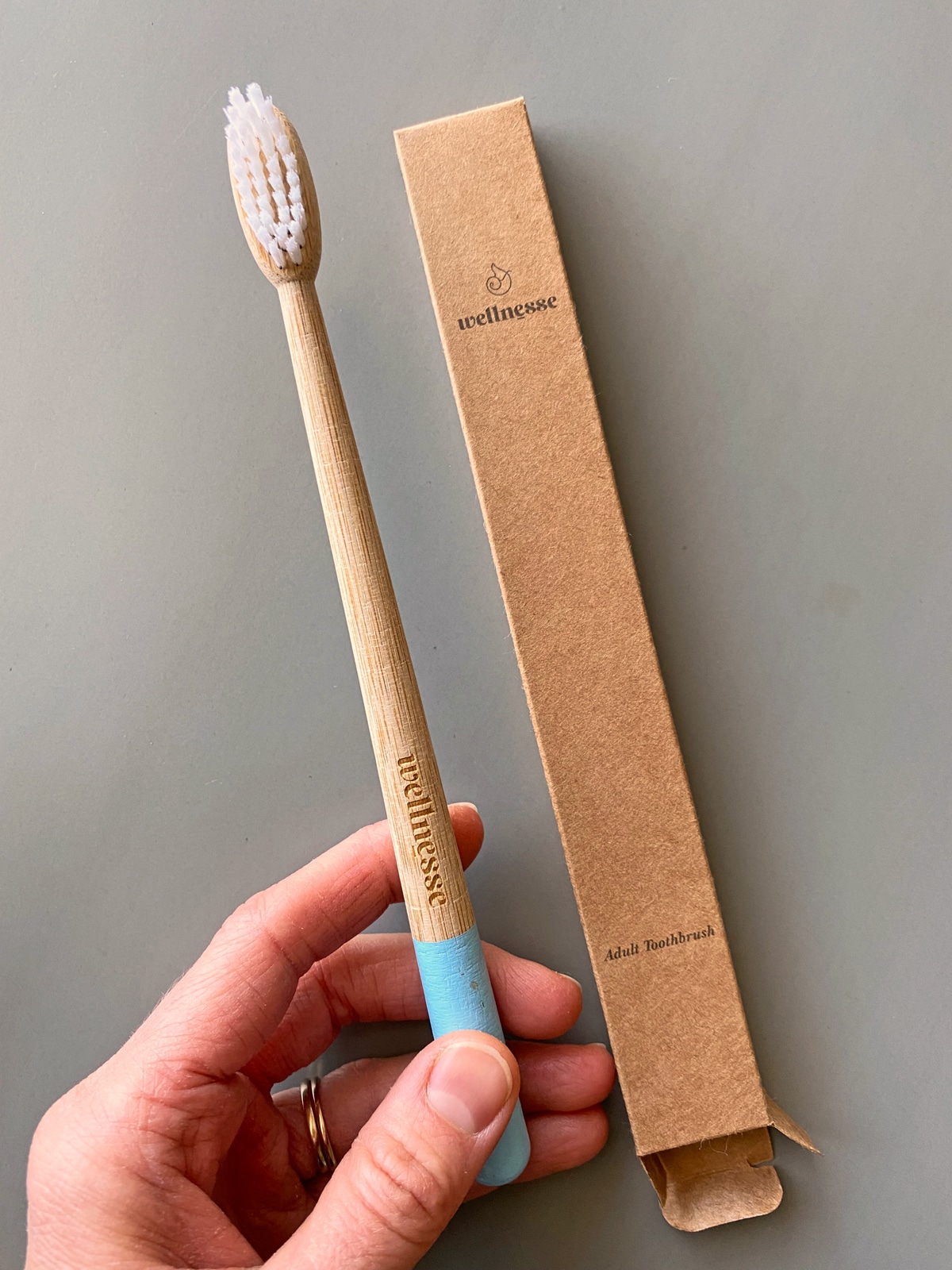 Biodegradable Toothbrushes
While I use an electric toothbrush, I like having sustainable toothbrushes on hand. Especially for my kids, who use them regularly.
Lately they have been using the Wellnesse biodegradable toothbrushes. They are completely plastic free and have soft but firm bristles. They're an excellent alternative to conventional toothbrushes, especially if you're trying to cut back on plastic use.
Wellnesse Discount Code
Looking for a discount code on Wellnesse personal care products? Well, you're in luck! Use my discount code BAKEITPALEO on any Wellnesse purchase and save 10%.