This three ingredient bone broth protein fudge is made with bone broth protein, dark chocolate and tahini.  It's a simple fudge recipe that is easy to make and low in sugar.  Plus, gut friendly thanks to the addition of powdered bone broth.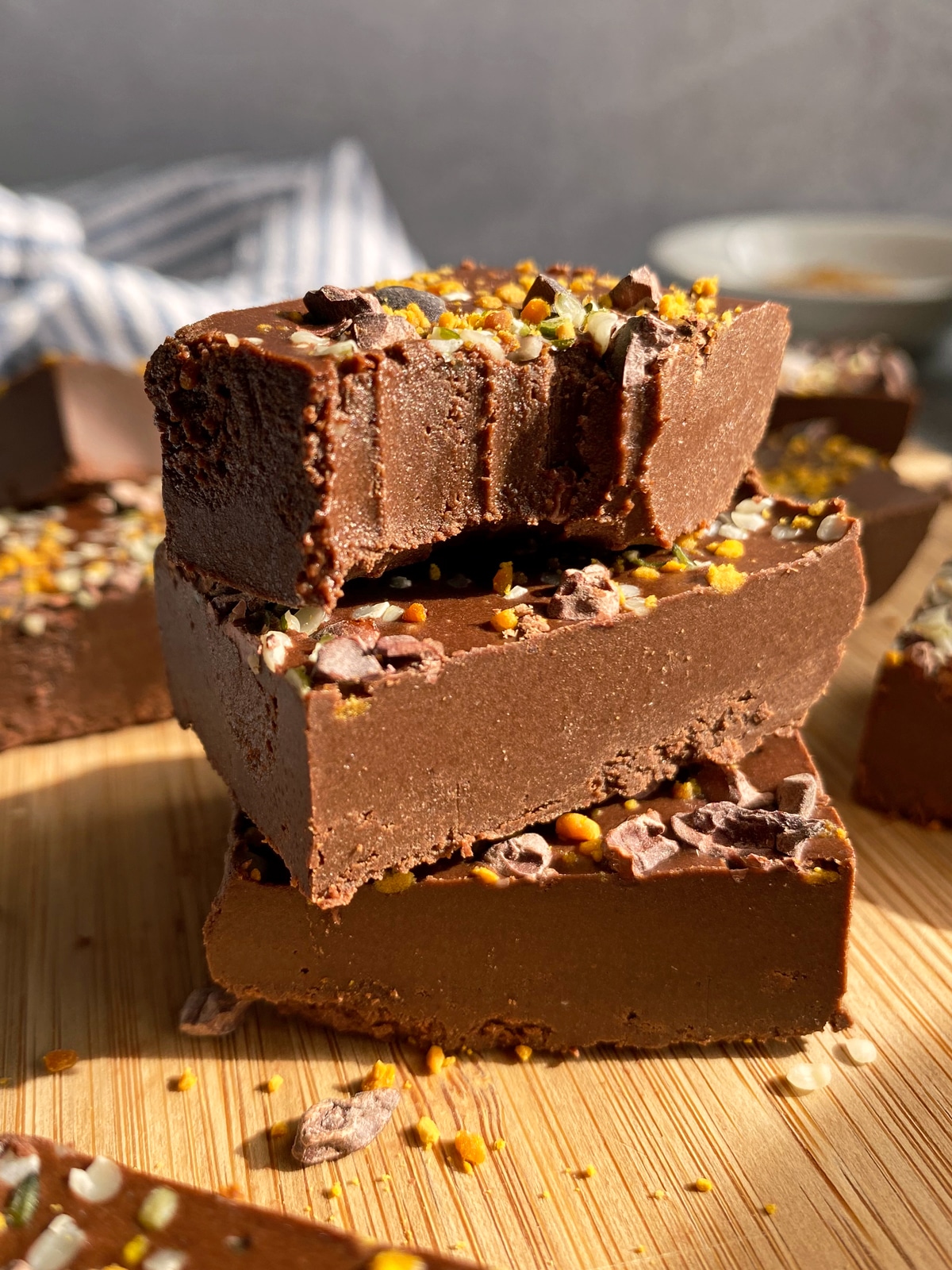 Bone broth protein powder may sound like a weird ingredient to add to fudge - I totally get that! But trust me when I say this is the BEST dark chocolate fudge recipe.
The bone broth doesn't compromise the taste or texture of this protein fudge recipe - you can't tell it's there. However, you still get all of the benefits that come with consuming bone broth protein.
What is Bone Broth Protein Powder?
Everyone knows what bone broth is – liquid brewed from the bones and connective tissue of an animal, but bone broth protein powder is a relatively new trend. Bone broth protein actually begins as liquid bone broth. It is then dehydrated, turning it into a concentrated source of high-quality powder.
The highest quality bone broth comes from grass fed cattle, pastured chicken or wild caught fish. Also, bone broth protein that has gone through 3rd party testing for things such as heavy metals, pesticides and antibiotics is usually high-quality.
Companies that do this, care about their ingredients and providing a healthy product for consumers. Ancient Nutrition meets all of these requirements, which is why I choose to buy from them.
You can learn more about Ancient Nutrition and their company values HERE.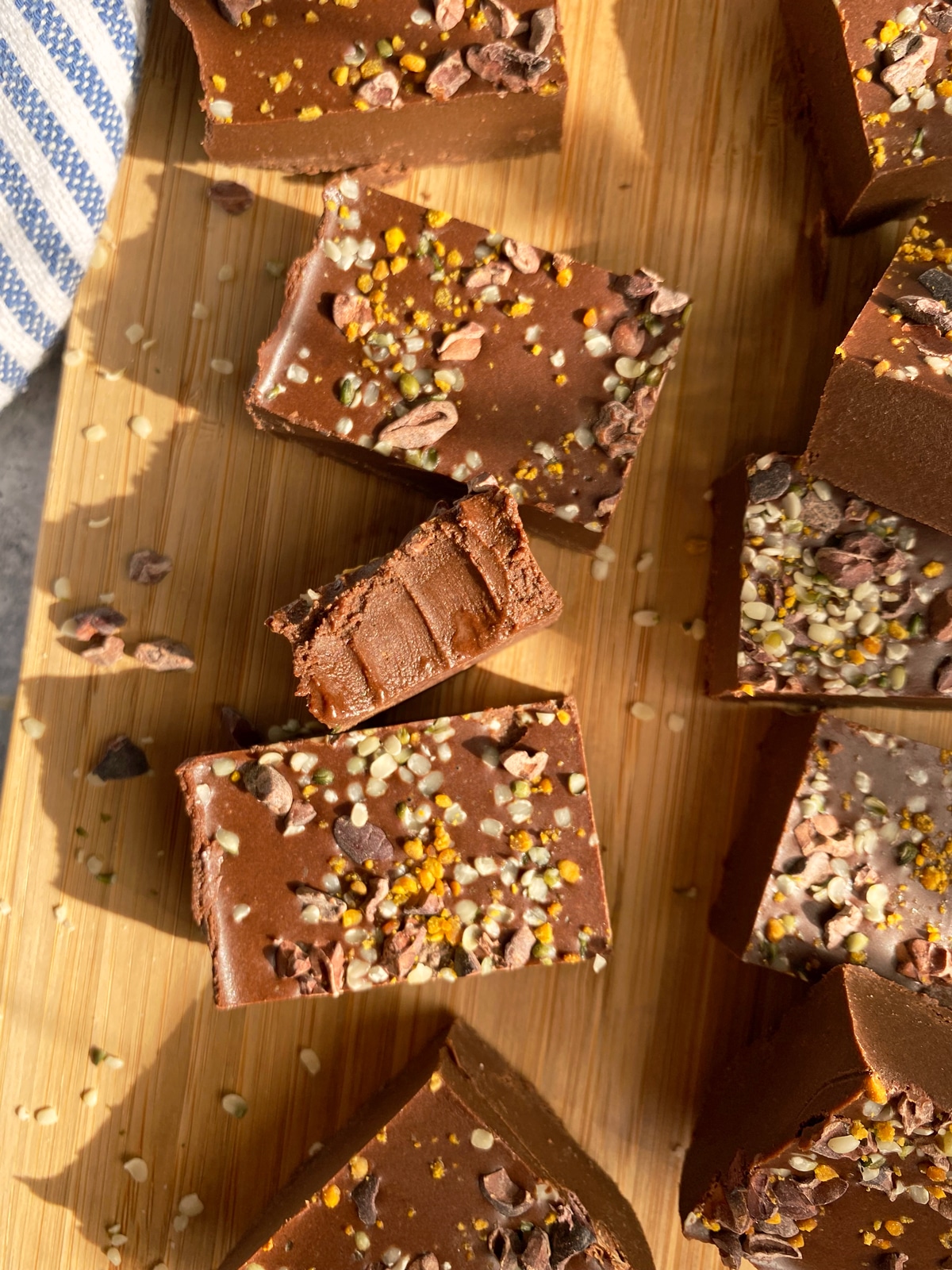 Bone Broth Protein Benefits
Bone broth protein powder can aid the body in so many ways. It is known to support:
healthy gut function
skin elasticity and hydration
joint comfort, flexibility, function and mobility
healthy immune system
I use bone broth (protein powder and liquid broth) to keep my body functioning properly, maintain younger looking skin and help support my gut and immune system. Not only is it great in savory recipes, but sweet ones as well. Besides fudge, I love using bone broth in homemade protein bars and baked goods such as banana bread.
Does Bone Broth Protein Work?
For me, including bone broth in my diet is more of a preventative measure. I've never had any gut, skin, hair or joint issues so I haven't seen any changes since using this product.
That being said, bone broth protein powder is a great alternative to conventional protein powders since it doesn't negatively affect gut health or digestion. As, a lot of conventional powders contain whey (which my body doesn't digest well), fillers and/or gut irritating sweeteners.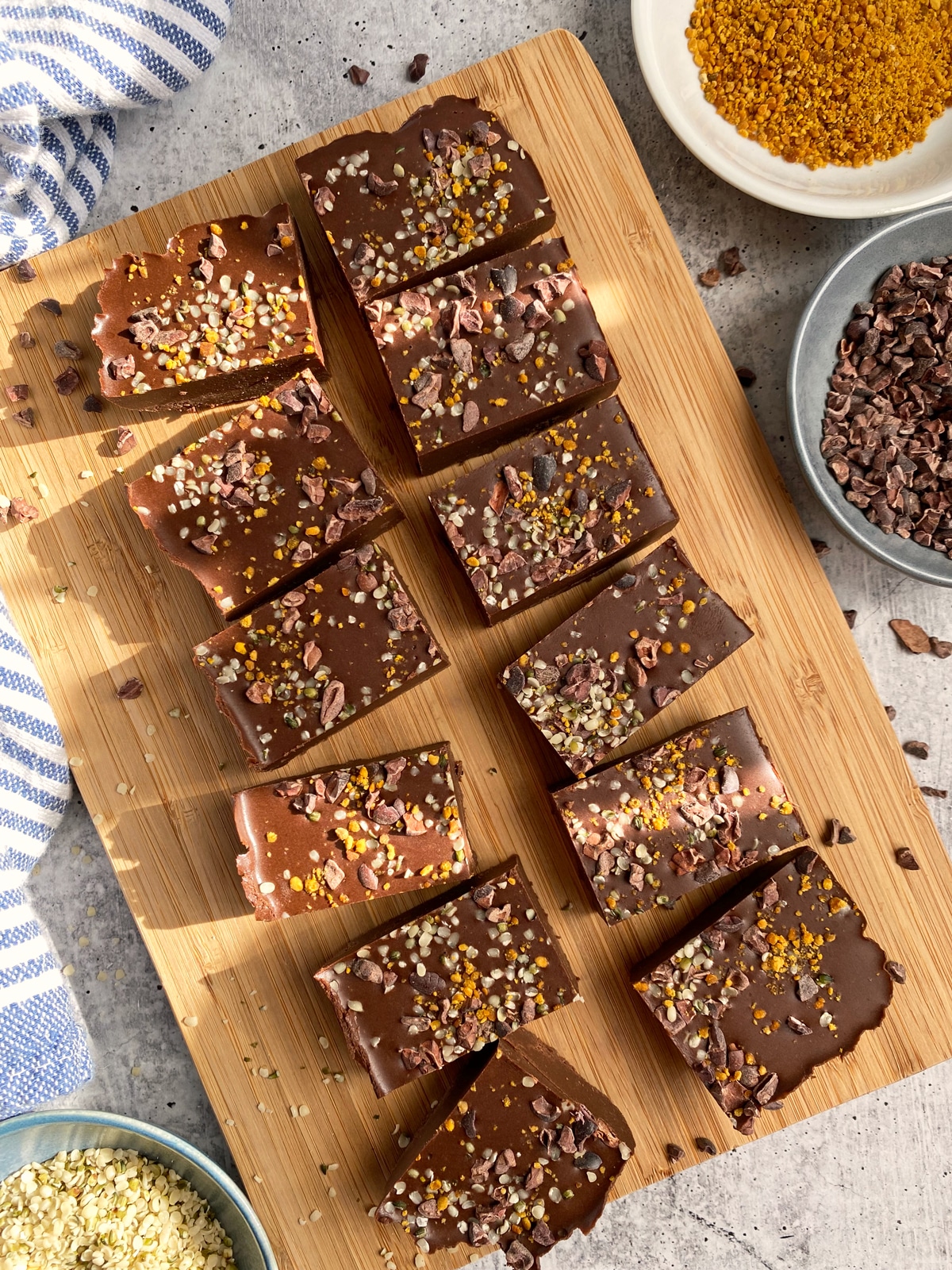 Bone Broth Protein Fudge
This fudge contains Ancient Nutrition's Chocolate Bone Broth Protein Powder; which comes from non-GMO, hormone free and cage free chickens raised in the US. It is sweetened with stevia (leaf) extract and monkfruit extract and does not have an aftertaste like some protein powders do.
The other ingredients in this healthy fudge include: dark chocolate and tahini. I recommend a dark chocolate between 70-85% cocoa content. The tahini really gives this fudge a smooth, silky texture. But, it can be substituted with any nut or seed butter.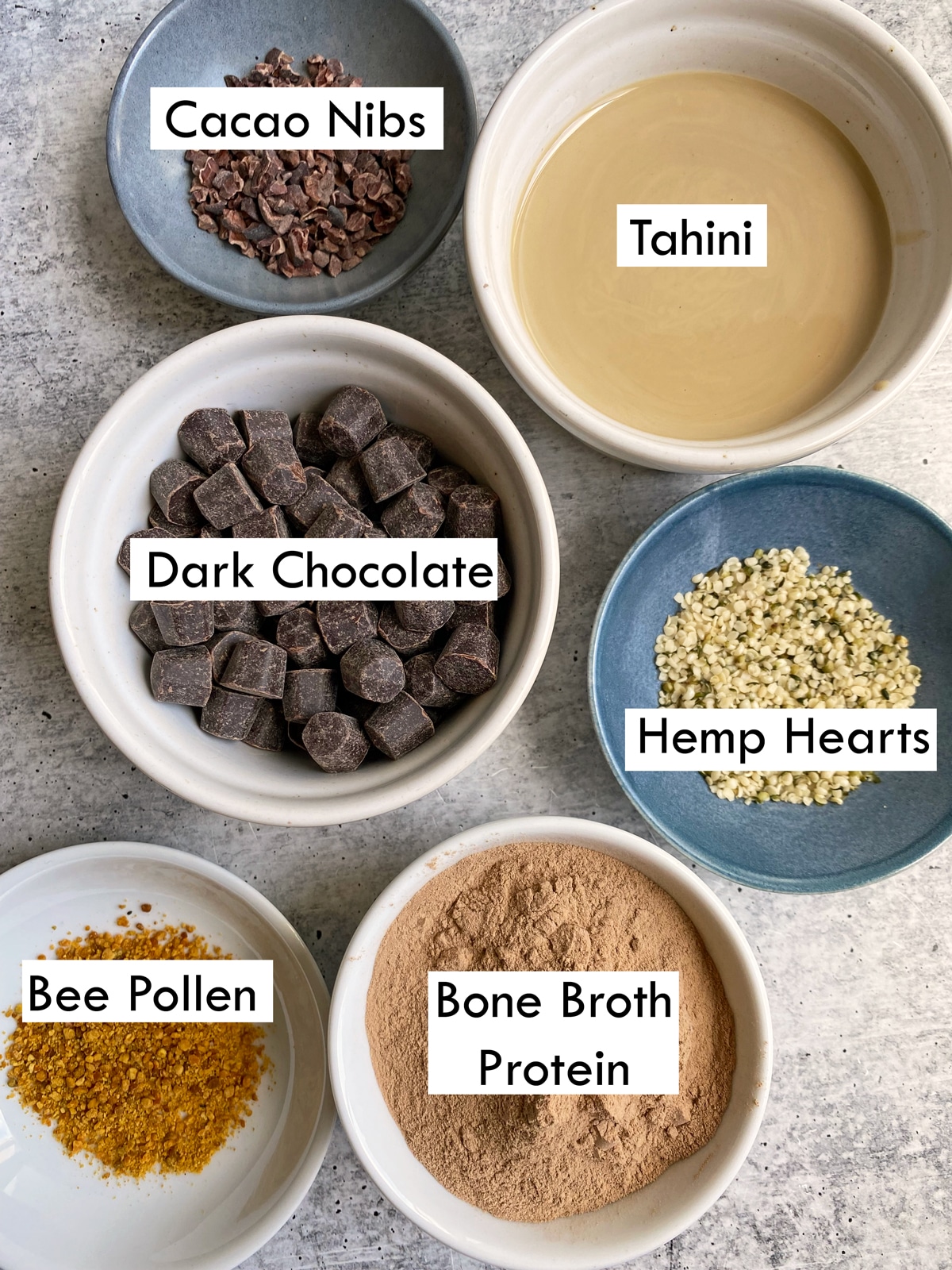 Fudge Toppings
Toppings are completely optional. For this recipe, I added hemp hearts, cacao nibs and bee pollen. These ingredients up the nutritional value of this recipe and add a bit of personality. However, they aren't required.
Here are some other great paleo fudge toppings:
goji berries
seeds or chopped nuts
dye-free sprinkles
chopped dried fruit
flaked sea salt
mini dark chocolate chips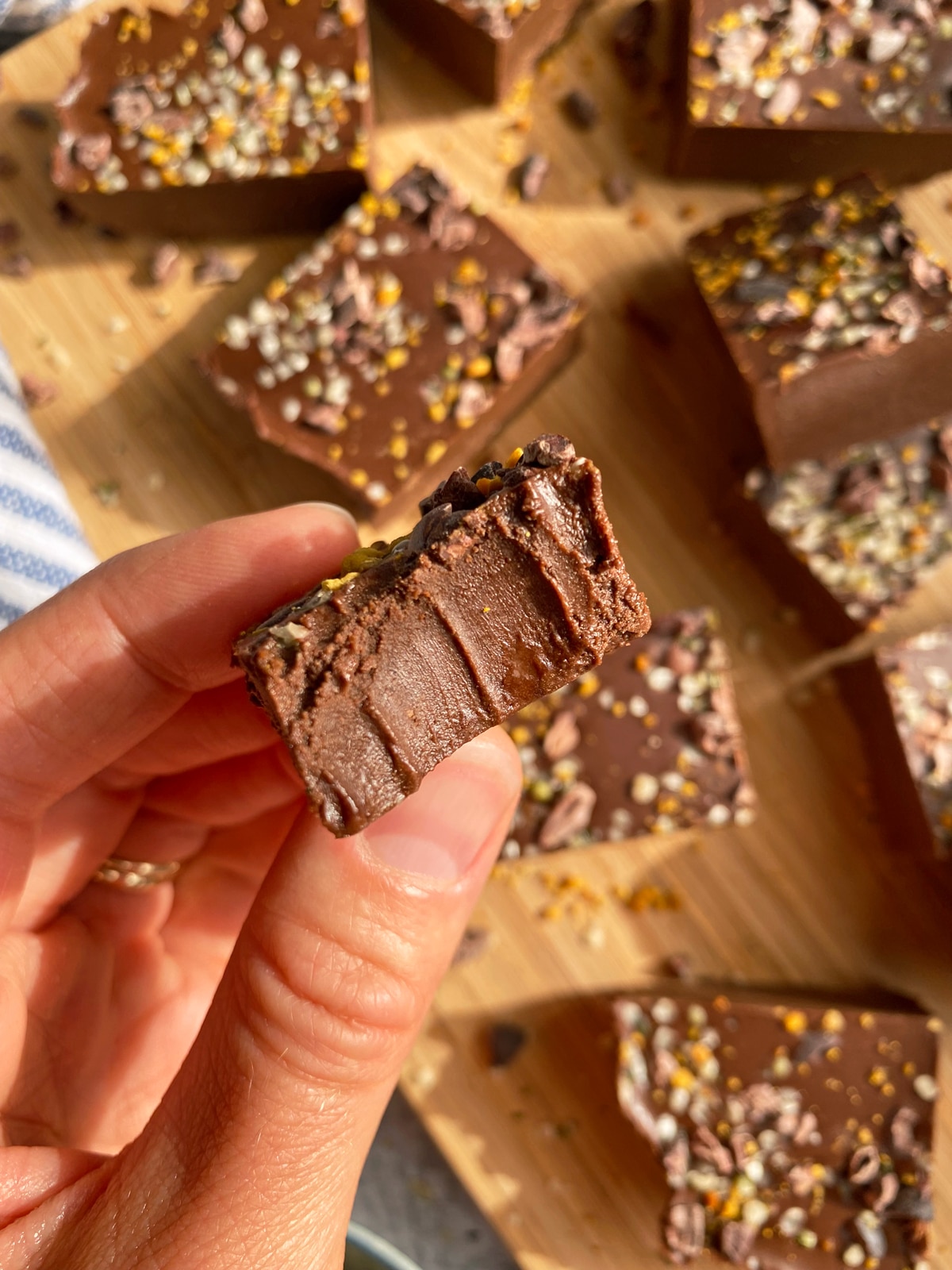 Storage
This protein fudge recipe is no-bake, acceptable for a Paleo and/or Keto diet and can be stored in either the fridge or freezer.
Its absolutely delicious and great to have on hand for a healthy, easy dessert. I love storing a batch in the freezer for when I need a quick chocolate fix!
Bone Broth Protein Recipes
Looking for more recipes using bone broth protein powder? Check these out:
Enjoy!
Print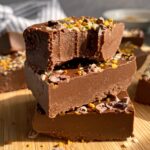 Bone Broth Protein Fudge (Paleo, Keto)
Author:

Katie

Prep Time:

5 minutes

Chill Time:

2 hours

Cook Time:

0 minutes

Total Time:

2 hours 5 minutes

Yield:

12

servings

1

x
---
Description
Healthy, gut friendly fudge made with bone broth protein, dark chocolate and tahini.  Perfect for a low sugar, Paleo and keto friendly treat.
---
---
Instructions
In a small saucepan, melt chocolate over low heat.  Stir frequently until fully melted.
Remove melted chocolate from heat and mix in tahini and bone broth protein powder.
Pour mixture into a foil-lined 8" x 4" loaf pan. 
Optional: top with hemp hearts, cacao nibs and bee pollen.
Place in fridge or freezer to set. (About 2 hours in the fridge.)
Store in fridge or freezer.
---
Notes
*Use the discount code BAKEITPALEO to save on any Ancient Nutrition purchase.
Keywords: chocolate bone broth protein, bone broth protein fudge, bone broth protein powder, keto chocolate fudge, healthy protein fudge, low carb fudge recipe, paleo chocolate fudge, paleo fudge recipe, paleo protein fudge, low carb dessert