These Chocolate Chunk Bone Broth Protein Bars are a high protein, low sugar snack. They're Paleo, Keto, egg free, dairy free and don't require any baking. Simply put, they're perfect for a quick energy snack or on-the-go breakfast.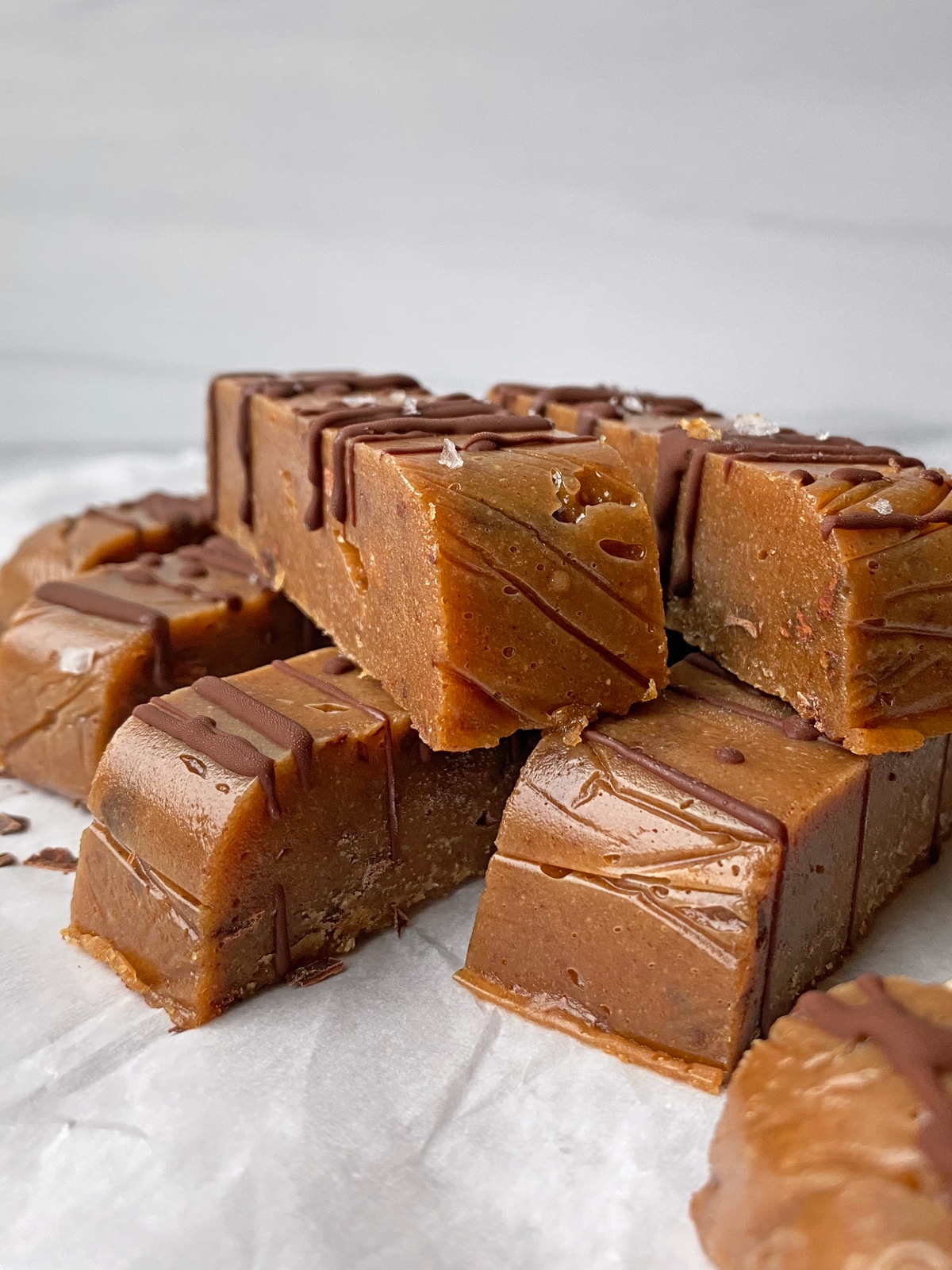 Bone broth, bone broth protein, gelatin and collagen are definitely trendy right now. But, for good reason! These products support healthy hair, skin and nails, help restore the gut, and boost immunity. Which are all reasons why I use them in my day to day life.
In fact, I made it my mission last year to work on healing my gut. And, I have definitely seen an improvement!
Incorporating more bone broth (and collagen) into my diet is one of the major changes I made. Which, let's be honest, is easy to do when creating recipes like collagen protein bars and these Chocolate Chunk Bone Broth Protein Bars.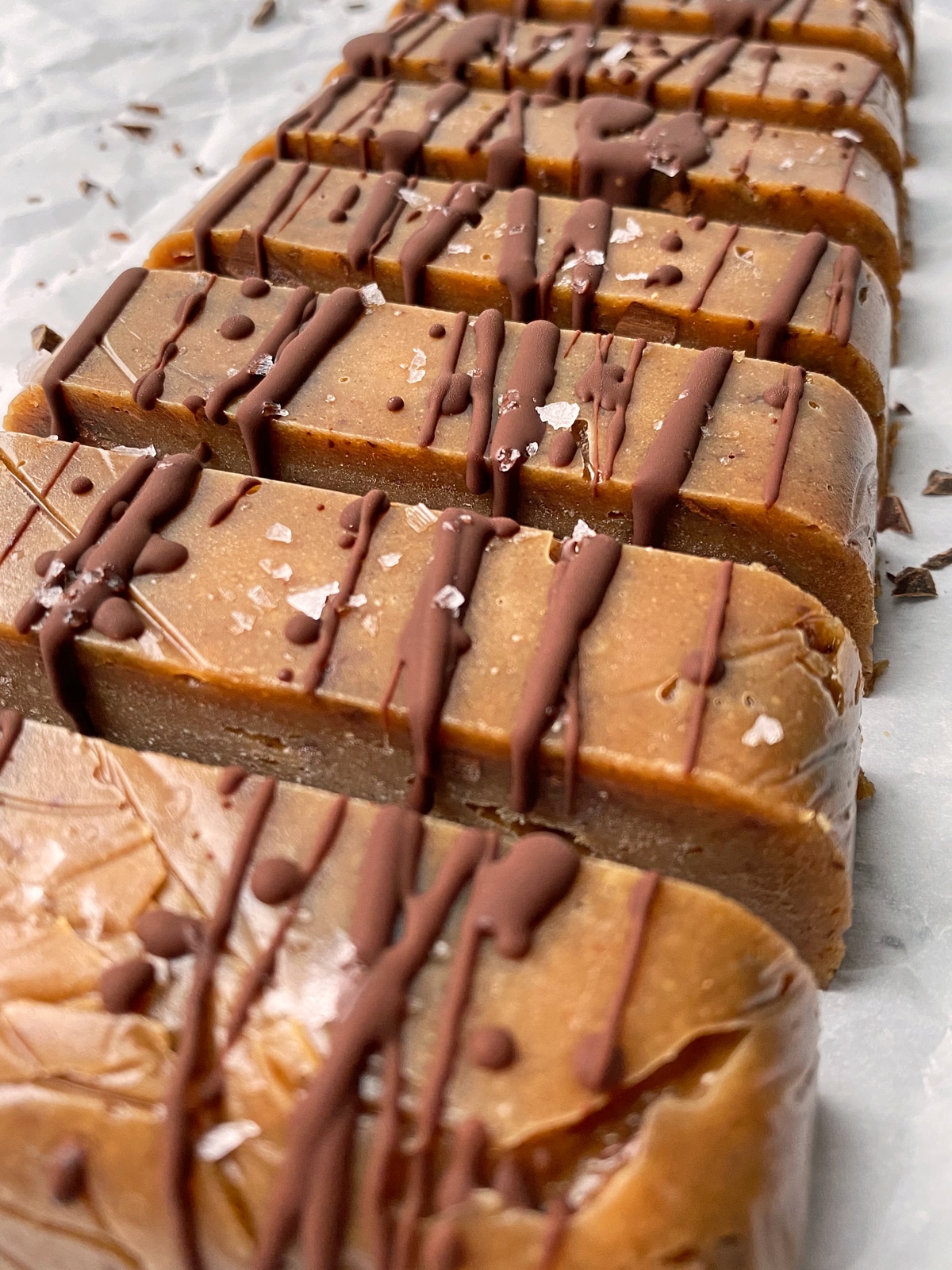 Now, I've been using collagen for years (before it was "a thing"). But it wasn't until last year that I was introduced to bone broth protein powder. I'll be honest, my first reaction was "Yuck!" Especially after seeing bloggers create sweet recipes with this savory protein powder.
However, after receiving some bone broth protein powder of my own and playing around with it myself, I quickly fell in love.
Not only is bone broth protein great in savory dishes (like soups and sauces), but I also enjoy using it in baked goods. The unflavored, unsweetened bone broth protein is my "flavor" of choice.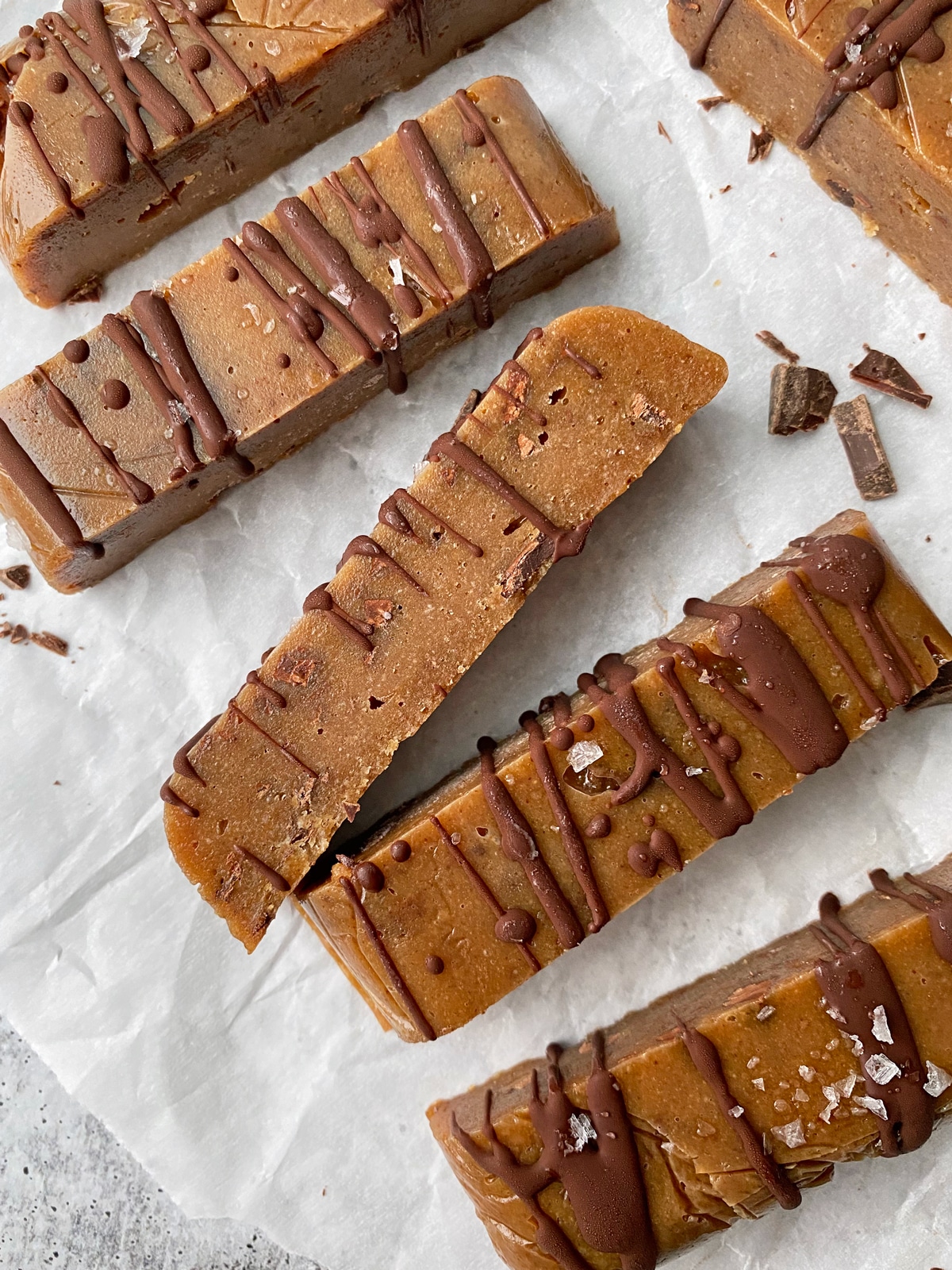 How to Use Bone Broth Protein Powder
Obviously, bone broth protein is great in this recipe. But there are many other ways to use it! It works in both sweet and savory dishes. Think soups, smoothies, baked goods, freezer fudge, ect.
Here are a few great recipes using bone broth protein: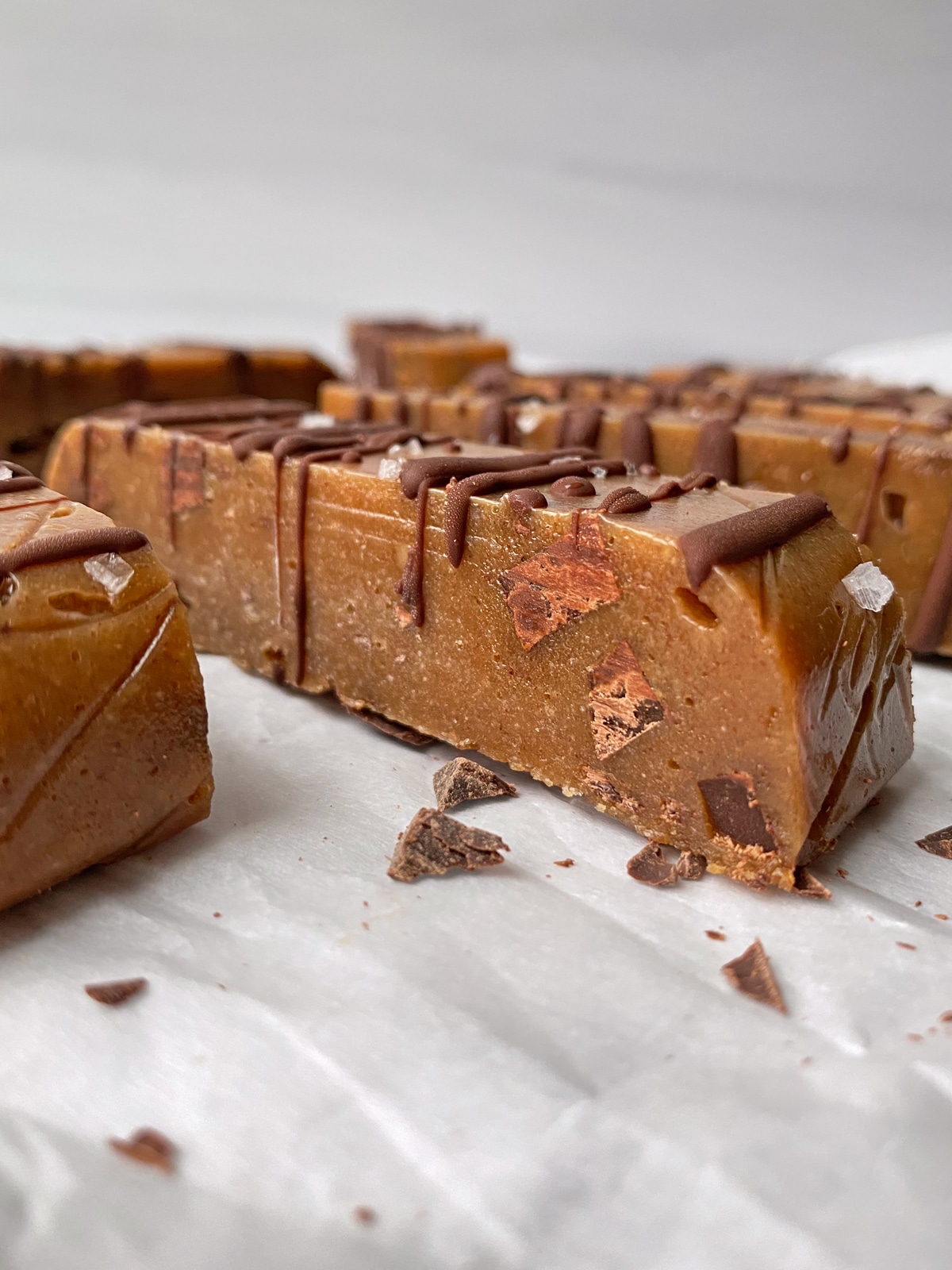 One of my favorite protein bars to buy is the Ancient Nutrition Bone Broth Bars. They contain simple, healthy ingredients and actually taste good. But the downside is that they're expensive. The best solution? Making my own!
These homemade keto protein bars are perfect for a gut friendly snack or a low carb dessert. They are:
Paleo
Keto
egg free
dairy free
low carb
no bake
easy to make
Ingredients in Bone Broth Protein Bars
These Chocolate Chunk Bone Broth Protein Bars are made with Ancient Nutrition's unsweetened bone broth protein powder, almond butter, almond flour, monk fruit, chocolate and a couple other minor ingredients. They are the perfect alternative to Ancient Nutrition's bone broth bars because they can be made at home and cost less.
Here's what you need:
bone broth protein powder
almond flour
almond butter
monk fruit sweetener
vanilla
water (or almond milk)
dark chocolate chunks (or any chocolate)
salt
The unsweetened bone broth protein powder, which comes from non-GMO, hormone free, cage free and properly raised chickens, is my top choice for this recipe. One scoop boasts 20 grams of protein and no carbs! So if you're looking for a low carb, high protein source you can't get much better than that nutritional profile.
This bone broth protein bar recipe is gluten free, grain free, dairy free, egg free and low in sugar. These bars are no-bake and great for a high protein snack to prep ahead for a busy week.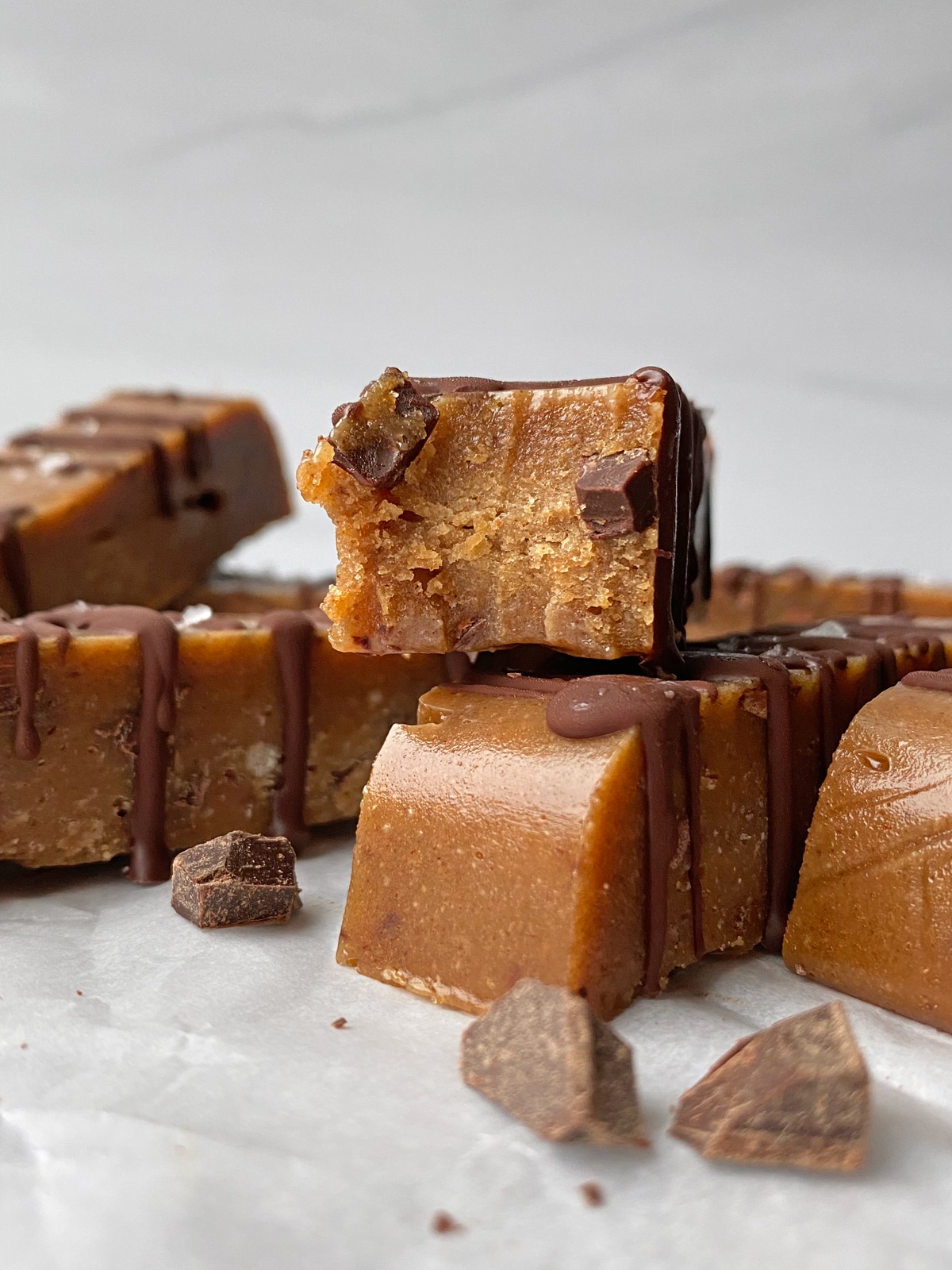 How to Make Protein Bars using Bone Broth Protein
The process for making these no bake, keto friendly protein bars is simple.
First, combine the powdered bone broth, almond flour, salt and sweetener in a medium-sized mixing bowl. Then, add in the remaining ingredients (except chocolate chunks). Mix until a thick, sticky dough forms. Chop the dark chocolate chunks and fold into the batter.
Next, line a 8" x 4" baking pan (I used plastic wrap) and press the dough into the pan. Freeze overnight, or at least 2 hours to set.
Afterwards, cut the bars into 8 equal pieces. As an option, you may drizzle with additional dark chocolate and top with flaked sea salt.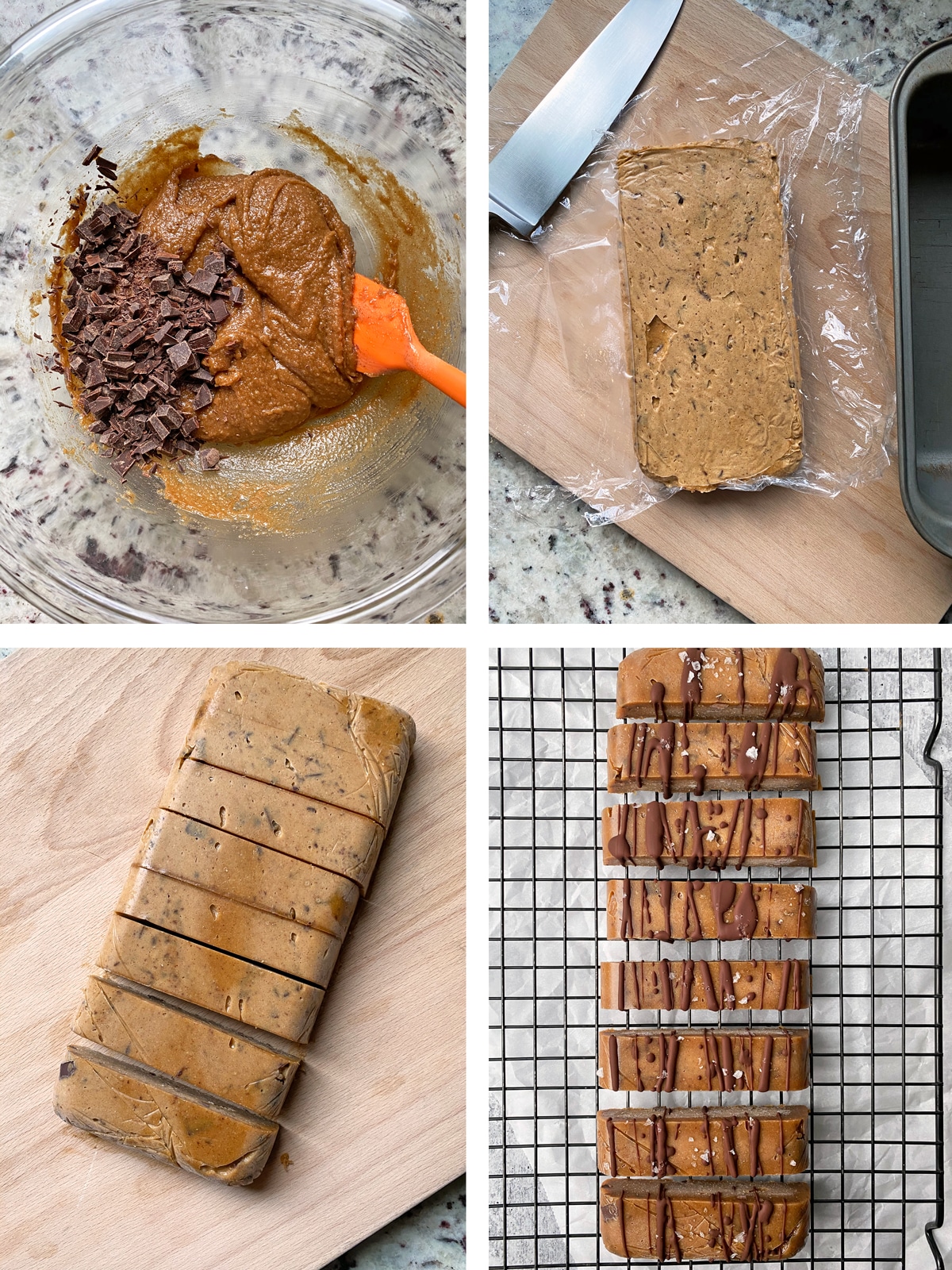 How to Store Homemade Protein Bars
These protein bars must be stored in the fridge or freezer. However, they are best kept in the freezer. At room temperature, they soften.
More Paleo Protein Bar Recipes
For more easy, no bake protein bars, check these out:
Enjoy!
Print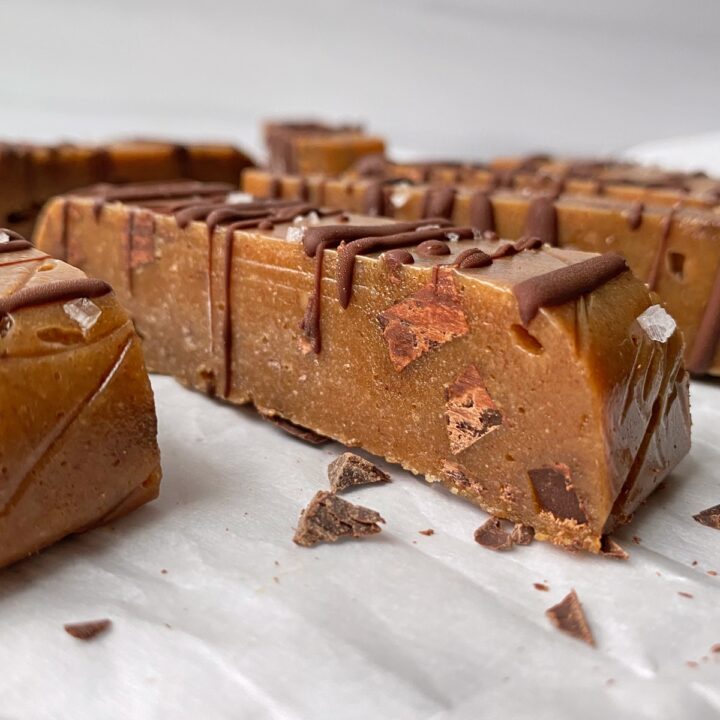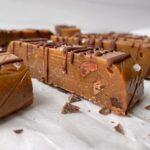 Chocolate Chunk Bone Broth Protein Bars
Author:

Katie

Prep Time:

10 minutes

Cook Time:

0 minutes

Total Time:

10 minutes

Yield:

8

protein bars

1

x
---
Description
Healthy, low carb protein bars using Ancient Nutrition's Bone Broth Protein Powder.
---
---
Instructions
In a medium-sized mixing bowl, combine almond flour, bone broth protein, monk fruit and salt.

Add in almond butter, water and vanilla.  Mix with a spatula (batter should become thick and sticky).

Chop the dark chocolate and fold it into the batter.

Place batter in a lined 8" x 4" baking pan and firmly press down using a spatula or your hands*

Place in freezer at least 2 hours to set.

Remove from freezer, cut into 8 pieces of equal size.

Optional: top with melted chocolate and flaked sea salt.

Best stored in freezer.
---
Notes
*When making these protein bars, I lined my pan with plastic wrap.  I simply cut a long piece of plastic wrap, folded it in half (to make it thicker) and then placed it in the pan.  Next, I added the dough and evenly spread it out with a spatula.  Then I folded the plastic wrap over the dough and used that as a barrier between my hands and the dough to press down the bars.  After freezing, removal of the bars was easy and the plastic wrap peeled off perfectly.
Keywords: protein bar, bone broth, snack, low carb, Paleo, Keto, egg free, no bake