This Chocolate Plantain Mug Cake is great for a simple morning breakfast or healthy Paleo dessert. It is made with green plantain flour, cocoa powder and can contain eggs or flax eggs; making it perfect for an easy Vegan breakfast. This recipe is nut free, grain free, dairy free and can easily be made egg free.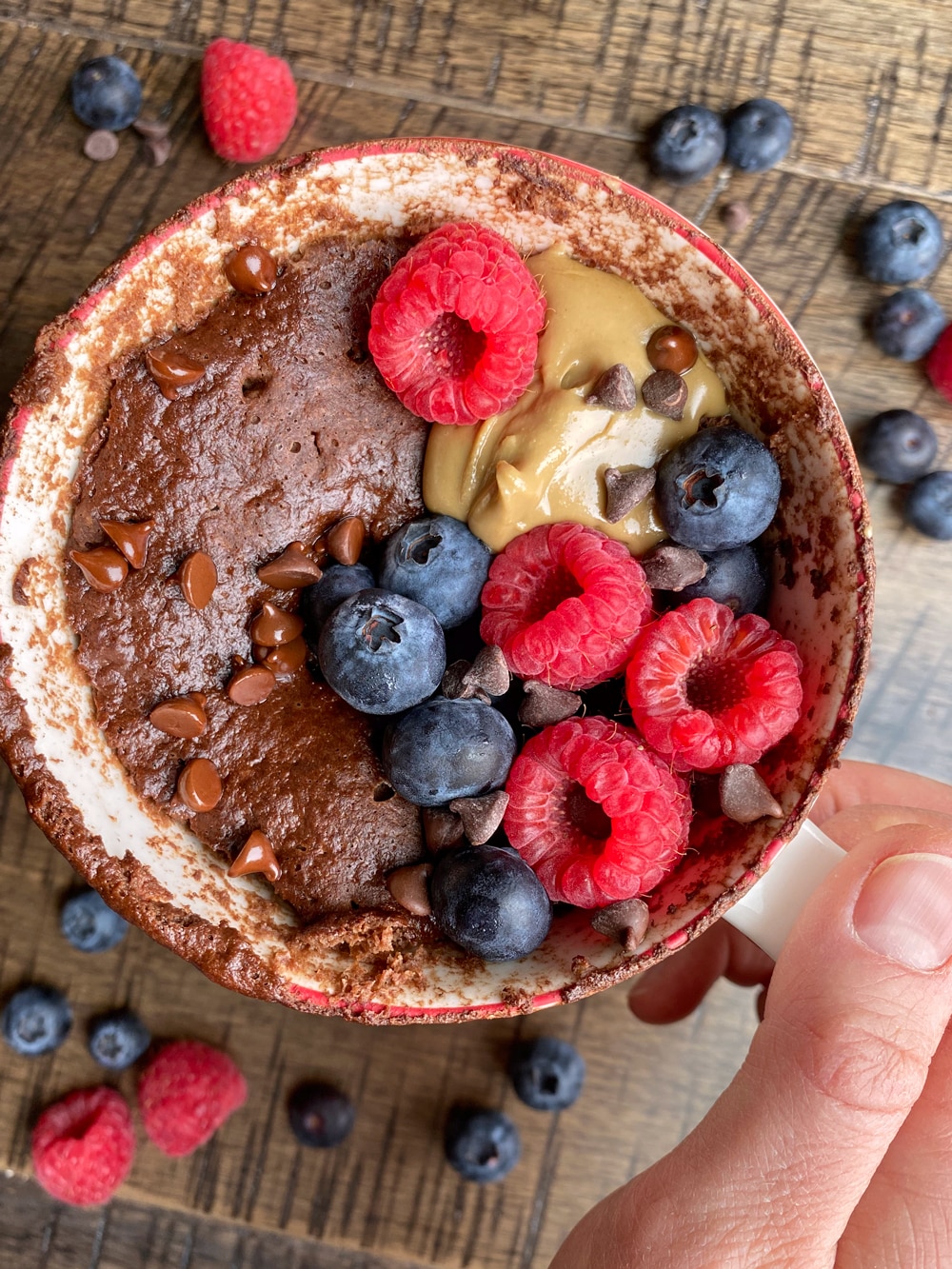 When I first discovered green plantain flour (see THIS post) I immediately fell in love!
What is Plantain Flour?
Plantain flour is made from peeled, dried plantains that are ground up into a fine powder. The plantain flour in this recipe comes from green, unripe plantains. One extra large, green plantain can produce about two cups of plantain flour.
It is the perfect all-purpose flour alternative. (Use ¾ cup plantain flour for every 1 cup all-purpose flour.) In addition, it is completely:
Gluten free
Grain free
Nut Free
Paleo friendly
Vegan friendly
Allergy free
Basically, you can't go wrong with plantain flour, as it fits most diets. It's even a great baking flour to use for babies and toddlers!
Another plus is that unlike using whole, raw plantains, you don't need a food processor when working with plantain flour.  In addition, it has a neutral flavor, making it perfect for any type of cooking or baking.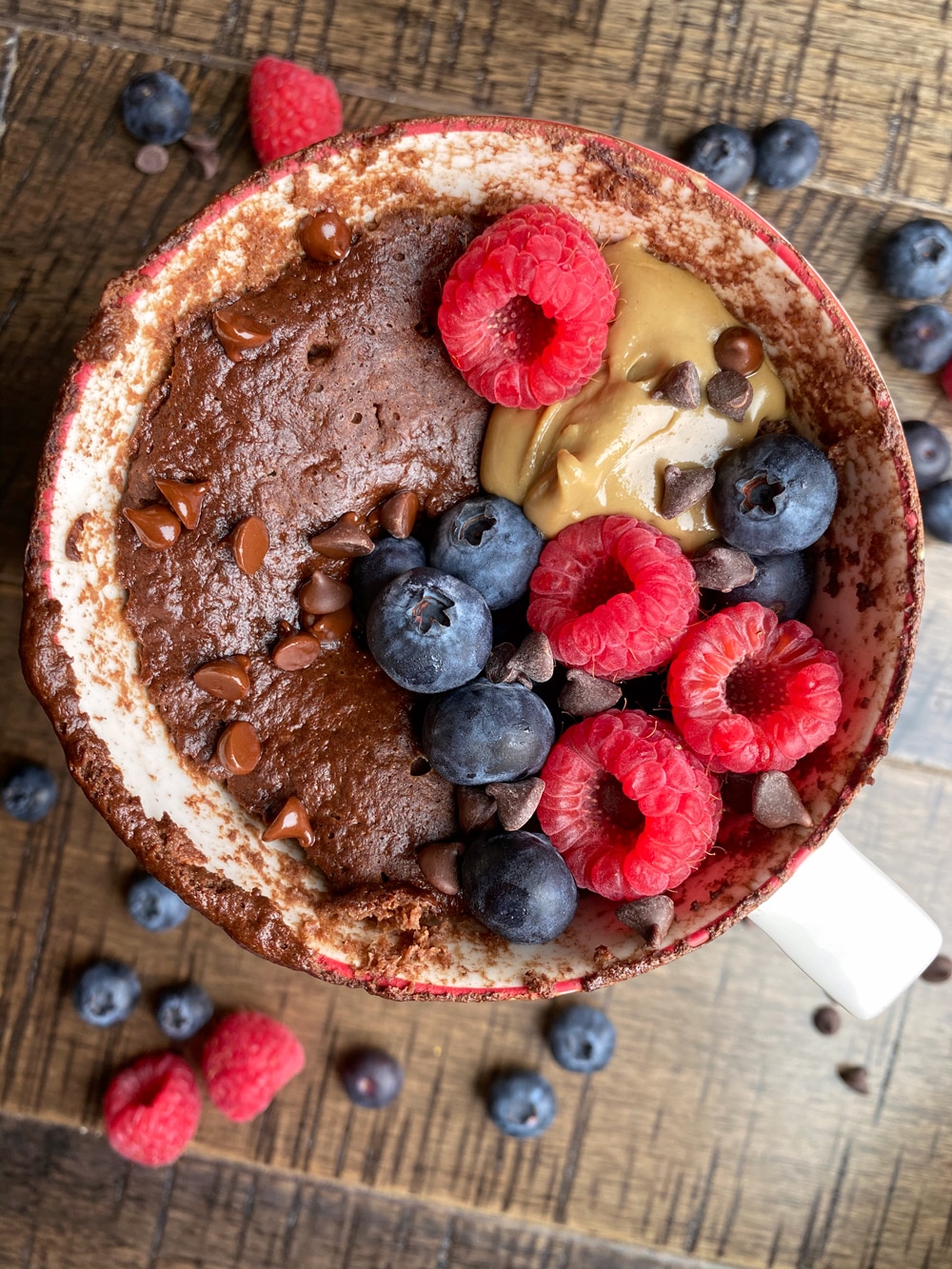 Since I've been using more and more plantain flour in my baking, I've discovered a few things about this fine, powdery baking ingredient.
Baking with Plantain Flour
First off, plantain flour tends to be really dry. It works best in combination with other foods/ingredients such as: bananas, apple sauce, yogurt, nut/seed butters and pumpkin. All of these foods add moisture to baked goods and compliment the dryness of green plantain flour.
This particular recipe uses bananas for moisture. Plus, this mug cake is only sweetened with bananas; making it the ultimate healthy mug cake.
Another thing to note about green plantain flour is that it has a fairly neutral flavor. Unlike nut flours, seed flours and tigernut flour, plantain flour doesn't really affect the taste or sweetness of a baked good.
In other words, you'll want to use plenty of flavoring whenever you're baking with green plantain flour.  For this recipe, I used banana and cocoa to flavor the mug cake (which is subtly sweet).  Some vanilla extract or additional sweetener would work nicely too!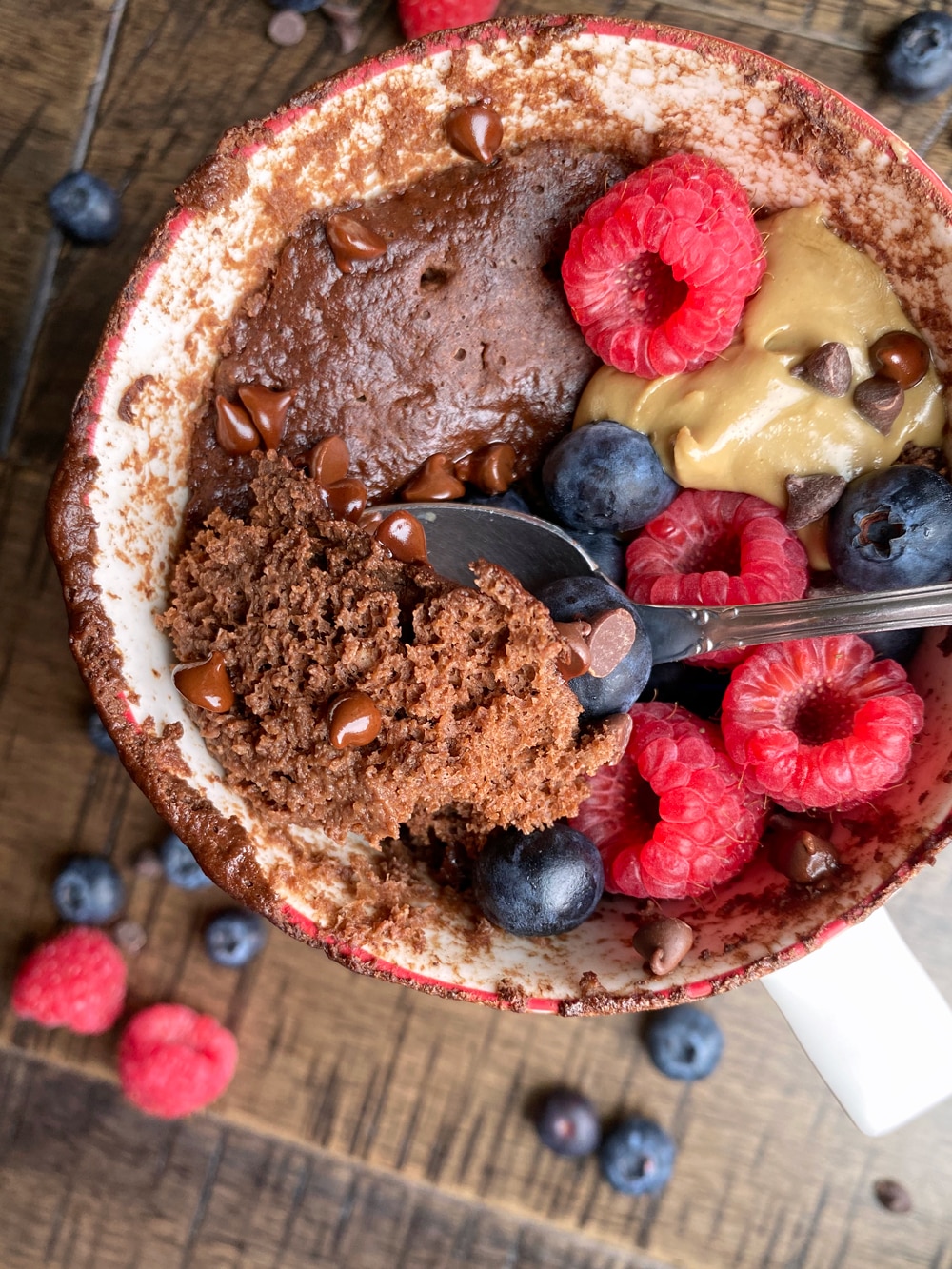 Ingredients in Chocolate Plantain Mug Cake
This Vegan mug cake is made with just 4 ingredients (plus water, baking powder and salt). Do those really count??? Anyway, here's what you need:
ripe banana
cocoa powder
egg or flax egg
salt
water
This healthy chocolate mug cake recipe is not very sweet. That was intentional on my part. As, I enjoy eating mug cakes for breakfast and don't want to over-do it on the sugar.
So, if you want a sweet mug cake, I suggest adding a tablespoon (or two) of your favorite sweetener. For instance, maple syrup, honey or monk fruit.
How to Make a Mug Cake
My strong love for mug cakes comes down to one thing: they're SO easy to make. They literally take 5 minutes to make and bake. Here's what you need to do:
First, mash the banana in a large mug or small microwaveable bowl.
Then, add in the remaining ingredients. Mix well.
Lastly, bake the mug cake in the microwave (on high) for 2 minutes. Of course, every microwave is different, so cooking time may vary slightly. However, when the mug cake is done it should be slightly under-baked in the center. As the mug cake cools, it will firm up. Cooking too long results in a dry, undesirable texture.
See photos below for the process: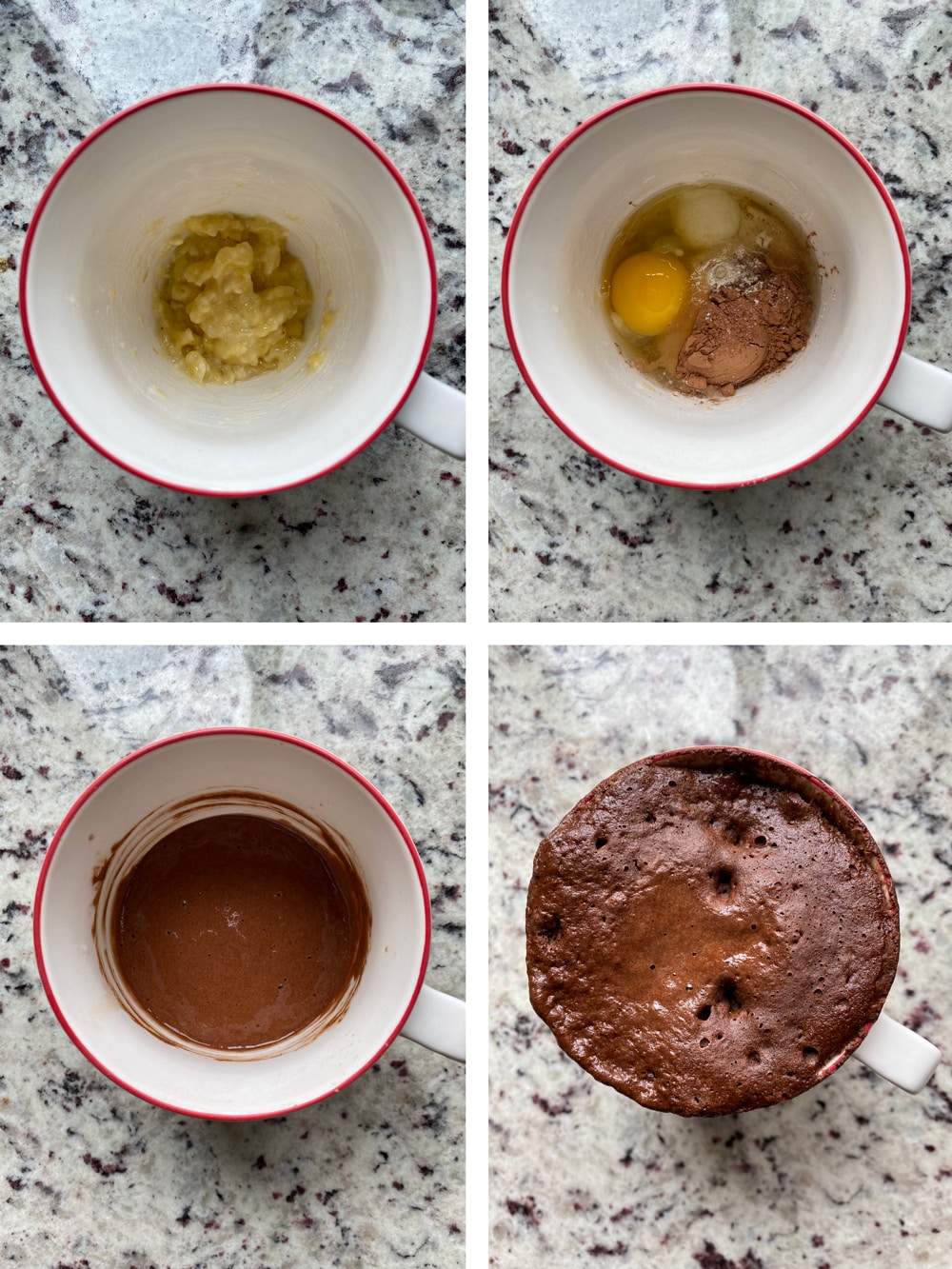 As the mug cake cools, it will sink back into the mug. (You can see this in the photos.) This may not look the most appealing, but the taste is still on point 😉
And of course, toppings are a must!
Best Paleo Mug Cake Toppings
berries (frozen or fresh)
nut/seed butter
maple syrup, honey
chocolate chips, cacao nibs
bee pollen
nuts, seeds, shredded coconut
dairy free yogurt
Print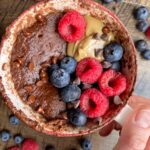 Chocolate Plantain Mug Cake
Author:

Katie

Prep Time:

3 minutes

Cook Time:

2 minutes

Total Time:

5 minutes

Yield:

1

mug cake

1

x
---
Description
An easy, healthy mug cake recipe made with green plantain flour.  Paleo, Vegan and nut free.
---
---
Instructions
Mash banana in a large mug or small bowl.
Mix in remaining ingredients.
Place dish in the microwave and microwave on high for 2 minutes.
Cool slightly, top with your favorite toppings and eat!
---
Notes
For best results, measure ingredients by weight.
*This recipe works well with an egg or flax egg.  Flax egg = 1 Tbsp ground flax + 3 Tbsp water
Keywords: mug cake, plantain flour, easy recipe, Paleo, Vegan, Nut Free, snack, breakfast, chocolate