I may have posted a zucchini muffin recipe just a few weeks ago. But, can you blame me for putting another one up so soon after? Not to worry, these Chocolate Zucchini Muffins with Almond Flour are quite different from any other muffin recipe on my blog.
These muffins are made with a mixture of cacao flour, almond flour and tapioca flour. Furthermore, they are sweetened with maple syrup, flavored with a splash of vanilla and extra moist all thanks to the shredded zucchini. And even better, you don't need a food processor or blender. These Paleo muffins are made in one bowl - simple and easy!
Although I've been going through a huge "no-bake" phase, the weather here hasn't been all that nice. My husband and I recently vacationed in Phoenix and it suddenly felt like summer. But, then we returned home to rain and wind and gloomy skies. Yep, definitely not summer yet.
However, summer fruit and veggies are surely starting to crop up in grocery stores. Berries have been so good lately. And zucchini too! Plus, I always seem to be in need of recipes with added vegetables. My (nearly) two year old son doesn't seem to have his mother's taste buds when it comes to anything green. My solution: sneaking in veggies at any opportunity!
Chocolate Zucchini Muffins for Toddlers
You bet I tested these muffins on my kids. Personally, I'm all about eating my vegetables as vegetables and my treats (muffins) as treats. But, with a super picky child, combining the two is the only way I can get greens into his diet.
These chocolate muffins are sweet enough for children to find appealing, but they aren't overloaded with sugar. They contain simple, Paleo friendly ingredients. Meaning, gluten free, grain free, dairy free, refined sugar free and made without vegetable oils. Also, you cannot taste the zucchini one bit!
Ingredients in Paleo Chocolate Zucchini Muffins
These Chocolate Zucchini Muffins don't contain any oil or butter. Yep, none at all! It's not a necessary ingredient for getting the perfect muffin texture and flavor.
The ingredients that are needed include:
baking soda
salt
shredded zucchini
eggs
maple syrup
almond milk
vanilla extract
Ingredient Substitutions
Not a whole lot of substitutions are recommended for this particular recipe. You know, since these are grain-free, Paleo and chocolate-almond flour zucchini muffins. But, a few that will work include the following:
Tapioca Flour
Tapioca flour may be swapped with arrowroot flour. In my experience, these two ingredients are interchangeable.
Cacao Powder
Cacao powder my be substituted with cocoa powder. I prefer cacao powder simply because I've found it easier to find organic, high quality cacao at a decent price, rather than cocoa.
Maple Syrup
Any liquid sugar or sweetener will work in place of the maple syrup.
Almond Milk
Almond milk can be substituted with any milk. Coconut milk would be my top choice.
How to Make Easy Gluten Free Chocolate Zucchini Muffins
These muffins are made in just one bowl. Yay! So, so easy!
First, combine all dry ingredients in a medium sized mixing bowl.
Next, add in all wet ingredients. Mix well. Note: to shred my zucchini, I used a simple hand-held grater similar to THIS one. Mine is a ribbon grater, but any size/type will do. Just be sure to measure the zucchini by weight.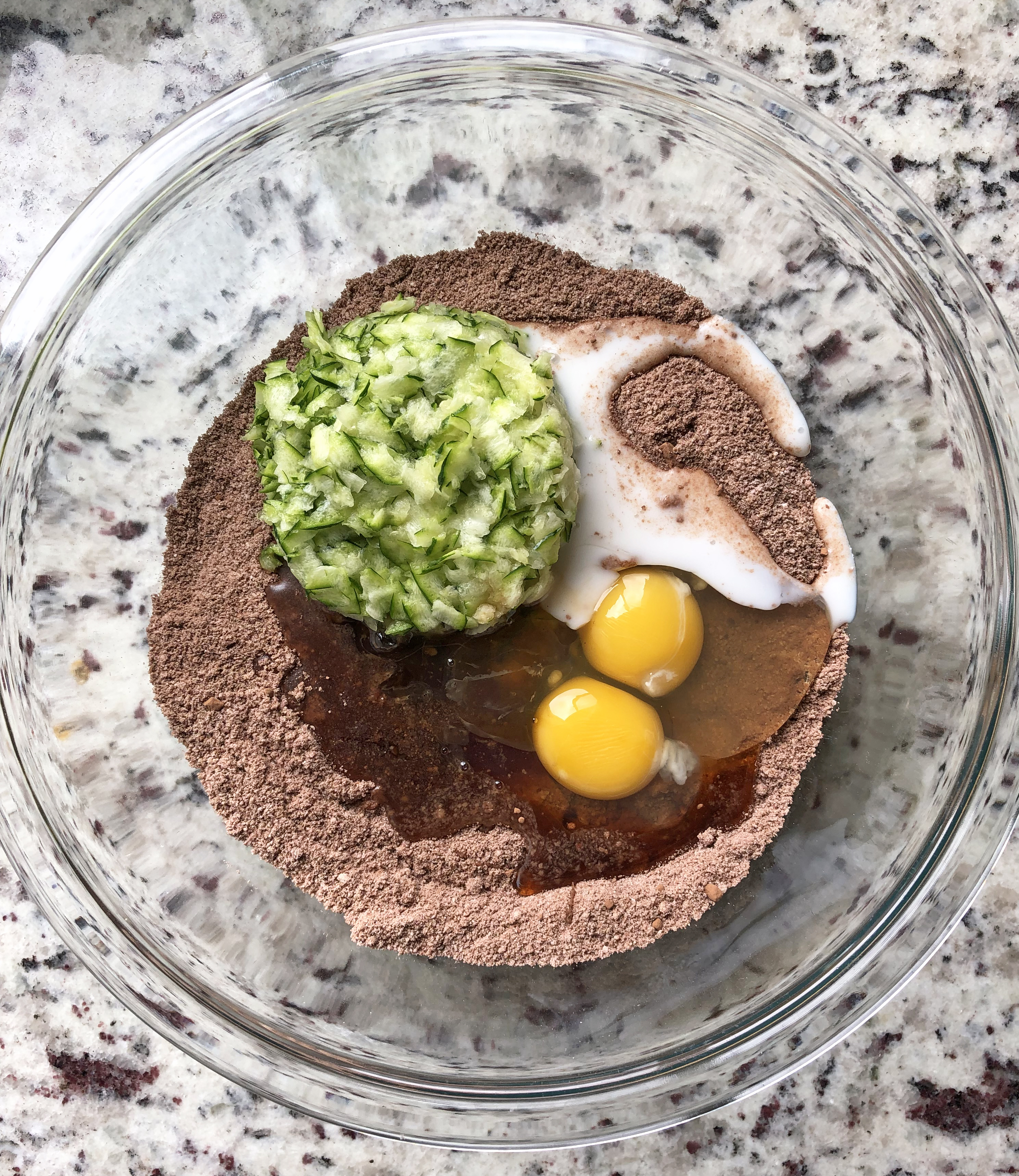 After mixing, pour the batter into a lined muffin pan. I like using silicone muffin cups because they are reusable and peel off easily.
Put the muffins in the middle rack of your preheated oven. Then, bake at 350 degrees F for 25-30 minutes.
Lastly, take the muffins out of the oven and cool them on a wire cooling rack. If using silicone liners, give the muffins a couple minutes to cool before removing them from the liners.
Print
Chocolate Zucchini Muffins with Almond Flour
Author:

Katie

Prep Time:

10 min

Cook Time:

25 min

Total Time:

35 minutes

Yield:

1

dozen muffins

1

x
---
Description
Healthy, kid friendly chocolate muffins with zucchini.  Moist, light and perfect for a snack or to eat with breakfast.
---
---
Instructions
Preheat oven to 350 degrees F
In a medium-sized mixing bowl, combine all dry ingredients.
Add in wet ingredients.  Whisk until batter is smooth.
Pour batter into a silicone lined muffin pan (recipe makes 12 muffins).
Bake at 350 degrees for 25-30 minutes.
Remove from oven and cool on cooling rack to room temperature.
---
Notes
Muffins best stored in fridge
Keywords: muffin, zucchini, chocolate, Paleo, dairy free, snack, dessert, kid friendly