These Vegan Tigernut Flour Blueberry Muffins are made with tigernut flour, sweetened with bananas and completely nut free. They are perfect for a lightly sweetened, simple breakfast or snack. In addition, they're toddler friendly, don't have any added sugar, are Paleo and free of all common allergens.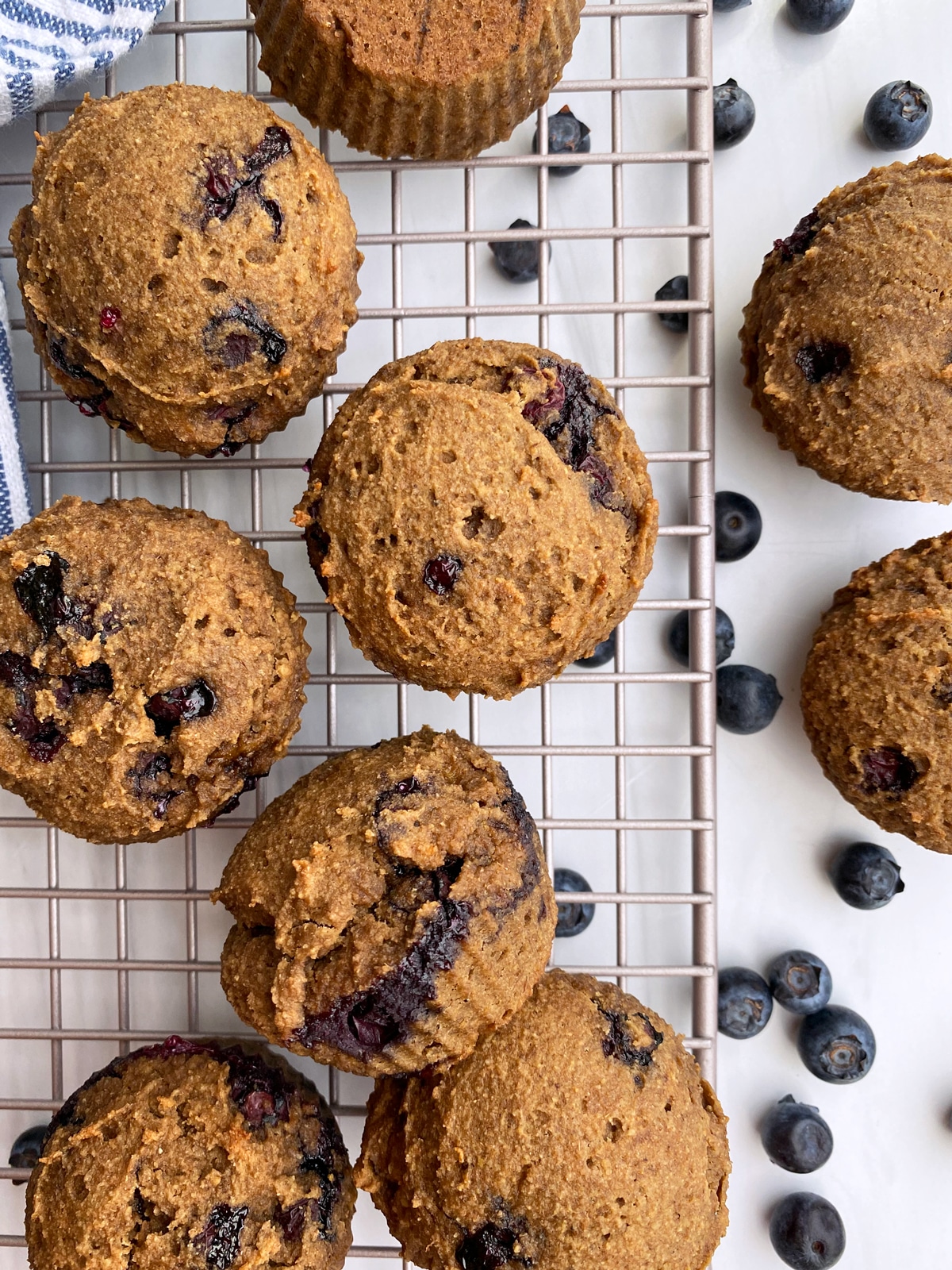 Baking with tigernut flour has been my favorite thing lately! From waffles to cookies, I can't get enough of this nut free Paleo flour.
Why use tigernut flour?
Well, earlier this year, I went on an elimination diet for my daughter's eczema (she was/is exclusively breastfed). Tigernut flour became a staple in my diet because it is nut free, seed free and allergy friendly.
For a bit of background: my baby girl started experiencing severe eczema at 3 months old and I put myself on an elimination diet to determine whether or not it was food related. Long story short, her eczema isn't entirely due to food allergies.
Her eczema, red skin and severe itching was/is heartbreaking, to say the least. (We still haven't fully cured it.) It was the reason for many sleepless nights and anxious emotions. BUT, trying to see the good, I also saw this as an opportunity to experiment with more allergy friendly (and still Paleo) recipes.
So yeah, tigernut flour (and cassava flour) were a huge help during those couple months.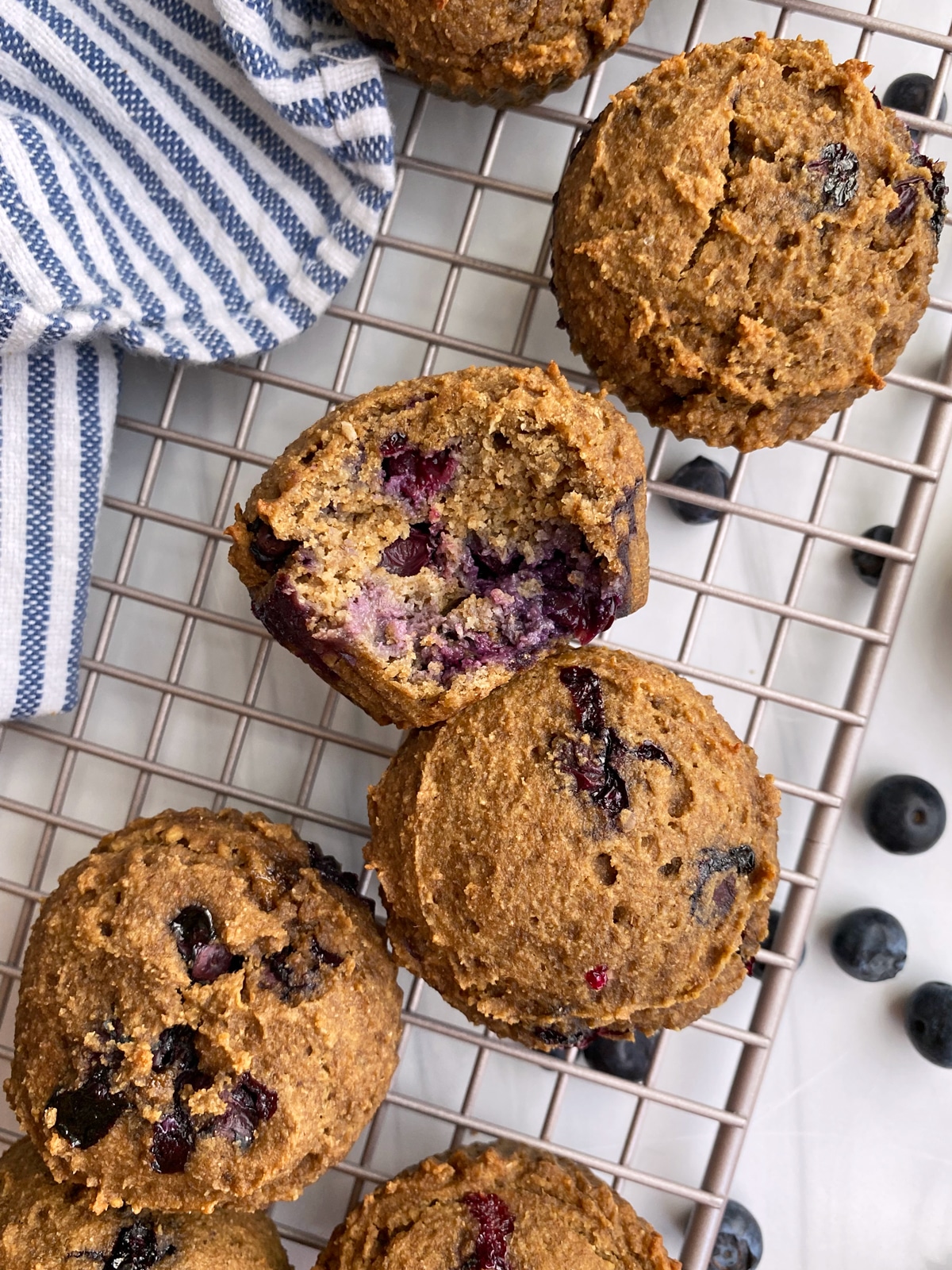 What is Tigernut Flour?
If you've never used tigernut flour before, you may have a few questions floating through your mind. Such as:
what is tigernut flour
is tigernut flour Paleo friendly
what does tigernut flour taste like
how do I use tigernut flour
Well, first off, tigernut flour IS Paleo friendly. Not only Paleo, but gluten free, grain free, nut free and Vegan as well.
Tigernut flour is made from finely ground, peeled tigernuts. As confusing as it may be, tigernuts are not actually nuts, but small root vegetables. They are naturally sweet and nutty in flavor, perfect for baking!
Additionally, they contain a lot of fiber, a decent amount of potassium, Vitamin E and iron, as well as resistant starch. This resistant starch has prebiotic properties that helps promotes the growth of beneficial bacteria in the gut.
In my opinion, tigernut flour tastes like a sweet nut flour, similar to almond flour. I have also found that it bakes relatively the same as almond flour. Tigernut flour is naturally sweet and has a fine (not gritty) texture, so I love using it in baked goods.
Where To Buy Tigernut Flour
I have two brands of tigernut flour that I love and use:
The best place to buy tigernut flour is online. You can either purchase it from Amazon, or on the company website.
Other places to find tigernut flour include health food stores that sell a large selection of organic products. But, I've found that buying online is cheaper.
Now that we've got tigernut flour covered, let's dive back into these muffins...
These healthy Vegan blueberry muffins are:
Paleo
Vegan
gluten free & grain free
nut free
dairy free
egg free
only sweetened with fruit
I love this tigernut muffin recipe because these muffins are moist, nut free and don't contain any added sugar.  They are only sweetened with bananas and blueberries.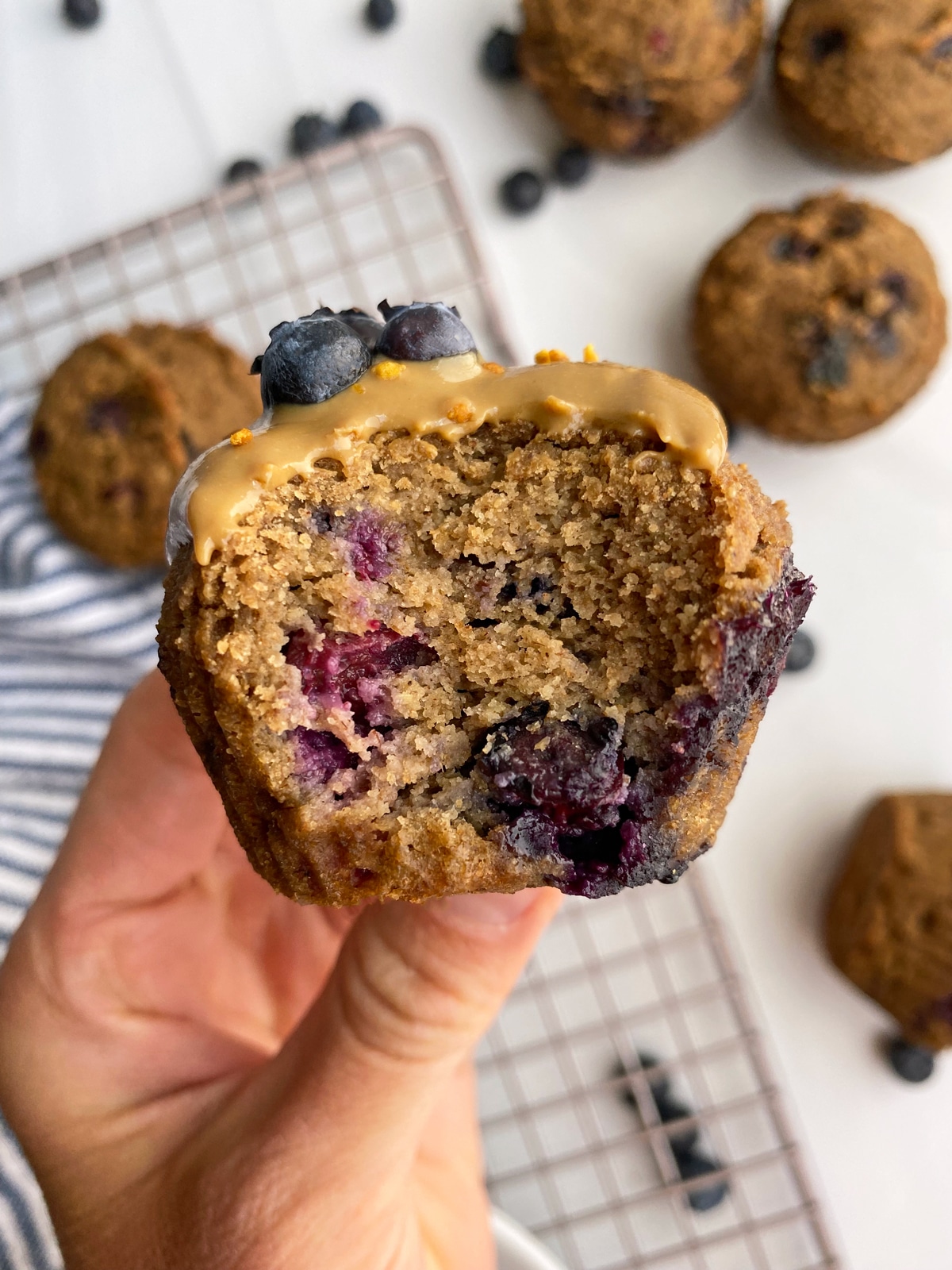 Ingredients in Vegan Tigernut Flour Blueberry Muffins
These muffins are made with a few Paleo friendly baking staples. The ingredients include:
ground flax
cinnamon
salt
banana
water
fresh blueberries
As far as ingredient substitutions go, there are a few changes you may make.
Tigernut Flour
Although these are tigernut muffins, almond flour should work in it's place. My best recommendation is to substitute this ingredient by weight.
Ground Flax
I have only tested this recipe using ground flax, but ground chia seeds or even gelatin should work as a replacement.
Sunflower Seed Butter
I used sunflower seed butter to keep this recipe nut free.  However, any creamy nut or seed butter would work as a replacement.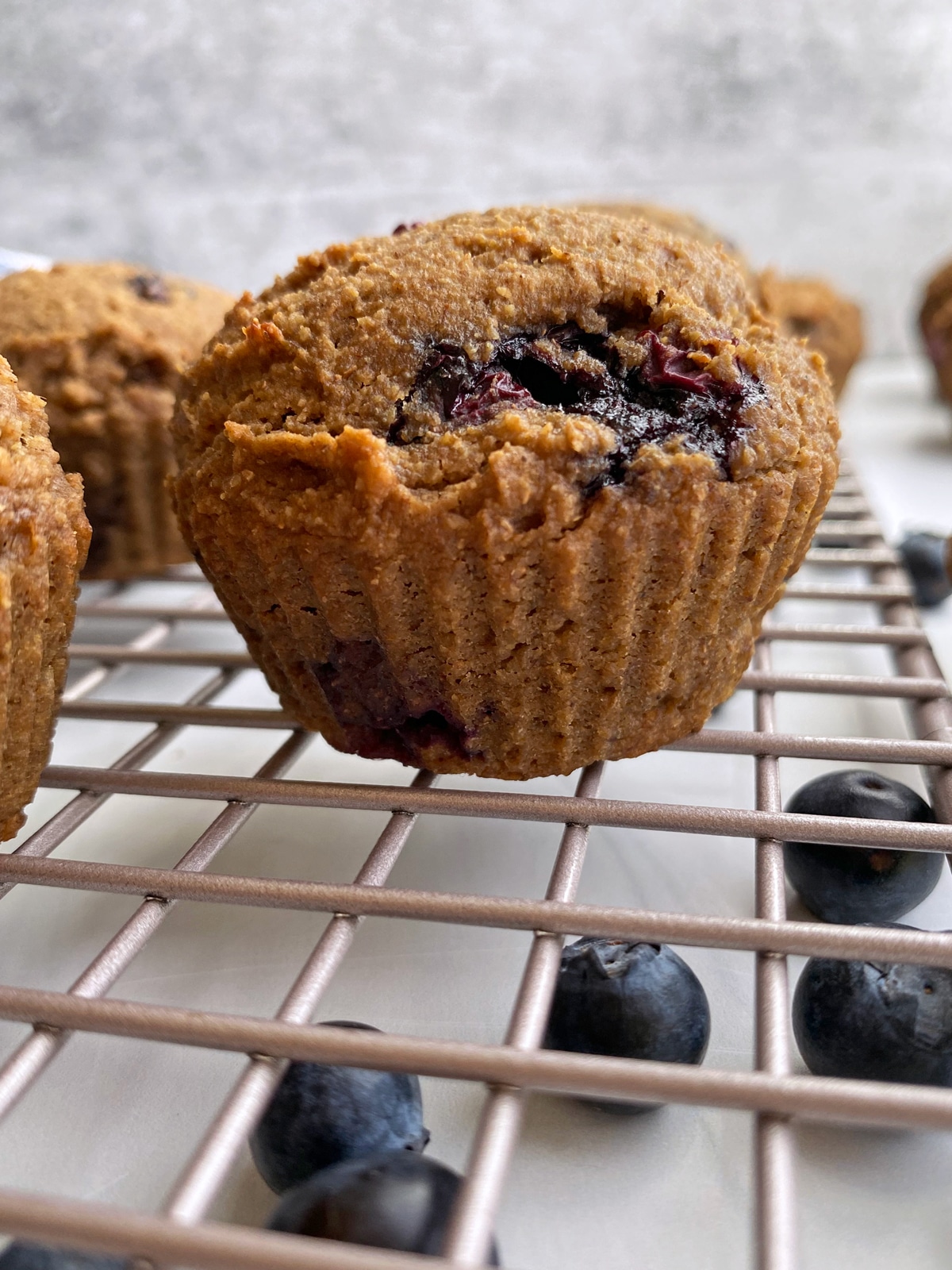 How to Make Tigernut Flour Muffins
These muffins are made in one bowl, baked in the oven and ready to eat in less than 40 minutes. Here's what you need to do:
First, preheat your oven to 350 degrees F. Then, in a medium-sized mixing bowl, combine the dry ingredients. This includes the tigernut flour, ground flax, baking powder, cinnamon and salt.
Peel the banana and mash. Then, add the mashed banana, sunflower seed butter, and water to the dry mixture. Stir well, then fold the fresh blueberries into the batter.
The batter is quite thick! But, this makes for a moist, dense, perfectly cooked muffin that holds together.
Scoop the batter into 9 silicone muffin baking cups.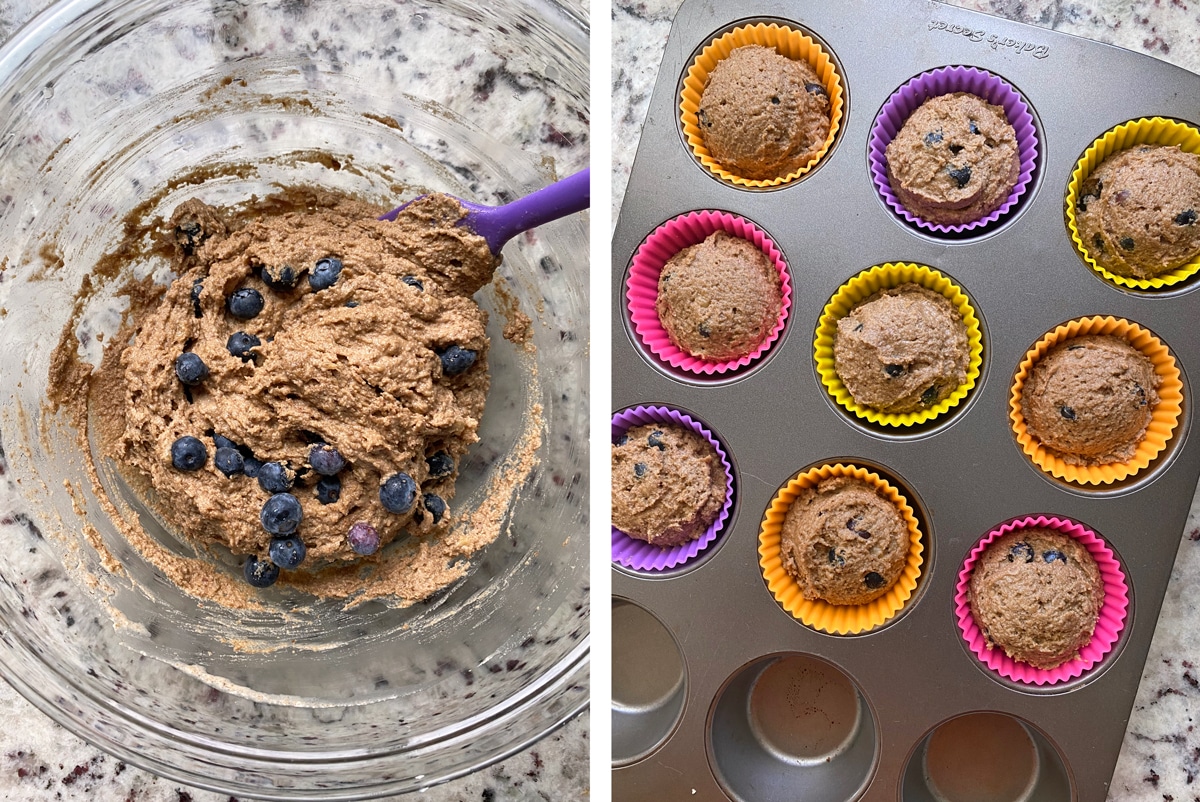 Lastly, place the muffins in the oven and bake at 350 degrees for 28 minutes.
After baking, remove the muffins from the oven and allow them to cool for 10 minutes in the pan.  Then, remove them from the pan (and their silicone muffin cups) and cool on a wire cooling rack to room temperature.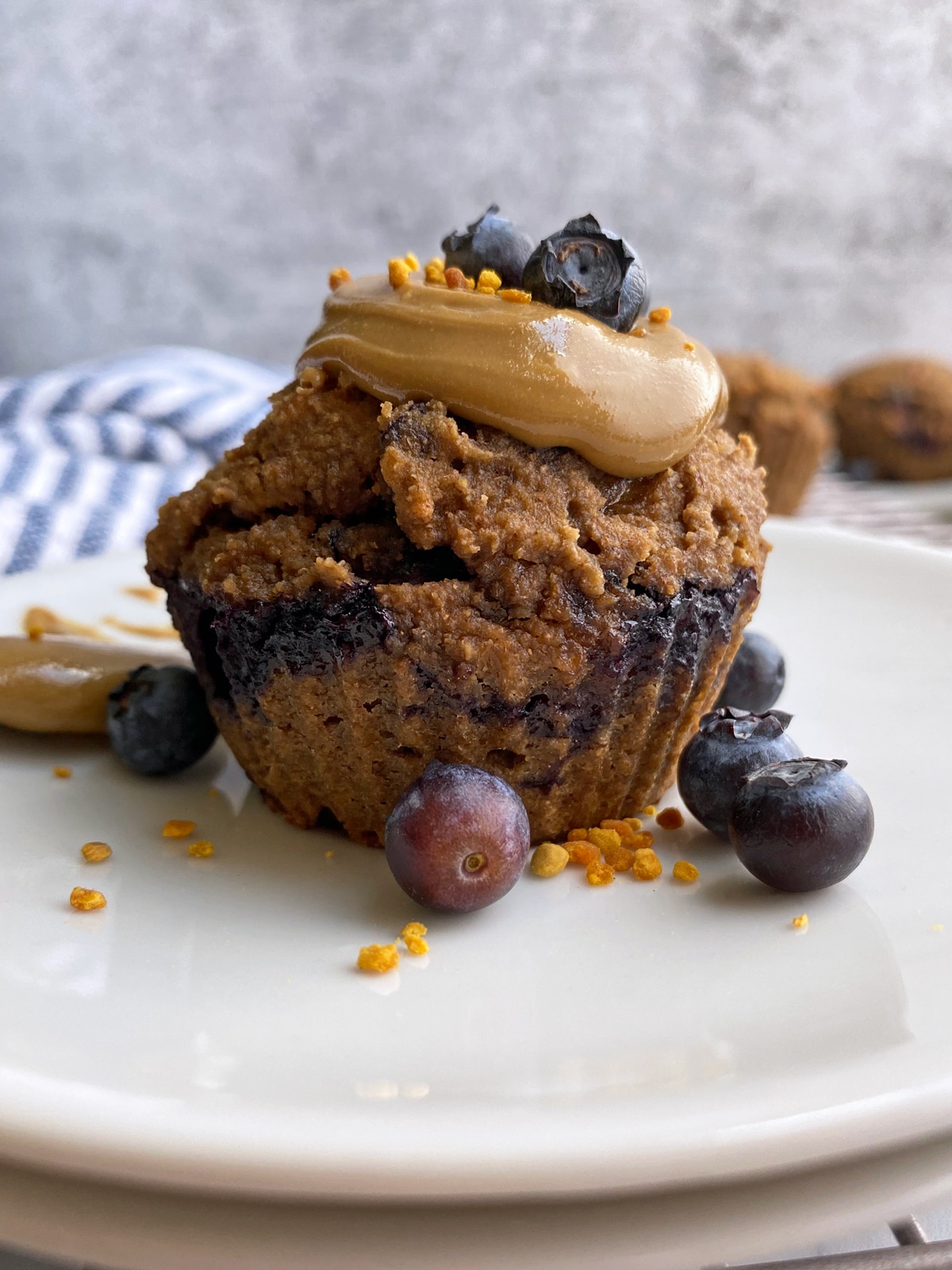 Best Way to Store Muffins
These muffins should be stored in the fridge. Because they are so moist, they won't last more than a day at room temperature. They can be frozen for longer storage, but I definitely prefer them from the fridge.
More Vegan Tigernut Flour Recipes
For more tigernut flour recipes that are egg free, dairy free, nut free and Paleo friendly, check these out:
Enjoy!
Print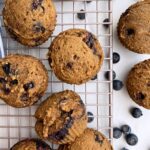 Vegan Tigernut Flour Blueberry Muffins (Paleo, Nut Free)
Author:

Katie

Prep Time:

5 minutes

Cook Time:

28 minutes

Total Time:

33 minutes

Yield:

9

muffins

1

x
---
Description
Healthy, blueberry muffins made with tigernut flour and sweetened with bananas.  Free of all common allergens, Paleo and Vegan.
---
---
Instructions
Preheat oven to 350 degrees F.
Combine tigernut flour, ground flax, baking powder, cinnamon and salt in a medium-sized mixing bowl.
Add in mashed banana, sunflower seed butter and water.  (Note: batter is thick)
Fold blueberries into batter.
Scoop ¼ cup batter per muffin into a lined muffin pan.
Bake muffins at 350 degrees for 28 minutes.
Remove from oven and cool in pan for 10 minutes.  Then transfer muffins to a wire cooling rack and cool to room temperature.
Store in fridge up to one week.
---
Notes
*For best results, measure tigernut flour by weight.  Also, tigernut flour has a tendency to clump, so sift it prior to using.
**I buy whole flax seed and grind them using a coffee grinder.
Keywords: tigernut flour, muffins, breakfast, snack, Paleo, Vegan, nut free, egg free, allergy friendly, no added sugar