These fluffy Vegan buckwheat pancakes are gluten free and made with Paleo friendly ingredients. They are moist, fluffy and studded with dark chocolate chips. This healthy buckwheat pancake recipe is just what you need for a satisfying breakfast!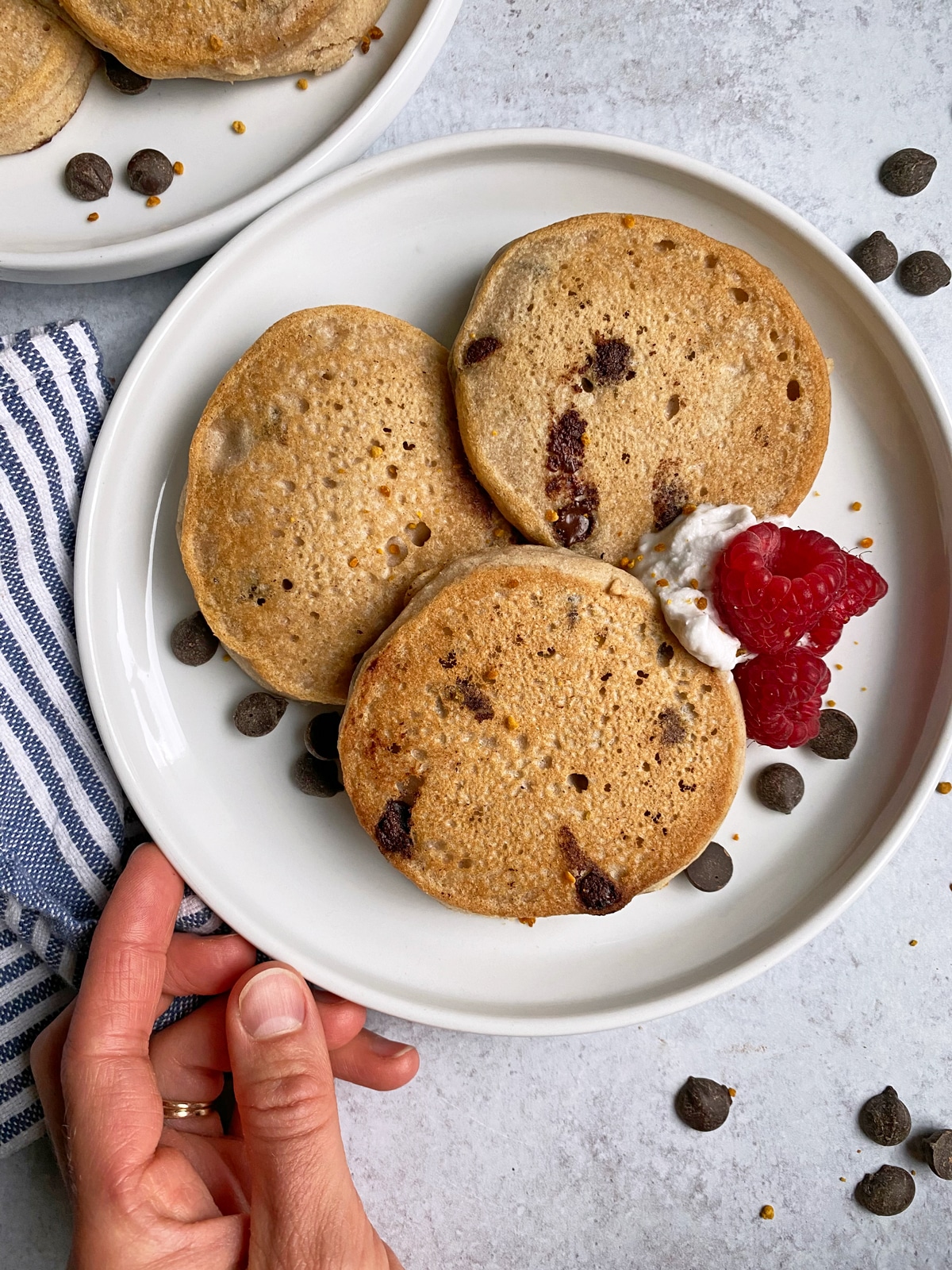 I've started experimenting with buckwheat flour again. I used it frequently a few years ago, but took a break from it to explore other gluten free flours such as cassava flour.
If you haven't ever baked with buckwheat flour, it can be frustrating to work with. That is, if you are testing it out on your own.
I've found buckwheat flour to be very dry and it has a distinct flavor (good or bad depending on your preference). This means it often works best in combination with other baking flours. It also does well paired with ingredients like mashed banana, pumpkin or yogurt, which give baked goods more moisture.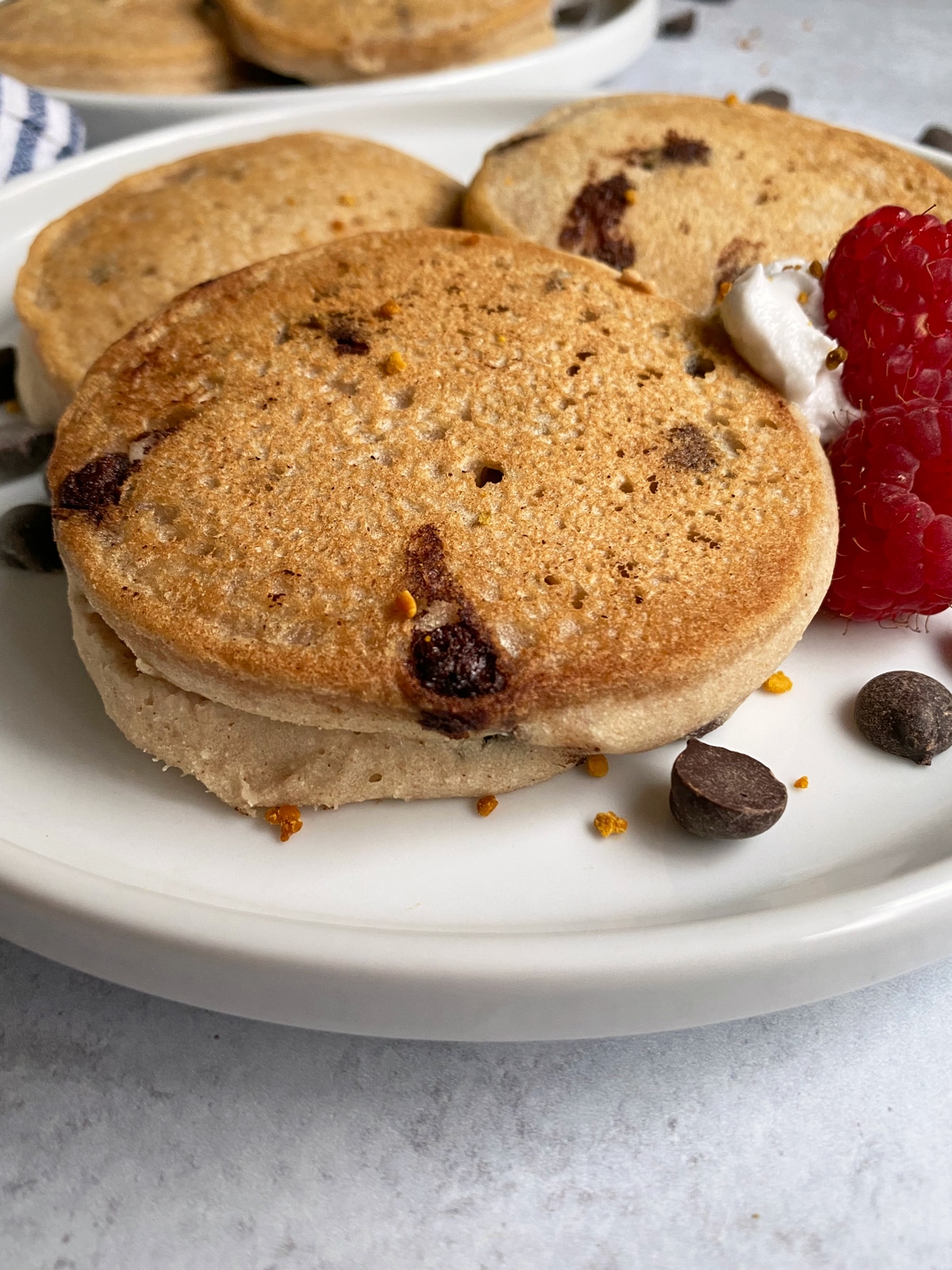 What is Buckwheat Flour?
Buckwheat flour comes from buckwheat, which is a fruit seed closely related to rhubarb. The seed is dried and ground into a fine flour. Because buckwheat is actually a fruit seed and not a grain, it is gluten free and considered Paleo friendly. So, don't be fooled by its misleading name...buckwheat does not contain wheat!
Buckwheat flour has an earthy, nutty taste and ranges from reddish-pink in color to dark brown. Depending on the brand and where their flour originates, you'll find various colors of buckwheat flour.
As far as baking flours go, buckwheat is quite nutrient dense. It contains fairly high amounts of manganese, copper, magnesium, dietary fiber and phosphorus. In addition, the protein in buckwheat is a high quality protein, containing all eight essential amino acids, including lysine.
Is Buckwheat Paleo?
Some people don't consider buckwheat to be Paleo, but I do since it's gluten free and not technically a grain.
My advice is to test it out and see how your body reacts. Some people with severe digestive issues cannot tolerate buckwheat, whereas some have no problems with it. So, listen to your body and do what's best for you 🙂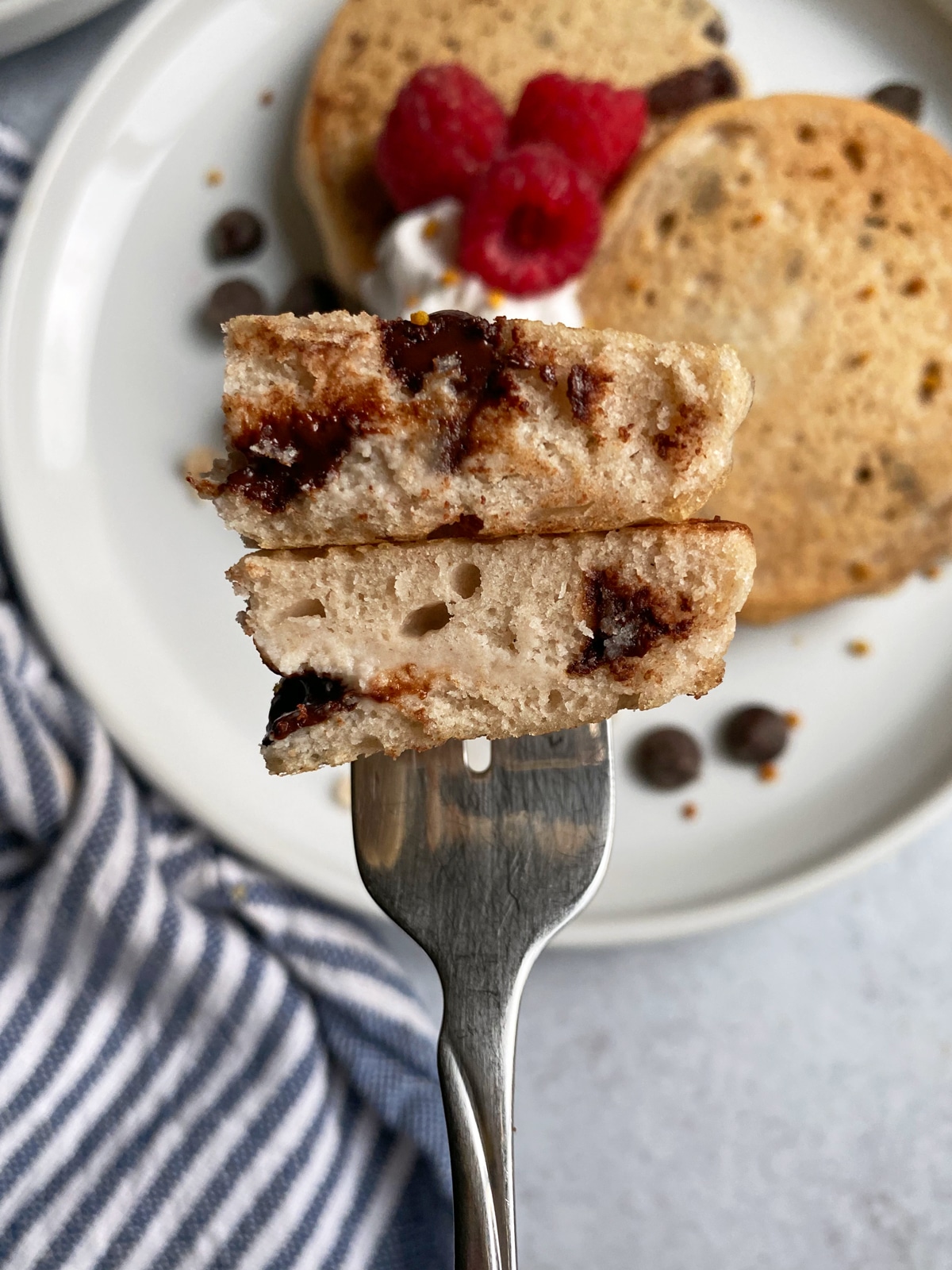 Ingredients in Vegan Buckwheat Pancakes
This Vegan buckwheat pancake recipe is made with just a few simple ingredients. These ingredients combine to create fluffy, moist almost bread-like pancakes. They're mildly sweet but absolutely delicious!
Here's what you need:
buckwheat flour: obviously, since these are buckwheat pancakes
coconut flour: needed for texture purposes
baking soda: makes these pancakes extra fluffy
salt: enhances the flavor
yogurt: any kind will do, but keep it dairy free for Vegan & Paleo
water: needed to thin the batter. May use a nut milk instead.
maple syrup: to sweeten the pancakes
vanilla extract: for flavor
chocolate chips: optional but recommended!
How to Make Vegan Buckwheat Pancakes
The batter is made in one bowl, the pancakes are cooked on the stove top and ready to eat in minutes! Here are the steps:
First, combine all of the dry ingredients (except chocolate chips) in a large mixing bowl. Mix in the wet ingredients. The batter is thick, so I recommend using a spatula. Lastly, fold the chocolate chips into the batter.
Heat a frying pan on medium heat and add a little oil. I used coconut oil. Once hot, scoop ¼ cup of batter per pancake onto the frying pan. Cover the pancakes with a lid and cook until golden brown on the bottom. Flip and cook until done. Be sure not to over-cook these pancakes. They are best slightly under-cooked in the center.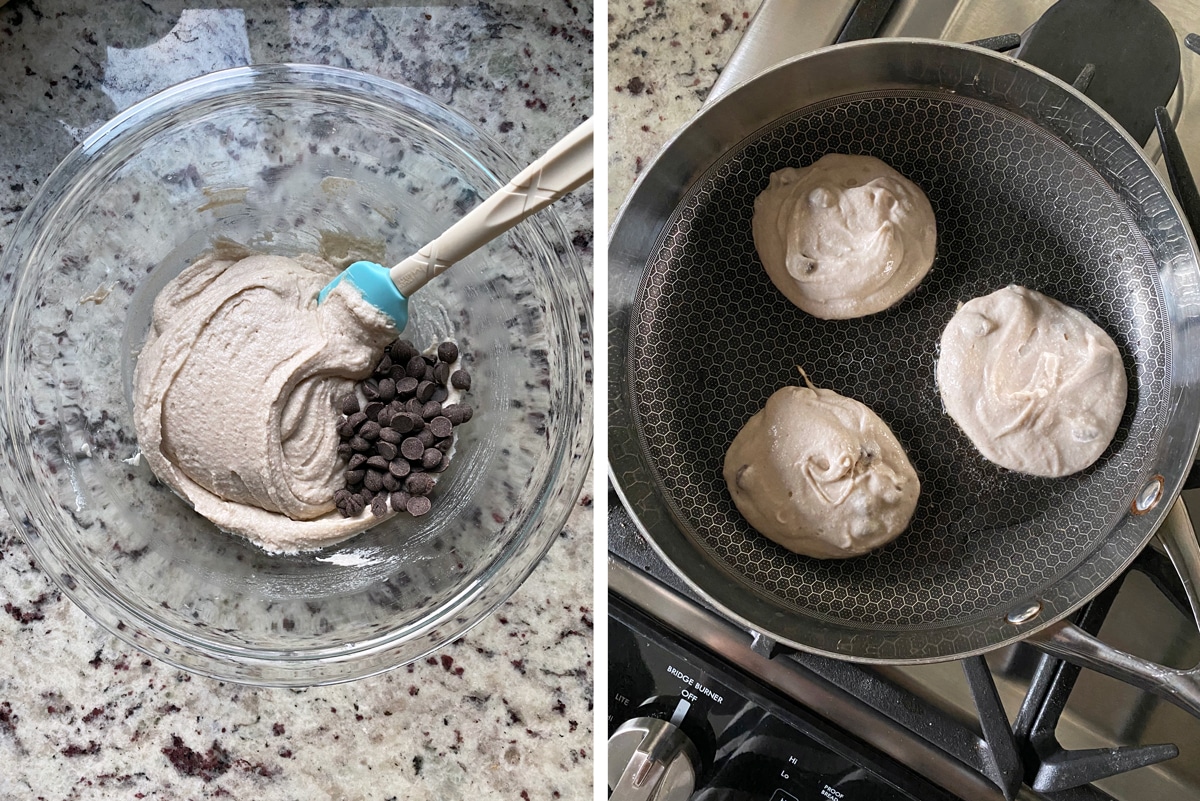 When done, these gluten free buckwheat pancakes are fluffy, soft and golden brown. As far as texture goes, they are definitely different than your typical pancake - more bread-like. But my family and I love this pancake recipe and I make them frequently for breakfast!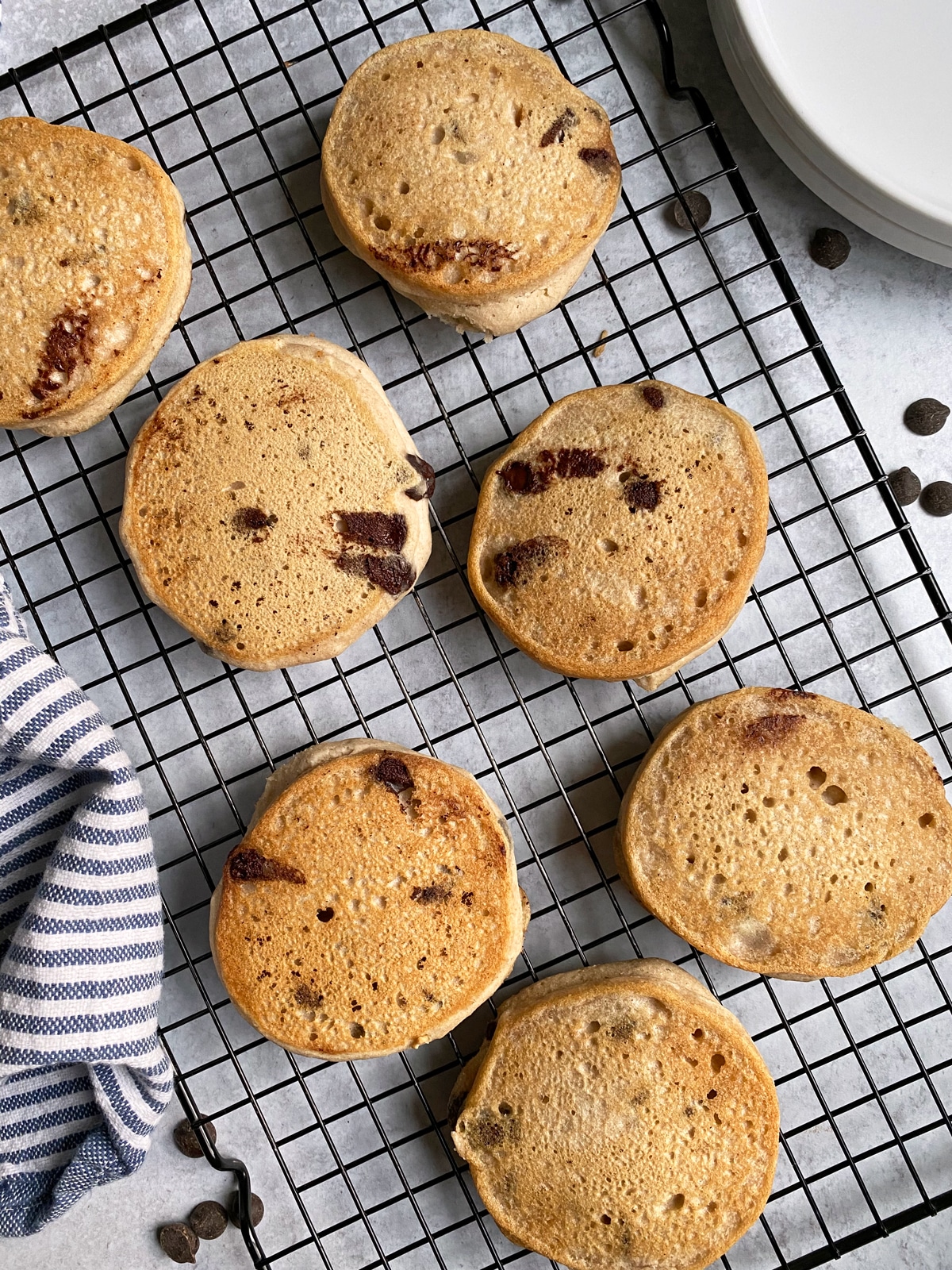 More Buckwheat Flour Recipes
Looking for more Paleo buckwheat recipes? Here are some you may enjoy:
Enjoy!
Print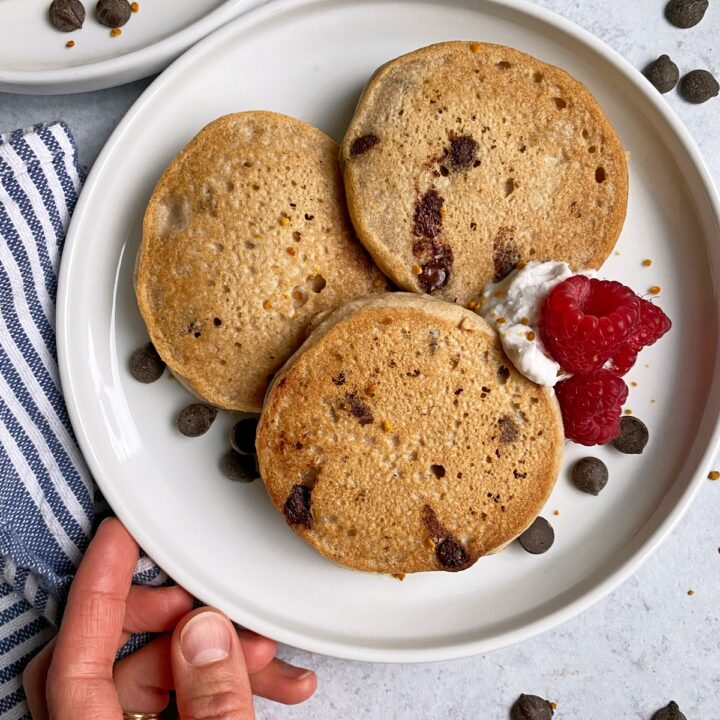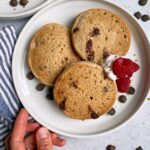 Fluffy Vegan Buckwheat Pancakes (Gluten Free, Paleo)
Author:

Katie

Prep Time:

5 minutes

Cook Time:

15 minutes

Total Time:

20 minutes

Yield:

8

pancakes

1

x
---
Description
Fluffy Vegan buckwheat pancakes that are gluten free, Paleo friendly and great for a satisfying breakfast.
---
---
Instructions
In a large mixing bowl, combine buckwheat flour, coconut flour, baking soda and salt.
Using a spatula, mix in water, yogurt, maple syrup and vanilla.
Fold chocolate chips into the batter.
Grease a frying pan (I used coconut oil) and set it on the stove top.  Preheat on medium heat.
Once hot, add ¼ cup batter per pancake to the frying pan (I cooked 3 at a time).  Cover the pan with a lid and cook until the pancakes are golden brown on the bottom.
Flip each pancake and cook until done.  Note: do not over-cook the pancakes.  They are best left a little under-cooked in the center.
Serve immediately along with your favorite toppings.
---
Notes
*You may need more or less water depending on the type of yogurt you use.  The batter should be thick and goopy, but easy to stir.  See process photos (in blog post) for an example.  Also, the water may be substituted with any dairy free milk.
**I used Kite Hill unsweetened almond milk yogurt.  You may substitute with any type/brand of yogurt.
Keywords: buckwheat pancakes, paleo pancakes, vegan pancake recipe, egg free pancakes, nut free, paleo breakfast recipes, vegan breakfast