One meal I often have on my mind during the summer: burgers. Juicy, delicious homemade burgers with fresh toppings and condiments. A burger recipe that my family has been loving lately are these Green Apple & Thyme Burgers. They are perfect for summer grilling, but also great cooked on the stove top. Which is how I cooked them for this recipe.
These homemade burgers are made without breadcrumbs. Additionally, they contain just seven simple ingredients. Many of which can be altered or omitted depending on your taste preference and dietary needs.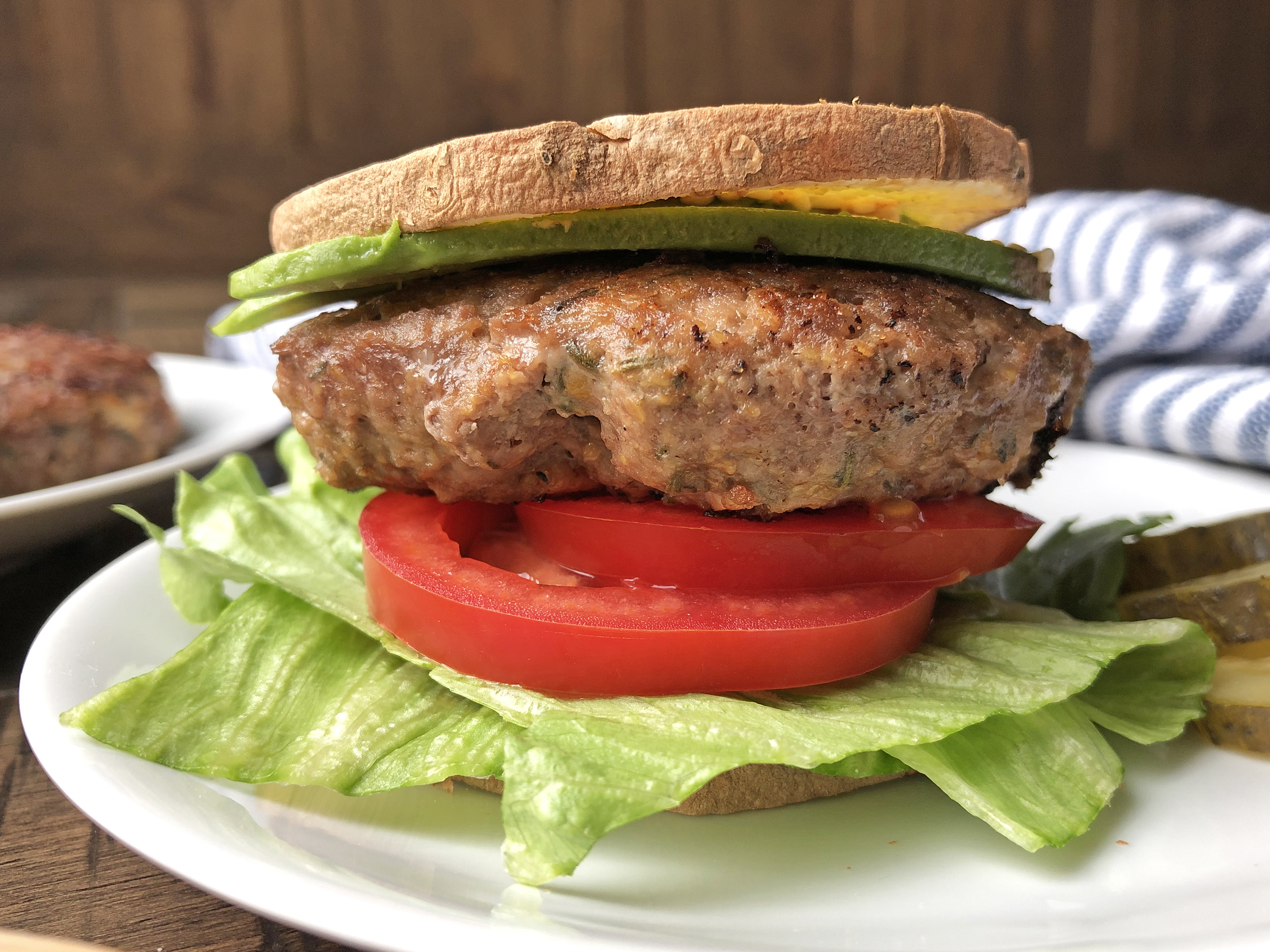 What are the Ingredients in Green Apple & Thyme Burgers
These Paleo friendly hamburgers contain 7 simple ingredients:
organic, grass fed ground beef
egg
green apple
ground flax (or almond flour)
dried thyme
onion powder
salt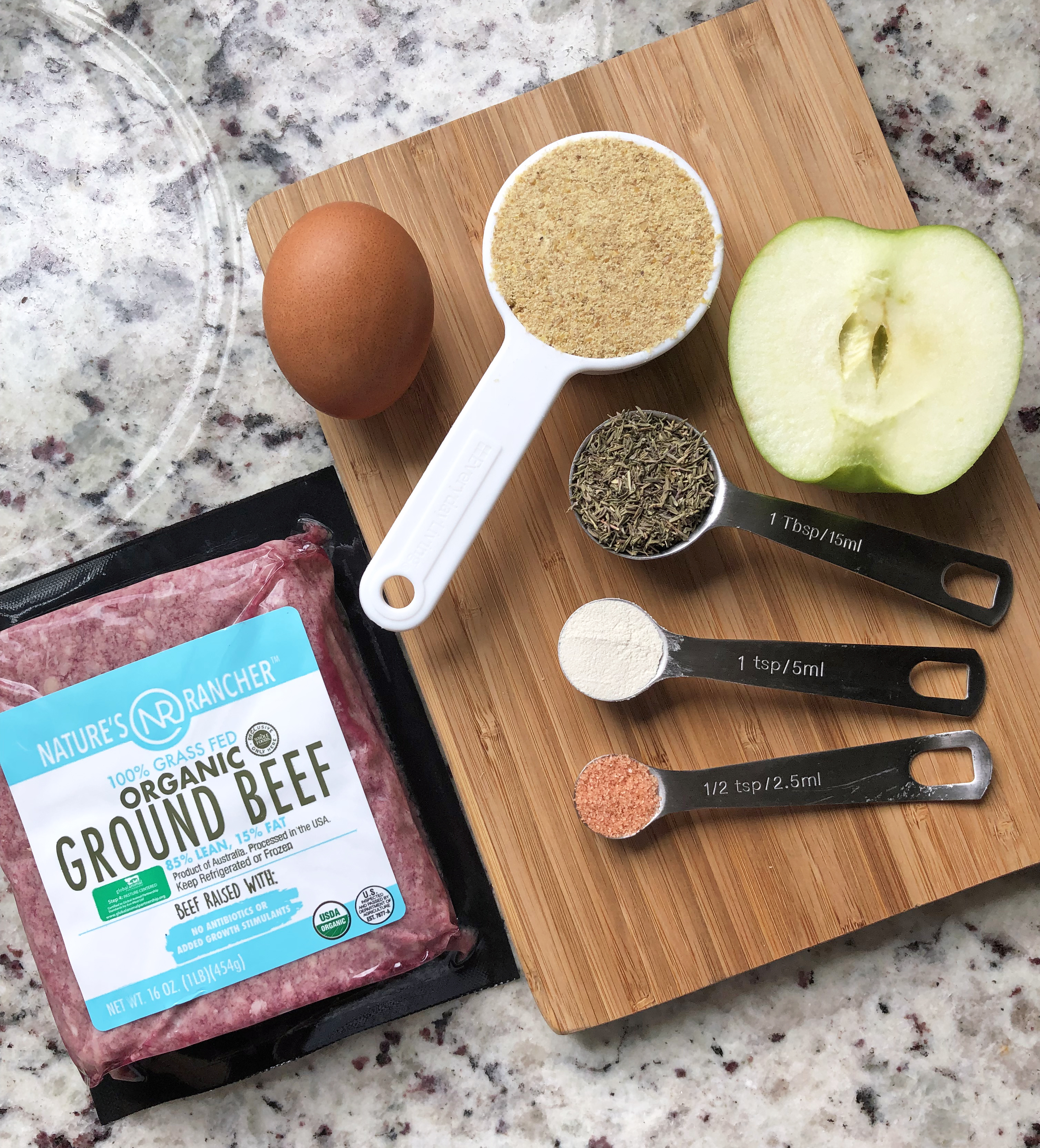 Ground Beef
Whenever consuming beef, I recommend organic and grass fed. Nature's rancher is one of my favorite brands and I purchase it at Whole Foods.
Egg
Do you have to use eggs? Well, technically no. This recipe can be done without eggs, but I highly suggest keeping this ingredient. The egg helps bind the burger and keep the cooked patties moist. But if you don't tolerate eggs, then you can skip this ingredient.
Green Apple
I used green apple in these burgers. The tartness of green apples is perfect for this recipe. However, any apple variety will work.
Ground Flax
Ground flax is great for adding some bulk and helping to bind these burgers together. I chose flax in order to keep this recipe nut free and grain free. However, almond flour would make a great substitute.
Seasoning
Thyme, onion powder and salt were used in addition to the apples to season these burgers. If necessary, any of these ingredients can be omitted or swapped for something else. For instance, dried basil for thyme. Or, perhaps garlic powder for onion powder. I would keep the salt, but you can add as little or as much as you would like.
Additional Add-Ins
One of my favorite add-ins is a handful of fresh, chopped spinach. This increases the overall nutritional content of the burgers. Also, since my youngest son isn't fond of vegetables it's a way to sneak in some greens.
Some other ideas are: onion, pepper, jalapeno, garlic, carrots, cabbage, mushrooms, sun dried tomatoes, and fresh herbs.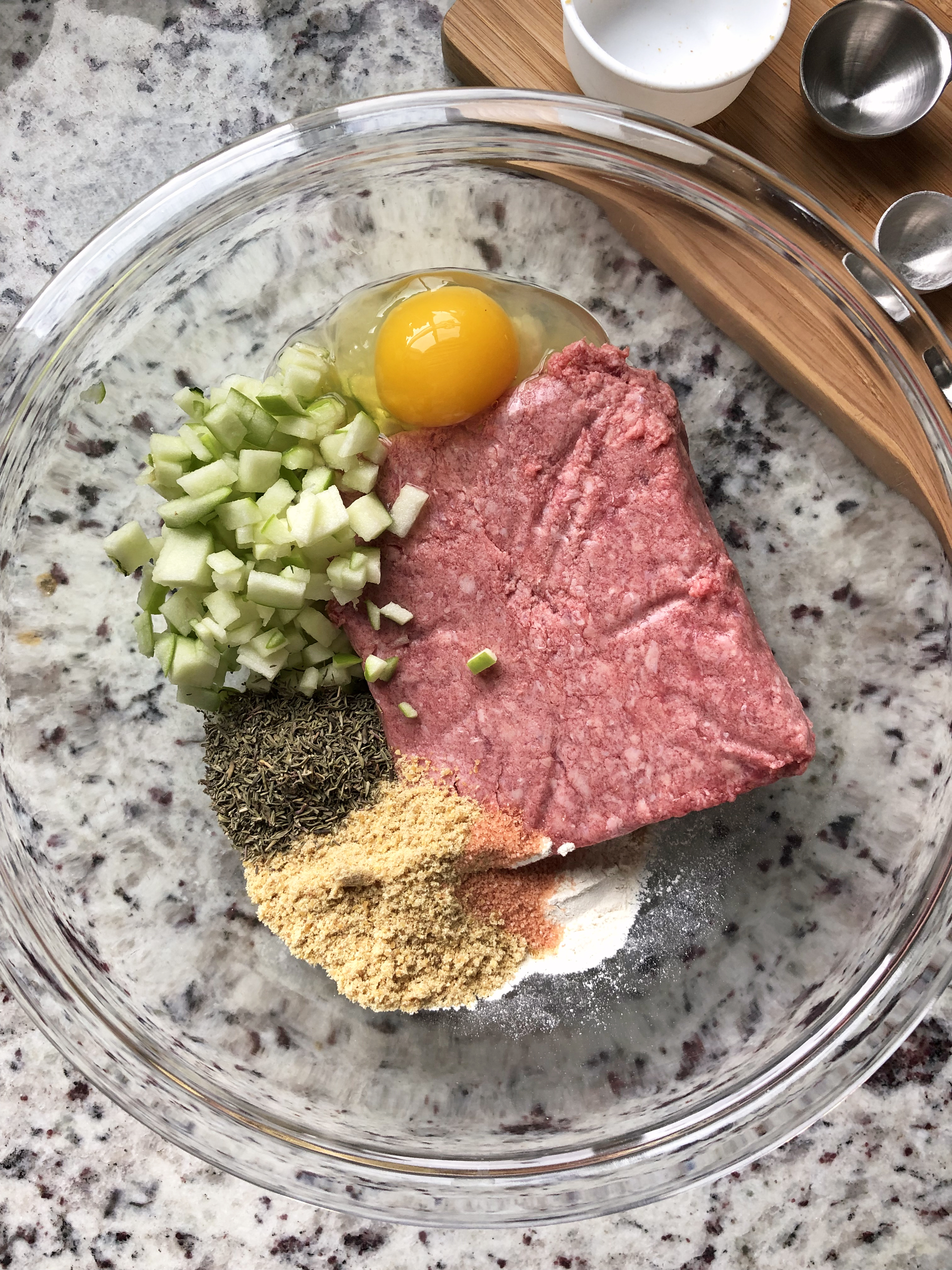 How to Make Homemade Burgers on the Stove Top
Although these burgers can be cooked in any way (grill, oven, etc.), I chose to cook these on the stove top. Why? Well, simply because I think it's the easiest form of cooking.
After the burgers have been formed and shaped, simply place the patties on a large skillet. Any type of skillet will work: non-stick, cast iron, etc. The one I used is from Crowd Cookware. This was actually a Kickstarter that my husband backed and gave to me for Christmas. We both LOVE the pans. But anyway, I digress...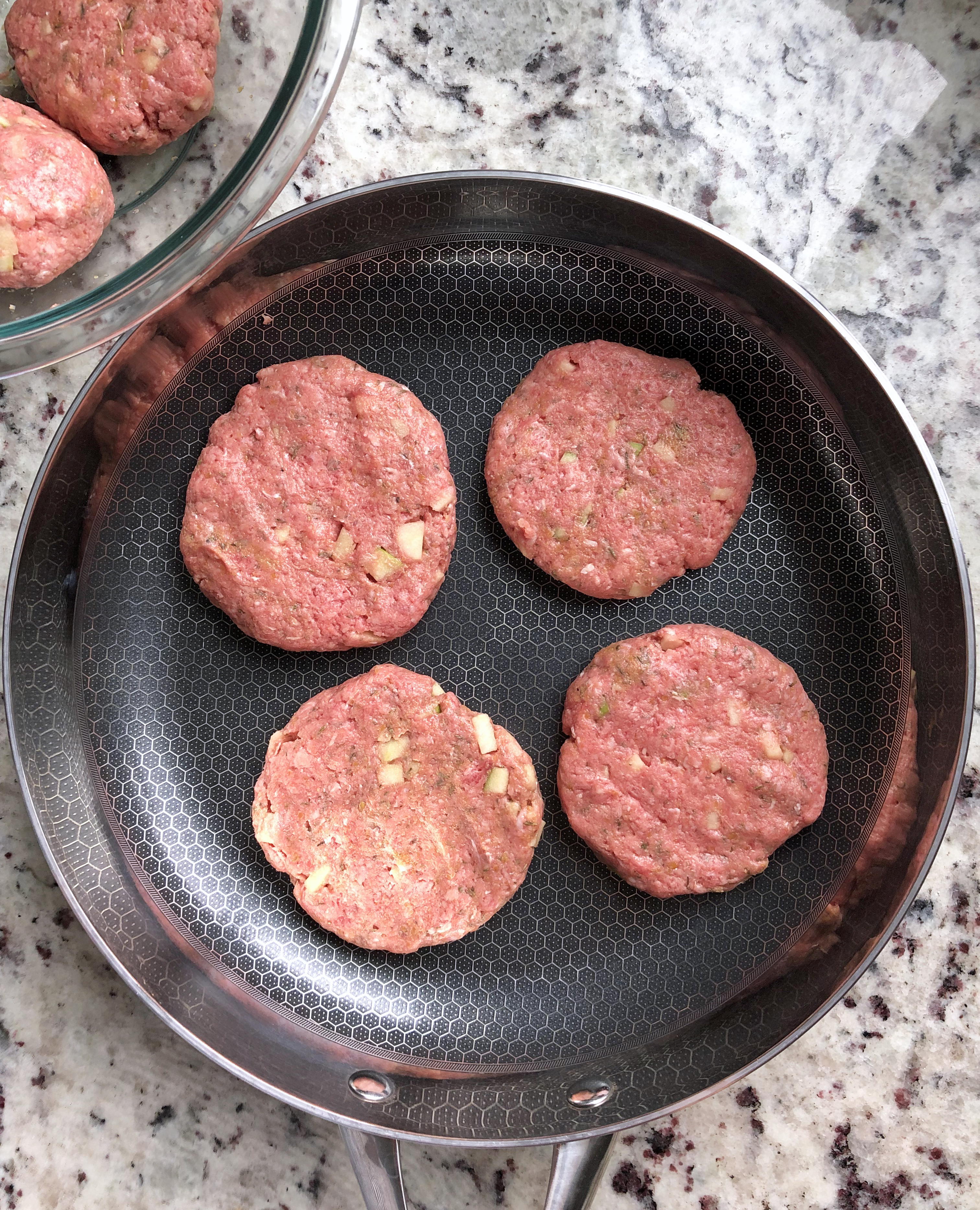 Next, cover the skillet and cook the burger on medium heat for 10 minutes. After 10 minutes, flip the patties and cook uncovered for an additional 8-10 minutes.
Note, cooking time will vary slightly depending on the size of the burgers and how well done you like them. Personally, I like my burgers well done. Or, fully cooked through. But rest assured, well done does not mean dry. The apple and egg provide a lot of moisture for these burgers.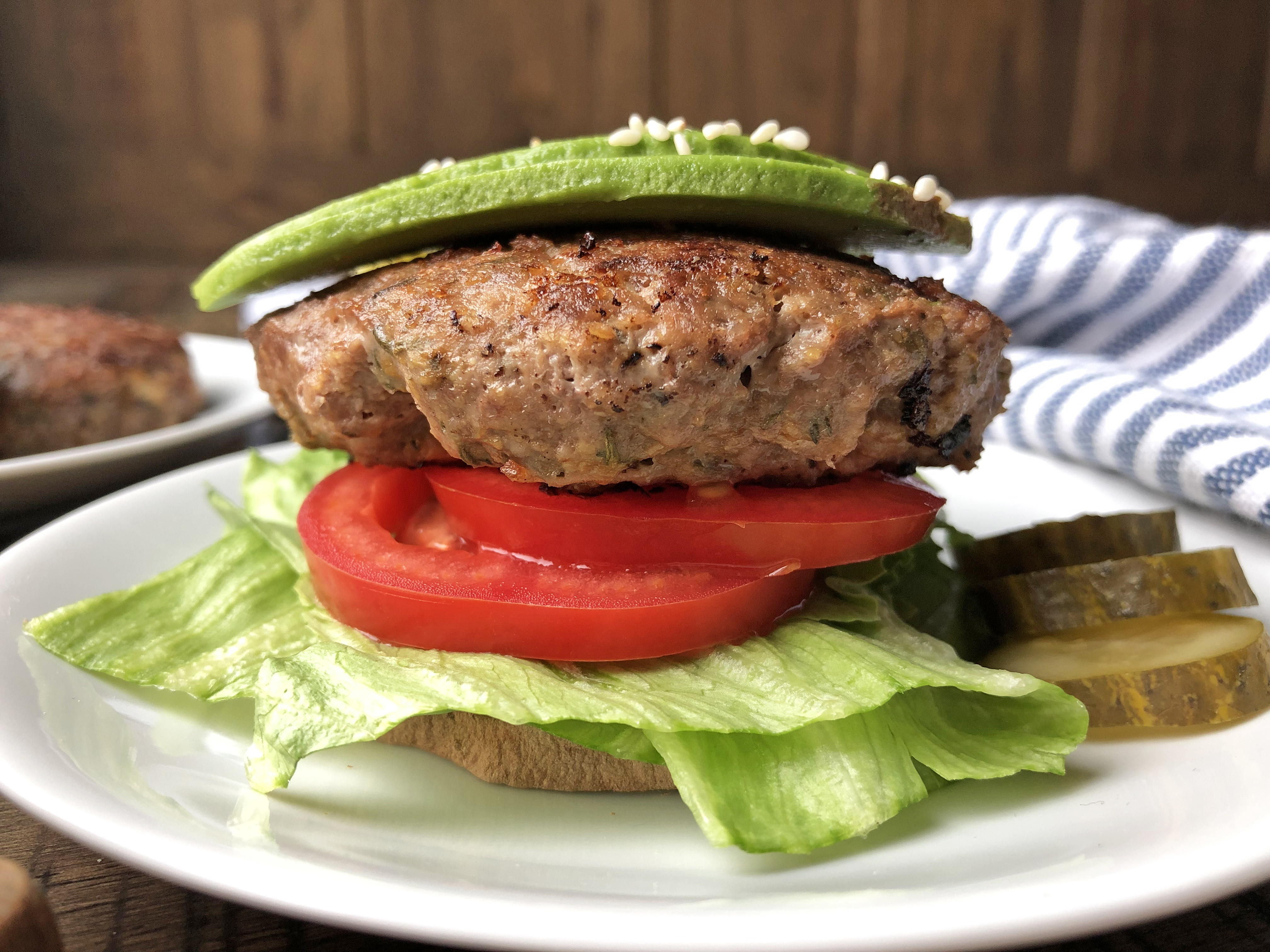 What are the Best Paleo Burger Buns?
Instead of bread, I love using large sweet potatoes as buns. Lettuce is always a great, low carb option too. But, lettuce doesn't always hold up that well. Also, sometimes it's nice to have a starchy option for the bun, not just more greens.
How to Make Sweet Potato Buns For Hamburgers
To make sweet potato buns, the first thing you need to do is go to your grocery store and select the fattest sweet potato you can find. Personally, I prefer white and Japanese sweet potatoes to the red/orange ones. But any variety will work.
Next, wash your sweet potato and then cut into circles about ¼-inch thick. Place the sweet potato circles on a parchment lined baking sheet. Bake at 350 degrees F (preheated oven) for 30 minutes. Lastly, flip the potatoes and broil for 5-10 minutes or until golden brown on top.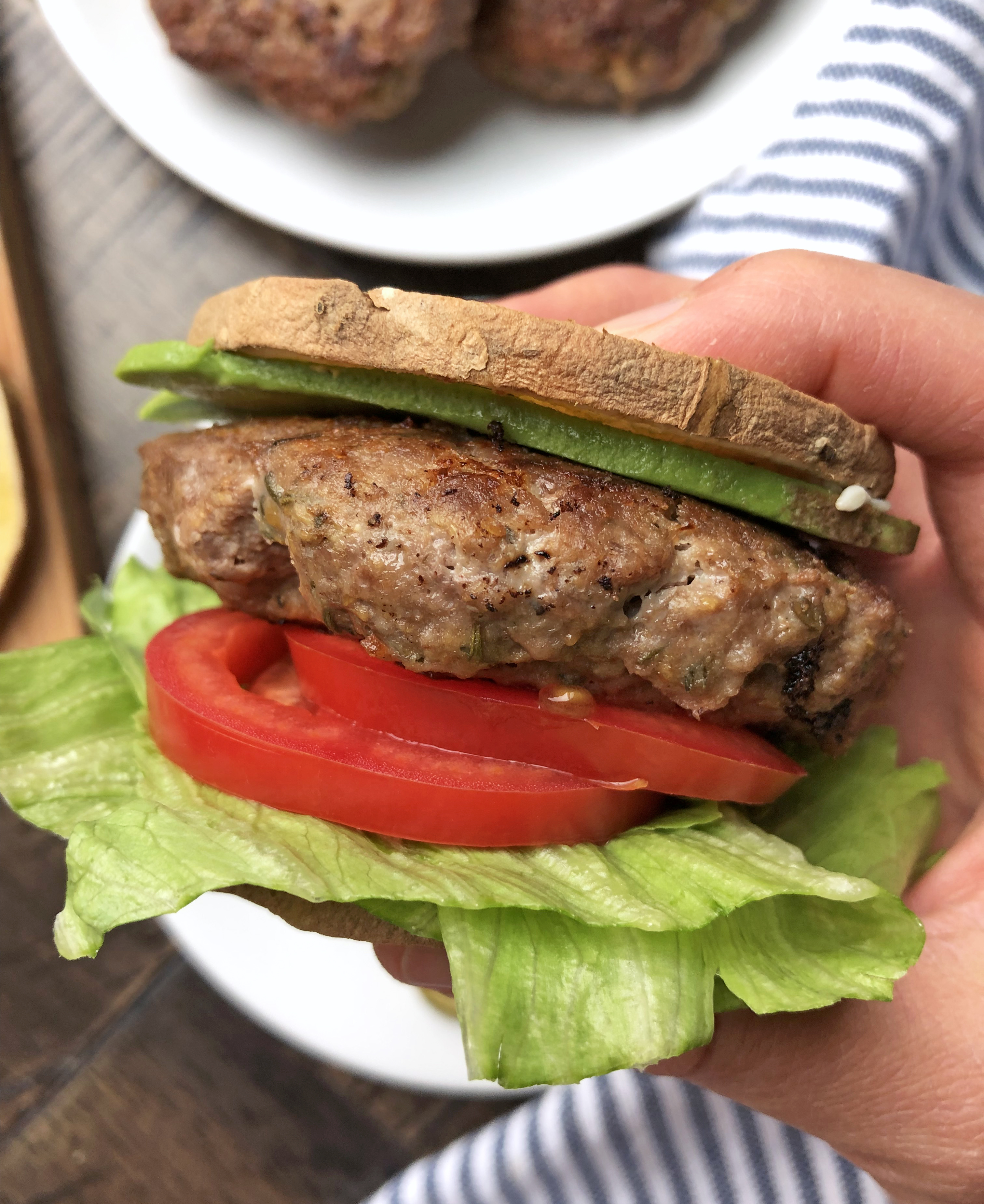 What are the Best Paleo Burger Toppings?
Pretty much any vegetable works well with homemade Paleo burgers. For example, I used organic lettuce, tomato, avocado and pickles. Onion would have been a great addition too!
As far as condiments go, my favorite brand is Primal Kitchen. I love their unsweetened ketchup and spicy brown mustard. They have many other condiments available on their website, Amazon and in-stores too.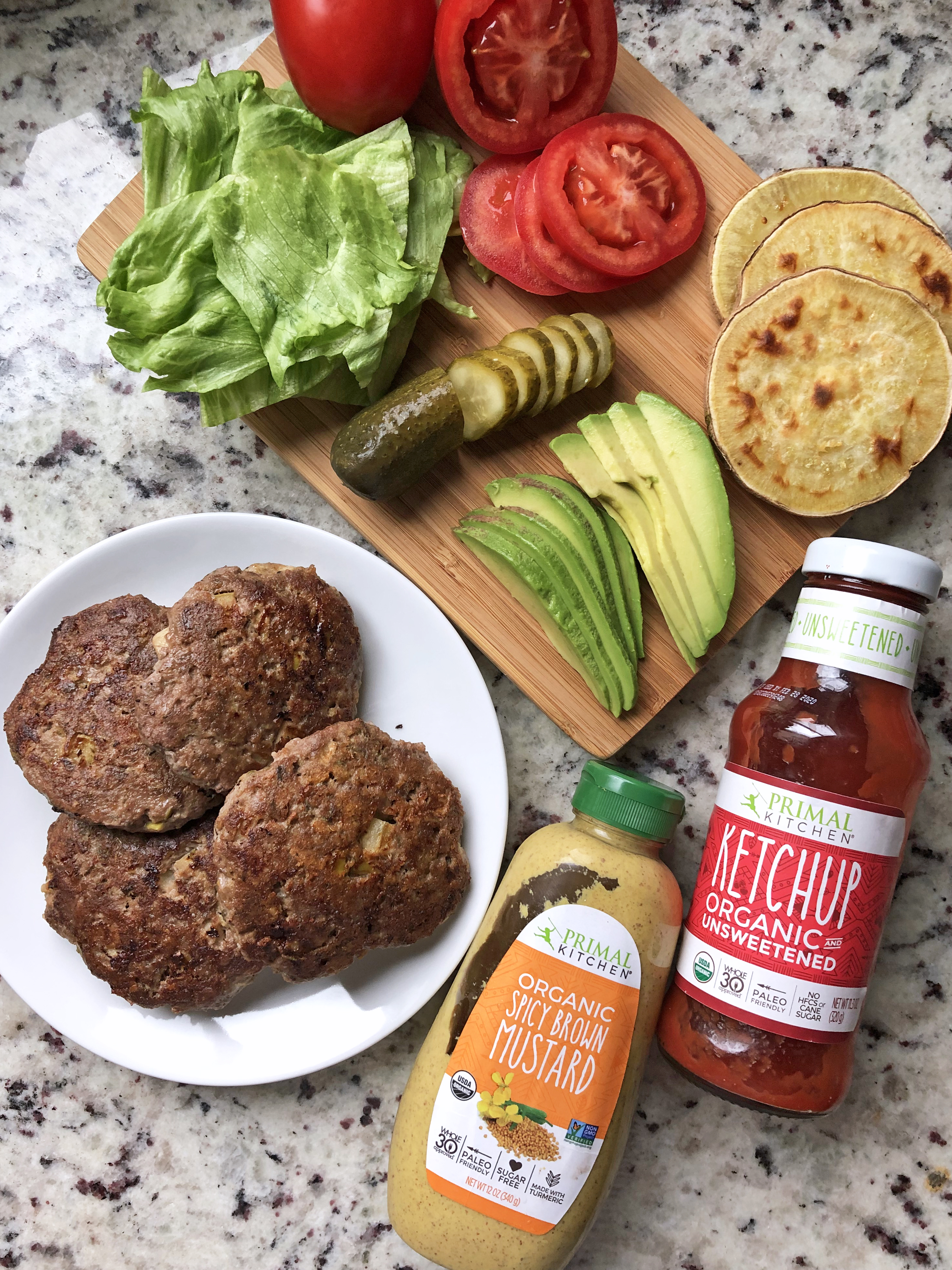 Can You Freeze Green Apple & Thyme Burgers?
The simple answer is yes! Yes, you can freeze these. However, I recommend freezing them raw vs. cooked.
To do this, lay out a few sheets of plastic wrap and individually wrap each burger. Then, put them in another container. Either another plastic bag or tupperware. Place them in your freezer for up to a month.
When you're ready to cook them, all you have to do is unwrap each burger and cook them on the stove top. Cooking time may take longer, but the burgers will turn out just as great.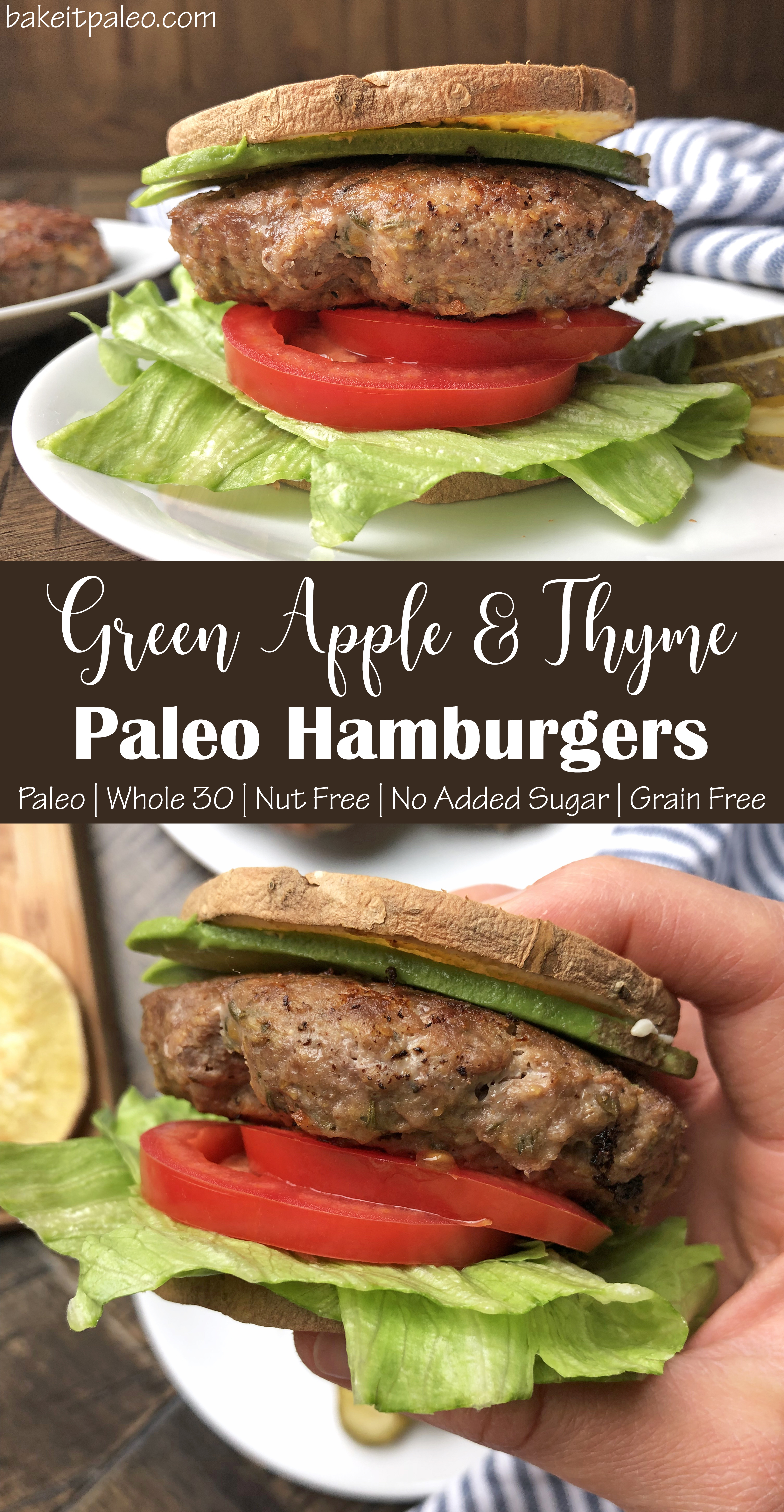 Print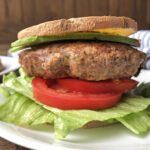 Green Apple & Thyme Burgers
Author:

Katie

Prep Time:

10 min

Cook Time:

20 min

Total Time:

30 minutes

Yield:

4

-

6

burgers

1

x
---
Description
These Green Apple & Thyme Burgers are made with ground beef and seasoned with green apple, thyme and onion powder.  They are a great family friendly, Paleo meal option.
---
1

lb organic, grass fed ground beef

1

large egg

½

green apple, finely chopped (

65 g

)

¼ cup

ground flax (or almond flour)

1 Tbsp

dried thyme

1 tsp

onion powder

½ tsp

salt
---
Instructions
Add all ingredients to a large mixing bowl.  Mix first with a fork, then use your hands.
Separate the beef mixture into 4-6 pieces* and roll into balls.  Using your hands, flatten the patties and place them on a large skillet.
Place the skillet on your stove top and turn the heat to medium.  Cover the burgers and cook for 10 minutes.  Then, flip the burgers and cook an additional 8-10 minutes uncovered**
Remove burgers from skillet and serve with your favorite toppings and condiments.
---
Notes
*I made 6 burgers, but this recipe will serve anywhere from 4-6 people.  If using sweet potato buns like I did, then I recommend making the burgers smaller.
**Cooking time will vary slightly depending on how thick your burgers are and how well done you like them.  This cooking time was specifically for 6 burgers cooked well done.  They were still moist, but perfectly cooked through (no pink on the inside).
Keywords: hamburger, burger, lunch, dinner, paleo, nut free, dairy free