These Chocolate Chip Cookie Dough Protein Bars are the perfect low sugar, high protein snack. They are Paleo, Vegan, low carb and easy to make. In addition, these no bake cookie bars taste like actual cookie dough!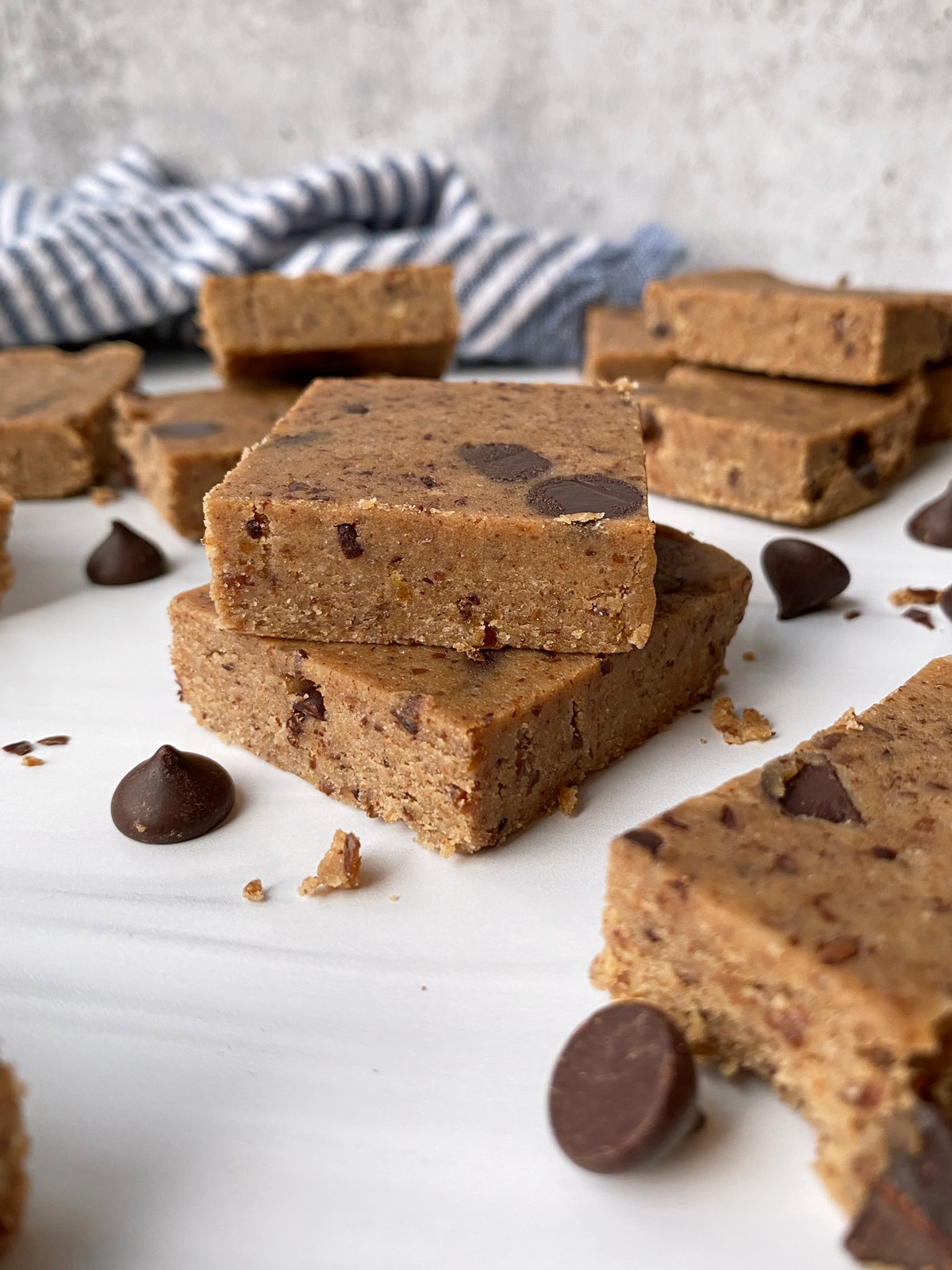 Gosh, I love a good protein bar!
Even better - a protein bar that is basically chocolate chip cookie dough! And friends, these homemade protein bars have a whole list of benefits. They are:
Paleo
Vegan
Keto friendly
gluten free & grain free
dairy free
egg free
no bake
easy to make
These plant based Chocolate Chip Cookie Dough Protein Bars satisfy my sweet tooth, while still providing nutritious ingredients that keep me full and my blood sugar levels stable. If that's not winning, then I don't know what is! 😉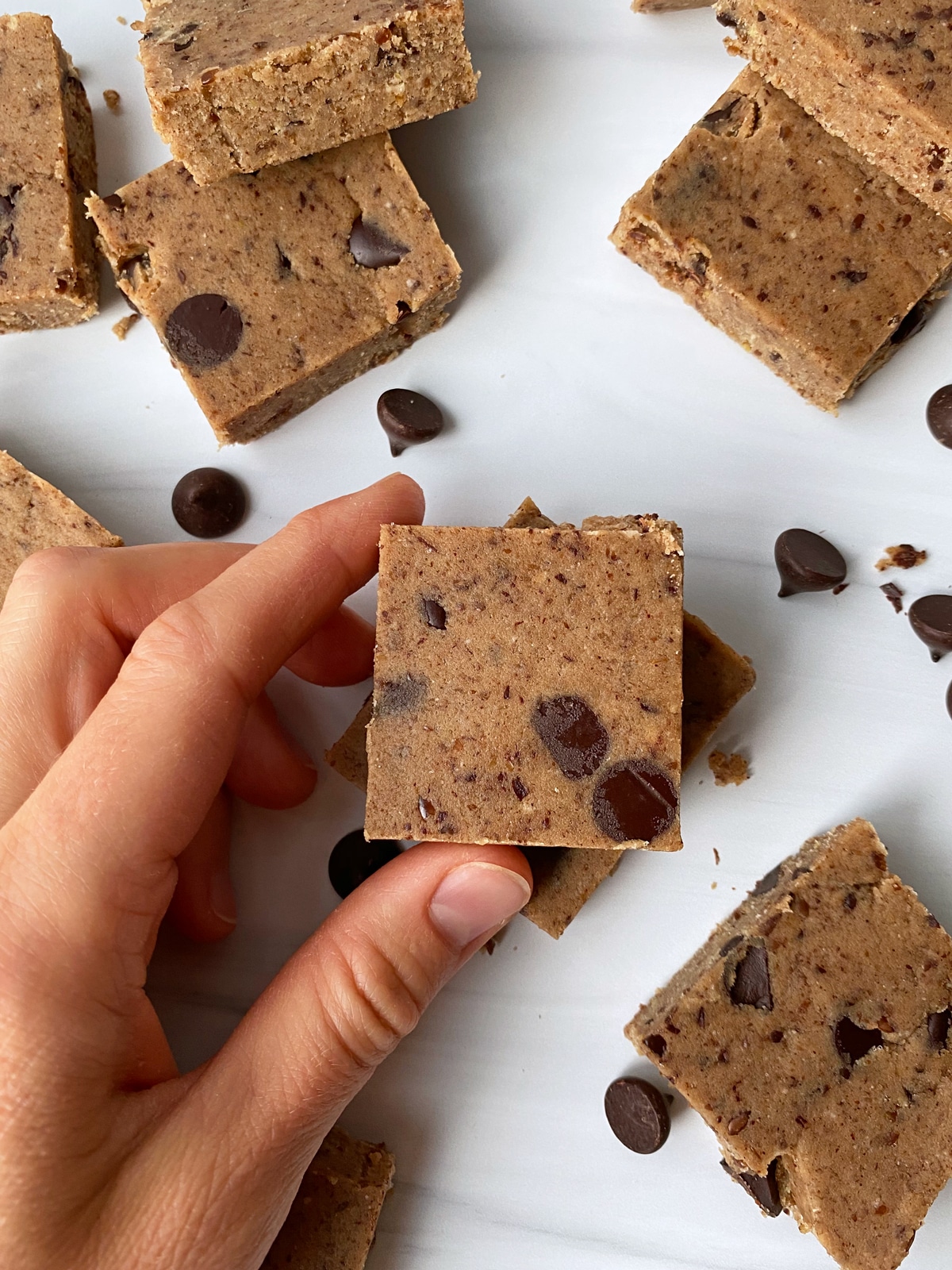 The Perfect High Protein Snack
Protein Bars, especially homemade ones, are one of my favorite between-meal snacks. Even while pregnant! I'm currently 22 weeks pregnant with my third child and I NEED snacks. #allthesnacks
The thing about making your own healthy protein bars is that you know exactly what ingredients are used. While some conventional protein bars may not be the best for pregnancy, these homemade Paleo Chocolate Chip Cookie Dough Protein Bars are.
In addition, you'll probably find me eating these sugarless protein bars after pregnancy, while I'm nursing. As, my hunger levels tend to be just as high.
One thing I've noticed while breast feeding my children is that they don't tolerate dairy very well. Many Paleo friendly protein bars contain whey protein (dairy). But, this is a dairy free protein bar recipe - perfect for a breast feeding mama, so long as you don't have any other allergies or intolerances.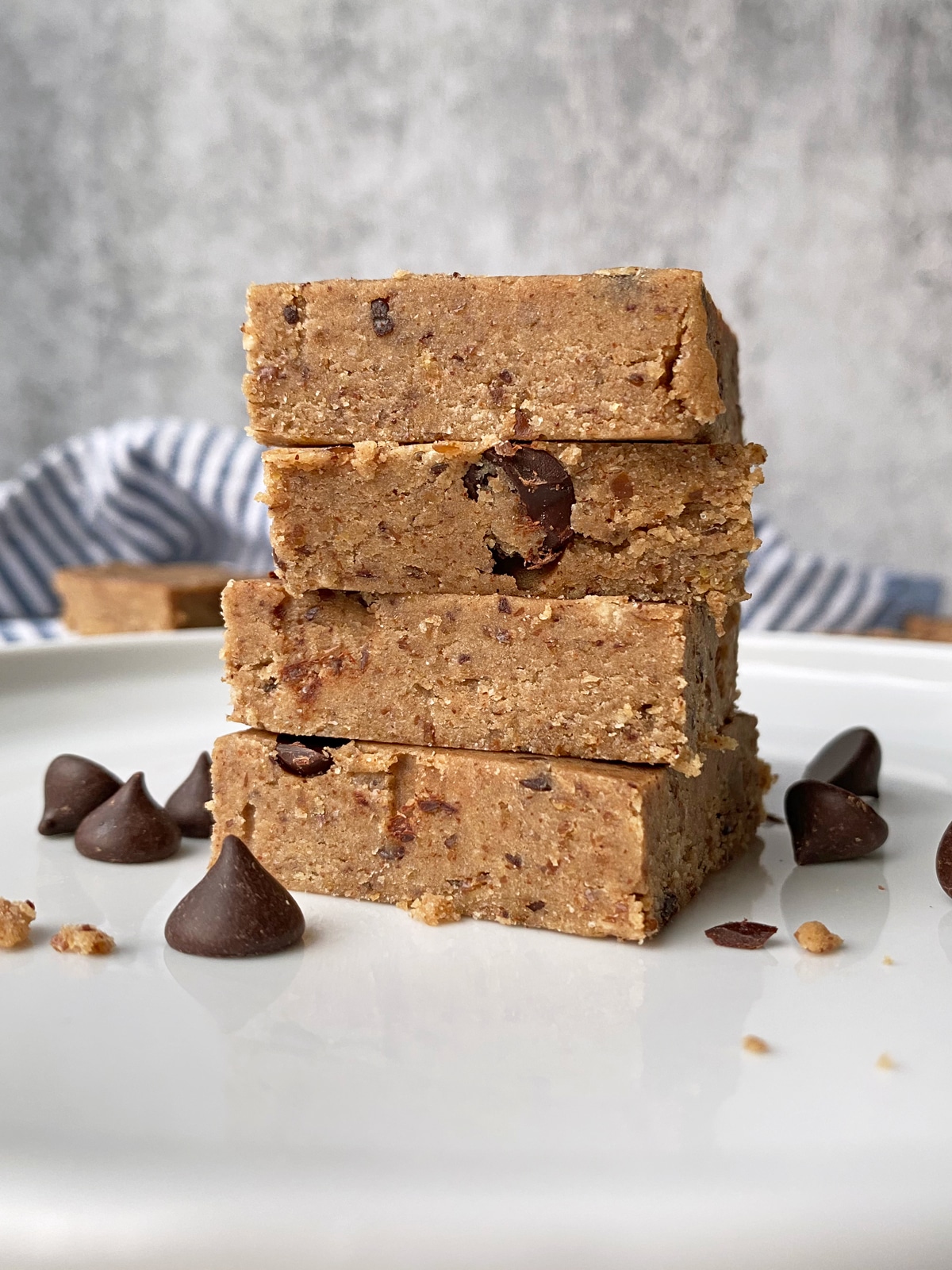 Making your own protein bars is easy!
I prefer making my own because I'm in control of the ingredients, the taste, texture...I have the power to create whatever kind of protein bar I desire. Which, in this case is a protein bar that is Paleo AND Vegan AND low carb.
So, let's talk about the taste...
Paleo and Vegan Protein Bars that Taste Like Cookie Dough
Yes, that's right! Simply put, these low carb protein bars taste just like chocolate chip cookie dough. They have a sweet, yet low sugar, vanilla cookie flavor and are loaded with dark chocolate chips.
But, all this is possible because of the ingredients I used. The proper ingredients are necessary for a delicious cookie dough protein bar without a chemical aftertaste. (You know what I mean if you've tried a lot of conventional protein bars.)
So, let's dive into the ingredients...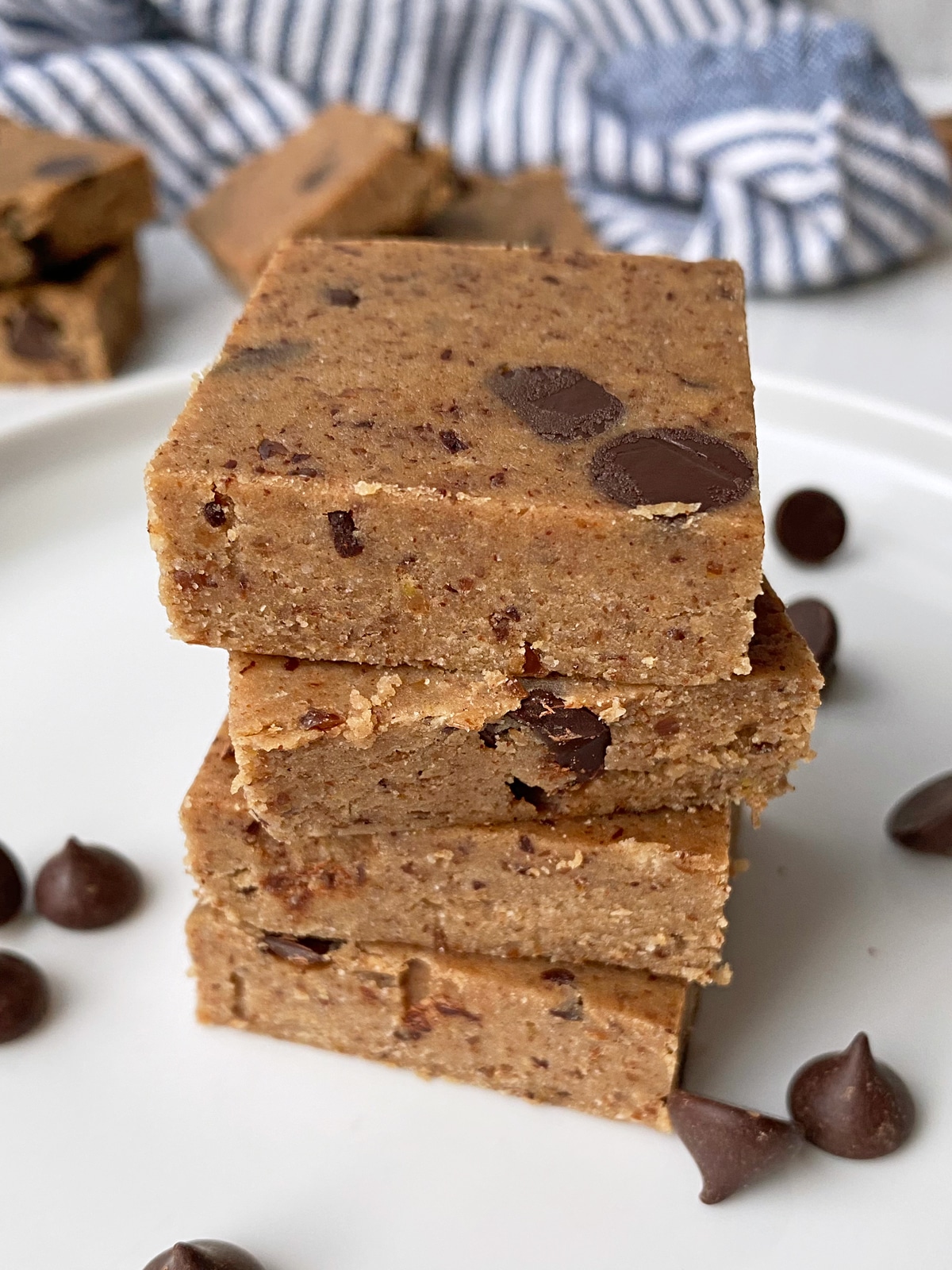 Ingredients
You've go to use the right ingredients to get a delicious, cookie dough flavored protein bar that is Paleo and Vegan.
These are the ingredients you need:
vanilla pea protein
coconut flour
ground flax
sweetener
baking soda (optional)
salt
no-stir almond butter
plant based milk
coconut oil
vanilla extract
dark chocolate chips
Vanilla Pea Protein
I highly recommend using a vanilla flavored pea protein powder in this recipe.  My favorite is from Nuzest (use my discount code: bakeitpaleo for 15% off).  It is Paleo, Vegan and allergy friendly.  Plus, I love the flavor. 
I use this protein powder in many of my recipes, from cookies to energy bites to muffins.  It bakes well, has a lovely vanilla flavor and doesn't contain any added fillers or preservatives.
Sweetener
The sweetener you use will also highly impact the flavor of these bars.  In this recipe, I used golden monk fruit sweetener because it gives these bars a more realistic chocolate chip cookie flavor.  (Conventional chocolate chip cookies tend to use brown sugar.) 
Monk fruit is a great sugar substitute because it doesn't have a chemical aftertaste (like stevia tends to). Better yet, it is acceptable for anyone following a Paleo, Vegan and/or Keto diet.
All that being said, use whatever granulated sugar or sweetener you prefer.
Nut Butter
Although I used no-stir almond butter in this recipe, any smooth, creamy nut/seed butter will work. Almond butter will give you the most realistic cookie dough flavor because it has the most neutral taste of any other nut butter (at least in my opinion). But, sunflower seed butter or peanut butter (not Paleo) would be great substitutes since they have similar textures.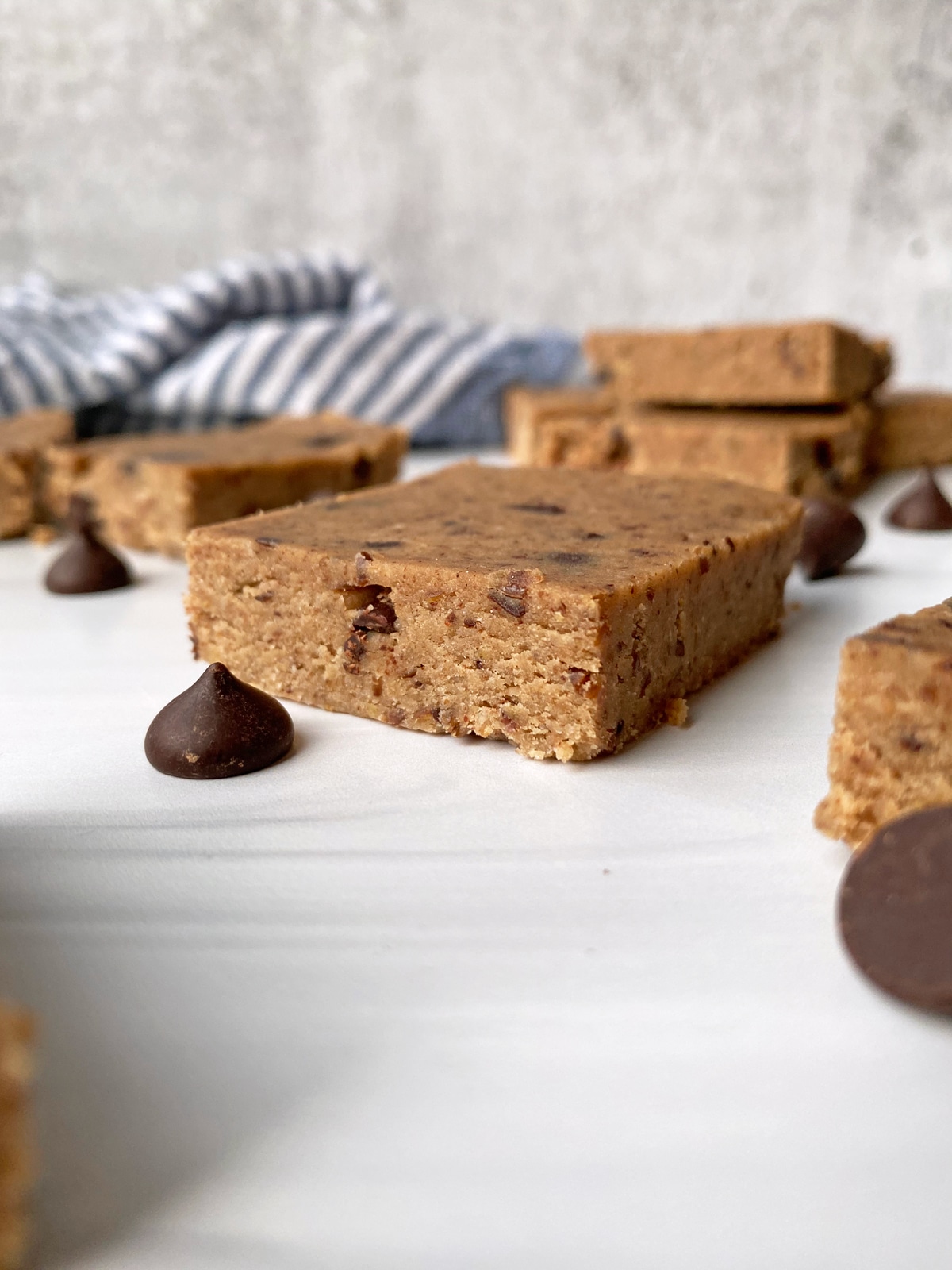 How to Make Cookie Dough Protein Bars
These Vegan Chocolate Chip Cookie Dough Protein Bars are easy to make because all they require are:
Simple, low carb ingredients
Measuring cups/spoons
Medium sized mixing bowl
Spatula for mixing
8" x 8" pan lined with foil
The process is easy and the dough for these Paleo protein bars take fewer than 10 minutes to throw together.
First, combine all dry ingredients in your mixing bowl (except chocolate chips).
Next, mix in all the wet ingredients. Stir first with a spatula, then knead the dough with your hands. At first, the dough will seem too dry (see photo 1 below), but after kneading with your hands you should achieve the right texture (see photo 2 below).
Fold chocolate chips into the batter, then press the dough into a lined 8" x 8" baking pan. I chopped the chocolate chips, but this step is completely optional. Whole chocolate chips will work as well.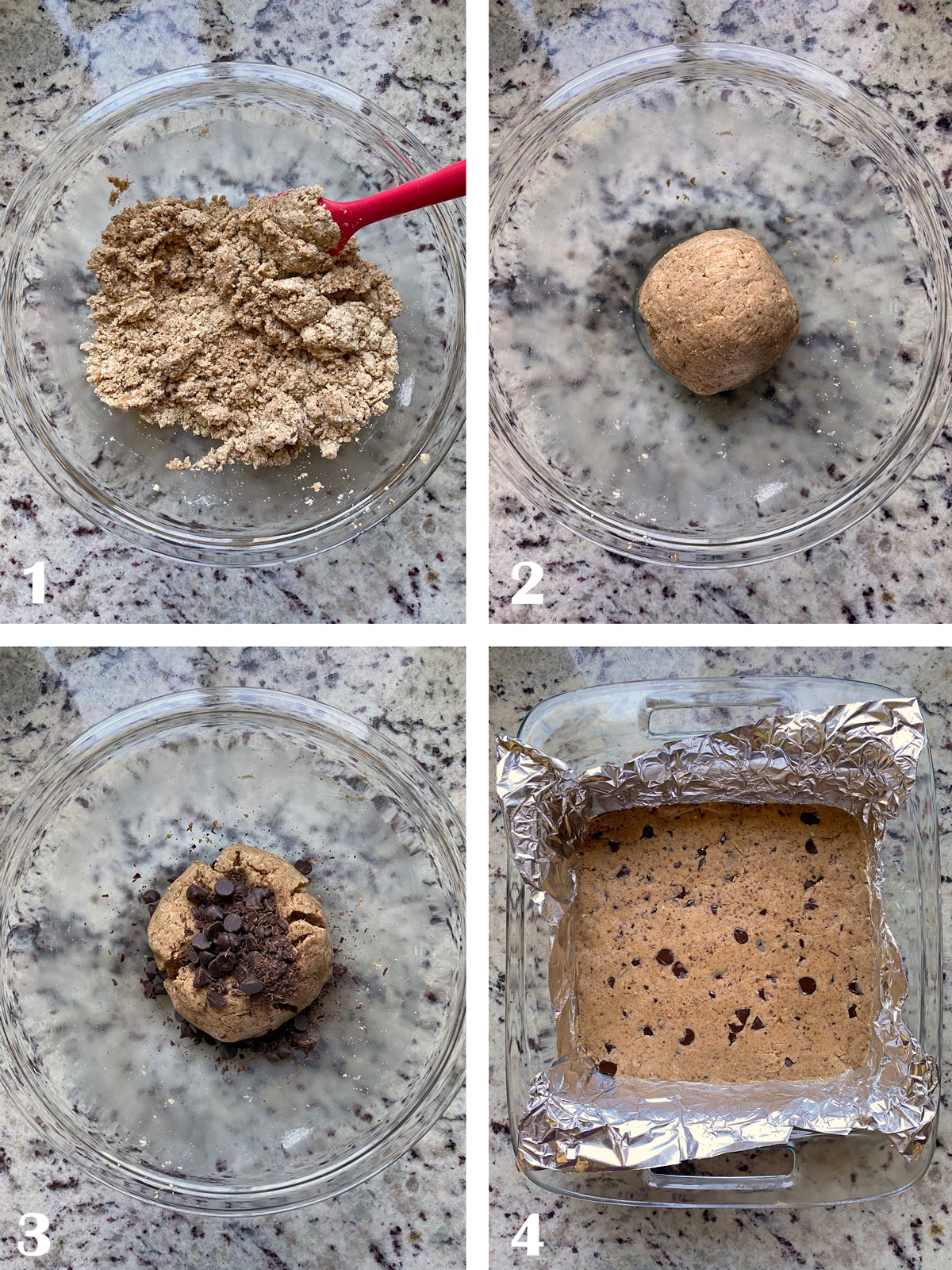 Lastly, place the raw, Paleo cookie dough bars in the freezer to set. This takes about 20 minutes and is necessary if you want them to cut easily and keep their shape.
However, if you don't have the patience (I get it, I really do) you can roll the dough into balls instead. These would then be protein balls rather than bars, but the taste is all the same. And this way, they're immediately ready to eat!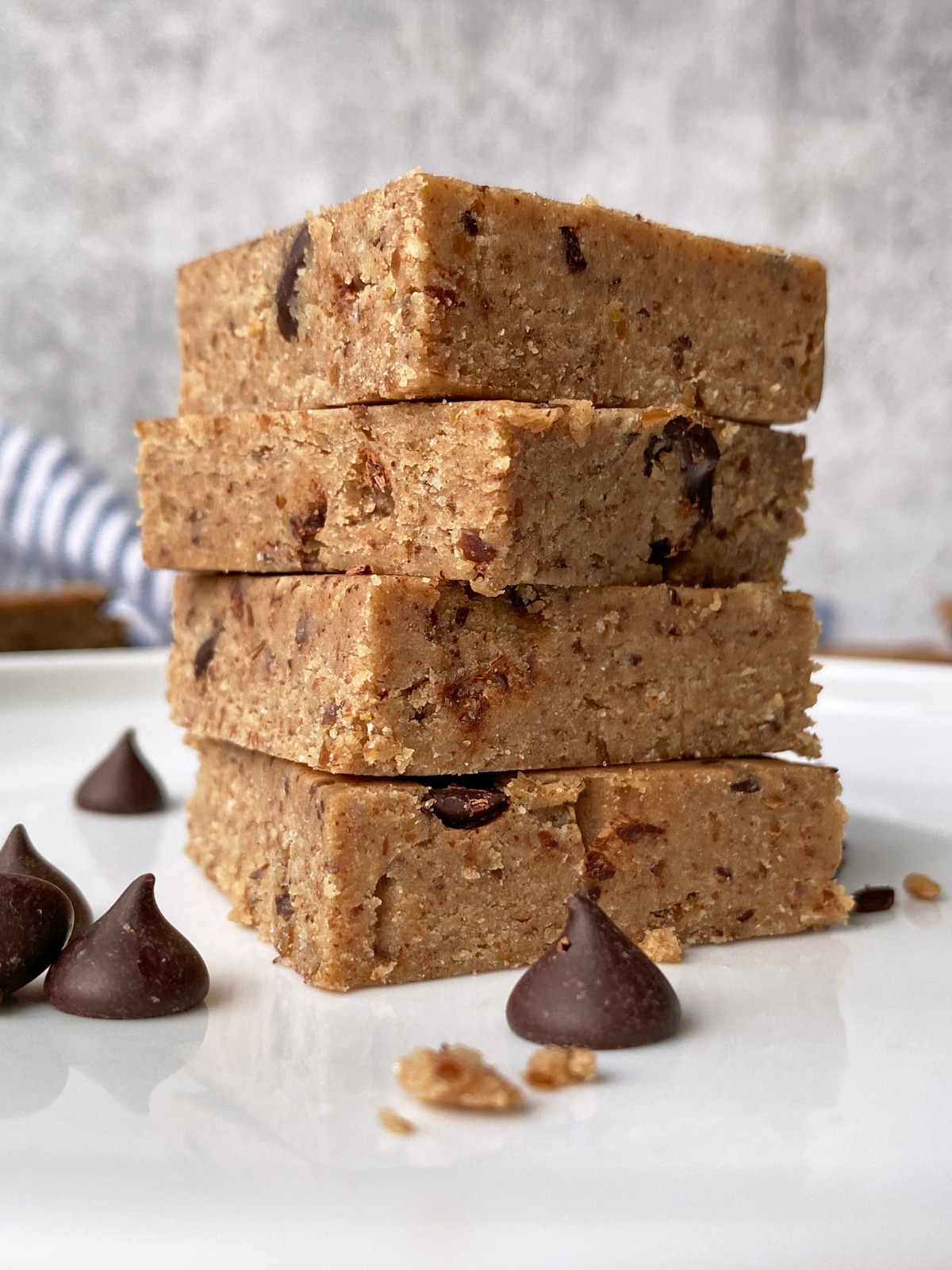 More Paleo Vegan Protein Bar Recipes
I love using Nuzest pea protein to make protein bars. Here are some more Paleo Vegan protein bar recipes from the blog:
Enjoy!
Print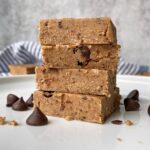 Chocolate Chip Cookie Dough Protein Bars (Paleo, Vegan)
Author:

Katie

Prep Time:

10 minutes

Cook Time:

0 minutes

Total Time:

10 minutes

Yield:

16

bars

1

x
---
Description
These low sugar, paleo and vegan protein bars taste just like cookie dough.  They're perfect for between meal snacks or eaten as a healthy dessert.
---
---
Instructions
In a large mixing bowl, combine protein powder, coconut flour, ground flax, sweetener, baking soda and salt.  Mix.
Add in almond butter, coconut oil, vanilla and milk.  Mix first with a spatula then use your hands to knead the dough.
Fold chocolate chips into the batter.
Firmly press cookie dough into a lined 8" x 8" baking pan.
Place in freezer for at least 20 minutes to set.
Remove from freezer, cut into 16 equal pieces.
Store in fridge or freezer.
---
Notes
For best results, measure ingredients by weight (when given)
*Any pea protein powder will work (for best results measure by weight).  If you're using an unsweetened protein powder, you may want to add an extra tablespoon or two of monk fruit sweetener.  Use my affiliate discount code "bakeitpaleo" for 15% off any Nuzest purchase.
Keywords: cookie dough protein bars, paleo protein bars, vegan protein bars, pea protein bars, vegan chocolate chip cookie dough protein bars, no bake protein bar recipe, paleo vegan protein bar recipe, vegan snacks, paleo snacks, low carb recipes, low carb snacks, low carb protein bars, nuzest protein powder recipes, grain free vegan snacks