I'll be the first to admit, I'm not much into skincare; and I don't have a huge collection of personal care products in terms of beauty products and makeup. Perhaps it's the fact that I'm 30 and still get mistaken for a teen, but it's just never been something that interests or concerns me. And thankfully I've always had pretty clear skin, which I give credit to my diet and lifestyle.
That being said, I DO care about the ingredients in the few products that I actually use use! I've had a lot of trial and error with natural products; natural shampoos and conditioners, as well as dish soap, laundry detergent and toothpaste. But, like most things, you just have to keep trying until you find what you like.
Today I'm going to share my favorite personal care products; meaning skin products, shampoos and conditioner, toothpaste and makeup. These are all products I use weekly, if not daily and have purchased time and time again because I love them so much! So here we go...
Mascara
I first heard about this organic mascara from someone's Instagram stories and I was immediately intrigued...mostly because of the price! This Naturally Rooted Mascara
is under $15, which seems to be a steal for any organic makeup product. So, I made a purchase and instantly fell in love!
This organic mascara works SO well - no smudging, irritation, clumping or scent and it's easy to wash off. It's free of parabens, dyes and gluten, and contains a nourishing formula of chamomile and sunflower oil which helps strengthen your eyelashes. This is the best mascara, natural or not, that I've ever used.
Eye Shadow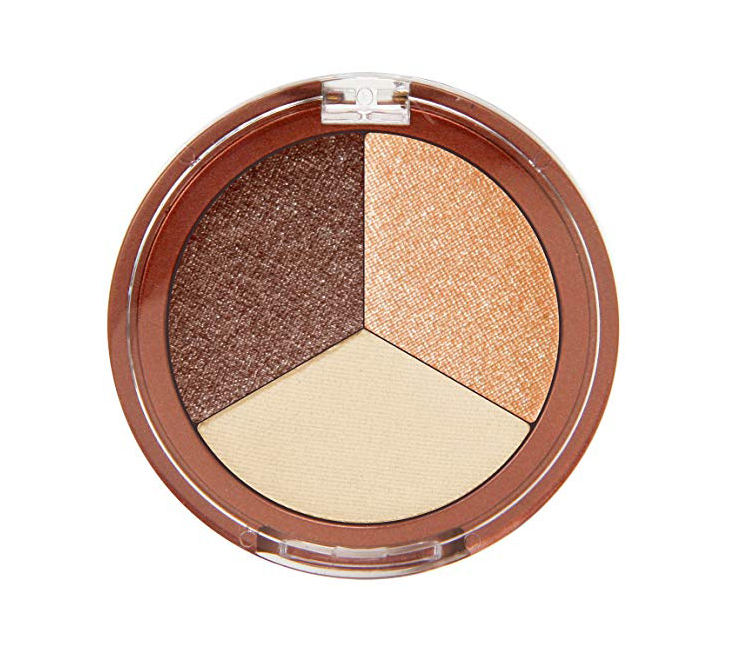 I'm not one to use a lot of eye shadow, and I tend to lean towards neutral colors. So, this EWG verified eye shadow from Mineral Fusion is perfect! It's just as great as any conventional eye shadow I've used. BUT, it has ingredients that are actually healthy and non-toxic.
Mineral Fusion's products are not cheap, but it's common to pay more for high quality. Plus, if you're like me you don't use much each day, making the cost totally worth it. I use this eye shadow nearly every day and have barely made a dent in it after 2 months of use.
Mineral Fusion has a variety of color palettes available to choose from. All with a great EWG rating.
Face Wash
My favorite face wash is Be Well Company's Cleansing Facial Oil. I have the Lavender & Myrrh which has a soft, very delicate smell that doesn't bother me (I'm highly sensitive to smells).
This cleansing oil is perfect for all skin types and works well for removing makeup and nourishing your skin. Some of it's many benefits include:
removes dirt and impurities from pores
firms skin
contains nourishing fatty acids
enhances elasticity
strengthens capillaries
prevents wrinkles
naturally anti-bacterial.
I tend to have very dry skin and I love how hydrating it is - makes my face feel silky smooth! You can purchase this cleansing facial oil from the Be Well Company website. Use my Be Well Company discount code: RABBIT for 10% off your purchase.
Deodorant
Be Well Company's The Best Deodorant is by far the best natural, non-toxic deodorant I have tried. I mean, the name says it all...BEST DEODORANT! It is long-lasting, doesn't irritate my skin, and actually keeps the stink away.
To use, I simply put two sprays of this organic deodorant under my arms before the gym and it lasts through my workout. It has a light rose-water scent that I only notice when I first spray it and it doesn't bother my sensitive sense of smell in the least.
Each bottle contains approximately 420 sprays, meaning it will last well up to 3.5 months and making the price absolutely worth it! (I've had my first bottle for about 3 months now and I should get another 2-3 weeks use out of it.) You can purchase this deodorant with my Be Well Company coupon code: RABBIT for 10% off your purchase.
Shampoo
Finding a good natural shampoo has been one of the hardest product changes for me. Many non-toxic shampoos leave my hair feeling dry, brittle or oily or I simply don't like the smell! But I finally found a shampoo that I love: Acure Coconut and Marula Shampoo.
This
shampoo is free of: animal ingredients, parabens, sulfates, phthalates, mineral oil, petrolatum, silicone and animal testing. It has a lovely coconut smell that both my husband and I enjoy and this shampoo actually produces a lather - making you feel like the product is working. It works great with my hair and I haven't noticed any irritation, dryness, or had an oily or flaky scalp from months of use.
Dry Shampoo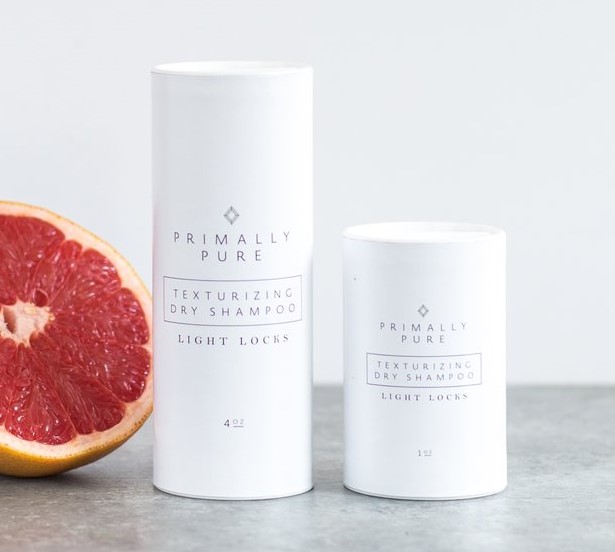 I try my hardest not to wash my hair every day. Which, can be tough since I workout most days of the week and tend to have a more oily scalp. However, since using Primally Pure's dry shampoo, I can go longer between hair washes.
Primally Pure offers two different types of dry shampoo - one for those with a lighter hair color and one for dark hair. Both of these products contain kaolin clay and organic arrowroot powder to absorb moisture, while adding texture and volume. In addition, these dry shampoos contain essential oils with beneficial properties:
grapefruit - natural cleansing properties
lavender - soothes the scalp
peppermint - stimulates hair growth
For any Primally Pure purchase, be sure to use my discount code: BAKEITPALEO.
Conditioner
My all-time favorite natural conditioner is Maple Holistics Silk 18 Conditioner
. This conditioner helps tame my frizzy hair (which unfortunately I never had until after having kids) and makes it feel softer and shinier than any other natural conditioner I've tried. It is free of sulfates, artificial fragrances, coloring and has a soothing natural vanilla aroma that I love.
Toothpaste
My favorite brand of toothpaste is Jason Fluoride-Free Toothpaste
. Jason has a lot of unique flavors, many of which I love and I feel like their toothpaste helps clean, strengthen and whiten my teeth. I've tried many of their flavors but one of our family favorites is the JASON Sea Fresh Strengthening Deep Sea Spearmint toothpaste. It contains botanicals such as blue green algae, spearmint and parsley and is free of: fluoride, gluten, saccharin, artificial sweeteners, parabens, propylene glycol and SLS. I've been using this brand for years and haven't had any cavities since...whether or not that's from the toothpaste, I can't be sure, but it sure isn't hurting my teeth!
Lip Balm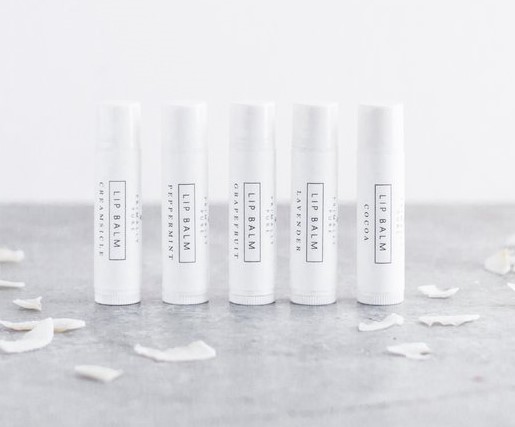 Honest truth: Prior to a month ago, I'd never found a lip balm that I like. The biggest issue I always had was that using lip balms (chapstick, lipgloss...) always left me feeling greasy. Sometimes my face would even feel puffy after using certain lip products. Furthermore, some products actually left my lips drier than before!
But finally, I found a lip balm that not only has excellent ingredients, but that my skin loves! Primally Pure offers 5 different lip balm "flavors" made from: organic beeswax, organic extra virgin coconut oil, organic cocoa butter, tallow from grass-fed cows, shea butter and essential oils. Their products deeply moisturize and heal chapped lips.
For any Primally Pure purchase, be sure to use my discount code: BAKEITPALEO.
Lotion
I actually have a couple different lotions that I love. One that is unscented, simple and hydrating, yet not super thick in texture. The other is from Primally Pure. It has a light scent and is super thick, but also very hydrating.
I do not like lotion with any fragrance - natural or chemical. This DERMA E Lotion
is fragrance free and works really well for my dry skin. It isn't too oily and doesn't leave me feeling greasy. I use it on my legs and hands when they are extra dry and I've never had any irritation or breakouts because of it.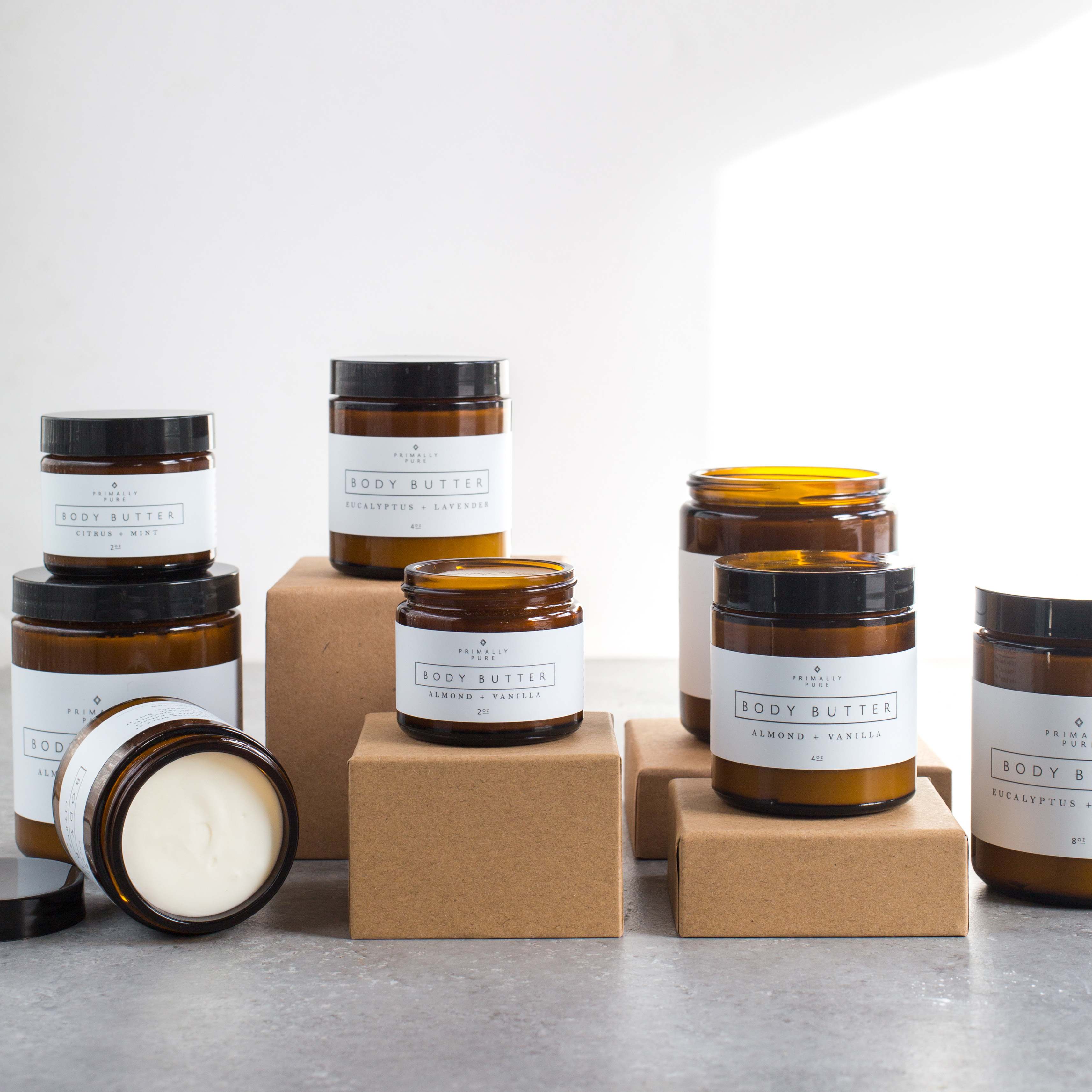 This Primally Pure body body comes in three different scents:
Citrus + Mint
Almond + Vanilla
Eucalyptus + Lavender
My favorite is the Citrus + Mint Body Butter. It has a light, refreshing smell from the organic citrus and peppermint essential oils.
Primally Pure makes their body butter with tallow from grass-fed cows. This is rich in Vitamins A, D, E and K, and has anti-inflammatory properties. Their body butter is thick and deeply moisturizes the skin without leaving it oily.
For any Primally Pure purchase, be sure to use my discount code: BAKEITPALEO.
Sunscreen
This Badger Clear Zinc Sunscreen
is the best natural sunscreen and my entire family uses it. I've purchased Badger sunscreen since my first child was born. Before that, I didn't think much of what I was putting on my skin. But, babies have such delicate skin and having my own child prompted me to make this purchase. I haven't looked back since and continue to buy a new bottle each year for the whole family to use.
This sunscreen is fragrance-free, water resistant up to 80 minutes and doesn't leave behind any white residue (so long as you take the time to rub it in).
What are some of your favorite skin care products/brands? Do you have a hard time finding healthy personal care products that work?