These healthy paleo bagels are boiled then baked - giving them an authentic, chewy bagel texture. They are made with cassava flour and flavored with a little honey. In addition, this healthy bagel recipe is grain free, gluten free, dairy free, yeast free and nut free.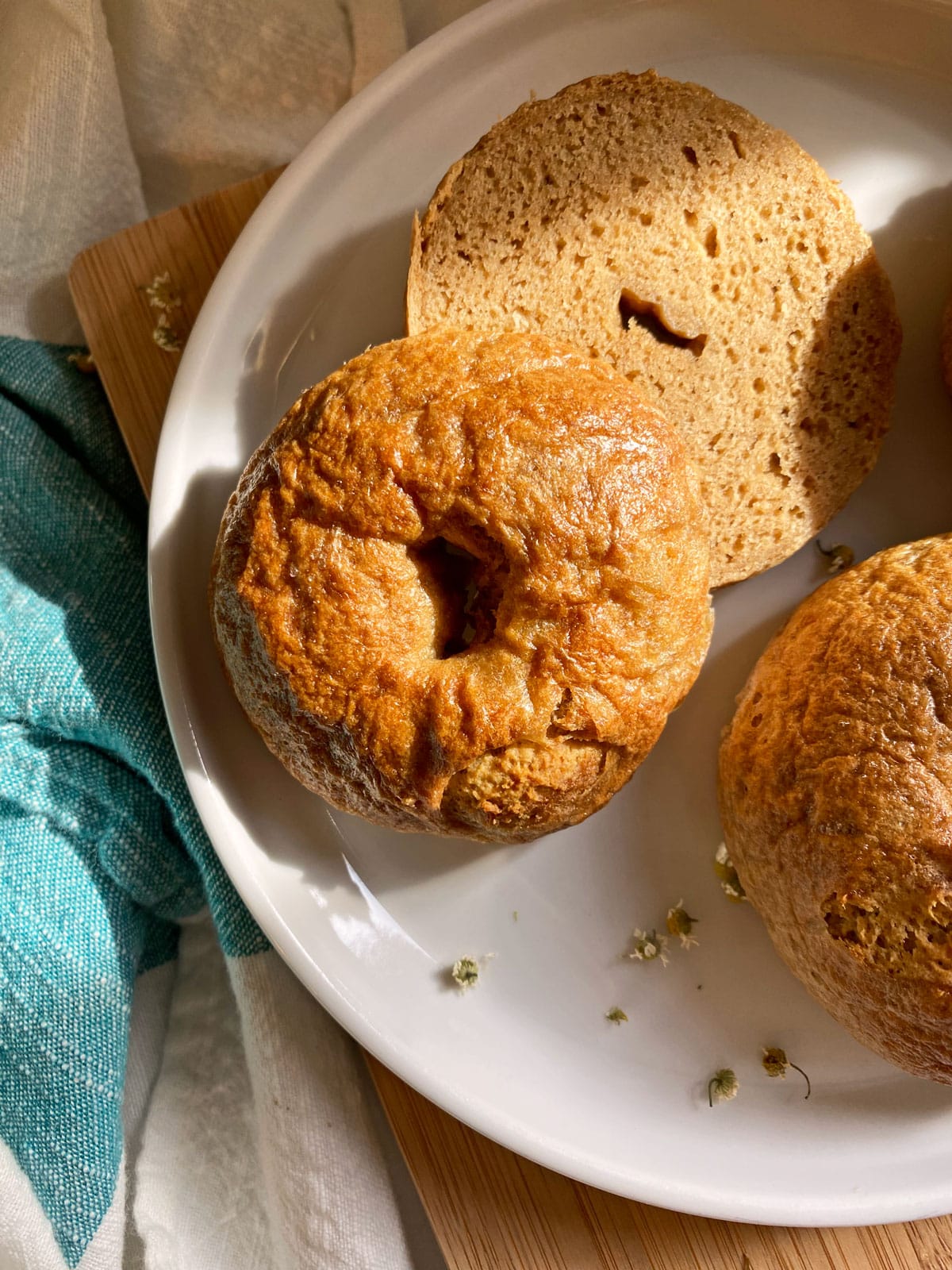 I tested this paleo bagel recipe more times than I can count and I finally found the perfect combination of ingredients! And since then, I've made these bagels again and again, as they are a family favorite.
These easy paleo bagels are made with cassava flour and completely yeast free. They are sweetened with just a bit of honey for flavor purposes and have a chewy bagel texture, just like what you would expect from a conventional bagel.
The BEST Paleo Bagel Recipe
Not to toot my own horn, but these are the best paleo bagels. They are:
crisp on the outside
chewy on the inside
grain free, gluten free, dairy free, nut free
made without yeast
made without yogurt
taste great plain or with toppings
Furthermore, since this is a plain bagel recipe, it can be customized to include other flavors. For instance, you could use add-ins such as: poppy seeds, sesame seeds, cinnamon and raisins, everything bagel seasoning, etc. This is a great baseline paleo bagel recipe.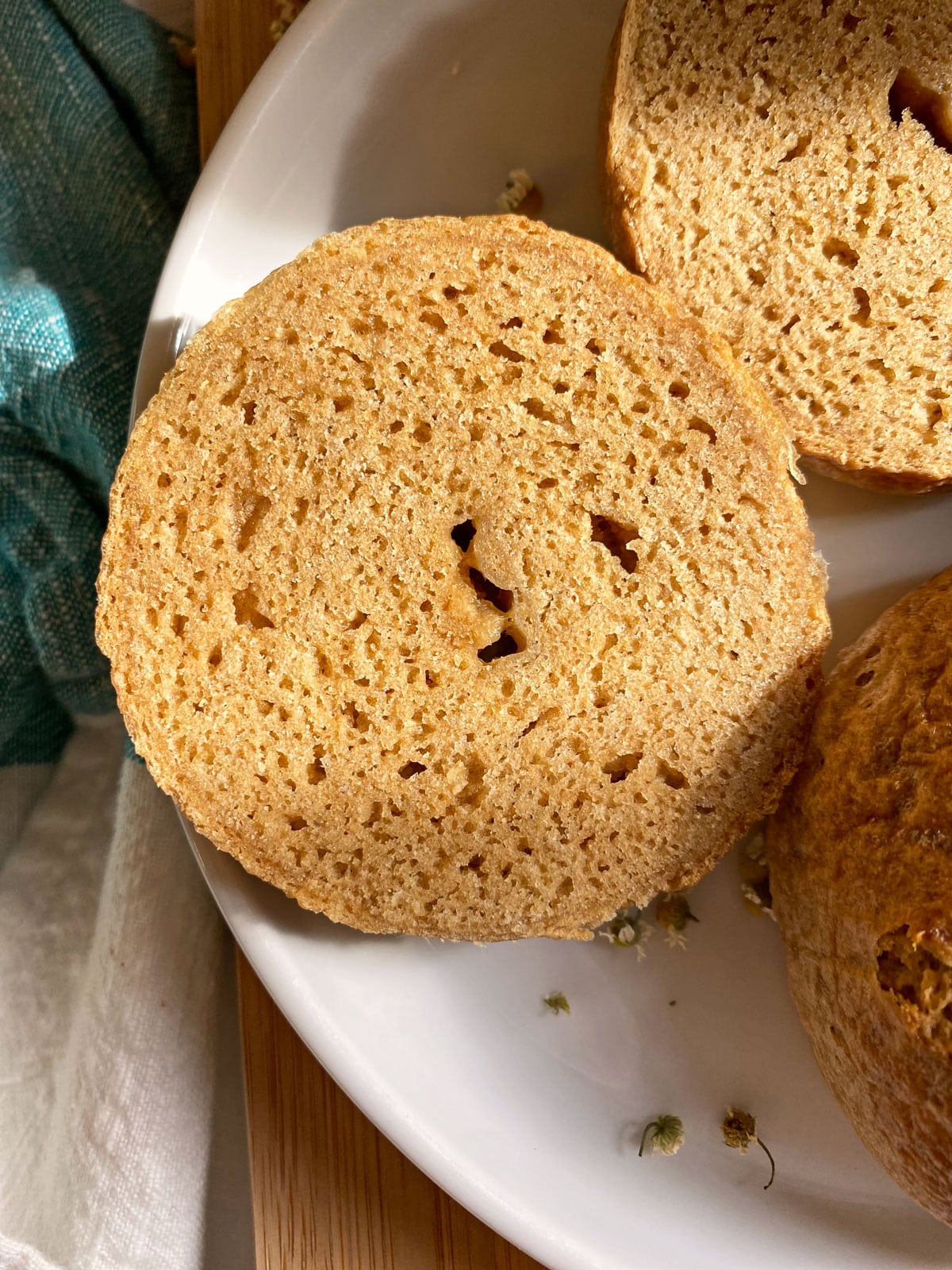 Ingredients
My grain free bagel recipe contains less than 10 ingredients. Here's a list of what you need:
tapioca flour/starch
cassava flour
baking powder
xanthan gum (optional, but recommended for texture purposes)
salt
eggs (or flax/chia eggs)
non-hydrogenated shortening (or butter)
honey (or maple syrup)
water
Ingredient Substitutions
Xanthan Gum
Xanthan gum is a controversial ingredient in the Paleo realm. Some sources with say it's not paleo, some say it is and others say it's okay to have every now and then.
Now, I don't consume a lot of products with xanthan gum, nor do I do a lot of baking with it. This ingredient is just SO important to get the desired texture for these bagels.
Xanthan gum provides elasticity to the dough, making it easier to work with and making the result more bread-like. If you choose not to use it, that is fine. Just note, the texture won't be quite like the bagels in these photos.
Eggs
These Paleo bagels contain eggs, which help bind the ingredients together. BUT, the eggs may be replaced with flax or chia eggs, making this an egg-free paleo bagel recipe.
Make one flax/chia egg by combining one tablespoon of ground flax/chia seed with three tablespoons of water. Note: if you are making this substitution, you will need additional water (a few more tablespoons) to get the right dough consistency.
Non-Hydrogenated Shortening
I use Nutiva shortening in a lot of my baking because it is a great dairy-free alternative to butter. If you tolerate dairy, butter would be a good replacement. However, I have not tried this substitution myself.
Honey
These bagels are sweetened with just one tablespoon of honey. I tested them without any sweetener, but felt that they lacked flavor. However, the honey can be substituted with any liquid sweeter - maple syrup is a great paleo vegan option.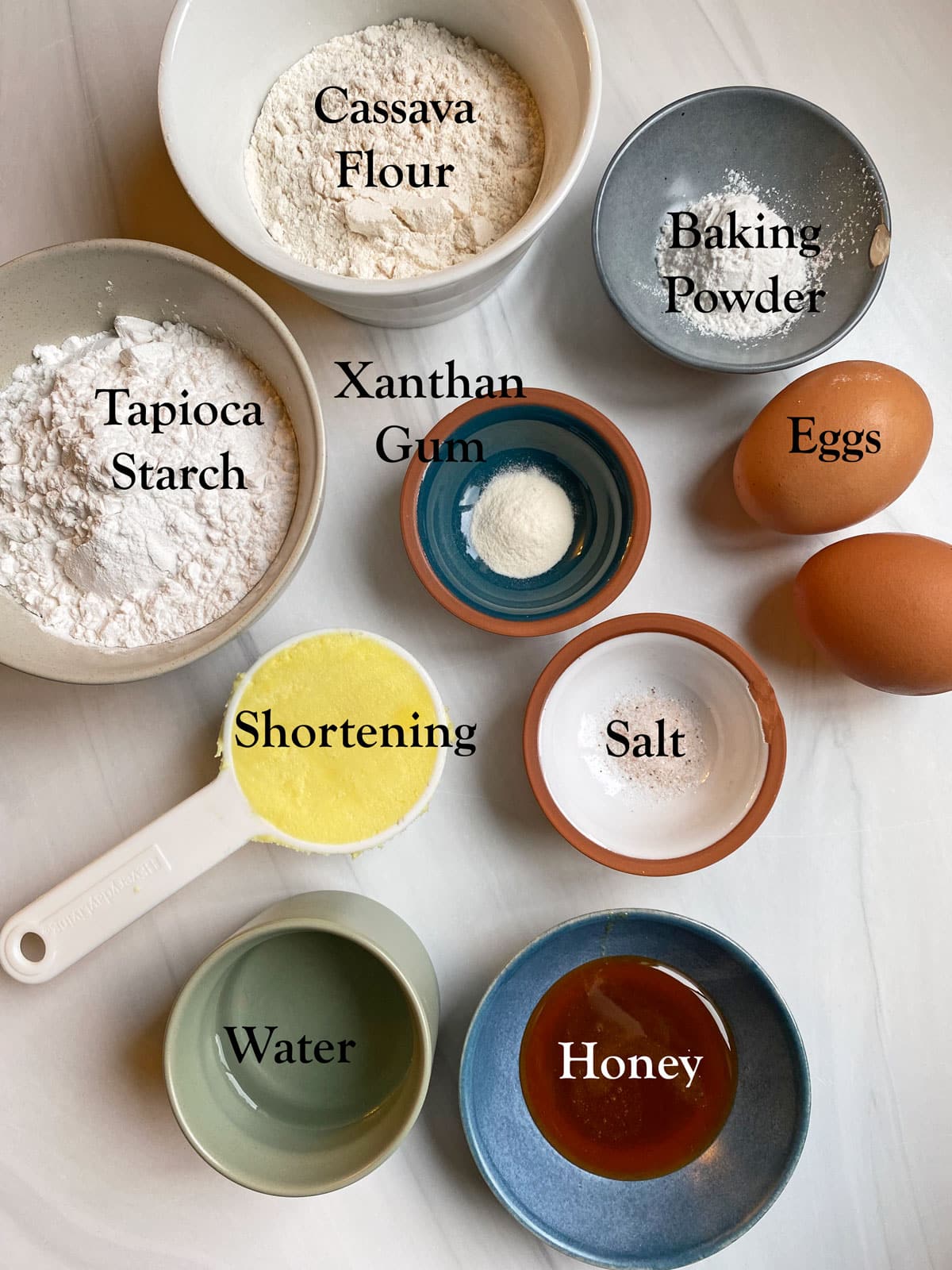 How to Make Paleo Bagels
The batter for these cassava flour bagels is made in one bowl. The bagels are easily shaped by hand, boiled in a large pot of water and then baked in the oven. I know boiling them can seem intimidating...but trust me, it's actually a really simple process!
So, let's get to it! Here's the step by step process on how to make Paleo bagels using cassava flour.
First, preheat your oven to 425 degrees F. Then, grab a large pot and fill it with water so that the water level is 3-4 inches deep. Set the pot on your stove top and bring to a boil.
While the oven is preheating and the water is starting to boil, make the dough.
In a large mixing bowl, combine tapioca flour, cassava flour, baking powder, xanthan gum and salt.
Then, add in shortening, eggs and honey. First, mix with a fork, then use your hands to knead the dough. It will start off quite crumbly, but keep working with it and the dough will begin to take shape. Add the water one tablespoon at a time, until the dough can be formed into a ball.
Separate the dough into four balls. Mold each ball into a bagel shape by pressing your finger through the middle of the ball and then slightly flattening it.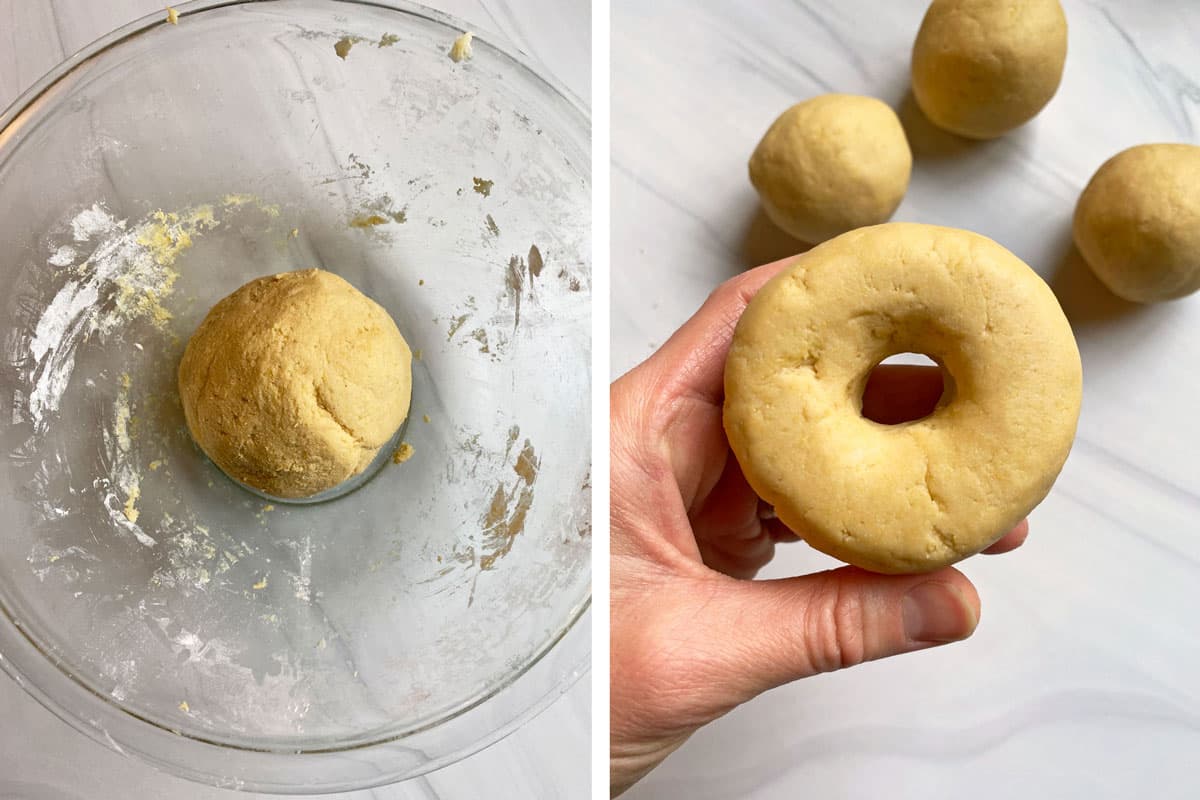 Once the water has started to boil, add the bagels. Boil the bagels for about 30 seconds on each side.
Remove the bagels from the water and place on a lined baking sheet. Add an egg white wash to the top of each bagel. This wash consists of: one egg white and one tablespoon water. If you're making these paleo bagels vegan, then skip the egg white wash.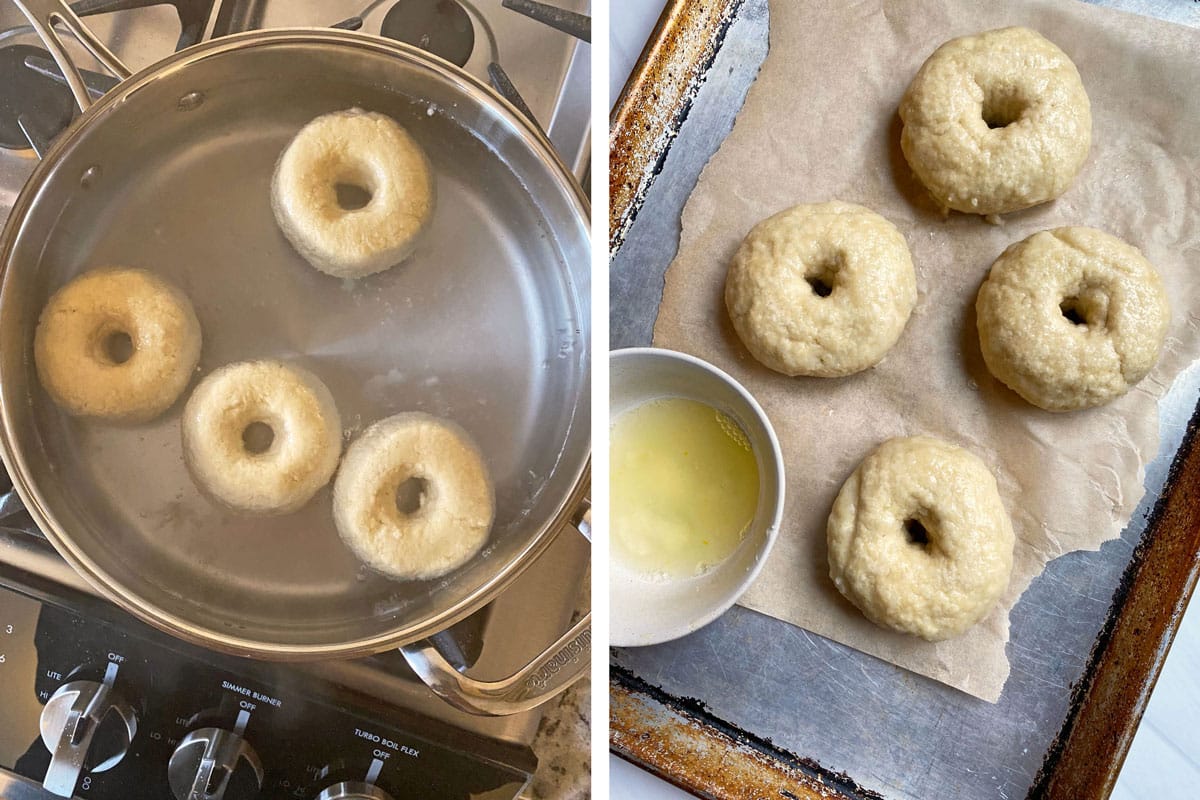 Lastly, place the bagels in the oven and bake at 425 degrees for 20 minutes. When done, the bagels should be a golden brown. They have a crisp outer texture, but are soft on the inside.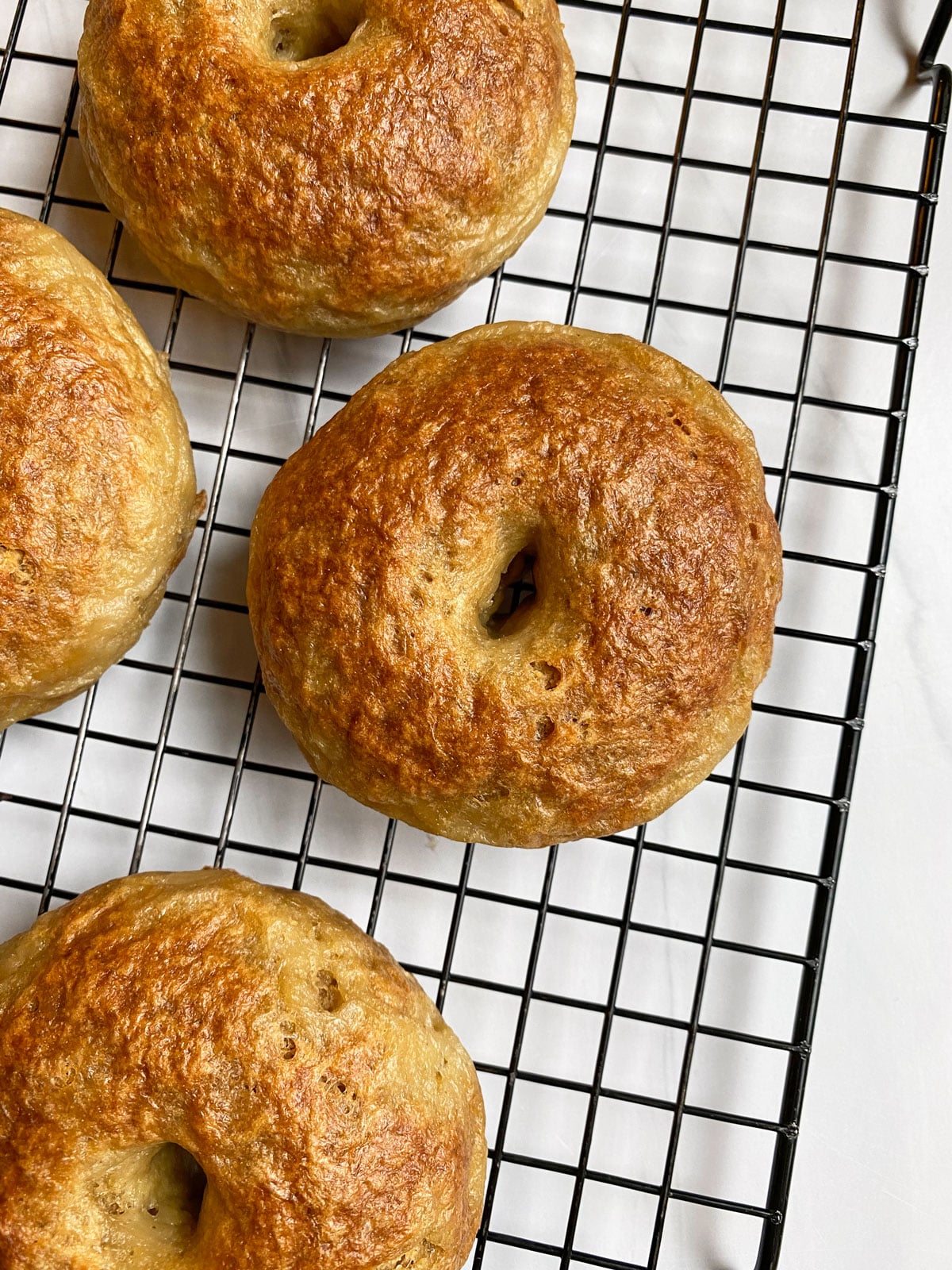 How to Store Bagels
These bagels are best stored in an air-tight container at room temperature for 3-5 days.
They do harden after sitting out. To soften, place the bagels in a microwavable dish. Dampen a paper towel, napkin or small towel and place it over the bowl. Microwave the bagel (on high) for 20 seconds. Flip bagel and microwave an additional 20 seconds. Afterwards, it should be soft. You can also cut them and broil them in the oven to crisp the outside.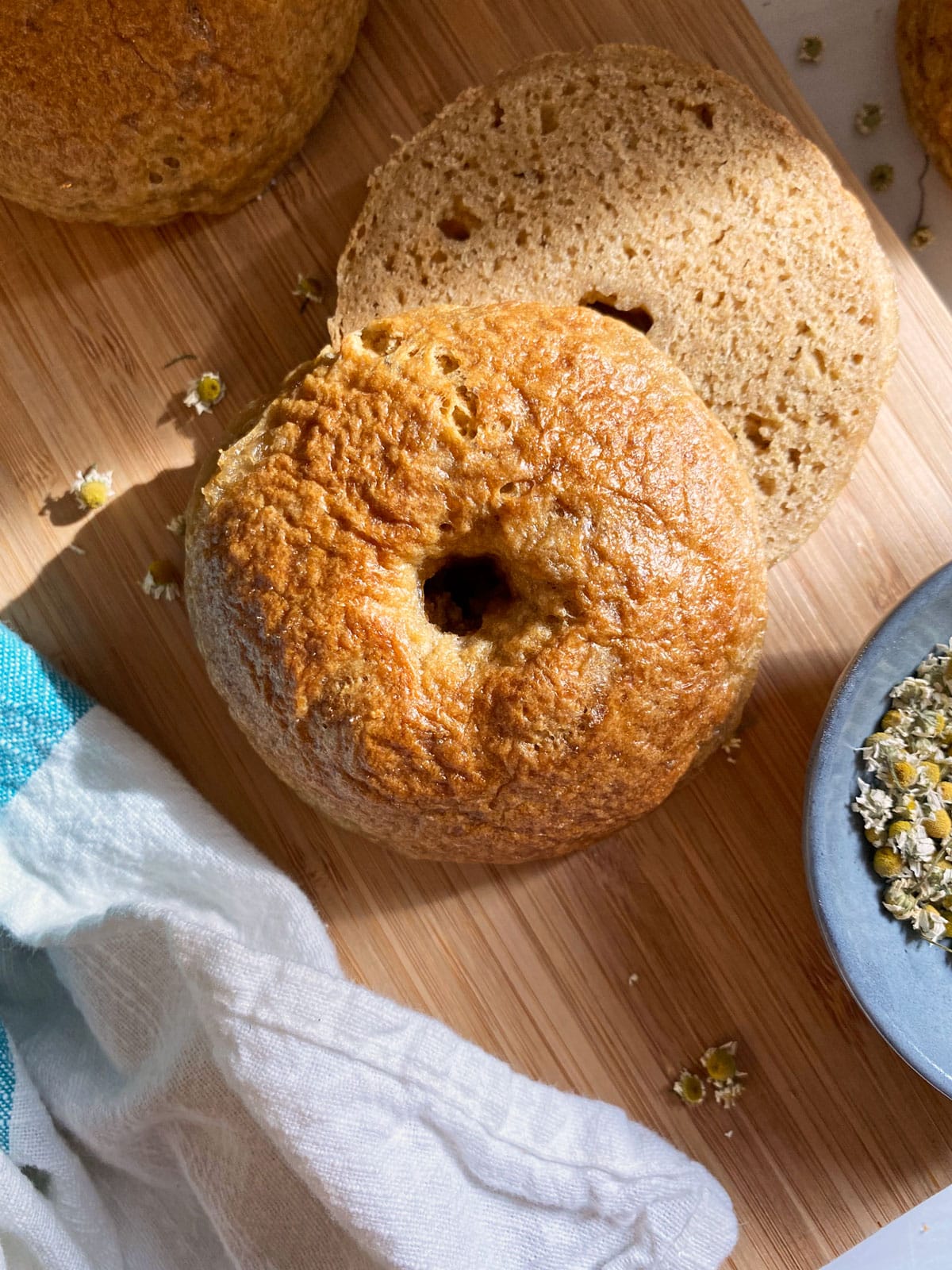 Commonly Asked Questions
Can these bagels be made vegan?
Yes! With a couple simple substitutions, this can be a Paleo Vegan bagel recipe. The texture will be slightly different, but the taste is just as great. Simply, swap the eggs for flax or chia eggs and add a couple extra tablespoons of water. Also, use maple syrup instead of honey.
Do you have to boil the bagels?
Boiling these homemade bagels is what gives them their chewy texture. You can make this recipe by just baking the bagels, but they won't hold together as well and have a drier, more crumbly texture.
Can I add toppings?
Yes! You can add any toppings or mix-ins to these bagels. Many of my readers have added fresh blueberries, cinnamon and raisins, spices and herbs and had great results.
More Healthy Cassava Recipes
I love baking with cassava flour and have many cassava recipes on my site. Here are some reader favorites:
Enjoy!
Print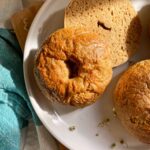 Paleo Bagels (Yeast Free, Nut Free, Dairy Free)
Author:

Katie

Prep Time:

10 minutes

Cook Time:

20 minutes

Total Time:

30 minutes

Yield:

4

small bagels

1

x
---
Description
Healthy grain free, gluten free, nut free, yeast free and dairy free bagels made with tapioca flour and cassava flour.
---
---
Instructions
Preheat oven to 425 degrees F.
Fill a large pot with water and bring to a boil.  (Water should be around 3-4 inches deep.)
In a large mixing bowl, combine tapioca flour, cassava flour, baking powder, xanthan gum and salt.
Mix in eggs, shortening and honey first using a fork, then with your hands. 
Add water one tablespoon at a time** until dough holds together and can be rolled into a ball.
Separate dough into four balls. Shape each ball into a bagel.
Place bagels in boiling water and cook for about 30 seconds on each side.
Remove bagels from water and place on a parchment lined baking sheet.  Coat the bagels with an egg white wash (optional)***
Bake in preheated oven at 425 degrees for 20 minutes, or until golden brown and cooked through.
Remove from oven and cool on cooling rack.
---
Notes
*Flax or chia eggs may be used in place of the eggs.  1 flax/chia egg = 1 tablespoon ground flax/chia + 3 tablespoon water.  If making this substitution, you will need additional water to reach the proper dough consistency.
**Add water as needed.  Start with one tablespoon and add more if necessary.
***To make an egg white wash, whisk together one egg white and 1 tablespoon water.
Keywords: paleo bagel recipe, cassava flour bagels, healthy paleo bagels, easy paleo bagels, yeast free paleo bagels, paleo bagels no yeast, gluten free bagel recipe, nut free paleo bagels