These cinnamon cassava muffins are paleo, gluten free and only sweetened with dates (no sugar added). They are made with Otto's cassava flour and a little coconut flour, making them completely grain free and nut free. Furthermore, this small batch muffin recipe has a delicious, lightly sweetened taste and moist, dense texture.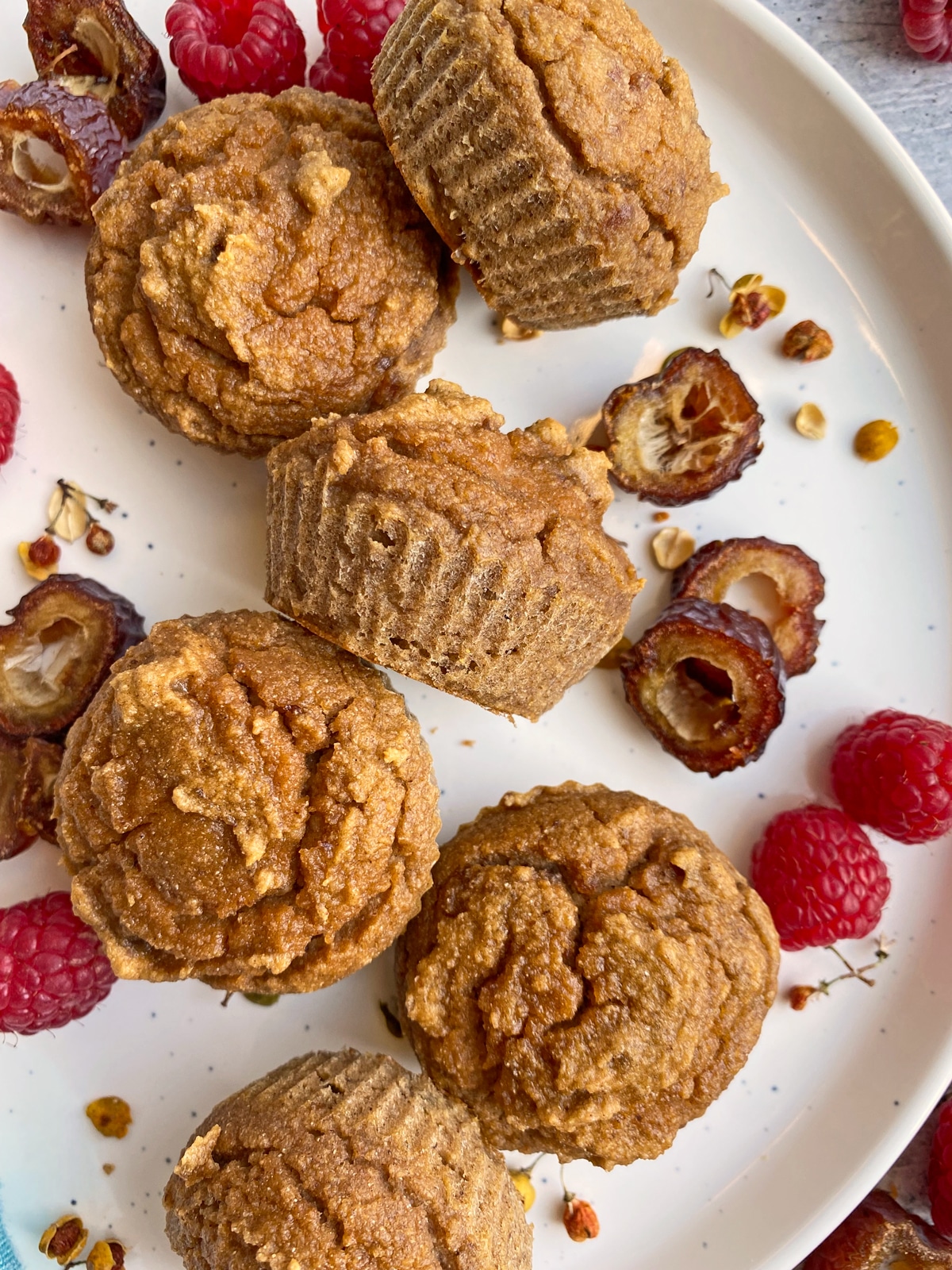 These cinnamon cassava muffins are one of the first cassava flour recipes I ever created.
They're moist, dense, only sweetened with dates and perfect as a breakfast side or snack.
Needless to say, they hold a special place on my list of favorite recipes.
What is Cassava Flour?
First thing's first. What is cassava flour?
Cassava flour comes from from the cassava (or yuca) root. The cassava root is peeled, dried and ground to make cassava flour. You can probably guess that cassava flour is grain free and paleo friendly since I use it in so many of my recipes. It also works well as a 1:1 substitution (by weight) for wheat flour and many gluten free baking mixes.
Now, it's important not to confuse cassava flour with tapioca starch. Yes, they both come from the cassava root, but they are very different. Tapioca is the extracted starch of the cassava root. Whereas, cassava flour comes from the whole cassava root. They serve very different purposes in baking and cooking and are not interchangeable.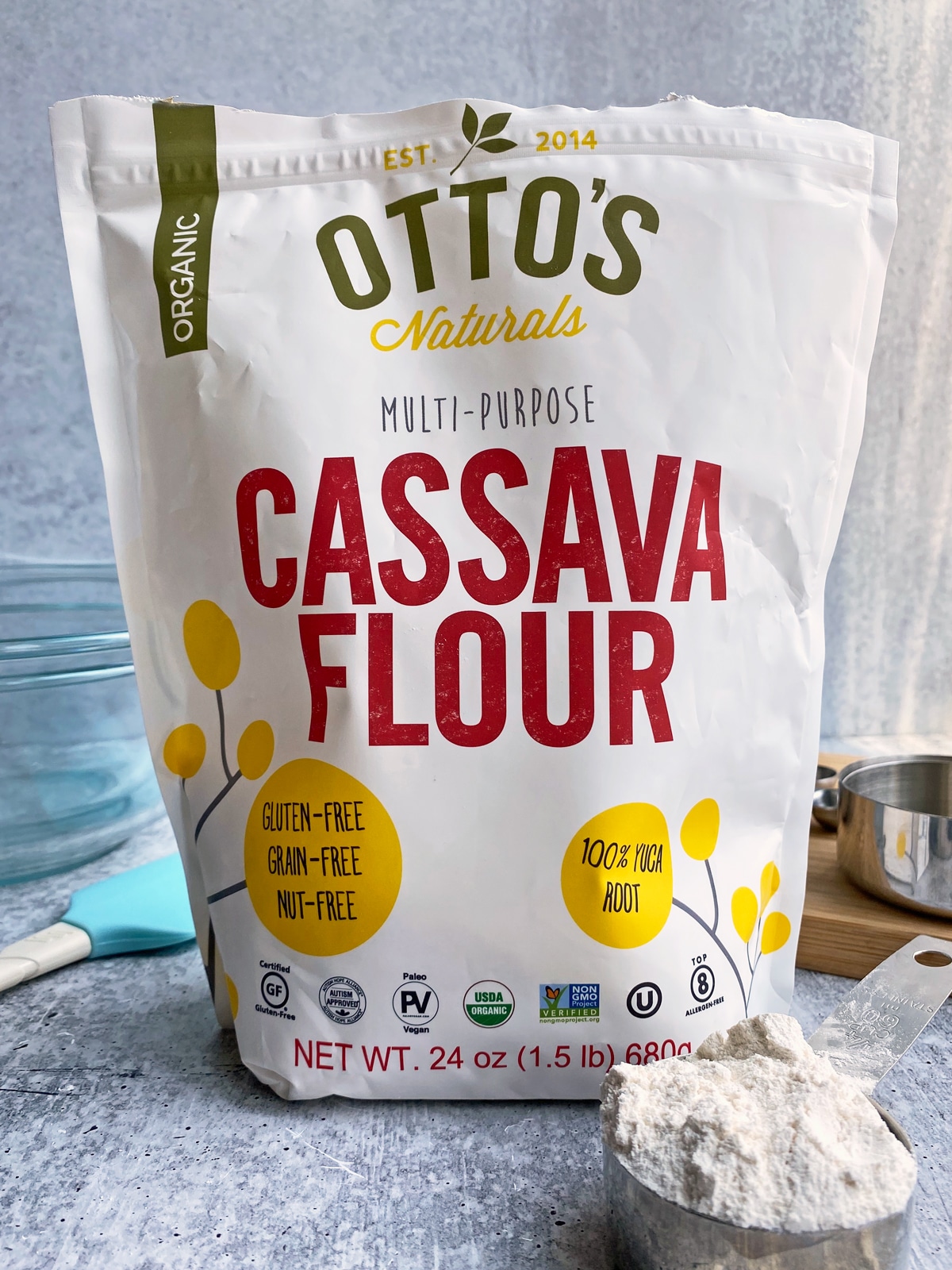 Best Brand of Cassava Flour
My favorite brand of cassava flour is Otto's Cassava Flour. They have the highest quality cassava flour and it works better for paleo baking than any other brand I've tried.
Otto's Cassava Flour peels, dries and then grinds their cassava into a reliable flour. They also ensure that every batch is free of the top 8 allergens.
Baking with Cassava Flour
If you follow my blog, you know I use quite a bit of cassava flour in my baking. Nearly anything can be made with cassava flour. Here are some of my favorite paleo cassava flour recipes: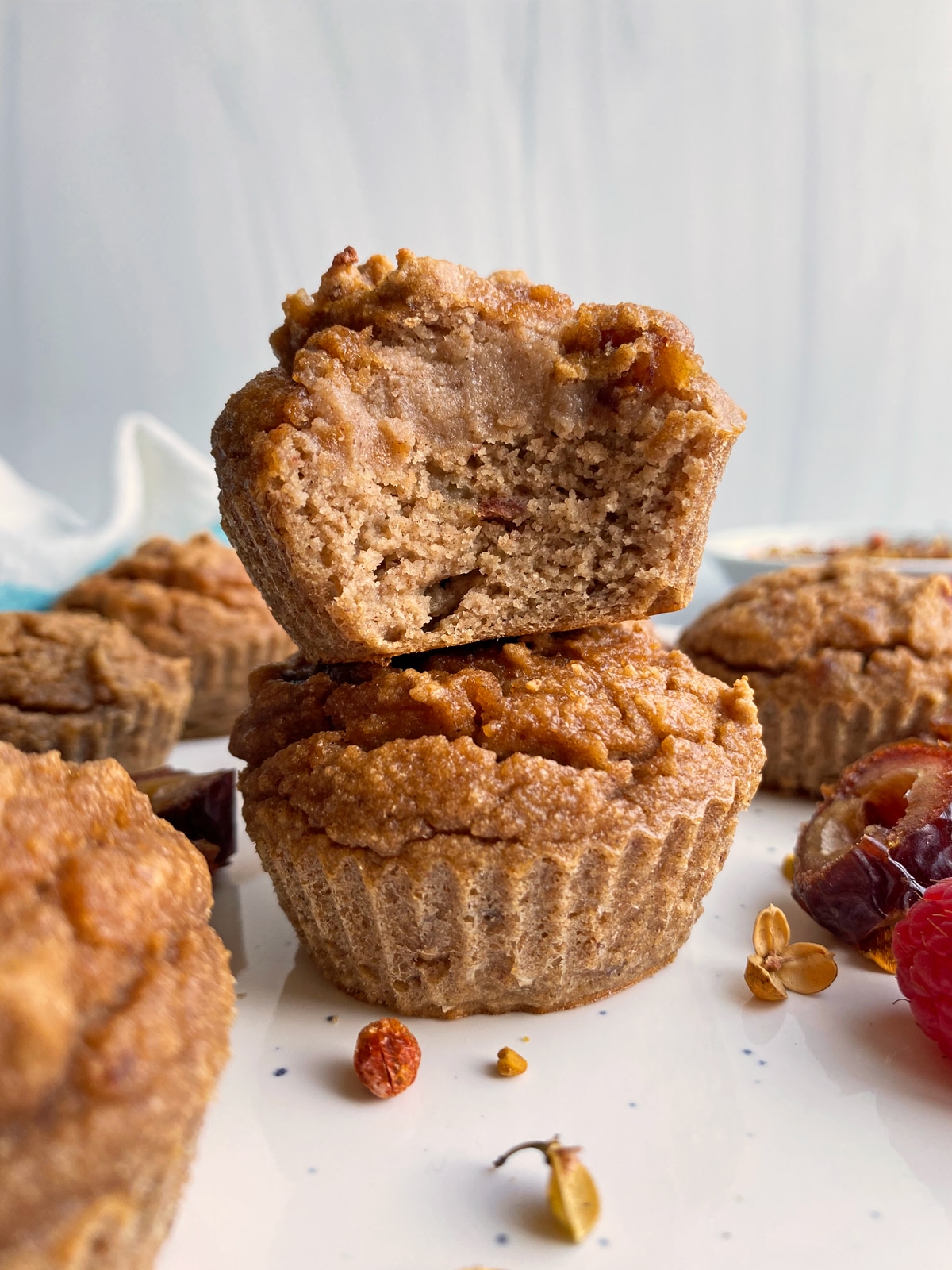 Ingredients
This grain free cassava muffin recipe uses 9 simple ingredients. In addition, my recipe is nut free and great for kids.
Here's what you need:
cinnamon
salt
eggs
vanilla
coconut milk (or almond milk or water)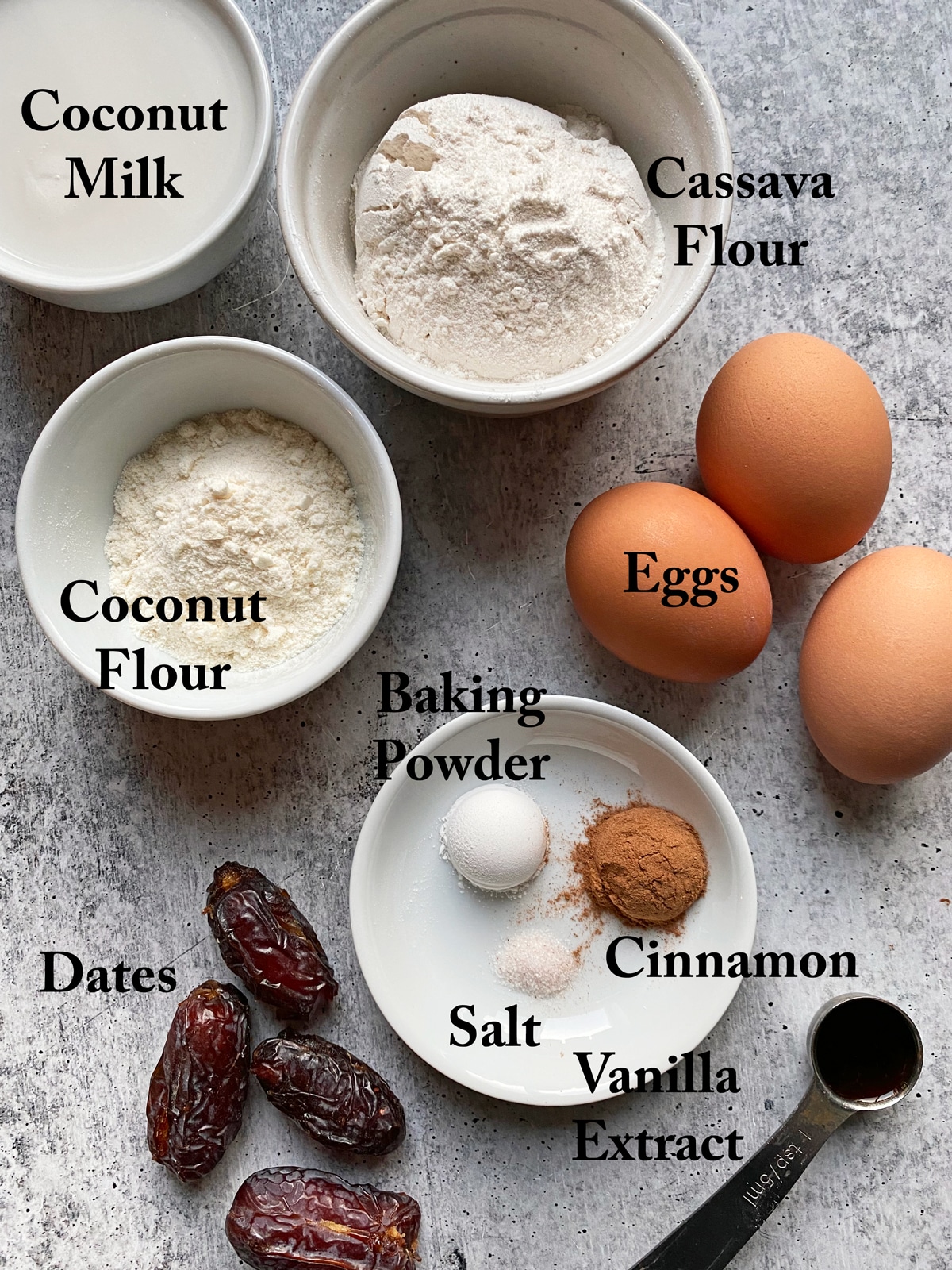 How to Make Cassava Flour Muffins
These paleo cinnamon muffins are made in a food processor or high powered blender.
First, preheat your oven to 350 degrees F. Line a muffin pan with 8 silicone muffin liners.
Next, combine all of the ingredients (except the coconut milk) in your food processor. I recommend chopping the dates into bite-sized pieces so that they blend up easier.
Before turning on the food processor, mix the ingredients with a spatula. This helps keep the flour from rising up in a cloud of dust.
Then, turn on the food processor and blend the ingredients, stopping every now and then to scrape the sides.
Add the coconut milk, stir the mixture with a spatula and then blend the dough again until it is a fairly smooth texture. Note: the dates will not be fully blended into the batter.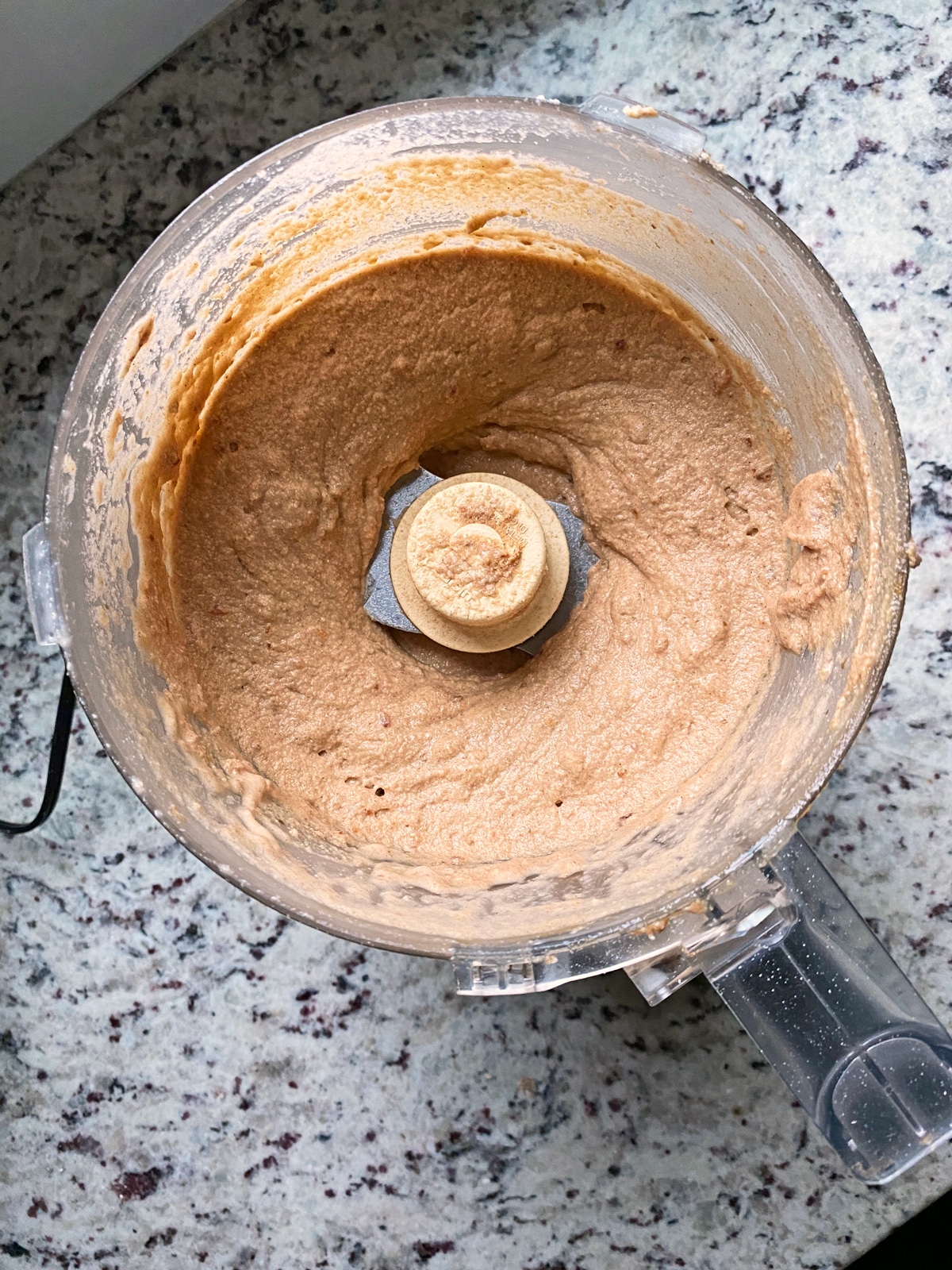 Scoop the batter into the lined muffin pan. Each cup should be filled ½ to ¾ full, making 8 muffins.
Next, place the muffins in the oven and bake at 350 degrees F for 20 minutes. The muffins will come out slightly under-baked.
Cool the muffins in the pan for a couple minutes, then transfer them to a wire cooling rack.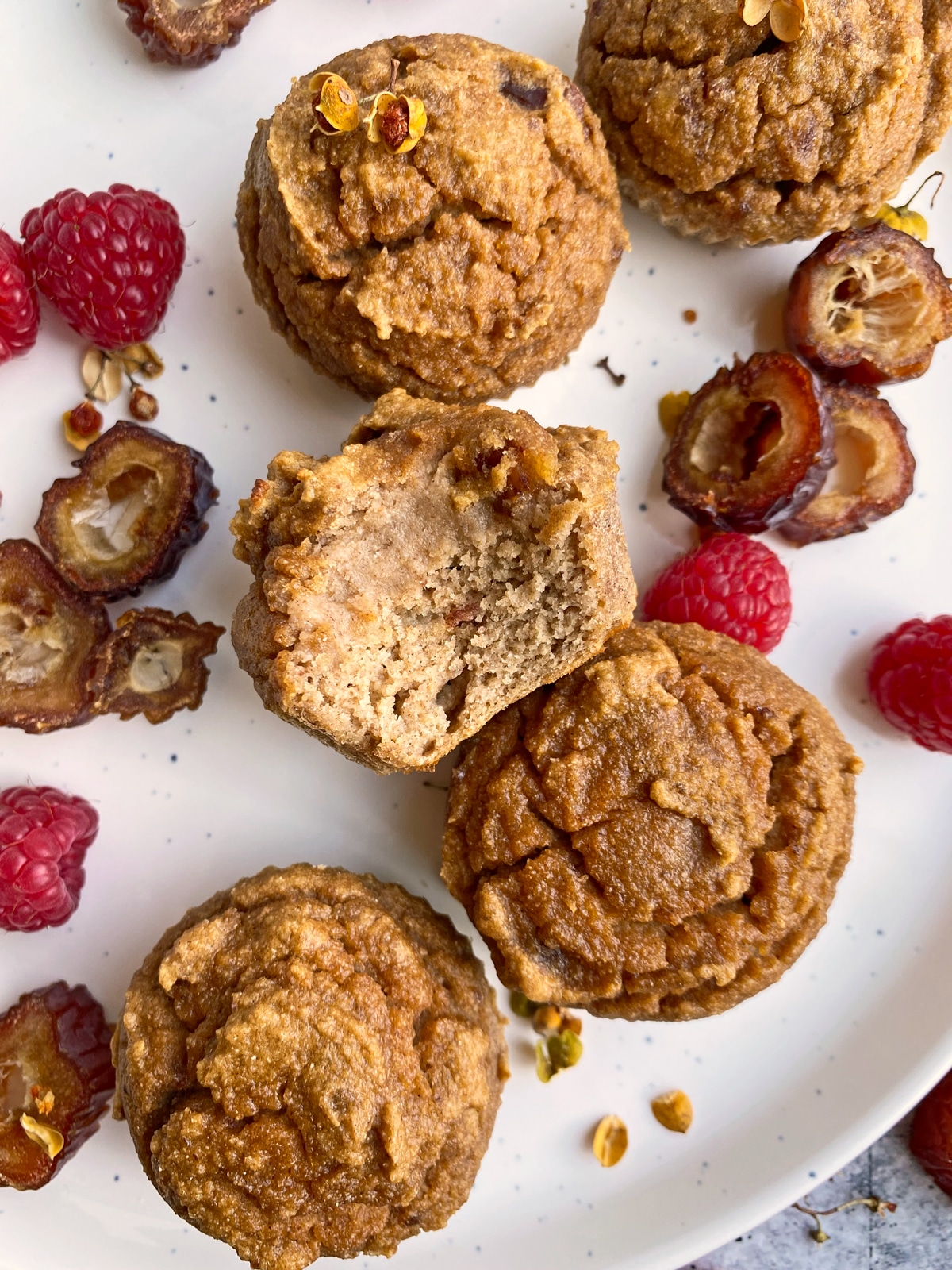 Storage
Since these muffins are moist, they are best stored in the fridge. However, these cinnamon cassava muffins will last in your pantry (in a sealed container) for 2-3 days.
No matter how you choose to store these muffins, they are great for a quick snack. I also enjoy these as a Paleo breakfast muffin when I'm in a pinch for time, as they are highly portable - not too crumbly.
How to Eat Cassava Muffins
These healthy cassava flour muffins really don't need any additional toppings or spreads - they taste great on their own. Of course, if you're feeling the need for something extra, I highly recommend adding a bit of dairy-free cream cheese, a drizzle of honey or nut butter.
More Cassava Flour Muffins
Print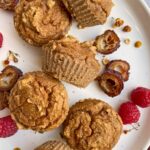 Cinnamon Cassava Muffins (Paleo, No Sugar Added)
Author:

Katie

Prep Time:

5 min

Cook Time:

20 min

Total Time:

25 minutes

Yield:

8

muffins

1

x
---
Description
This small batch cinnamon cassava muffin recipe is moist, dense and lightly sweetened with dates (no sugar added).  They are the perfect nut free muffin eaten as a breakfast side or afternoon snack.
---
---
Instructions
Preheat oven to 350 degrees F.  Line a muffin pan with 8 silicone muffin liners.
Combine all ingredients, except coconut milk, in a food processor.  Mix with a spatula, then blend the ingredients, stopping every so often to scrape the sides.
Add coconut milk.  Mix with a spatula, then blend until smooth.
Scoop the batter into the lined muffin pan, filling each slot ½ to ¾ full.
Place the muffins in oven (middle rack) and bake at 350 degrees for 20 minutes.
Remove the muffins from the oven, cool a few minutes in the pan, then transfer them to a wire cooling rack.
---
Notes
For best results, measure ingredients by weight (when given)
*Make sure your dates are soft.  If they aren't then warm them in the microwave for 5-10 seconds.  Also, to make blending easier, chop the dates before adding them to the food processor.
Keywords: cassava flour muffins, cinnamon cassava muffins, small batch muffins, small batch cassava muffins, paleo muffin recipe, nut free paleo muffins, no added sugar muffins