I don't know if it's just because I'm pregnant or what...but I've been loving green beans! I knew creating a recipe was a must. As, not all green bean dishes are created equal. You NEED to cook them properly to get the right taste and texture. Or, at least that's my take. So, these Simple, Pan Cooked Green Beans are my idea of the perfect Paleo green bean recipe.
These Pan Cooked Green Beans take less than 20 minutes to cook and require only 4 simple ingredients. (The sesame seeds and crushed hazelnuts are optional.) They don't contain any added sugar and are Paleo, Vegan and Whole 30 approved! They can also be made allergy free if you don't add the hazelnuts. Basically, they check all the boxes for a nutritious, delicious and satisfying side dish.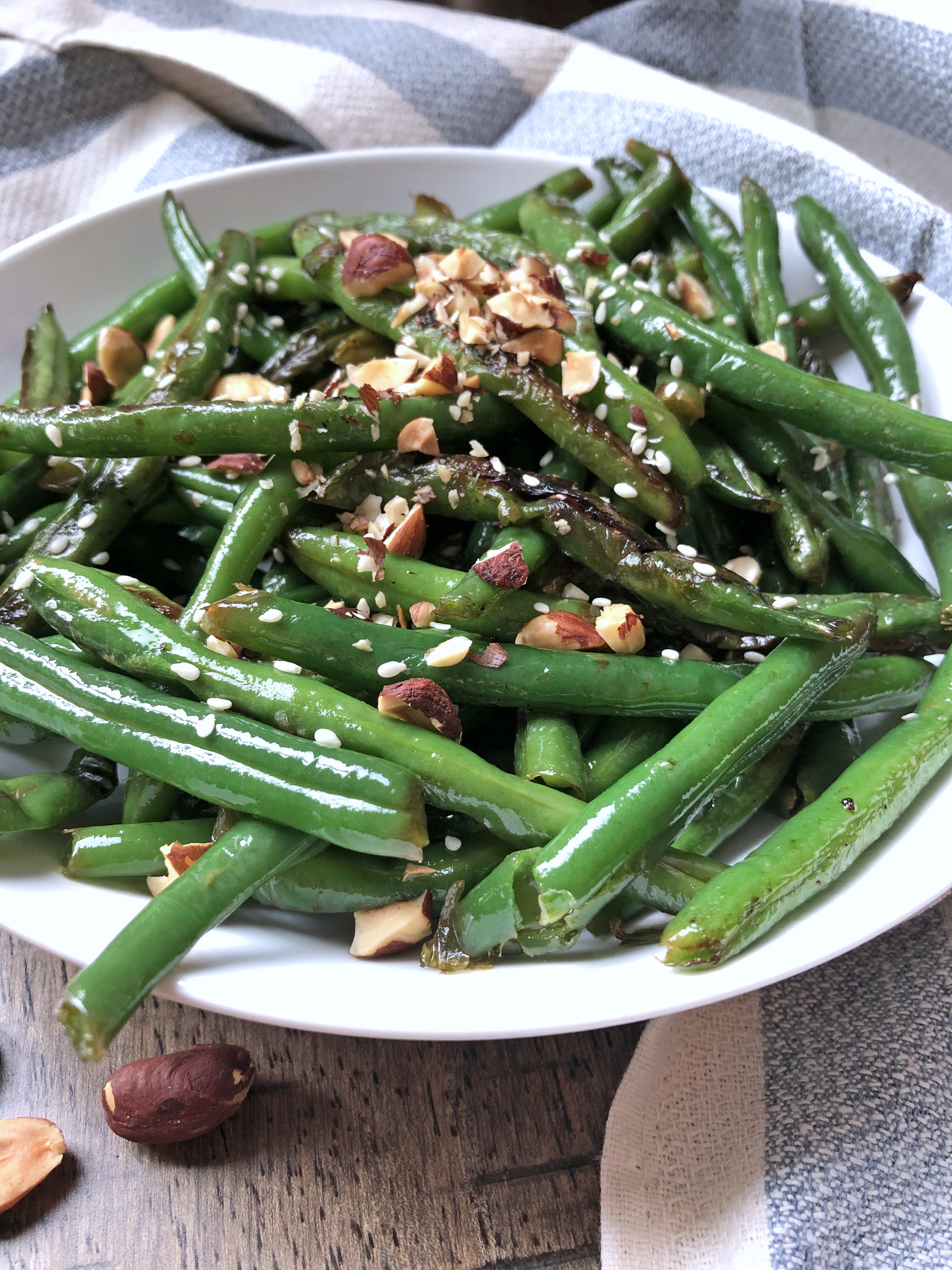 Green Bean Nutrition Facts
Green beans contain many nutrients and are one of the highest antioxidant containing foods. They have a decent amount of vitamin C, K and A, as well as, manganese and folate. (1)
In addition, they're one of the few vegetables that don't lose their nutritional benefits when frozen.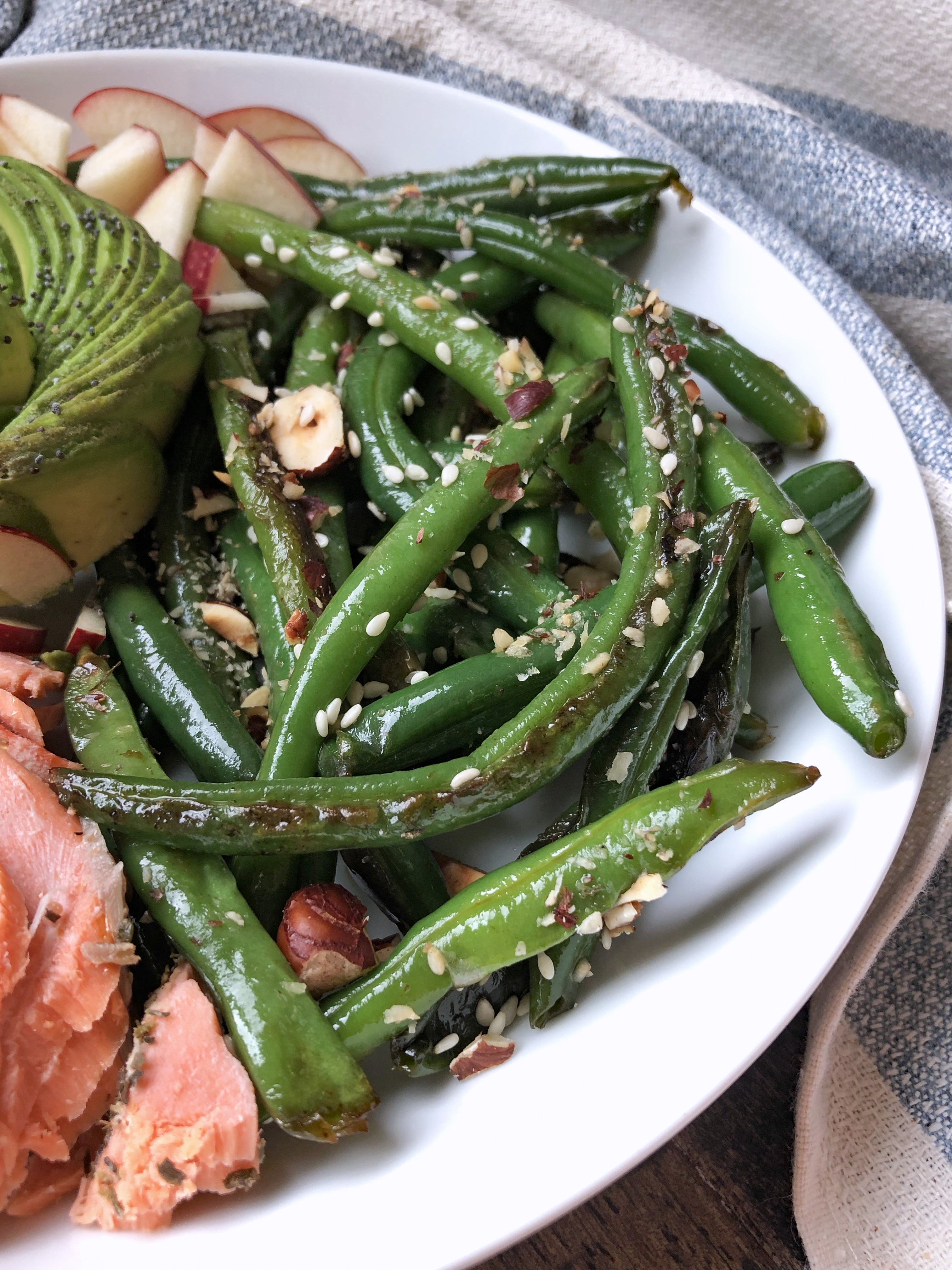 When are Green Beans In Season?
Although they can be found year round, they are in season from summer to early fall. During these months, green beans will be the freshest and taste the best.
This is probably why canned green beans are so popular during the winter months. Especially in classic Thanksgiving dishes like green bean casserole. Which, honestly, always grossed me out as a kid. Anyone else?
Fun fact, I've actually grown green beans in my own backyard. The first year they did great! We had so many to harvest throughout the summer months and they tasted wonderful! The next year, however, they got infested with bugs and I couldn't get myself to eat them.
This year, we aren't growing our own green beans. Which, come to think of it, may have been a mistake! I mean, as much as I love them now I probably should have planted a few. But, our yard space is limited and we chose to plant other vegetables instead.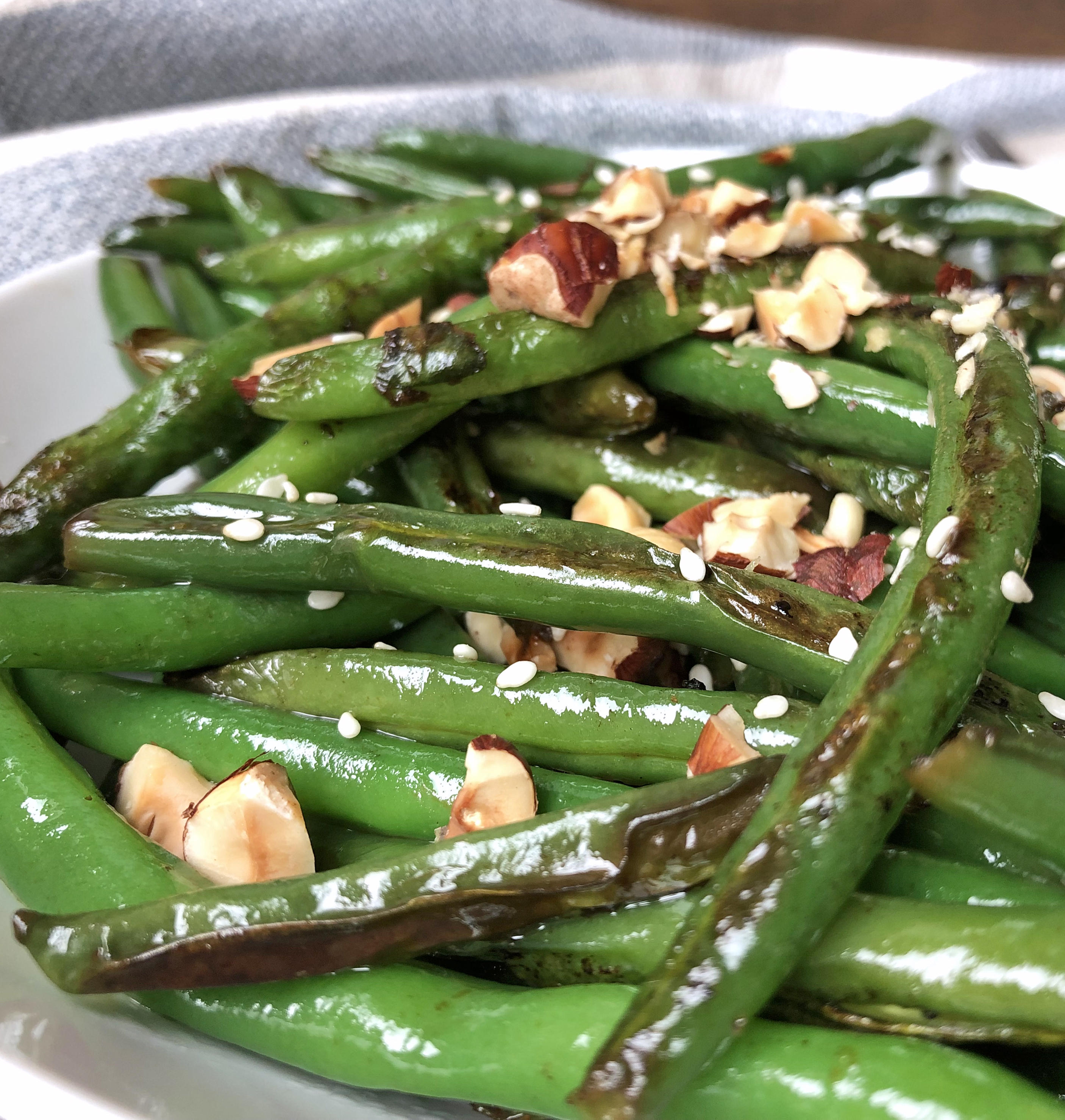 How to Prepare Green Beans
The easiest way to prepare green beans is to purchase a bag of already rinsed and cut green beans. Thankfully, most grocery stores carry these. My favorite brand of prepared green beans is from Whole Foods. I usually buy their 12 oz organic trimmed green beans.
But, if you aren't buying green beans that are ready to eat, then I have a few simple steps to follow.
Wash - First, wash the green beans in a large bowl of luke-warm water. Simply place your green beans in the bowl and add water until they are fully submerged. Additionally, you may add 1-2 Tbsp white vinegar. This offers a little extra cleanliness and helps kill any mold.
Drain - After submerging your green beans in water for 10-20 minutes, drain the water and rinse them for a minute or two. This helps wash away any dirt (and vinegar if you used it).
Dry - Place the green beans on a towel and pat dry.
Trim - Lastly, trim both ends of each green bean. To do this, either use a knife or scissors. You can cut them individually or multiple stalks at a time. Furthermore, toss any green beans that look wilted, have a lot of discoloring or holes from bugs.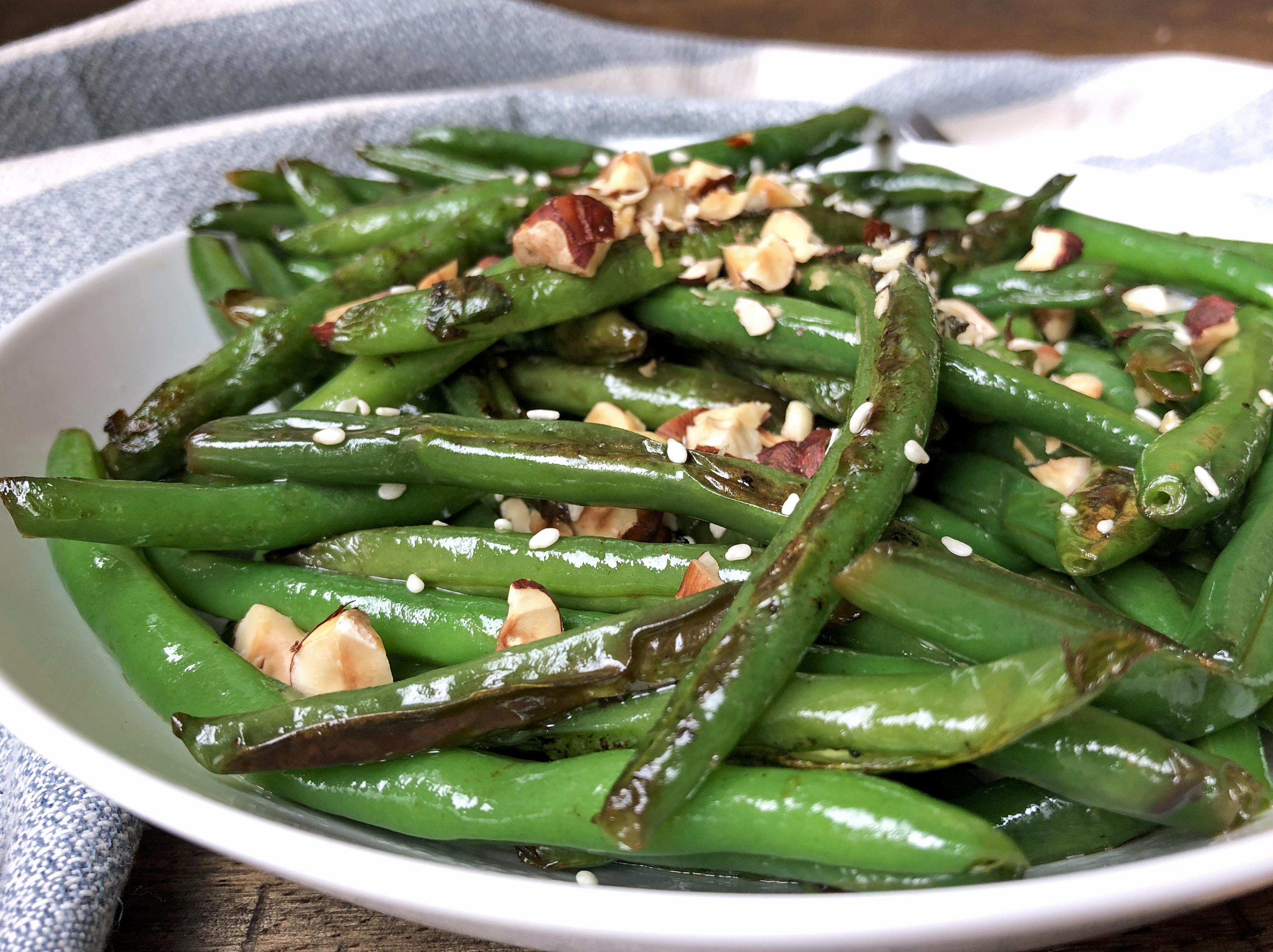 How to Cook Green Beans on a Frying Pan
After prepping green beans (if you need to), they are ready to cook!
First, gather all necessary ingredients. For this recipe, I use water, olive oil, salt, crushed hazelnuts, sesame seeds and of course, green beans.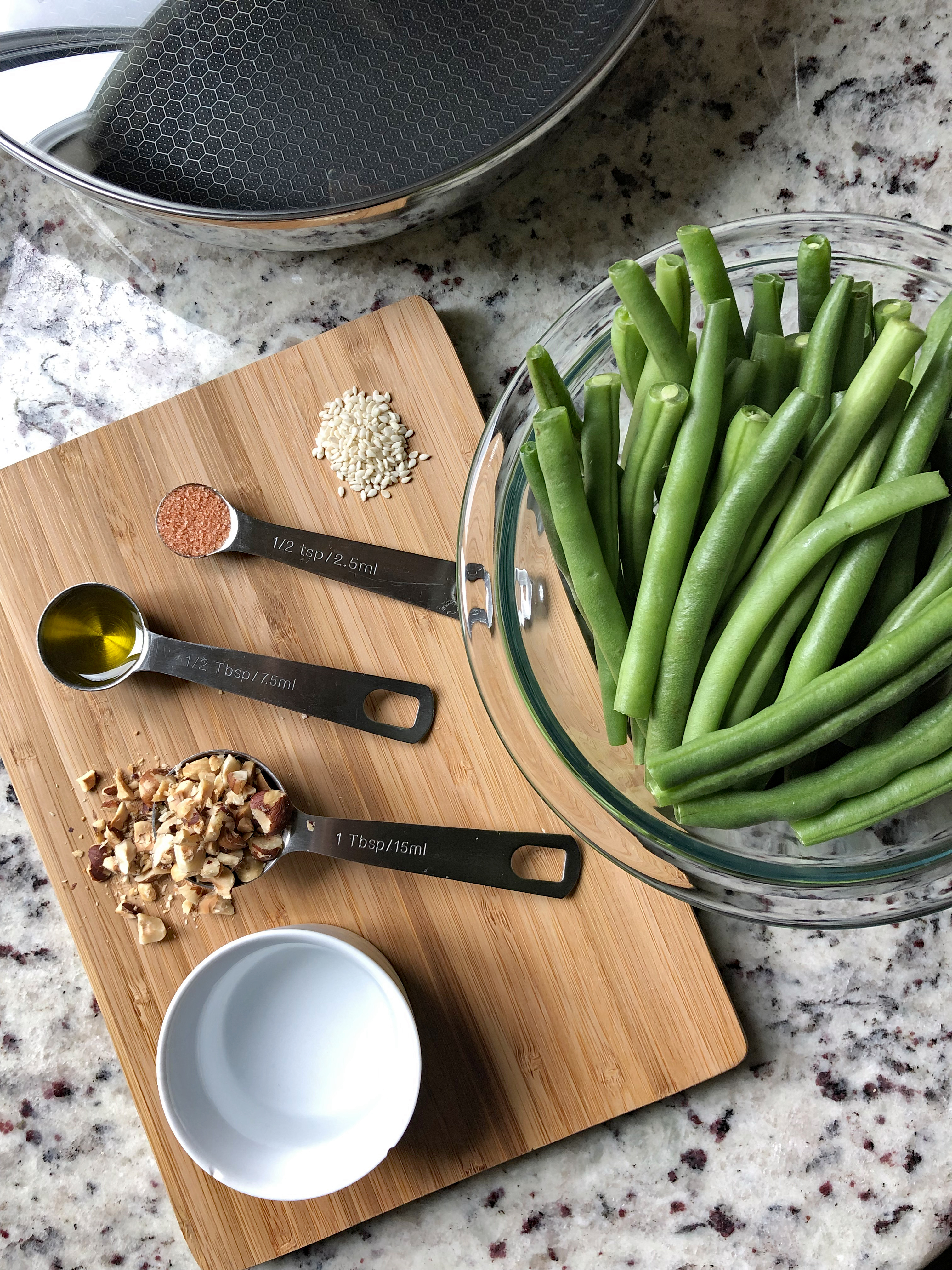 Next, place the green beans in a medium-sized frying pan. Add water.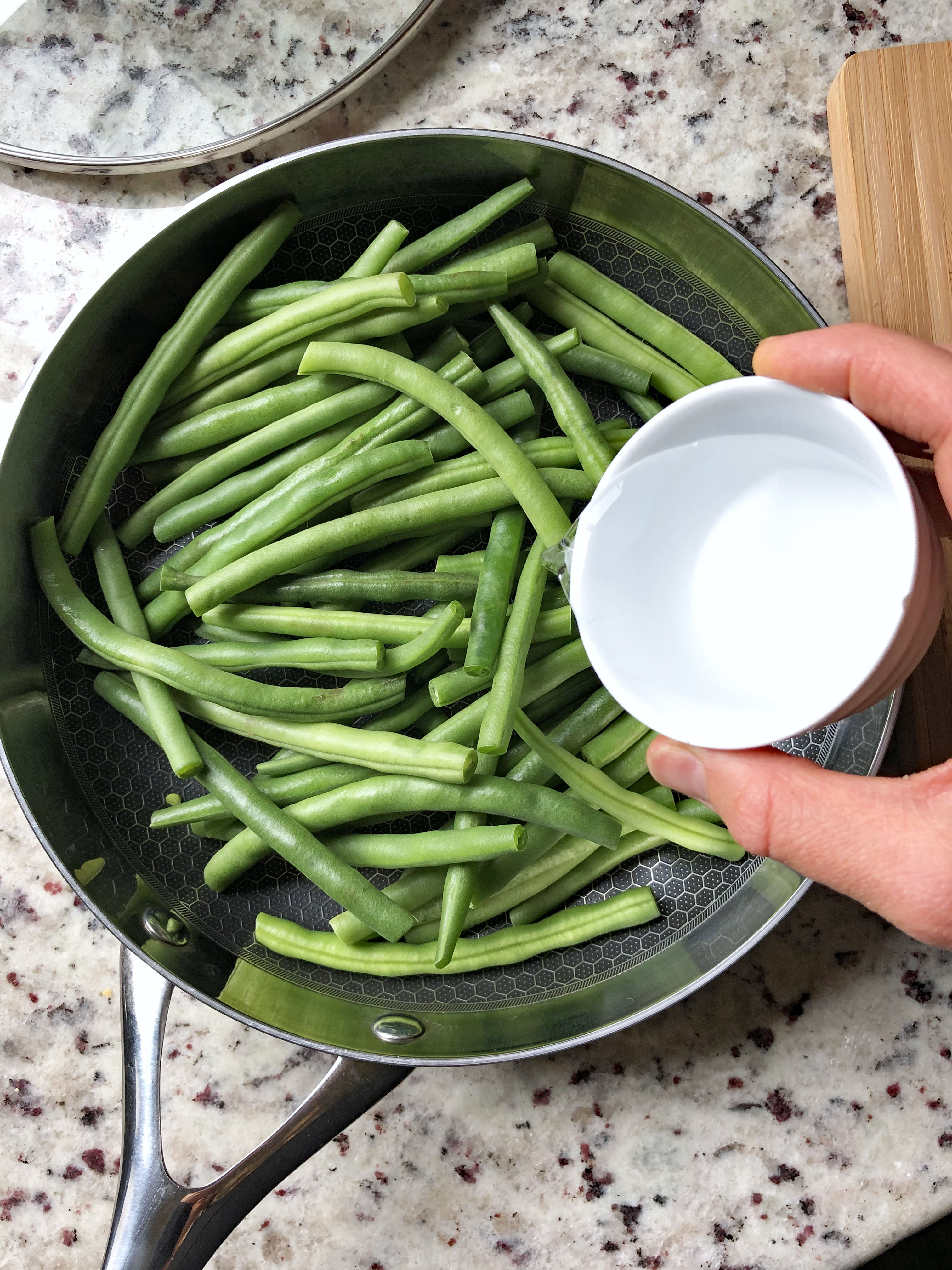 Then, cook (covered) on medium-high heat for 8 minutes. The green beans should be tender and not rubbery at this point. If this isn't the case, then cook them a few minutes longer until tender.
Next, remove the lid and add oil and salt. Mix the green beans with tongs or a wooden spoon or even fork. Cook an additional 8-10 minutes (uncovered) on medium heat. Stir every couple minutes.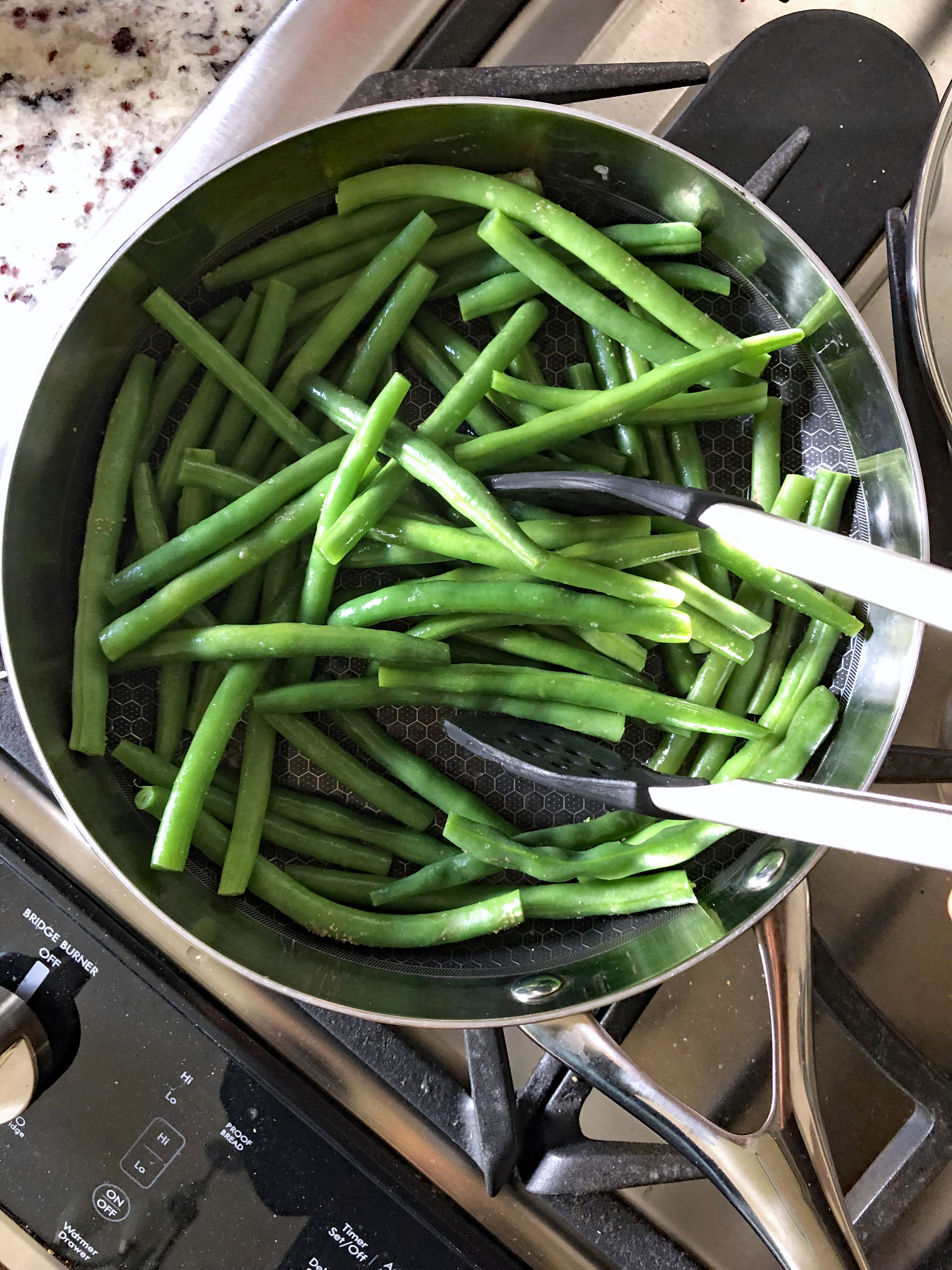 Lastly, remove the green beans from the frying pan and top with crushed hazelnuts and sesame seeds. Serve immediately.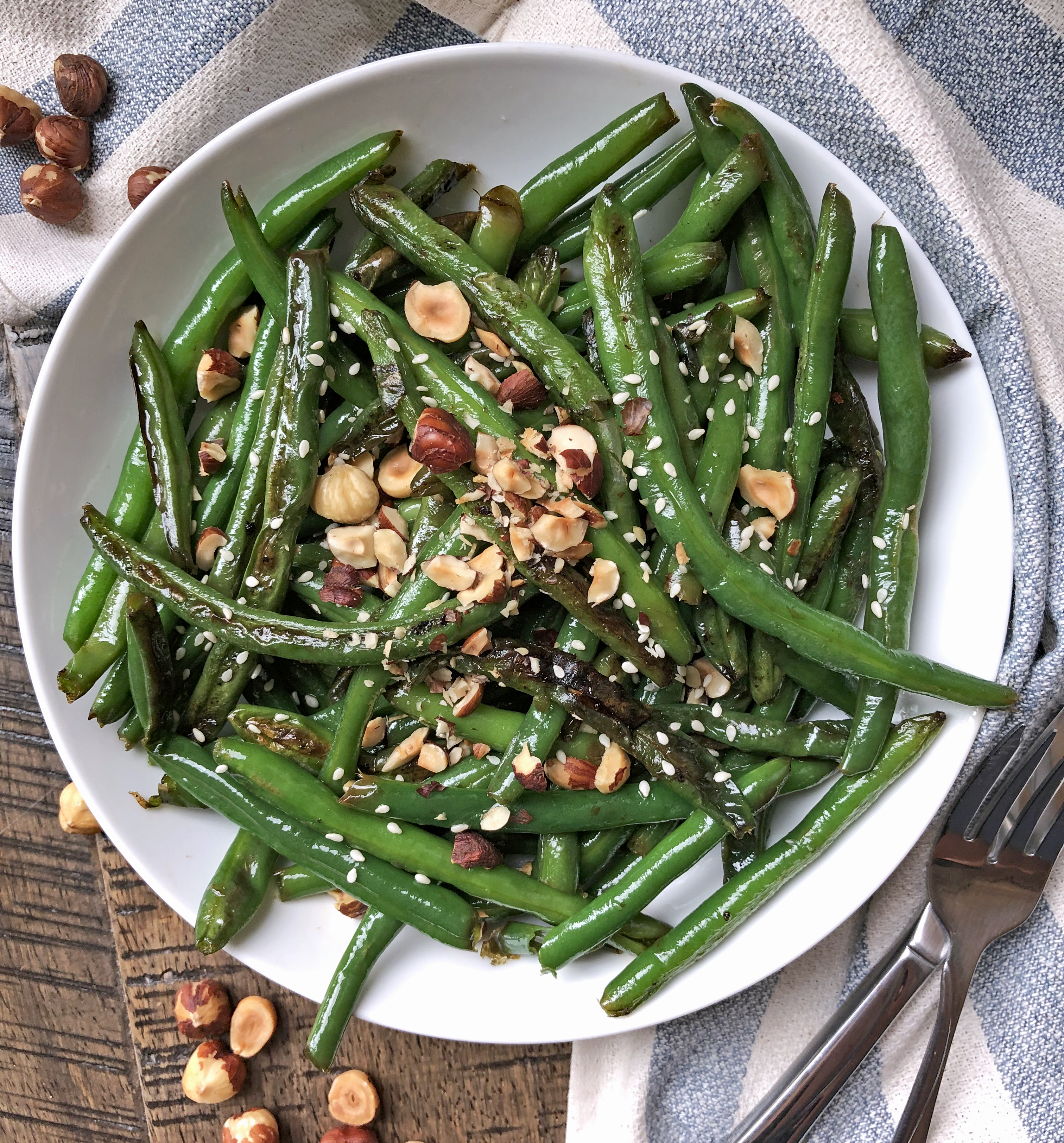 What to Serve with Pan Cooked Green Beans
Green beans are a great side dish to many meals. They go well with meat, fish, eggs, topped on a salad, or even alongside a bowl of noodles.
A few main dishes I like to pair with green beans include: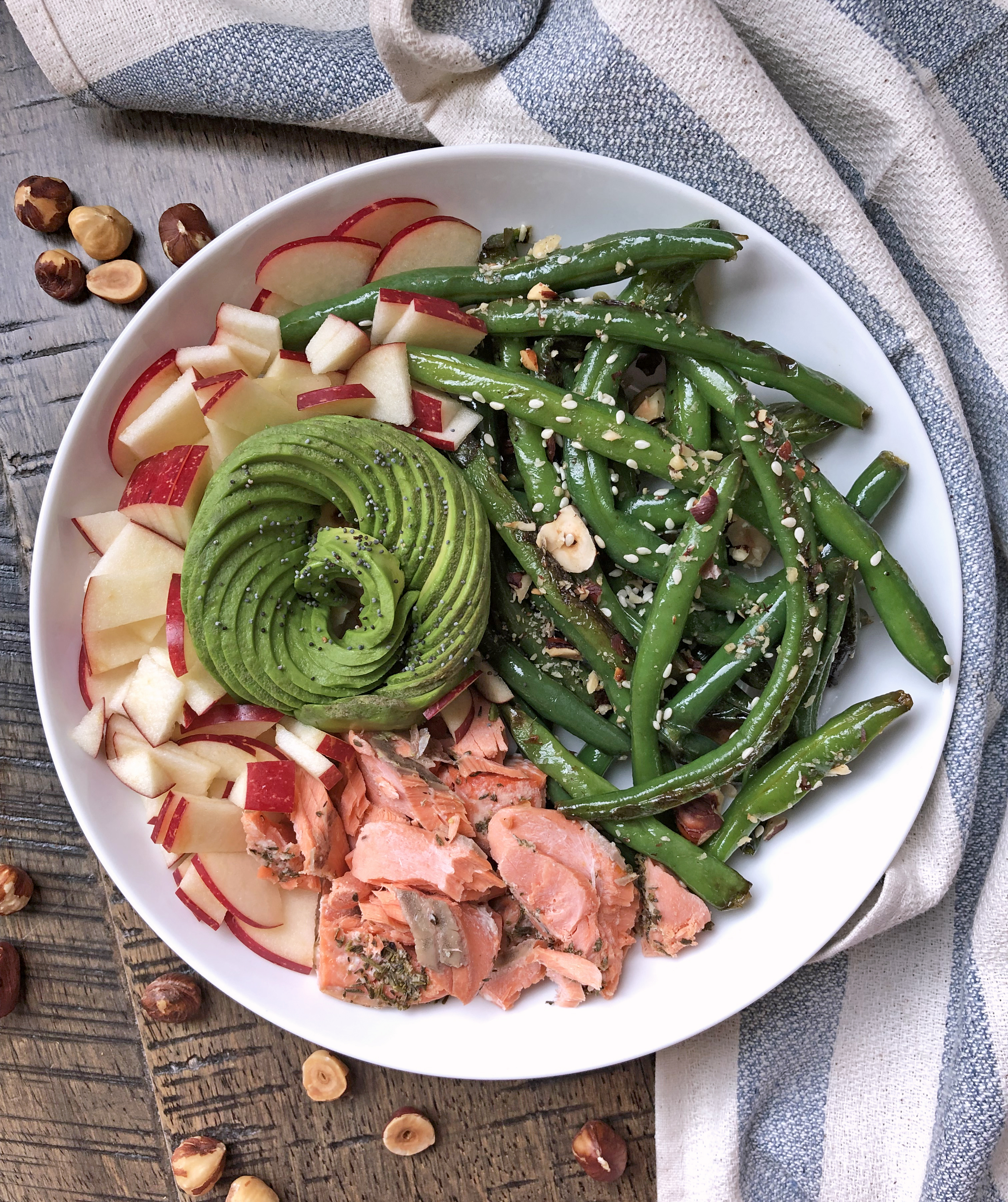 How Long will Cooked Green Beans Last
Cooked green beans can be kept at room temperature for quite some time. In fact, they'll be good for hours. But to be safe, I recommend storing them in the fridge at least two hours after cooking.
In the fridge, cooked green beans will last well all week. Before serving, they're best re-heated on a frying pan. You shouldn't need to add more oil or seasoning. Just heat on a skillet for 5-10 minutes on medium-low heat and eat! If you want an easier option, you could always warm them up in the microwave for 20-30 seconds or eat them cold.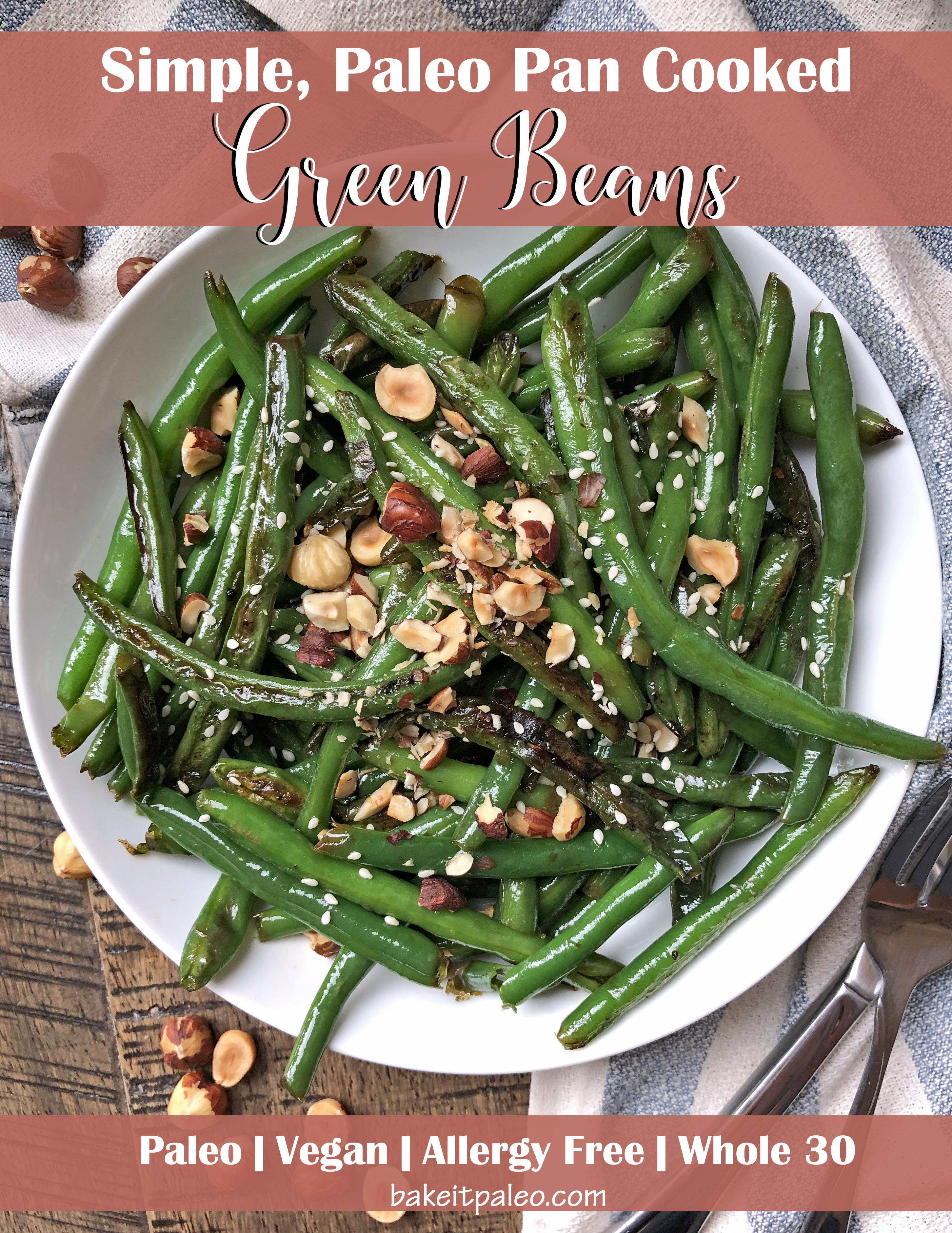 Print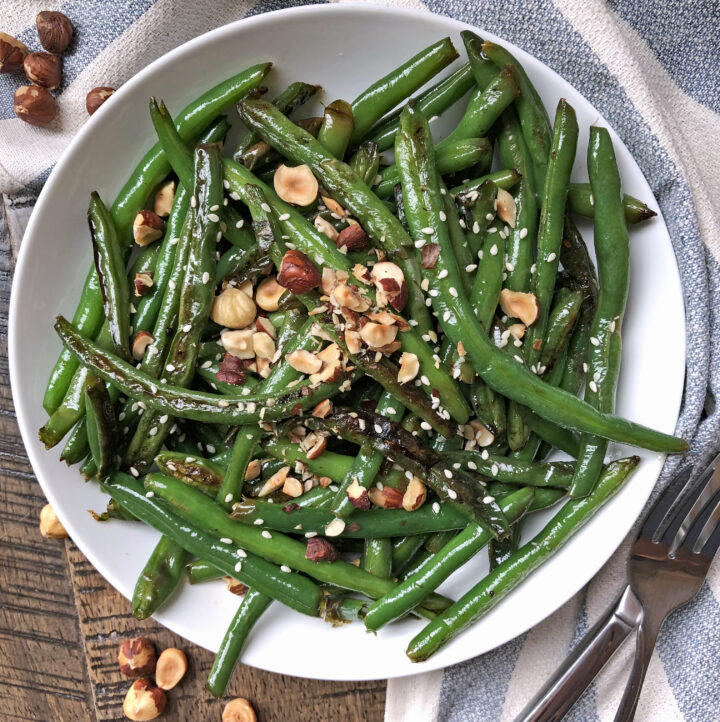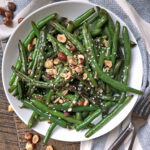 Simple, Pan Cooked Green Beans
Author:

Katie

Prep Time:

0 min

Cook Time:

18 min

Total Time:

18 minutes

Yield:

12 oz

cooked green beans

1

x
---
Description
These pan cooked green beans are perfect for a healthy, quick weeknight side dish.  They cook in less than 20 minutes and use just 6 simple ingredients.
---
---
Instructions
Place green beans in a medium sized frying pan.
Add water, cover pan and cook on medium-high heat for 8 minutes**
Remove lid from pan, add olive oil and salt.  Mix to coat the green beans.
Cook (uncovered) for an additional 8-10 minutes on medium heat, stirring every couple minutes.
Remove green beans from pan and top with hazelnuts and sesame seeds.
Serve immediately.
---
Notes
*To make life easy, I suggest using a 12 oz bag of trimmed green beans.  However, buying green beans in bulk (or untrimmed) works too.  Just be sure to wash and cut the ends of the green beans prior to cooking.
**After this step, green beans should be tender, not rubbery.  If this isn't the case, then continue cooking until tender.
Keywords: green beans, vegetables, side dish, Paleo, Vegan, Whole 30, no added sugar, egg free