My husband has been extremely busy with work and school lately. It's left me as the "single parent" many days and gosh it's hard! Most days, by the time dinner rolls around I have no clue what to make. This is mostly due to lack of enthusiasm for cooking after a full day of feeding myself and my children and just being purely exhausted. But simple, kid approved recipes like these Honey & Basil Flax Crusted Chicken Tenders have been my saving grace!
Meals like this are an easy decision because prep time is minimal and my kids will eat these Paleo chicken tenders without complaint. Even my little one (nearly 2 years old) who I have to coax into eating most meat and vegetables LOVES this recipe! It's a total mom win.

Egg Free Paleo Chicken Tenders
Instead of using eggs to dip the unseasoned chicken breasts, this recipe uses a mixture of olive oil and honey. These two ingredients add a nice flavor and help the breading stick better. Avocado oil would work well as a replacement for the olive oil and you may swap maple syrup in place of the honey. Or, if you want unsweetened, Whole 30 approved chicken tenders then you may omit the sweetener completely. In this case, it may be necessary to add extra oil.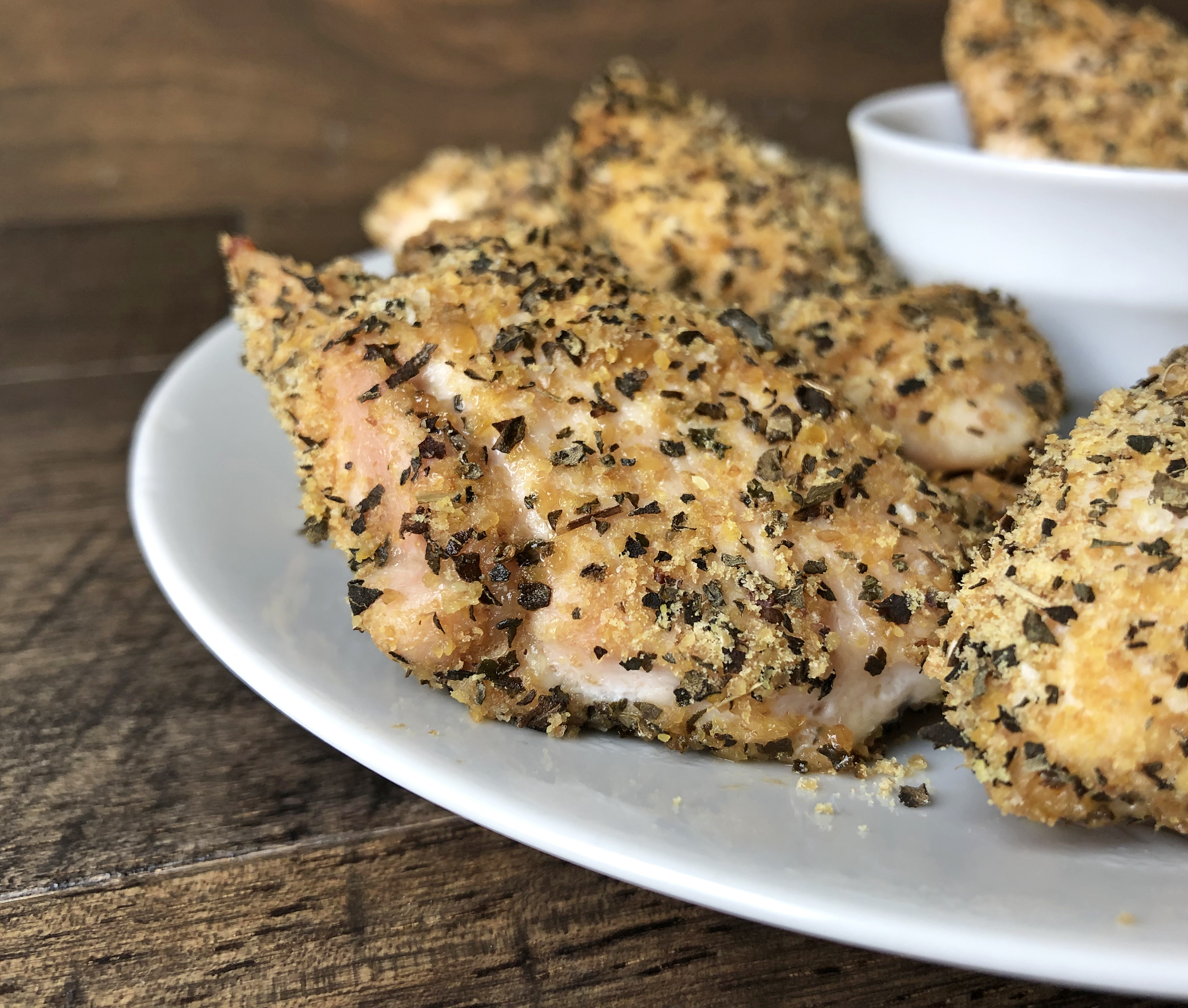 Grain Free Chicken Tender Breading
The "breading" for these chicken tenders is mostly made of ground flax. In addition, I added dried basil and sea salt. I recommend keeping the sea salt in the recipe, but the basil can easily be swapped out for another dried spice such as: Italian herb seasoning, thyme or oregano. Also, if you don't have flax on hand, blanched almond flour is a great replacement.
Side note: I buy whole flax seeds at the grocery store. When I want to use ground flax in a recipe, I use a coffee grinder
to grind the whole seed. This way, I have fresh flax meal with more flavor, that's less likely to have gone rancid.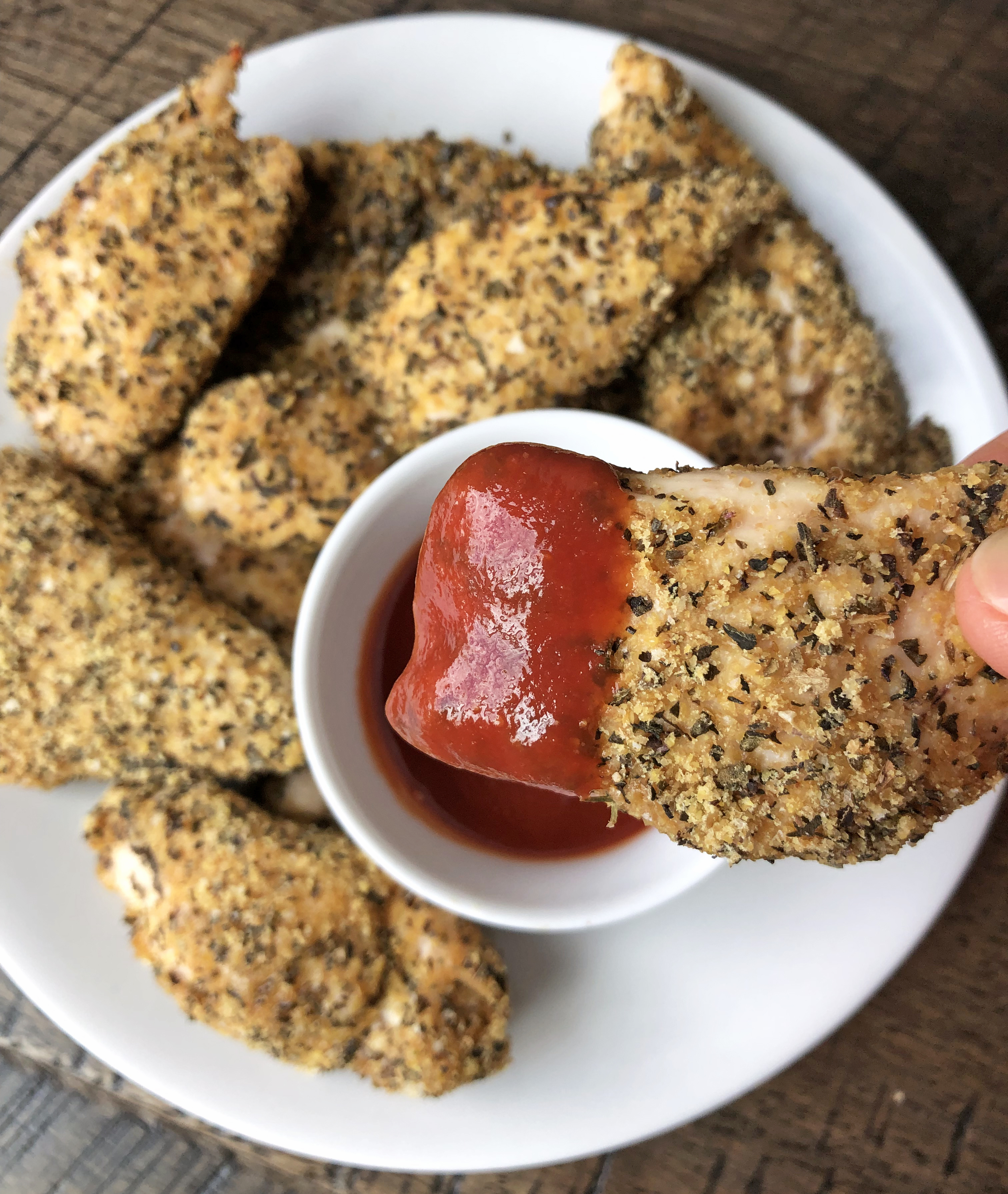 Toddler Approved Paleo Chicken Tenders
I'm not a short-order cook. In our family, I make one meal and everyone either eats it or they don't. Now, my "one meal" is rarely ever just one dish, so there is plenty of food for everyone to choose from. But, more often than not, there's something on the table/plate that one or more family member doesn't love. And you know what, that's okay!
BUT, oh gosh is it nice to have the main part of a meal be appreciated. When I create a recipe or make a meal that each and every family member loves and asks for seconds, that's when I know I've hit the jackpot. And most likely, that meal will be made frequently. These Honey & Basil Flax Crusted Chicken Tenders are a healthy chicken recipe that toddlers can actually enjoy and YOU can feel good about feeding them.

How To Make Flax Crusted Chicken Tenders
I've outlined the process for making these gluten free Chicken Tenders below. The steps are so simple and these chicken tenders reheat perfectly in the microwave or oven, so you can make them ahead of time if desired.
Ingredients And Set Up
organic chicken breasts, cut into strips
a small bowl with a mixture of: ground flax, dried basil and sea salt
a small bowl with a mixture of olive oil and honey
lined baking sheet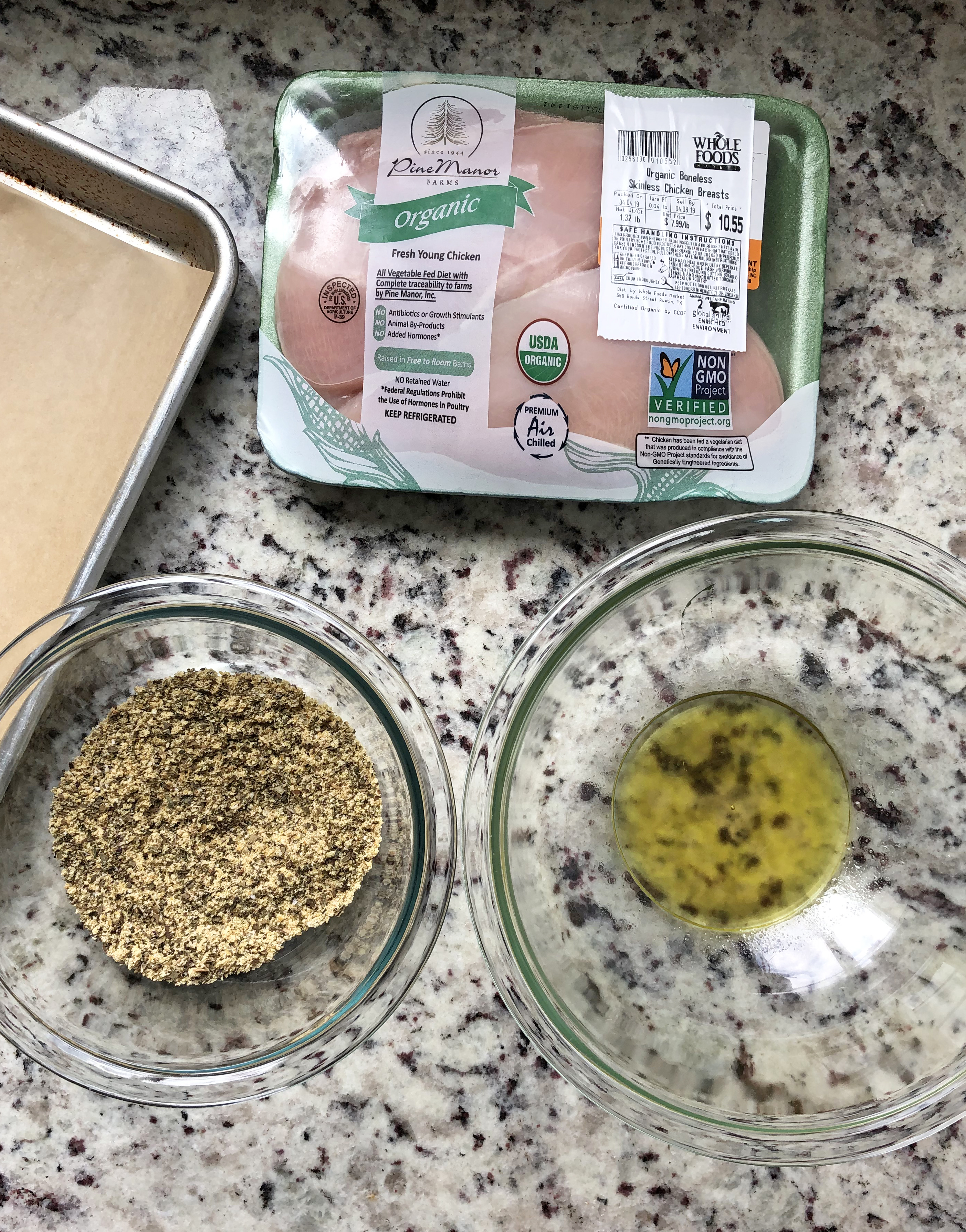 Process
Dip each cut chicken breast in the oil-honey mixture, then the ground flax mixture. Be sure to coat the chicken on each side. Next, lay the breaded chicken on a lined baking sheet.
After all the chicken breasts are breaded, place them in a preheated oven and bake at 375 degrees F for 20 minutes.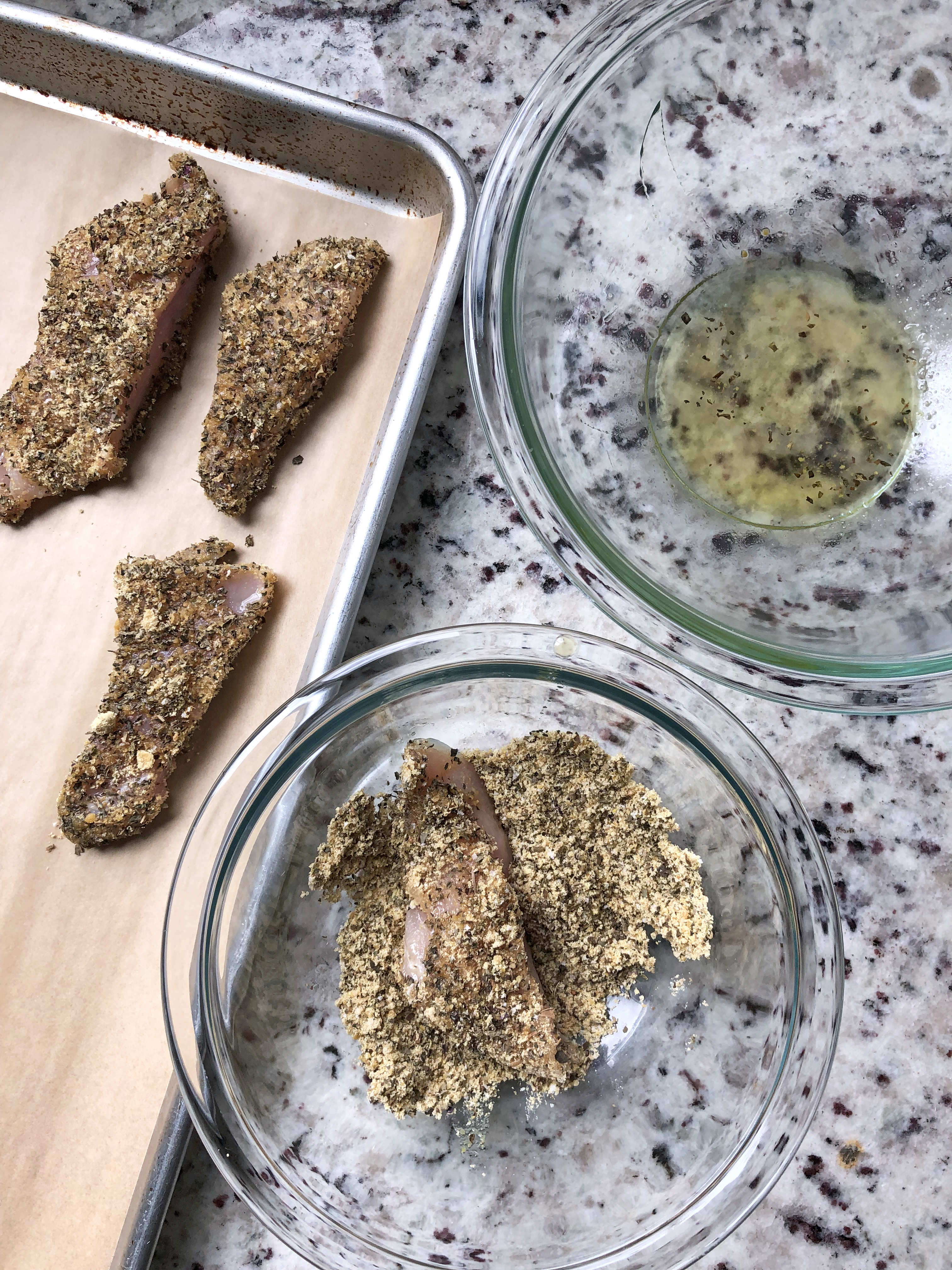 Serving
Remove chicken tenders from oven and plate. Dip into Paleo approved ketchup or mayo or mustard
and serve with your favorite sides.
Print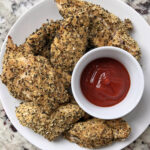 Honey & Basil Flax Crusted Chicken Tenders
Author:

Katie

Prep Time:

10 min

Cook Time:

20 min

Total Time:

30 minutes

Yield:

serves 4
---
Description
These Paleo friendly Honey & Basil Flax Crusted Chicken Tenders are perfect for a healthy family meal.  They are lightly sweetened, nut free and egg free.
---
---
Instructions
Preheat oven to 375 degrees F.
Grab two small bowls.  In one, mix olive oil and honey.  In the other bowl, combine ground flax, basil and sea salt.
Cut the chicken into strips using kitchen scissors (or a knife).
Dip chicken strips (one at a time) into oil-honey mixture, coating each side.  Then transfer the chicken to the dry mixture, coating each side.  Lastly, place chicken tenders on a parchment lined baking sheet.
Bake chicken tenders at 375 degrees in the middle rack of your oven for 20 minutes (or until cooked through).
---
Notes
*May substitute ground flax with blanched almond flour
Keywords: chicken, egg free, nut free, dairy free, dinner, main course, kid food, allergy free