This healthy vegan soft pretzels recipe is gluten free, yeast free and paleo friendly.  These homemade soft pretzels are made with almond flour, tapioca flour and ground flax and contain cauliflower for extra nutrition.  They are easy to make, unsweetened, soft and kid approved!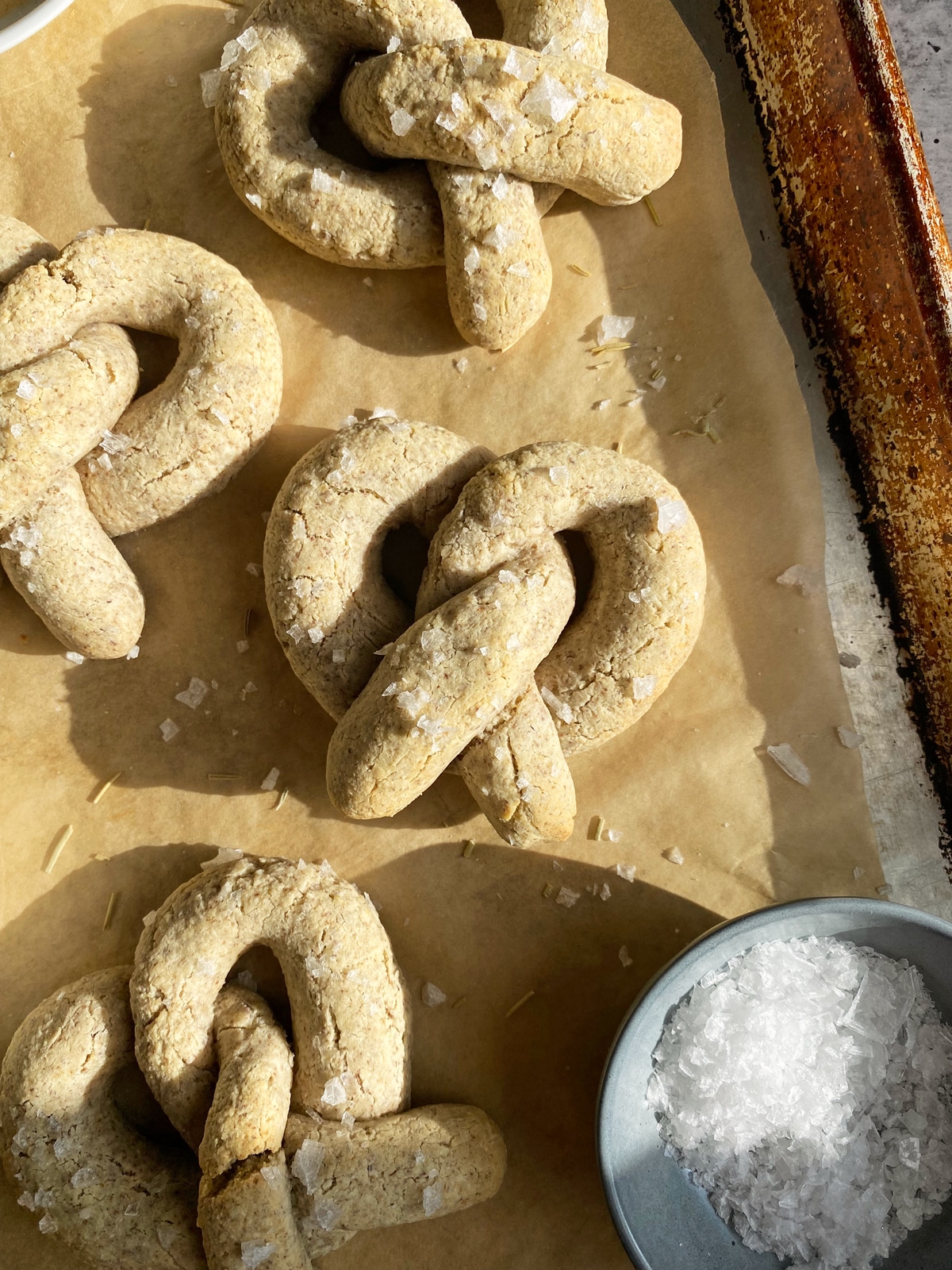 I can't remember the last time I had a soft baked pretzel! (Prior to testing this recipe, of course.)
However, I do remember being a kid and absolutely LOVING the soft baked pretzels at the mall.
In fact, one time my sister and I received a free pretzel (shaped to the first letter of our names) because we had sat at the pretzel stand for over an hour, just watching...mesmerized by the workers kneading and shaping the dough. Hahah!
Anyway, I recently had a craving for soft baked pretzels after seeing them in my feed on Instagram.  And I knew that I needed to make my own healthy, paleo soft baked pretzels.
Thus this paleo and vegan soft pretzels recipe was born! 
And oddly enough, they were nearly perfect on the first try (which rarely happens when I'm baking a paleo vegan bread).  Of course, I did test them multiple times for quality control and to make sure I could photograph the step by step instructions for you all.
These cauliflower soft pretzels are SO good! 
Think: crisp on the outside with a soft, doughy center.  They are unsweetened (no sugar added) but perfectly salty with a hint of rosemary flavor.
And better yet, the dough is super easy to make and roll out. It is pliable, easy to roll and shape.
Vegan Soft Pretzels Recipe Highlights
These delicious, vegan homemade pretzels are an absolute must-try!  They are:
paleo and vegan friendly
egg free, dairy free, grain free
easy to make
yeast free
made with cauliflower
kid approved
healthy but taste great
In addition, this yeast free pretzels recipe does not require a baking soda bath. My method only requires making and baking the dough. I mean, this is an easy soft baked pretzels recipe after all. And the baking soda bath just seemed like another step to complicate things 😉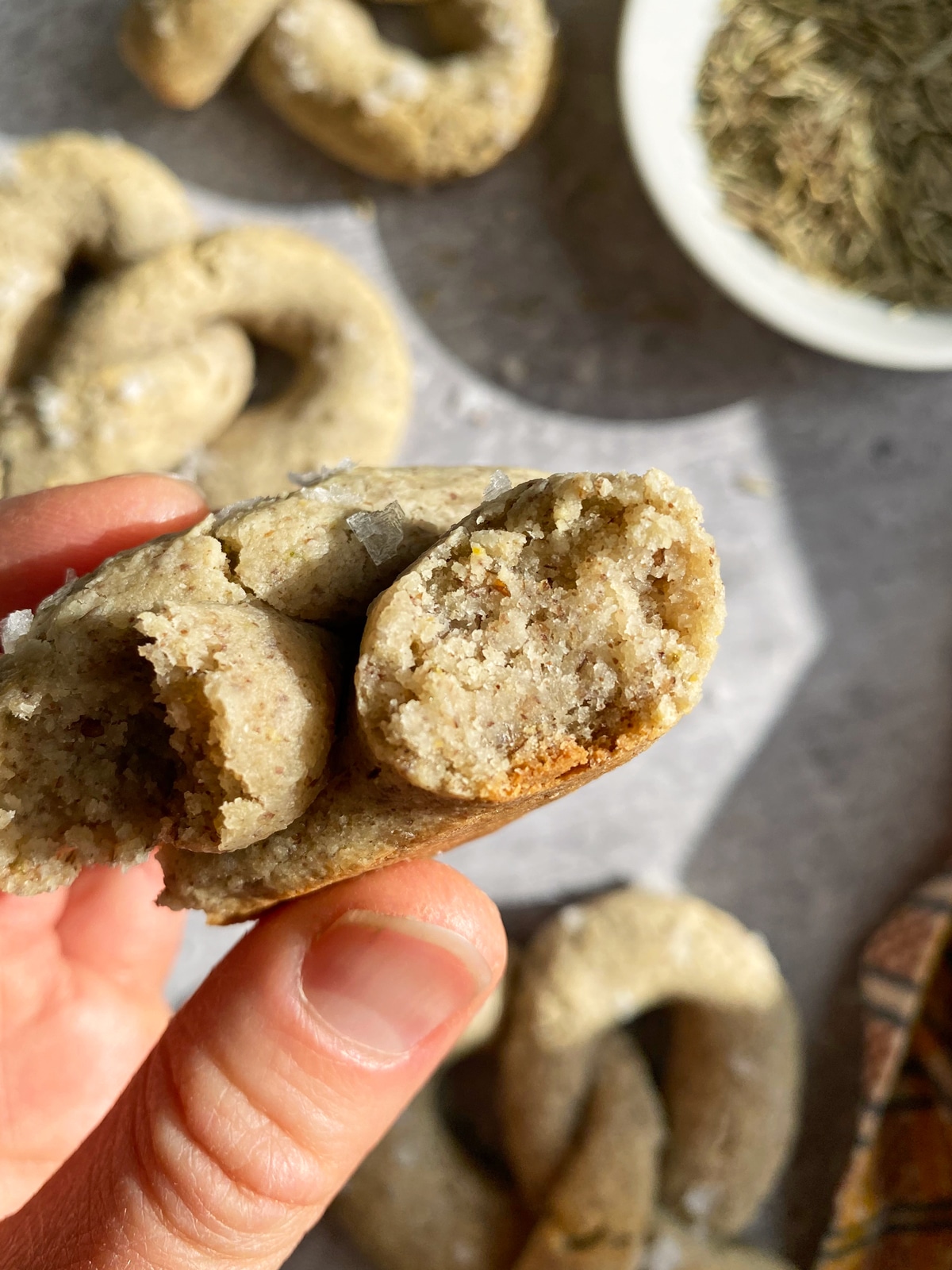 Ingredients
All you need to make these cauliflower soft pretzels are a few simple paleo and vegan friendly ingredients. Yep, no eggs, butter, sugar or wheat flour!
Here's what you need:
cauliflower (steamed, cooled then mashed)
ground flax
rosemary
baking soda
salt
That's it! Only 8 ingredients are needed to make these grain free pretzels.
Cauliflower
Why make cauliflower soft pretzels? Well, none other than the fact that I've been wanting to include more hidden veggies in my recipes. But I promise, you cannot taste the cauliflower! (My kids couldn't tell either.)
I recommend prepping the cauliflower the night before you plan to make these pretzels. Simply, cut the cauliflower into small florets and steam in a steamer pot until tender. Cool to room temperature, then store in the fridge until you're ready to use.
Grain Free Flours
Almond flour, tapioca flour and ground flax are needed for this particular recipe. The only substitution would be to substitute the tapioca flour with arrowroot flour/starch.
For the ground flax, I usually make my own by grinding whole flax seeds in a coffee grinder. Ground flax is such a great ingredient for Vegan/egg free baking. It acts as a binder and often gives the dough more elasticity.
Spices
Rosemary and salt are used to flavor these pretzels. The rosemary isn't required, but I love the taste it gives these pretzels. My husband isn't fond of rosemary, but even he loved this recipe.
Avocado Oil
Some sort of liquid oil is needed in this recipe. My top choice is avocado oil, but olive oil is a great alternative. The oil is both in the pretzel and used to brush the tops prior to baking.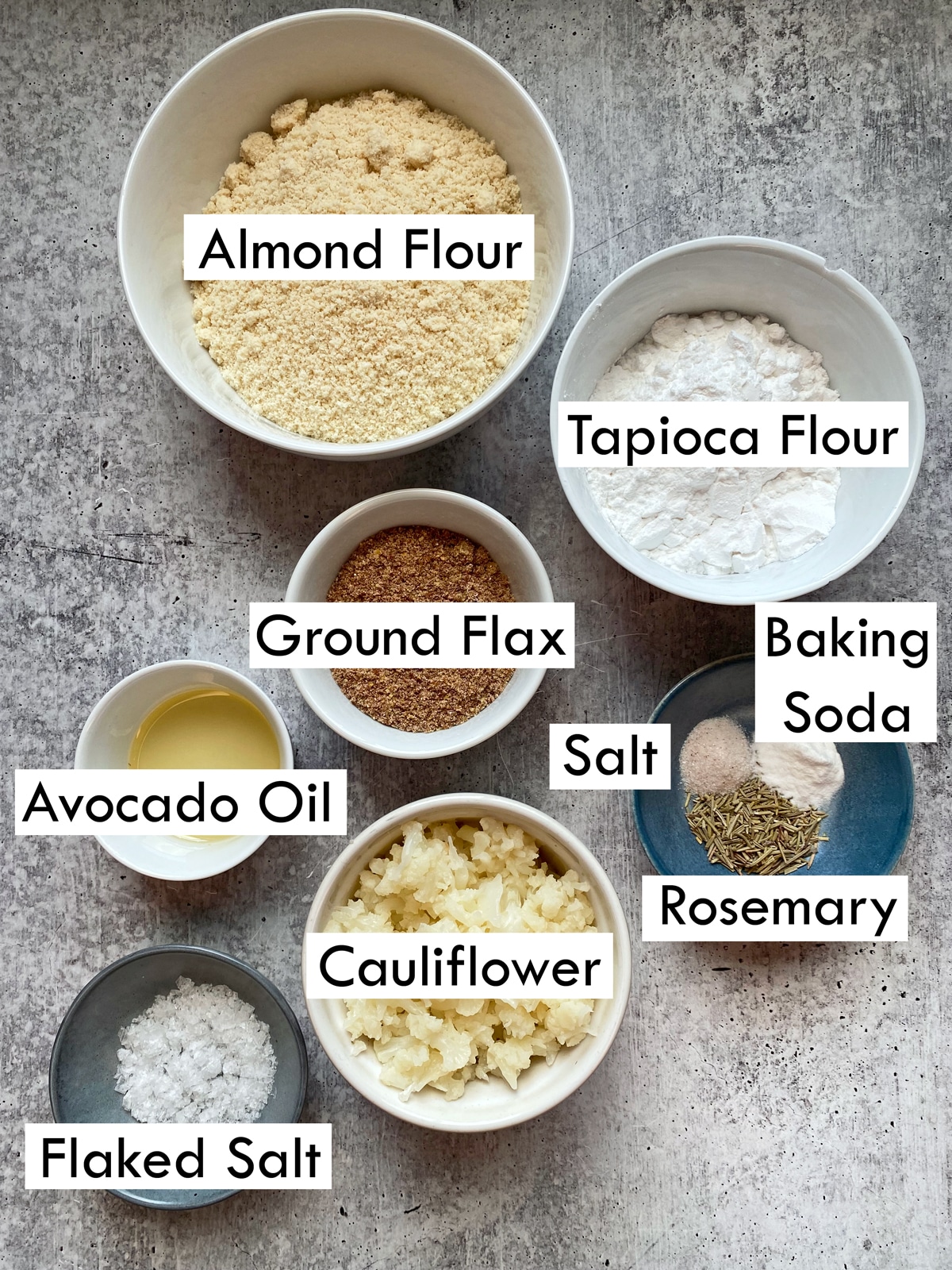 How to Make Vegan Soft Pretzels
Here are the step by step instructions for how to make gluten free vegan soft baked pretzels.
First, preheat your oven to 375 degrees F.
Next, make the dough in a food processor. A food processor or high powered blender is necessary for blending the cauliflower into the dough.
Once the dough is ready, separate the batter into four equal pieces.  Then, roll each piece into a thin rope, just over 10 inches long.  I recommend rolling the dough on a sheet of parchment paper sprinkled with tapioca flour.
Shape the rope into a pretzel by grabbing the two ends, twisting them together and then pulling them over the middle (see step 4-5).
Once you've shaped each pretzel, brush them with a little avocado oil and sprinkle with flaked sea salt.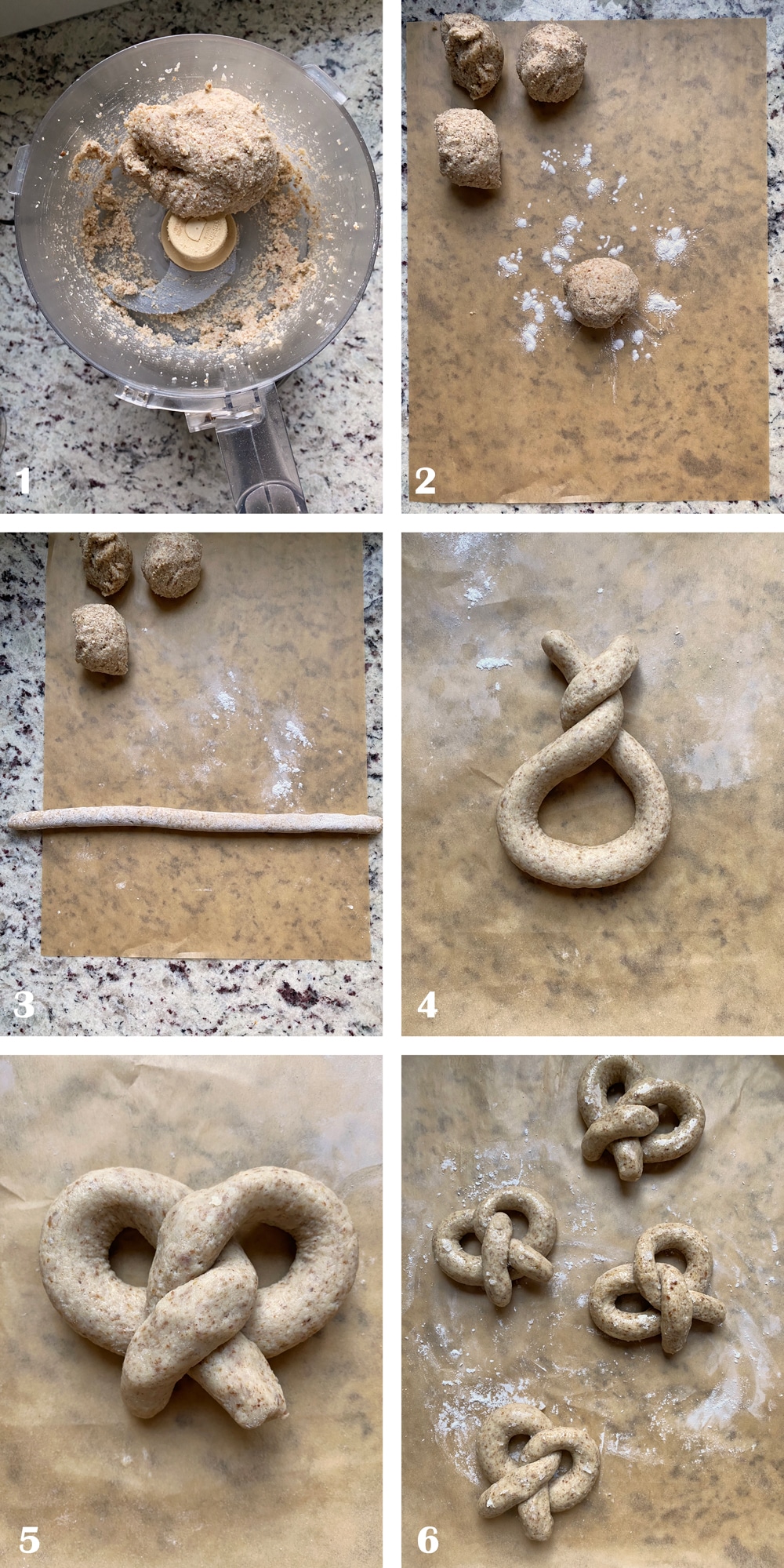 Transfer the pretzels (and the parchment paper) onto a baking sheet and place them in the middle rack of your oven. Bake at 375 degrees F for 15 minutes.
After baking, they should be slightly browned, firm on the outside but tender on the inside.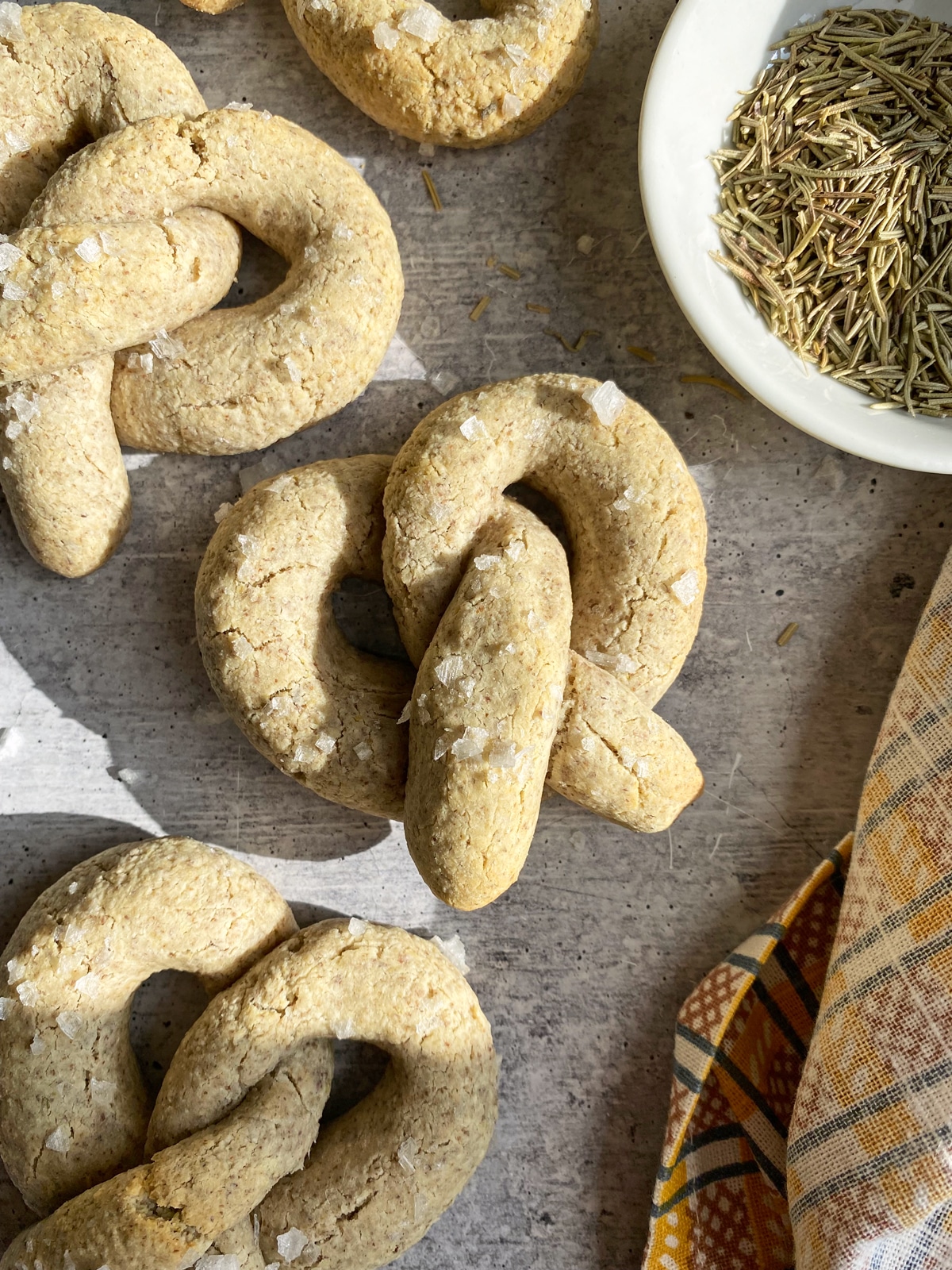 Storage
These vegan almond flour pretzels are best eaten right after baking, while still warm and tender. You can store any leftovers in a sealed, air-tight container at room temperature for a couple days, or in the fridge up to one week.
More Paleo Vegan Recipes
For more simple, Paleo and Vegan friendly recipes, take a look at these reader favorites:
Enjoy!
Print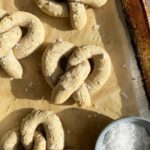 Vegan Soft Pretzels Recipe (Gluten Free, Paleo)
Author:

Katie

Prep Time:

15 minutes

Cook Time:

15 minutes

Total Time:

30 minutes

Yield:

4

pretzels

1

x
---
Description
This homemade Vegan Soft Pretzels Recipe is the perfect way to sneak in some veggies.  These soft baked pretzels are made with grain free flours and include cauliflower.  They are Paleo, Vegan, kid friendly and don't contain any added sugar!
---
½ cup

mashed cauliflower (

115g

)*

1 Tbsp

avocado oil (plus more for topping)

1

+ ⅓ cups almond flour (

128g

)

⅔ cup

tapioca flour (

86g

) (plus more for rolling)

¼ cup

ground flax (

24g

)**

1 tsp

dried rosemary

½ tsp

baking soda

½ tsp

salt
flaked sea salt (optional topping)
---
Instructions
Preheat oven to 375 degrees F.
Add all ingredients (except flaked sea salt) to food processor.  Blend, stopping every so often to scrape the sides, until the dough is well mixed.
Separate dough into 4 pieces of equal size.
Knead each piece a few times, then shape into a pretzel***  Use more tapioca flour as needed.
Place each pretzel onto a lined baking sheet.
Brush each pretzel with a bit of avocado oil and sprinkle with flaked sea salt.
Place on the middle rack of your oven and bake at 375 degrees F for 15 minutes.
Remove from oven, cool slightly and serve!
---
Notes
For best results, measure ingredients by weight when given.
*Steam, cooled and mashed with a fork
**I made my own ground flax by grinding whole flax seeds in a coffee grinder.
***To shape into a pretzel, roll each piece of dough into a thin rope, just over 10 inches long.  (This is easiest to do on a sheet of parchment paper that's dusted with tapioca flour.)  Then, grab the two ends, twist them together and fold them over the middle. 
Keywords: pretzels, paleo pretzels, vegan pretzels, paleo vegan bread, no added sugar, egg free, yeast free