This Cinnamon Collagen Protein Bars recipe is perfect for a healthy, low carb Paleo snack.  These keto protein bars are made with superfoods like almonds, pumpkin seeds and collagen, sweetened with monk fruit and flavored with cinnamon.  Better yet, these collagen bars are no bake, low in sugar and easy to make!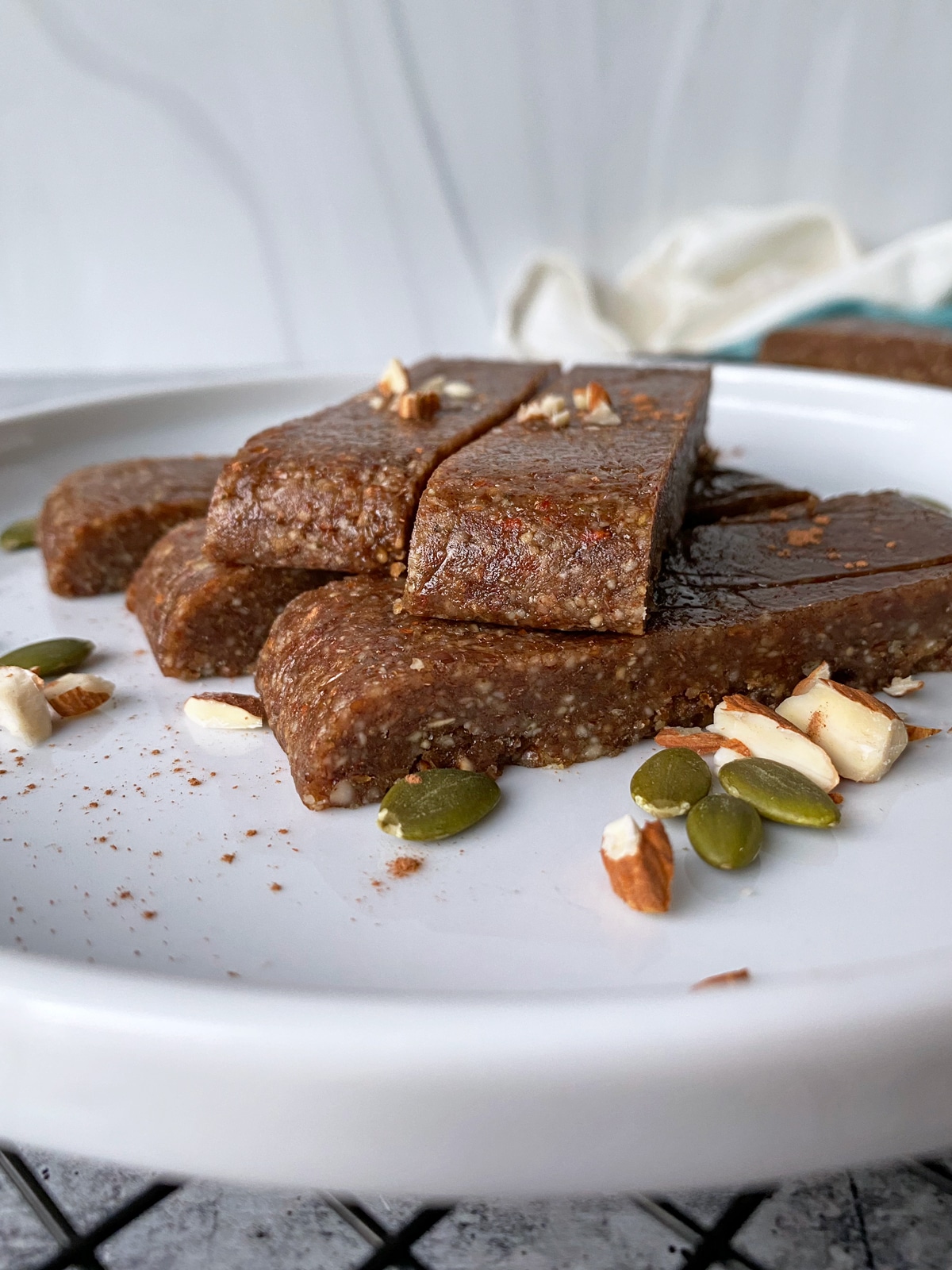 You all know my love for collagen!  My favorite way to consume it is in coffee.  I add a scoop to my coffee each morning.
But I also love using collagen in homemade Paleo protein bars, like these Cinnamon Collagen Protein Bars.
In addition to this recipe, I have a few other protein bar recipes with collagen on the blog.  Including:
You can also add collagen to mug cakes, cookies, breads...basically anything and everything!  As, most collagen is unflavored, dissolves easily and doesn't change the texture of a baked good by too much (so long as you're only adding a scoop or two).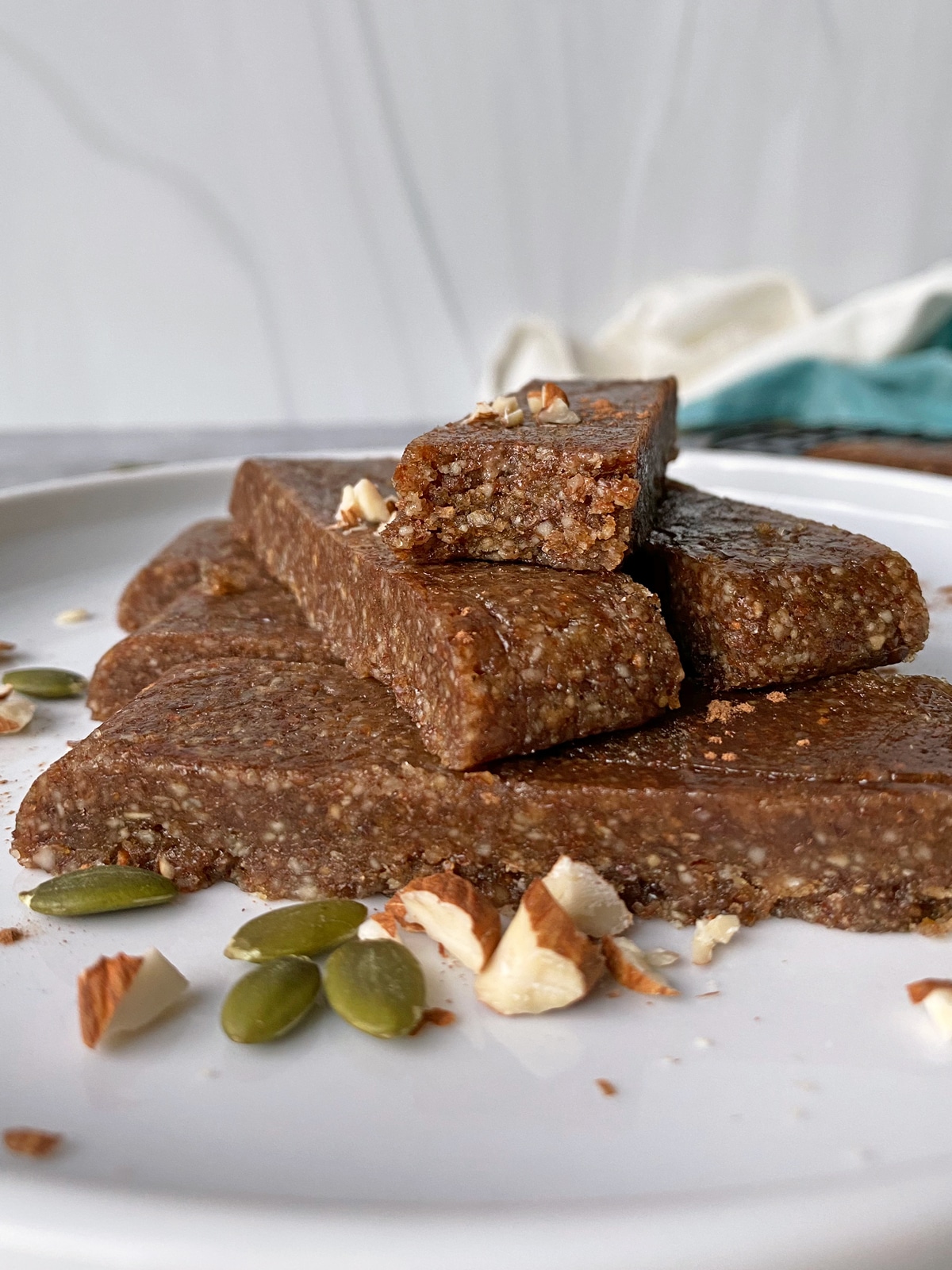 What is Collagen?
So what exactly is collagen?  Well, collagen is the most abundant protein in the human body that makes up features like skin, hair, nails, bones, connective tissue, even the gut lining.  
As we age, our body's production of collagen declines.  This means, adding more collagen in our diet is essential for proper mobility, a healthy gut and overall appearance (ie healthy looking skin).  
Collagen in our diets comes from foods high in protein.  For example, beef, chicken, fish and eggs.  Collagen peptides can be made from any of these high protein sources.  The most common form of collagen peptides I've seen is from bovine (or cows).  It's made from their skin, bones and muscles.
Collagen peptides are unique in that they have undergone a process called hydrolysis, which breaks their amino acids down into shorter chains of proteins. (1)  This makes collagen easier to digest and able to dissolve in hot or cold liquids.
What are the Benefits of Consuming Collagen?
Collagen has many health benefits including:
improving skin elasticity (one reason why I love taking it when pregnant) and appearance
stronger nails
healthier hair – thicker, fuller, grows faster
supports gut health – improves gut lining and helps heal leaky gut
helps with joint mobility and connective tissue health
Now, you don't have to take collagen to be healthy or to have great skin/hair/joints/etc.  BUT, collagen can help improve all of these areas.
I've never taken collagen for any specific health issues.  Mostly, I consume it to stay a step ahead with my health and aging. 
As I age, I want my skin to look firmer and I want to have fewer wrinkles.  I want my nails to stay strong and my hair to stay thick and healthy. 
In addition, I want my body to work well.  My hopes are that collagen will maintain my gut health and keep my joints and connective tissue healthy.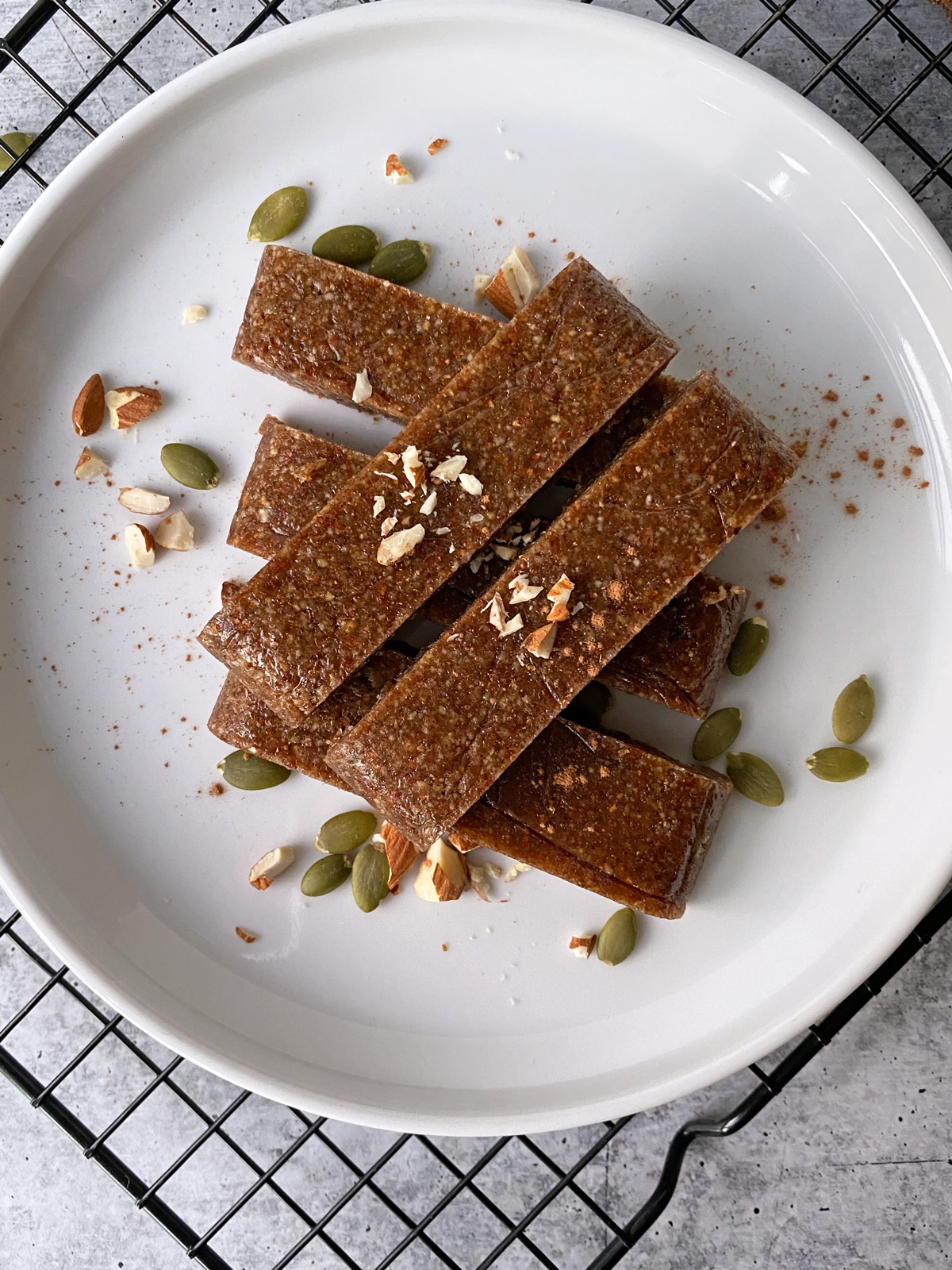 The Best Collagen to Buy
While I have a few favorite brands of powdered collagen, what really matters is the sourcing.  I also prefer collagen that dissolves well and is flavorless. 
This is what I look for before purchasing any brand of collagen:
Does it come from well sourced, humanely raised animals?  (100% grass fed, pasture raised...)
Does it dissolve in hot and cold liquids?
Is it flavorless?  Or does it have a great tasting flavor?
Many brands meet these requirements.  Here are a few of my favorite brands of collagen peptides: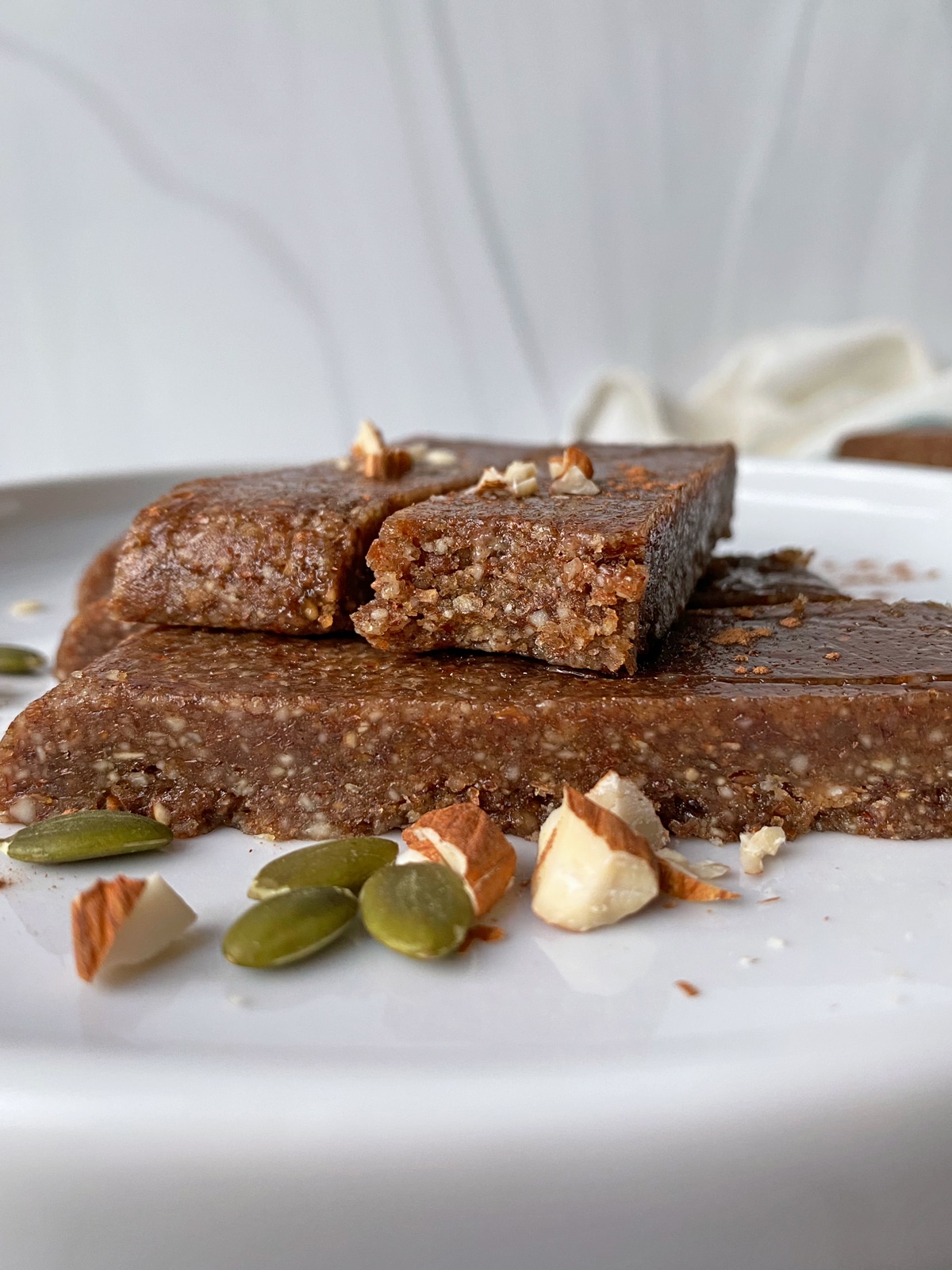 Cinnamon Collagen Protein Bars
So, now that we're well versed in all things collagen (sorry about the long intro), lets get back to these healthy homemade keto protein bars!
These collagen protein bars are easy to make, low carb, Paleo, Keto, gluten free, dairy free and only require a handful of ingredients.  Here's what you need to make them:
almonds
pumpkin seeds
ground flax
collagen peptides (I used Bare Bones)
monk fruit sweetener (or coconut sugar)
cinnamon
salt
water
vanilla extract
How to Make Cinnamon Collagen Protein Bars
This recipe for Paleo protein bars requires a food processor.  The ingredients are blended together, then pressed into a lined 8" x 4" baking pan.  
I recommend freezing the dough for at least an hour so that the bars are easier to cut. 
After freezing, cut the bars into eight equal pieces and eat.
It's that simple!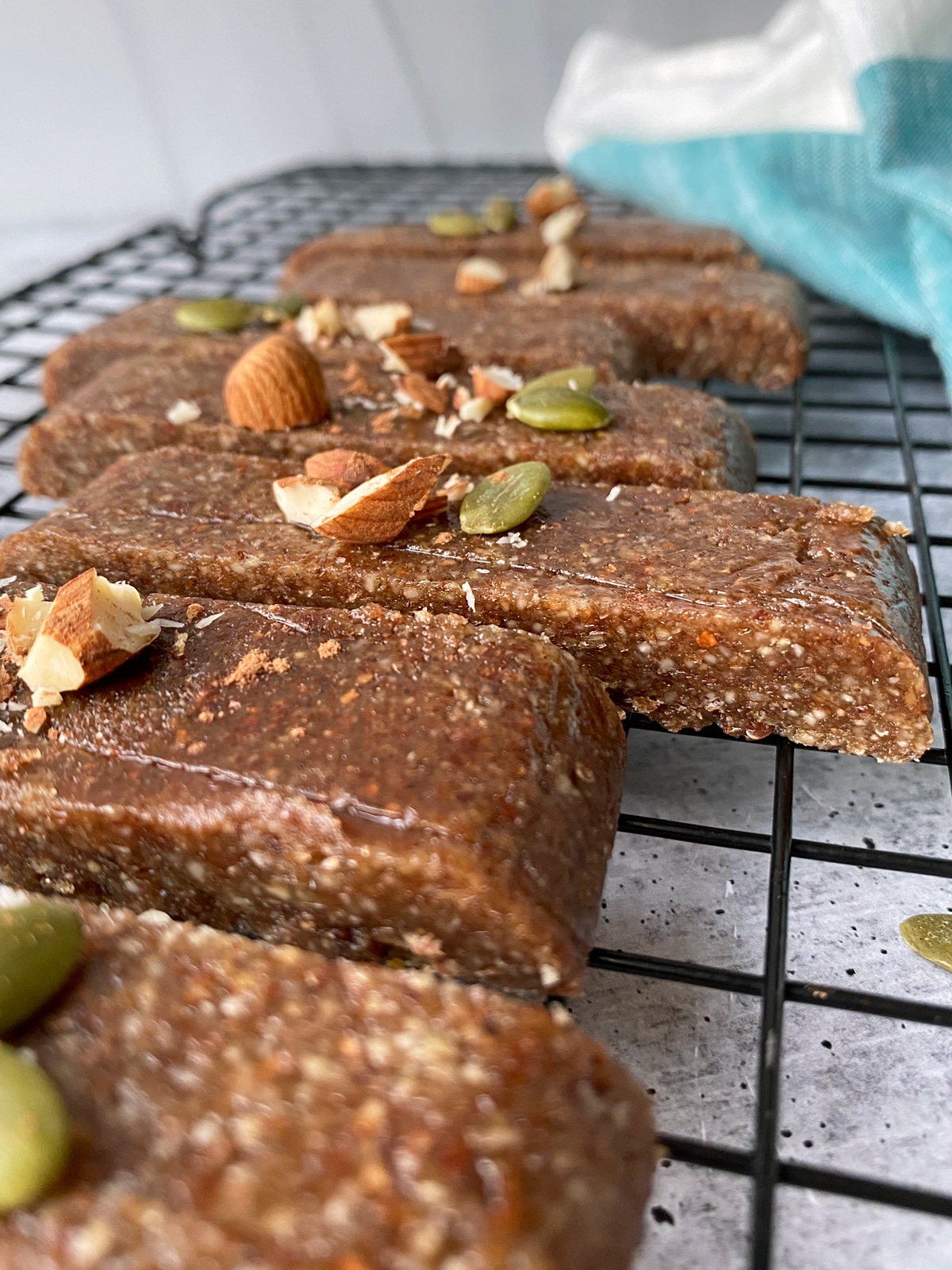 How to Store Homemade Paleo Protein Bars
These bars must be stored in the fridge or freezer.  They can be kept at room temperature for a few hours, but taste best straight from the fridge or freezer.
Personally, I like eating them straight from the freezer.
Print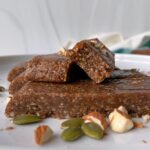 Cinnamon Collagen Protein Bars (Paleo, Keto)
Author:

Katie

Prep Time:

10 minutes

Cook Time:

0 minutes

Total Time:

10 minutes

Yield:

8

protein bars

1

x
---
Description
Healthy, low carb collagen protein bars flavored with cinnamon.  This easy recipe is Paleo, keto, no bake and low in sugar.
---
½ cup

almonds (raw or dry roasted)

½ cup

raw pumpkin seeds

¼ cup

ground flax seed*

¼ cup

collagen peptides

2 Tbsp

monk fruit sweetener (or coconut sugar)

1 tsp

cinnamon
pinch of salt (omit if almonds are salted)

2 Tbsp

water

1 tsp

vanilla extract
---
Instructions
Place almonds and pumpkin seeds in food processor.  Blend to a course flour.
Add ground flax, collagen, monk fruit, cinnamon and salt.  Blend.
Add in water and vanilla.  Blend until mixture forms a ball in the food processor.
Firmly press the dough into a lined 8" x 4" baking pan.
Freeze at least one hour.
Remove from pan and cut into eight equal pieces.
Store in fridge or freezer.
---
Keywords: collagen protein bars, keto protein bars, paleo protein bars, collagen bars, low carb snack, egg free, dairy free, no bake recipes, paleo snack ideas