This healthy collagen banana bread recipe is soft and tender and can be enjoyed with sweet or savory toppings. This collagen bread is paleo friendly, gluten free, dairy free and nut free. Plus, it's only sweetened with bananas - no added sugar.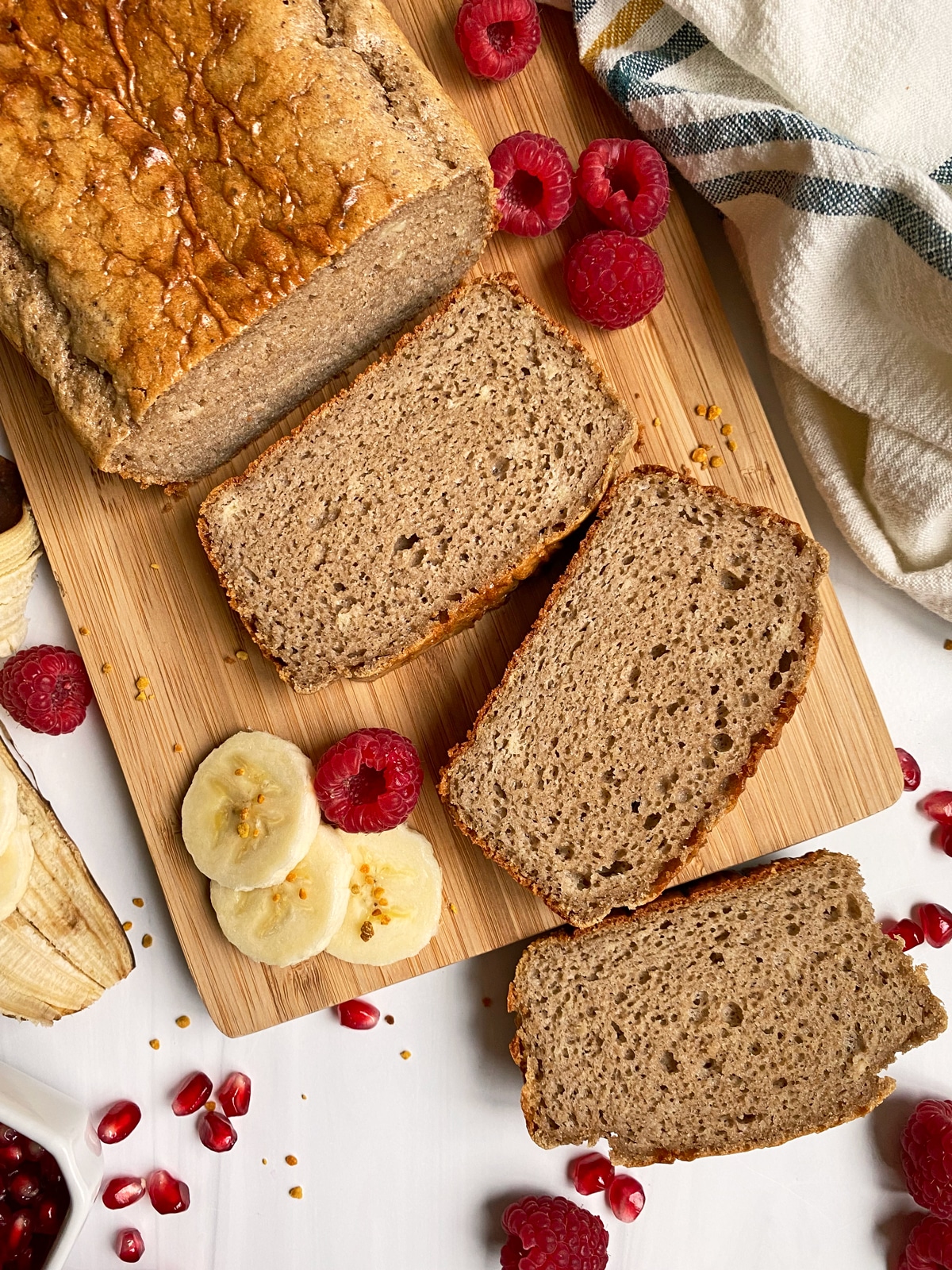 I made this collagen banana bread in collaboration with Ancient Nutrition (on Instagram) and liked it so much, that I thought it needed a permanent home on the blog.
On their own, bananas aren't my favorite fruit... but, I absolutely LOVE using them in baked goods, no-bake treats and smoothies.  In my opinion, they're the ultimate sweetener. Plus, they improve the texture of baked goods, making them moist and tender (a quality I enjoy).
This paleo collagen banana bread is only sweetened with banana and has more protein than your average banana bread, all thanks to the addition of collagen peptides.
Why You'll Love this Collagen Banana Bread
grain free & gluten free: this paleo collagen bread is made with cassava flour
dairy free: no milk, no whey protein
nut free: this loaf is almond free! It uses tahini and cassava flour instead of almond products.
easy to make: a one-bowl kind of banana bread recipe
low sugar: only sweetened with bananas
high protein: the collagen peptides provide a good boost in protein that you won't get from most banana bread recipes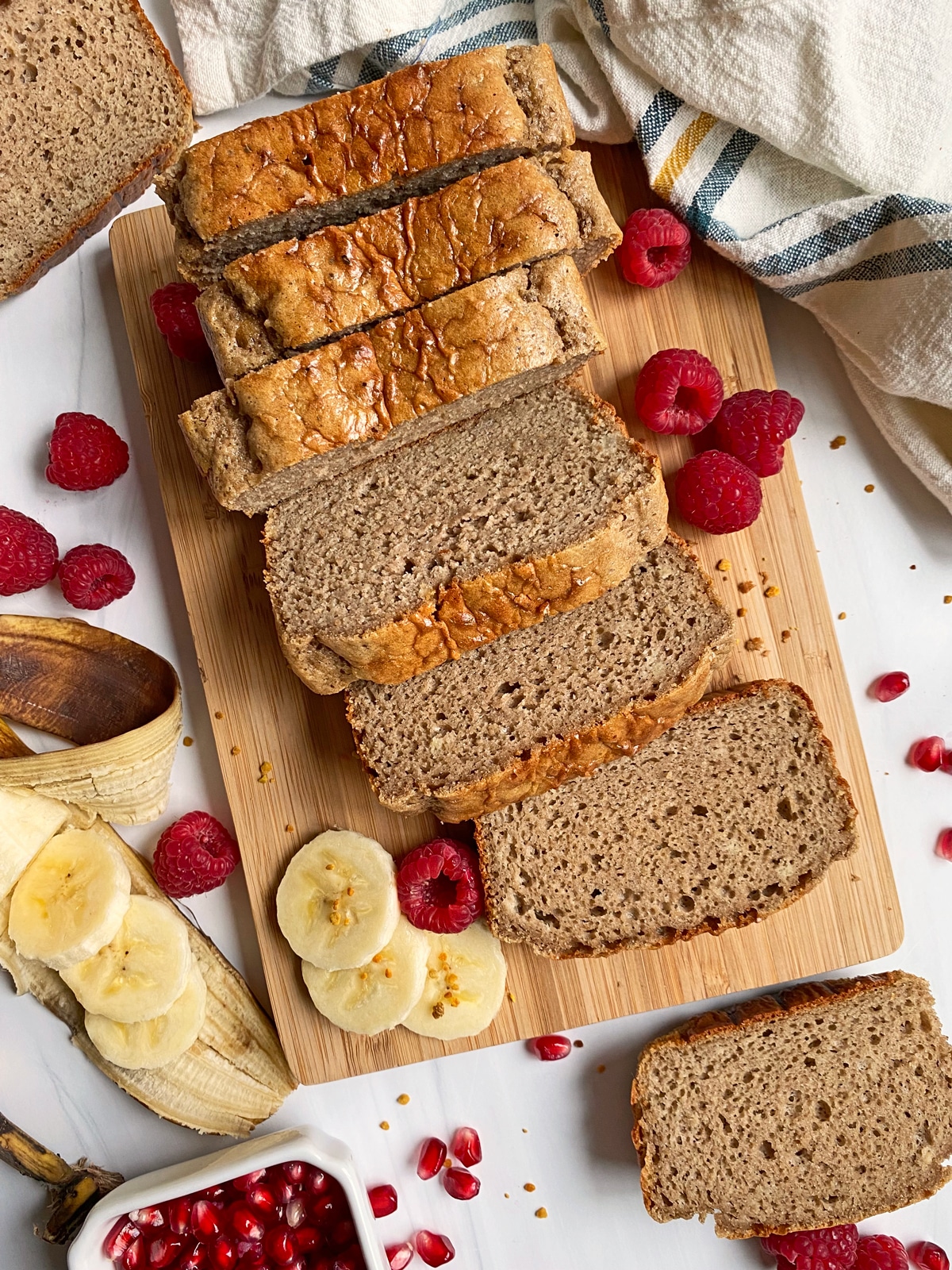 Ingredients
This collagen bread recipe contains paleo friendly ingredients and is completely nut free. Here's a list of what you need:
ripe banana
eggs
tahini
vanilla extract
cinnamon
Banana
There is only one banana needed for this collagen bread recipe. I used a ripe banana, meaning one that's yellow with a few brown spots.
Eggs
This recipe requires eggs and I do not recommend an egg substitute.
Tahini
I decided to make this loaf with tahini, as I love the flavor combination of tahini and banana. That being said, any nut or seed butter should work in it's place (like cashew butter or almond butter).
Collagen Peptides
Collagen peptides are an important part of this banana bread recipe. They not only boost the protein content, but also play a role in the bread's texture.
My top choice of collagen for this recipe is Ancient Nutrition's collagen peptides. Either their unflavored or vanilla would work well.
Cassava Flour
Cassava flour is a great paleo baking flour, as it's naturally grain free, gluten free and nut free. This gut-friendly paleo baking flour acts similarly to all purpose flour or a gluten free blend. So, if you need a substitute those would be your best bets. Be sure to measure by weight, as cassava flour is quite dense.
My favorite and most recommended brand of cassava flour is Otto's Naturals cassava four.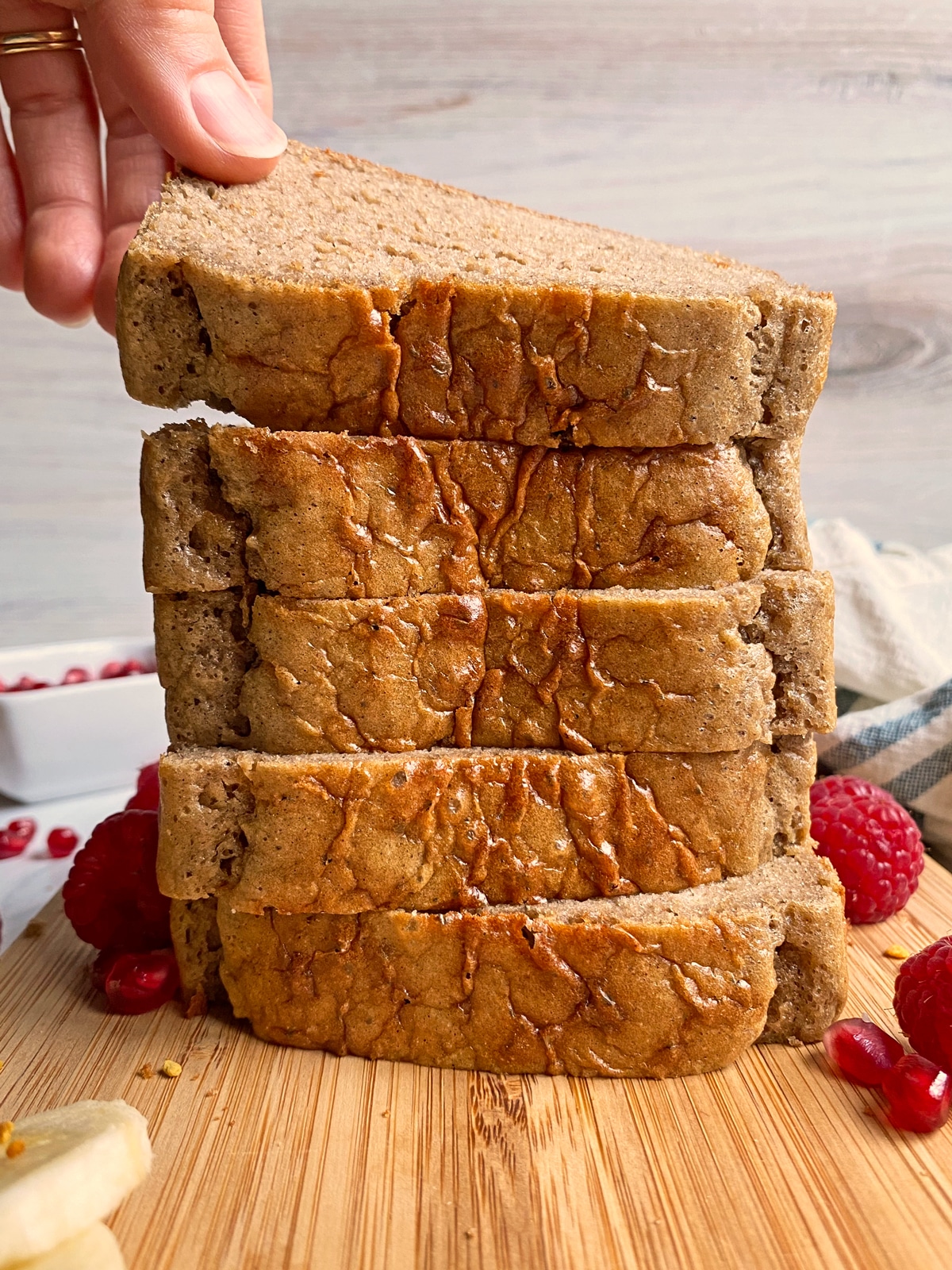 How To Make Collagen Bread
This bread is made in one bowl and baked in the oven in an 8" x 4" pan.
First, preheat your oven to 350 degrees F.
Then, peel the banana and mash it in a large mixing bowl. Mix in the remaining wet ingredients: eggs, tahini, vanilla.
Next, mix in the dry ingredients: collagen, cassava flour, cinnamon, baking powder.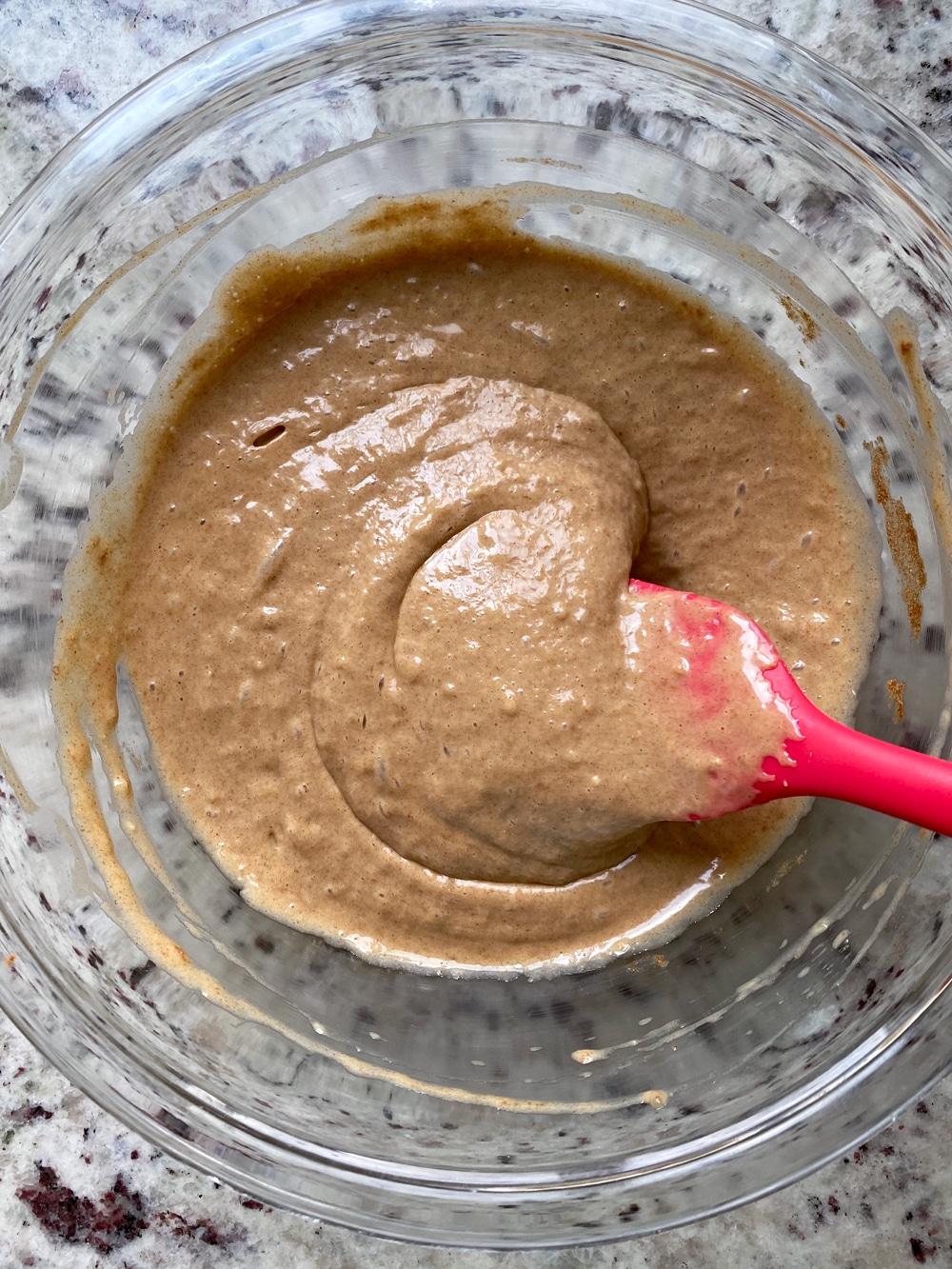 Pour the batter into a parchment lined 8" x 4" baking pan and place the pan in the oven. Bake at 350 degrees for 30 minutes.
After baking, cool the loaf in the pan for 5 minutes, then transfer it to a wire cooling rack.
Storage
This cassava collagen bread is best kept in the fridge up to one week, but may be sliced and frozen for longer storage.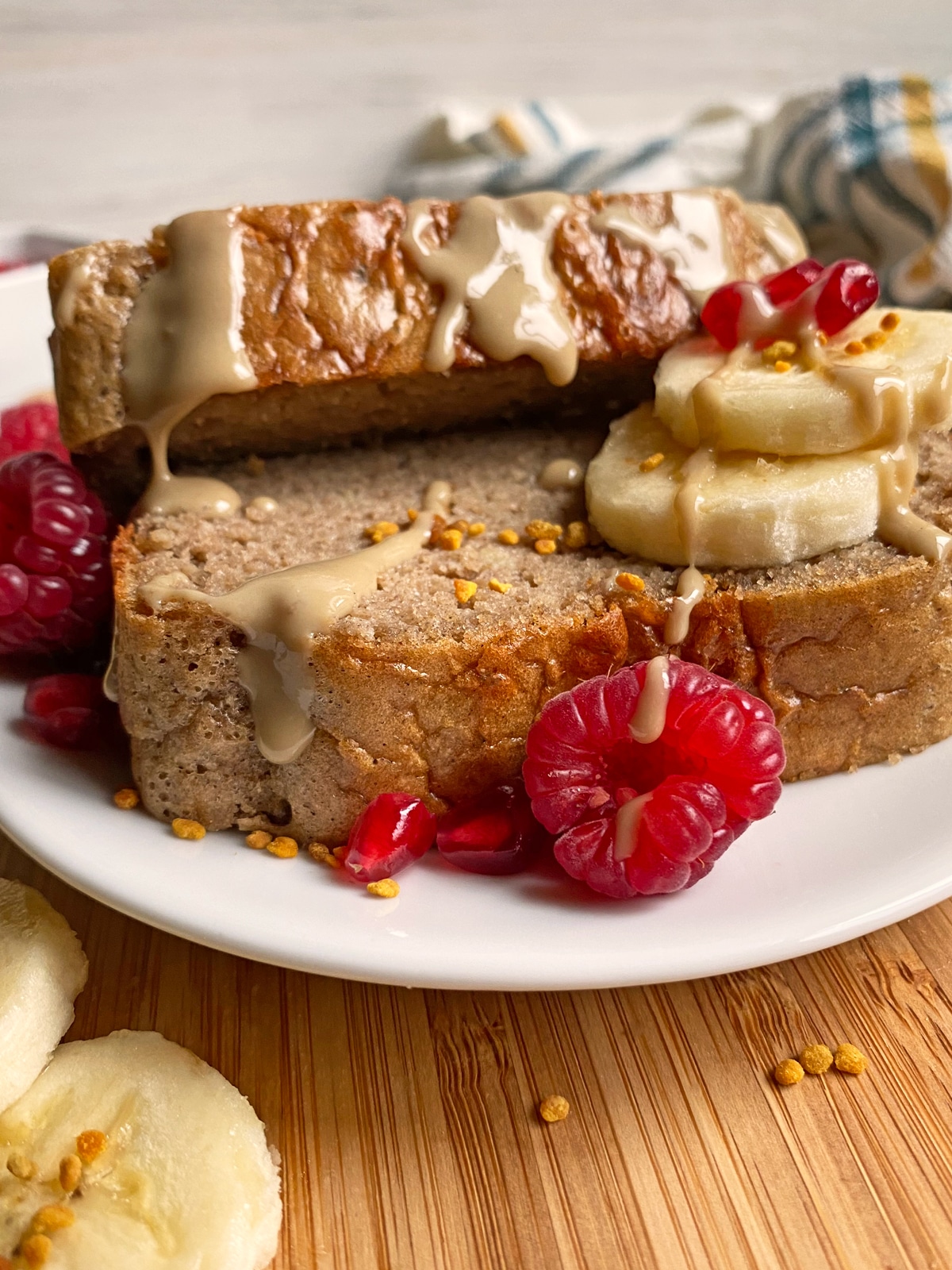 Best Way to Eat Banana Collagen Bread
Since this paleo banana bread isn't overly sweet, it works well eaten with both sweet and savory toppings. My favorite ways to eat a slice include:
slather a piece in dairy free yogurt and top with fresh raspberries
toast a slice and top with mashed avocado with a runny egg
drizzle a portion with tahini and sprinkle on cinnamon and bee pollen
toast a couple slices and spread with cream cheese or butter (dairy free if needed)
Frequently Asked Questions
Can you bake with collagen?
Yes! Collagen can go in all sorts of baked goods like cookies, muffins, breads, pancakes and waffles.
What are collagen peptides?
Collagen peptides contain the same exact set of amino acids and nutrients as collagen, but have undergone a process called hydrolysis to break them down into shorter chains of proteins called peptides. Collagen peptides are typically derived from bovine and provide support for healthy nails, gut, joints and skin.
More Paleo Banana Bread Recipes
Print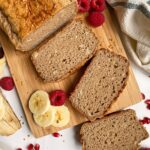 Collagen Banana Bread (Paleo, Gluten Free)
Author:

Katie

Prep Time:

5 minutes

Cook Time:

30 minutes

Total Time:

35 minutes

Yield:

8

" x 4" loaf

1

x
---
Description
This healthy collagen banana bread is made with collagen peptides, tahini and cassava flour.  It is only sweetened with bananas and is completely nut free, grain free and dairy free.
---
---
Instructions
Preheat oven to 350 degrees F.
Line an 8" x 4" baking pan with parchment paper, set aside.
Peel banana and mash in a large mixing bowl.
Add in wet ingredients (eggs, tahini, vanilla) and whisk until smooth.
Add in dry ingredients (collagen, cassava flour, cinnamon, baking powder) and mix until well combined.
Pour batter into lined baking pan.
Bake in the oven at 350 degrees for 30 minutes.
Remove the bread from the oven, cool 5 minutes in the baking pan, then transfer to a wire cooling rack.
Best stored in fridge up to one week.
---
Keywords: collagen peptides, collagen bread, paleo banana bread, banana protein bread, collagen banana bread, tahini bread, cassava flour bread, cassava protein bread, no added sugar recipes, paleo bread recipe