A healthy, Paleo breakfast that is dairy free, gluten free, Vegan, filling and can be made in minutes.  This Coconut Yogurt Breakfast Bowl is perfect for kids that can't eat dairy, adults in need of a quick breakfast, or anyone looking for a satisfying snack.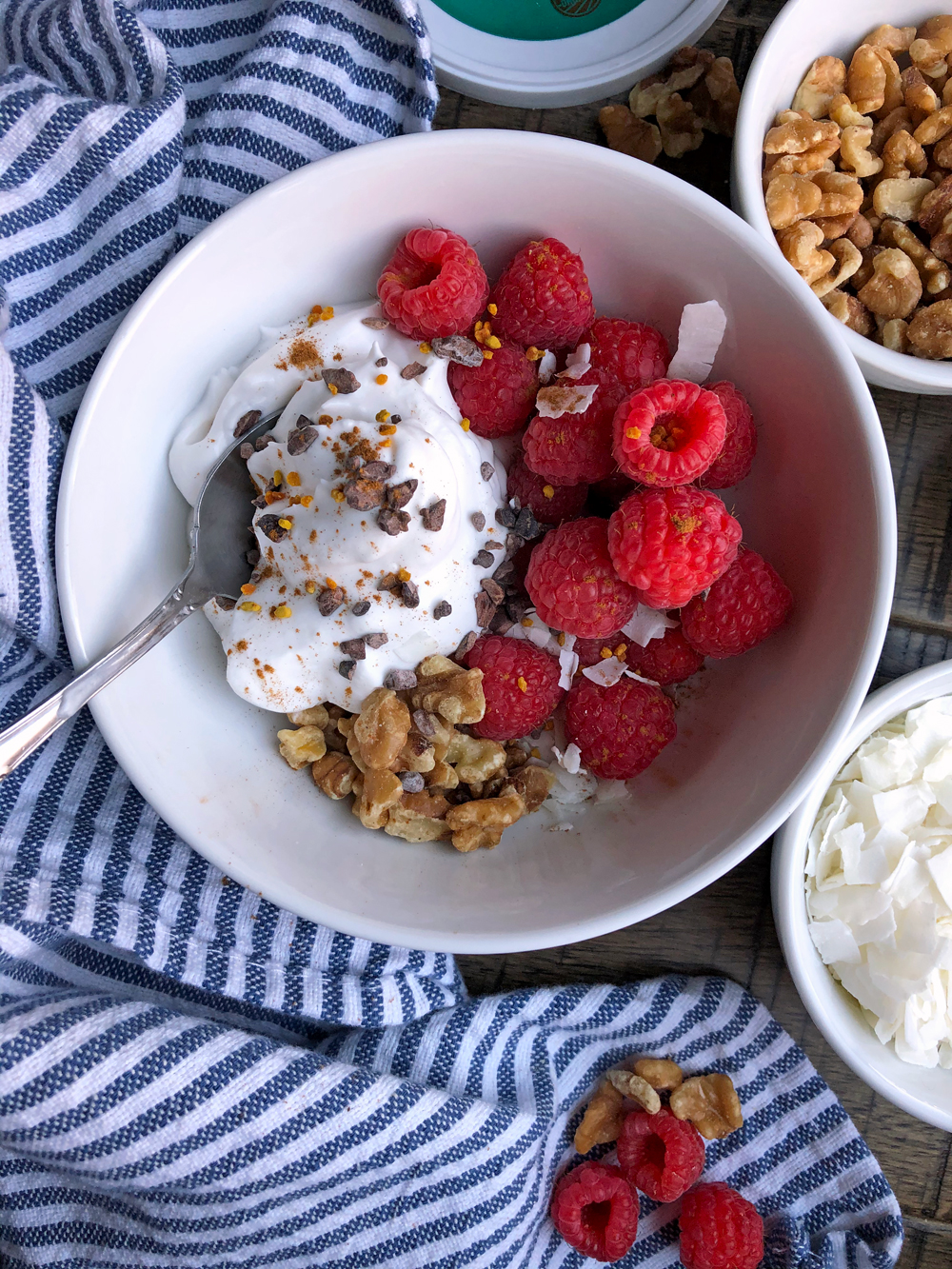 Growing up, yogurt was never a staple in my diet because I don't digest it well.  Thankfully, there are many dairy free yogurt options these days.  So I can enjoy it while making my taste buds and my tummy happy!
Plus, Paleo yogurt bowls make for a quick, simple and satisfying breakfast.  No cooking, baking or prep necessary.  All that's required is opening a jar of dairy free yogurt and adding a few toppings.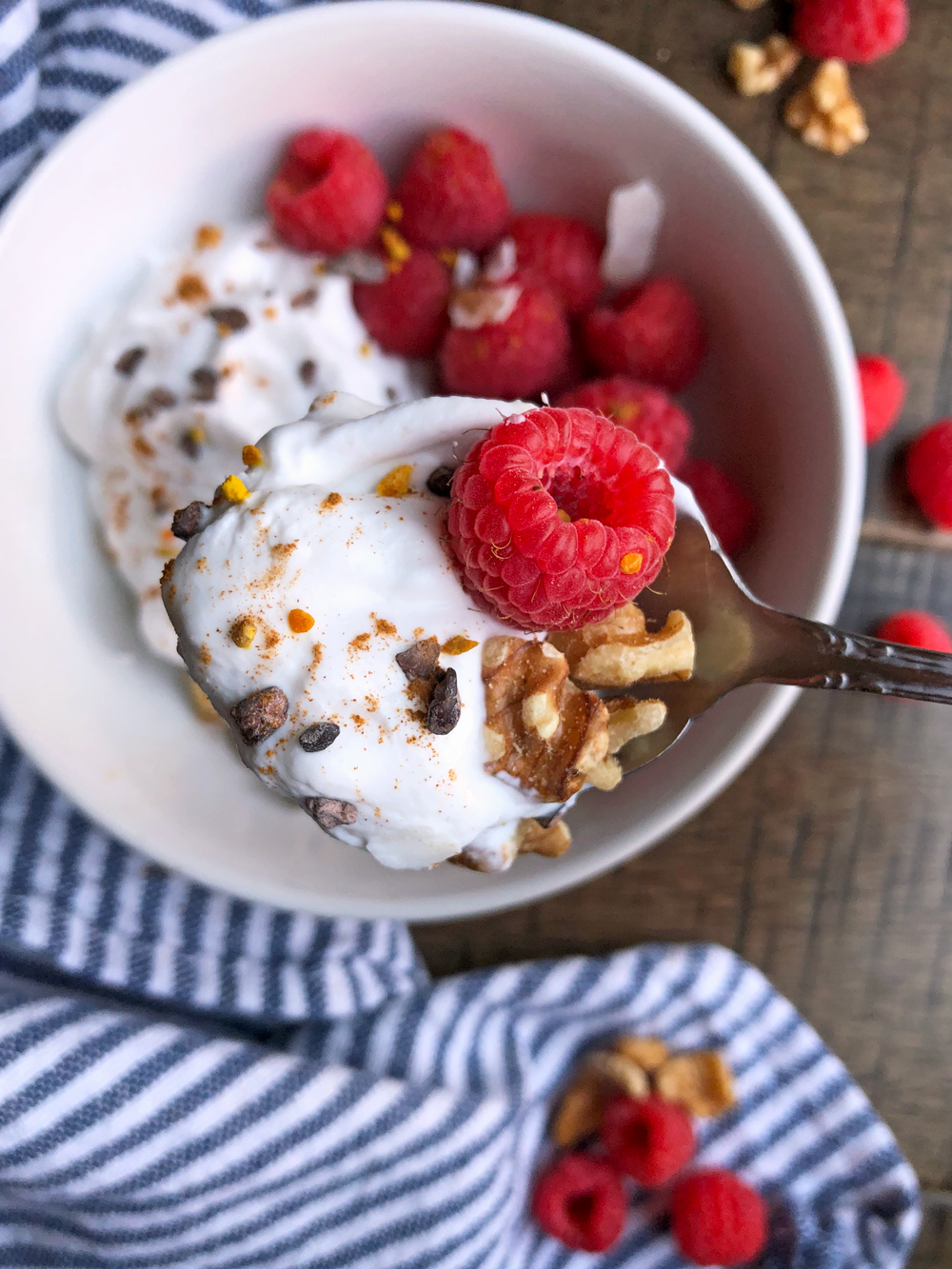 This Paleo and Vegan yogurt bowl recipe uses coconut milk yogurt.  The ingredients are simple, healthy and this yogurt is low in sugar.  This is a great Paleo breakfast without eggs!
What is Coconut Yogurt?
Coconut yogurt is a dairy free yogurt alternative made from coconut milk and live cultures (probiotic bacteria).  Many companies ferment it in small batches.  It tastes and looks very similar to "regular" yogurt.
Is Coconut Yogurt Healthy?
Coconut yogurt is rich in probiotics, which can be great for digestion and supporting a healthy gut.  Depending on the brand, it is a perfectly healthy food to consume.  Look for products without added sugar and preservatives and that only use Paleo friendly thickeners (like tapioca starch).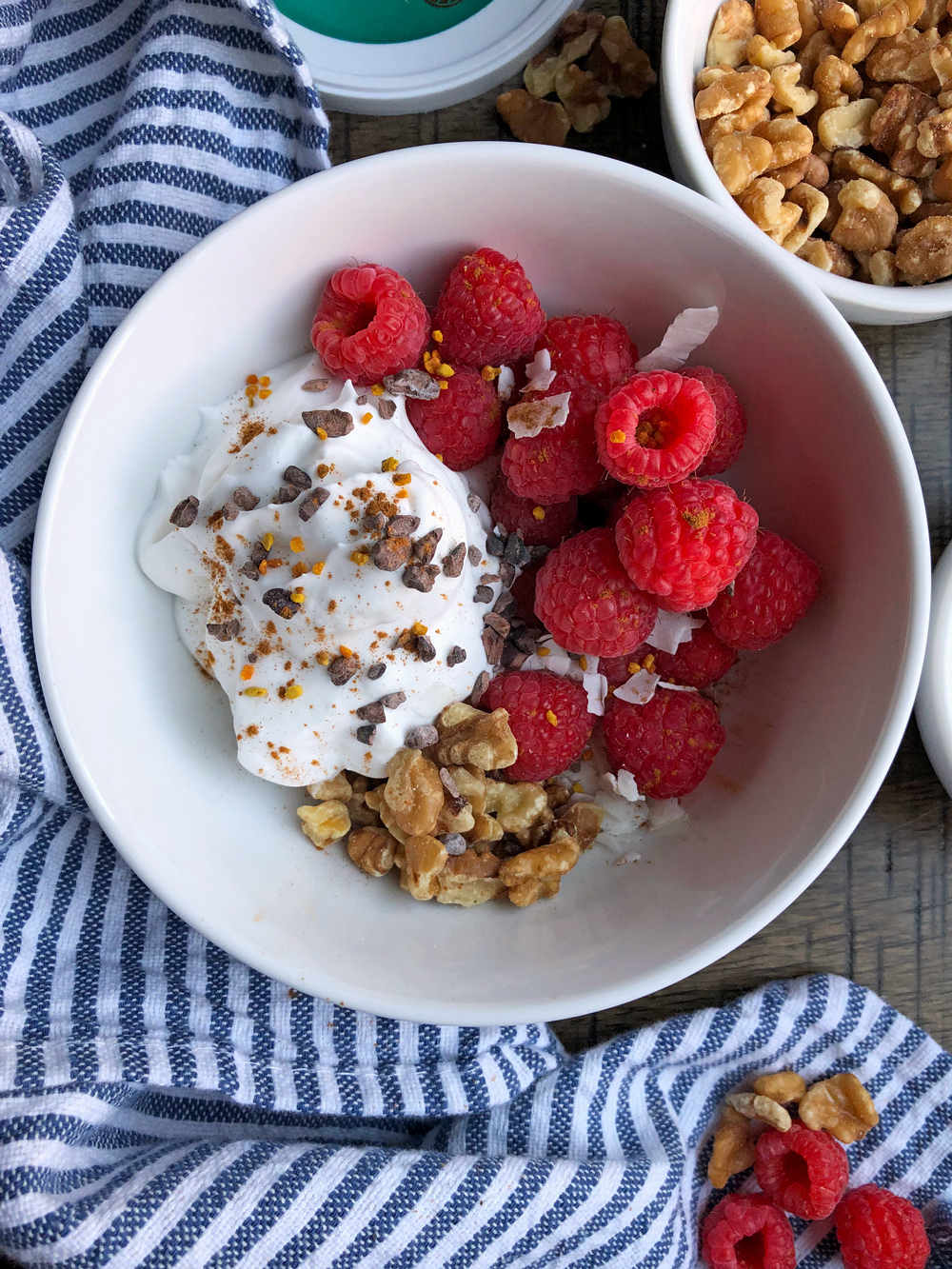 What is the Best Brand of Coconut Yogurt?
My favorite brand of coconut yogurt is from Coyo.  It is made from pure coconut milk, active cultures and tapioca.  It has a creamy, thick texture and slightly tangy taste.  This brand uses simple, healthy, high quality ingredients.
A few other brands that I have tried include: Cocoyo and So Delicious.  Cocoyo also uses great, Paleo and Vegan friendly ingredients.  However, I don't like the taste and texture as much as Coyo.  (And yes, their names are SO similar - it's confusing.)  But, as a plus, Cocoyo's plain flavor does not use any thickeners.  It is just coconut water and probiotic cultures.
So Delicious has a decent taste and texture, but is not Paleo.  This brand uses non-Paleo ingredients such as rice starch to thicken their yogurt.
Where to Buy Coconut Yogurt?
Coconut yogurt can be found at most health food and large chain grocery stores such as Whole Foods and Walmart.  Most company websites have a store locator that provide information on where their products are sold.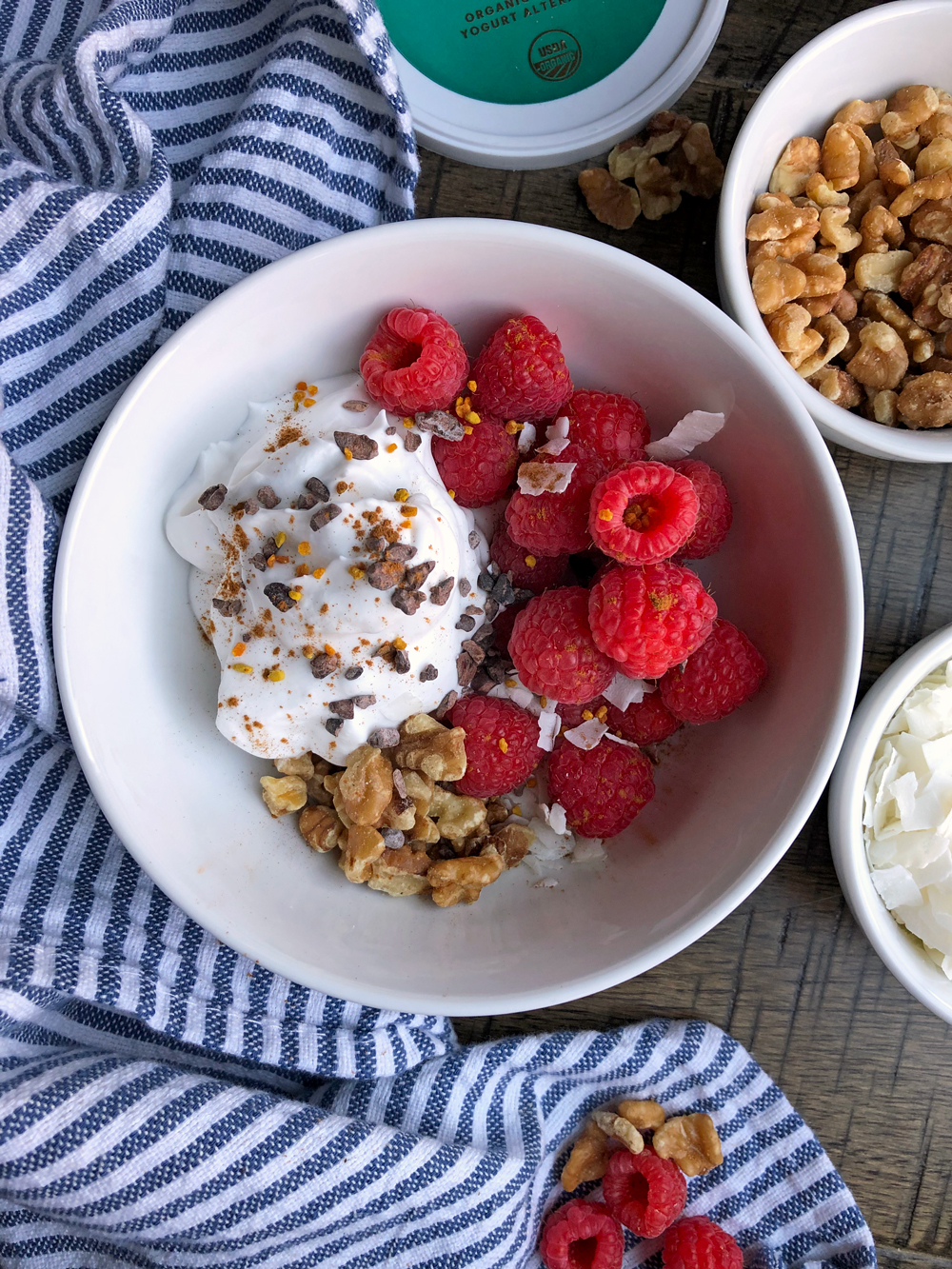 What to Put in a Coconut Yogurt Breakfast Bowl
This recipe calls for: coconut milk yogurt, fresh raspberries, raw walnut pieces, cacao nibs and flaked coconut.  (Plus bee pollen and cinnamon for a little "extra").  However, all or none of these toppings may be used.  Yogurt bowls are highly customize-able!
Here are some Paleo yogurt bowl topping ideas:
fruit: fresh, frozen, dried
nut butter, seed butter, coconut butter
nuts or seeds
cacao nibs
chocolate chips
flaked or shredded coconut
sweetener: honey, maple syrup, monk fruit
Paleo granola
baked sweet potato
spices: cinnamon, pumpkin spice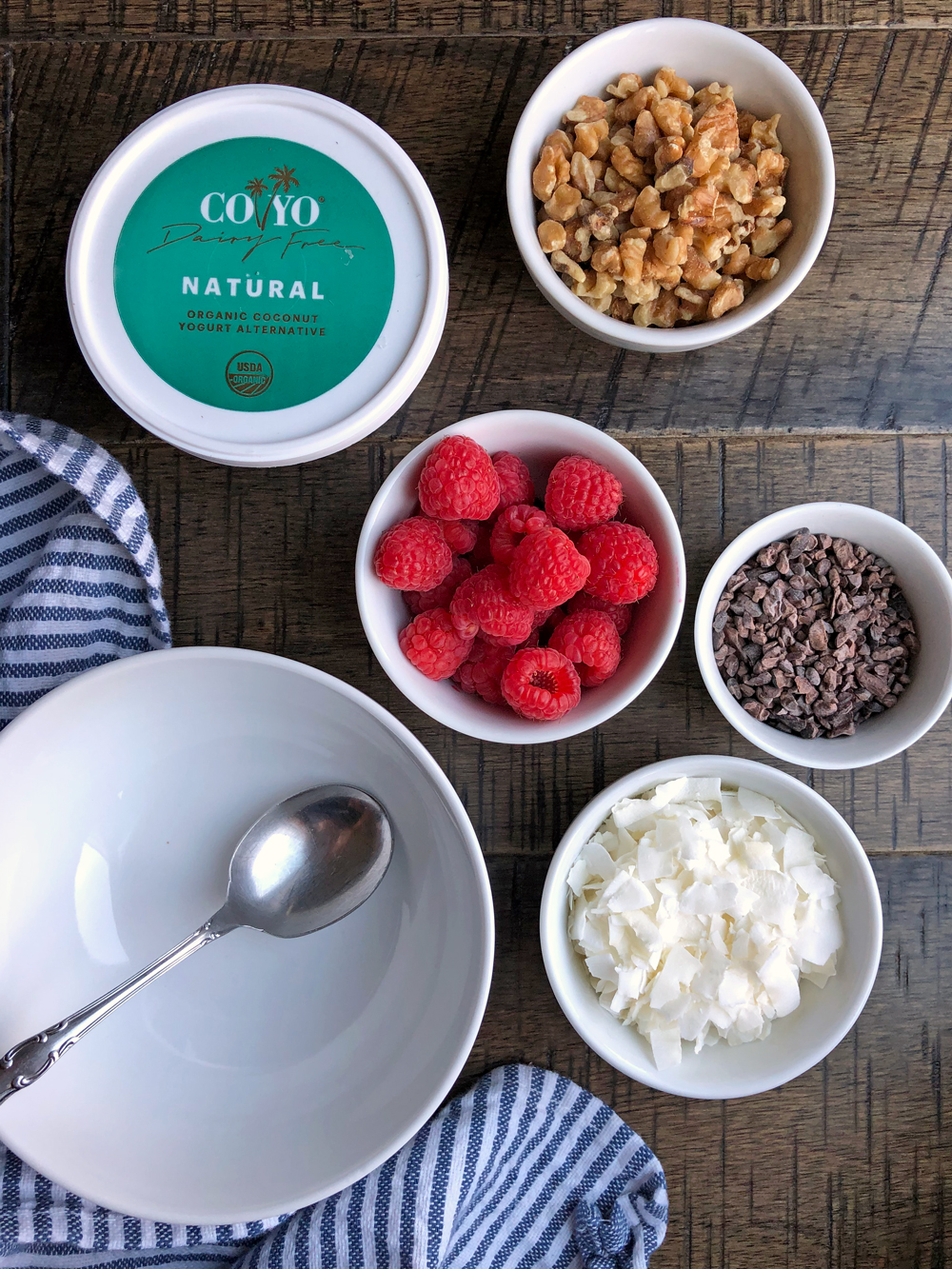 More Easy Paleo Breakfast Ideas:
Print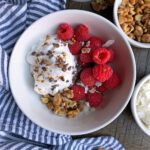 Coconut Yogurt Breakfast Bowl
Author:

Katie

Prep Time:

5 minutes

Cook Time:

0 minutes

Total Time:

5 minutes
---
Description
A quick, easy Paleo breakfast recipe using coconut yogurt.  Gluten free, dairy free, Vegan and low in sugar.
---
fresh raspberries
raw walnut pieces
---
Instructions
Add all ingredients to a small bowl.
Serve immediately or store in the fridge for later.
---
Keywords: yogurt, coconut, dairy free, Paleo, Vegan, breakfast