These egg free plantain waffles are just what you need for a healthy Paleo breakfast! They are made with ripe plantains and cassava flour and flavored with cinnamon and vanilla. In addition, this plantain waffle recipe is Paleo, Vegan and allergy friendly.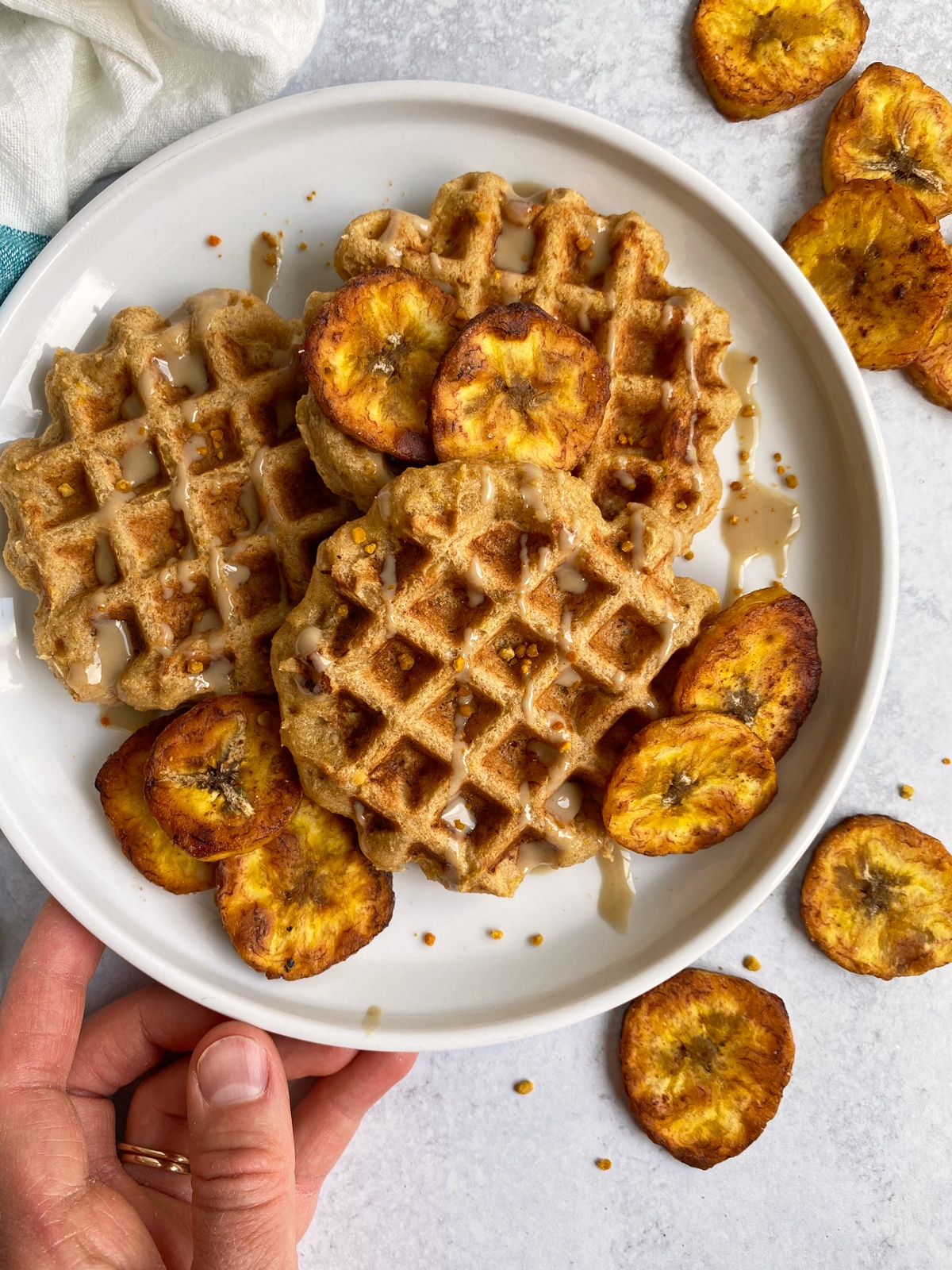 I used to bake with plantains ALL the time! Additionally, fried plantains and plantain fries were a regular part of my meals. Honestly, I don't know why I stopped consuming so many! I still love them, I really do, they just seem to have been forgotten among all the current staples in my diet.
What are Plantains?
As far as looks go, plantains are very similar to bananas. But, if you've ever eaten one you know their similarities stop about there.
Typically, plantains are larger than bananas and have a tougher, thicker skin. Their interior is tougher as well. Plantains are best eaten cooked. Whereas, bananas are great cooked and raw.
Like a banana, plantains start off green in color then change to yellow and eventually brown/black.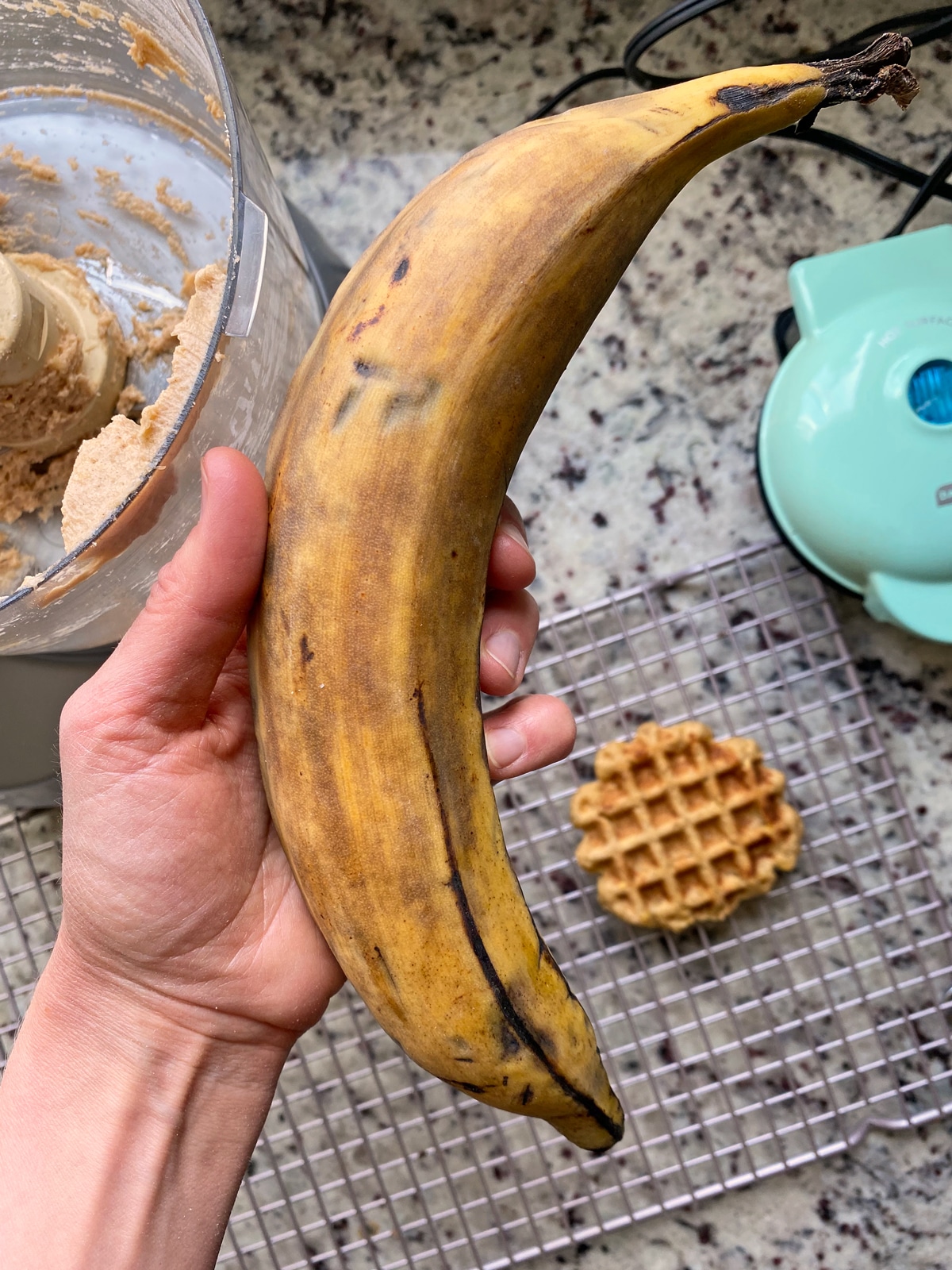 How Can You Tell if a Plantain is Ripe?
Plantains can be eaten at their earliest stages (green) all the way up to peak ripeness (nearly all black in color). However, each phase has a different taste, texture and use.
Green plantains are quite starchy. In addition, their peel is harder to cut and the insides are rough and not very flavorful. I like using green plantains when making plantain fries (if I want them to turn out extra crispy) and in making plantain chips in my dehydrator.
Medium-ripe plantains are yellow, perhaps with a few black/brown spots. They are slightly sweet and softer in texture. Yellow plantains are great for making fried plantains, plantain fries and plantain chips. I also like using them in my baking from time to time.
Fully ripe plantains are almost black in color. Black plantains are deliciously sweet and wonderful for baking.
For this recipe, I recommend plantains that are either medium-ripe or fully ripe.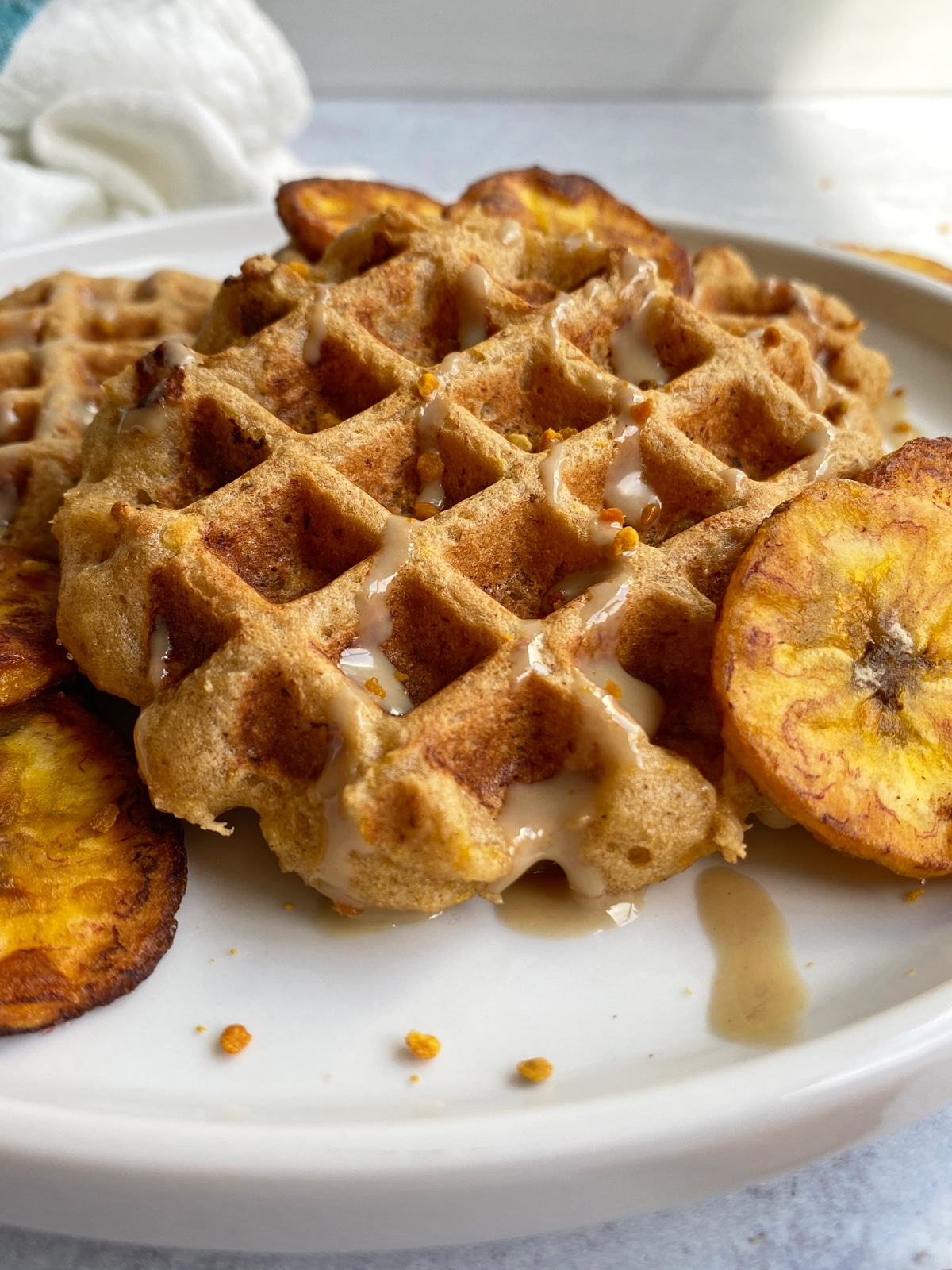 How to Peel a Plantain
The riper the plantain, the easier it is to peel. Which, makes sense because riper plantains have thinner, softer skin. However, no matter the ripeness, these are the steps I take when peeling plantains:
Using a sharp knife, cut off both ends of the plantain
Cut the plantain in half
Use the knife to slice the plantain skin lengthwise (tip to tip)
Peel off skin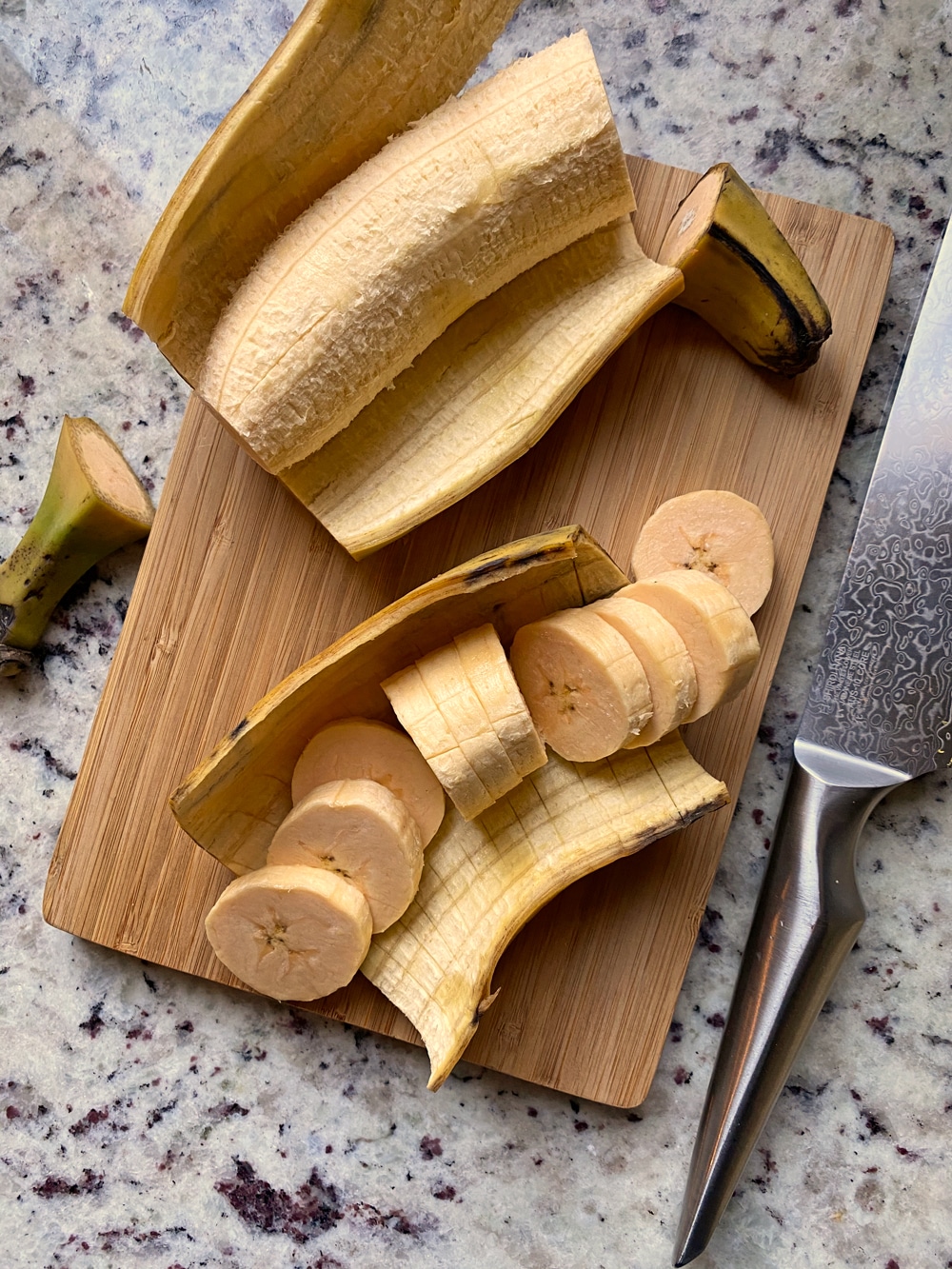 Ingredients in Egg Free Plantain Waffles
My recipe for plantain waffles uses 7 simple ingredients. I flavored these waffles with cinnamon and vanilla, but those add-ins are optional.
ripe plantain
salt
cinnamon (optional)
vanilla (optional)
avocado oil (optional)
Ripe plantains are best for this recipe. I recommend letting them ripen so that they have at least a few dark black spots. This ensures the proper batter texture. Also, the riper the plantain, the sweeter it is - which is perfect since this recipe doesn't have any added sugar.
Cassava flour is an excellent grain free flour to use in combination with plantains. It can be substituted with any gluten free flour blend, just make sure to measure by weight.
Like mentioned earlier, the cinnamon and vanilla are optional. They really add to the flavor (and aroma) but you can go without them or swap them for another spice/flavoring.
Lastly, I added avocado oil for texture. You can substitute with any liquid oil. Conversely, you can skip the oil altogether. But, be warned, the oil aids in the waffle texture; making it crisper and less dense and dry.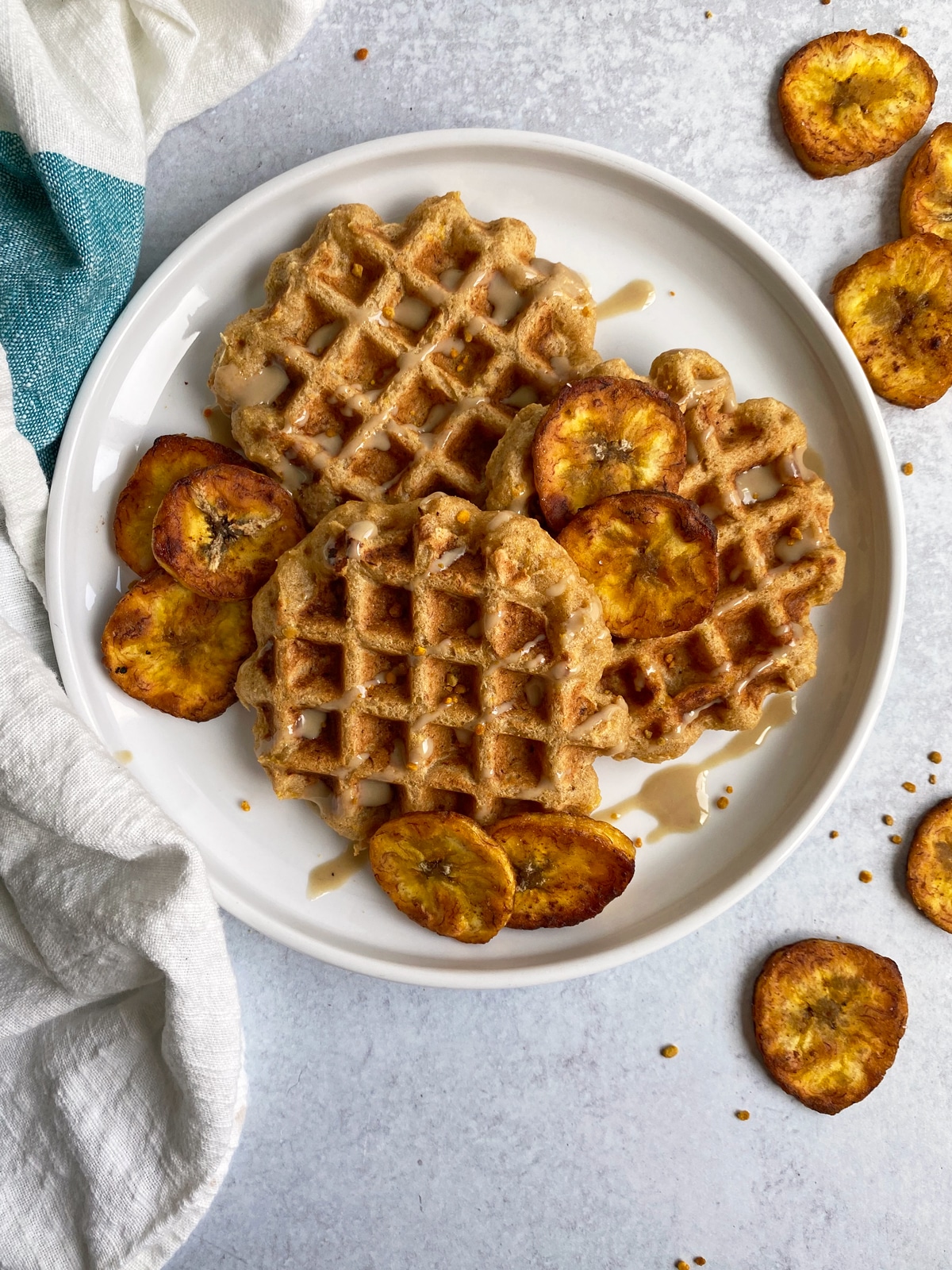 How to Make Plantain Waffles
Plantains are not easy to mash like bananas. So, a food processor or high powered blender is recommended when making any baked good with plantains.
First, peel and slice the plantain. Measure out one cup and place in your food processor.
Blend, stopping to scrape the sides every so often.
Next, add in remaining ingredients. Stir with a spatula, then blend until batter is smooth. Again, stopping to scrape the sides every so often.
Lastly, scoop about ¼ cup batter onto a preheated mini waffle iron. (Or more if you're making larger waffles.) The batter IS thick, unlike typical pancake batter. Cook until done and serve with your favorite toppings.
If you don't have a waffle iron, feel free to make these into plantain pancakes.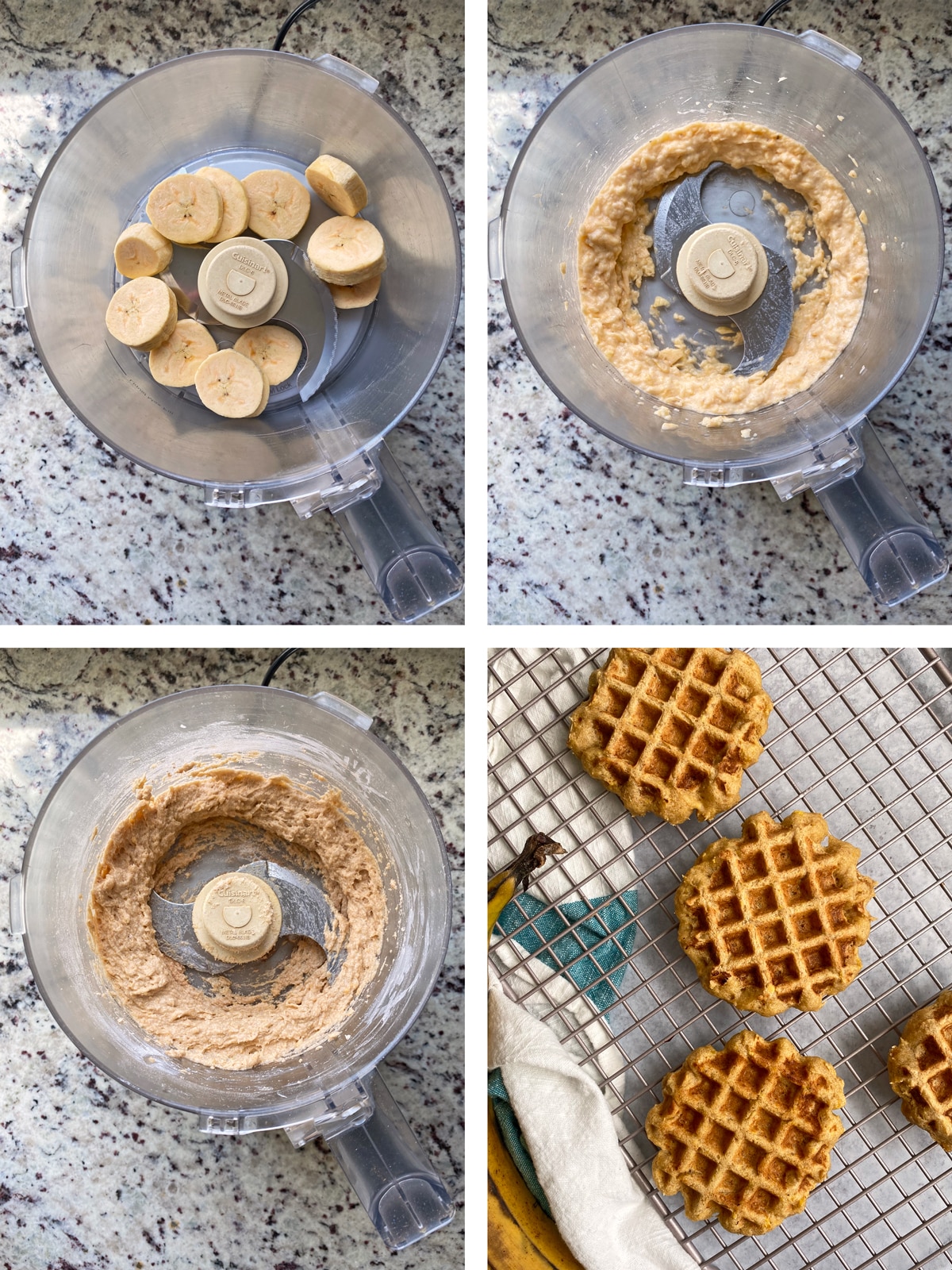 Best Way to Store Plantain Waffles
These waffles are best eaten hot off the waffle maker. This recipe only makes 3-4 miniature waffles; perfect for one! Of course, the recipe can be doubled or tripled to serve more.
If you have any leftovers, they are best kept in the fridge up to one week.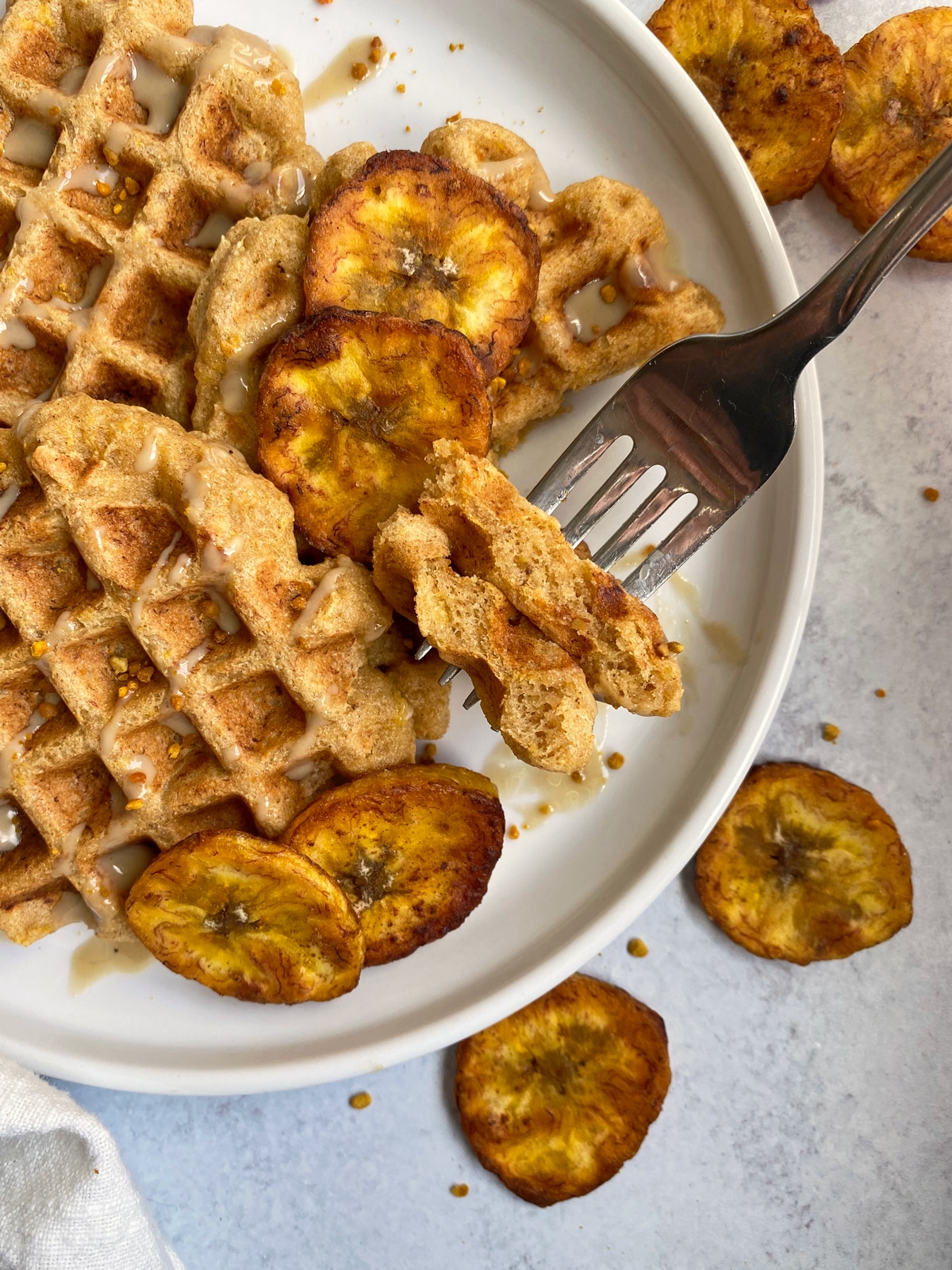 More Paleo Plantain Recipes
Enjoy!
Print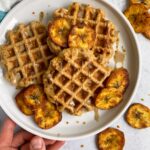 Egg Free Plantain Waffles
Author:

Katie

Prep Time:

5 minutes

Cook Time:

15 minutes

Total Time:

20 minutes

Yield:

3

-

4

mini waffles

1

x
---
Description
Easy plantain waffles made with ripe plantains and cassava flour.  Paleo, Vegan and allergy friendly.
---
---
Instructions
Peel plantain and slice into about ½" coins.
Add plantains to food processor.  Blend a few seconds, stop to scrape the sides, then blend a few more seconds.
Add remaining ingredients to food processor.  Stir with spatula, then blend until batter is smooth, stopping to scrape the sides every so often.
Scoop ¼ cup batter onto preheated mini waffle iron.
Cook until done.
---
Notes
*Ripe meaning yellow with black spots
Keywords: waffle, breakfast, plantain, AIP, egg free, nut free, allergy free, vegan, plantain waffles, paleo breakfast, vegan breakfast, no added sugar