These Dehydrated Plantain Chips are the best "anytime" snack because they are healthy, easy to make and dried in a dehydrator. This plantain chip recipe is Paleo, Vegan, Whole30 and allergy friendly. They are flavored with cinnamon and salt, but any seasonings will work.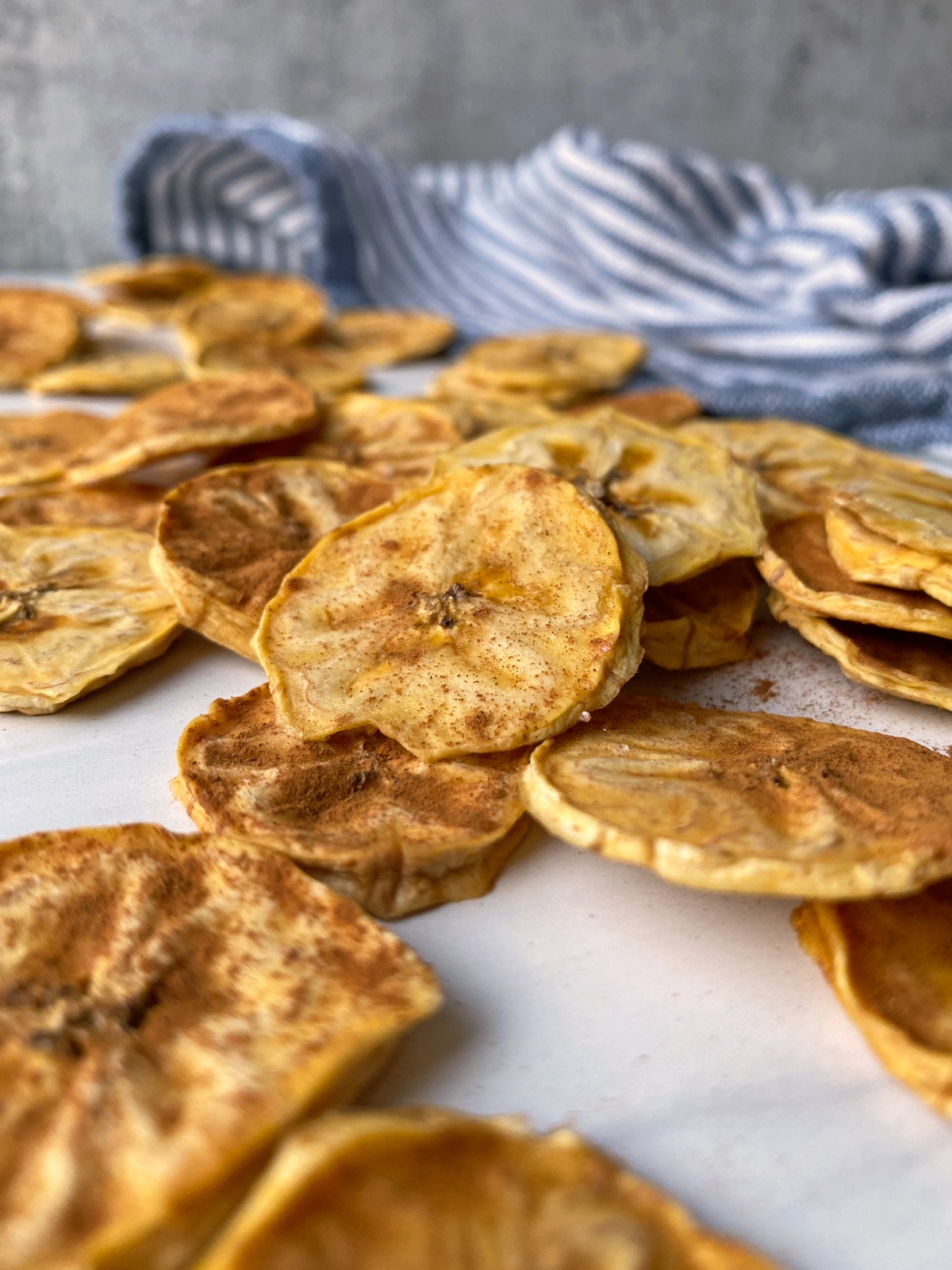 Today, I'm sharing a really easy recipe: Dehydrated Plantain Chips!
I've had SO many questions via Instagram about how to make plantain chips in the dehydrator. And really, it seems silly to call this a "recipe" because the process is so easy. The dehydrator does all the work!
But, I thought I'd put together a post on how to make air dried plantain chips anyway. These are too good not to share - even my kids LOVE this easy Paleo snack.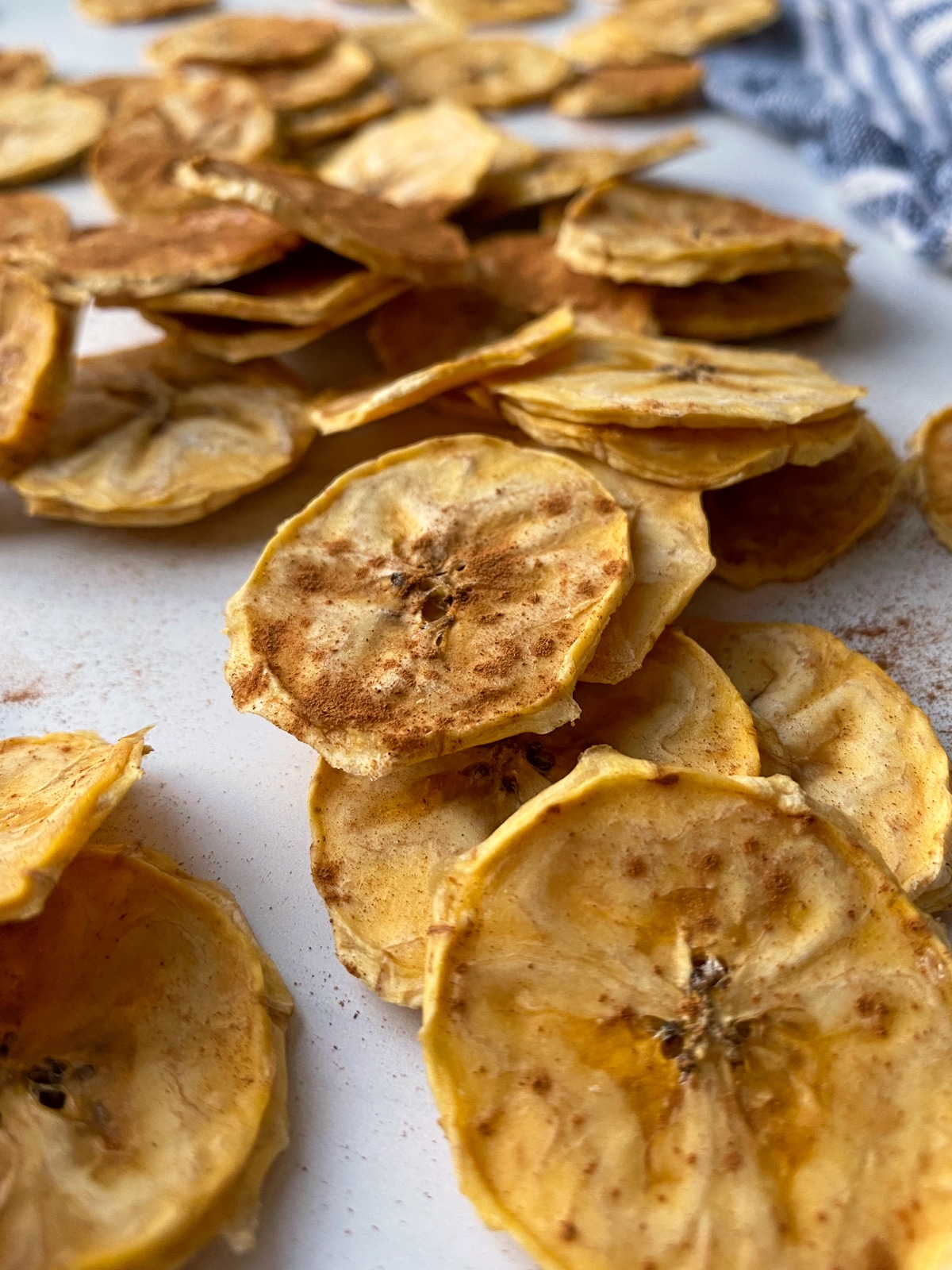 I'm sure many of you have purchased plantain chips before. But have you ever made your own? I like store bought plantain chips AND homemade.
Best Plantain Chips to Buy
My favorite plantain chips to buy are Inka Crops Plantain chips. The simple sea salt ones are my favorite. Inka uses palm oil, which I like because it is heat-stable. They sell their chips on Amazon (at a great price too!) and I regularly buy them at Whole Foods.
I also like Barnana and TERRA. Both of these brands use coconut oil on their plantain chips. These two brands are also sold on Amazon and in many grocery stores.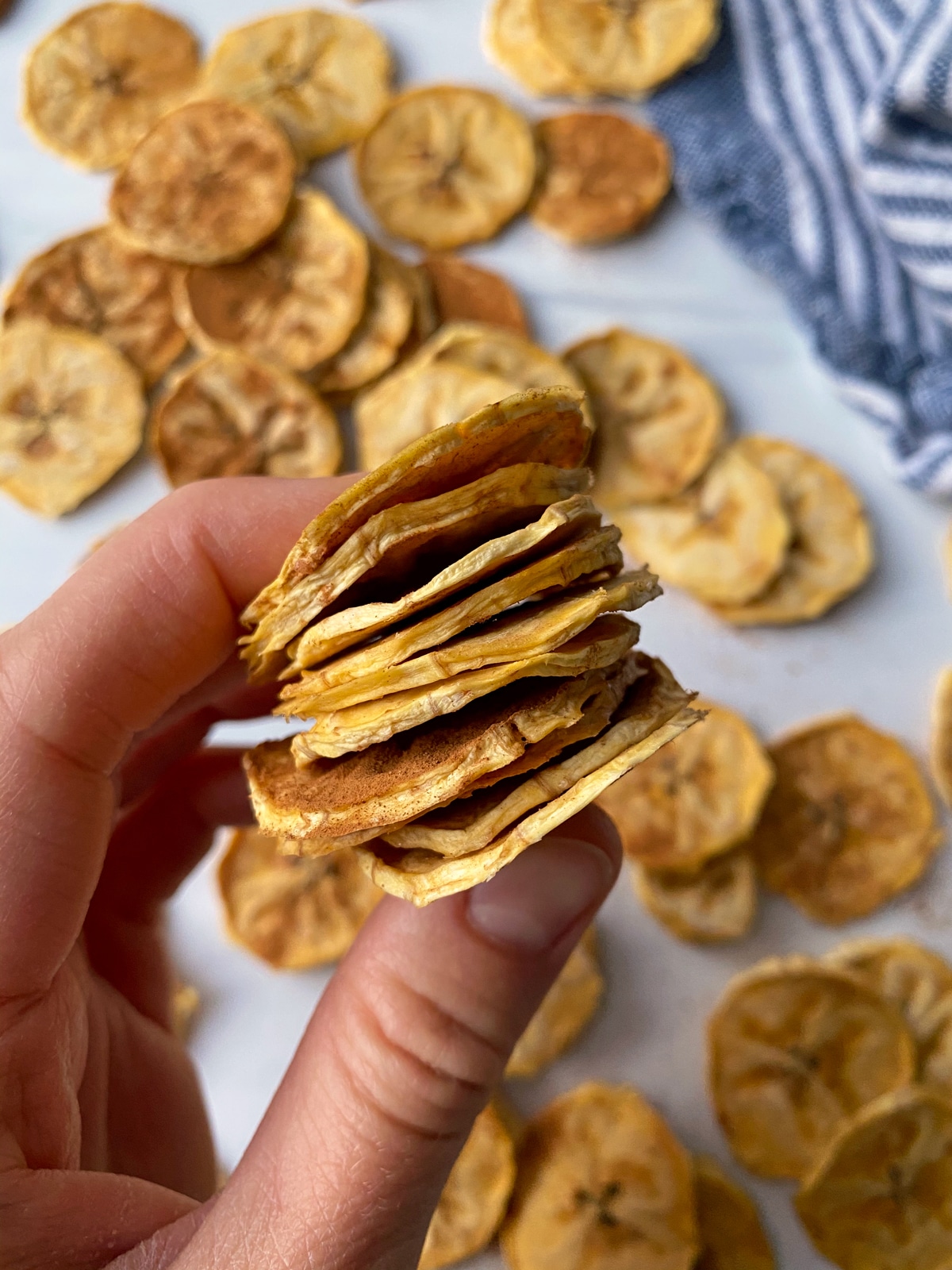 Homemade plantain chips can be cooked a variety of ways. Obviously, they work well in the dehydrator. This is a great oil free plantain chip recipe.
Other options include sauteing them in a frying pan, baking them in the oven or air frying them. All of the above are delicious, easy and perfect for snacking!
Ingredients for making Dehydrated Plantain Chips
This plantain recipe only requires one ingredient: plantains! But, I recommend adding some seasoning, especially salt, to really bring their flavor to life.
I made cinnamon plantain chips. However, any spices will work; sweet or savory. What I like about the cinnamon, is that it gives these Whole30 chips a sweeter flavor without any added sugar.
You can choose to use green plantains or ripe plantains. (I used ripe.) Green plantains are starchier and lower in sugar. They tend to have a chalky texture when dehydrated...but I actually like it!
Ripe plantains are sweet, higher in sugar and easier to cut. They take a little longer to dry, but are worth the wait!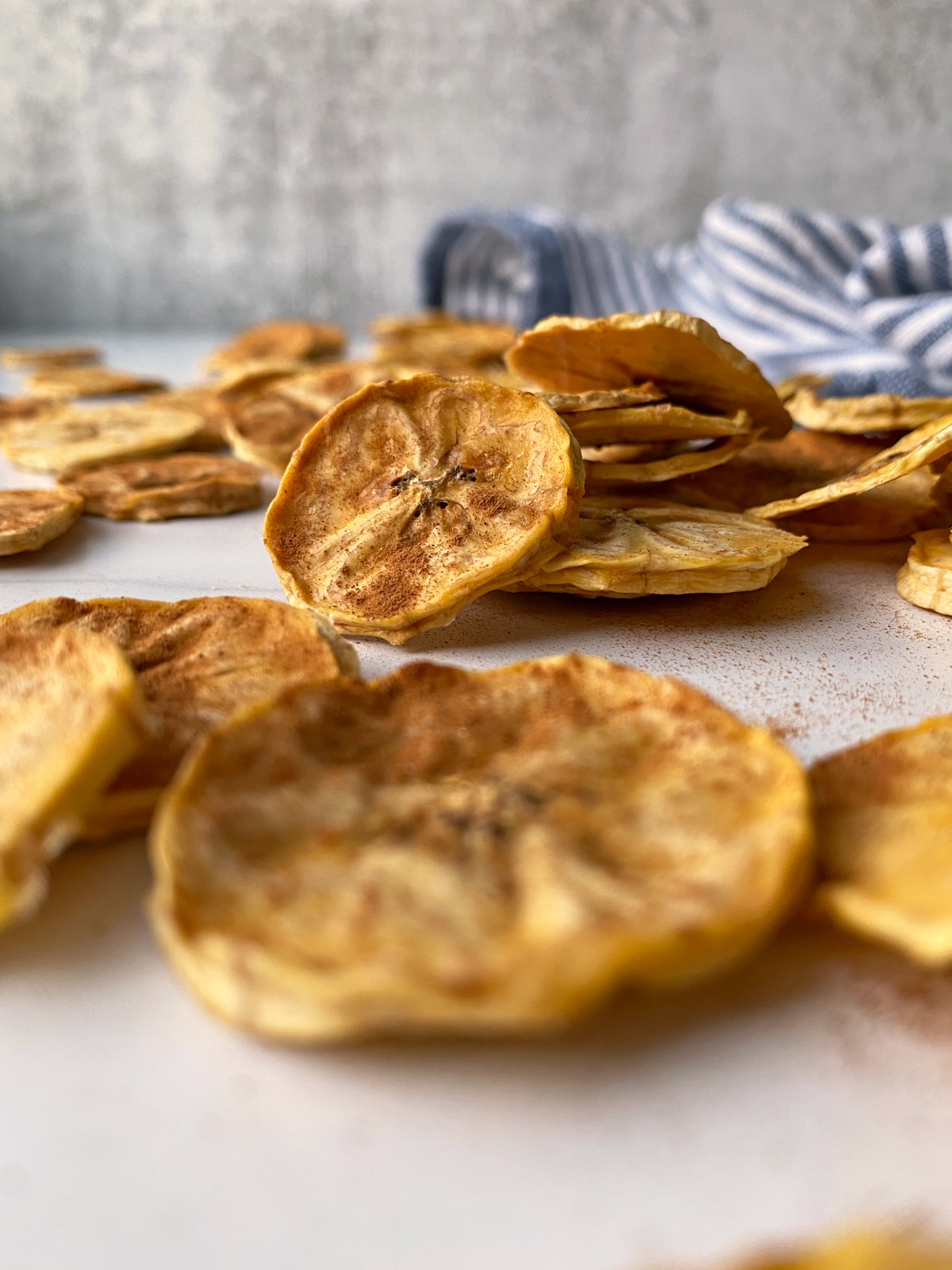 How to Make Plantain Chips in the Dehydrator
Making plantain chips in the dehydrator is SO easy! Mostly, because all you have to do is slice them up and turn your dehydrator on. Unlike baking them in the oven, it's hard to over-bake these.
Here are the steps:
First, peel the plantains and cut into thin "coins". The easiest way to peel a plantain is to slice off the ends, cut the plantain in half, then slice it down the middle to remove the skin. (See photo below.)
Next, place the cut plantains on your dehydrator racks. Make sure the plantains don't overlap, but it's fine if they touch. If desired, sprinkle plantains with cinnamon and salt, or whatever spices you choose. I recommend doing this over the sink so that excess spices fall into the sink rather than on the counter.
Lastly, set dehydrator on high and dry until done. Please note: my dehydrator has the settings: low, medium, high and warm. Each dehydrator is different and some will require a temperature setting. See the instruction manual for what settings you should use.
The drying time varies depending on: how thick you slice the plantains, how many you are making and the brand of dehydrator you have. However, I've found that drying time usually takes 2-4 hours. Ripe plantains take longer to cook than green ones.
Finally, you have your finished product!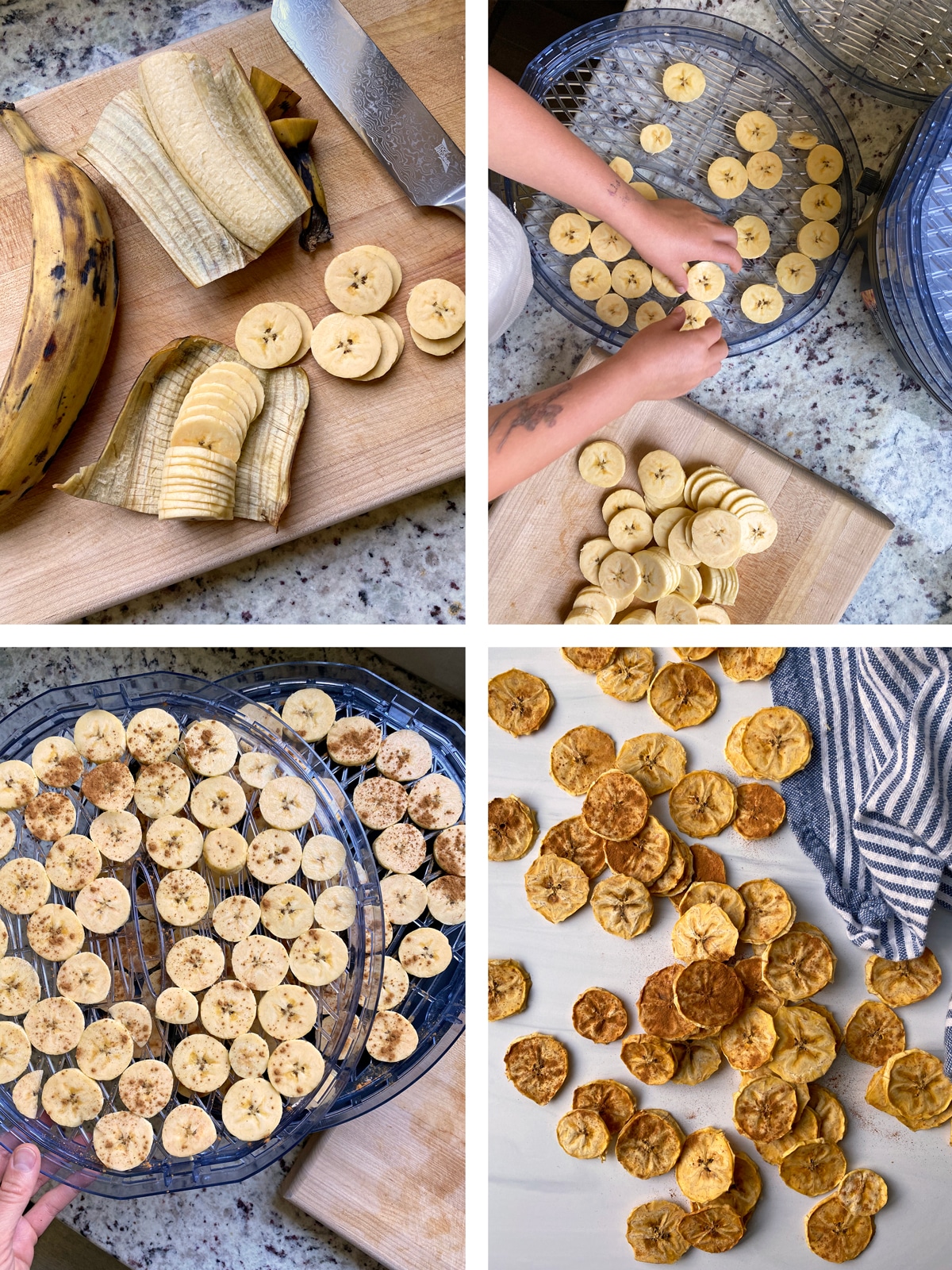 Best Dehydrator to Use
My dehydrator is 6-7 years old and no longer in stock. But, I wouldn't recommend the one I have anyway, simply because the racks are made of plastic. (I wasn't so plastic conscious back in the day.)
If I were to buy a dehydrator today, I would purchase THIS Dehydrator. It has stainless steel racks and great reviews. This particular one also has a digital control panel with a timer and overheat protection.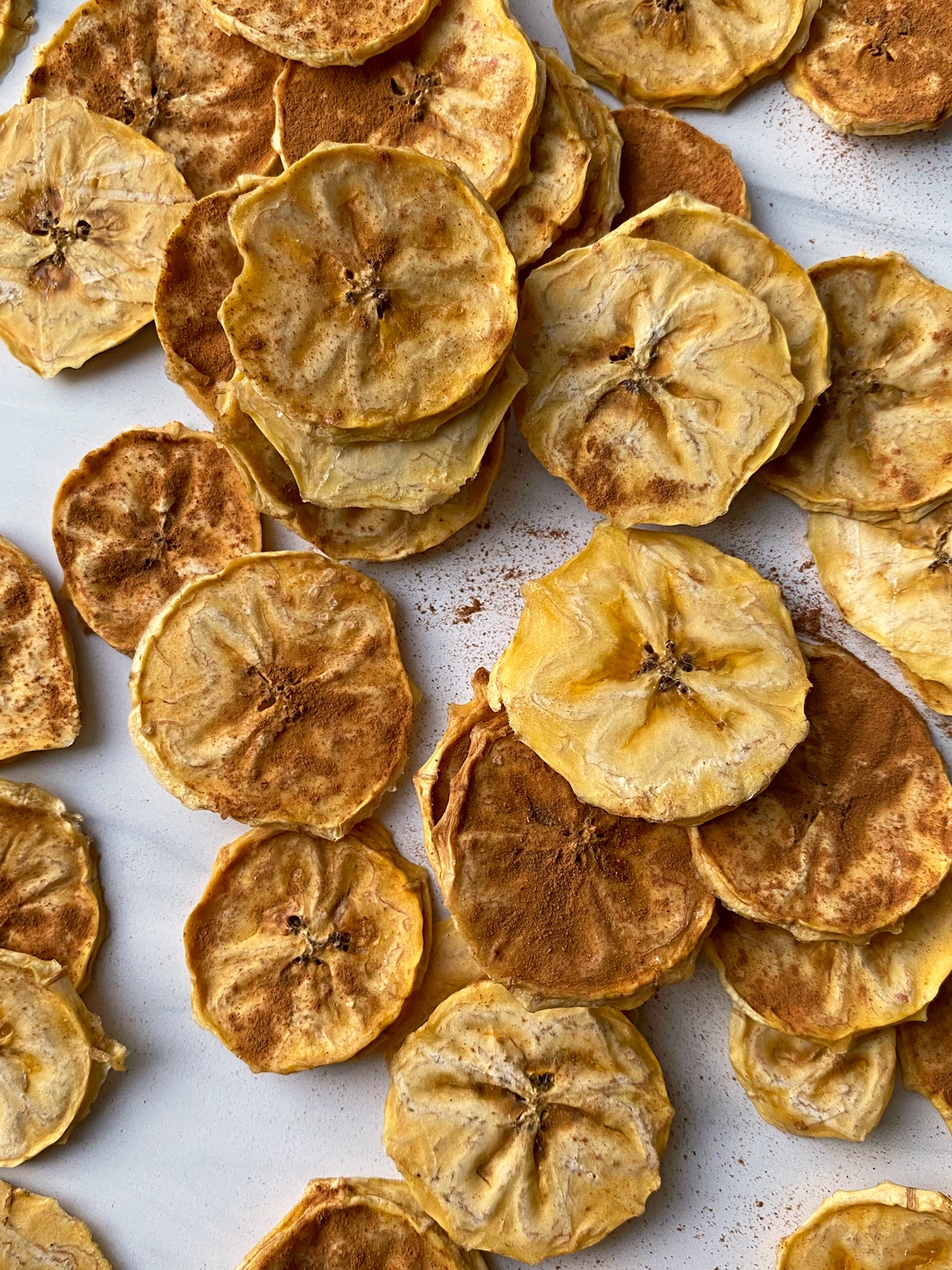 Other Easy Foods to Dehydrate
I have tried dehydrating a variety of fruits and vegetables and even made homemade crackers before.
My favorite foods to dehydrate include:
plantains
pears
kiwi
figs
apples
beets
zucchini
soaked nuts and seeds
What to Eat With Plantain Chips
Paleo Plantain chips are great on their own, but they can also be enjoyed with a variety of dips and sauces.
Here are some of my favorite ways to enjoy salted plantain chips.
dipped into avocado
eaten with salsa
used as a scoop for thick smoothies
dipped into dark chocolate
slathered in nut butter
eaten with dairy free cream cheese
topped with homemade coconut butter
More Plantain Recipes
If you love plantains, check out some of my favorite plantain recipes:
Enjoy!
Print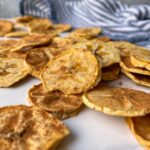 Dehydrated Plantain Chips (Paleo, Vegan, Whole30)
Author:

Katie

Prep Time:

10 minutes

Cook Time:

2 hours

Total Time:

2 hours 10 minutes

Yield:

varies
---
Description
Simple, easy to make Dehydrated Plantain Chips made in a dehydrator.  Paleo, Vegan, Whole30 and allergy friendly.
---
Plantains*
Cinnamon
Himalayan Pink Salt
---
Instructions
Peel plantains and cut into thin, circular pieces
Place plantains on dehydrator racks.
Sprinkle plantains with cinnamon and salt.
Plug in dehydrator (I suggest in the garage or outside in a shaded area) and set on high.
Let dry until done; typically 2-4 hours**
---
Notes
*The number of plantains depends on how many plantain chips you want to make and the size of your dehydrator.  Also, ripe or unripe plantains will work.  I used ripe plantains, which turn out looking more yellow in color than unripe ones.  Lastly, ripe plantain chips will have a sweeter taste and take longer to dry than unripe ones.
**The time to dehydrate usually takes between 2-4 hours, depending on how thick you cut the plantains an their level of ripeness.
Keywords: plantain chips, dehydrated plantain chips, dehydrator recipes, paleo plantain chips, oil free plantain chips, whole30 snack ideas, whole30 plantain chips, cinnamon plantain chips, homemade plantain chips, air dried plantains