Today, I'm sharing a really easy recipe with all of you: Air Dried Plantain Chips!  I have had many questions via Instagram about how I make these dehydrated plantain chips so I'm giving you a quick step-by-step tutorial today 🙂
I have made these Paleo friendly plantain chips many times in the past (if you look way back in my Instagram feed you will see proof), as I love them.  Also, they are an easy Paleo snack that my kids enjoy.  I like them best plain, in smoothie bowls (they make great spoons), dipped into nut butter or with cream cheese.  My preferred seasoning for these Whole 30 approved chips is cinnamon and pink Himalayan salt, but you can try them without seasoning too.
How to Make Plantain Chips in the Dehydrator
Making plantain chips in the dehydrator is SO easy!  Mostly, because all you have to do is slice them up and turn your dehydrator on.  Unlike baking them in the oven, it's hard to over-bake these.
Here are the steps:
First, peel plantain and cut into thin "coins". 
Next, place the cut plantains on your dehydrator racks.  Make sure the plantains don't overlap, but it's fine if they touch.  If desired, sprinkle plantains with cinnamon and salt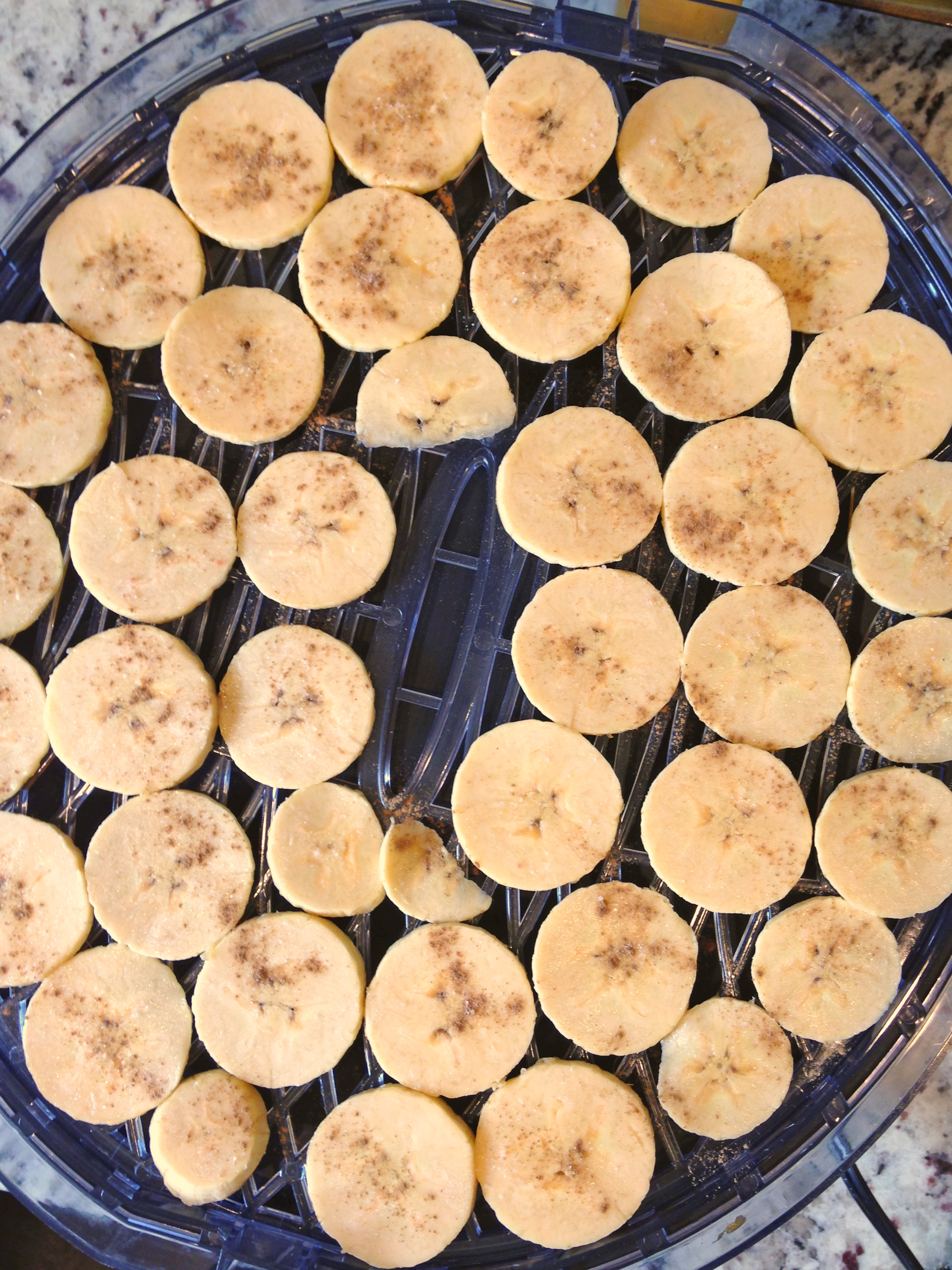 Lastly, set dehydrator on high and dry until done.  (Here I was drying plantains, pears and zucchini.)  The drying time varies depending on: how thick you slice the plantains, how many you are making and the brand of dehydrator you have.  However, I've found that drying time usually lasts a minimum of 2 hours.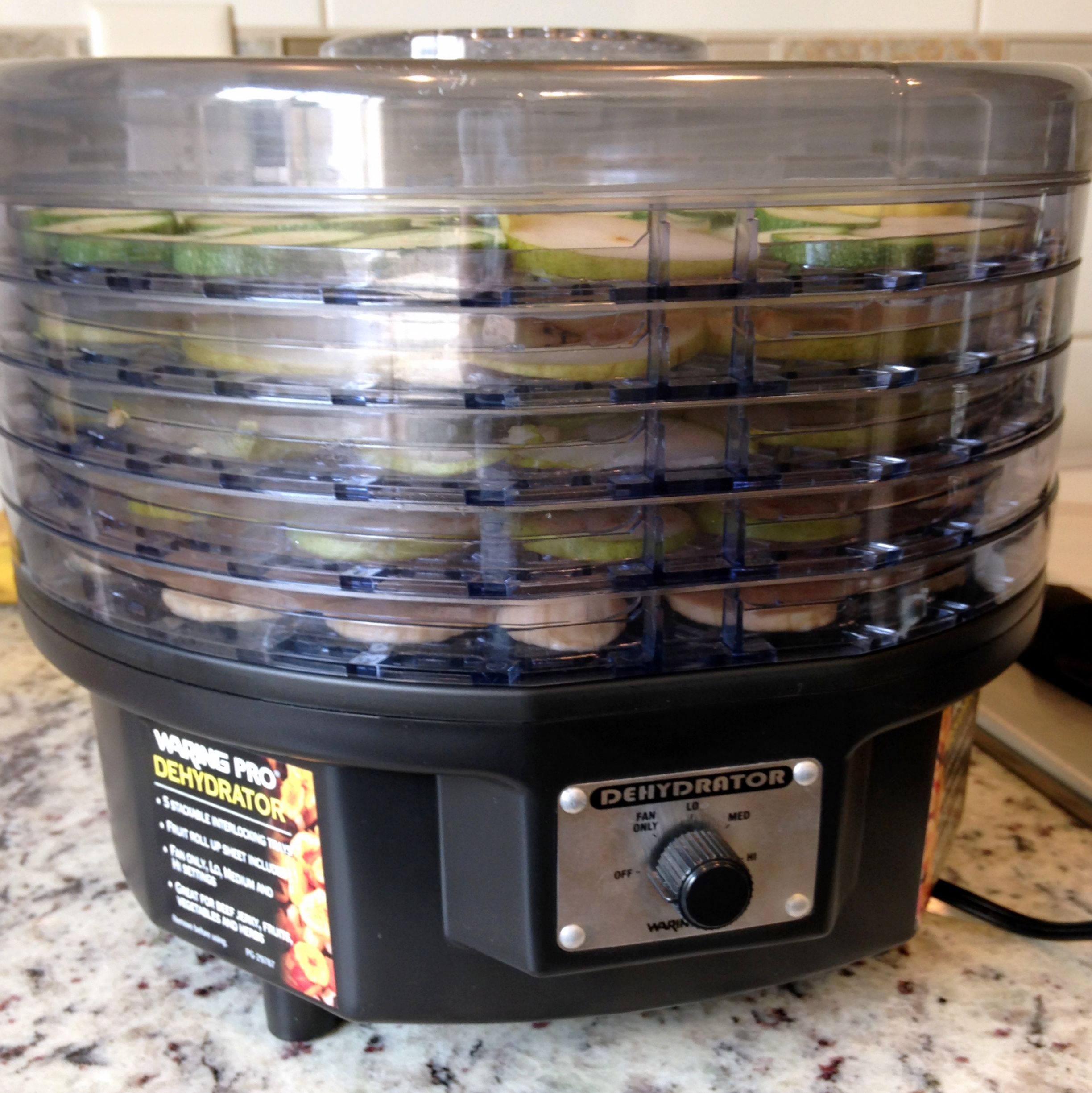 Finally, you have your finished product!
The dehydrator I own is very similar to this one
.  Unfortunately, the one I own is no longer available.  Dehydrators are great for drying a variety of food including fruits, vegetables, meats, and herbs.  Mine has a temperature control with: fan only, low, medium and high; and a top vent for fast, even drying.  I absolutely love my dehydrator and haven't had any issues with it during the past 3 years that I've owned it.
I have tried dehydrating a variety of fruits and vegetables and even dehydrated homemade crackers before.  My favorite foods to dehydrate include: plantains, pears, apples, beets and zucchini.
More Plantain Recipes
If you love plantains, check out some of my favorite plantain recipes:
Enjoy!
Print
Air Dried Plantain Chips
Author:

Katie

Prep Time:

5 min

Cook Time:

2 hrs

Total Time:

2 hrs 5 min

Yield:

varies
---
Description
Simple, easy to make Air Dried Plantain Chips.  Perfect for a Whole 30, Paleo, Vegan and allergy free snack.
---
Ingredients
Plantains*
Cinnamon
Himalayan Pink Salt
---
Instructions
Peel and thinly slice plantains.
Place plantains on dehydrator racks.
Sprinkle plantains with cinnamon and salt.
Plug in dehydrator (I suggest in the garage or outside in a shaded area) and set on high.
Let dry until done; meaning plantains are crisp**
---
Notes
*The number of plantains you use depends on how many plantain chips you want to make and the size of your drier.  Also, ripe or unripe plantains will work.  I used ripe plantains, which turn out looking more yellow in color than unripe ones.  Lastly, ripe plantain chips will have a sweeter taste than unripe ones.
**The time to dehydrate usually takes between 2-4 hours, depending on how thick you cut the plantains.
Keywords: plantains, Paleo snack, whole 30, no added sugar, vegan, allergy free