These savory rosemary roasted walnuts are made with 5 simple ingredients, roasted in the oven and great for snacking or adding to salads. This healthy walnut recipe is paleo, keto, vegan and whole30 approved.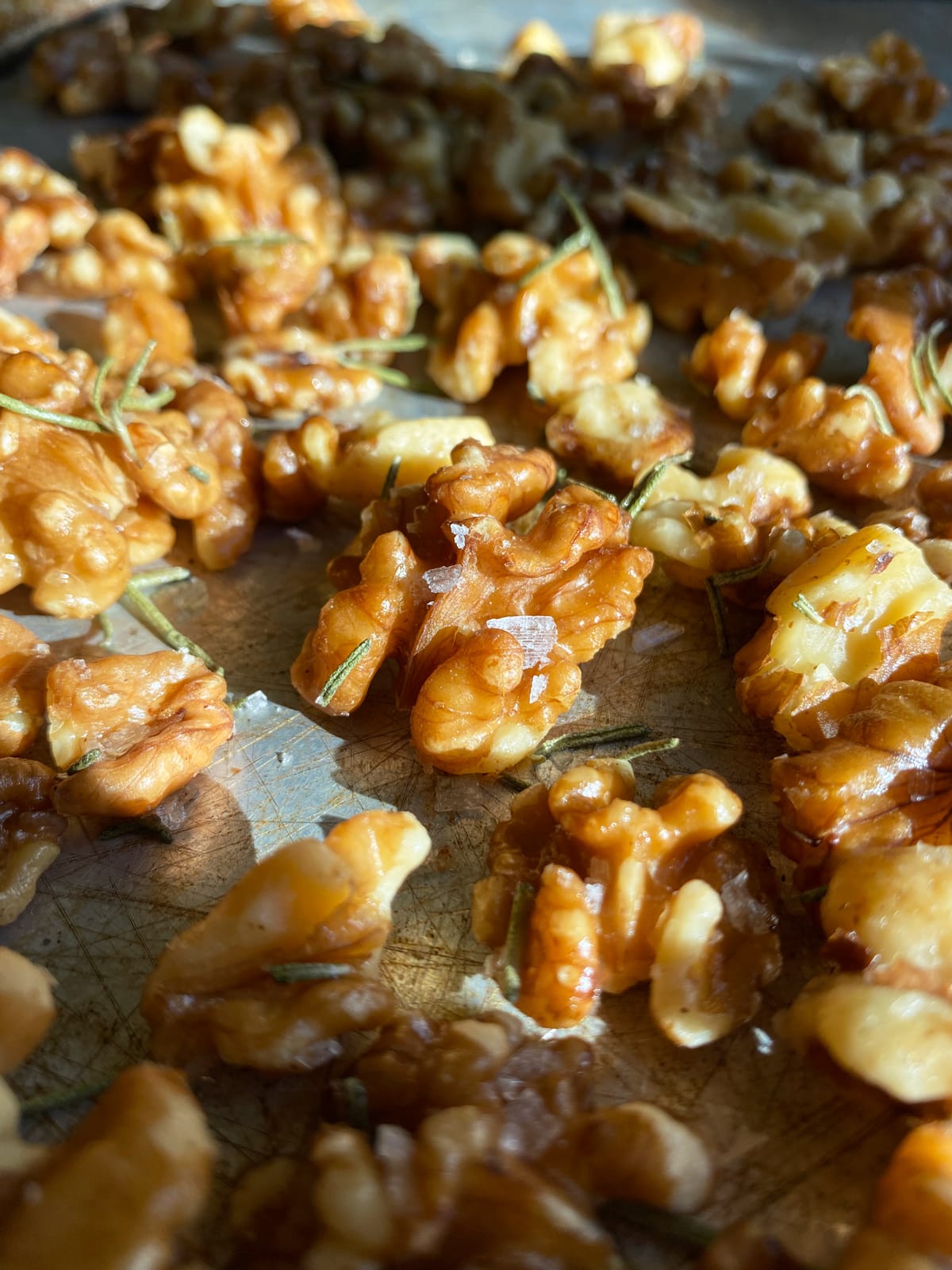 If you've never roasted nuts yourself, I urge you to do so.
Why? Because baking nuts changes their taste and texture - for the better! It enhances their flavor; making them less bitter and brings out a rich, buttery taste.
I tend to love all nuts. However, there's something about these savory rosemary roasted walnuts that I can't get enough of.
Walnuts, well all nuts, can be flavored sweet or savory. I took the savory route with this recipe. These walnuts are spiced with rosemary, nutmeg and flaked salt. They have the perfect crunch and are a great low carb snack.
Why You'll Love these Savory Roasted Walnuts
great for most diets: paleo, vegan, keto, low carb, gluten free, whole30 and unsweetened
sugar free - these are savory walnuts made without any added sugar
only 5 ingredients
bake in just 10 minutes
I love adding these rosemary and sea salt walnuts to salads or roasted veggies. They would also go well in a savory trail mix or as a topping for baked potatoes, or cauliflower rice.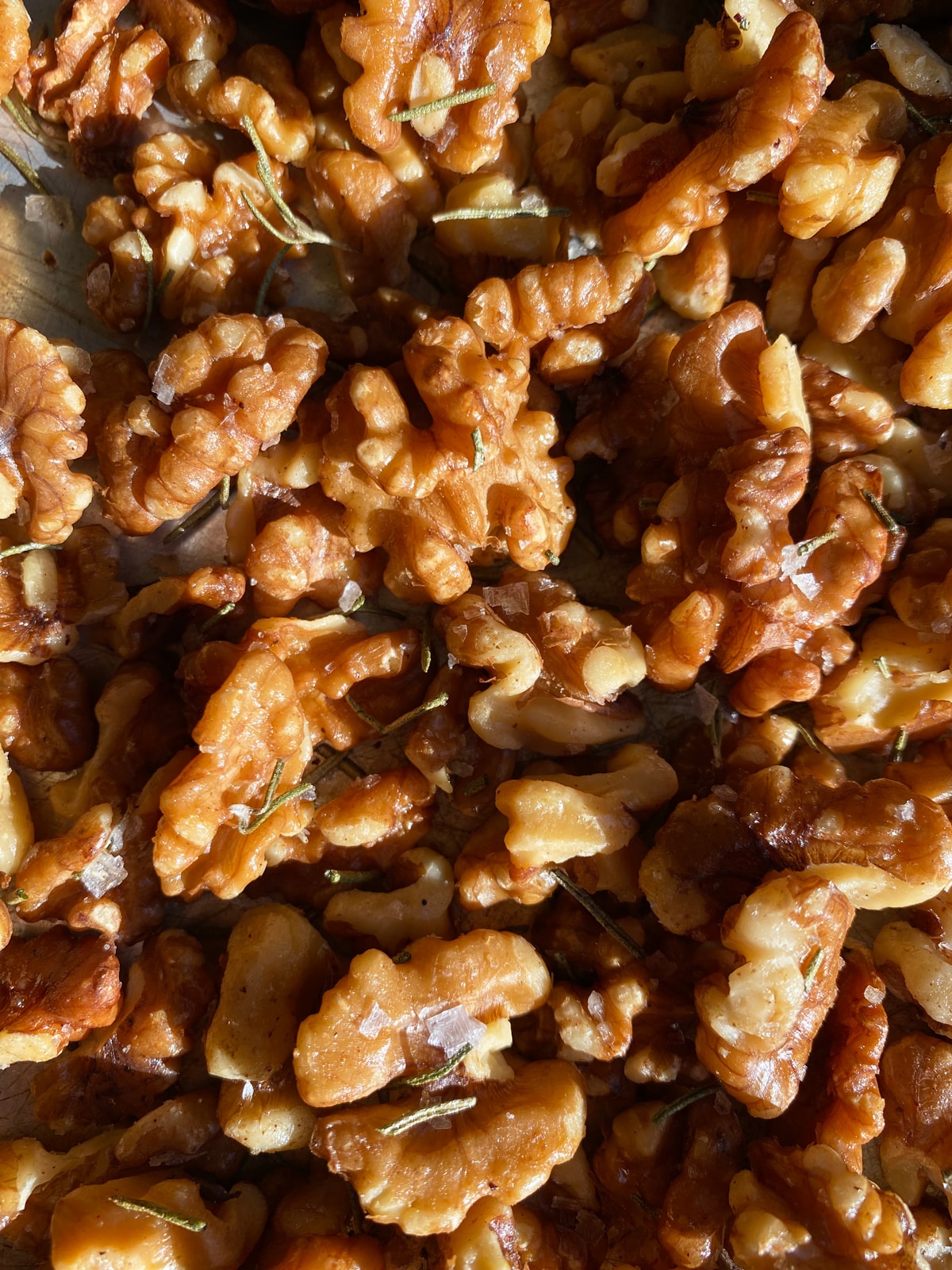 Ingredients
These healthy toasted walnuts require just five simple ingredients:
raw walnuts (I used halves and pieces)
avocado oil (olive oil will work too)
rosemary (fresh or dried)
flaked sea salt (or you can sub with a pink salt)
ground nutmeg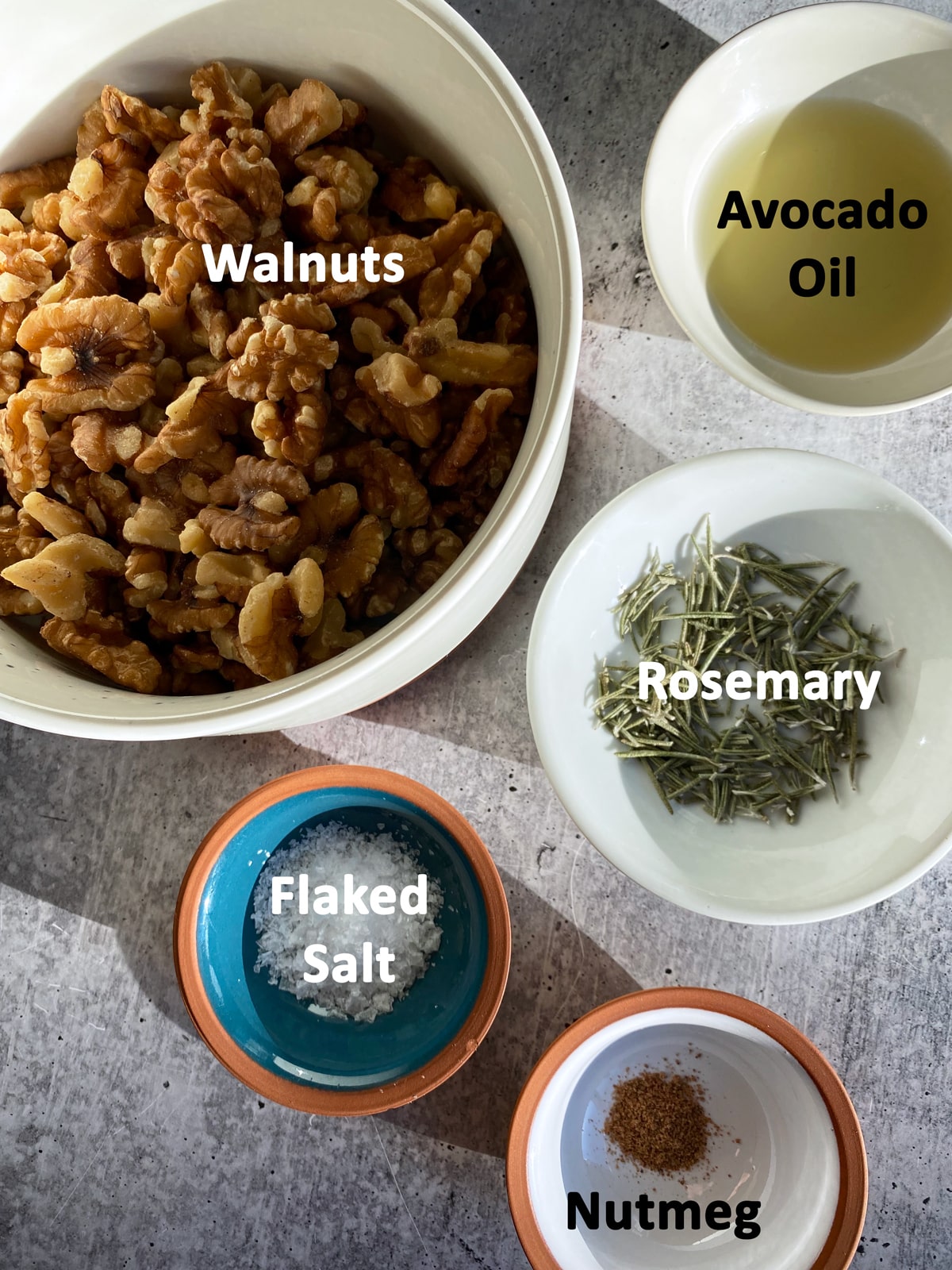 How to Roast Walnuts in the Oven
These rosemary roasted walnuts are super easy to make! The hardest part is paying close attention to the baking time, as nuts can burn quickly. Here's what you need to do:
First, preheat your oven to 350 degrees F.
In a large mixing bowl, combine the walnuts and avocado oil. Mix until the nuts are well coated.
Next, sprinkle the rosemary, salt and nutmeg onto the nuts. Mix again, coating the nuts with the spices.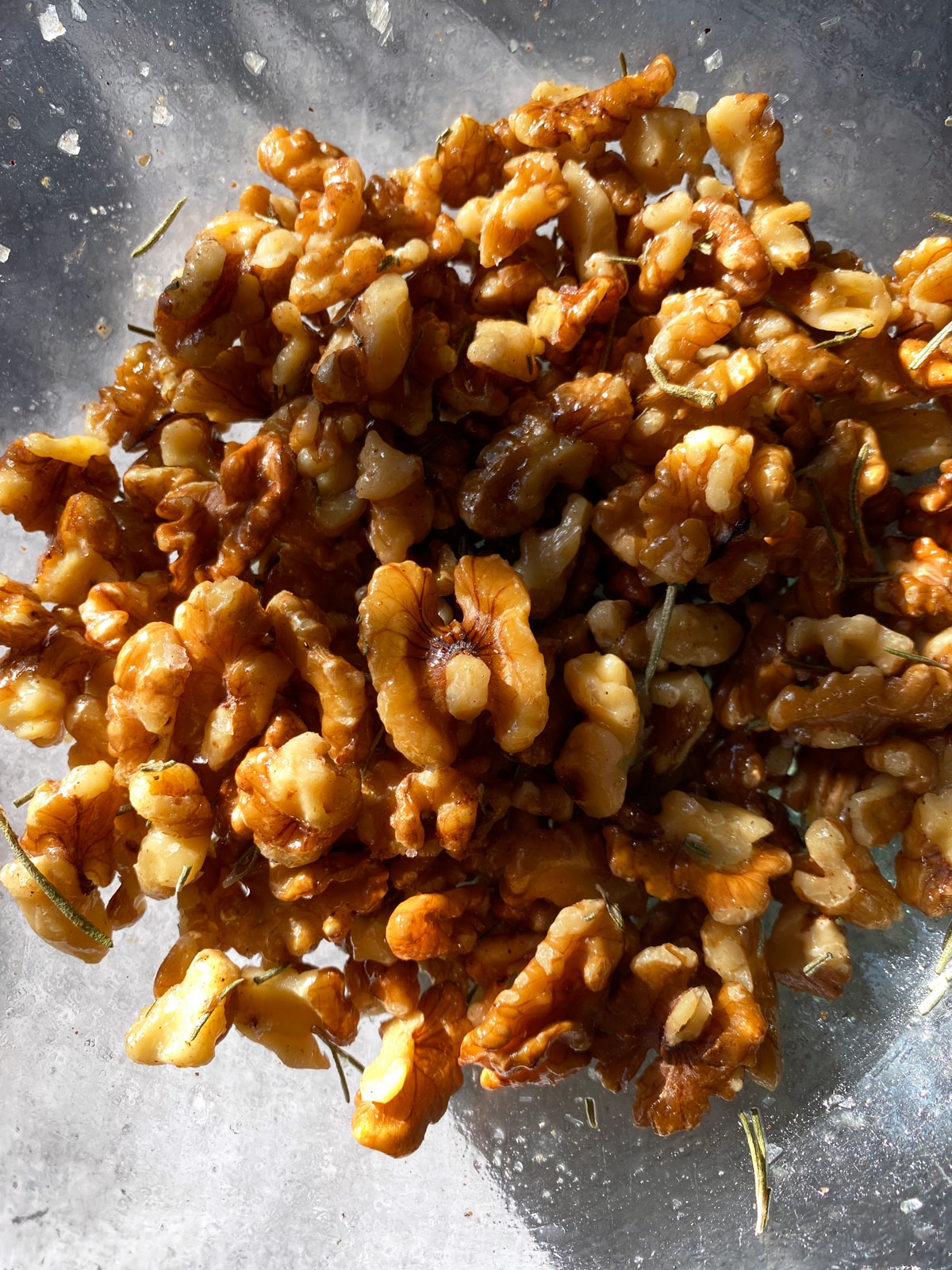 Spread the walnuts out on a baking sheet.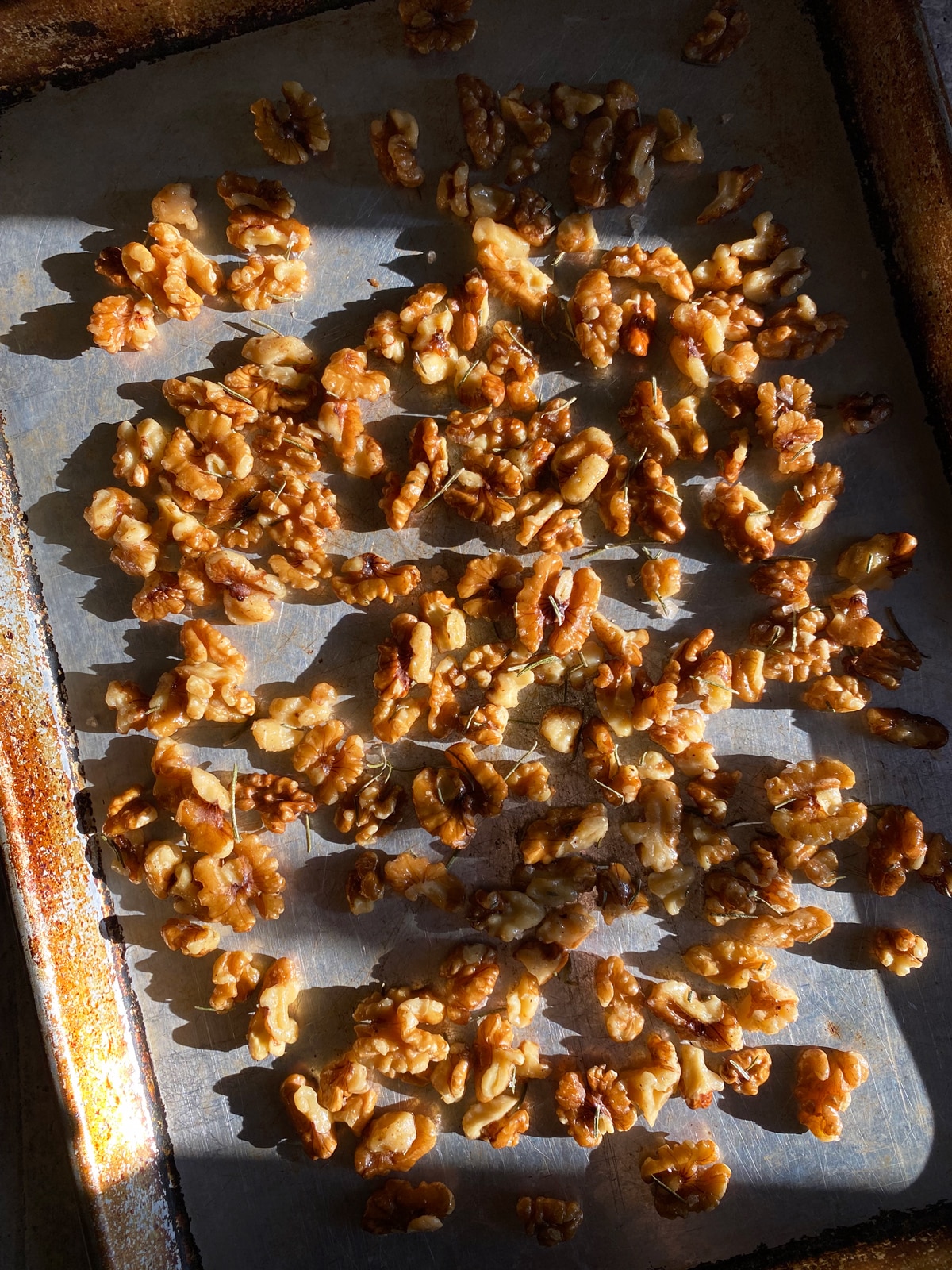 Then, pop them in the oven and bake at 350 degrees for 8-12 minutes.
If you're using walnut halves, the baking time will be slightly more than if you're just using walnut pieces. Also, everyone's oven bakes differently. So pay close attention to the nuts while you bake them, checking on them at the 6 minute mark and every couple minutes after that.
The nuts are done when they are golden brown. In addition, they will have a delicious, bold, buttery smell.
After roasting, remove the walnuts from the oven and let them cool on the baking pan. They will crisp up when cooled.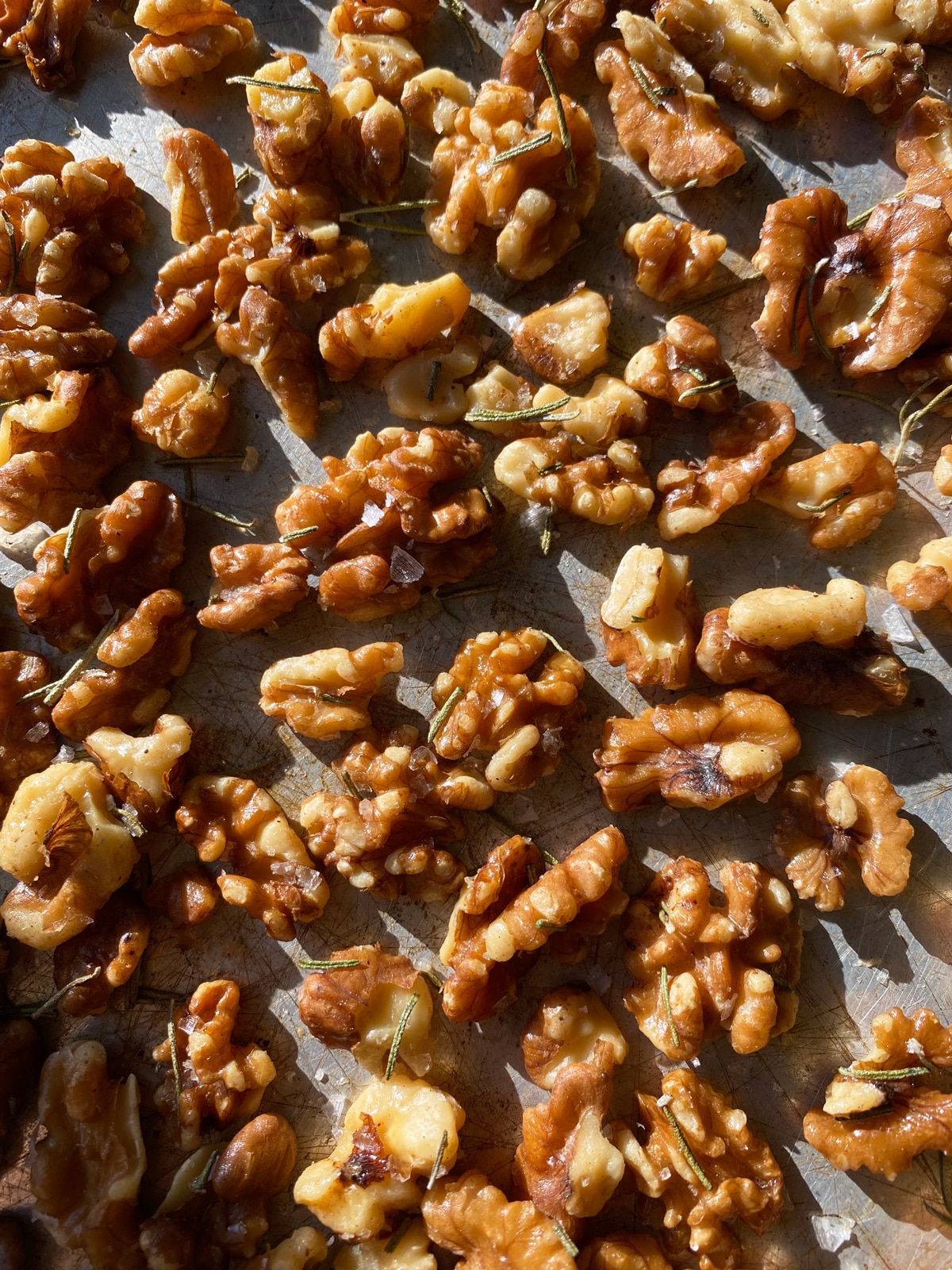 Storage
These rosemary salted nuts should be kept in an air-tight container. They will last at room temperature for 1-2 weeks. Or, they can be stored in the fridge for 3-4 weeks.
FAQ
How long do roasted walnuts last?
These savory roasted nuts should be kept in an airtight container.  They will last at room temperature for up to weeks.  Or, they can be stored in the fridge for up to 4 weeks.
Are walnuts a healthy snack?
Yes! Walnuts are an extremely healthy snack, full of healthy omega 3 fats. They're low carb and rich in antioxidants and minerals such as magnesium and folate. They're great for brain health, gut healthy and weight management.
Do I have to add nutmeg to these roasted nuts?
No, you may omit the nutmeg if you wish.
More Healthy Snack Recipes
Print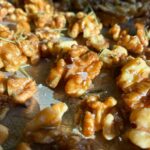 Healthy Rosemary Toasted Walnuts (Paleo, Whole30)
Author:

Katie

Prep Time:

5 minutes

Cook Time:

8 minutes

Total Time:

13 minutes

Yield:

2 cups

1

x
---
Description
Simple, healthy toasted walnuts flavored with rosemary, salt and nutmeg.  Perfect for snacking or adding to salads.
---
---
Instructions
Preheat oven to 350 degrees F.
In a medium-sized mixing bowl, coat walnuts with avocado oil.
Add in remaining ingredients and mix until the walnuts are well coated.
Spread walnuts out on baking sheet.
Bake in the oven at 350 degrees for 8-12 minutes* or until lightly browned (keep a close eye on them so they don't burn).
Remove walnuts from oven and let them cool on the baking pan to room temperature.
Store in an airtight container at room temperature up to two weeks, or in the fridge up to one month.
---
Notes
*Baking time will vary by walnut size, plus every oven is different.  I recommend checking on the walnuts after 6 minutes, then again every minute or two.  When done, the walnuts will be golden brown and have a delicious buttery smell.
Keywords: roasted rosemary walnuts, paleo roasted walnuts, savory roasted walnuts, savory toasted walnuts, keto roasted walnuts recipe, vegan savory walnuts, roasted walnuts no sugar, healthy roasted walnuts, healthy toasted walnuts, whole30 walnuts recipe