This easy to make Paleo Flatbread recipe is perfect for sandwiches, wraps and dipping into your favorite sauce. It is made with cassava flour, dairy free yogurt and flavored with powdered bone broth. This healthy flatbread recipe is AIP friendly, egg free, dairy free, grain free and nut free!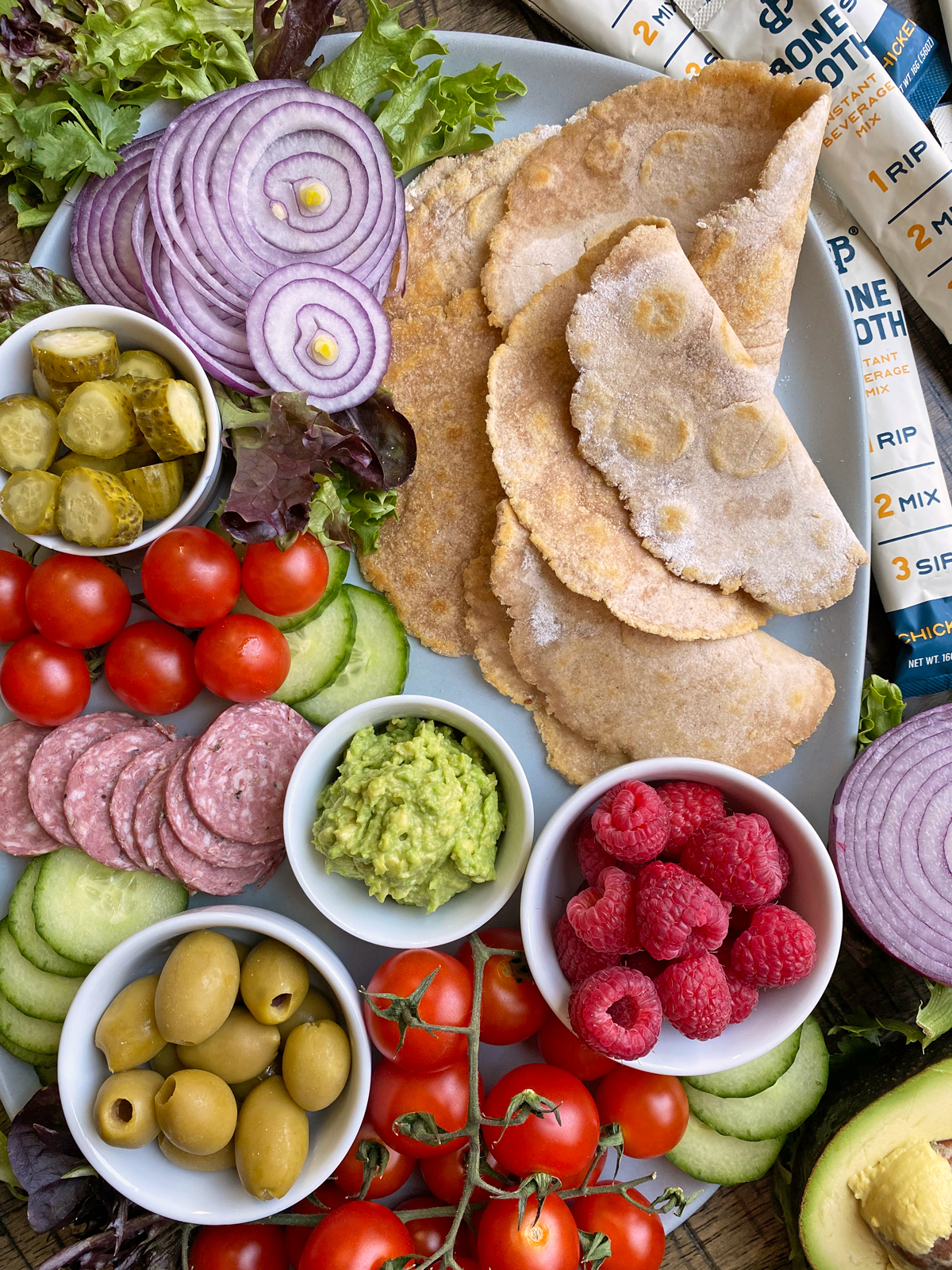 I've made my own tortilla shells before, but this was my first time making flatbread. And guys, this Paleo Flatbread recipe is absolutely amazing!
This flatbread is soft and tender, but holds together well. You can add all your favorite fillings/toppings without it crumbling to pieces.
Plus, this healthy flatbread recipe is:
grain free
gluten free
egg free
dairy free
nut free
yeast free
only a few ingredients
easy to make
What I like even more about this recipe is the fact that it contains Bare Bones Instant Chicken Bone Broth. This bone broth powder provides flavor, texture and nutrients to the dough - perfect for making a healthy wrap.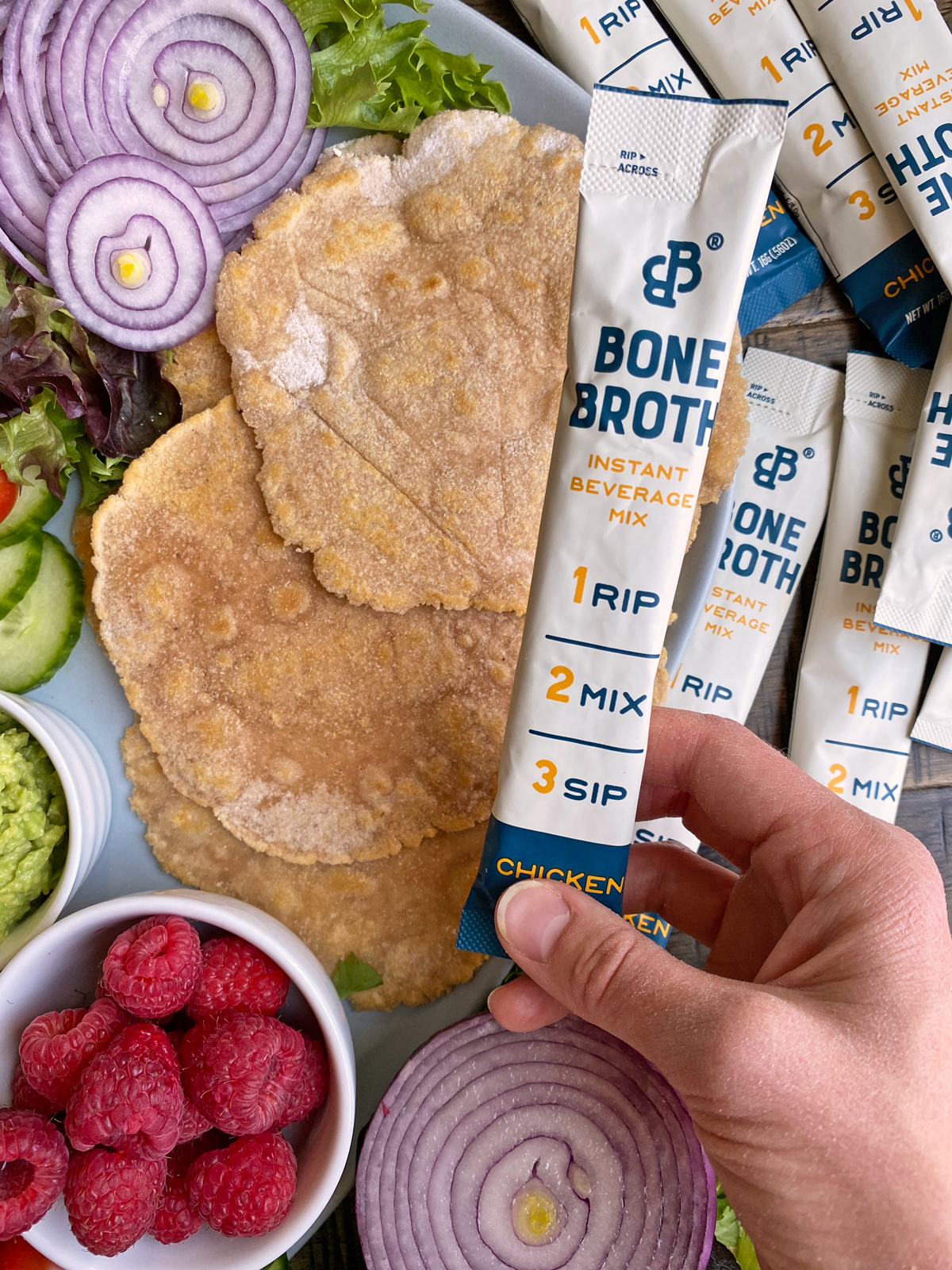 If you follow my blog, then it shouldn't be any surprise to you that I love finding unique ways to use bone broth.
Bone Broth Benefits
I'm a huge fan of bone broth protein powders and collagen peptides. Because, not only are they a great source of protein, but they are nourishing for the entire body.
Bone broth (and collagen) has many benefits. It's great for:
digestion and gut health
healthy hair, skin & nails
proper joint function
Bare Bones Bone Broth
I recently started experimenting with Bare Bones bone broth in my baking and I've been loving the results!
Quality is extremely important to me when it comes to animal products. And Bare Bones sources their products from healthy animals. Their products don't contain any added hormones, antibiotics, preservatives or artificial ingredients. Plus, all of their products are sugar free, gluten free, dairy free and soy free.
Their Chicken Bone Broth Powder can be used a variety of ways. In fact, you can simply add it to a glass of hot water, stir and sip! It's an excellent high protein, low calorie snack.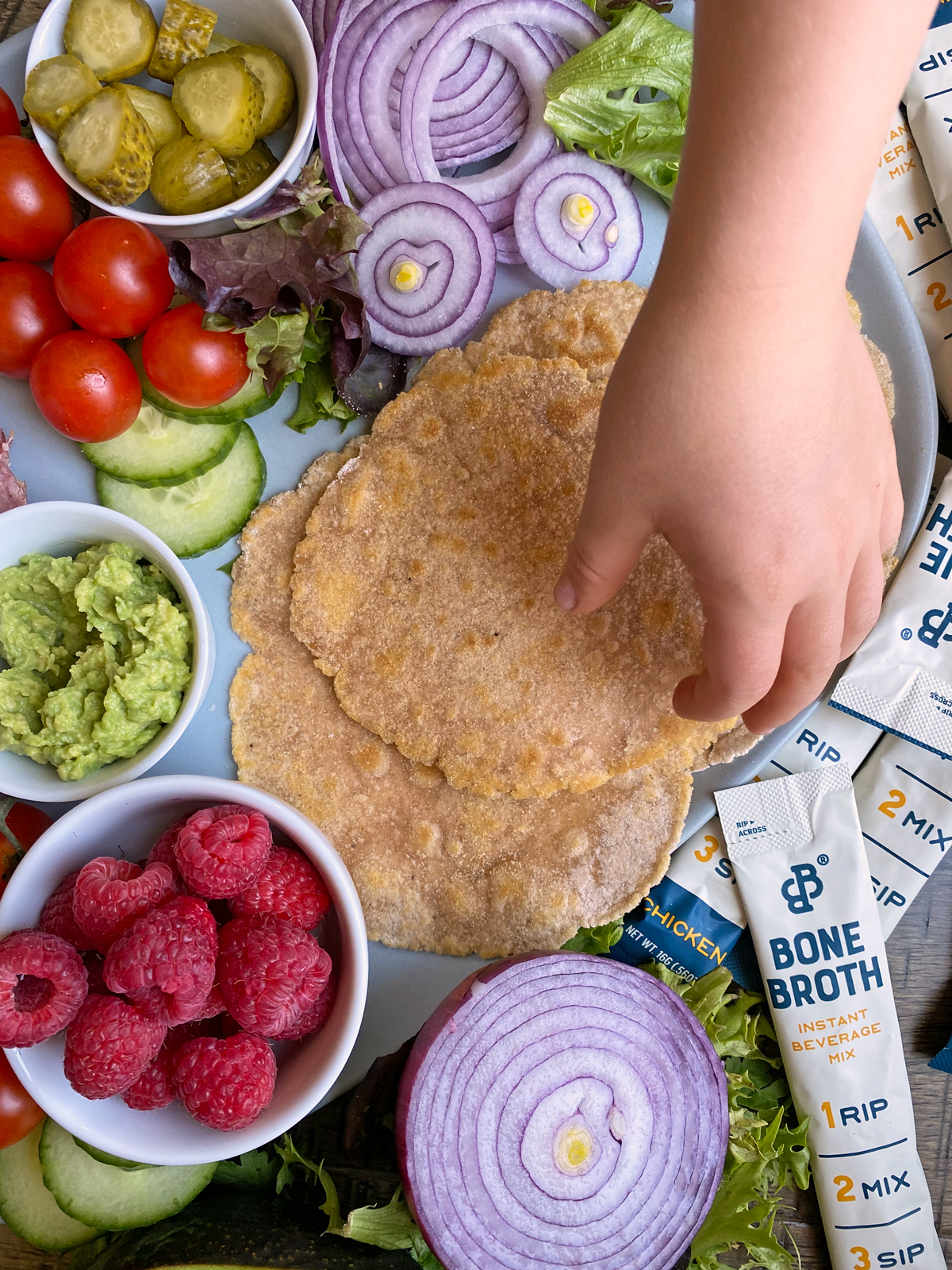 This flatbread is great for both adults AND kids. My children loved eating it plain and dipping it into pizza sauce. Plus, it's nut free and egg free - a great allergy friendly recipe.
Ingredients in Paleo Flatbread
Here's what you need to make this grain free flatbread recipe:
cassava flour
Bare Bones Instant Chicken Bone Broth
baking powder
baking soda
salt
yogurt
water
avocado oil (for cooking)
To make this recipe nut free and egg free, I used cassava flour. No other flours have been tested.
Any yogurt should work in this flatbread recipe. I used almond milk yogurt (obviously not nut free). However, coconut milk yogurt would be a great Paleo, nut free option.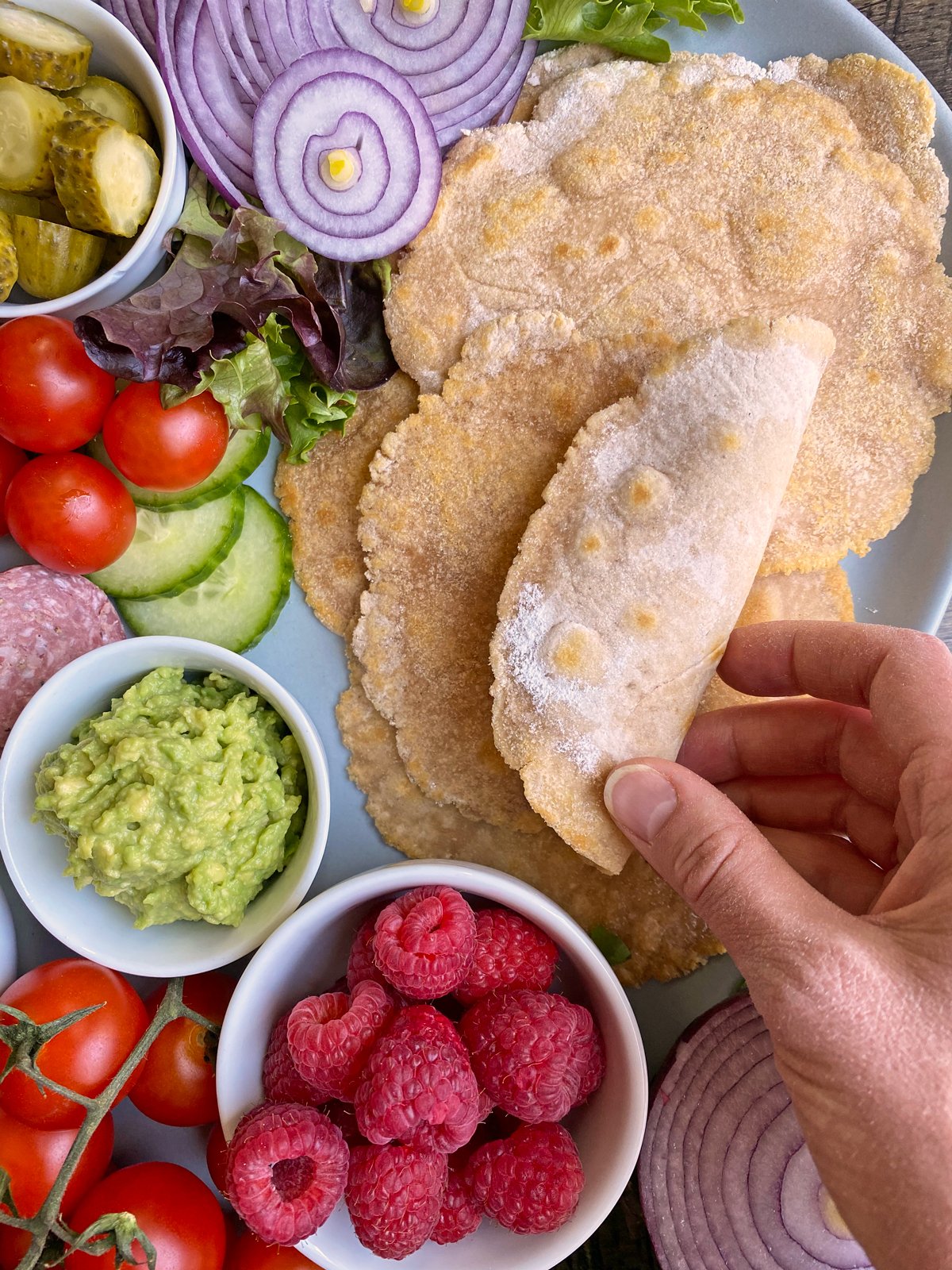 How to Make Paleo Flatbread
This flatbread recipe is so simple! Here's what you need to do:
Make the dough
First, make the dough by combining the dry ingredients in a large mixing bowl. This includes the cassava flour, bone broth powder, baking powder, baking soda and salt.
Next, mix in the yogurt and water (first with a spatula, then knead the dough with your hands). At first, the dough may appear too dry, but keep kneading it with your hands.
Then, separate the dough into 6 balls. One at a time, take a ball of dough and roll it between two sheets of parchment paper using a rolling pin. You'll want to dust the parchment with cassava flour.
Roll the dough to about ¼-inch thick. It should easily peel off the parchment. If not, then start again, adding more cassava flour for rolling.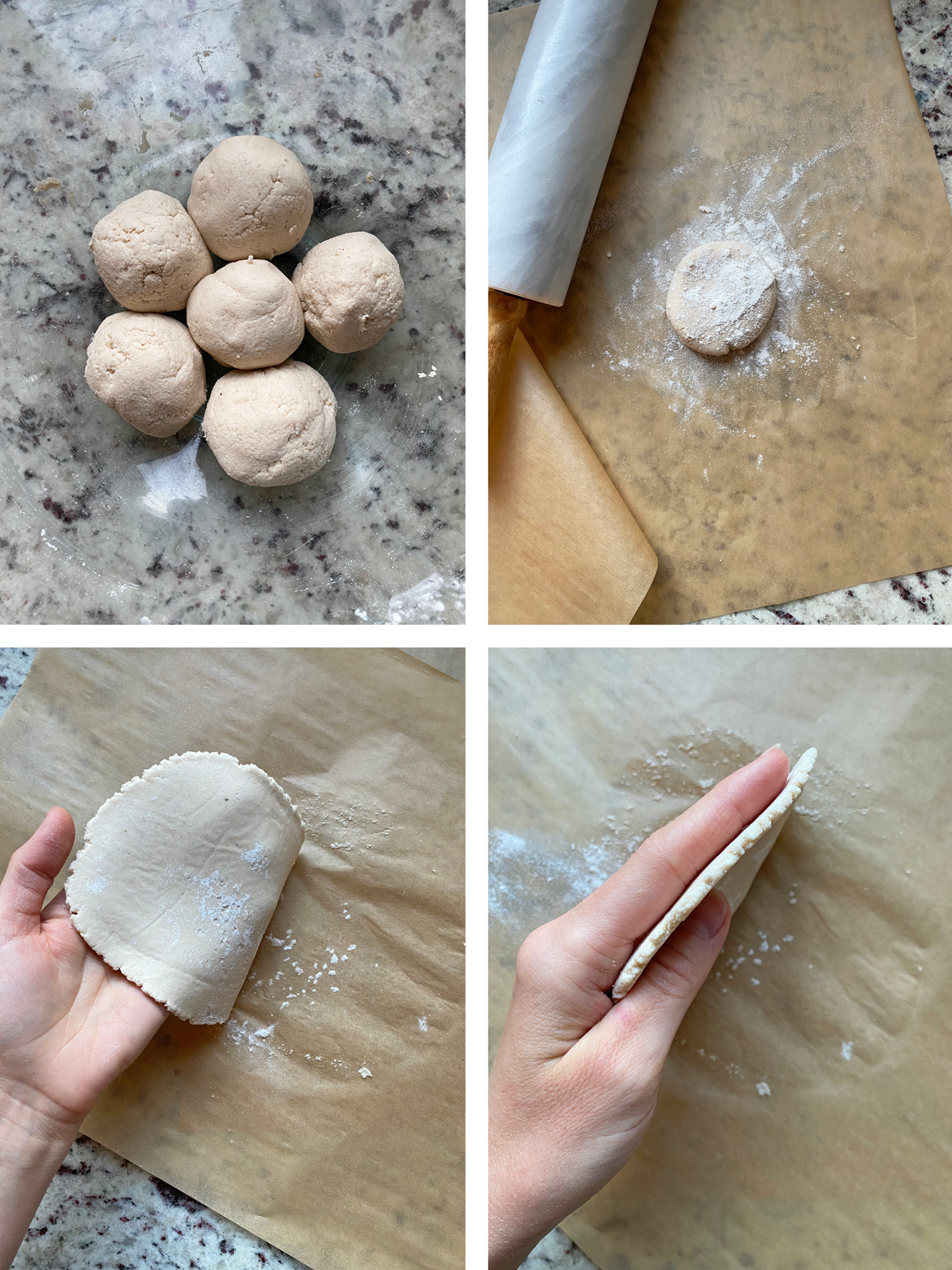 Cook the Flatbread
Next, preheat a large frying pan on medium heat. Add 1 teaspoon of avocado oil to the pan. Then, grab the flat bread and place on the preheated pan. Cook until bubbles have formed on the top and the bottom is golden brown (takes only 1-2 minutes).
Then, flip the flatbread and cook about a minute more.
Repeat this process until you've cooked all the flatbread.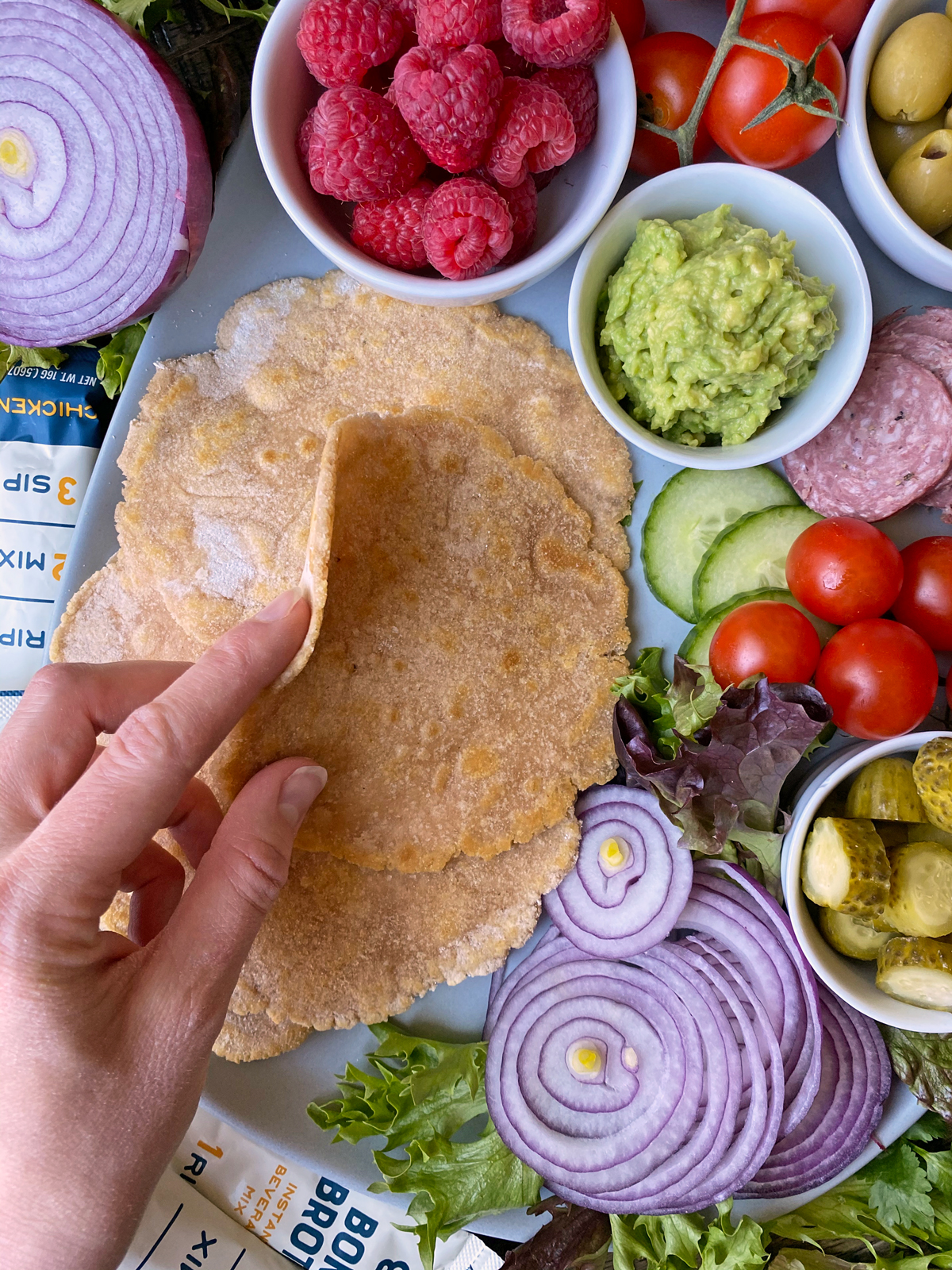 What to eat with Paleo Flatbread
There are so many ways to eat this gluten free flatbread. Like I said before, this flatbread can be used for making sandwiches, a wrap or simply dip it into your favorite sauce.
I ate these wraps Mediterranean style; with olives, tomatoes, onion, freshly mashed avocado, cured meat, cucumber, pickles and lettuce (with a few fresh berries on the side).
Some other simple ideas include:
mini pizzas: top with your favorite pizza toppings and broil them in the oven a couple minutes. Or, simply dip in pizza sauce (my boys loved doing this).
tacos: instead of store-bought taco shells, use these wraps as a vessel for your ground beef, onions, guacamole, lettuce...
breakfast wrap: stuff with scrambled eggs and bacon
sandwiches: add your favorite sandwich toppings, roll up and eat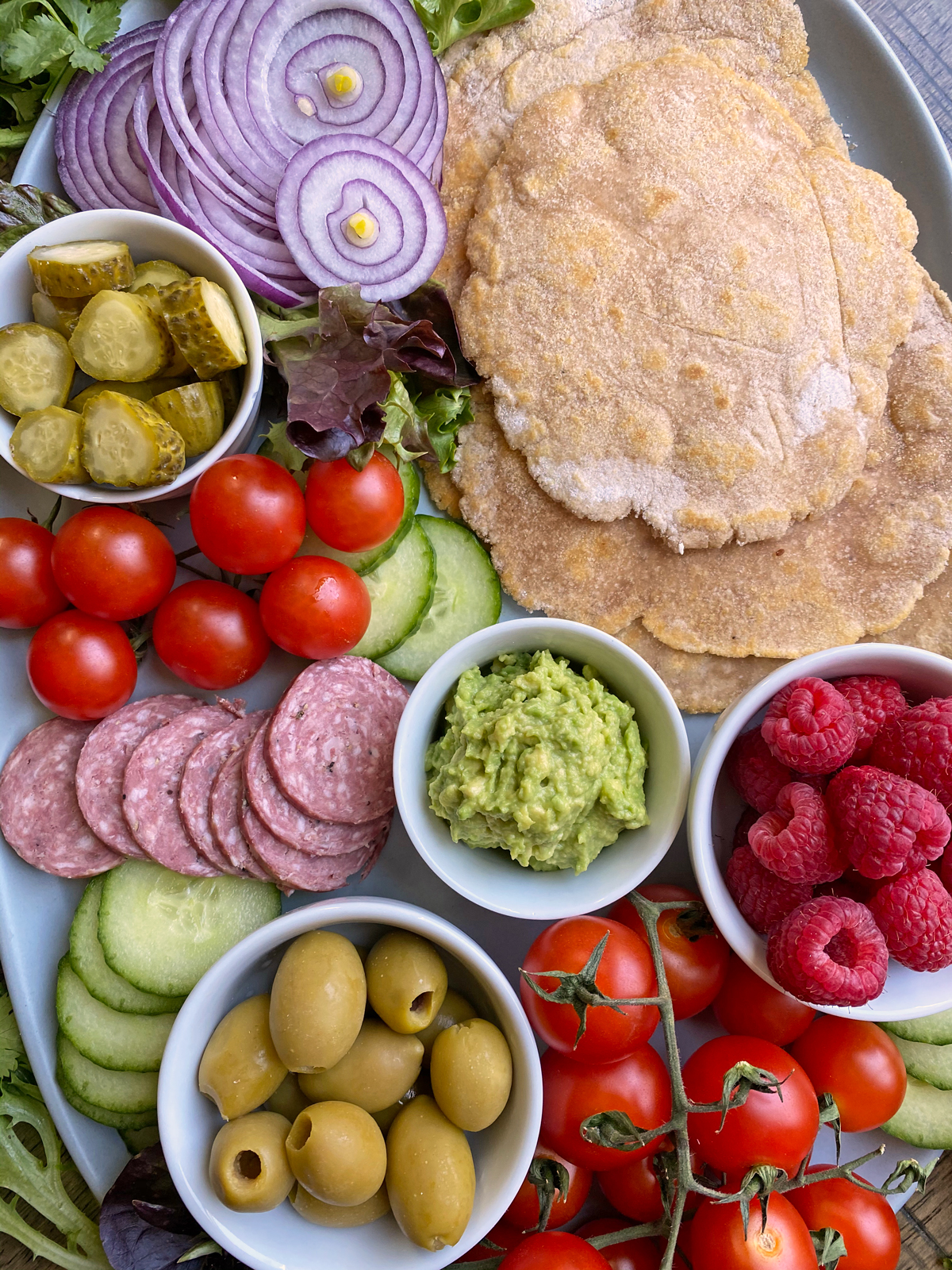 Thank you Bare Bones for sponsoring this post. It means so much to me to work with brands that have similar values and support Bake It Paleo!
Print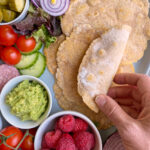 Paleo Flatbread (Egg Free, Nut Free)
Author:

Katie

Prep Time:

15 minutes

Cook Time:

15 minutes

Total Time:

30 minutes

Yield:

6

1

x
---
Description
A healthy Paleo Flatbread recipe, perfect for making wraps, sandwiches, tacos or simply dipping into your favorite sauce.
---
1 cup

cassava flour (

130g

)

½

packet Bare Bones Instant Chicken Bone Broth (

8g

or about

1 Tbsp

)

1 tsp

baking powder

¼ tsp

baking soda

¼ tsp

salt

¼ cup

yogurt*

¼ cup

+

2 Tbsp

water
avocado oil for cooking
---
Instructions
In a large mixing bowl, combine dry ingredients (cassava flour, bone broth, baking powder, baking soda, salt).
Mix in wet ingredients (yogurt and water) with a spatula.  Then, use your hands to knead the dough.
Separate dough into 6 pieces.  Roll each piece into a ball.
One at a time, flatten the balls and roll between two sheets of parchment paper with a rolling pin.  Use cassava flour to dust the surface for easier rolling.
Preheat large frying pan.
Pour 1 teaspoon avocado oil on frying pan and place the flatbread dough on pan.  Cook until bubbles form on the top and the bottom is golden brown (1-2 minutes).
Flip flatbread using a spatula and cook 1-2 minutes more.
Repeat until all flatbread is cooked.
---
Notes
*Any type of yogurt should work.  I used almond milk yogurt.  A great Paleo, nut free option would be coconut milk yogurt.
Keywords: flatbread, side, bread, no added sugar, nut free, Paleo, dairy free, egg free