These homemade Rosemary Cassava Flour Crackers are the perfect crunchy snack - Paleo, Vegan, free of the top 8 allergens and delicious. This cassava cracker recipe is great for packing in lunches, adding to a snack board or eating with your favorite Paleo dip.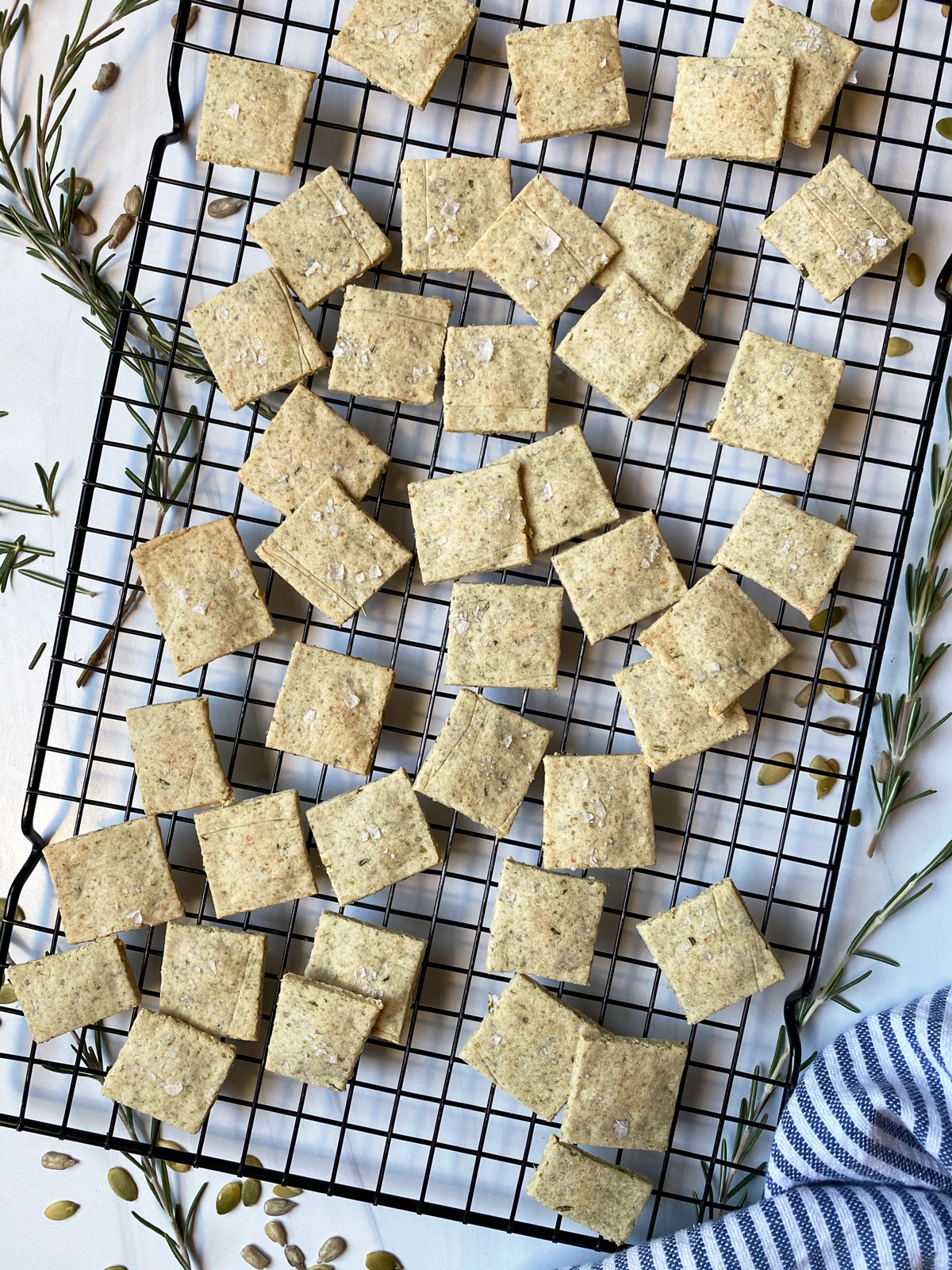 Crackers are something that I used to eat all the time as a child (hello Cheez-Its, Wheat Thins and Ritz). But, as I got older and more health conscious, I quit purchasing and eating those types of foods.
Having a child, however, changed my outlook once again and we now buy crackers ALL THE TIME!
Thankfully, there are a lot more options available. Many of which are actually healthy. But I've also learned to make my own healthy cracker recipes like these Rosemary Cassava Flour Crackers.
Healthy Cassava Cracker Recipe
This rosemary cracker recipe has so many great qualities, including a delicious flavor and the perfect crunch. In addition, these crackers are:
Paleo, Vegan & free of top allergens
easy to make
nut free - made with cassava flour
tasty - flavored with rosemary and salt
kid approved - my children love them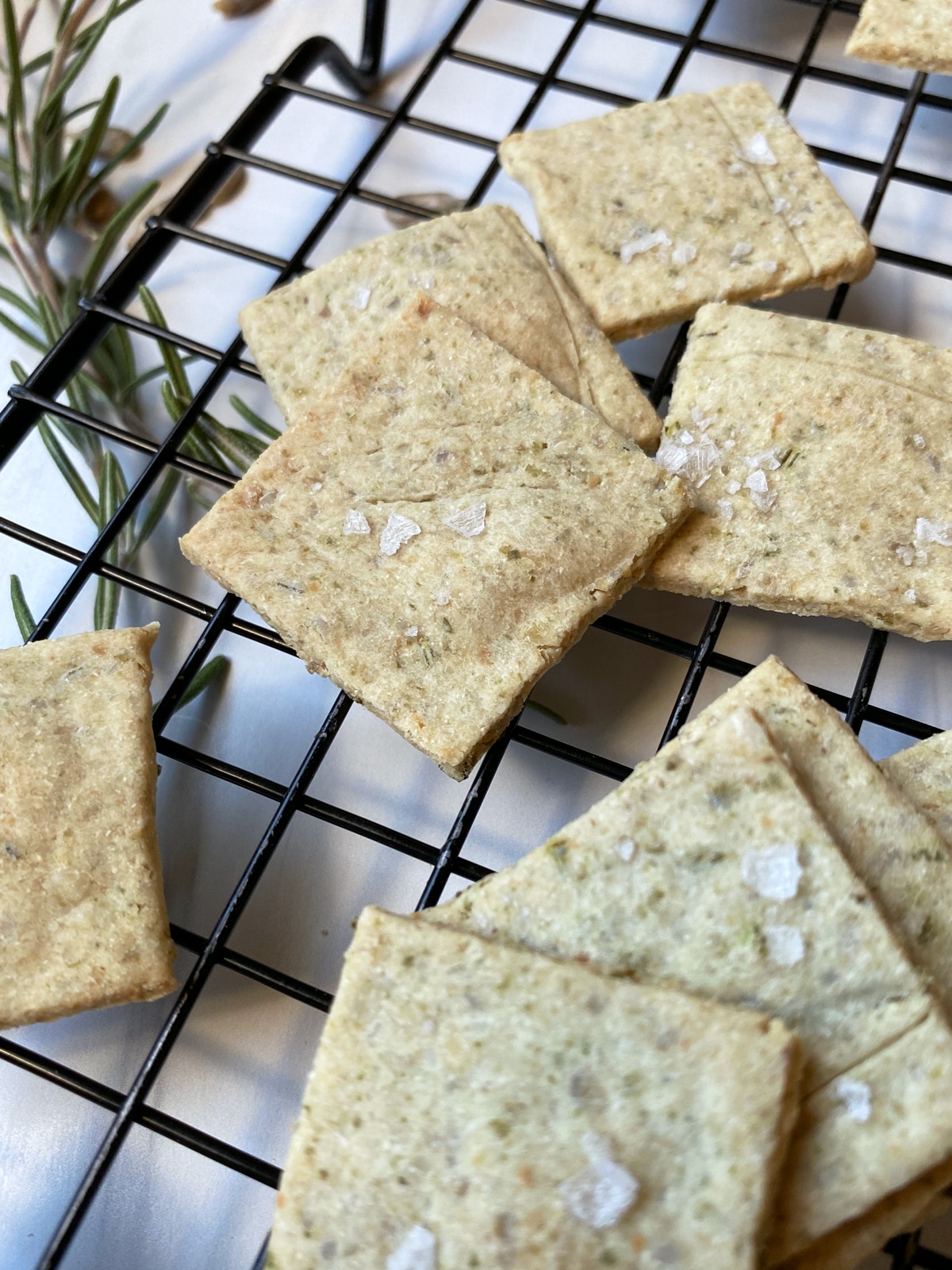 The only downside to these homemade Vegan crackers is that they take time to make. Yes, it is easier to buy crackers at the store. You don't have to make the dough, roll the dough and bake the crackers.
But, homemade Paleo crackers are cost effective and DO taste good!
Saving Money By Making Your Own Crackers
If you're buying Paleo friendly, completely grain free and dairy free crackers without preservatives and additives, then you're probably spending a lot on them.
Some of my favorite Paleo crackers
to buy cost up to $7.50 a box AND contain fewer servings than conventional brands.
Quite often, I don't want to spend money like that! So, in-between waiting for my favorite brands to go on sale, I opt for making my own crackers.
Homemade, Paleo friendly crackers are much cheaper than what you can purchase in-store and online. The only downside is that they aren't as convenient (because you do have to take the time to make them) and they have a much shorter shelf life. But with the right recipe, they taste just as great!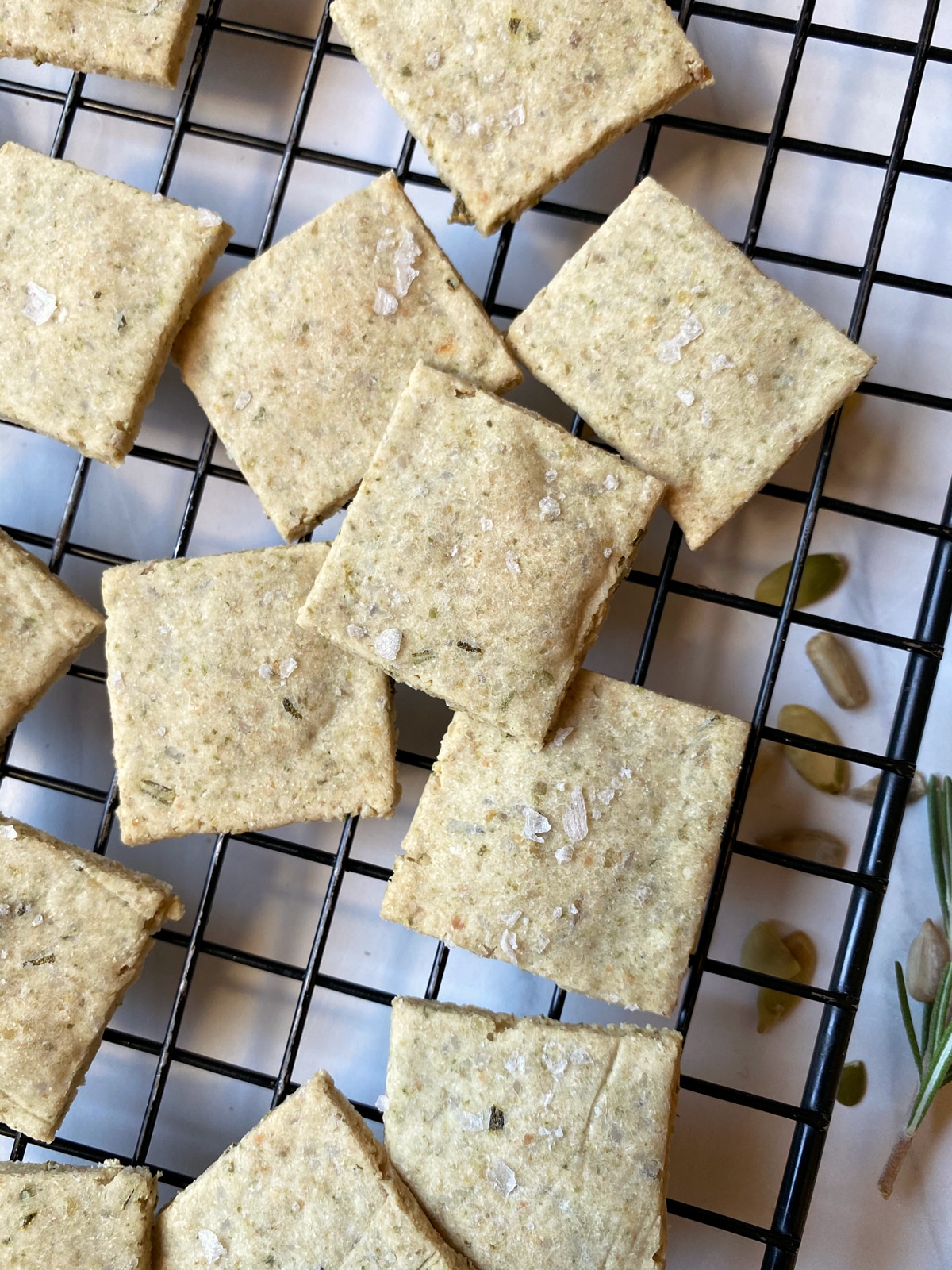 Ingredients In Homemade Rosemary Cassava Flour Crackers
These Vegan rosemary crackers are made with whole foods, all naturally gluten free, dairy free and grain free. Here's what you need:
sunflower seeds
pumpkin seeds
rosemary
olive oil
water
How to Make Cassava Crackers
This cassava root cracker recipe is made in a food processor, rolled between parchment paper and baked in the oven. Here are the steps:
First, preheat your oven to 350 degrees F.
In a food processor, combine sunflower seeds and salt. Blend to a fine flour. Then, add in the remaining dry ingredients: cassava flour, rosemary and salt. Blend well.
Next, add in the wet ingredients: olive oil and water. Blend until the dough starts to clump. If the dough appears too dry, add a bit more water. You can also add more water after rolling the dough, if you find it's not holding together.
Roll the dough into a ball, flatten, then roll between two sheets of parchment paper. The crackers should be about ⅛-inch thick.
Use a knife or pizza cutter to cut the crackers into 1-inch squares. Optional: top with flaked sea salt.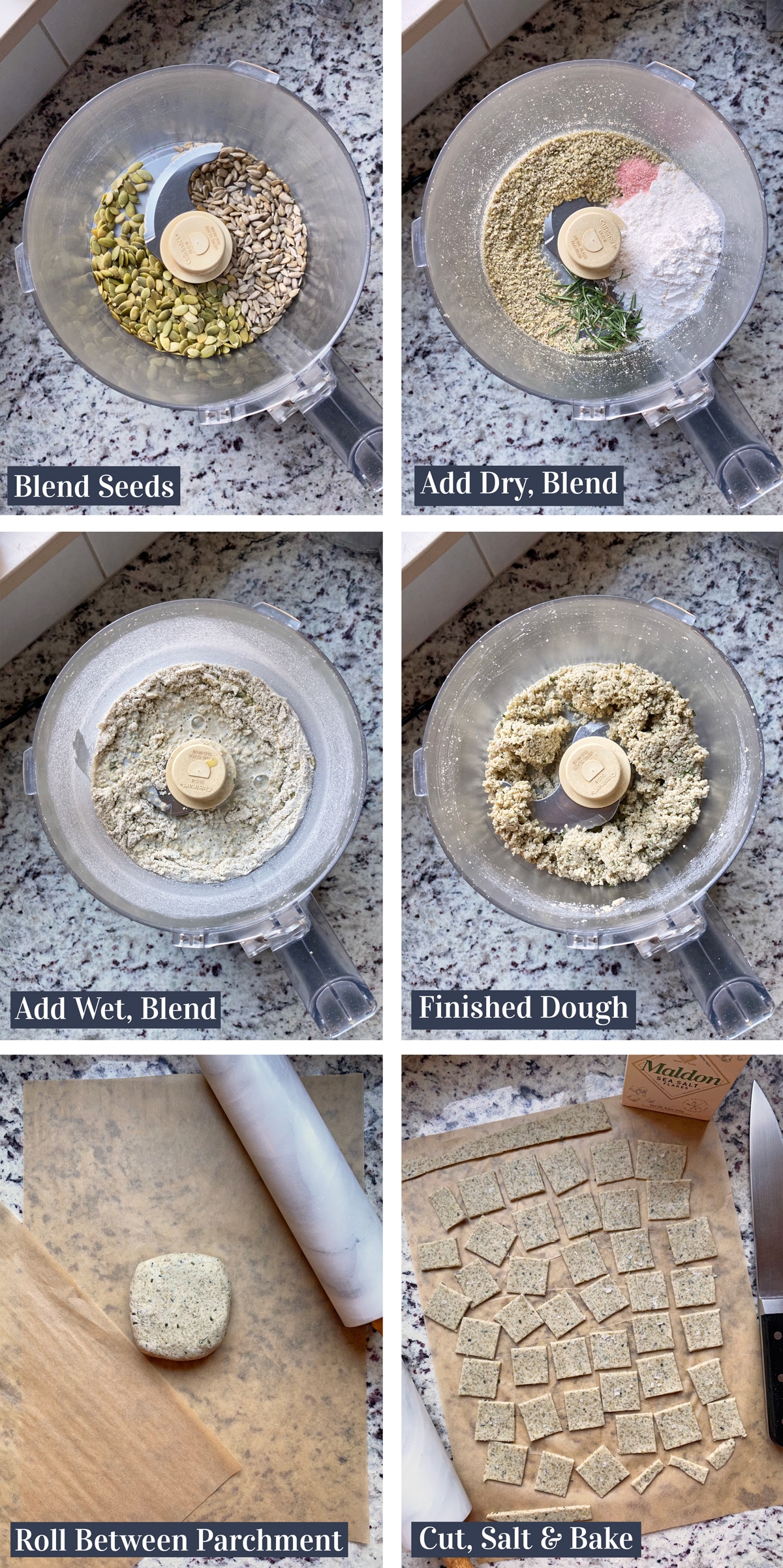 Next, transfer the crackers (on the parchment paper) to a baking sheet. Bake at 350 degrees for 15 minutes.
After 15 minutes of baking, remove the crackers from the oven, flip and cook an additional 5-10 minutes. The baking time will vary slightly depending on cracker size and thickness.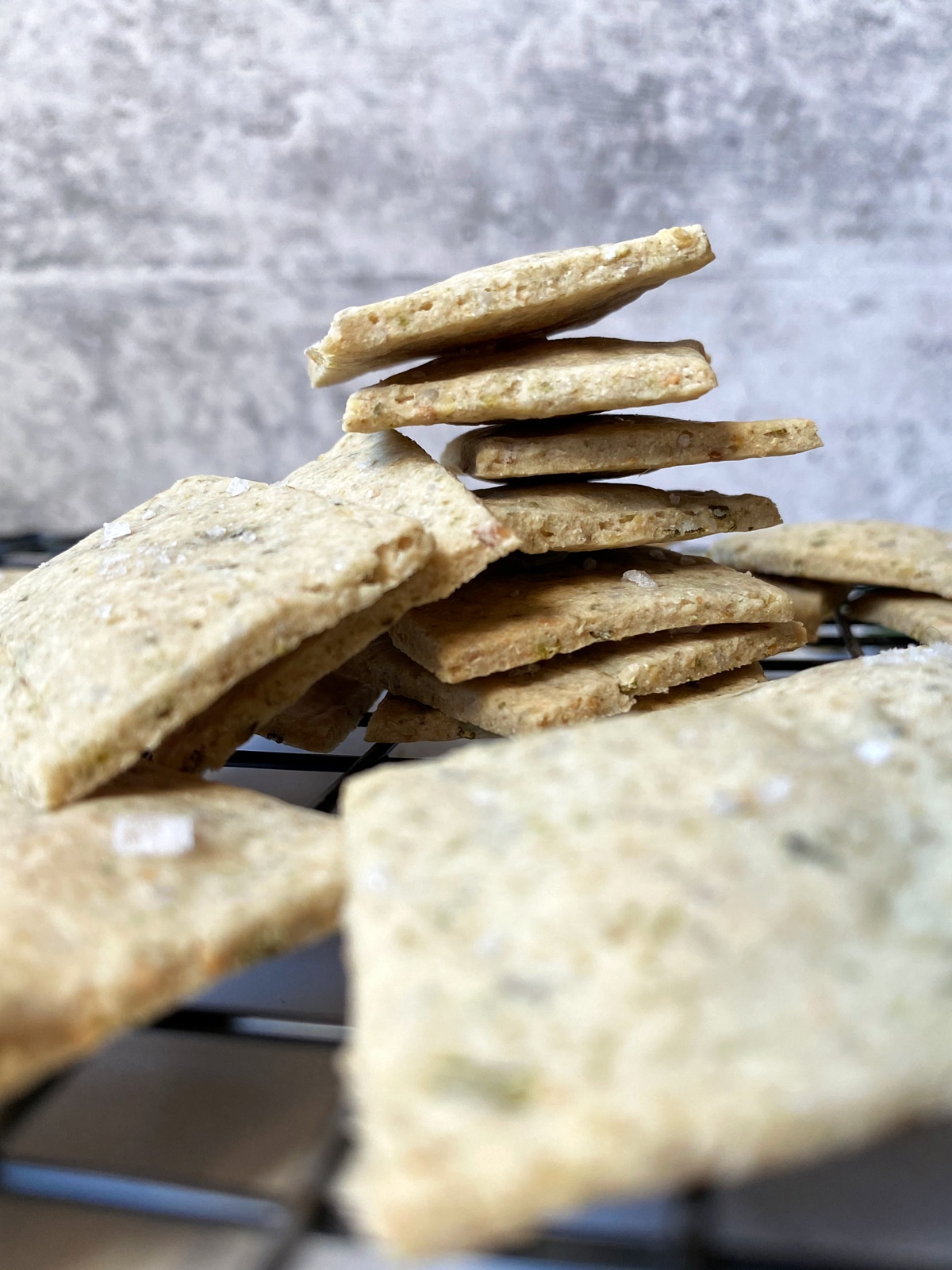 How to Store Homemade Cassava Flour Crackers
These gluten free rosemary crackers are best eaten within a couple days, but last up to a week in an air-tight sealed container
. Make sure to cool them to room temperature prior to storing.
What to Eat With Rosemary Crackers
My boys love eating these healthy rosemary crackers with mashed avocado, which makes a great filling, nutritious snack. Some other great dips and spreads include:
almond milk cream cheese
Cashew cheese spreads
roasted vegetable dips
Paleo ranch dip
guacamole
almond butter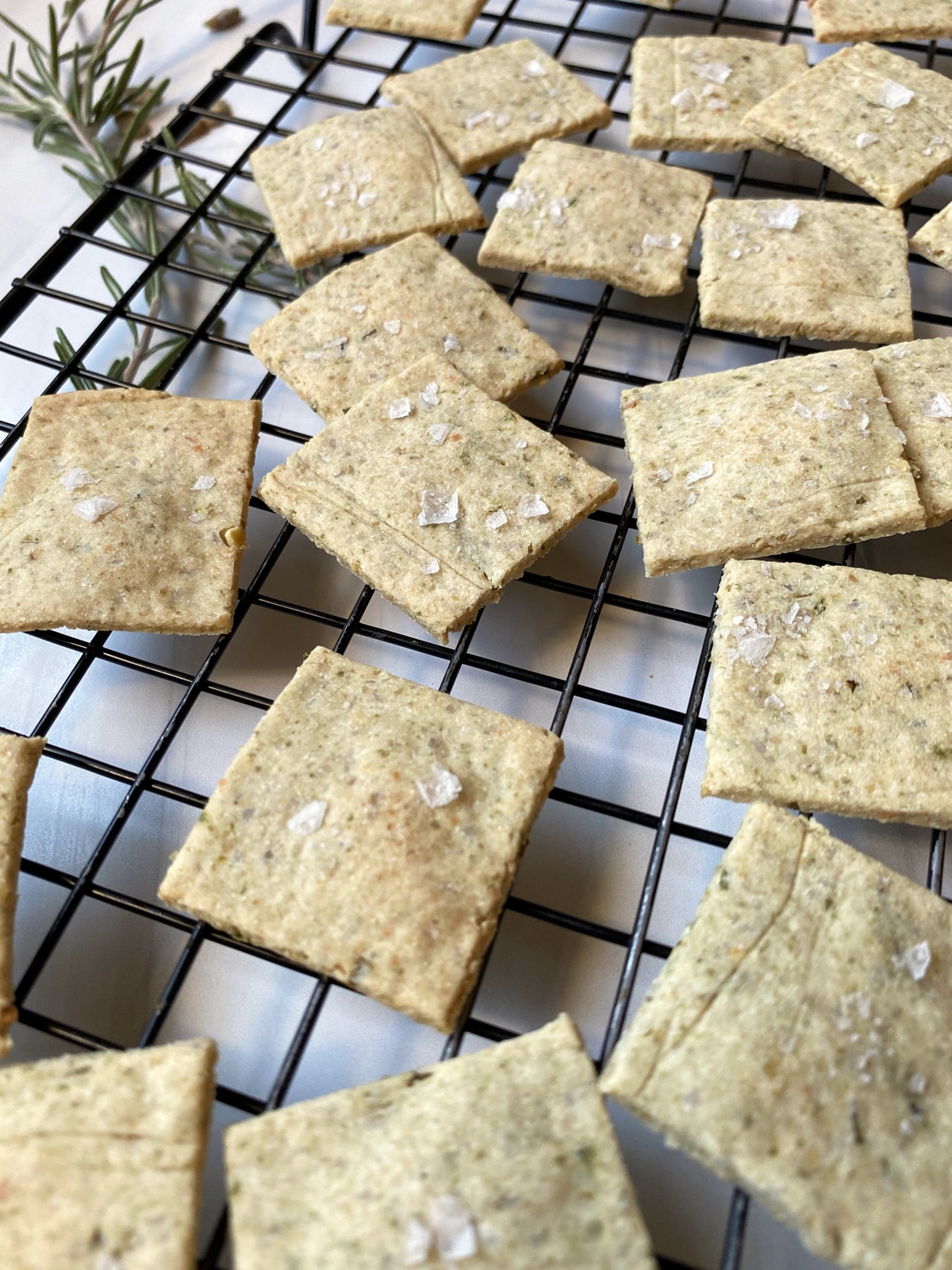 More Paleo Cracker Recipes
If you are looking for more Paleo cracker recipes you can find them here:
Enjoy!
Print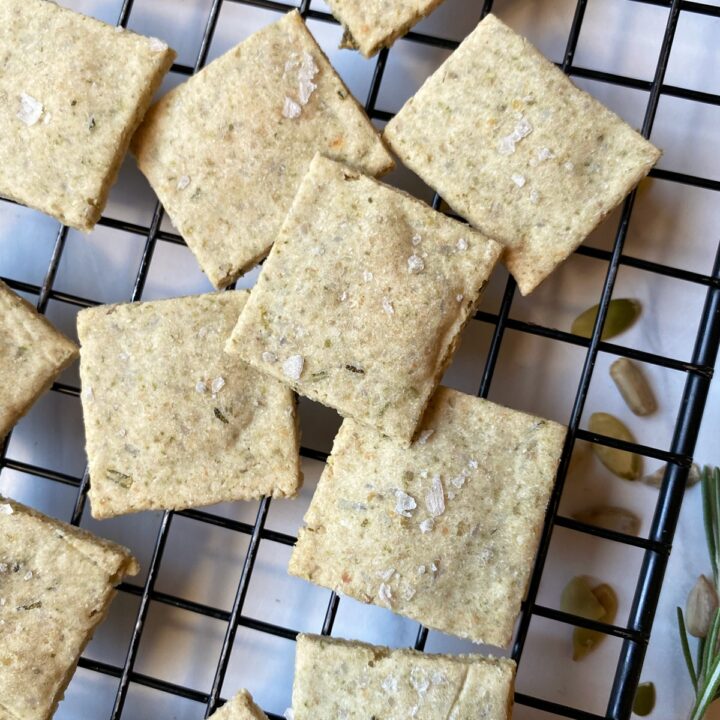 Rosemary Cassava Flour Crackers (Paleo, Vegan)
Author:

Katie

Prep Time:

15 minutes

Cook Time:

20 minutes

Total Time:

35 minutes

Yield:

3

-

4

dozen crackers

1

x
---
Description
These Rosemary Cassava Flour Crackers are allergy free, vegan and paleo friendly.  A great snack for toddlers, kids and adults.
---
¼ cup

raw sunflower seeds

¼ cup

raw pumpkin seeds

½ cup

cassava flour (

63g

) spooned & leveled

2 tsp

rosemary (fresh or dried)

½ tsp

sea salt

¼ cup

water*

1 tsp

olive oil
flaked sea salt (optional)
---
Instructions
Preheat oven to 350 degrees F.
In a food processor, process sunflower seeds and pumpkin seeds into a fine flour.
Add cassava flour, salt and rosemary to your seed flour and blend.
Add in water and olive oil, blend well.
Remove dough from the food processor.  Roll into a ball, flatten and roll between 2 sheets of parchment paper using a rolling pin*  The crackers should be about ⅛" thick.
Remove the top layer of parchment and sprinkle the dough with flaked sea salt.
Cut the dough into 1-inch squares with a knife or pizza cutter.
Transfer the crackers (on parchment) to a baking sheet and bake in the middle rack of your oven at 350 degrees for 15 minutes.  
Remove crackers from the oven, flip, then bake an additional 5-15 minutes**
Remove from oven and let cool to room temperature.
---
Notes
*If the dough isn't rolling out easily (cracking and breaking) add a little more water (about 1 tablespoon), and knead the dough a few more times.
**Bake time really depends on how thick you cut the crackers.  Edge pieces may bake longer than center pieces.  Keep a close eye on the crackers during that second baking interval.
Keywords: rosemary cassava flour crackers, cassava crackers, cassava flour crackers recipe, rosemary paleo crackers, paleo cassava crackers, vegan cassava flour recipes, vegan cassava crackers, gluten free vegan rosemary crackers, nut free paleo crackers