These tigernut flour crackers are thin and crispy and have a nutty, buttery flavor (although they're both nut free and dairy free). They're made from tigernut flour, seeds and spices. Furthermore, this healthy cracker recipe is free from top allergens, paleo, vegan, nut-free and has no added sugar.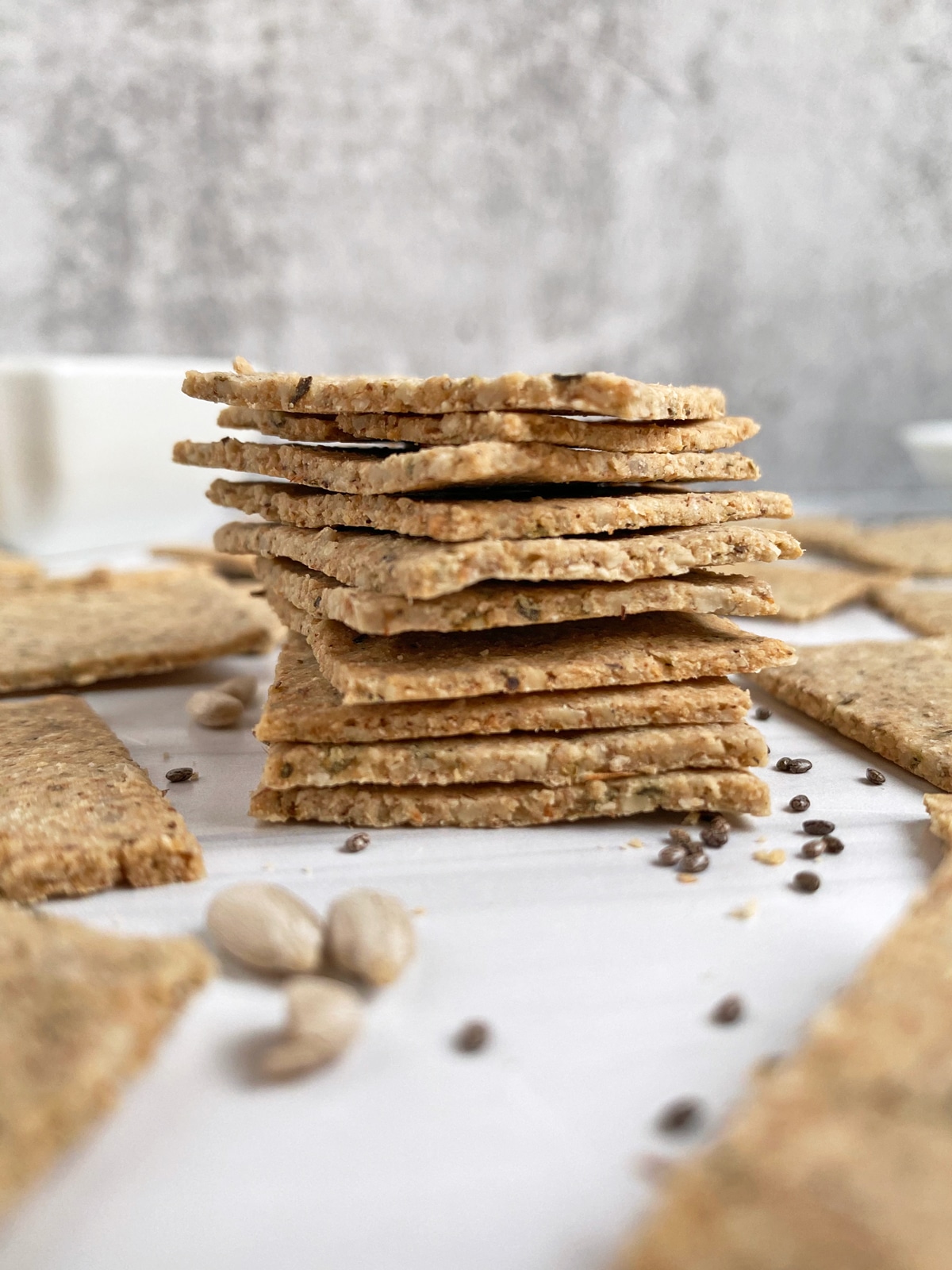 One of my favorite Paleo baking flours is tigernut flour. Over the years, I've slowly created more and more recipes with this grain free flour. Including: tigernut flour chocolate cake, pancakes, cupcakes and even crackers like these tigernut flour crackers.
What are Tigernuts?
Have you ever had a tigernut
? Tigernuts aren't actually nuts. Instead, they are little, round root vegetables with a naturally sweet taste and hard, rough outer shell. Tigernuts are rich in prebiotic fiber, making them beneficial for the gut. In addition, they are a good source of magnesium, potassium and plant protein. Tigernuts are also naturally gluten free and Paleo-friendly!
One thing I like about tigernut flour is that it is naturally sweet. Meaning, I don't need to add much sugar (if any) to my baked goods. Plus, this flour is nut free, grain free and easy to work with!
Best Tigernut Flour to Buy
As gluten and grain free baking has become more popular, more and more tigernut flours have become available. The two brands I recommend include:
Both of these brands produce a high quality, organic tigernut flour. I've had great success in baking with each of these products.
The best place to buy tigernut flour is online. You can either purchase it from Amazon, or on the company website. Other places to find tigernut flour include health food stores that sell a large selection of organic products. But, I've found that buying online is cheaper.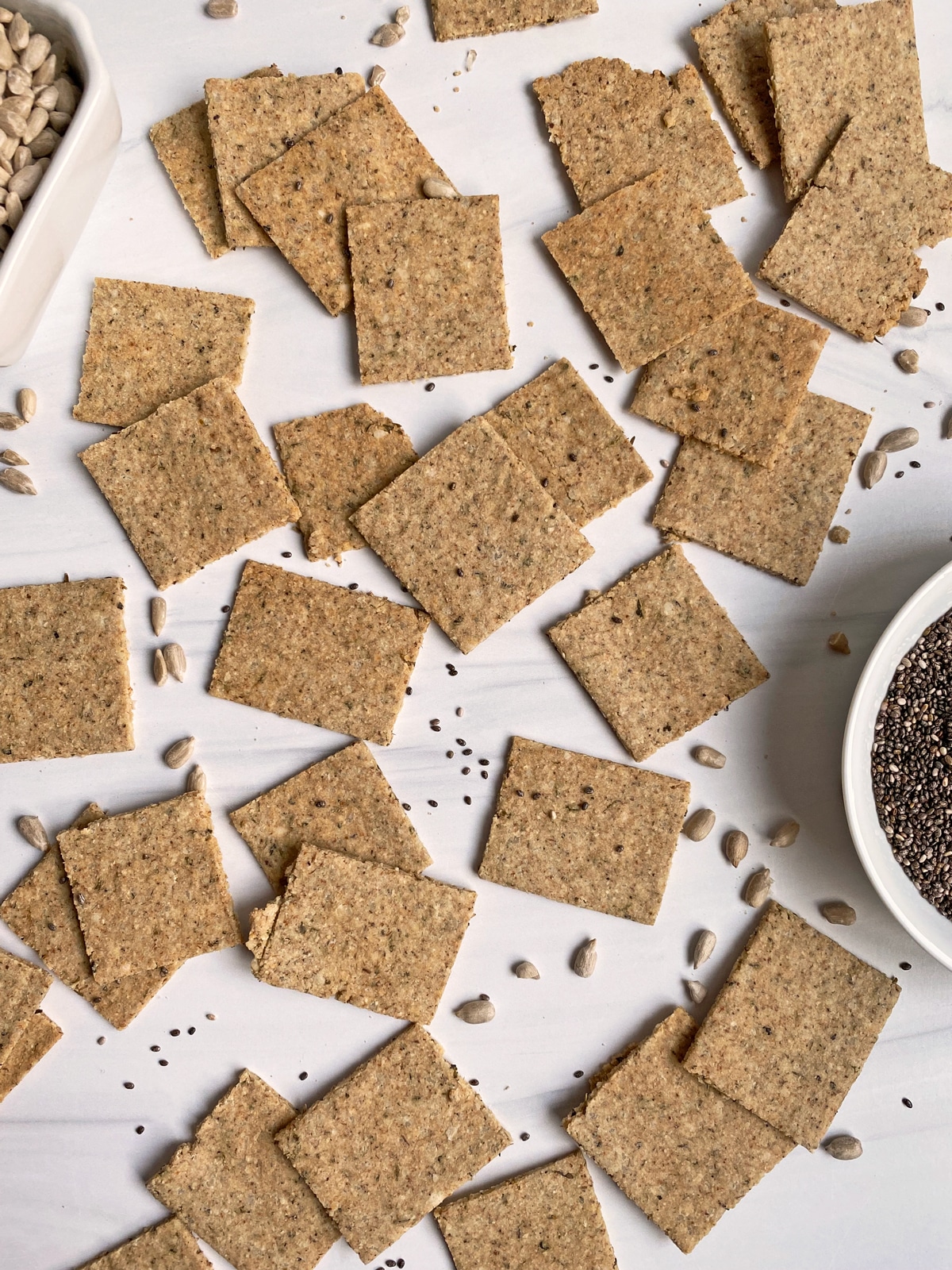 Ingredients in Tigernut Flour Crackers
These tigernut flour crackers are made from paleo and vegan friendly ingredients and are completely nut free. Here's a list of what you need:
tigernut flour
raw sunflower seeds
tapioca flour
chia seeds
sesame seeds
dried basil
dried thyme
salt
olive oil
water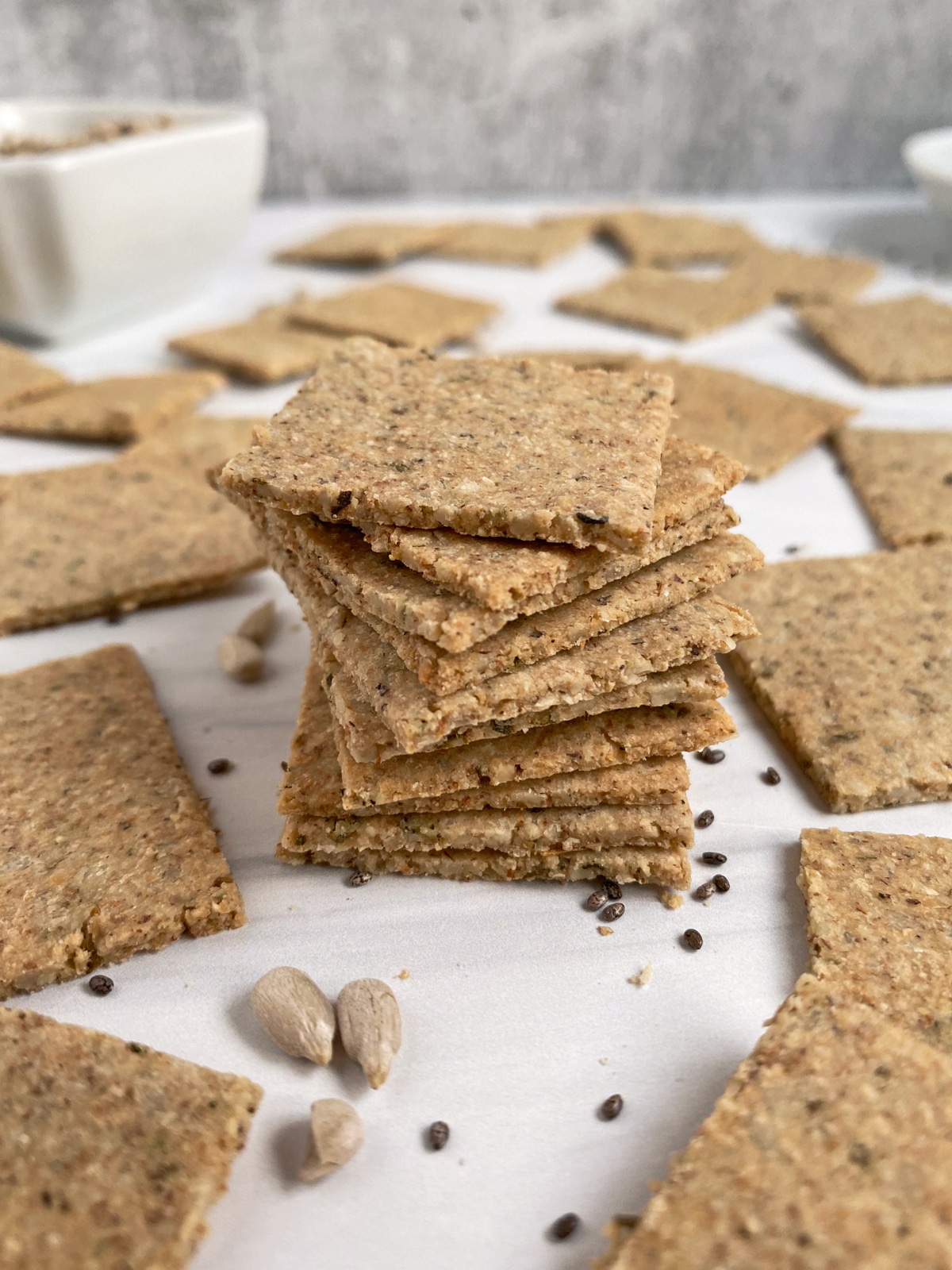 How to Make Homemade Crackers
Homemade crackers are easy to make and just as tasty as store bought ones.
First, preheat your oven to 350 degrees F.
In a food processor, combine the tigernut flour, sunflower seeds, tapioca flour, chia seeds, sesame seeds, basil, thyme and salt. Process the ingredients to a fine flour.
Next, add in the olive oil and water. Process the mixture until well combined.
Use your hands to roll the mixture into a ball, then flatten it on a sheet of parchment paper. Place another sheet of parchment paper on top and roll the dough between the parchment until the dough is about ⅛" thick (or thinner).
Use a knife or pizza cutter to cut the dough into cracker shapes.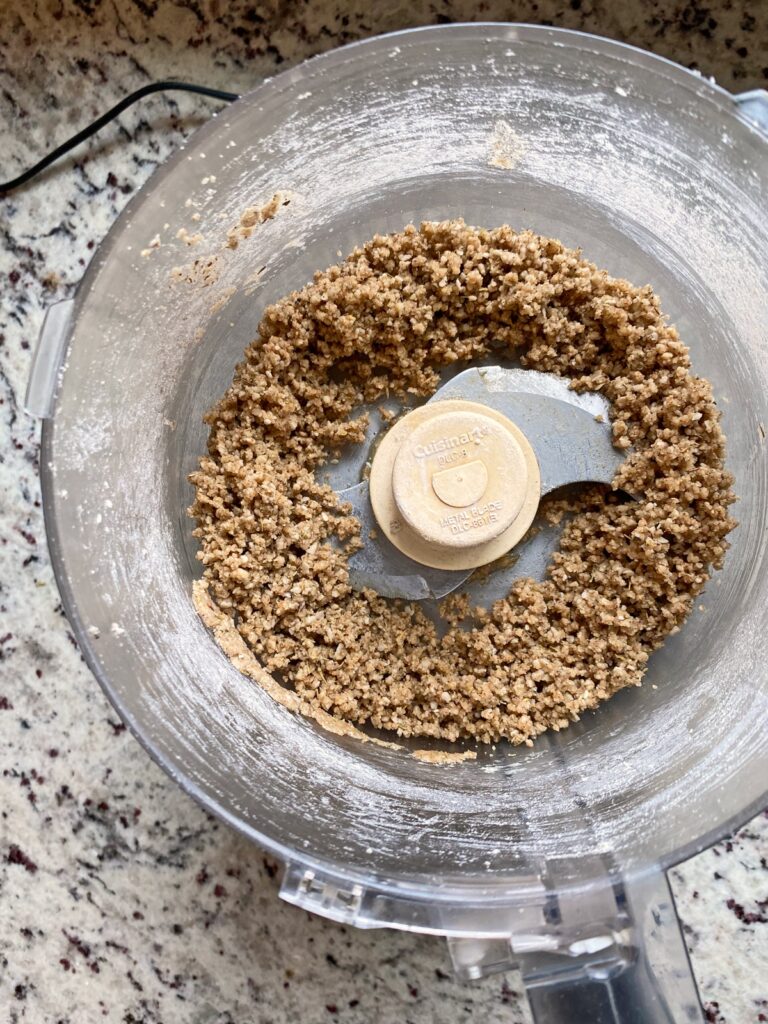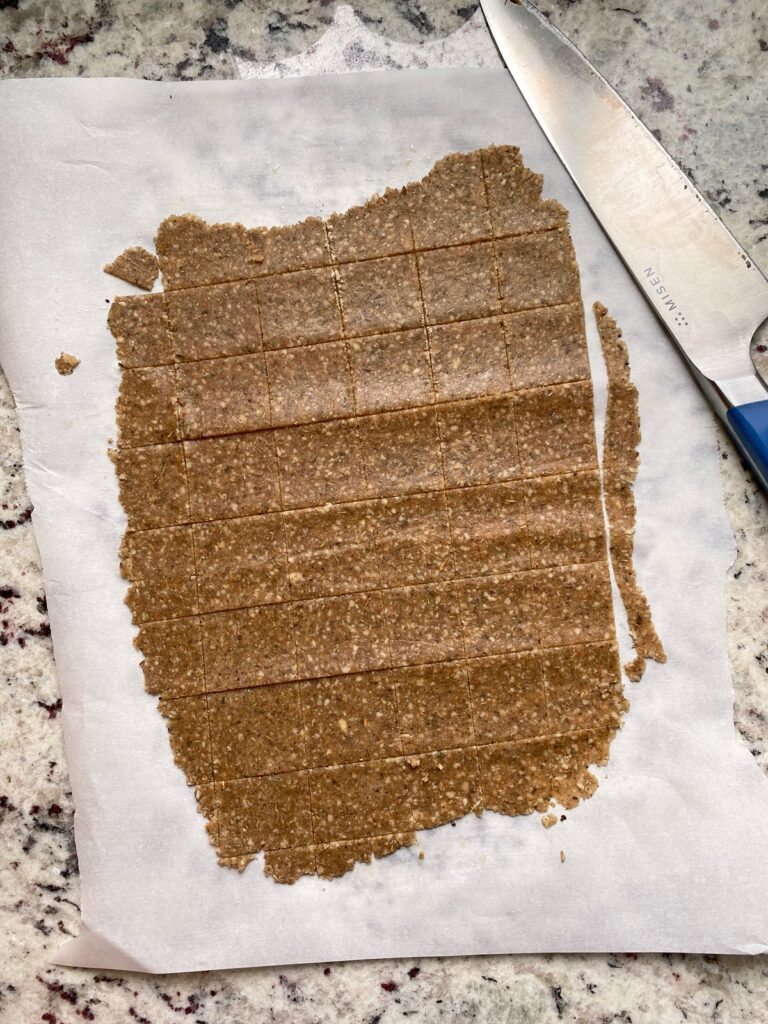 Next, place transfer the crackers (on the parchment) to a baking sheet. Bake in the oven at 350 degrees for 10 minutes. Then, flip the crackers and cook another 3-5 minutes.
After baking, let the crackers cool on the baking sheet for about 5 minutes then transfer them to a wire cooling rack.
Cool completely before placing them in a sealed storage container.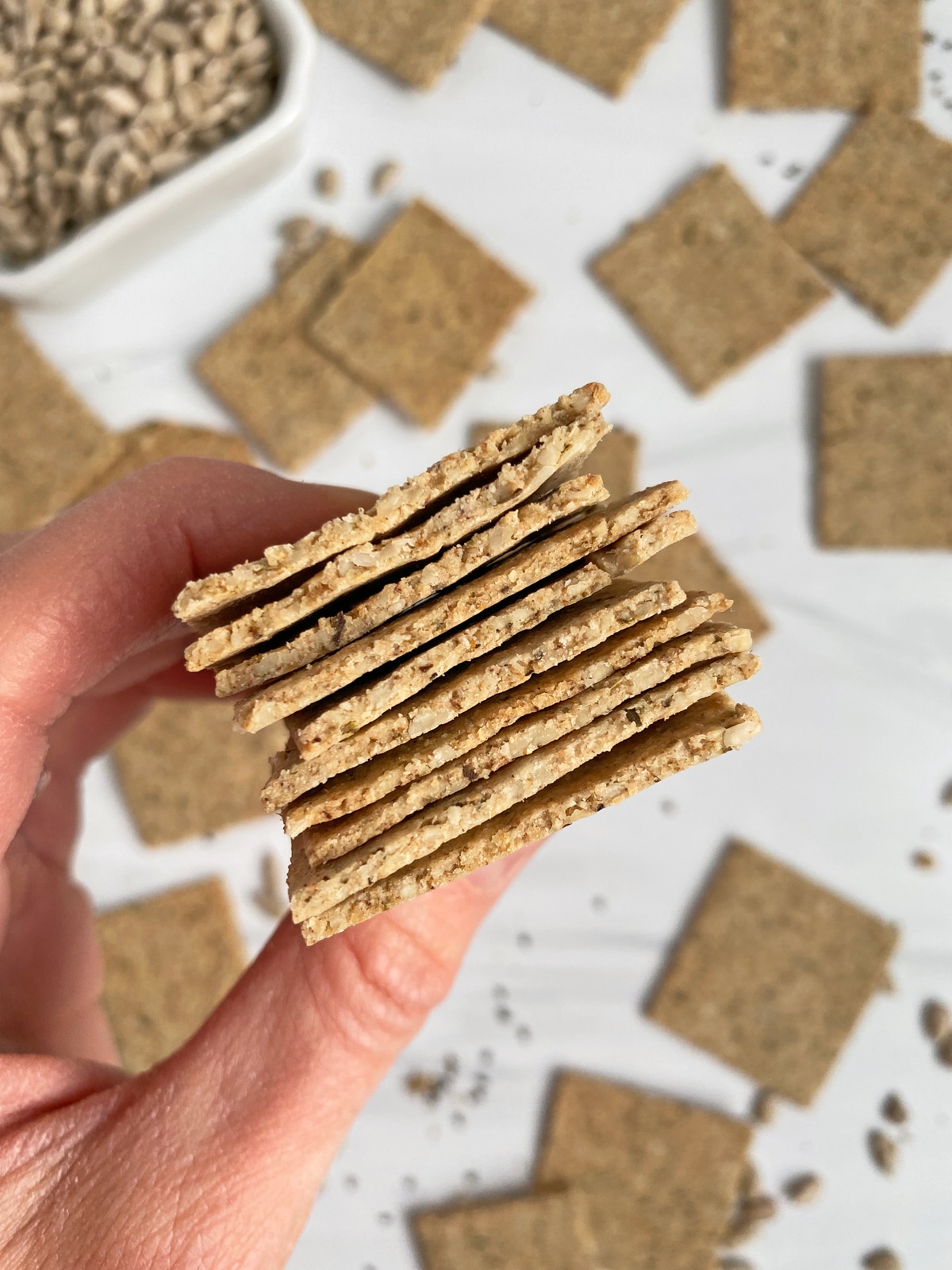 Storage
These paleo cracker are best stored in an air-tight container at room temperature. They are best eaten within a week.
More Paleo Vegan Cracker Recipes
Print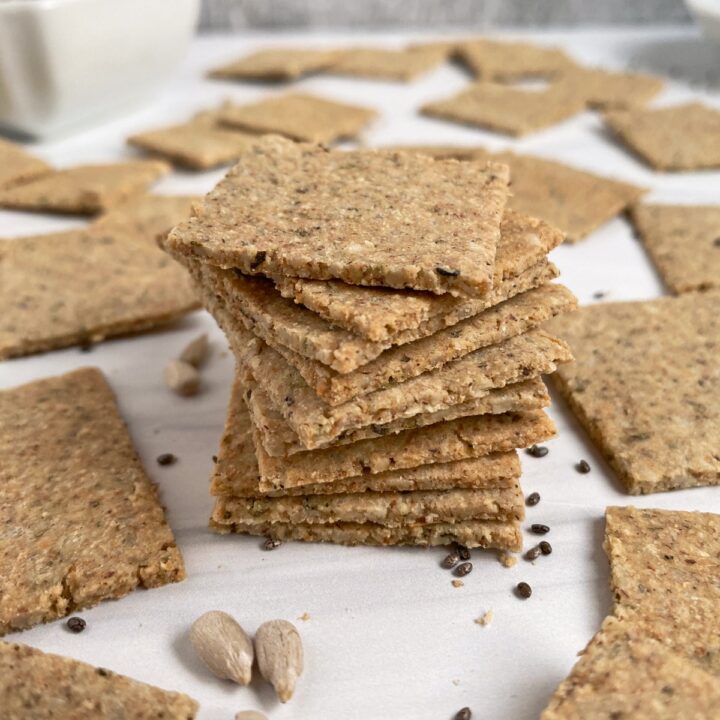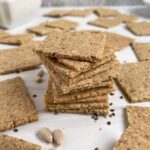 Basil & Thyme Grain-Free Crackers
Author:

Katie

Prep Time:

15 min

Cook Time:

13 min

Total Time:

28 minutes

Yield:

2

dozen crackers

1

x
---
Description
Nut free, grain free tigernut flour crackers.  A naturally sweet, nutty cracker recipe great for snacking.
---
---
Instructions
Preheat oven to 350 degrees F.
In food processor, combine all dry ingredients.  Blend.
Add in wet ingredients.  Blend until well combined.
Remove dough, roll into a ball and flatten on parchment paper.  Roll dough between 2 sheets of parchment using a rolling pin.  Crackers should be no more than ⅛" thick.
Remove top layer of parchment and cut cracker shapes using a knife or pizza cutter.
Transfer crackers (on parchment) to baking sheet and bake in the oven at 350 degrees for 10 minutes.
Flip crackers and cook another 3-5 minutes.
Remove crackers from oven and cool to room temperature on a cooling rack.
Store in air-tight container in pantry for up to one week.
---
Notes
Cooking time may vary depending on cracker thickness
Keywords: tigernut flour recipes, tigernut flour crackers, paleo crackers, vegan crackers, healthy crackers recipe, paleo snacks, toddler crackers