This avocado chocolate smoothie is thick, refreshing and healthy. It's made with ripe avocado, fresh spinach, unsweetened cocoa powder, banana and dates. This healthy chocolate smoothie recipe is a great way to sneak in veggies at breakfast, snack time or for dessert!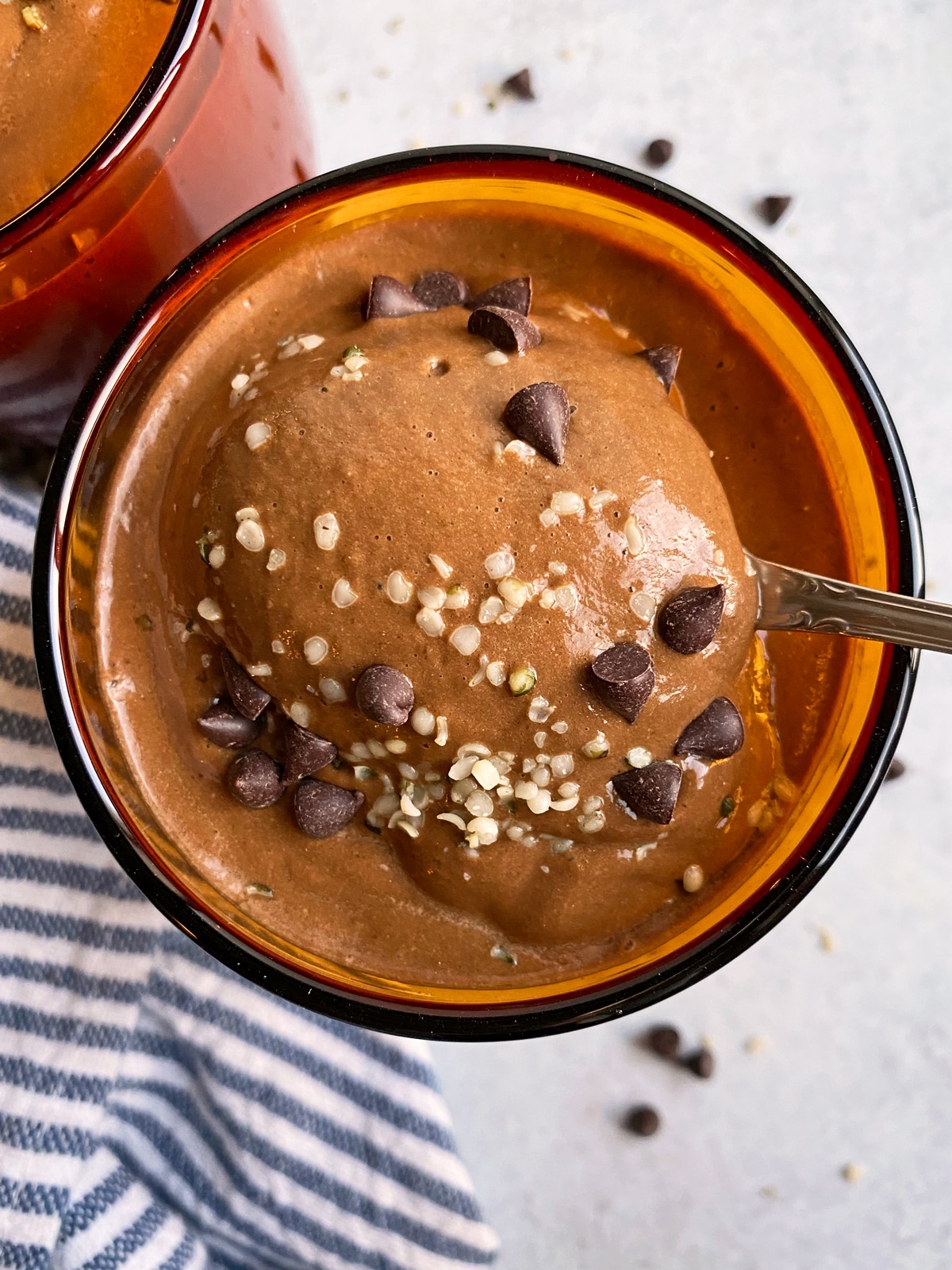 Smoothies were a saving grace during my January whole30! And this avocado chocolate smoothie was my go-to recipe for when I needed something quick and healthy to eat.
Not only that, but my kids loved this recipe. Which pleased me, as this chocolate smoothie is made with spinach and avocado and is only sweetened with fruit.
Smoothie Highlights
Here's what you need to know this paleo chocolate smoothie recipe:
fruit sweetened: this smoothie does not contain any added sugar or sweeteners (although you can add them if you wish). It is only sweetened with bananas and dates.
nutrient dense: made with a host of nutrient dense foods that are great for fueling the body
paleo and whole30: made with paleo and whole30 friendly ingredients
allergy friendly: this smoothie is nut free and dairy free, as well as free from top allergens
vegan: omit the collagen and this is a vegan avocado chocolate smoothie
quick and easy to make
healthy enough for breakfast, but delicious enough for dessert
This chocolate green smoothie is the perfect way to sneak in some veggies. You can feel like you're eating dessert, but know that you're getting in greens, healthy fats and protein.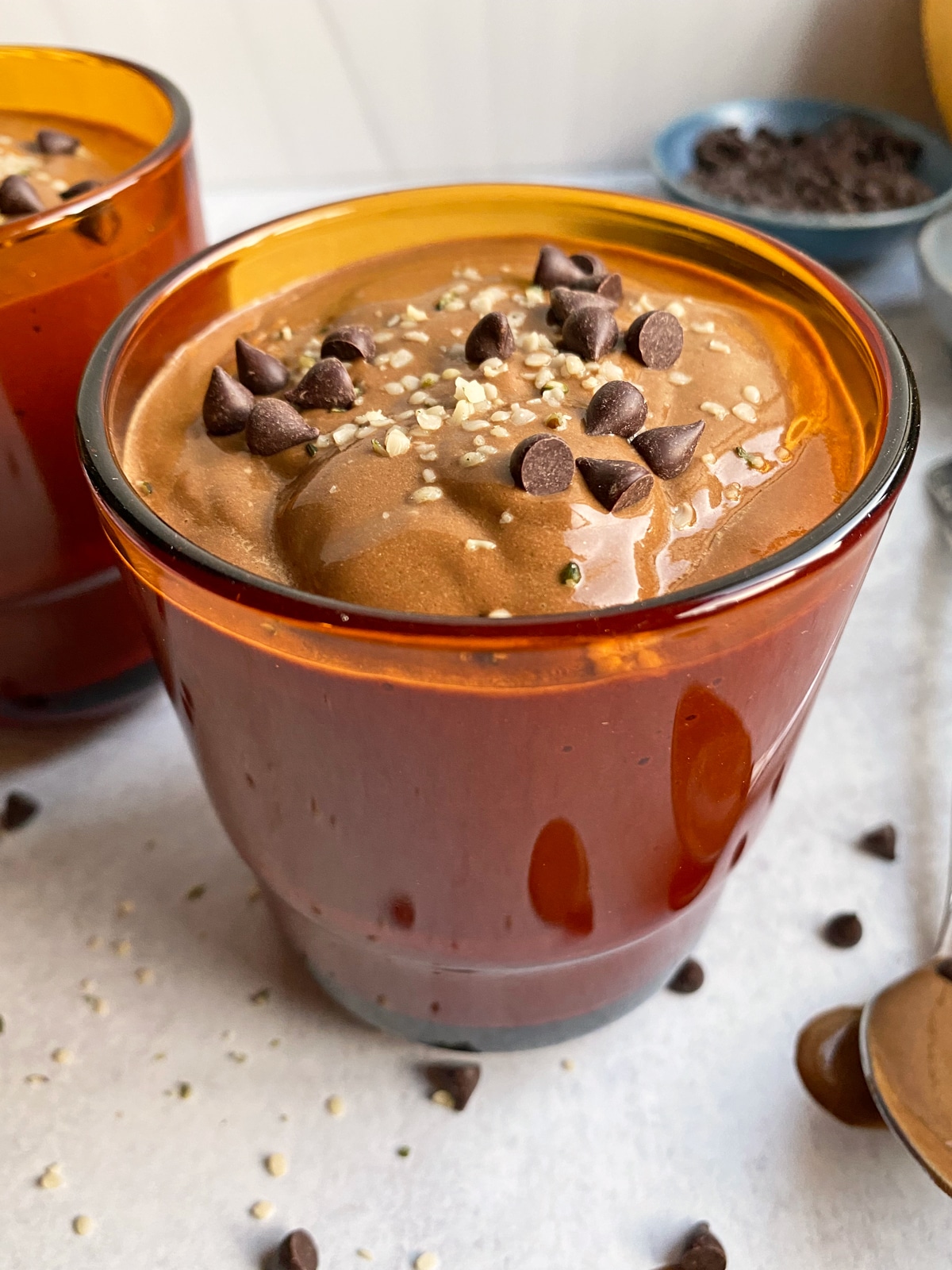 Whole30 Chocolate Smoothie Ingredients
There are many ways to customize this smoothie, but here's what I used:
spinach (preferably organic)
ground flax
avocado
ripe bananas
coconut milk (or any plant based milk)
crushed ice
Do you have to use all of these ingredients? Of course not! However, removing some or many of these ingredients will take away from the nutrient density of this smoothie, as well as the flavor profile and texture. Optional ingredients include: collagen, hemp seeds, ground flax, dates and ice.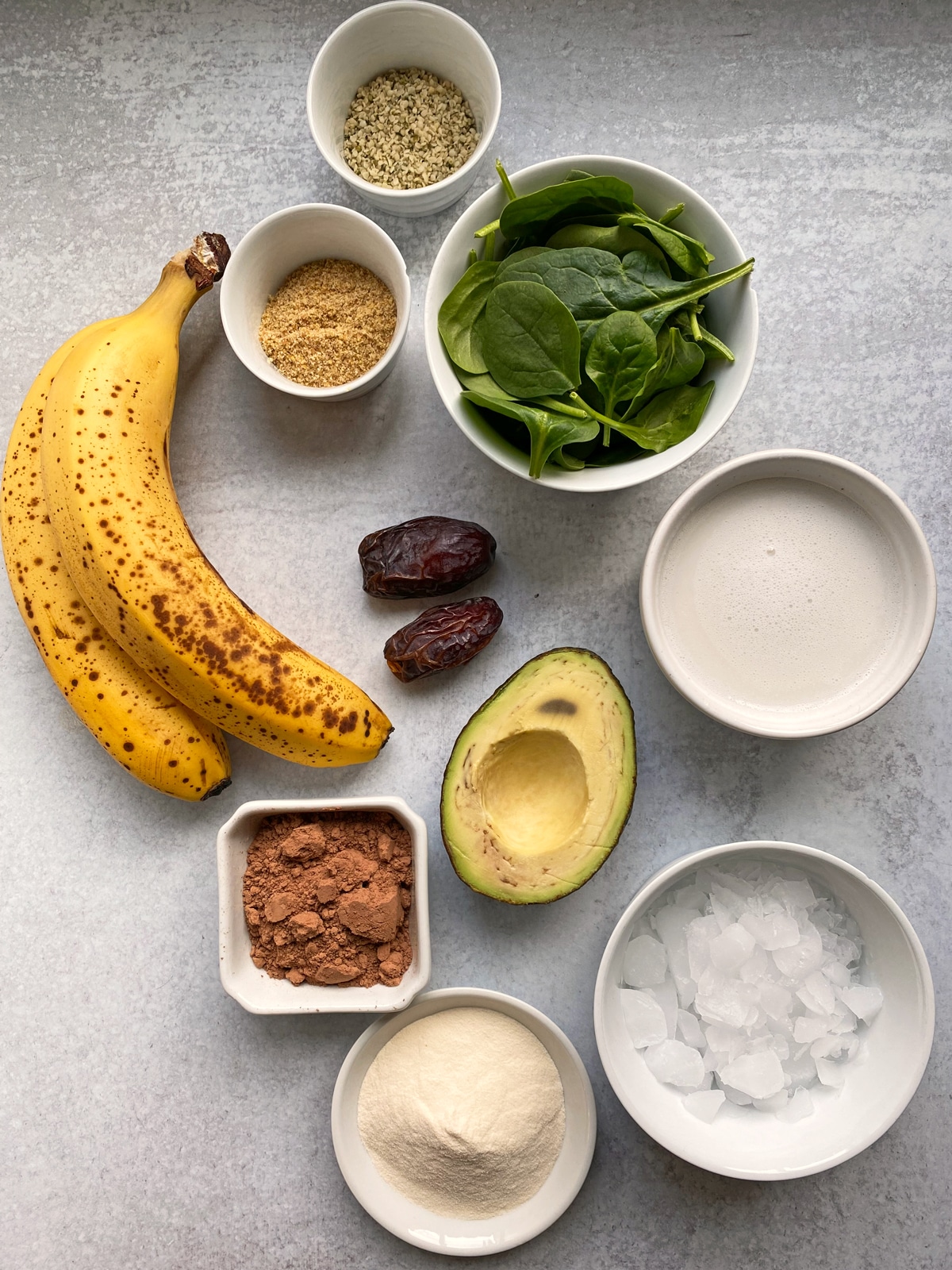 Additional Add-Ins
What else can you add to your smoothie? Here are some optional add-ins or toppings to bring your smoothie to the next level:
superfood powders: greens powder, spirulina, mushroom powder, maca
bee pollen
goji berries
cacao nibs
chia seeds
nut/seed butter
coconut butter
cauliflower (steamed then frozen)
zucchini
protein powder
How to Make a Healthy Avocado Smoothie
This smoothie, like any other smoothie, is super easy to make!
First, add all ingredients (but ice) to the blender. I like to start with the spinach, then add the powders (like cocoa and flax), then the fruit. I find this helps with the blending process and keeps the powders from flying up to the top of the blender.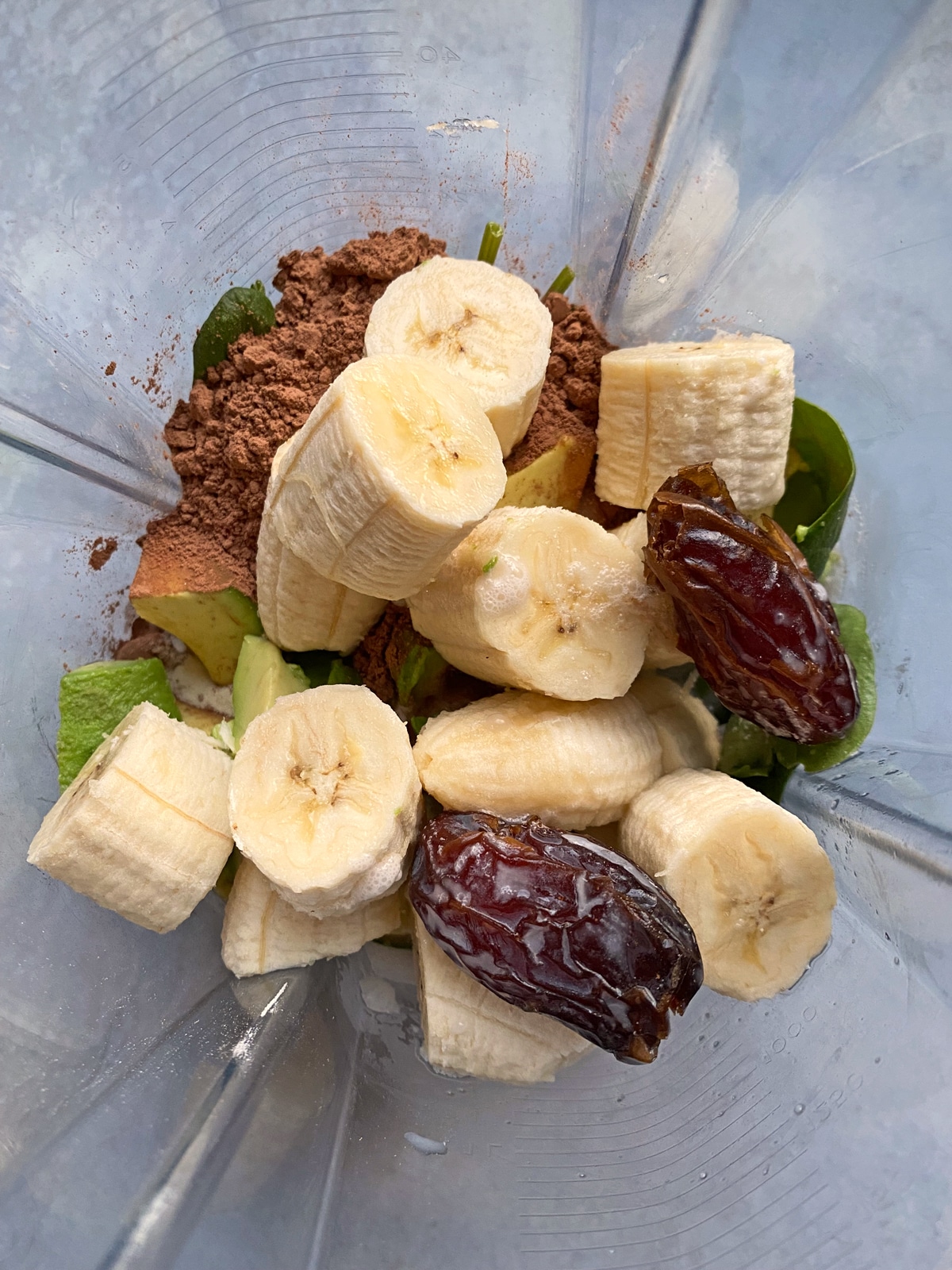 Place the lid on the blender, then blend starting at a low speed. Gradually increase the speed and blend until the smoothie is consistent and smooth.
Next, add the crushed ice. Blend again until smooth.
Pour the smoothie into a couple of glasses and top with your favorite toppings.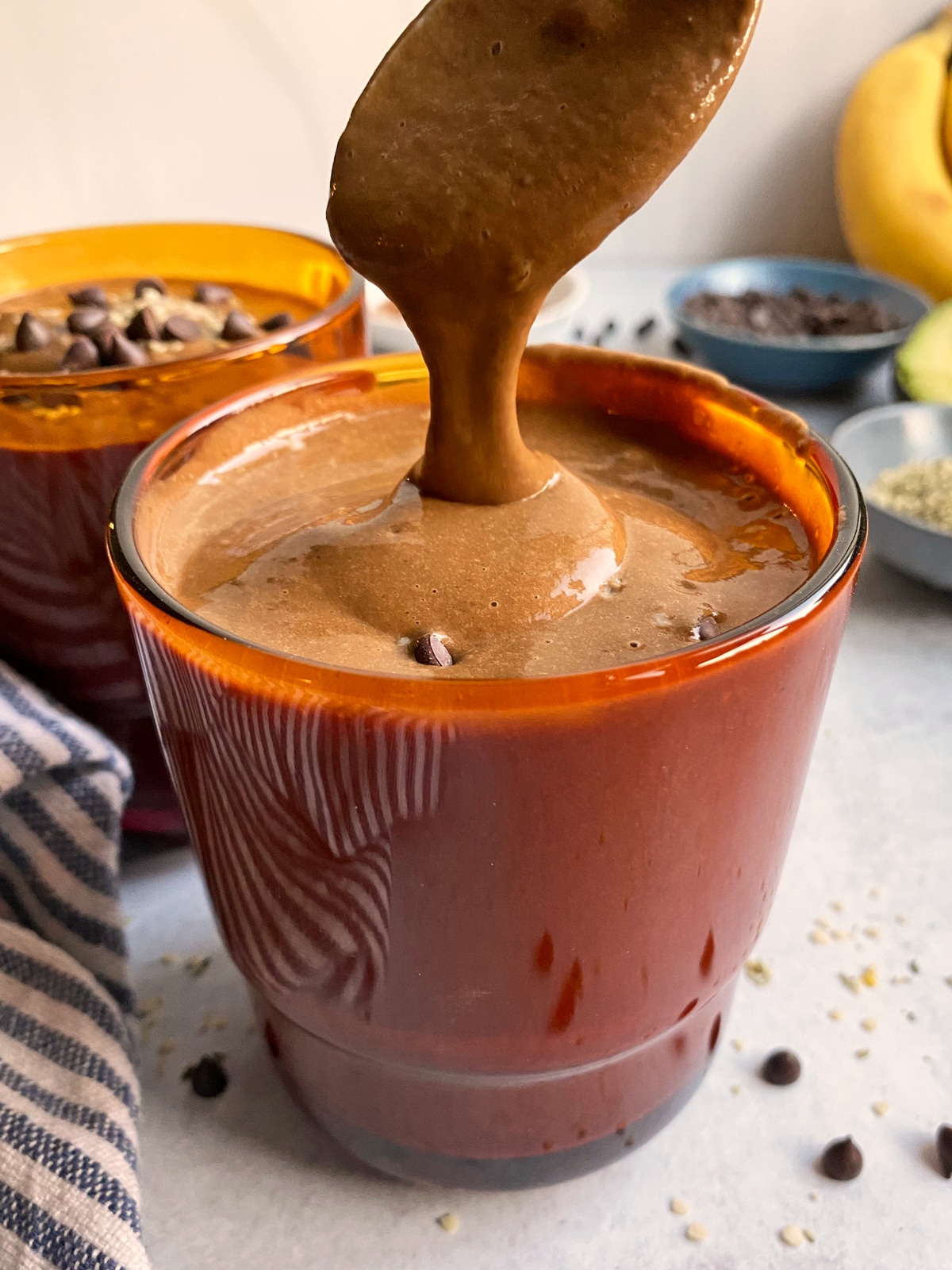 Frequently Asked Questions
Is avocado good in smoothies?
Yes! Avocado is perfect for smoothies. It adds texture without changing the flavor. For best results, use an avocado that is just barely ripe - slightly soft at the top.
Are smoothies whole30?
Smoothies can be part of a whole30 reset, it just depends on your mindset and the ingredients you use. Eating full on fruit smoothies to replace your meals defeats the purpose of a whole30. However, a nutrient rich smoothie (like this whole30 chocolate smoothie) is perfectly fine to have on occasion.
Is cocoa powder whole30?
Yes, unsweetened cocoa powder is fine to have on a whole30.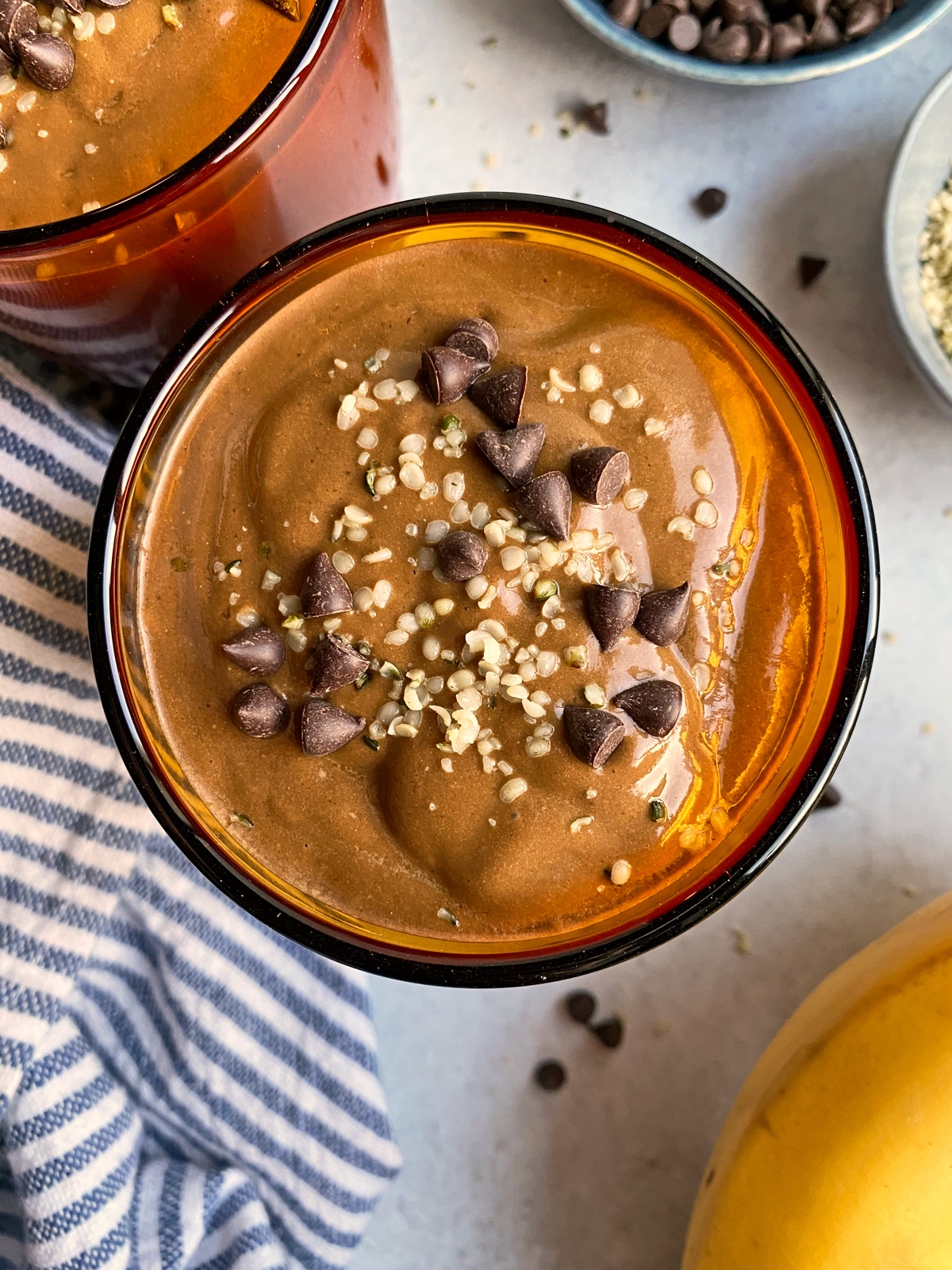 More Paleo Smoothie Recipes
Enjoy!
Print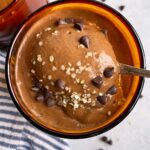 Avocado Chocolate Smoothie (Paleo, Whole30)
Author:

Katie

Prep Time:

10 minutes

Total Time:

10 minutes

Yield:

serves 2
---
Description
This healthy avocado chocolate smoothie is paleo and whole30.  It's the perfect way to sneak in some veggies and nutrient dense foods for breakfast, snack time or as a healthy dessert.
---
---
Instructions
Add all ingredients to blender except the crushed ice.  Blend, starting at a low speed and gradually increasing until the mixture is smooth and consistent.
Stop the blender and add the crushed ice.  Blend until smooth.
Pour into glass and add your favorite toppings.
---
Keywords: chocolate smoothie recipe, avocado chocolate smoothie, paleo chocolate smoothie, whole30 chocolate smoothie, healthy smoothie recipe, chocolate smoothie with avocado, healthy breakfast ideas, snack recipes, smoothies for kids