These Cinnamon CBD Coconut Butter Cups are made with rich, dark chocolate and cinnamon CBD infused coconut butter. These chocolate cups are Paleo, Keto, Vegan and allergy friendly! Plus, they're extremely easy to make.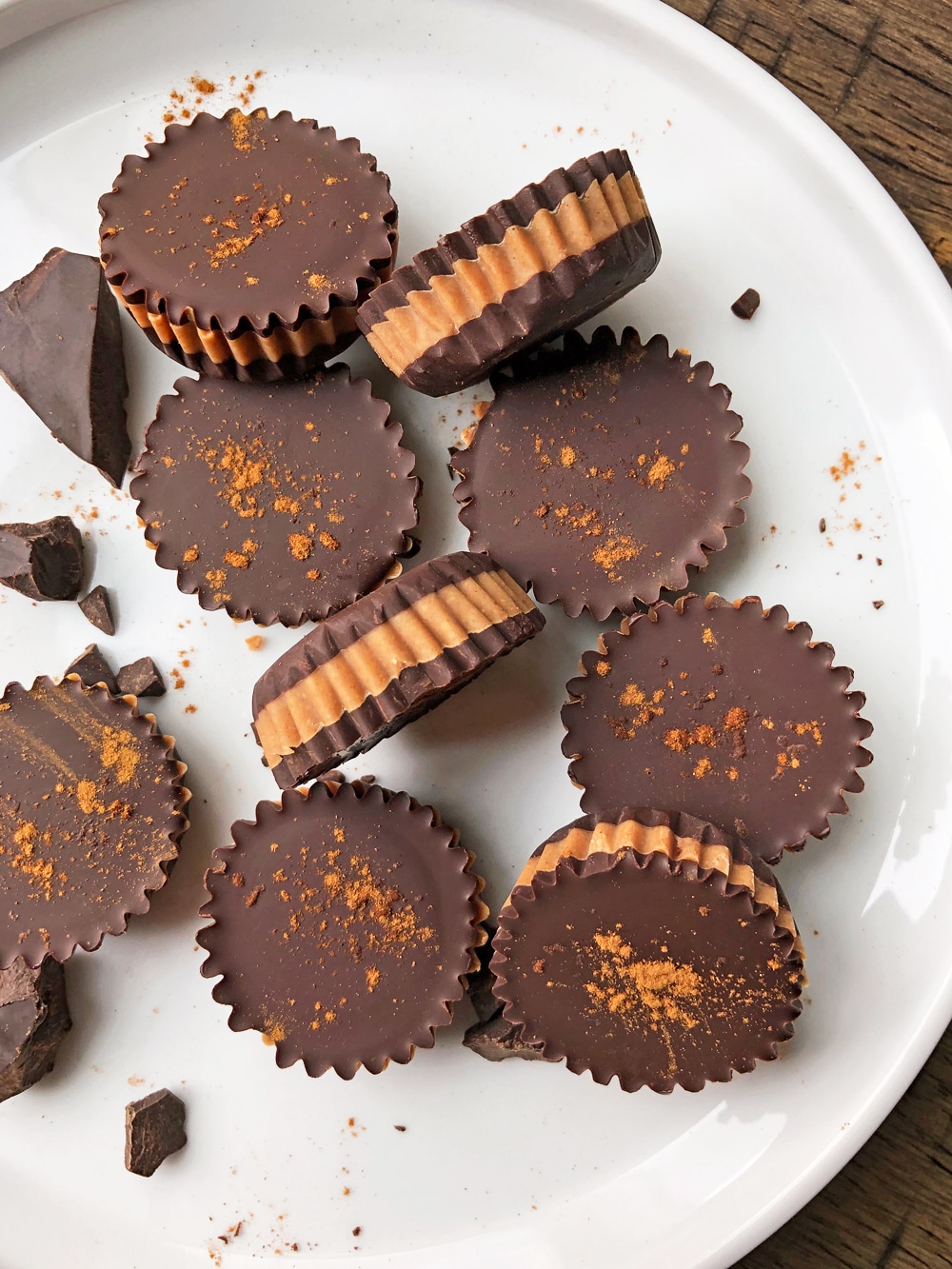 I've tried a few CBD products over the past year and some are better than others. But, I've been highly impressed by Ancient Nutrition's line of CBD oils and powders.
This CBD oil chocolate recipe uses Ancient Nutrition's Organic Cinnamon CBD Hemp.  This full spectrum oil is organic, tested for purity and quality and has a subtle cinnamon flavor - which I love.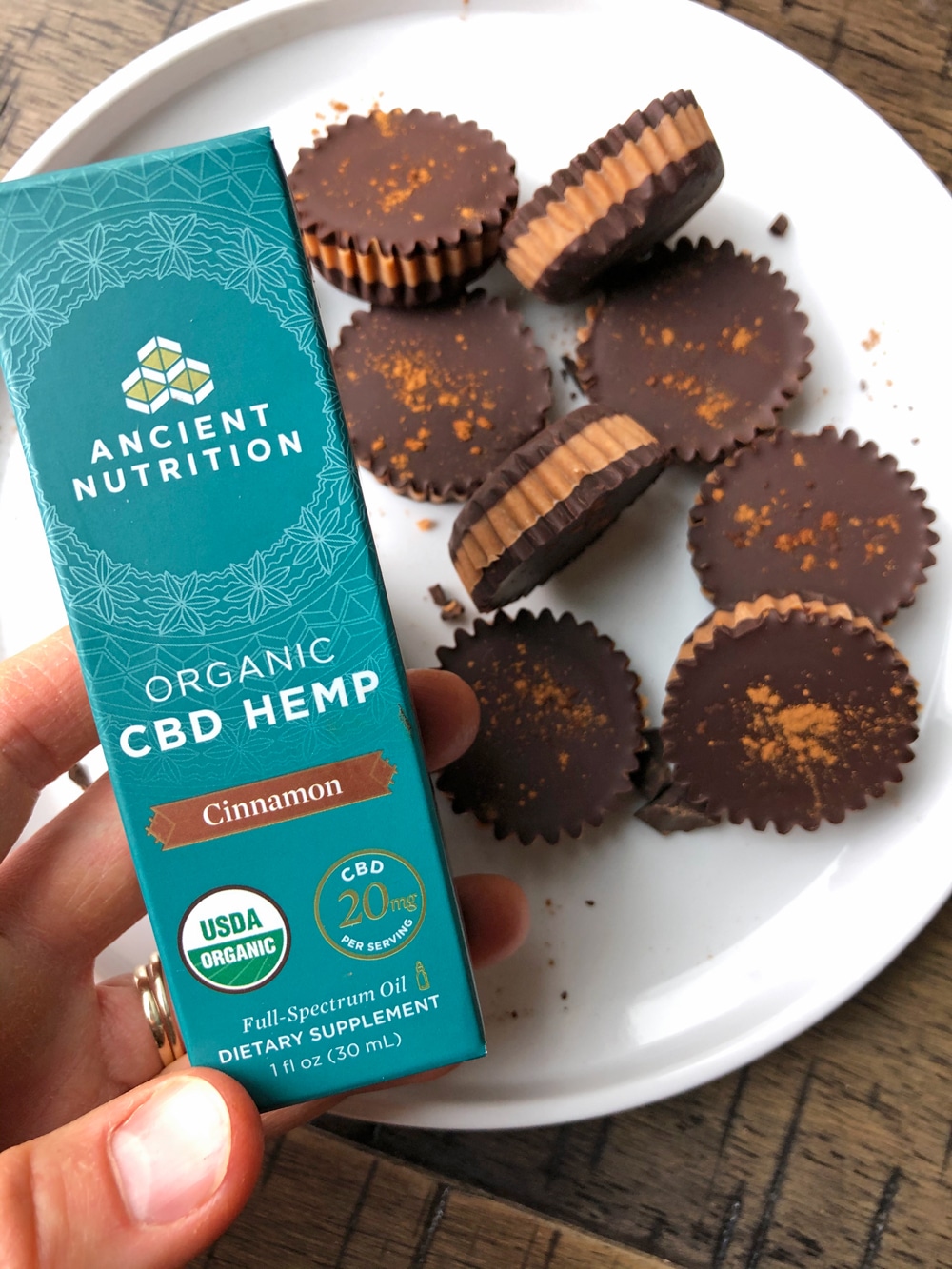 What is CBD?
CBD is really trendy right now. And, until a year or so ago, I had no idea what it was. But because of its rise in popularity I've had a chance to try a few CBD products, as well as learn a bit about it.
CBD is the second most prevalent component of the Cannabis sativa plant species. It is one of over 100 phytocannabinoids that have been identified in cannabis and hemp plants. Unlike THC, CBD does not have intoxicating effects (1) You cannot get high off of consuming CBD.
Benefits of Using CBD
The research on CBD is relatively new, but there have been some promising studies on the health benefits of consuming it. These include (2):
helping manage anxiety
alleviate side effects of cancer treatment
reducing symptoms of autism
alternative to pharmaceuticals for the treatment of MRSA
help with inflammatory bowel disease
improve symptoms of PTSD
reduce pain and inflammation
manage seizure disorders
Personally, I enjoy the potential anti-inflammatory benefits. I've also taken CBD if I'm feeling extra anxious or nervous and it has helped calm my nerves.
CBD is not something I consume daily...unless it's in the form of chocolate! But, I like having some on hand to consume here and there. Like with many trendy superfoods, herbs and elixirs, I don't think CBD products (like this cinnamon oil) are necessary, but potentially beneficial for improving your overall health.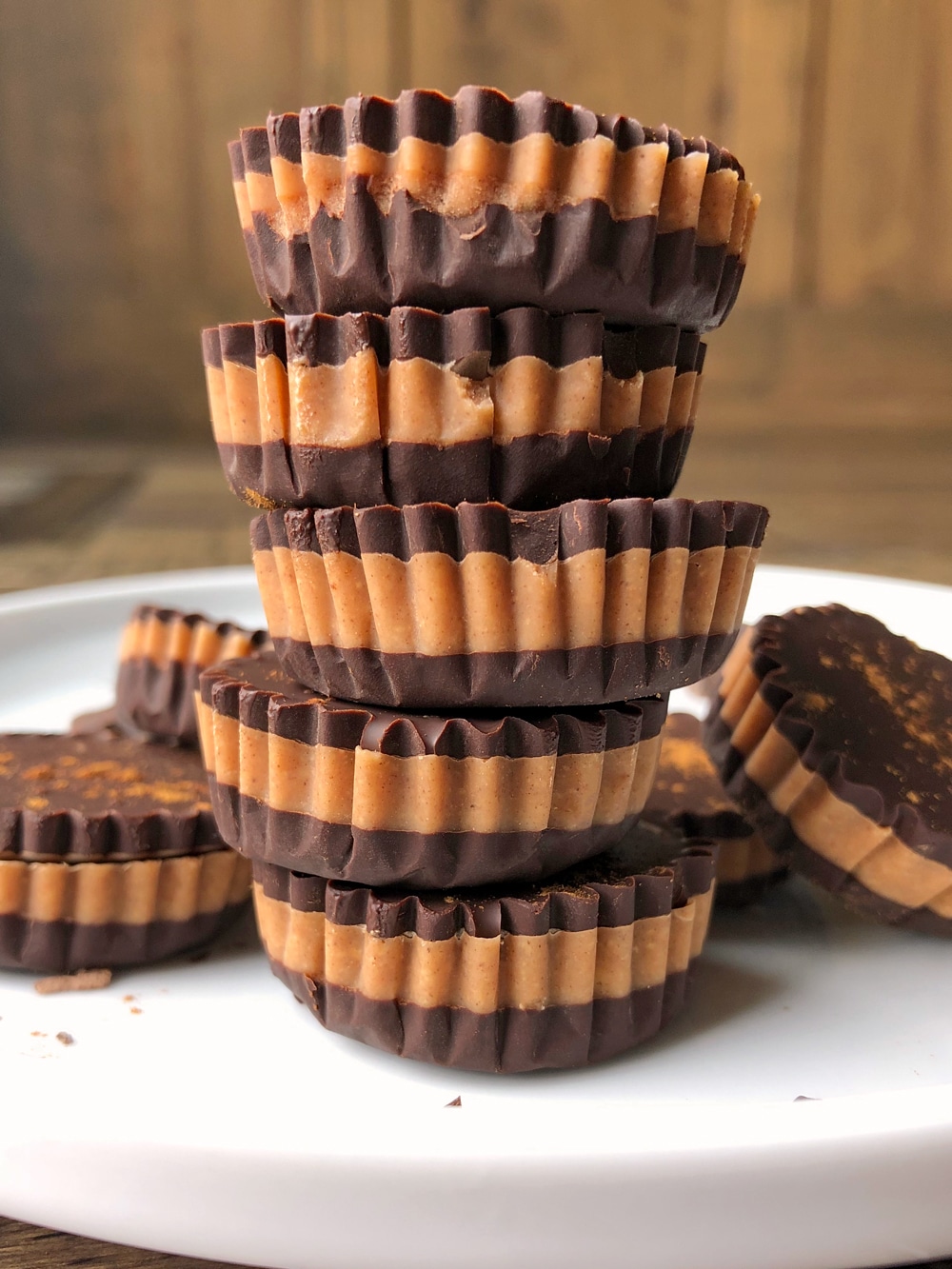 Okay, so now that I've briefly covered CBD and it's potential benefits, let's get back to these keto coconut butter cups.
Ingredients in Homemade Coconut Butter Cups
These dark chocolate coconut cups are made with just 5 ingredients:
dark chocolate
coconut butter (I like to make my own)
cinnamon CBD hemp oil
cinnamon
powdered monk fruit (optional)
Use your favorite dark chocolate, or milk chocolate if you want something sweeter. And, for the filling you'll need your choice of coconut butter, hemp oil, cinnamon and monk fruit.
I like making my own roasted coconut butter since it is a lot cheaper than buying it from the store.  But, any brand will work.
In addition, these coconut butter cups may be made with any brand of CBD oil or even without the CBD. However, Ancient Nutrition's cinnamon CBD hemp oil tastes great in this recipe!
To sweeten the coconut butter, I used powdered monk fruit. This ingredient is optional. Any granulated sugar or sweetener will work in it's place. Or, you can forgo the sweetener altogether.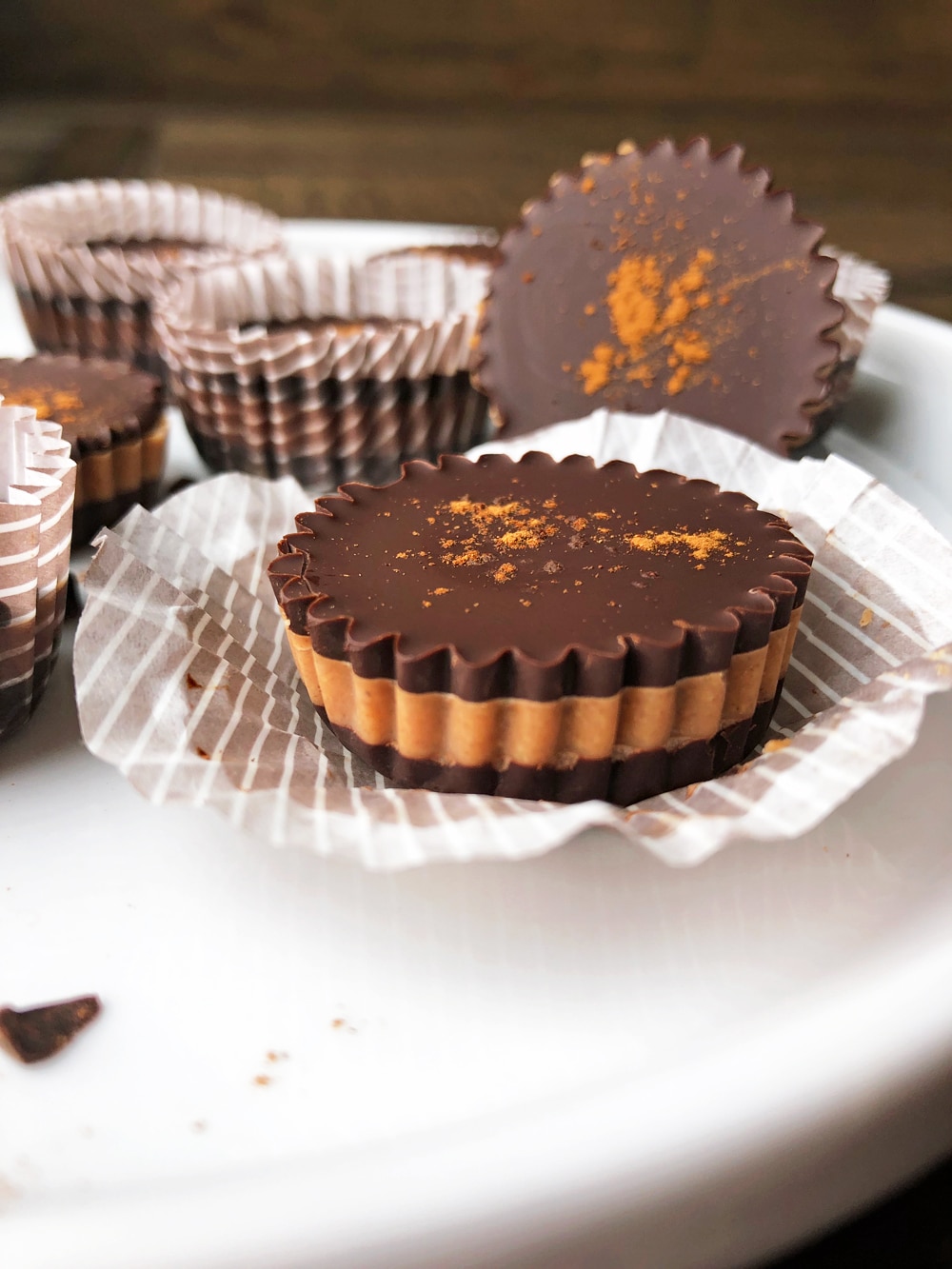 How to Make Your Own Coconut Butter Cups
Homemade coconut butter cups are really easy to make. Gather the necessary ingredients, as well as a small sauce pan, measuring cups/spoons, mini paper cupcake liners (or a mini silicone muffin pan) and a spatula.
First, you need to melt the chocolate on the stove top. Place the chocolate in a small sauce pan and melt over low heat, stirring frequently. Once melted, scoop 1 teaspoon of the chocolate into 12 mini paper cupcake liners. (Or, use a mini silicone muffin pan.)
Place the chocolate in the freezer for a few minutes to set. While setting, melt the coconut butter. Mix the coconut butter with the remaining ingredients (cinnamon hemp oil, cinnamon and sweetener).
Remove the hardened chocolate and pour 1 tsp of the coconut butter mixture onto the chocolate. Freeze for 5-10 minutes.
Lastly, add an additional teaspoon of chocolate onto the hardened coconut butter. Place in freezer to set.
And that's it!  These are best stored in the fridge or freezer.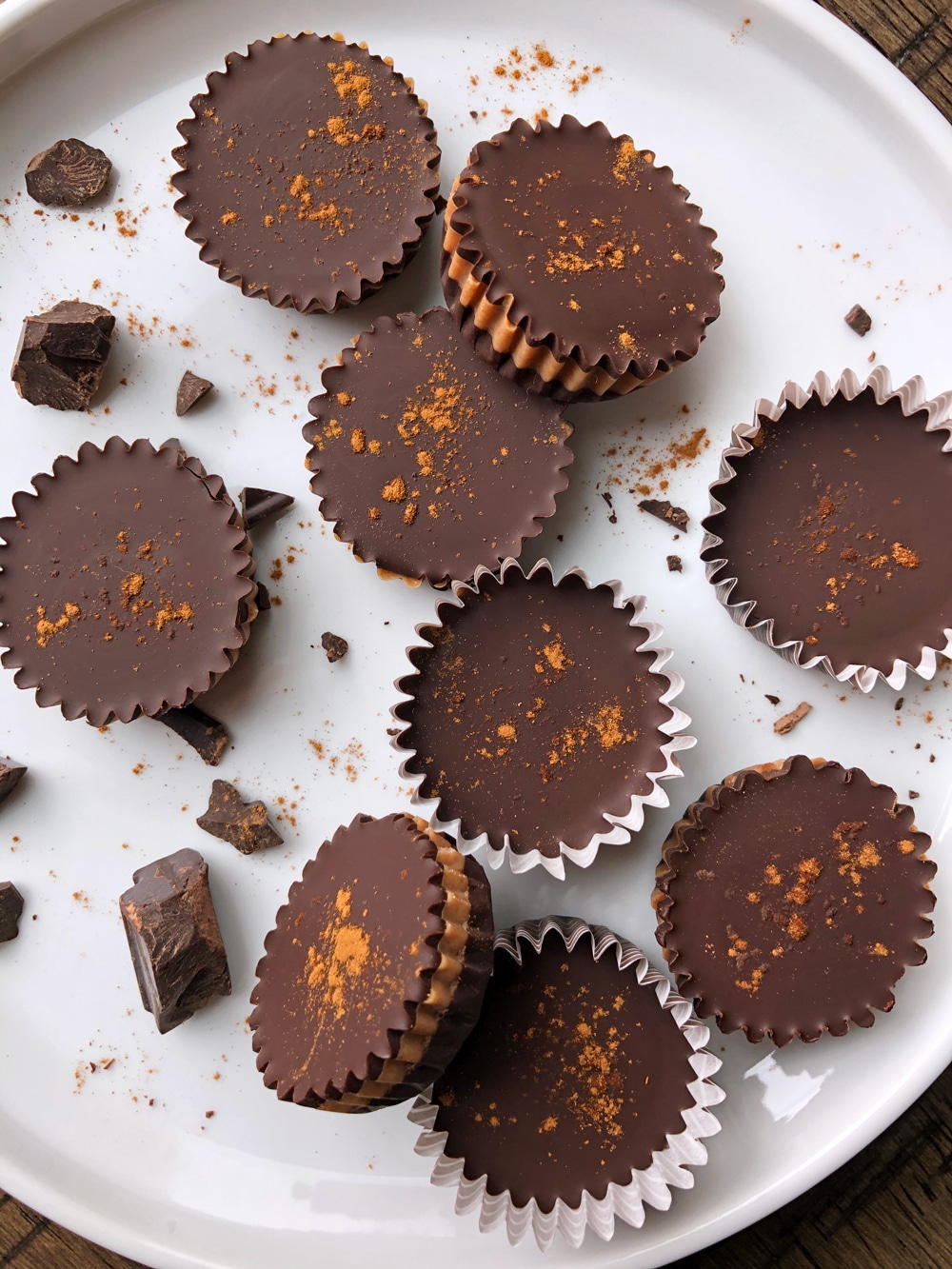 More Recipes using Coconut Butter
Enjoy!
Print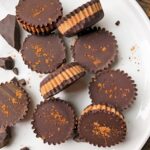 Cinnamon CBD Coconut Butter Cups
Author:

Katie

Prep Time:

20 minutes

Cook Time:

0 minutes

Total Time:

20 minutes

Yield:

12

mini cups

1

x
---
Description
Coconut butter cups made with dark chocolate, coconut butter, cinnamon and CBD oil.  Paleo, Keto, Vegan and allergy friendly.
---
---
Instructions
In a small sauce pan, melt chocolate on low heat, stirring frequently.
Once fully melted, turn off heat and pour about 1 teaspoon of chocolate into 12 mini paper cupcake liners.
Place in freezer and freeze until set. (Only takes a couple minutes.)
Melt coconut butter and mix with CBD oil, cinnamon and monk fruit.
Remove hardened chocolate from freezer and add a teaspoon of coconut butter mixture on chocolate.  Freeze until set.
Remove from freezer and add another teaspoon of chocolate on top of coconut butter, freeze.
Store in fridge or freezer.
---
Keywords: coconut butter, chocolate, dessert, CBD, hemp, nut free, Keto, Paleo, Vegan, Allergy Free