These are the fluffiest Coconut Flour Pancakes! Light and airy, yet moist, flavorful and made with wholesome ingredients. These pancakes are nut free, dairy free, grain free, gluten free and low carb. Simply, the best tasting Paleo Coconut Flour Pancake recipe!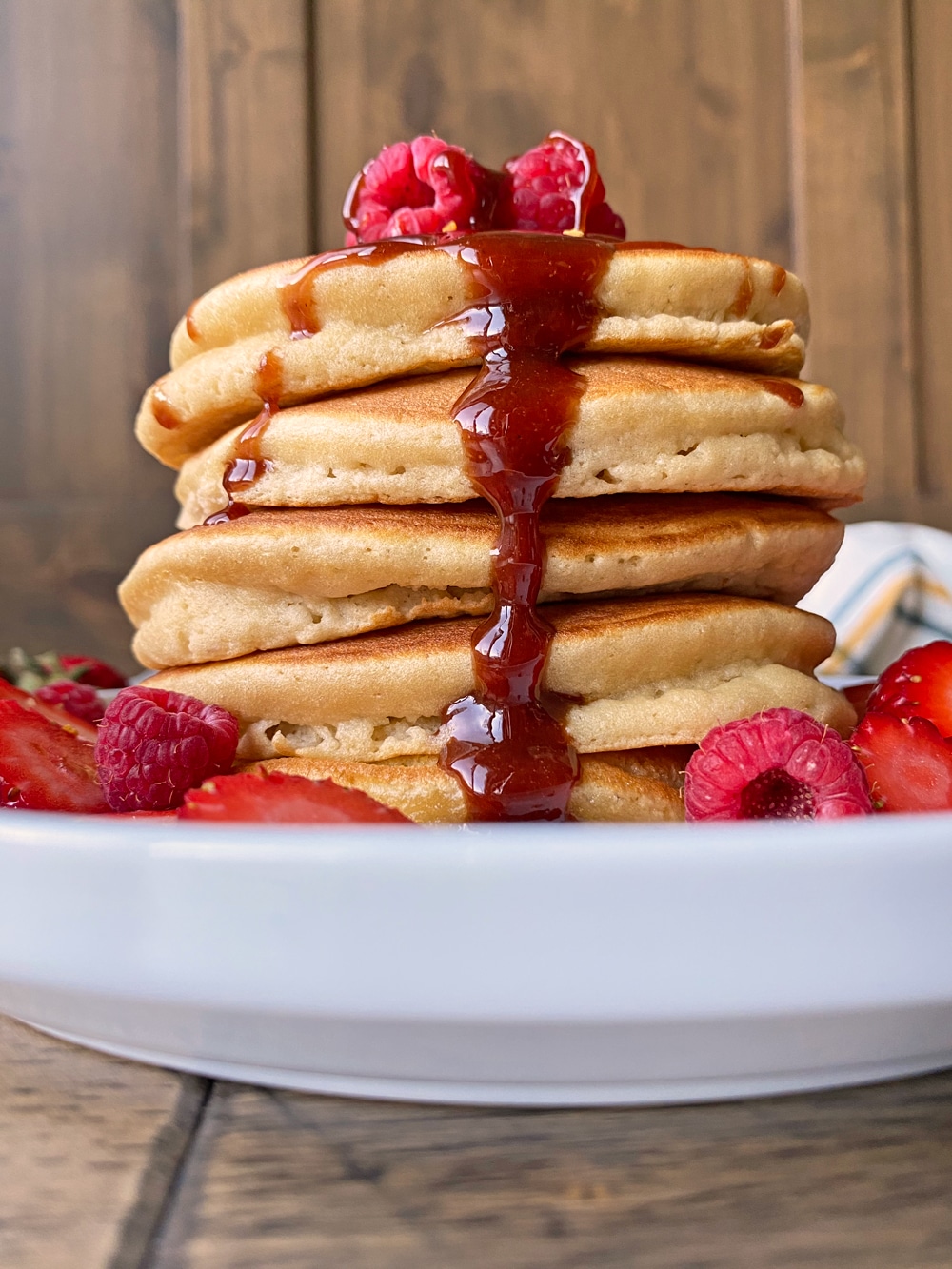 Coconut flour can be tricky to work with.
I remember my first time using coconut flour in a recipe. You know, substituting it for some other gluten free flour blend and being astonished by the results. The disastrous results!
If not used in the right combination, coconut flour will produce dense, dry and flat results - in any recipe. In other words, not something anyone will enjoy eating.
But these easy, dairy free and nut free Coconut Flour Pancakes are something else! THESE pancakes are:
fluffy
moist
full of flavor
nut free
dairy free
Paleo friendly
low carb
They are the perfect solution to a satisfying, low carb pancake breakfast.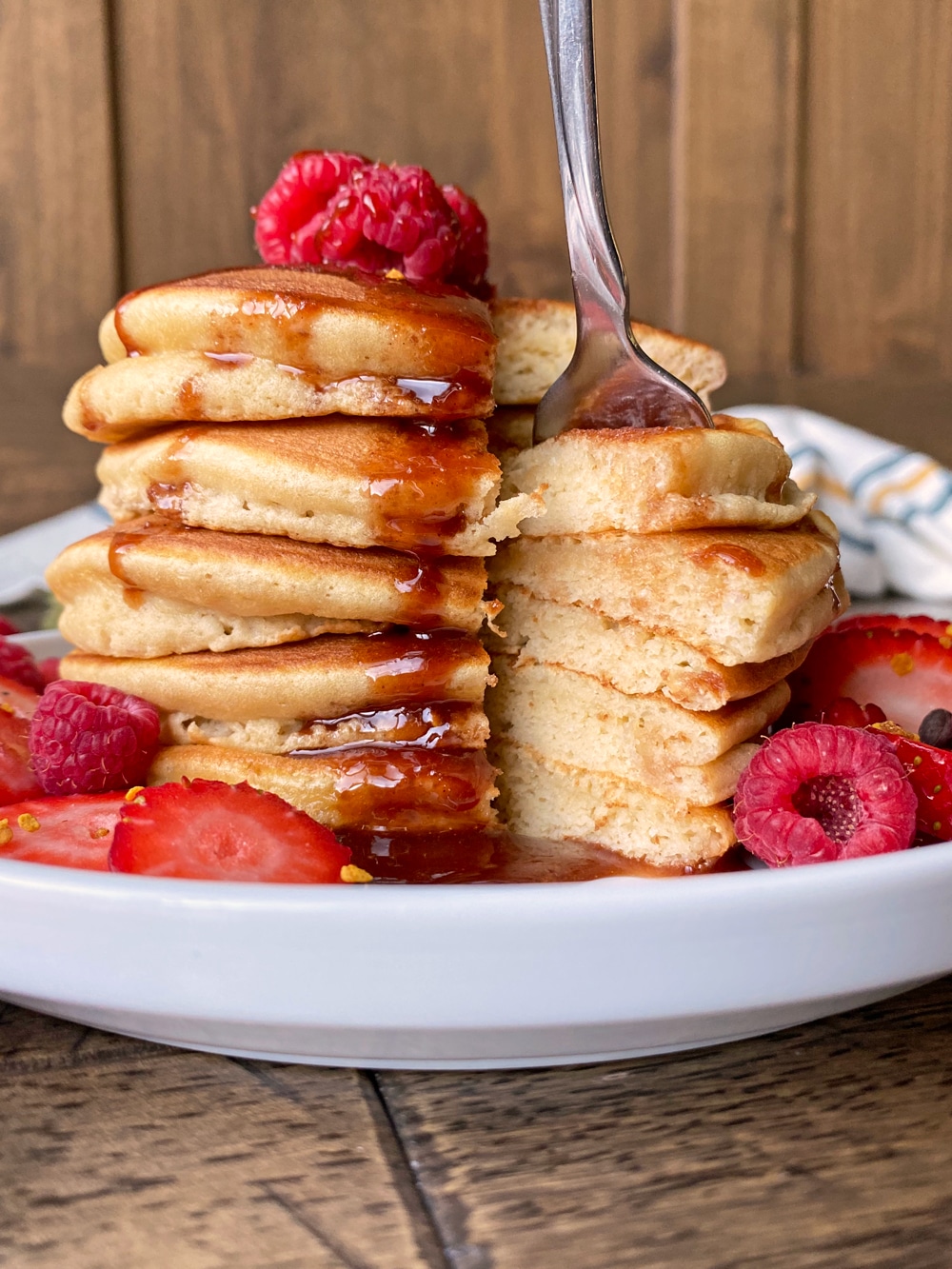 Obviously, these pancakes contain coconut flour. Bob's Red Mill coconut flour to be exact. I've tried many coconut flours in my baking and Bob's is my favorite. I love it's texture and flavor - better than any other brand I've tried.
But, let's dive into all the ingredients needed to make Paleo coconut pancakes...
Ingredients in Dairy Free Coconut Flour Pancakes
Here's what you need:
eggs
maple syrup
vanilla extract
baking soda
salt
oil for cooking
Eggs
Eggs are necessary for this recipe. They make up a majority of the ingredients, help bind the batter and give much needed moisture to this recipe.
Maple Syrup
The maple syrup can be substituted with any liquid sugar or sweetener. Such as, raw honey or sugar free maple syrup.
Tapioca Flour
Tapioca flour is needed to get the right texture for these pancakes. However, you can substitute with another starch such as: arrowroot flour or potato starch.
Baking Powder & Baking Soda
These two ingredients give these pancakes rise and fluff!  I make my own Paleo baking powder, but any brand should do.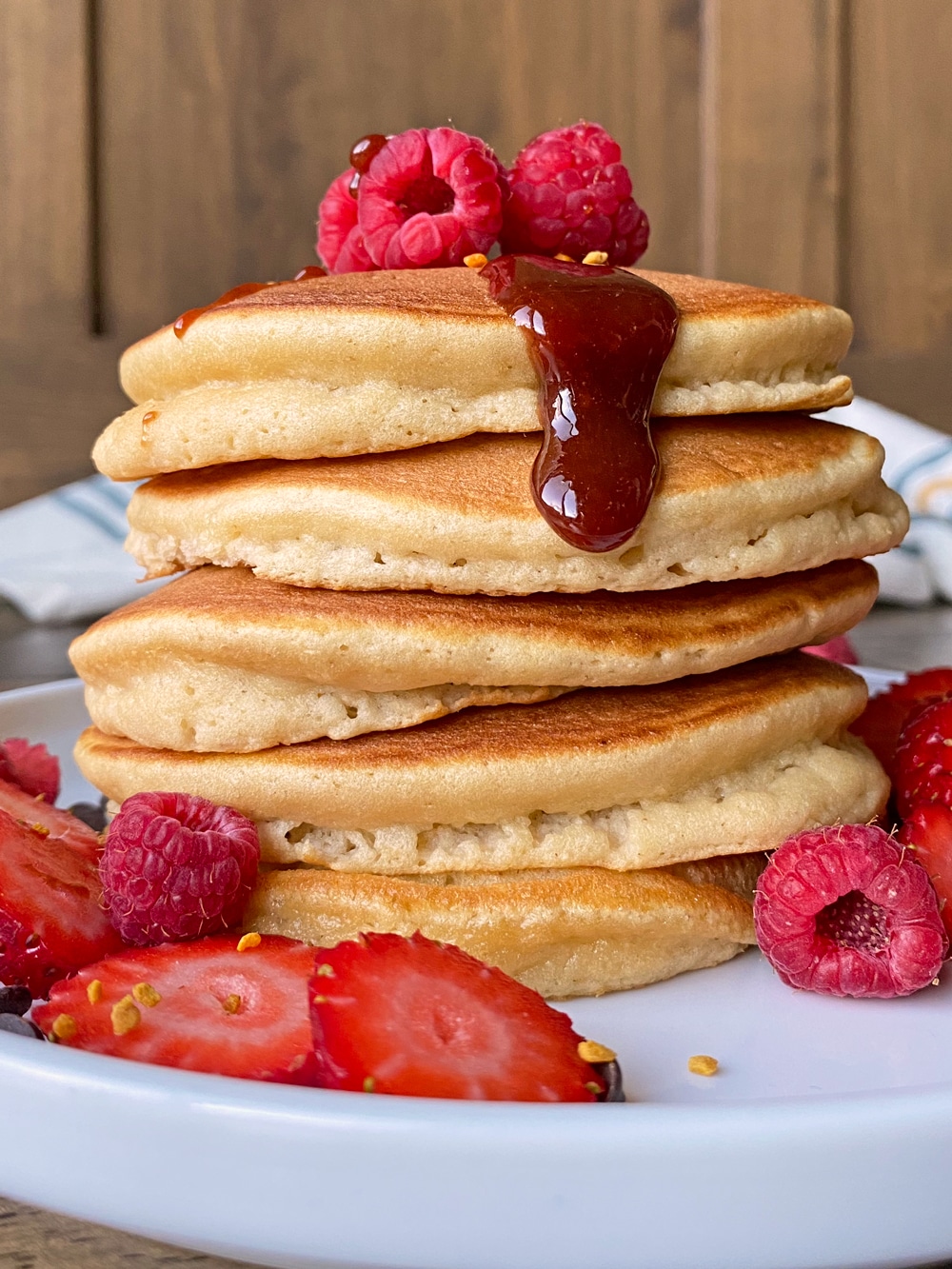 How to Make Coconut Flour Pancakes
Coconut flour pancakes are super easy to make - just like most pancake recipes!
Make the Batter
First, whisk together all wet ingredients. This includes the eggs, maple syrup and vanilla.
Next, add in the dry ingredients and whisk until the batter has a smooth, even texture.  Let the batter sit for at least 5 minutes to thicken.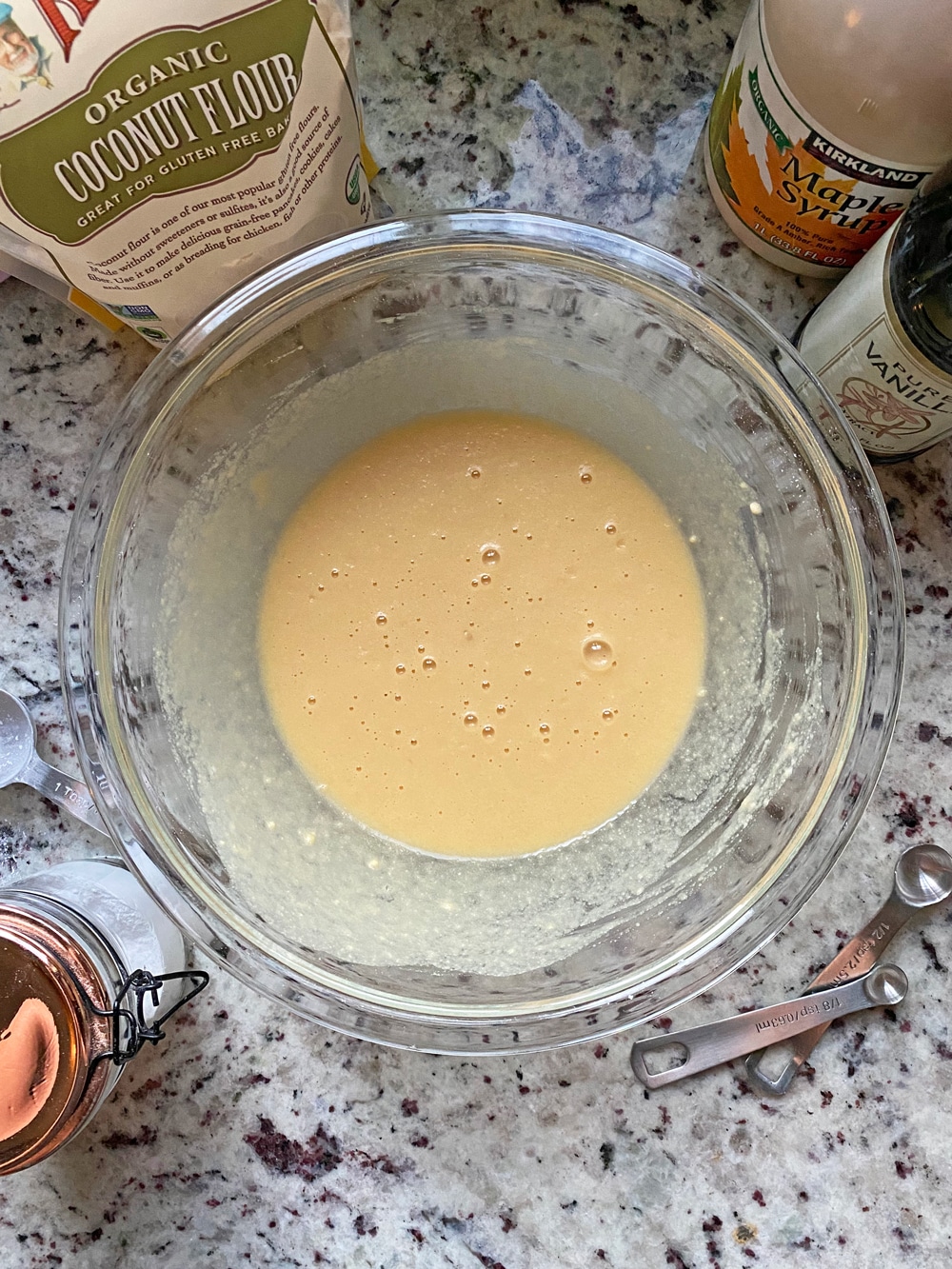 Cook the Pancakes
While the batter is resting, preheat the frying pan on medium-low heat. Add a small amount of oil to coat the pan. (I recommend coconut oil.)
Next, pour ¼ cup batter on the preheated frying pan. Cover and cook until the bottom is golden brown. Flip, and cook a few seconds more.
This simple Coconut Flour Pancake recipe serves one, but can easily be doubled to serve more.  It makes 5 small pancakes, using ¼ cup batter per pancake.  It is great for a nut free, Paleo friendly and filling breakfast.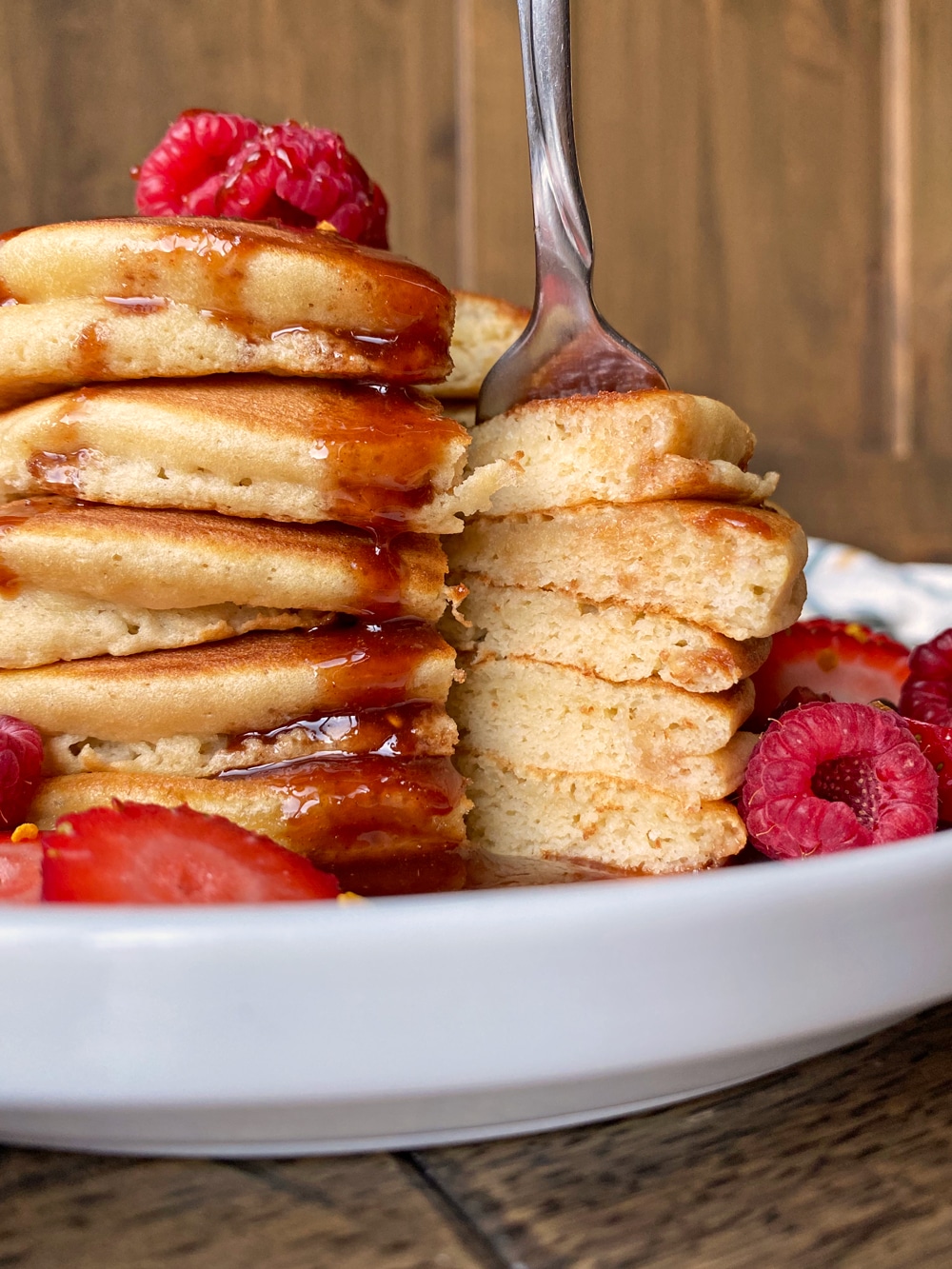 How to Make Coconut Flour Pancakes Fluffy
Cooking with coconut flour can be quite the test of patience. It is unlike any other flour out there. The reason it's tricky to work with is because coconut flour is like a sponge - it soaks up so much liquid! If you don't use coconut flour in the right way, the results will be a thick, dense, dry and flat baked good.
So, to solve the "coconut flour issue", eggs are an important ingredient. As well as, baking powder and baking soda. These three ingredients are what make these pancakes light, fluffy and moist.
Also, it's highly recommended to measure the coconut flour by weight.  As, one cup of coconut flour can vary immensely depending on the brand and how you measure it.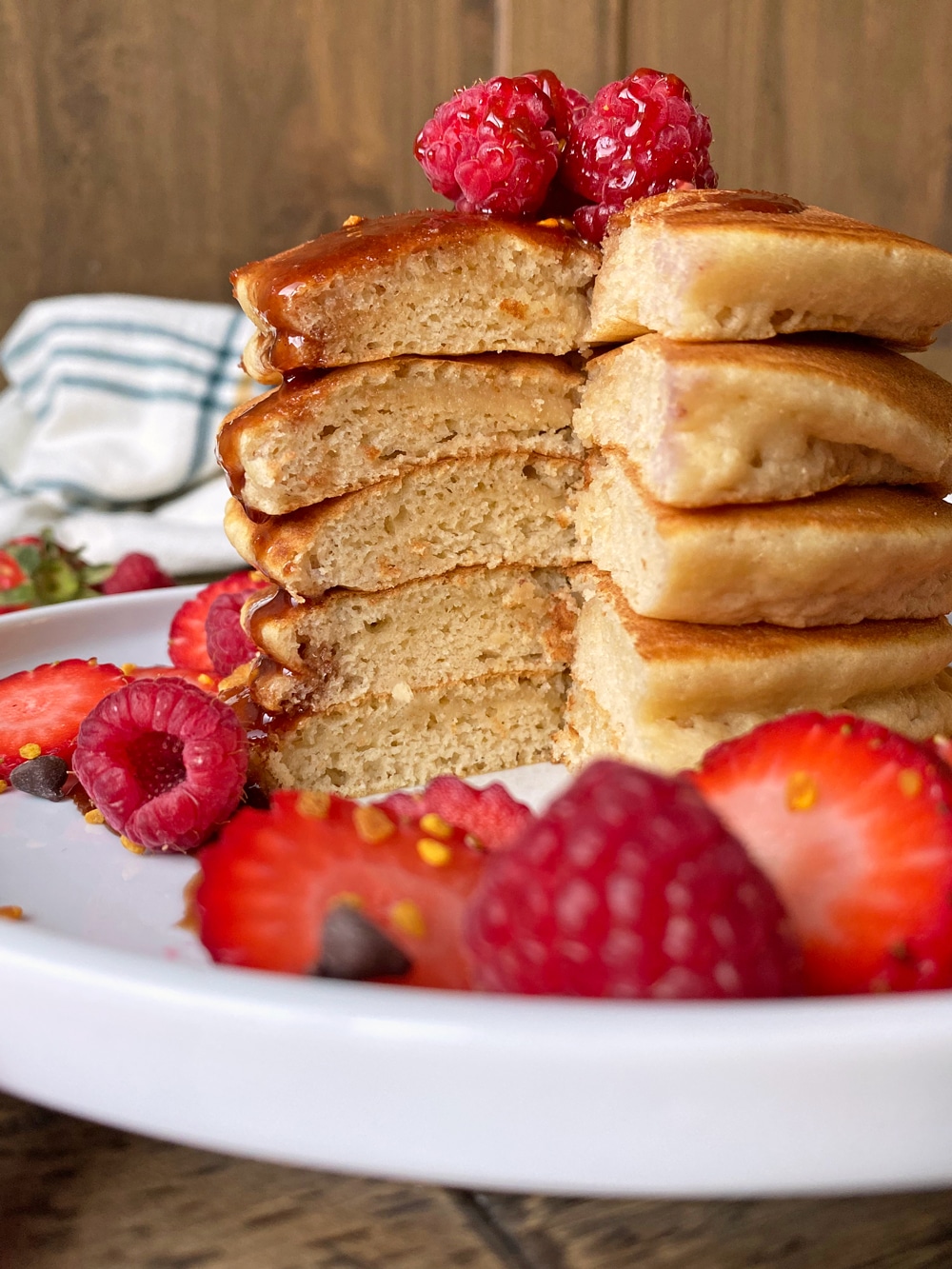 Best Coconut Flour Pancake Toppings
Pretty much any pancake topping would work for coconut flour pancakes. Preferably something sweet as opposed to savory, but really any of your favorite pancake toppings will do.
Some of my favorite Paleo pancake toppings include:
roasted coconut butter
nut butter
homemade sunflower seed butter
dairy free yogurt
dairy free cream cheese
melted, dairy free chocolate
honey
maple syrup
The pancakes in this recipe were topped with Cacao Superfood Honey, bee pollen, fresh raspberries, strawberries and mini chocolate chips.
More Paleo Recipes Using Coconut Flour
For more great coconut flour recipes, check these out:
Enjoy!
Print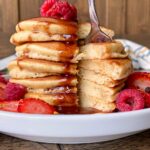 Coconut Flour Pancakes (Dairy Free, Nut Free)
Author:

Katie

Prep Time:

10 min

Cook Time:

25 min

Total Time:

35 min

Yield:

5

pancakes

1

x
---
Description
Easy dairy free and nut free Coconut Flour Pancakes.  These low carb pancakes are perfect for a simple weekend breakfast.
---
---
Instructions
In a medium sized mixing bowl, combine eggs, maple syrup and vanilla.  Whisk.
Add in remaining ingredients, whisk.
Let batter sit for 5 minutes to set.  While you wait, preheat frying pan on medium-low heat.
Grease pan with oil (I used coconut oil) and pour ¼ cup batter on pan.  Cover and cook on medium-low heat until golden brown on the bottom.
Flip pancake and cook about 1 min more, or until pancake is cooked through.
Repeat steps 4-5 until no more batter remains.
---
Keywords: pancakes, coconut, nut free, Paleo, breakfast