These no-bake Collagen Cookie Dough Bars are a delicious, high protein, low carb recipe. Healthy enough for snacking, yet indulgent enough for dessert. They are completely gluten free, grain free, nut free, Paleo and keto friendly.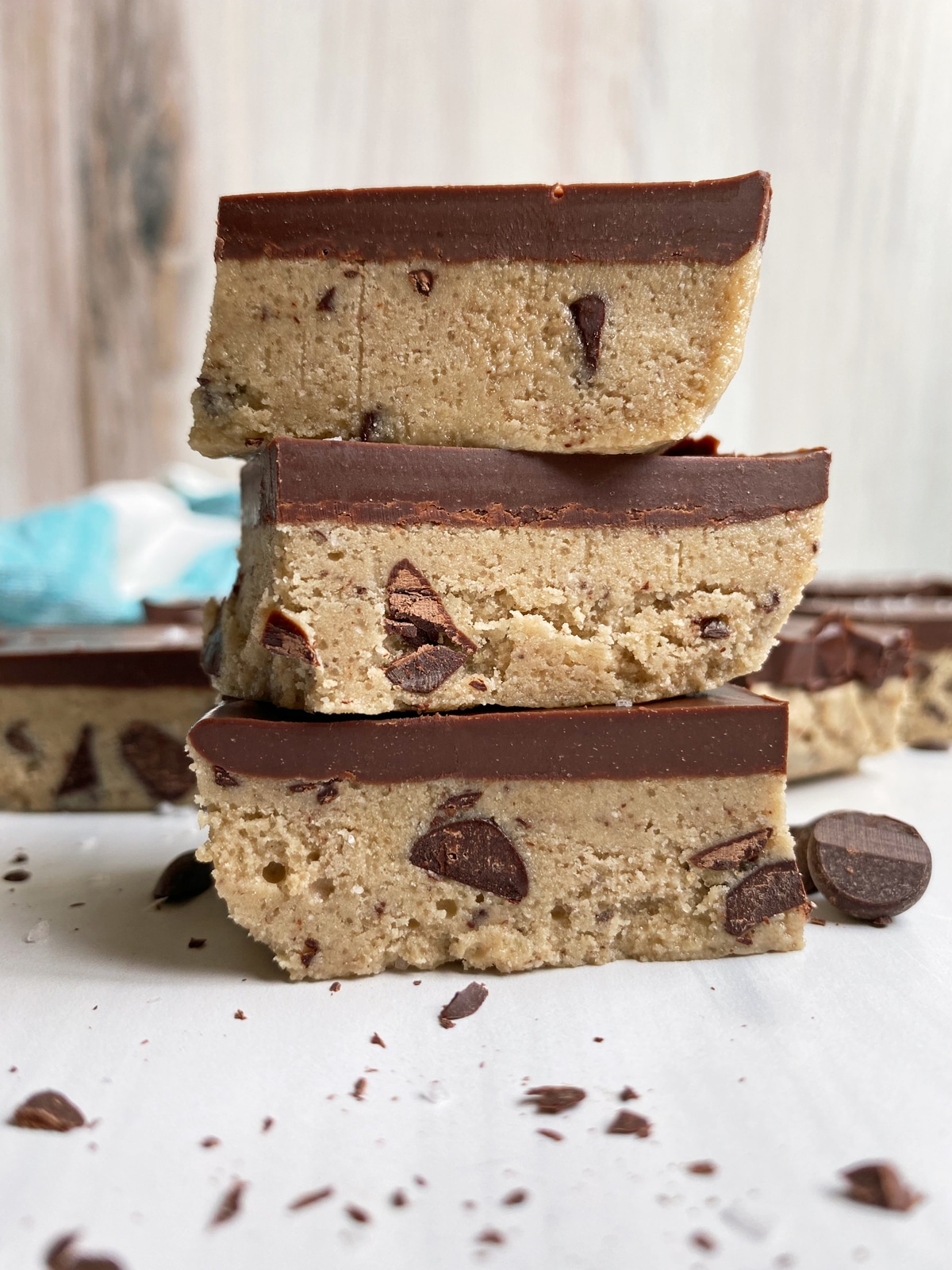 Who doesn't love cookie dough?!
Cookie dough is one of those treats that's hard for nearly anyone to resist. Especially when it's egg free, low carb and tastes decadent but is secretly healthy.
If you're a cookie dough lover, you will be head over heels for these collagen cookie dough bars!
These keto collagen bars have a soft, low sugar cookie dough base and a creamy chocolate topping. This healthy recipe tastes indulgent, but is low in sugar and carbs and high in healthy fats and protein.
Recipe Highlights
These homemade collagen protein bars are:
Paleo
Keto
Nut Free
Dairy Free
Gluten Free
Egg Free
No Bake
With as list like this, what's not to love?!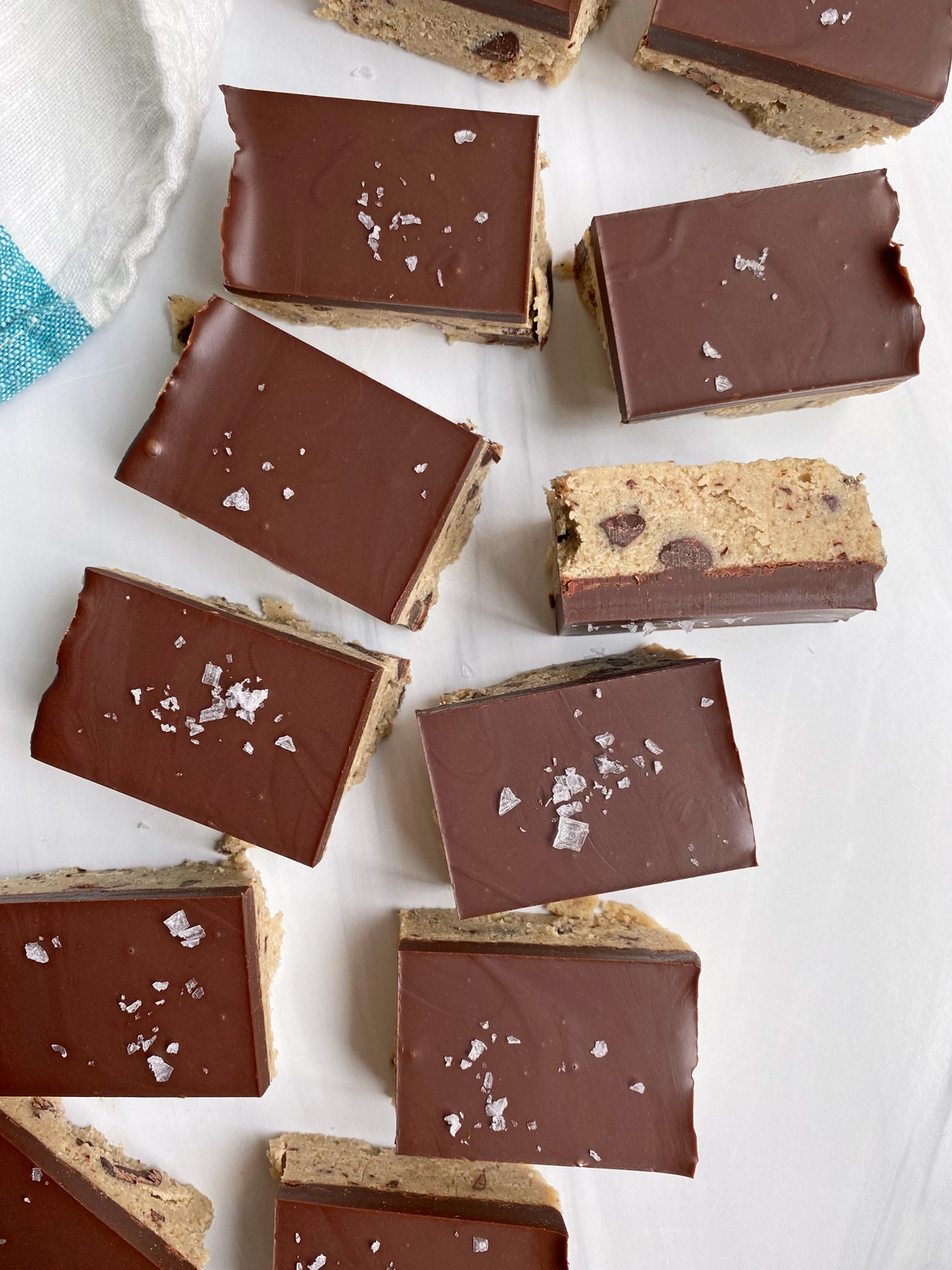 Healthy Cookie Dough Bars
What makes these collagen protein bars healthy? Well, first off they are sweetened with monk fruit. This low carb, low calorie sweetener is perfect for both Paleo and Keto desserts. It doesn't have an after-taste and can be subbed 1:1 for conventional sugar.
Secondly, these cookie dough bars contain multi collagen protein from Ancient Nutrition. Their collagen is:
100% grass fed & pasture raised collagen from beef, chicken, fish and eggshells
paleo, keto, gluten free, dairy free and nut free
contains type I, II, III, V and X collagen
comes in multiple flavors (I used vanilla collagen)
nourishing for the body - supports healthy joints, hair, nails, gut and skin
I love using collagen in recipes because it is great for the health of your hair, skin, nails, cartilage and joints. Collagen can also improve digestion and help maintain a healthy gut lining.
It's one of those supplements that I include daily in my diet. Usually, I add a scoop to my morning coffee. But I also love using collagen in baked goods (or, no-bake treats in this case).
Best Collagen Peptides
I've tried many brands of collagen. As, there are a lot of great ones out there. When buying collagen, I always look for a brand that is: 100% grass fed, gluten free and dissolves well in liquid.
Ancient Nutrition's multi collagen peptides meet all these requirements. Their product is delicious, sourced from well raised animals, gluten free, non-GMO and dissolves well in my morning coffee. Not to mention, is perfect in these chocolate collagen bars.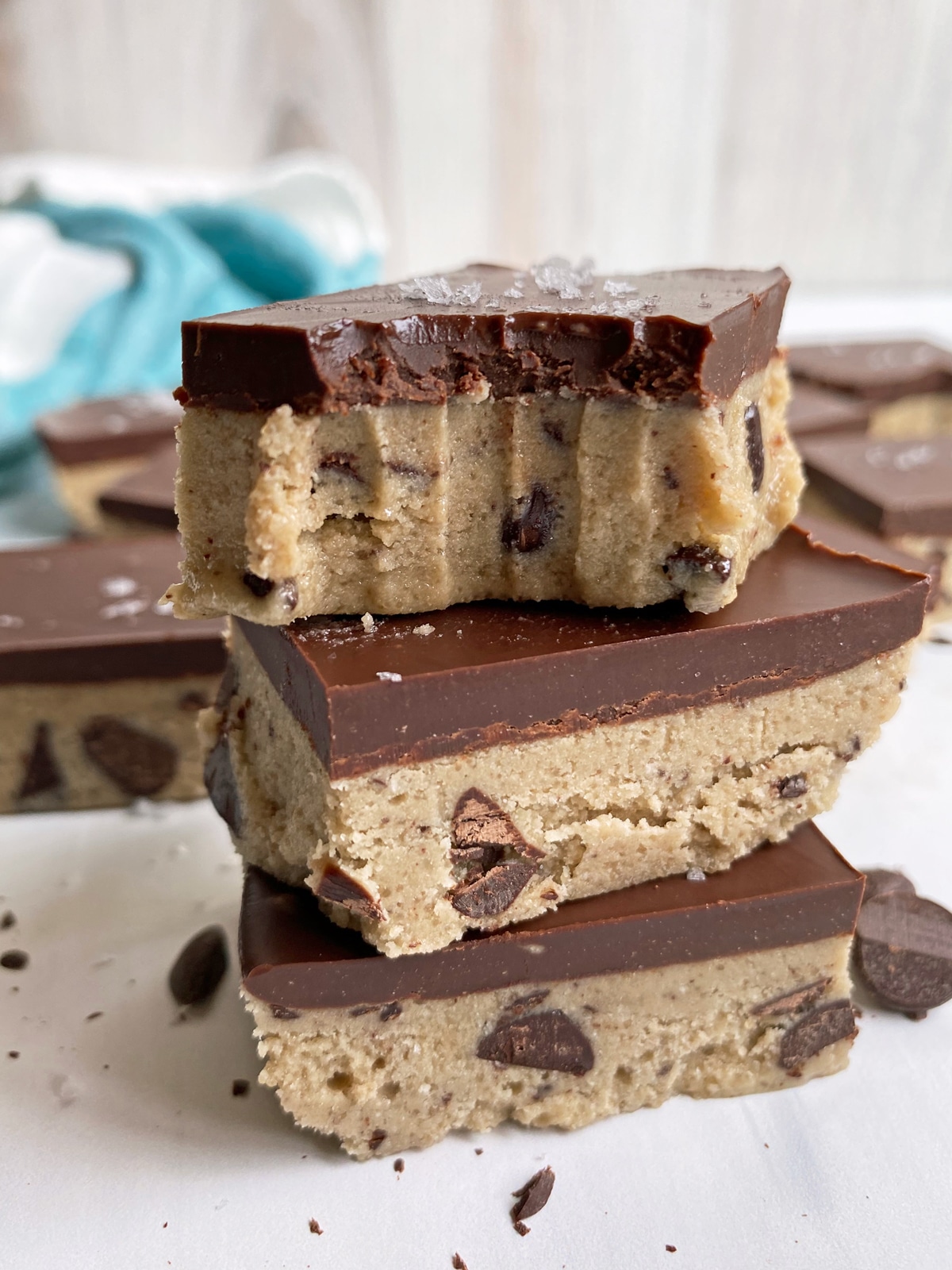 There's more to these bars than just collagen...so let's dive into the ingredients!
Ingredients in Collagen Cookie Dough Bars
A few simple ingredients are needed to make these low carb cookie dough bars. Here's what you need:
tahini: you may sub any nut/seed butter, but I love the taste of tahini
coconut oil: needed for texture purposes
monk fruit sweetener: you may substitute with any granulated sugar. A great paleo option would be coconut sugar.
vanilla extract: for flavor
collagen peptides: any brand/flavor should work but I used Ancient Nutrition's vanilla multi collagen peptides.
coconut flour: needed to thicken the cookie dough layer. I do not have any substitutions to recommend.
chocolate chips: for the cookie dough layer and the chocolate topping
flaked sea salt: optional topping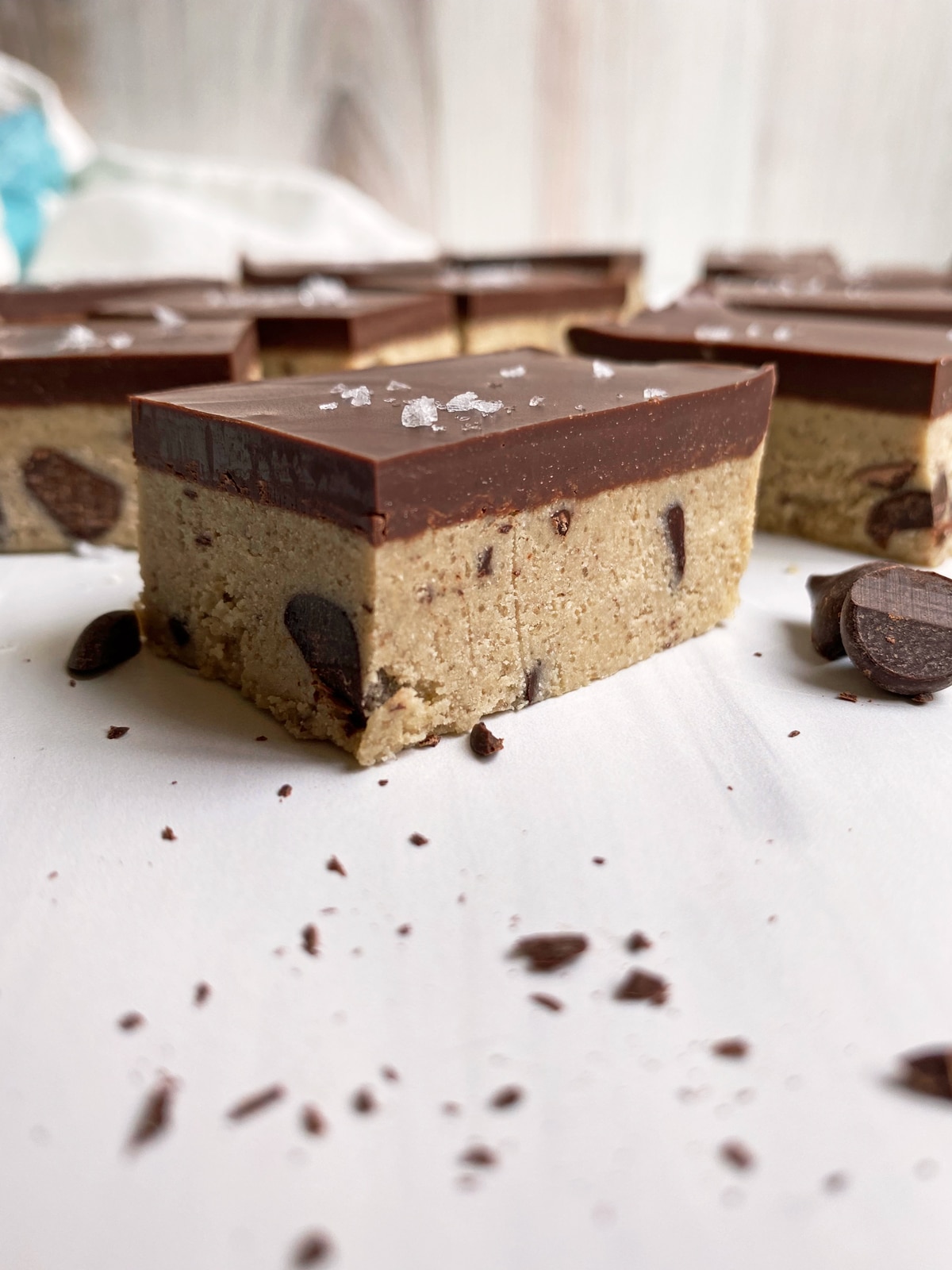 How to Make Collagen Bars
These easy collagen cookie dough bars don't require any baking! Perfect for a simple Paleo summer dessert or a quick Keto-friendly snack.
Make the cookie dough
To make these bars, first combine the tahini, coconut oil, vanilla and monk fruit in a medium-sized bowl. Mix the batter until it has a smooth, even consistency.
Next, add in the collagen and coconut flour. Mix well, then stir in the chocolate chips. I chopped up regular sized chocolate chips, but you could also use mini chocolate chips.
Pour the cookie dough into a lined 8" x 4" baking pan. Smooth the dough using a spatula so that it is an even, level layer. Then, place the dough in the freezer for 15 minutes to set.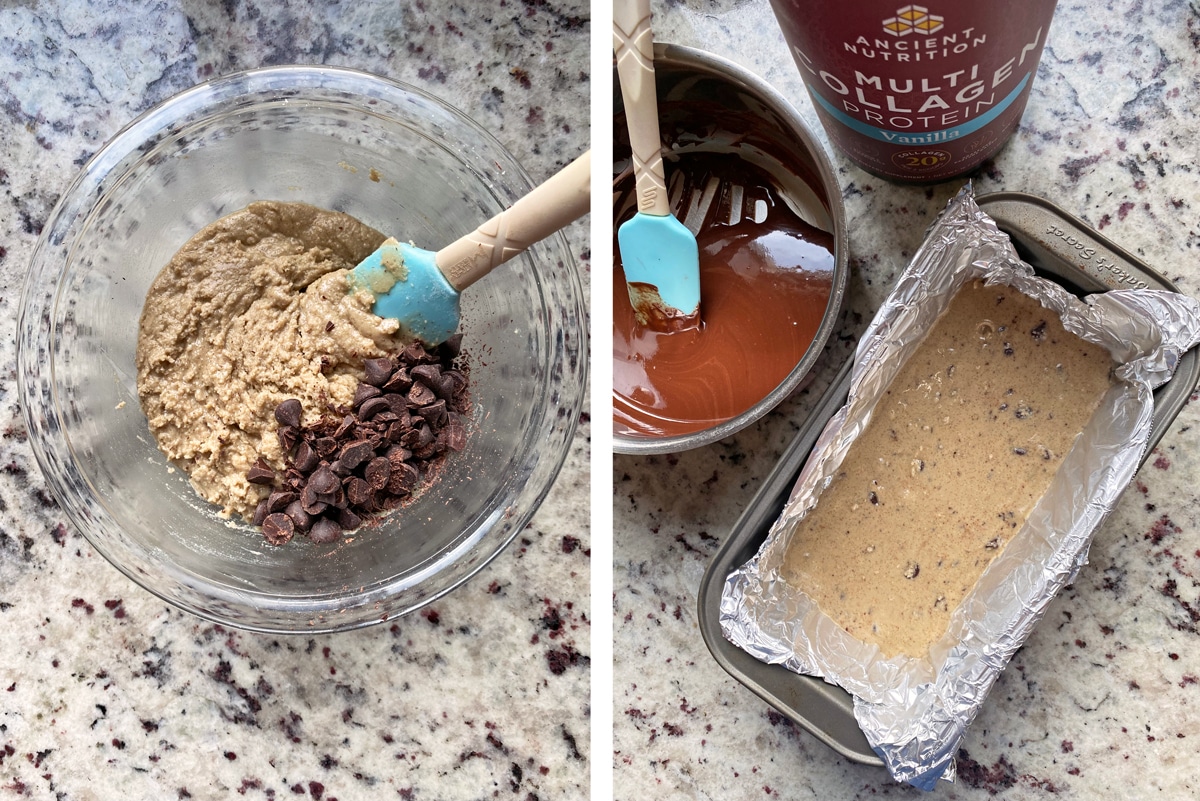 Make the chocolate topping
While the dough is in the freezer, make the topping.  Simply, melt the chocolate chips in a small sauce pan, over low heat.  Once fully melted, mix in the tahini, then set aside to cool for a few minutes.
Then, remove the cookie dough layer from the freezer and pour on the chocolate topping. Use a spatula to spread the chocolate topping, making an even, level layer.
Place the bars back in the freezer for 20 minutes to set. Once fully set, they can be cut to desired size and eaten!
Optional: add a pinch of flaked sea salt on top.
Storage
These collagen cookie dough bars must be stored in the fridge or freezer. At room temperature, the base becomes soft - just like cookie dough!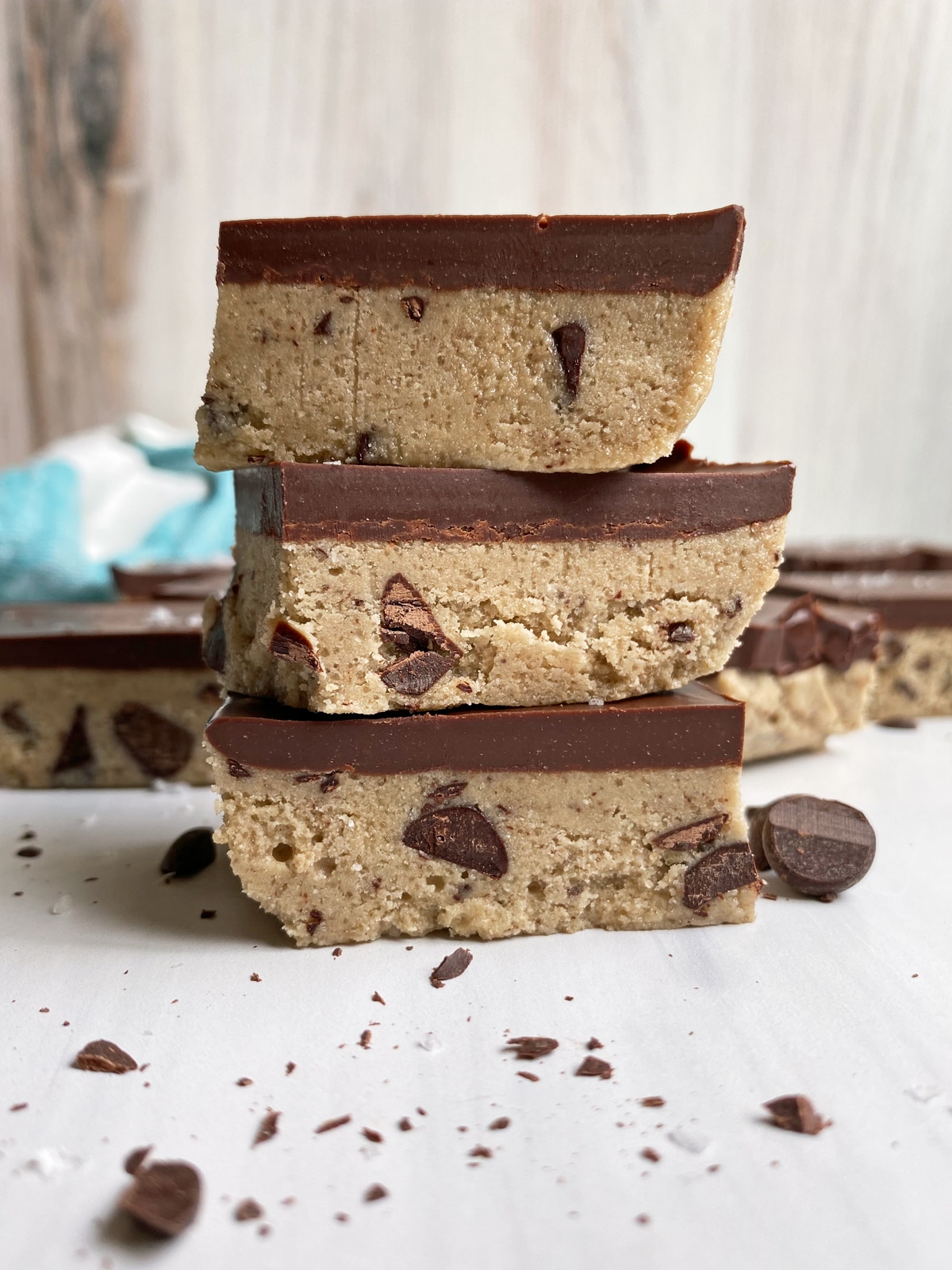 Frequently Asked Questions
Are collagen bars good for you?
These homemade collagen protein bars are good for you. Why? Because they contain a list of healthy, real food ingredients. Now, do I still consider them a treat? Yes, absolutely. Although healthy, I consider these more of a dessert simply because they taste sweet and are quite decadent.
Are these collagen bars vegan?
No, these are not vegan collagen bars because they contain collagen from animal sources. If you are vegan but okay with consuming fish then you can use a marine collagen instead.
Is it good to take collagen every day?
For most people consuming a little collagen every day is great! It helps with exercise recovery, promotes thick, healthy hair, improves skin elasticity and can reduce joint discomfort. Collagen is a great supplement to add to your daily routine.
More recipes using collagen
Looking for more paleo friendly recipes that use collagen? Here are some great ones to check out:
Enjoy!
Print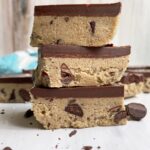 Collagen Cookie Dough Bars (Paleo, Keto, Nut Free)
Author:

Katie

Prep Time:

45 minutes

Cook Time:

0 minutes

Total Time:

45 minutes

Yield:

8

" x 4" pan

1

x
---
Description
Low sugar cookie dough bars made with collagen, coconut and tahini and topped with dark chocolate.  Paleo, Keto, egg free and dairy free!
---
---
Instructions
For the bars: mix together tahini, coconut oil, monk fruit and vanilla until smooth.
Add in the collagen and coconut flour.  Mix well.
Fold the chocolate chips into the dough.
Pour the dough into a lined 8" x 4" baking pan and set in the freezer for 15 minutes to harden.
For the topping: Place chocolate chips in a small sauce pan.  Melt on the stove top over low heat, stirring frequently.
Once the topping is fully melted, remove from heat, mix in the tahini and cool for 5 minutes.
Take the bars from the freezer and pour the melted chocolate on top.  Using a spatula, smooth chocolate to the sides, fully covering the dough.  Optional: top with a bit of flaked sea salt.
Place back in the freezer for 20 minutes to set.
Remove from freezer and cut to desired size (I made 12 bars).
Store in fridge or freezer.
---
Keywords: cookie dough, collagen, Paleo, Keto, nut free, dairy free, low sugar, dessert, homemade collagen bars, keto collagen bars, paleo cookie dough bars, chocolate collagen bars, collagen bars recipe