These homemade Paleo Sunbutter Cups are a great low carb dessert option. In addition to being paleo, they are also keto, vegan and free of top allergens (nut free). This easy chocolate recipe makes a great holiday gift (Valentine's, Halloween) or after-dinner treat.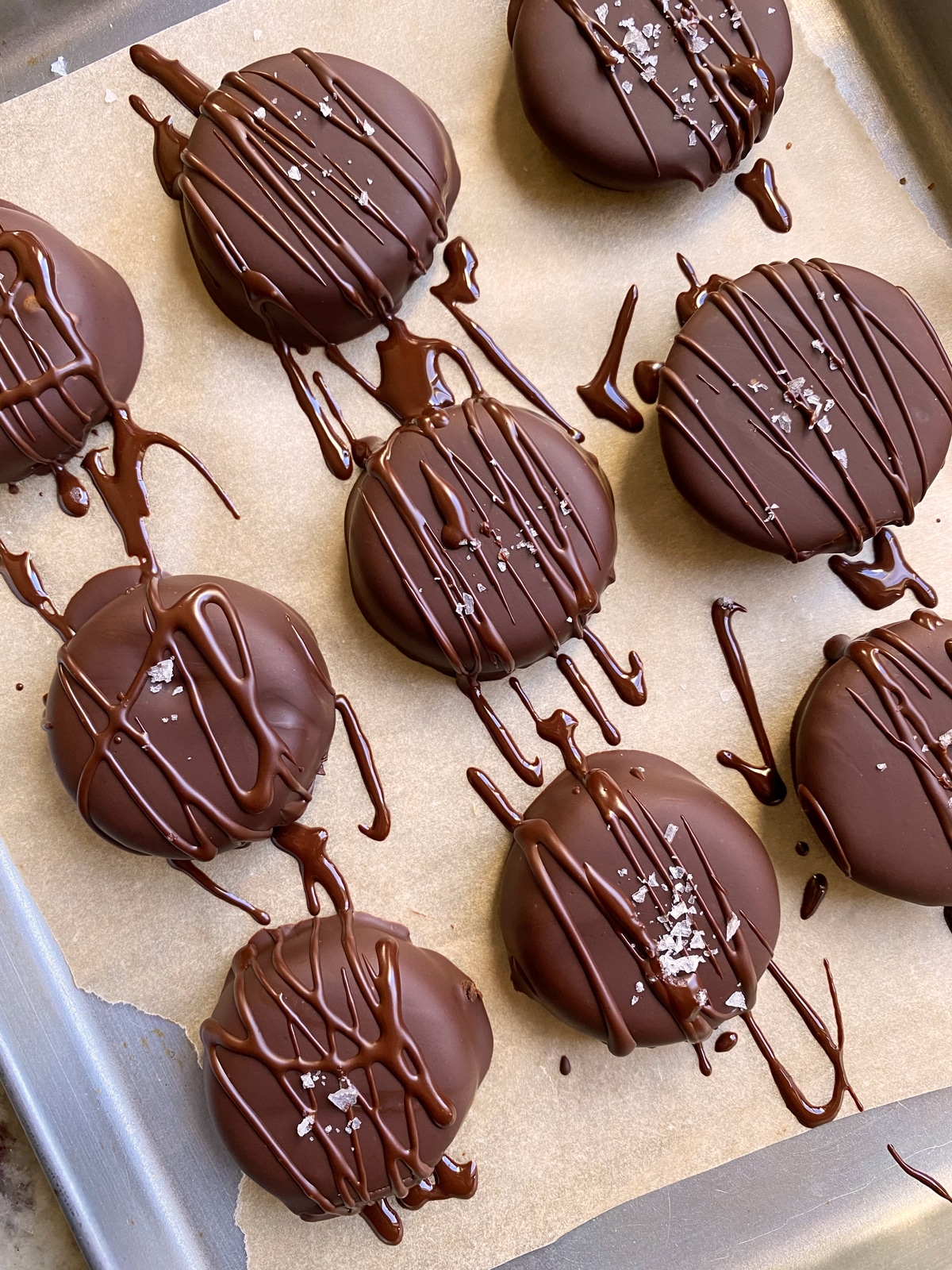 Everyone in my family loves Reese's peanut butter cups, so there was no doubt in my mind that this paleo Sunbutter Cups recipe would be a hit.
These Sunbutter cups are similar to a Reese's, but the filling is made with sunflower seed butter and sweetened with powdered monk fruit. Which makes this a nut-free, paleo, keto AND vegan dessert recipe!
These vegan sunflower butter cups are super easy to make and great for satisfying your sweet tooth without going overboard on the sugar. They'd also make a fun Valentines day gift or Halloween treat - much healthier than a store bought box of chocolates or Reese's.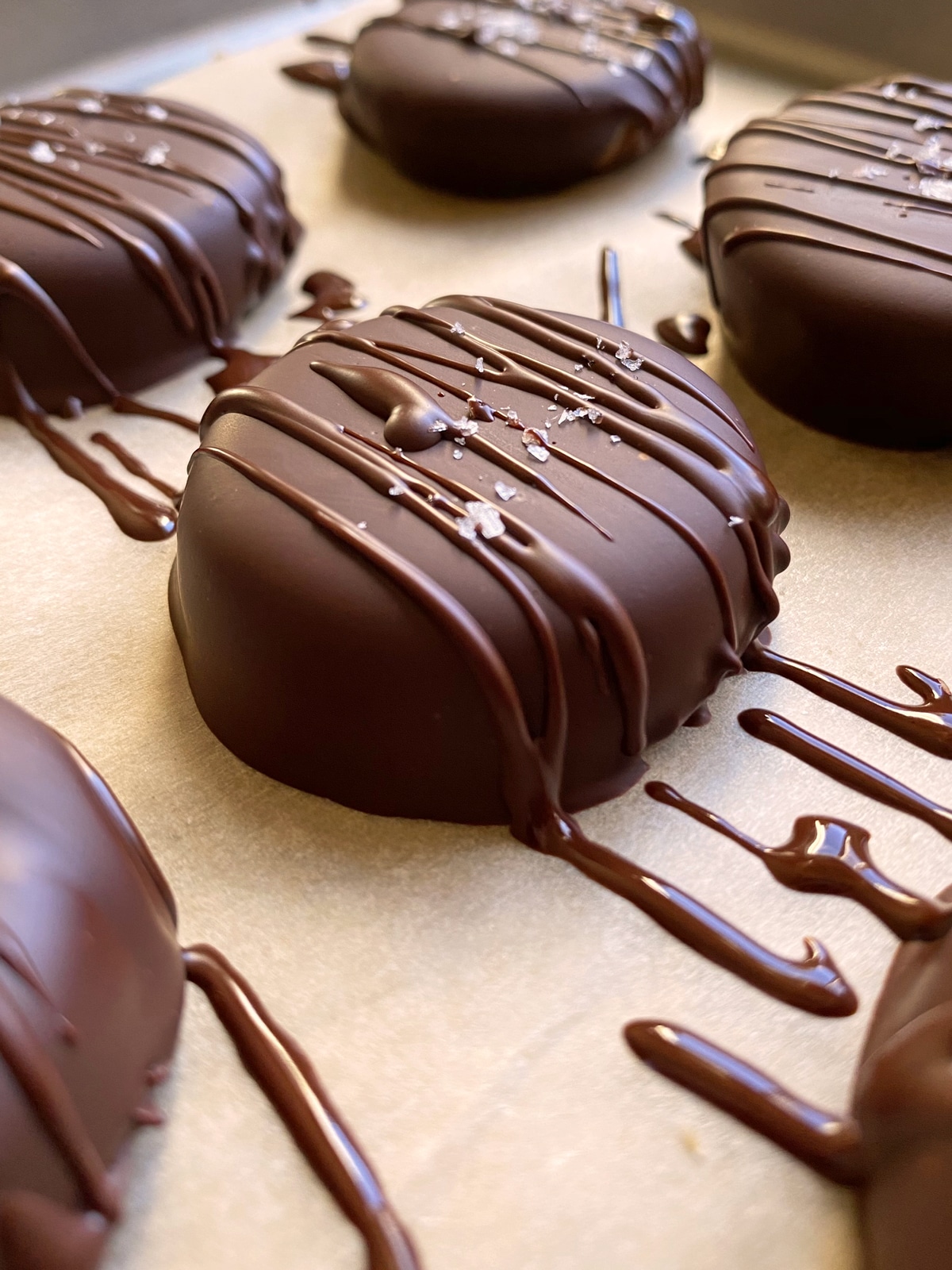 Ingredients in Homemade Sunbutter Cups
Here's a list of the ingredients needed to make these sunbutter chocolate cups:
Sunbutter
Sunflower seed butter is obviously the main ingredient in these homemade sunbutter cups. In order for this recipe to be both Paleo and keto, then be sure to use unsweetened sunflower seed butter.
Cacao Butter
The cacao butter helps solidify the filling, making these cups easier to dip into dark chocolate. The best substitutes would be coconut oil or coconut butter, but I prefer using cacao butter. (For more recipes using cacao butter, check out my pumpkin protein bars, maple fudge and mint chocolate energy bites.)
Powdered Monk Fruit
The best way to sweeten the filling is to use a powdered sugar. Powdered monk fruit sweetener is Paleo, Keto and Vegan, plus it's the only sweetener that I like because it does not have an aftertaste (IMO). If you don't care about this recipe being Paleo or keto, then a regular powdered sugar will work.
Using a granulated sugar like coconut sugar will give the filling a bit of a grainy texture, which will taste fine but the texture is not ideal. Honey or maple syrup are also an option but will slightly change the texture and taste.
The last option with the sweetener is to omit it completely.
Dark Chocolate
There are a ton of dark chocolate options. Use whatever chocolate meets your dietary needs (Paleo, Keto, Vegan).
Coconut Oil
Coconut oil makes the chocolate smoother and runnier, therefore easy for dipping. That being said, it is not a necessity and can be left out of the recipe.
Flaked Salt
The flaked salt is just for decoration - it may be left out.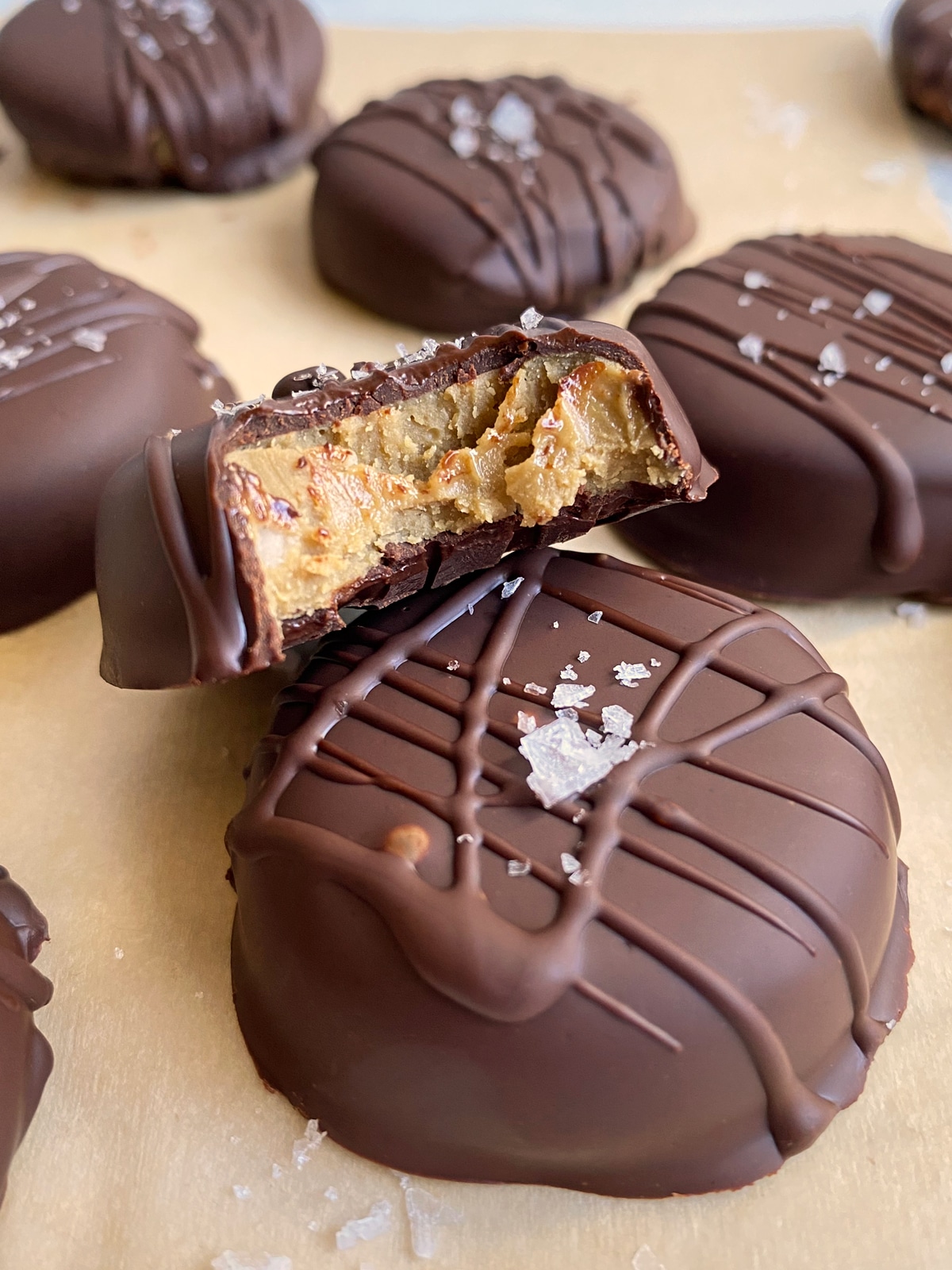 How to Make Sunbutter Cups
These keto Sunbutter Cups are easy to make - perfect for a quick sweet treat. Here's what you need to do:
First, melt the cacao butter on the stove top, over low heat. (Melting it in the microwave works as well.)
After the cacao butter is melted, turn off the heat and add in the sunflower seed butter and powdered monk fruit.
Pour the filling mixture into a mini silicone muffin pan. Each cup should have about 1 tablespoon of the filling, making 10 cups.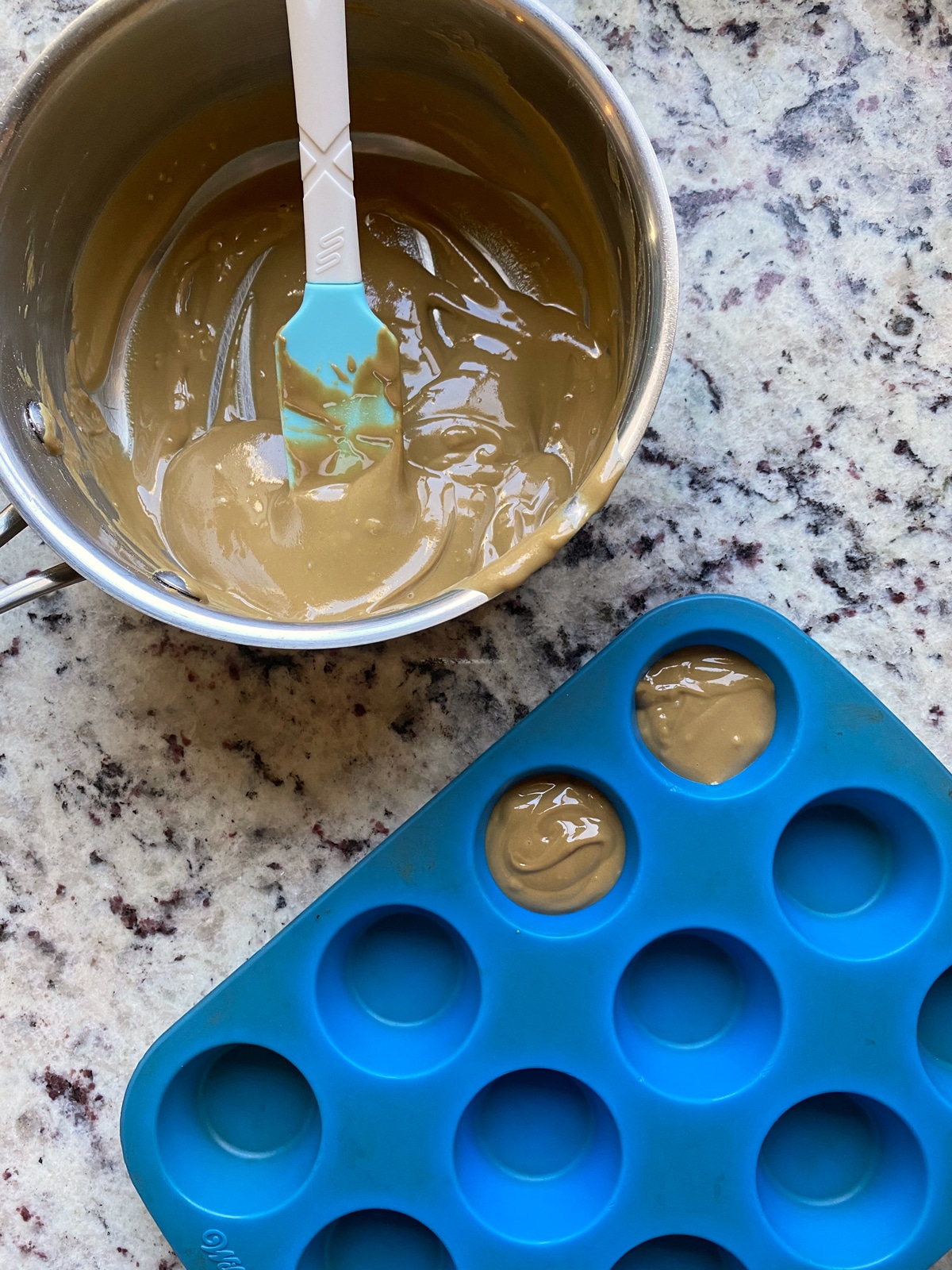 Place the filling in the freezer and chill for at least 20 minutes (longer is better because they will be extra firm, making them easy to dip in chocolate).
Next, make the chocolate coating. Add the dark chocolate and coconut oil to a small sauce pan. Melt on the stove top, over low heat.
Once fully melted, grab the fillings from the freezer and remove them from the silicone pan.
Individually dip each filling into the dark chocolate, then place them on a sheet of parchment paper. (I recommend putting the parchment on top of a hard, flat surface such as a baking pan or cutting board.)
Drizzle the leftover chocolate on top of the sunbutter cups and add a pinch of flaky sea salt.
If necessary, place the cups back in the freezer for the chocolate to fully set.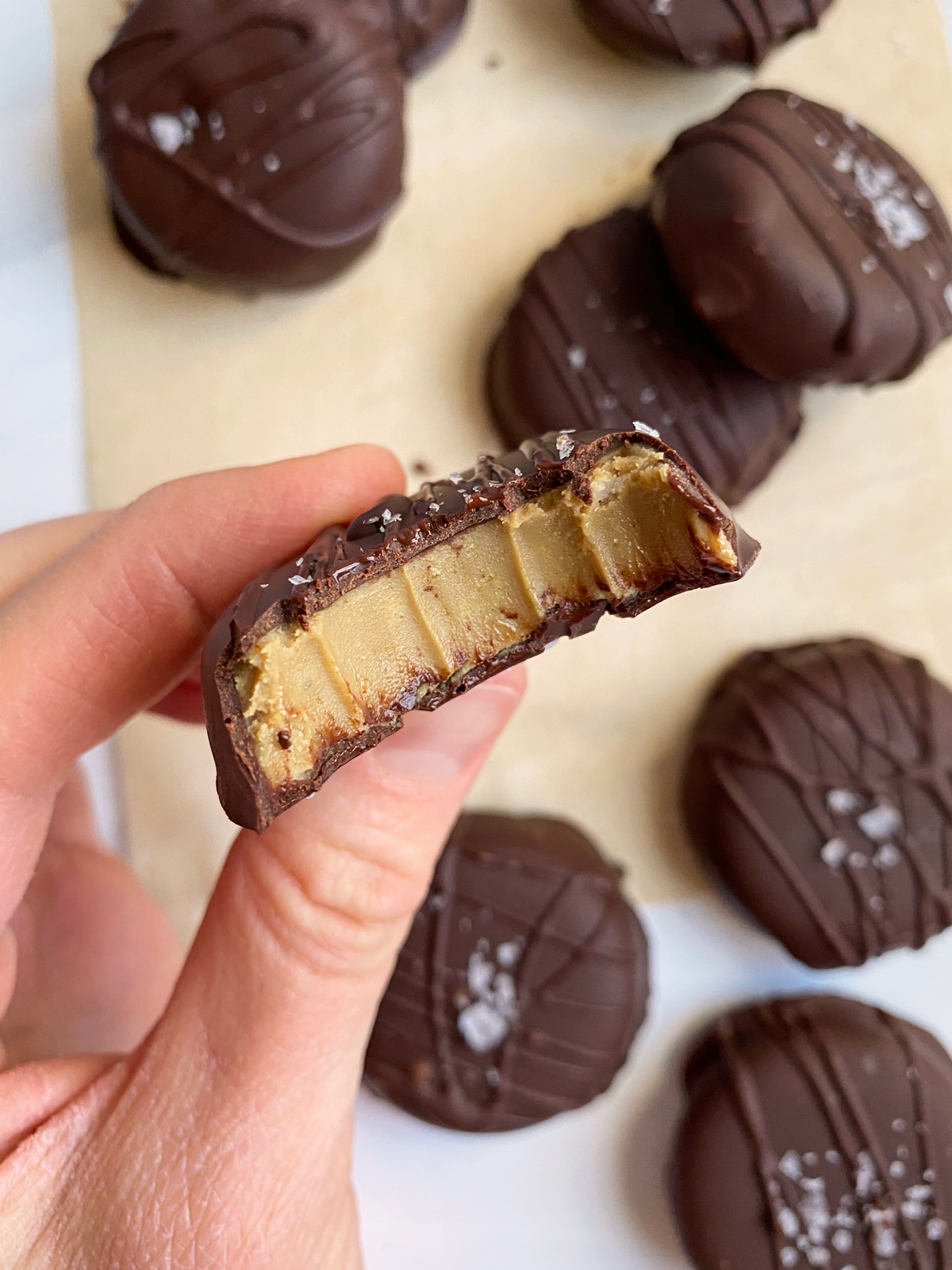 How to Store Sunbutter Cups
These paleo vegan Sunbutter Cups are best stored in the fridge or freezer. Place them in a sealed container or baggie for up to two weeks in the fridge, 2 months in the freezer.
More Sunbutter Dessert Recipes
Enjoy!
Print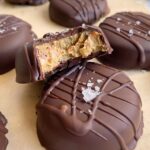 Paleo Sunbutter Cups Recipe (Keto, Vegan)
Author:

Katie

Prep Time:

40 minutes

Cook Time:

0 minutes

Total Time:

40 minutes

Yield:

10 cups

1

x
---
Description
Healthy, homemade Paleo Sunbutter Cups made with sunflower seed butter and covered in dark chocolate.
---
---
Instructions
Place the cacao butter in a small sauce pan and melt on the stove top, over low heat.
Turn off heat and stir in sunbutter and powdered monk fruit.
Pour sunbutter mixture into a mini silicone muffin pan (1 Tbsp per slot).
Freeze at least 20 minutes.
In a small sauce pan, melt the dark chocolate and coconut oil over low heat.
Once fully melted, grab the sunbutter cup fillings from the freezer.  Remove them from the mold, then dip them into the melted chocolate.
Place them on a sheet of parchment paper to set.
Optional: drizzle any remaining dark chocolate over the sunbutter cups and add a pinch of flaked sea salt.
---
Keywords: sunbutter cups, sunflower seed butter, keto dessert, paleo dessert, paleo reeses, nut free, vegan dessert, easy chocolate recipes