These low carb pumpkin protein bars are easy to make and packed with protein. In addition, they contain only a few simple paleo and vegan ingredients, including pea protein, almond butter and pumpkin puree. This healthy pumpkin protein bar recipe is perfect for an on-the-go snack or quick post workout treat.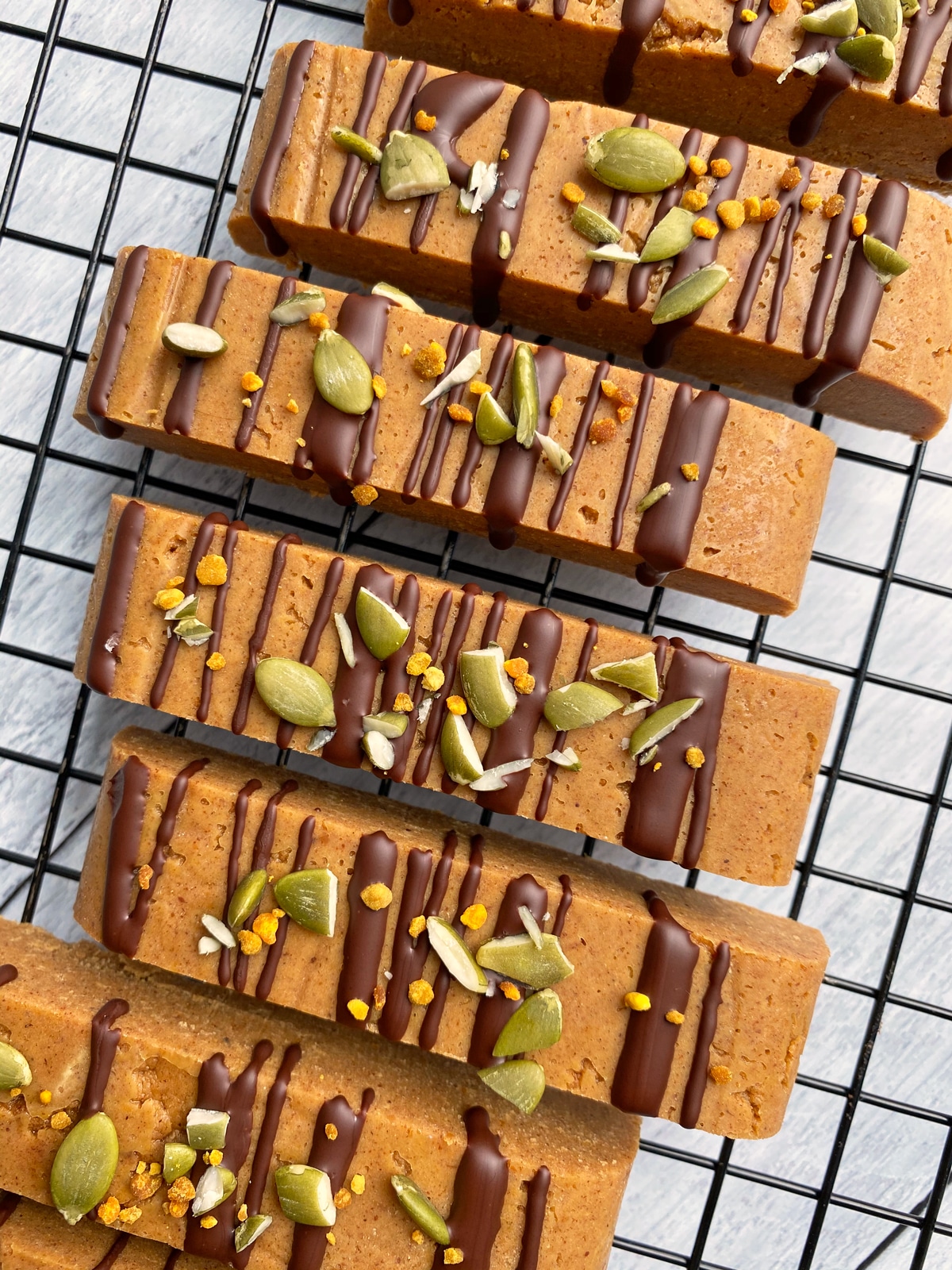 There's no better snack that a healthy homemade protein bar. They're filling, satisfying, packed with protein, low carb and delicious! Well, so long as you're making them with the right ingredients.
I like keeping my protein bar recipes low in sugar and high in fat and protein. This makes them tasty and satiating. Plus, I use only real, whole food ingredients - no fillers, additives or fake sugars.
These easy pumpkin protein bars are everything I could want in a homemade protein bar.
Protein Bar Highlights
paleo and vegan friendly
gluten free & grain free - no oats, no flour
dairy free - made without whey protein
egg free
no bake
high in protein
low in sugar
no additives, fillers or preservatives
This low carb pumpkin protein bar recipe is not overly sweet and the taste will be slightly affected by the protein powder you use. So, be sure to use a protein powder brand that you love!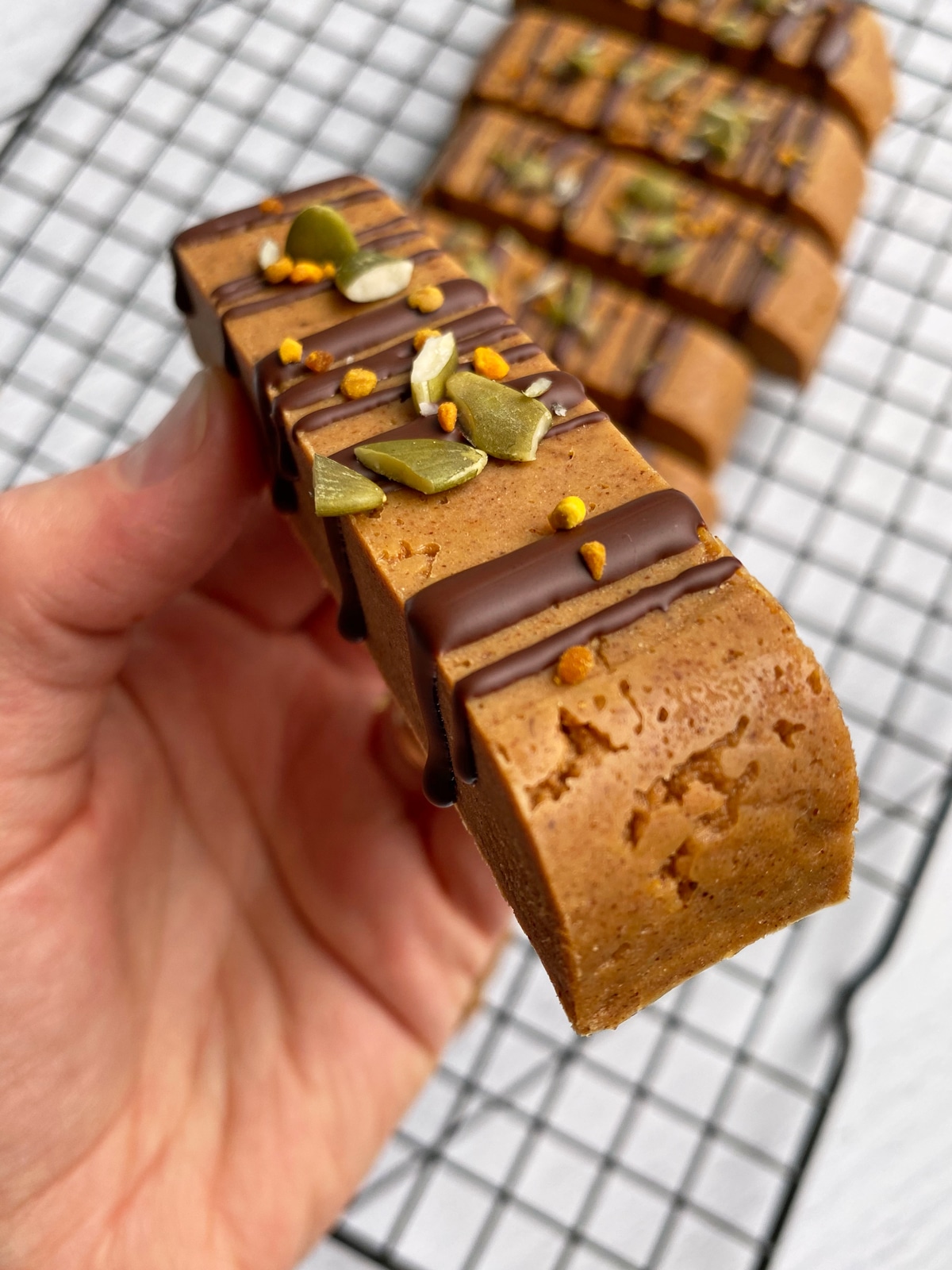 Ingredients
This no bake pumpkin protein bar recipe is made from clean, wholesome ingredients. All of the ingredients are paleo, gluten free and vegan (so long as you sub the honey for maple syrup).
Here's what you need:
almond butter
pumpkin puree
pea protein
cacao butter
honey (maple syrup for Vegan)
vanilla extract
cinnamon
pumpkin spice
salt
Nut Butter
Any type of nut butter should work for this recipe. I used a smooth, creamy almond butter that is unsweetened and unsalted. If using a salted nut butter, then omit the extra salt in the recipe.
Pumpkin Puree
Pumpkin puree is a must for making these pumpkin bars. My favorite brand of canned pumpkin is Farmer's Market canned pumpkin.
Pea Protein
This recipe works best with pea protein. I used Nuzest's vanilla protein. You'll want to make sure that you like the taste of the protein powder you're using, as you can slightly taste it in this recipe.
I have not tested any other protein powders, however I have tried substituting the pea protein with collagen peptides. This substitution works, but the bars have a caramel-like texture. Which, isn't bad by any means, it just means that the protein bars have to be chilled and stored in the freezer or else they will be too soft. If you aren't fond of the taste of pea protein, then this is a great substitution; as collagen is fairly flavorless. Just note, collagen is not Vegan.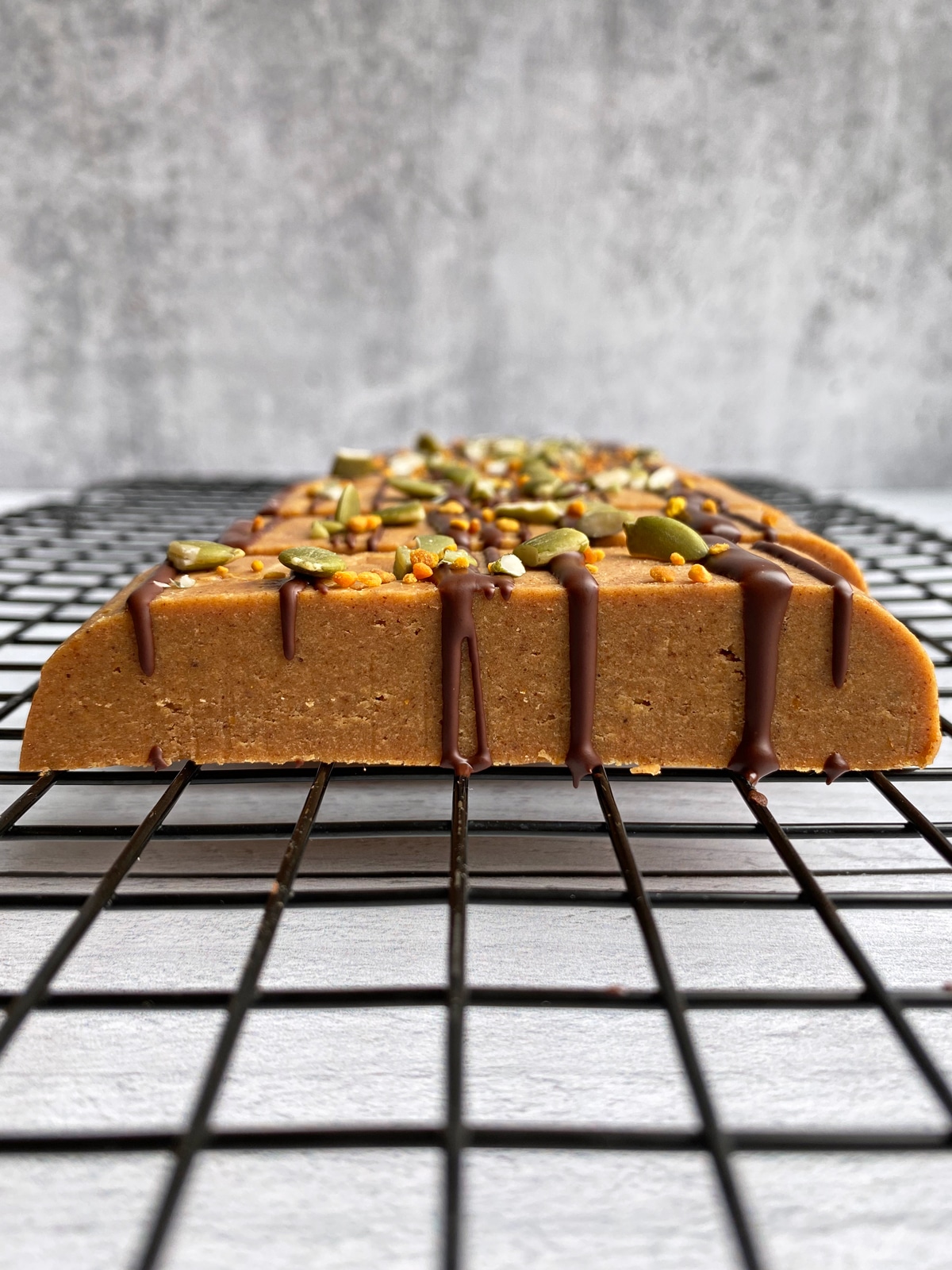 Cacao Butter
The cacao butter is what keeps these bars solid at room temperature. It is vital for texture purposes. The best alternatives would be coconut oil or coconut butter, but the results won't be quite the same. If you're using coconut butter, you may have to increase the amount. Here are some other recipes on my site that use cacao butter: Homemade Andes Mints, Birthday Cake Energy Bites.
Sweetener
Honey tastes the best in this recipe. However, for a Vegan option you may use maple syrup. Or, if needed you may use a liquid, sugar free sweetener.
Spices
Cinnamon, pumpkin spice, vanilla and salt are all used for extra flavor. These ingredients are optional, but highly recommended for optimal taste. If you are using a salted nut butter, omit the salt.
How to Pumpkin Protein Bars
These vegan pumpkin pie protein bars are made in one bowl, then placed in an 8" x 4" baking pan and set in the fridge to solidify. Here's the step by step process:
Make the Dough
To make the dough, first combine the almond butter, pumpkin puree, cacao butter and vanilla. I melted the cacao butter on the stove top, over low heat. Then, mixed the ingredients in the sauce pan (rather than grabbing a new bowl).
Next, mix in the remaining ingredients. I suggest mixing with a spatula, as the dough is thick.
Firmly press the dough into a lined 8" x 4" baking pan. I find that lining the pan with foil works best.
Chill the Dough
Place the bars in the fridge for at least an hour to set. I recommend the fridge rather than the freezer, because the bars are hard to cut when fully frozen.
Cut the Bars
After chilling, cut the bars into 8 equal pieces (or however many you desire).
Again, these bars cut best after being kept in the fridge. If fully frozen, they will crumble when you go to cut them.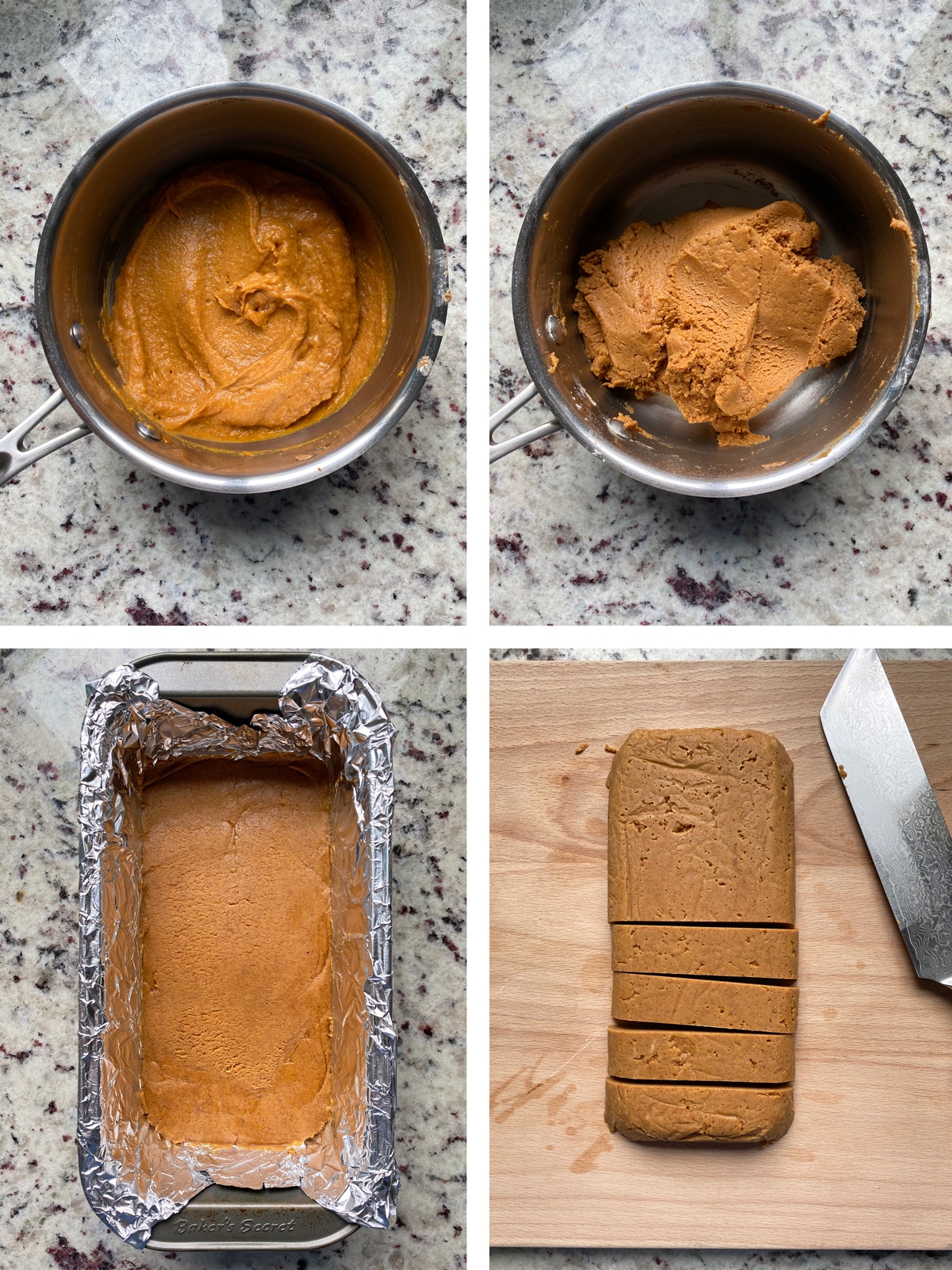 Toppings
Toppings are absolutely optional! However, I love a little dark chocolate on top of my protein bars.
Simply, melt dark chocolate in a small sauce pan, over low heat. (In the microwave works too.) If needed, add a bit of coconut oil to make the chocolate more liquid.
Then, drizzle the chocolate over the cut bars and sprinkle with desired toppings such as chopped pumpkin seeds and bee pollen.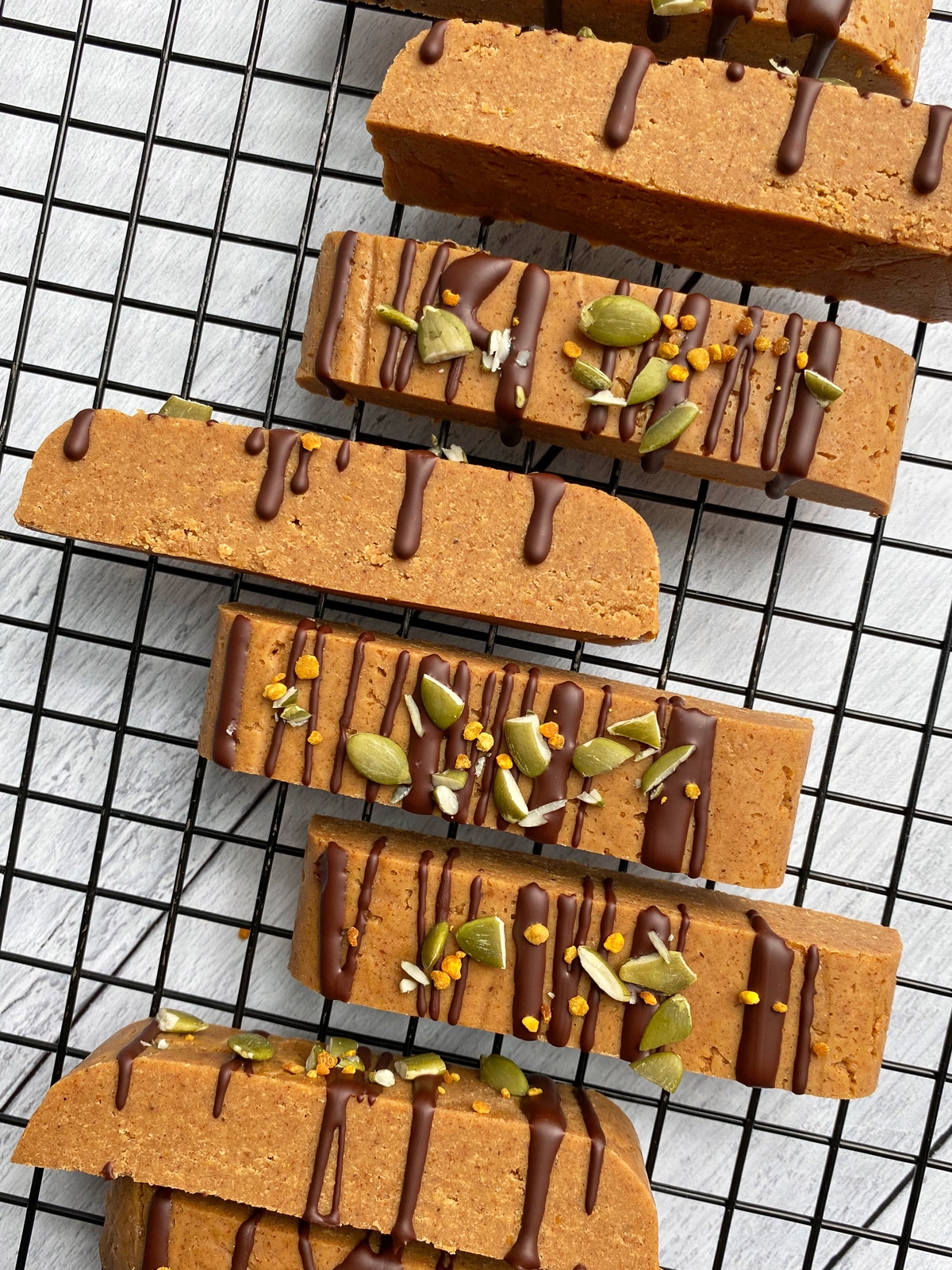 How to Store Homemade Protein Bars
These homemade protein bars stay solid at room temperature, so you can leave them out for an hour or two. However, because they don't have any preservatives, they must be kept in the fridge or freezer for long term storage.
Can Pumpkin Bars Be Frozen?
Yes! Feel free to pop these bars in the freezer. They do harden, but soften if left out at room temperature for a few minutes.
More No Bake Protein Bar Recipes
I have quite a selection of homemade protein bar recipes. Here are some reader favorites:
Enjoy!
Print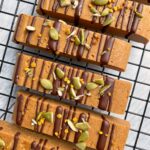 Pumpkin Protein Bars (Low Carb, No Bake)
Author:

Katie

Prep Time:

15 minutes

Cook Time:

0 minutes

Total Time:

15 minutes

Yield:

8

" x 4" baking pan

1

x
---
Description
Healthy, low carb pumpkin protein bars that are easy to make, no bake and contain Paleo and Vegan ingredients.
---
---
Instructions
Combine almond butter, pumpkin puree, melted cacao butter, honey and vanilla in a medium sized bowl.  Using a spatula, mix until smooth.
Add remaining ingredients and mix well.  (Dough should be almost play-dough like.)
Place dough in a lined 8" x 4" baking pan and firmly press down using a spatula.
Refrigerate for an hour, or until set.
Remove from fridge and cut into 8 equal pieces.
Optional: top with melted chocolate, chopped pumpkin seeds and bee pollen.
Store in fridge or freezer.
---
Notes
*I melted the cacao butter over the stove top in a small sauce pan.  Then used that pan to mix together the ingredients.
**Collagen peptides are a great substitution if you don't like the taste of pea protein.  However, the batter will be thinner and the bars will need to be placed in the freezer to set.  Substituting with collagen gives these bars a caramel like texture (that is absolutely amazing).  Please note, if you use collagen these bars will not be Vegan.
Keywords: protein bars, pumpkin, fall recipes, Paleo, Vegan, egg free, low carb, high protein, snack