These healthy dark chocolate protein bars are Paleo and Vegan friendly. They're made with chocolate pea protein, cacao powder, sunflower seed butter and slightly sweetened with maple syrup. This homemade protein bar recipe is perfect for breakfast, snack or even dessert!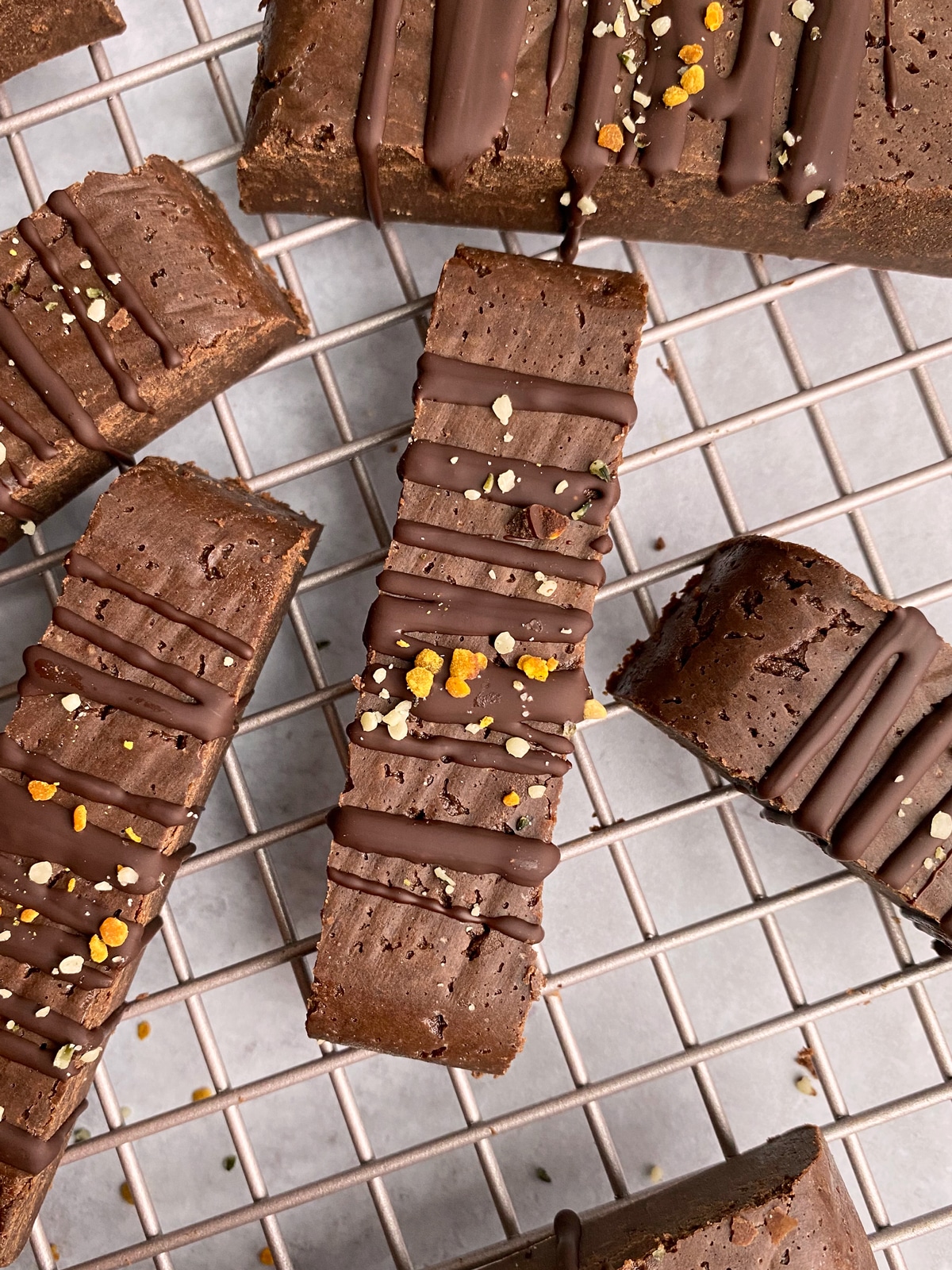 It's been too long since I created a new protein bar recipe. So here we are, with these delicious dark chocolate protein bars!
This healthy protein bar recipe is no bake, Paleo, Vegan and even nut free. It's made with Nuzest's chocolate pea protein, which is allergy friendly and easy on the gut; making this recipe much healthier than what you can find in-store.
Many store-bought protein bars use gut-irritating ingredients like chemical sweeteners and sugar alcohols, whey and soy protein, thickeners and preservatives. This is why I prefer making my own homemade protein bars. I can create a protein rich recipe that tastes great and doesn't come at the cost of my gut health.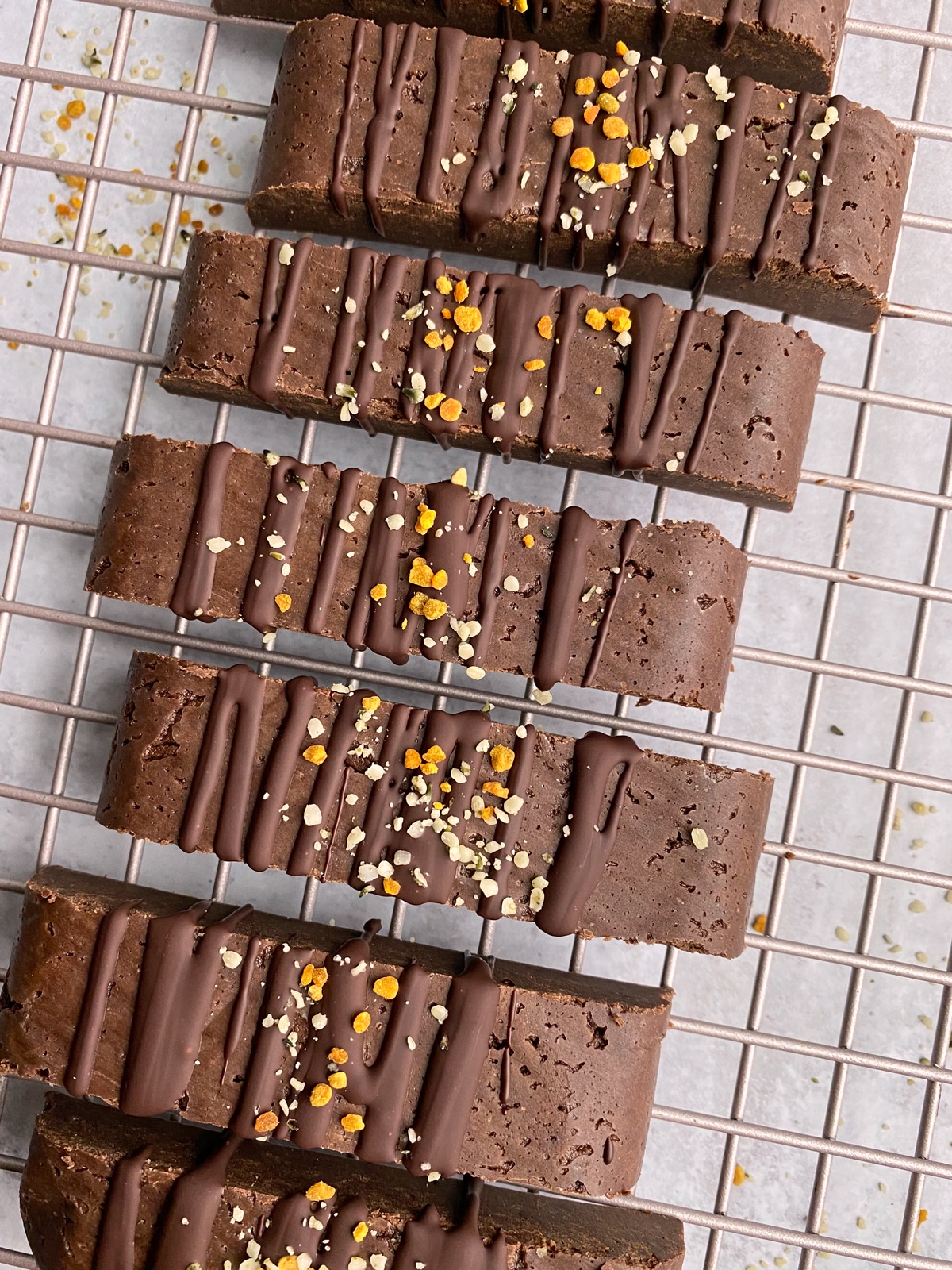 Ingredients in Dark Chocolate Protein Bars
These Paleo chocolate protein bars are soft, yet solid at room temperature and have a delicious dark chocolate flavor with a slightly nutty undertone thanks to the sunbutter.
Here's the ingredients you need:
cacao butter (or coconut butter)
water
sunflower seed butter
maple syrup
vanilla extract
chocolate pea protein
cacao powder (or cocoa powder)
salt
dark chocolate chips (optional)
Cacao Butter
Here's the deal with cacao butter... although it may not be a common pantry staple for most people, it is AMAZING for making protein bars, protein bites, chocolates and truffles.
Why? Cacao butter is solid at room temperature (more solid than coconut oil) and has a silky smooth texture with little to no flavor. Plus, a little goes a long way.
I like using cacao butter in my protein bar recipes to make them solid at room temperature without compromising taste or texture.
The best alternative would be to use coconut butter. You may have to use another tablespoon or two to get the right texture. Another option is to eliminate this ingredient. Just note, taking out the cacao butter will make these bars super soft at room temp and they'll be best stored in the freezer.
Sunflower Seed Butter
I chose to use sunflower seed butter to make these nut free chocolate protein bars. However, any creamy nut or seed butter should work as a replacement. The best alternatives would be almond butter or cashew butter. (Peanut butter too but it's not Paleo.)
Chocolate Pea Protein
I have only tested these dark chocolate protein bars using pea protein. Any flavor of pea protein will work, but I cannot guarantee results with any other protein powder.
I use Nuzest pea protein. It is made from the highest quality European golden peas and is gluten free, Vegan and Paleo friendly. Nuzest regularly tests their products for safety including heavy metal levels, allergens, and contaminants. They don't use any chemicals, additives or preservatives in their protein powders.
Furthermore, their protein powder actually tastes great! All of these factor into why I regularly use Nuzest protein and work with them as an affiliate - I love the products they sell. You can use my Nuzest discount code "bakeitpaleo" on any Nuzest purchase.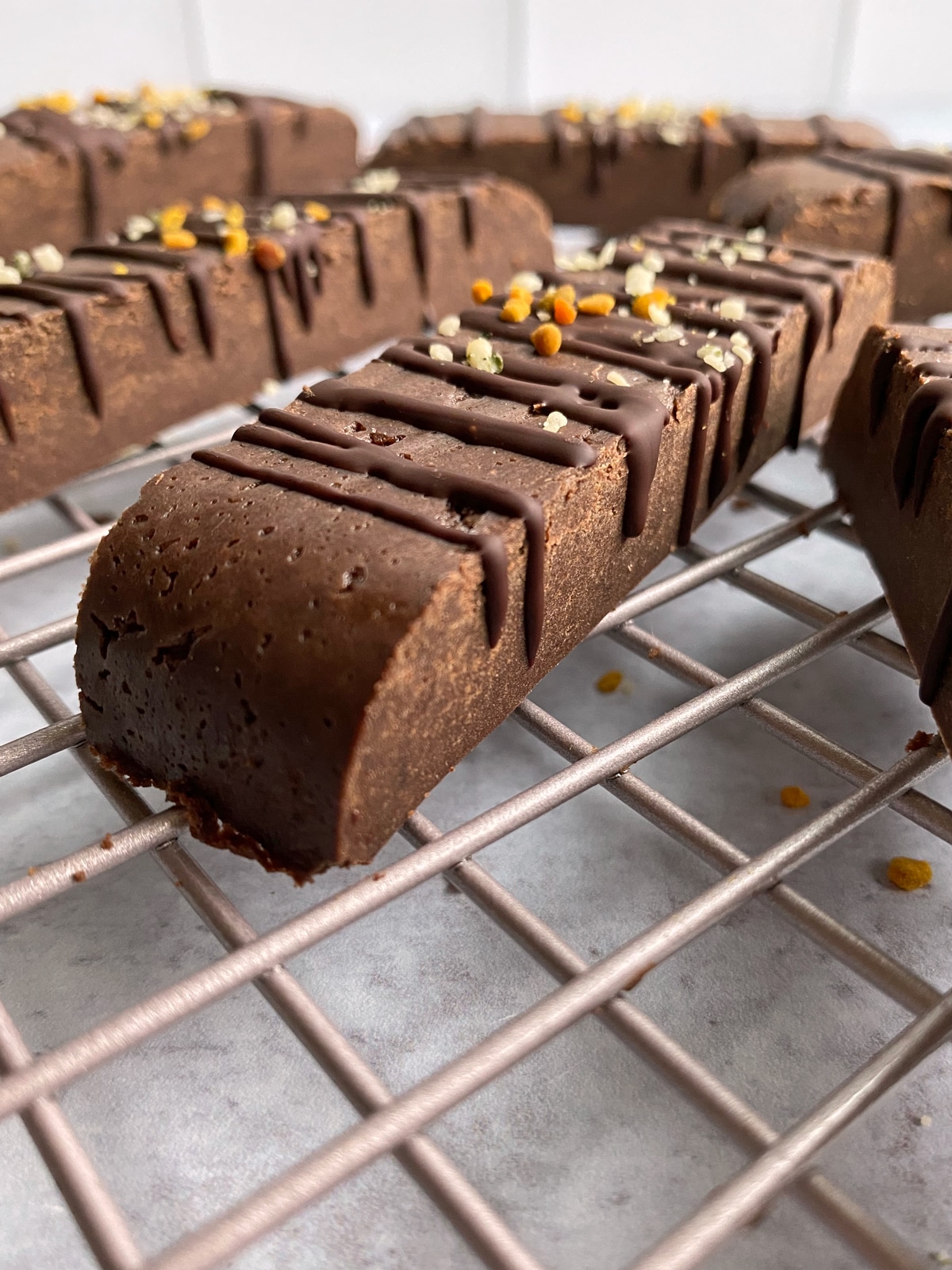 How to Make Chocolate Protein Bars
These are no-bake chocolate protein bars. All you have to do is combine the wet ingredients, mix in the dry ingredients, press the dough into a lined baking pan and then refrigerate or freeze until set. It's that easy!
Instead of a mixing bowl, I like to use a small sauce pan for this recipe because I melt the cacao butter over the stove top. Rather than dirty up another dish, I just combine the ingredients in the sauce pan.
The final dough is thick and pliable, similar to playdough. (But definitely better tasting and smelling!)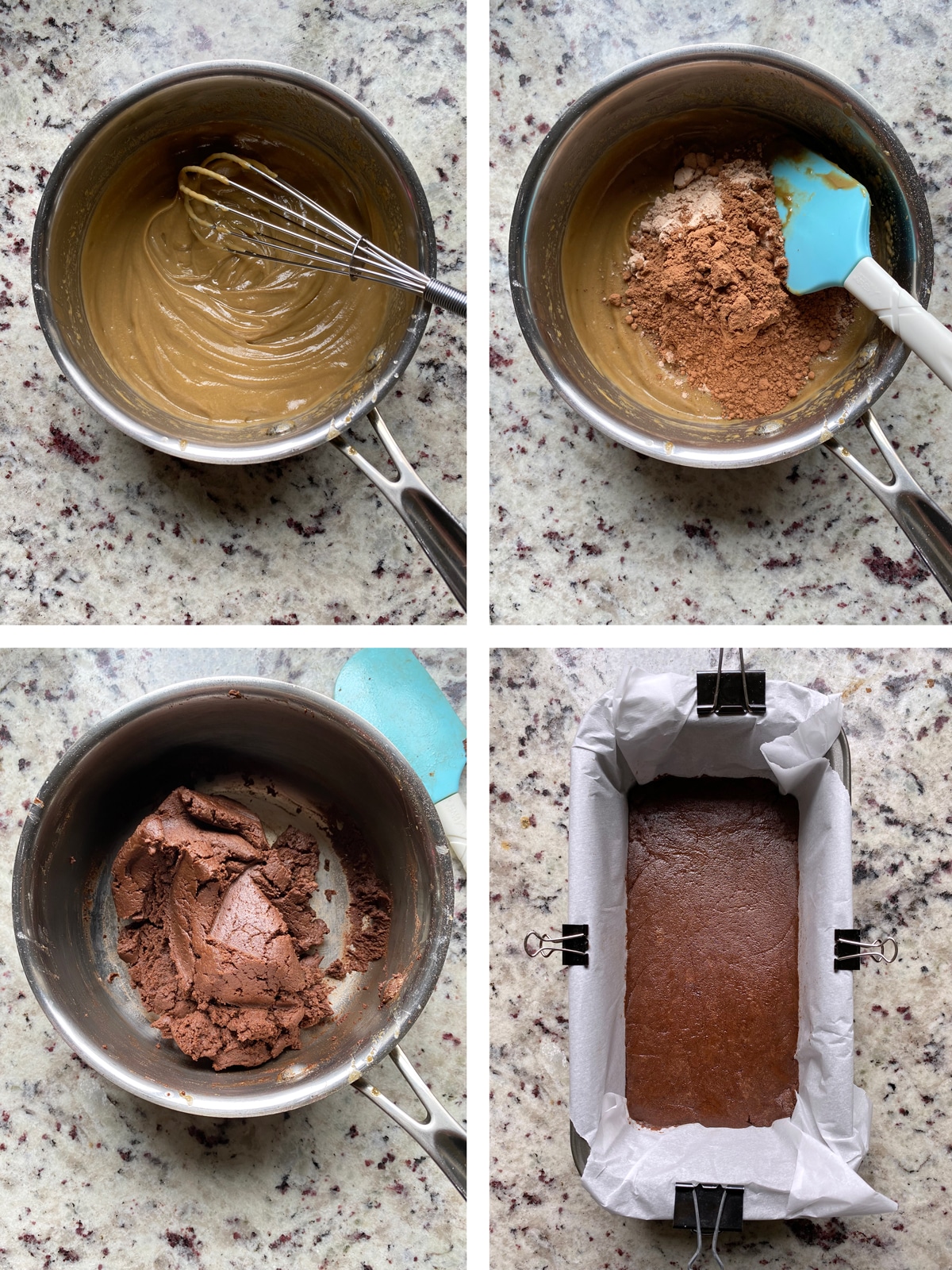 After the bars have set, cut them to desired size (I made 8 protein bars) and then drizzle them with dark chocolate (optional but recommended). You can also add extra toppings like bee pollen and hemp seeds.
How to Store Protein Bars
Since these protein bars are free of preservatives, they are best stored in the fridge or freezer. However, they stay solid at room temperature, making them great to pack for snacks or in lunches.
In the freezer, these protein bars get quite solid. You can eat them right out of the freezer or let them warm a few minutes at room temperature before consuming.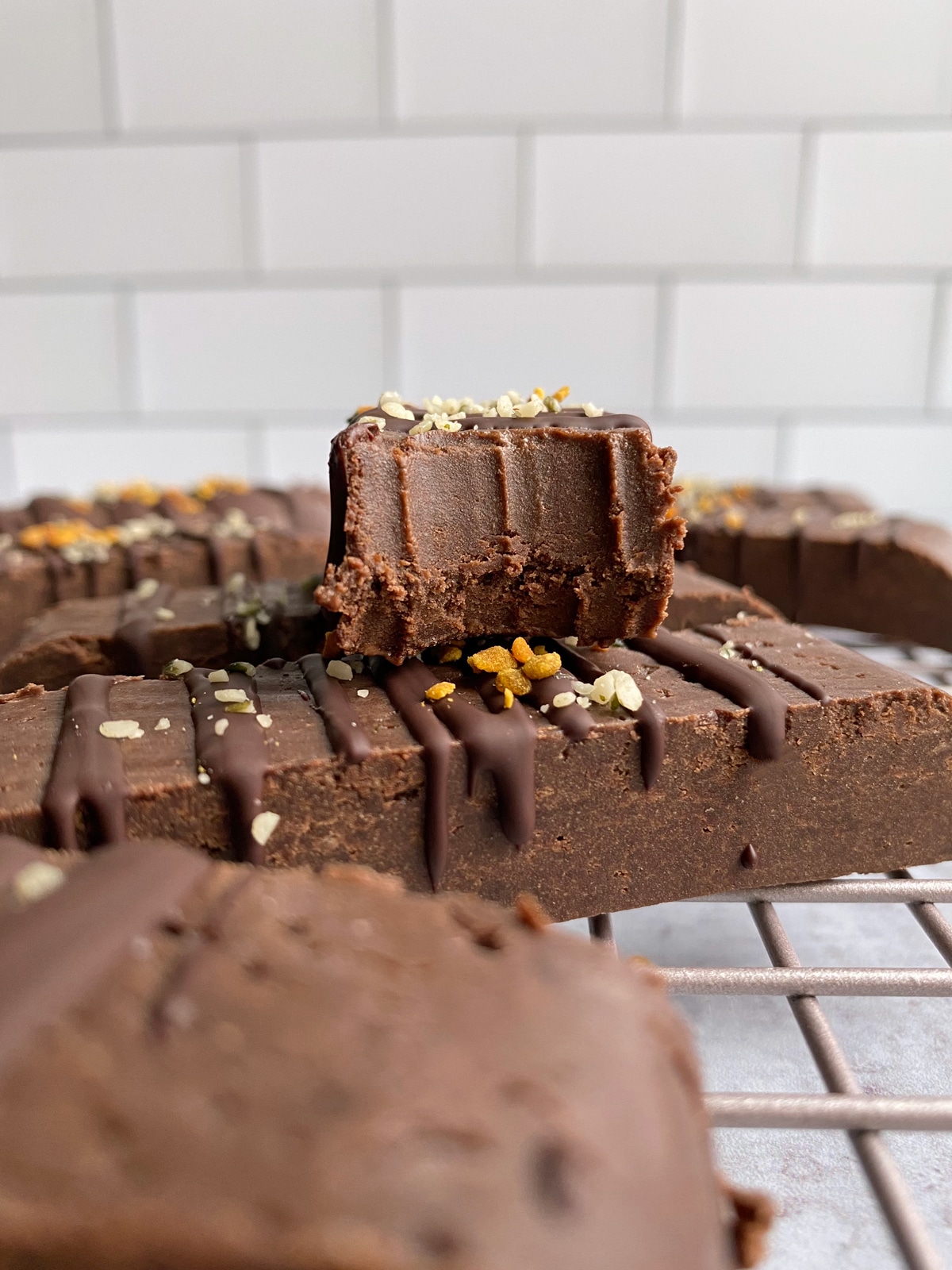 More Homemade Protein Bars
I prefer making my own Paleo protein bars, rather than buying them in-store. These are a few of my favorites from the blog:
Enjoy!
Print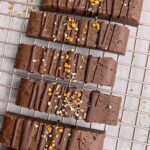 Dark Chocolate Protein Bars (No Bake, Paleo, Vegan)
Author:

Katie

Prep Time:

30 minutes

Cook Time:

0 minutes

Total Time:

30 minutes

Yield:

8

protein bars

1

x
---
Description
Healthy, homemade dark chocolate protein bars!  These no bake Paleo and Vegan protein bars are low in sugar, great for snacking and tasty enough for dessert.
---
Chocolate Protein Bars
Chocolate Drizzle (optional)
¼ cup

dark chocolate chips 

1 tsp

coconut oil 
---
Instructions
Line an 8" x 4" baking pan with parchment paper (aluminum foil works too).  Set aside.
Combine the melted cacao butter***, sunflower seed butter, water, maple syrup and vanilla.  Whisk until smooth.
Add in the chocolate protein powder, cacao powder and salt.  Mix with a spatula until well combined.
Firmly press the dough into the lined baking pan.
Freeze for 20 minutes, or until set.
Remove the bars from the freezer and cut into 8 protein bars****
For the chocolate drizzle, melt the chocolate chips and coconut oil in a small sauce pan, over low heat.  Drizzle the melted chocolate over the protein bars.
Place back in the freezer a few minutes for chocolate to fully set.
---
Notes
*May omit cacao butter, but the protein bars will be soft, not solid at room temperature.  Another option is to use coconut butter instead of cacao butter. 
**No other protein powders have been tested, so I cannot guarantee results with any other brand.  The discount code "BAKEITPALEO" will save you $$ on any Nuzest purchase if you want to try this protein powder.
***I melted the cacao butter in a small sauce pan on the stove top, but melting in the microwave works too.
****If kept in the freezer longer than 20 minutes, the bars may be hard to cut.  Let them soften a bit first.
Keywords: chocolate protein bars, paleo protein bar recipe, pea protein recipes, chocolate pea protein, vegan protein bar, paleo snacks, high protein vegan snacks, nut free, egg free, healthy breakfast